This guide includes a complete off-page SEO checklist and template you can download, print, and use to keep track of your off-site search engine optimization efforts.
Inside this free off-page SEO template you'll find:
A checklist of items to work through to assess the current backlink profile of your web pages.
A link building plan to follow to create a solid foundation of high-quality backlinks that can help boost the organic rankings and visibility of your content in the search results.
Download the free off-page optimization checklist in your preferred format (PDF, Excel file, or Google Sheet) using the links below, then read through the off-page SEO cheatsheet instructions on this page to understand how to use the templates correctly.
Off-Page SEO Checklist Items
1. Evaluate the Page's Backlinks
The first item you should focus on when working through the off-page SEO checklist for existing website content is to evaluate the page's current backlink profile.
Analyzing the backlink data for the URL will give you a basic understanding of how that off-page SEO metrics compare to the top-ranking competitors in terms of the quality, strength, and number of incoming links. You can find a good backlink analyzer to use in our other guide with a list of the best backlink checkers.
Ask yourself these questions during the off-page backlink analysis process:
Does the page have a similar number of referring domains as the top-ranking competitors?
Does the page have a similar number of total backlinks as the top-ranking competitors?
Does the page have backlinks from high Domain Authority sites? (DA 50+)
Does the page have backlinks from web pages with high Page Authority? (PA 40+)
2. Remove Low-Quality Links
The next step you to follow for improving off-page SEO for your web pages is to remove any low-quality links that are pointing to the page. Even though search engines like Google are good at ignoring toxic backlinks, there are still many instances where spammy and low-quality links can harm your keyword rankings in the search engine results pages (SERPs).
Therefore, you should identify and work to remove bad backlinks from your website's backlink profile. The link to the list of backlink analysis tools in the previous checklist item for this off-page SEO list is a good place to start because any one of those tools can help you uncover low-quality, toxic, or spammy links pointing to your web pages.
Ask yourself these questions during this step:
Does the page have a large number of low-quality sites linking to it?
If the page has low-quality backlinks, can those links be removed by contacting the website owners or discounted with Google's Disavow Tool?
3. Assess the Link Profile of the Backlinks
Another important step you'll find in the downloadable off-page SEO cheatsheet is assessing the link profile for the backlinks pointing to your web pages.
This checklist item is important because you want the highest quality inbound links to your content to help increase its ranking positions in the SERPs. The best backlinks for off-page SEO come from URLs that are linked well internally, have their own set of incoming backlinks, and send referral traffic to your site.
Ask yourself these questions when working through this part of the off-page optimization template:
Do the top backlinking pages have their own internal links? (Backlinks from orphan pages do not pass as much PageRank for SEO.)
If a backlinking page does not have its own internal links, can outreach be done to ask the website owner to create internal links to the backlinking page?
Do the top backlinking pages have any of their own backlinks?
If a backlinking page does not have its own backlinks, can a tiered link building strategy be set up to create incoming links to the backlinking page?
Is referral traffic being sent to the page through the backlinks? (This metric is viewable in the Traffic Acquisition Report in Google Analytics.)
4. Fix Broken Incoming Links
There are many reasons why broken links occur on the Internet; however, the most common issues that affect your off-page SEO include a typo in the link's URL on a third-party site, the web page moving to a new location without a redirect put into place, and the content being deleted from the web server.
A good practice you should conduct on a routine basis for off-site search engine optimization is to monitor the 404 errors on your website. This will alert you to the broken links that are pointing to your web pages so you can take the necessary steps to fix them to reclaim the lost PageRank value that's crucial for SEO.
Ask yourself these questions when performing a web page analysis:
Does the page have broken 404 backlinks pointing to the wrong URL?
Have all broken 404 backlinks been fixed with a 301 redirect to the correct URL?
5. Check the Anchor Text Link Ratio
Professional link builders understand the importance of following a good anchor text ratio when conducting a link building campaign. If a web page's backlink profile is over-optimized with exact match anchor text for the main SEO keywords, then the links may be tagged by ranking algorithm systems as unnatural links, which can cause a ranking penalty.
For that reason, link building experts recommend you stick to a natural anchor text ratio when building your own backlinks, which is outlined in the off-page SEO template for you to follow.
Ask yourself these questions when analyzing the anchor text percentages for over-optimization:
Does the page have 5-10% exact match keyword anchor text in the backlink profile? (This is a good percentage to aim for to get the keyword signals without seeming unnatural.)
Does the page have 50-60% phrase match and/or partial match keyword anchor text in the backlink profile? (This percentage helps keep the backlink profile from being over-optimized for the primary keyword.)
Does the page have 30% branded, natural, and/or the naked URL as the anchor text in the backlink profile? (This is a good percentage that represents a page having organic backlinks.)
Note: Branded links include the company name in the anchor text; natural links include phrases like "click here", "learn more", and "visit this page"; and the naked URL is simply a hyperlinked version of the complete web address for the page.
6. Monitor the Backlink Numbers
If you're serious about off-page optimization, then you need to monitor your website's backlinks on a monthly basis, especially for your most important web pages. The reason backlink monitoring is crucial for off-page SEO is because you need to know if the page is generating more organic links or losing incoming links over time.
Link decay is a natural part of the evolving Web that can harm the rankings of your content in the SERPs. As the number of backlinks decreases for the URL, so does the Page Authority for the content; meaning it has less popularity according to Google's PageRank algorithm and may drop in SERP positions.
Ask yourself these questions as you're working through the off-page SEO list:
Is the page acquiring new backlinks each month? (If so, that's a good sign.)
Is the page losing backlinks each month? (If so, additional links should be built to make up for the loss of links.)
7. Create Internal Links for Off-Page SEO
A quick and easy way to improve the off-page optimization for any URL on your site is to create more internal links to the page. More internal links often result in higher rankings and traffic.
Google's algorithm, in particular, measures the importance of web pages on a domain based on the number of internal links they receive. That's why orphan pages with no internal links can have a difficult time ranking for their target keywords.
Additionally, Google's ranking systems use the anchor text of the internal links to help establish the most relevant search queries the target page should rank for in the SERPs.
Therefore, the first step you should follow when working through the link building section of the checklist template is this:
Create 5-10 keyword-optimized internal links to the page.
Several SEO case studies have shown that if you can add at least five internal links to a web page, then it can see a ranking improvement in the SERPs. And the highest-ranking pages on Google for competitive search terms typically have 10 or more keyword-optimized internal links for SEO.
8. Add a Link to a Branded Google Site
Google Sites are like any other type of website that's built with a content management system (CMS), like WordPress and Wix, which can be optimized for SEO and ranked in the search engines for relevant keywords.
And, in our opinion, every business should have its own branded Google Site that acts as an extension of the organization to capture more organic search traffic and expand the company's digital footprint. Additionally, you, as the Google Site owner, have complete control over the content and links that are added to the online property.
You can read our complete guide on SEO for Google Sites here, or just follow this basic process for off-site SEO:
Create a Google Site that represents your brand.
Publish a web page that summarizes the content you want to link to on your website.
Add a link to the summary page that encourages users to read the original, in-depth, content.
9. Share Links On Social Media
Social media link building is another good strategy to use for off-site optimization. Not only are these instant backlinks you can create for the target page, but these links also amplify the reach of your target audience.
There's a strong correlation between the number of social shares a web page gets and the ranking positions the URL has in Google for its SEO keywords. Therefore, you should leverage the use of social media for off-page SEO by marking off these items on the checklist template for every web page you publish:
Link shared on the branded Facebook Page.
Link shared in relevant Facebook Groups.
Link shared on the business Twitter account.
Link shared on the business's Pinterest board.
Link shared as a post on the LinkedIn Company Page.
Link shared on a relevant Reddit subreddit.
10. Repurpose the Content for Backlinks
Content repurposing is another strategy you can use for off-site link building, which is the process of taking one part of your published asset and reusing it somewhere else to generate backlinks.
For the purposes of this checklist for off-page SEO, we'll only be focusing on repurposing the written content for link building; not creating images from the text as visual quotes or creating short social media content with individual links.
You can certainly use those methods to build additional links to the page as a long-term content repurposing strategy, but for the sake of speed and getting the maximum impact from your off-page optimization efforts, we suggest the following plan in the template:
Link shared in an article on the LinkedIn Company Page. (LinkedIn articles are indexable in Google, Yahoo, and Bing; making LinkedIn backlinks good ones to create.)
Link shared on the branded Reddit subreddit. (If your Reddit account meets the minimum requirements, then you can set up a branded subreddit for your business and post links to your web pages without worrying about moderation. See our Reddit SEO strategy guide for more tips.)
Link shared in a relevant Quora answer. (A popular off-page SEO strategy that Quora even recommends is to find questions that are related to your content, then copy and paste the relevant sections as an answer along with a backlink to the page for users to get more details. See the Quora link building guide for more tips.)
Link shared on Quora Spaces. (Quora enables you to create communities called Spaces and curate collections around specific topics of interest, such as links back to your website.)
Link added to a Medium article. (An easy Medium SEO strategy for off-page SEO is to syndicate your articles on Medium with a canonical link to the original URL. You can also repurpose a section of the content as a new Medium article with an embedded backlink for the reader to visit the original page.)
11. Use Content Curation Sites
Another set of sites you'll find in the template for off-page SEO are referred to as content curation sites. These sites are free to join and enable you to curate your own lists of content by saving the URLs. This process generates an instant backlink and allows others who follow you on the platform to discover content you're interested in.
A basic checklist to use for quick and easy links for every page you publish includes:
Sharing the link on Flipboard.
Sharing the link on Scoop.it.
12. Produce a Relevant Video for YouTube
YouTube is a high Domain Authority (DA) website that gets more than 100 million visits per day. Also, there are many search terms that have YouTube video content ranking in the top positions. Plus, you can harness the power of YouTube backlinks for SEO to drive more targeted traffic to your content.
As you can see, producing a video that summarizes the target web page or expands on a key topic can be beneficial in many ways.
Therefore, you should consider making this item high on your priority list inside the off-page SEO cheatsheet:
Create a relevant video and share it on YouTube with a link in the description.
13. Record an Audio File for Podcasting Sites
Audio files are another good asset you can use for off-site optimization and work similarly to the YouTube strategy mentioned previously. All you have to do is record an audio file of you reading the article content word-by-word, summarizing the key concepts, or exporting the audio version of your YouTube video to upload as a raw file to podcast sharing sites like Stitcher, Google Podcasts, Apple Podcasts, Sound Cloud, etc.
Here's a short summary of this off-page SEO strategy as it appears in the template file:
Relevant audio file created and shared on podcasting platforms with a link in the description.
14. Design an Infographic for Backlinks
Infographics can be a great resource for creating higher-quality web pages as well as work as link bait to acquire more natural backlinks for off-site SEO. In fact, if you follow Semrush on Twitter, you'll see this popular SEO software company using infographics in this exact manner.
Semrush not only uses infographics to summarize the key points in their blog posts to share with their audience on Twitter, but the company also embeds those graphics into the content to encourage other website owners to link to the page and/or embed the infographics in their own articles while crediting Semrush as the source with a backlink.
Another way to generate backlinks at scale using this method is to add your graphics to this list of infographic submission sites. This can result in even more awareness of the content and backlinks pointing to the target page.
Here's a summary of this item that can be found in the cheatsheet:
Infographic created summarizing the key points and shared on infographic sites with a link in the description.
15. Create a Slideshow for Presentation Sites
Another common link building method you'll find in the template file is the practice of creating a slideshow that summarizes the key points of the web page in a PowerPoint (PPT) or Google Slides and sharing it on presentation sites like SlideShare, Microsoft Sway, and Speaker Deck. See this list of PPT submission sites for more recommendations.
Some slideshow sharing sites even provide dofollow backlinks that can transfer the most PageRank value for SEO to your target URL.
A simple strategy to follow as pointed out in the checklist includes:
Create a slideshow summarizing the key points and share it on presentation sites with a link in the description.
16. Generate a PDF for Document Sharing Platforms
According to Google's Search Central documentation on PDF files, "links in PDF files are treated similarly to links in HTML: they can pass PageRank and other indexing signals, and we may follow them after we have crawled the PDF file." Plus, links in PDF files cannot currently be tagged as nofollow links; meaning that hyperlinks you create in PDF files are dofollow links that help boost your off-page SEO signals and rankings in the SERPs.
A good technique to use for PDF link building is to repurpose important sections of your content or summarize it entirely while also embedding a link to the original page inside the PDF document.
The template file includes this item for you to mark off:
PDF created summarizing the key points along with an embedded link and shared on document sites.
Note: It's best to use a naked URL for the hyperlink in the PDF; not keyword-optimized anchor text. According to one report on Webmasters Stack Exchange, an online retailer created a PDF file that included anchor text rich links in a section at the end of the document to many of the category pages, and Google subsequently penalized the retailer for the practice.
17. Submit a Press Release About the Page
A press release is an official statement delivered to members of the news media for the purpose of providing information, creating an official statement, or making an announcement directed for public release.
If the web page you published warrants some publicity, then you should consider writing a press release about it, including a backlink, and sending it to any one of the top press release submission sites to gain more exposure for off-page optimization.
If applicable, this template item can be of high value for your website:
Press release written about the page's topic has been submitted to PR sites with an included link.
18. Send the URL to Industry Influencers
A core part of your off-page SEO strategy should be to inform influencers in your niche about new content you've published that may be of interest to their audience. If you never share the URLs with those people, then they may not come across it.
Therefore, you should build a list of the top influencers in your industry and work on building close relationships with them. After mutual trust is established, you can then make it a habit to send those people relevant content from your site to consider as a linkable resource on their site and/or something new they can share on social media.
Here's what the reminder looks like in the cheatsheet file:
Link has been sent to industry influencers for consideration to share with their audiences.
19. Contact the People Mentioned or Quoted In the Article
One of the top strategies in our guide on how to optimize content for SEO is to make the page more link worthy. And one way to do that is by including quotes by industry experts to enhance credibility.
You can easily find respected professionals in your niche, grab a quote from their website, and include it in one of your articles. You can also copy snippets of content from their blogs or reference case studies they've published while adding a backlink to the source.
Next, you just need to tell those people about how you included them in your content. This can often result in a reciprocal link to the page where the expert is quoted or a snippet is being referenced because people like to show off their mentions to build up their own brand.
The checklist item that refers to this technique is:
Link has been sent to the people mentioned or quoted in the article making them aware of the reference.
20. Contact the Brands Featured In the Article
Contacting brands featured in the article is a similar off-page optimization tactic to the last strategy. The only difference is that you send a direct message on social media or via email to the brands you've spotlighted in the content in hopes of generating a backlink or share.
This method is particularly helpful for affiliate content that is often difficult to generate backlinks for and can result in links from high Domain Authority sites and/or web pages with high Page Authority.
Essentially, you reach out to all of the brands featured in your affiliate content to alert them that you've reviewed their product or service and are recommending it to your audience for purchase. This link building strategy can work to land high-quality backlinks from the company's blog or press section of the site if they deem it to be a worthy enough review to showcase their brand.
This item in the template ensures you don't miss out on this off-page SEO opportunity:
Link has been sent to the brands mentioned in the article making them aware of the company or product spotlight.
21. Use Guest Posting for Off-Page SEO
Guest posting is the process of writing a blog post for another website and including a link back to your site in the article. Guest blogging is good for SEO because it increases exposure, authority, and backlinks for your website.
You can check out our guest posting sites list with more than 100 opportunities for this type of targeted off-page optimization. Some site owners will allow both contextual links and a homepage link in your author bio.
When working through the checklist, make sure to focus your efforts on getting at least one backlink to the page through a guest post to help round out the backlink profile as mentioned below.
Guest post has been published with a backlink.
Note: You can create more than one guest post backlink to the page; however, you don't want this to be the only (or primary) method of link building for off-page SEO. Having too many guest post links can be a negative ranking signal because, technically, guest blogging for links violates Google's Search Essentials Guidelines.
22. Conduct a Competitor Backlink Gap Analysis
A competitor backlink gap analysis is a method used to identify websites and web pages that are linking to your competitor's content. This analysis helps you figure out which sites your competitors have links on that you don't, and which links have the most powerful off-site SEO metrics so you can map out a list of new link building opportunities.
Chances are that if a website is linking to your competitors, then you may also be able to acquire a backlink from the same referring domain.
The cheatsheet has the following item to remind you of this opportunity:
Competitor backlink gap analysis performed and similar links created.
23. Use HARO for Link Building
Help a Report Out (HARO) is a free service that connects journalists and writers with sources. After signing up, you'll get daily emails with websites looking for quotes and opinions on topics that can get your brand featured along with a backlink.
HARO is a great resource to use for off-site optimization because it can land editorial links for your content from major brands with high Domain Authority scores. Some high-profile sites that use HARO include Business Insider, American Express, and Reader's Digest.
If you're willing to put in the daily work of scanning the HARO emails, then you should pay close attention to this item in the template:
HARO link building has been performed and successfully obtained links to the page.
24. Use the Broken Link Building Strategy
Broken link building is when you find broken links on other websites related to your niche and report them to the owner. You also mention a good link replacement that leads back to your website.
The initial process for broken link building can be done with software like Semrush and Ahrefs by using their website auditing and broken link checker tools. Once the list of broken links has been collected for a target site, you can then reach out to the site owner to try and land a replacement backlink to a relevant page on your domain.
This is a more time-consuming strategy for off-page optimization, which is why it's listed further down on the cheatsheet:
Broken link building outreach has been performed and successfully obtained links from dead links on other sites.
25. Find Relevant Resource Pages for Backlinks
Many websites have resource pages that include links to other valuable websites. You can find these opportunities and then reach out to the site owners and ask if your URL can also be listed.
Use these advanced search operators in Google to find resource pages like this to target:
inurl:resources intitle:[keyword or topic]
inurl:links intitle:[keyword or topic]
This is the final element in the list of off-page SEO strategies you'll find in the template:
Resource page link building outreach has been performed and successfully obtained links on relevant sites.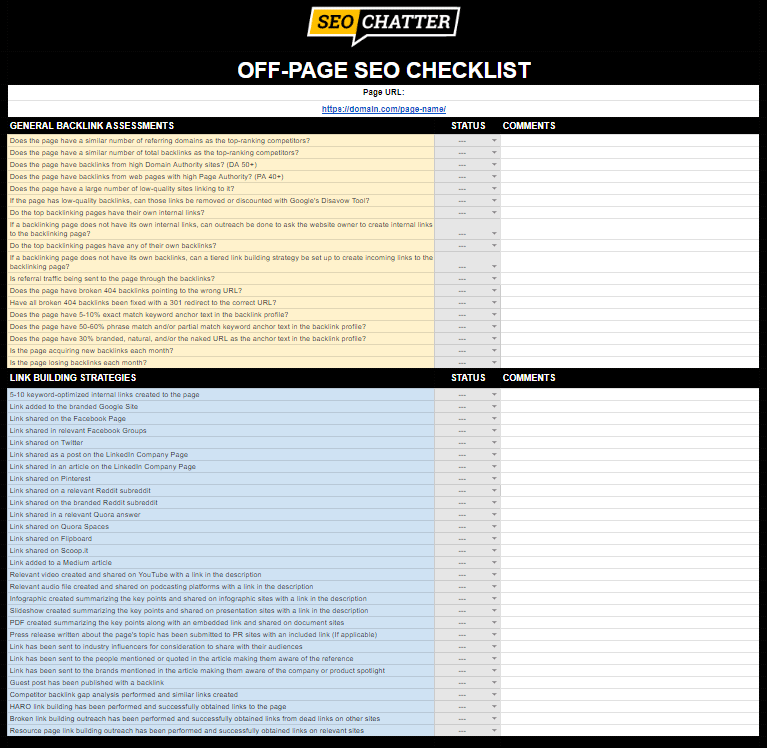 Download the Free Off-Page SEO Template
The off-page SEO checklist template is available in three formats for you to copy, download, and use to mark off each optimization task as you complete it:
Note: There's also a free On-Page SEO Checklist & Template if you want to improve your on-site optimization and a complete SEO Audit Checklist for auditing all aspects of a website.
Learn More About Off-Page SEO
The links below explain more about off-page SEO and how to use it effectively for your website. Use these resources to expand your knowledge on the subject.
Off-Page SEO Checklist & Template Summary
I hope this off-page SEO checklist makes a great addition to your search engine optimization toolkit.
As you discovered, this free off-page SEO template includes the top factors to consider when assessing the backlink profile of your individual web pages in addition to providing you with a list of steps to check off during a link building campaign. Hopefully, this downloadable off-page optimization cheatsheet and template will ensure you never miss an opportunity to optimize for the vital factors that can increase the organic rankings and visibility of your content in search engines like Google, Yahoo, and Bing.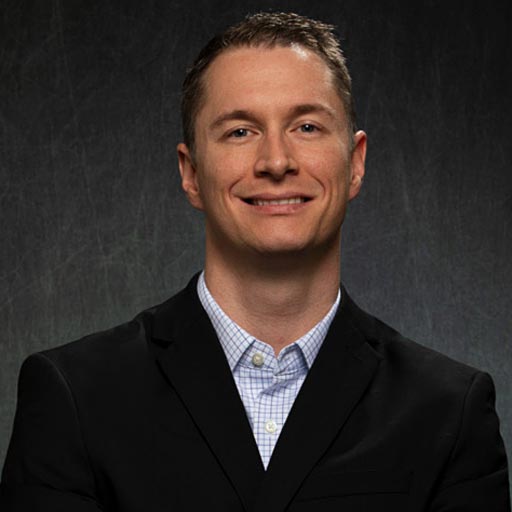 Stephen Hockman is an entrepreneur and founder of SEO Chatter. He specializes in search engine optimization and digital marketing and has been fascinated with SEO since 2005. His goal is to share the best tips and news about search engine marketing to help you get more website traffic.