This guide includes a complete SEO audit checklist and template you can download, print, and use to keep track of the key elements necessary when performing search engine optimization analysis on a website.
Inside this free SEO template you'll find:
A checklist of items to work through to assess the on-page, off-page, local, and technical SEO factors for search engines.
A step-by-step plan to follow to ensure all SEO efforts are up to standard to help boost the organic rankings and visibility of the website in the search results.
Download the free SEO audit cheatsheet in your preferred format (PDF, Excel file, or Google Sheet) using the links below, then read through the SEO auditing instructions on this page to understand how to use the templates correctly.
Popular Tools to Use for SEO Audits
There are many tools you can use to perform the items in this checklist. Some of the most popular SEO auditing tools include Screaming Frog SEO Spider, Sitebulb, Lumar, Semrush, Ahrefs, and Google Search Console.
SEO Audit Checklist Items
Technical SEO
Technical SEO is the collective term for all the factors and best practices that affect the ability of search crawlers and users to access your website content.
A fundamental starting point for any SEO audit checklist includes the following technical elements:
HTTPS
HTTPS provides a secure and encrypted connection between your site and a user's browser, making it a critical starting point for your audit.
Factors to look at:
Is the website using HTTPS?
Is the HTTP version redirecting to the HTTPS?
Are there any mixed content issues? (i.e., HTTP resources loaded on an HTTPS page)
Architecture and Navigation
A clear and organized website structure makes it easy for search engine crawlers and users to navigate your site.
Factors to look at:
Is the website organized in a clear and logical hierarchy? (e.g., parent categories with appropriate child categories)
Is the navigation user-friendly and intuitive, making it easy for visitors to find what they're looking for? (e.g., all parent categories are included)
Is every web page within 3 clicks from the home page?
Speed and Performance
A website that loads quickly and performs well is more likely to keep visitors engaged, leading to longer site session times, higher conversion rates, and rankings in the search engine results pages (SERPs).
Factors to check:
Do web pages load within 1-2 seconds?
If page speed is an issue, can the factors contributing to slow loading times be fixed or removed? (e.g., plugins, uncompressed images, render blocking, poor server response, disabled caching)
Are there any opportunities to improve page speed even further?
Mobile Responsiveness
With a significant number of users visiting websites on mobile devices, evaluating the mobile responsiveness will ensure you're giving those users the best possible experience.
Factors to consider include:
Is the website mobile-friendly, with a responsive design that automatically adjusts to different screen sizes?
Does the website load quickly on mobile devices?
Is the font size and spacing large enough to be easily readable on small screens?
Are the buttons and links large enough to be easily clicked on a touch screen?
Broken Links and 404 Errors
Few things are more frustrating to your users than landing on a 404 Error page. This is why it's crucial to look out for such errors during an SEO audit and fix the broken links that caused them.
Questions to ask:
Are there any 404 errors on the site?
Are any internal links causing 404 errors?
What actions need to be taken to fix these errors? (e.g., setting up redirects, replacing broken links, or deleting the link altogether)
Crawl Errors
If search engines can't crawl your website properly, they can't index your content, and you won't get the rankings and traffic you aim to achieve with SEO.
That's why one of the most important tasks on this SEO audit template is to analyze for crawl errors in Google Search Console. Navigate to Indexing > Pages and consider the following:
Has Google Search Console identified crawl errors on the site?
If crawl errors exist, what is the root cause of each error? (e.g., excluded by noindex tag, blocked by robots.txt, crawled-currently not indexed, redirect error, etc.)
Can the crawl error be fixed?
Manual Actions
Manual actions are the official name Google gives to the penalties it doles out for violating its search engine guidelines.
As you can imagine, a single penalty left unattended could be the downfall of your site, so it's important to look at the Manual Actions tab in Google Search Console and ask:
Has the website received a manual action penalty from Google?
If a manual action exists, what steps are needed to address it?
Are there any other website issues that could potentially lead to more manual actions that need addressing?
Duplicate Content
Contrary to popular belief, duplicate content doesn't result in a Google penalty, though it does force search crawlers to make a decision about which page should be indexed and ranked.
To ensure the right content appears in search results, ask:
Is any content duplicated on the website?
Have canonical tags been properly implemented to identify the preferred version of duplicate pages?
Are there any technical issues causing unintentional duplicate content, such as printer-friendly versions of pages or having both HTTP and HTTPS versions of pages?
Sitemap
A sitemap is essential for helping search engines crawl and index your content. It also helps crawlers understand the website structure.
Points to consider in your SEO audit for the sitemap include:
Does the website have an XML sitemap?
Does the website have an HTML sitemap that's linked in the footer or navigation menu?
Can I easily find the sitemap if I need to update it? (See this related guide on how to find a sitemap.)
Is the sitemap automatically created or can a plugin be installed?
Is the sitemap up to date and does it include all pages on the website that need to be crawled and indexed?
Have any errors or issues with the sitemap, such as broken links or incorrect URLs, been found and promptly fixed?
Robots.txt File
Your website's robots.txt file tells search crawlers which sections of the site should be crawled and which ones should be ignored. A misconfigured robots.txt file is a common issue for on-site search engine optimization which is a highly important SEO audit template item to analyze during the auditing process.
Factors to look at:
Is the robots.txt file present in the root directory of the website?
Have any important pages or sections of the website been accidentally blocked using the Disallow directive?
Are there any directives that conflict with the XML sitemap or other areas of the website that should be crawled by search engines?
Is the sitemap location listed in the robots.txt file using the correct rule? Example: Sitemap: https://domain.com/sitemap.xml
Schema Markup
Schema markup is a type of structured data that provides search engines with additional information about your content and can play a pivotal role in helping you win rich snippets in search results.
Questions to ask:
Has Schema Markup been implemented on the website?
If Schema Markup has been implemented, has it been done correctly and efficiently for each web page that needs it?
Are there any opportunities to add new Schema Markup to the website to provide more context to search engines? Examples include Organization Schema, Local Business Schema, Product Schema, How To Schema, FAQ Schema, Review Schema, etc.
On-Page SEO
The next stage of your SEO auditing process is to use one of the many free SEO auditing tools for website analysis to look at critical on-page factors. You can also download a free on-page SEO checklist here that covers the items below more in-depth.
Title Tags
Title tags are an essential component of on-page SEO, as they help search engines understand the content of a page and how it is relevant to a user's search query.
When auditing your website's title tags, check:
Are any of the pages missing title tags?
Are any of the title tags duplicated on other pages?
Are all title tags within 50-60 characters to ensure they display properly in search results without being truncated?
Do all title tags include their page's primary keyword at the beginning of this HTML field?
Has a secondary keyword been included in the title tag in a way that reads naturally and provides additional context to users?
Meta Descriptions
Meta descriptions provide a concise overview of the content on a web page and can influence click-through rates (CTR) by giving search engines and users more context about your content.
Consider the following checklist items:
Are any of the meta descriptions missing or duplicated?
Are any of the meta descriptions duplicated on other pages?
Does each web page's meta description accurately reflect the content on the page?
Have the primary and secondary keywords for each web page been included naturally in the meta descriptions?
URL Structure
URL structure is a critical component of SEO that can impact both user experience and search engine rankings.
Factors to look at:
Are the URLs concise and easy to read?
Does each URL contain the web page's primary keyword to make it SEO-friendly?
Are there any URLs with unnecessary dates or numbers that need to be fixed?
If a URL has been changed, has a proper 301 redirect been put into place to forward the old URL to the new SEO-friendly URL?
Header Tags (H1)
H1 tags are the main headers on your pages, providing valuable information to search crawlers and helping users determine if your content is relevant and valuable.
Factors to look at:
Is there an H1 tag present on each page?
Does each page have only one H1 tag for proper on-page SEO?
Are there any duplicate H1s across the site that need to be fixed?
Are all H1s an exact match of their web page's title tag to prevent Google from displaying the wrong title for the listing in the SERPs?
For more header tag optimization tips, check out the complete guide on H1 SEO best practices.
Subheader Tags (H2-H6)
Subheader tags, also known as H2-H6 tags, are used to provide proper structure in the content for the subtopics to make it more readable for users and search engine crawlers.
Questions to ask during the SEO audit:
Are H2 tags used in the correct way to break up content and provide a clear structure for the web page? (i.e., not being used for decorative purposes to increase font size)
Does the content of each web page follow the correct subheading structure, such as putting H3s under an H2 to divide it into more clearly defined subtopics and having H4s under H3s, etc?
Are the subheader tags on each web page optimized well for SEO? Example: The target keywords are used in their own H2 tag and the H3 tags contain keyword variations and synonyms to boost topical relevance.
See this related guide for more tips on how to optimize H2 tags.
Keyword Usage and Density
Keyword stuffing is an important item to check during an SEO audit. You'd be surprised how easy it is to get carried away when crafting content and inadvertently overdo your keyword usage if you're not paying attention to this SEO factor.
Here are the things to consider in your audit:
Are the top 2-3 target keywords used in the introduction?
Are all target keywords being used naturally throughout the content?
Is the keyword density for each web page's target keywords within recommended guidelines of 1-2%?
Have keyword variations, synonyms, and semantically-related words been used on each web page to enhance topical relevance?
Image Optimization
Images prove to be invaluable for making your content more enjoyable to read and easier to comprehend, especially formats such as infographics that provide an additional way to digest the most important elements of the written content.
As you audit your images, check the following:
Are images compressed and appropriately resized to ensure fast loading times?
Are images saved in the appropriate file format for their specific type? (e.g., pictures are JPEGs and graphics are PNGs)
Has ALT text been added to informative images on each web page to help search engines understand the context of the images?
Have keywords been included in relevant image ALT text in a natural way that doesn't disrupt the user experience?
Do the image filenames match the target keyword that is being optimized for SEO?
Content Quality and Relevance
High-quality, relevant content that meets the search intent of your audience will prove to be the biggest asset for your website to boost search rankings and drive organic traffic from search engines like Google, Yahoo, and Bing.
However, this is assuming that you can answer yes to all of the following SEO audit questions:
Is the content for each web page original and unique? (i.e., no duplicate or rewritten content from other websites)
Does the content for each web page meet user search intent for its target keywords?
Is all content up to date and accurate?
Does the content include elements that make it link-worthy to generate natural backlinks? (e.g., original research, controversial opinions, statistics, tables, charts, videos, etc.)
See this related guide on how to optimize content for SEO which includes tips on making the page more SEO-friendly, link-worthy, and shareable.
Internal Linking Structure
A well-structured internal linking system can help distribute link equity throughout the site, improve search engine crawlability, and deliver more value to your readers by providing them with further reading on important subject matters.
Internal linking factors you need to look at in your SEO audit include:
Are there enough internal links on each web page? (A best practice is to have at least 3-5 internal links going out and coming into each page as explained here: how many internal links per page.)
Are the internal links relevant to the page's subject and provide extra value for the reader?
Do the most important web pages have at least 5-10 incoming internal links?
Are the most important web pages linked from the homepage?
Are the most important web pages linked internally from other high authority pages to capture the most link equity for SEO?
Is the anchor text for each internal link keyword-rich and descriptive for the target web page?
User Experience
Ultimately, every last element of search engine optimization is designed to give users the best possible experience on your website.
In terms of actual UX (User Experience) design, factors you need to consider include:
Is the website easy to navigate, with a clear and intuitive menu structure?
Does the website load quickly while browsing, with no significant lag times or delays?
Are there too many ads on the site that make the content hard to read?
Are there any intrusive pop-ups that degrade the user experience?
Would a general user feel satisfied if they landed the web page or would they need to visit other websites to fully satisfy the search intent?
Off-Page SEO
Another important part of your SEO audit checklist is to step away from the website being analyzed and look at the third-party sites that mention and link to it, paying close attention to the following off-page SEO factors. You can download a free off-page SEO checklist here which covers the following items below in more depth.
Backlink Profile
Backlinks are crucial for improving your website's visibility in search engines and driving organic traffic. As a business owner, you need to ensure your backlink profile is healthy and high-quality to achieve (and keep) high rankings in the SERPs.
Check all of the following factors:
Do the most important web pages have a similar number of referring domains as the top-ranking competitors?
Do the most important web pages have a similar number of total backlinks as the top-ranking competitors?
Does the website overall have backlinks from high Domain Authority sites? (e.g., DA 50+)
Do the most important web pages have backlinks from external pages with high Page Authority scores? (e.g., PA 40+)
Do any web pages have a large number of low-quality sites linking to them?
If the web page has low-quality backlinks, can those links be removed by contacting the website owners or discounted with Google's Disavow Tool?
Do the most important web pages have a good mix of dofollow and nofollow links that indicate a natural backlink profile?
Anchor Text Distribution
Overusing exact match keywords or a lack of diversity in anchor text can trigger red flags for search engines and negatively affect your search rankings. So this is a key element to analyze during an SEO audit.
Factors to look at:
Do any web pages have a high percentage of backlinks with exact match anchor text that could indicate a link scheme is being used?
Are there any low-quality or spammy sites that are linking to the website with exact match anchor text?
Are there any high-volume keywords that appear too frequently in the backlink anchor text that look unnatural?
Is there a good mix of branded, partial match, phrase match, and natural anchor text for the backlinks to each web page?
As explained in this other guide on how to optimize anchor text for SEO, a good anchor text ratio to aim for during a link building campaign includes:
Homepage Backlinks
80-95% mix of branded, natural, and URL anchor text.
Up to 10% with partial and phrase match keywords included in anchor text.
Up to 5% with exact match keyword anchor text.
Inner Page Backlinks
35-45% mix of branded, natural, and URL anchor text.
50-60% with partial and phrase match keywords included in anchor text.
Up to 10% with exact match keyword anchor text.
Online Reviews
Reviews are excellent for demonstrating social proof. Positive reviews help attract more customers, while negative ones tend to drive them away from your website.
As such, the checklist items you should consider during the off-page SEO audit include:
Is there a strategy in place to encourage customers to leave reviews?
Are all reviews being responded to in a timely manner?
Are negative reviews being addressed and resolved?
Are the responses personalized and empathetic?
Are the reviews being monitored on all relevant platforms, including Google Business, Bing Places, local business listings, and industry-specific review sites?
Local SEO
Local SEO is especially important if your business has a physical location or you're a service-based business targeting customers in specific areas.
You can start to attract more local customers and increase their visibility in local search results by ensuring all of the following factors are in place.
Google Business Profile
Every business with a local customer base should have a fully optimized Google Business Profile (GBP), formerly called Google My Business or GMB for short. This can prove invaluable for ranking sure you appear in "Local Pack" results and boost your visibility throughout other Google products such as Maps.
As part of your audit, ask:
Does the business have a verified Google Business Profile?
Is the GBP fully optimized with product and service descriptions, contact details, and the website address?
Does the GBP feature relevant, high-quality images of the business?
Is all GBP information accurate and up to date?
Are GBP posts being used to promote events, products, and services on a regular basis?
Are customer questions and reviews being responded to in a timely and professional fashion?
For more details about GBP optimization, check out this Google Business Optimization Checklist.
Bing Places Profile
Though Bing doesn't have anywhere near the same market share as Google, millions of people still use it every day to search for local businesses.
With that in mind, your first step should be to ensure that your business has an active Bing Places profile. Bing Places is essentially the search engine's answer to Google Business, so make sure to ask all the same questions listed above regarding accuracy, optimization, images, and reviews during the local SEO audit process.
Local Business Listings
Building a portfolio of local business listings across the web will provide a significant increase to your visibility in search results, not to mention generate some rank-boosting backlinks.
Points you'll want to check include:
Have all of the relevant high-authority local business listing sites been identified?
Has a listing been claimed on each of those business directories?
Are the business listings optimized with relevant keywords, categories, and tags to help potential customers find the company online?
NAP Consistency (Name, Address, Phone Number)
When your business's NAP information is inconsistent across different websites, online directories, and search engines, it can hurt your website's rankings and visibility in the SERPs.
To ensure NAP consistency, check:
Is the business name spelled consistently across all online platforms and directories?
Are the address and phone number the same across all platforms, including abbreviations and suite numbers?
Are there any typos or errors in the NAP information that need to be fixed?
Local Content
Local content is a tremendous asset for a website because it helps you engage and inform local customers, build trust, and improve search engine visibility.
Factors to consider in your SEO audit include:
Does the website have a unique location page set up for each area served?
Are the location pages properly optimized for their local SEO keywords?
Have articles been published on the website that answers common questions about the local area that are relevant to the business?
Have customer testimonials or reviews from local customers been included on the website for added trust and credibility?
Customer Reviews Management
While all businesses can benefit from reviews, those serving local customers will find it particularly advantageous to look at the following factors in addition to those we discussed earlier:
Does the business have an active presence on every website where customers are reviewing the company, and staff are reacting to those reviews quickly and appropriately?
Is the business doing enough to encourage satisfied customers to leave a review online?
Are customer reviews generally positive or negative?
If negative, can steps be taken to improve the business's online reputation with local customers?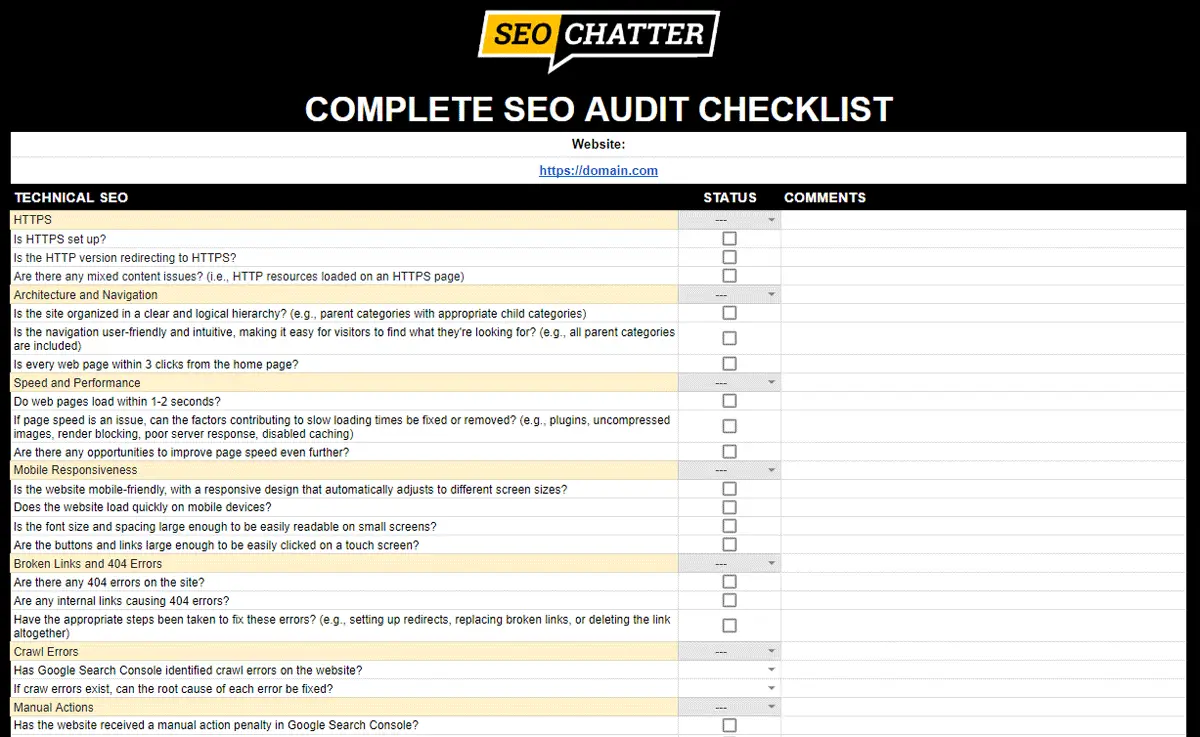 Download a Free SEO Audit Template
The SEO audit checklist template is available in three formats for you to copy, download, and use to mark off each website optimization task as you complete it:
SEO Audit Checklist & Template Summary
We hope this SEO audit checklist makes a great addition to your search engine optimization toolkit.
As you discovered, this free SEO audit template includes a list of the most important steps to perform when conducting a full-scale website audit. This downloadable SEO audit cheatsheet and template will ensure you never miss out on the vital factors that can be optimized for SEO to increase the organic rankings and visibility of your website (or a client's site) in search engines like Google, Yahoo, and Bing.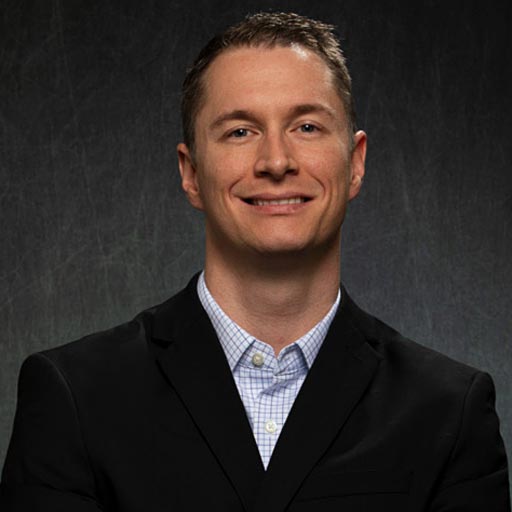 Stephen Hockman is an entrepreneur and founder of SEO Chatter. He specializes in search engine optimization and digital marketing and has been fascinated with SEO since 2005. His goal is to share the best tips and news about search engine marketing to help you get more website traffic.