In this article, you'll learn all about Reddit SEO.
In particular, you'll get a complete Reddit SEO strategy you can use to help your content rank higher on the social media platform itself and in the search engine results pages (SERPs) on Google, Yahoo, and Bing for your target keywords.
The ultimate goal of this digital marketing guide is to give you a list of proven methods for search engine optimization to increase the visibility of your content, build more quality backlinks to your website or blog, and create awareness for your brand where it counts most: on Reddit and in the search engines.
After you're done reading this page, you'll know the best ways for using Reddit for SEO to improve your website's domain authority and page authority metrics as well as get your content found by more Reddit users on the platform.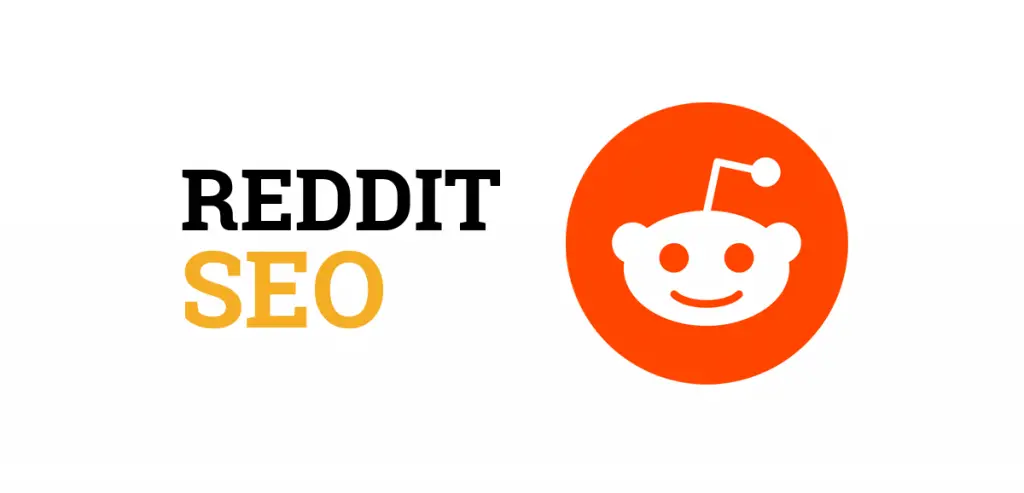 What Is Reddit SEO?
Reddit SEO is the process of optimizing Reddit content to rank higher in the search engines and on the Reddit platform for more users to find relevant content. A good Reddit SEO strategy will increase visibility for your brand and the number of quality backlinks to your website.
Is Reddit Good for SEO?
Reddit is good for SEO because Reddit helps you get more targeted website traffic and attract organic backlinks from other website owners. Reddit is also good for SEO because you can add contextual backlinks that help search engines crawl and index your content.
Additionally, Reddit has a high domain authority and published content on the platform can rank in the search engines for target keywords to help your business capture more SERP visibility. By using the combined power of SEO and Reddit, you can increase the number of people who find your content on the social media platform and through search engines like Google, Yahoo, and Bing.
Reddit SEO Strategy Guide
1. Add a Link to Your Bio
The first step in your Reddit SEO strategy should always begin with adding a backlink to your website in your Reddit profile. Ideally, this link will go to your domain's homepage. See the SEO Chatter Reddit bio for an example.
Now, this backlink will not show up as a hyperlink in a web browser but it will be clickable in the Reddit mobile app. The main purpose here is to create exposure for your domain rather than extracting SEO value from the link.
As you follow the next steps in this guide, more Reddit users will be viewing your profile, which can turn into more direct traffic to your website. So you always want to make sure that your target audience on Reddit knows how to get to your homepage.
2. Find Relevant Subreddits to Participate In
The next step for doing SEO on Reddit is to find relevant subreddits to participate in. A subreddit is basically a subcategory within the Reddit website that allows users to focus on a specific interest or topic for posting content.
The more relevant the subreddit is to your website, the better it will be for getting quality traffic to your web pages and increasing brand awareness. You don't want to waste time posting in unrelated subreddits because the people reading through those threads won't have much interest in your content or website.
To find relevant subreddits, just do a search on Reddit for your target keywords and/or industry-related topics. For example, good subreddits for the SEO Chatter brand to use for marketing purposes include:
3. Build Up Your Reddit Karma
An extremely important strategy you should follow before using Reddit for SEO is to build up your user Karma. Reddit Karma acts as your user score by totaling the number of upvotes against downvotes on your threads and comments. And it appears on your Reddit profile.
Karma is your lifeblood on Reddit because it's a direct reflection of how much your contributions mean to the community. It's also one of the determining factors for when you can start your own subreddit as mentioned in tip #7 below.
Reddit Kara scores help other Reddit users know who are the lower quality posters and spammers on the platform. So your goal now and forever should be to increase your Karma score as much as possible.
To do that, you simply have to post thoughtful and engaging comments on other people's threads and start topics that generate user interest. Essentially, be a good contributor to the Reddit social media platform and you'll easily increase your Karma score to keep your account safe and to unlock new opportunities for SEO and link building.
4. Put Your Domain In Reddit Flair
Here's a powerful Reddit SEO strategy you can use in subreddits that allow you to create your own Reddit Flair. Flair is just an icon or text that appears next to your username in a subreddit community.
Now, some subreddits have a predetermined selection of Flair you can from; however, other subreddits let you customize this field with your own text. For example, the r/Blogging subreddit lets you optimize the Flair field next to your username.
As you can see in the image below, I've included the "SEO news & tips: seochatter.com" as customized user Flair next to my username so people are encouraged to visit the website.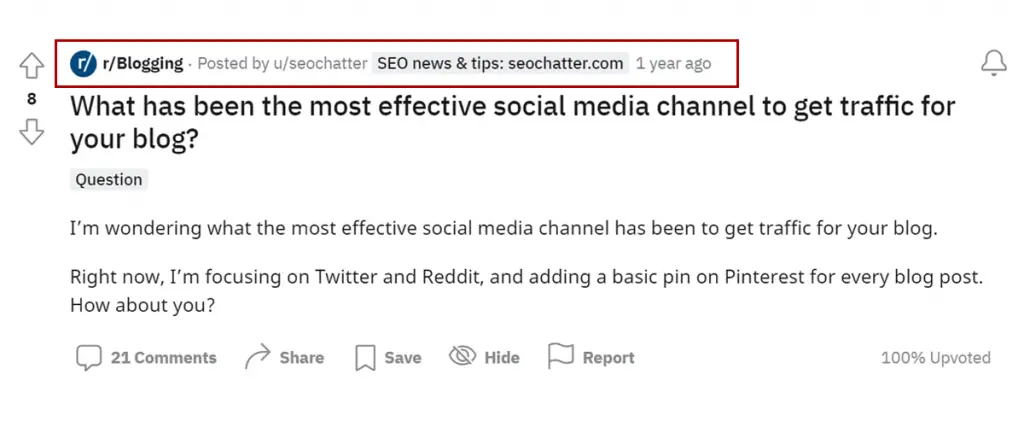 What's also nice about this SEO strategy is that each time you post a comment in the subreddit, the Flair will appear next to your username. This means you can create unlimited exposure for your brand and website as you post comments on other users' threads.
To add Flair to your username in a subreddit that allows it, just follow these steps:
Open the subreddit.
Click on the three dots (menu icon) at the top of the page.
Choose "Change User Flair".
Select the option that allows you to type in your own text.
Click the "Edit" button in the top right-hand corner to make the change.
Click the "Save" button for the changes to take effect.
5. Optimize Your Post Titles for SEO
The next step for getting the most out of your Reddit content is to optimize your post titles for SEO. This will benefit you in two ways:
Your content will be found by more Reddit users.
Your content can rank higher in Google, Yahoo, and Bing for your target keywords to get more organic traffic.
As you can see in the image below, the top content that appears on Reddit for the search query "how to get backlinks" include that exact phrase in the post title. And the post in the SEO Chatter subreddit is the top-ranking result for the past month.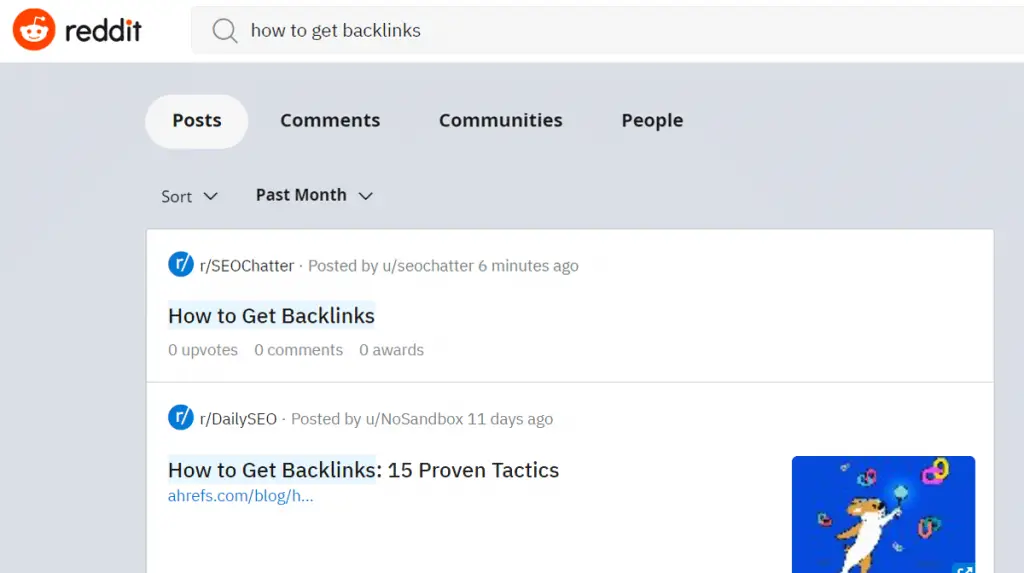 Here are some additional tips for you to use with your Reddit post titles:
Posts with questions receive the most comments.
Posts without questions receive the most upvotes.
Post titles between 60-and 80 characters generate the most upvotes.
6. Post Keyword-Optimized Comments
Similar to the previous tip, you also want to include specific keywords in your comments so they appear in the Reddit search engine and get indexed by Google, Yahoo, and Bing.
Essentially, you want your Reddit username to appear repeatedly for the target keywords associated with your brand and website. The more your username shows up in the search engine, the more times people will visit your profile and hopefully go to your website, read your threads, and check out your subreddit (mentioned next).
Also, many Reddit users sort the search results by "Comments" to find relevant content. As you can see in this image below, comments with the word "SEO tips" in them show up as the first results in the list, which is why you want to use your main target keywords in as many comments as possible as you're posting replies on other users' threads.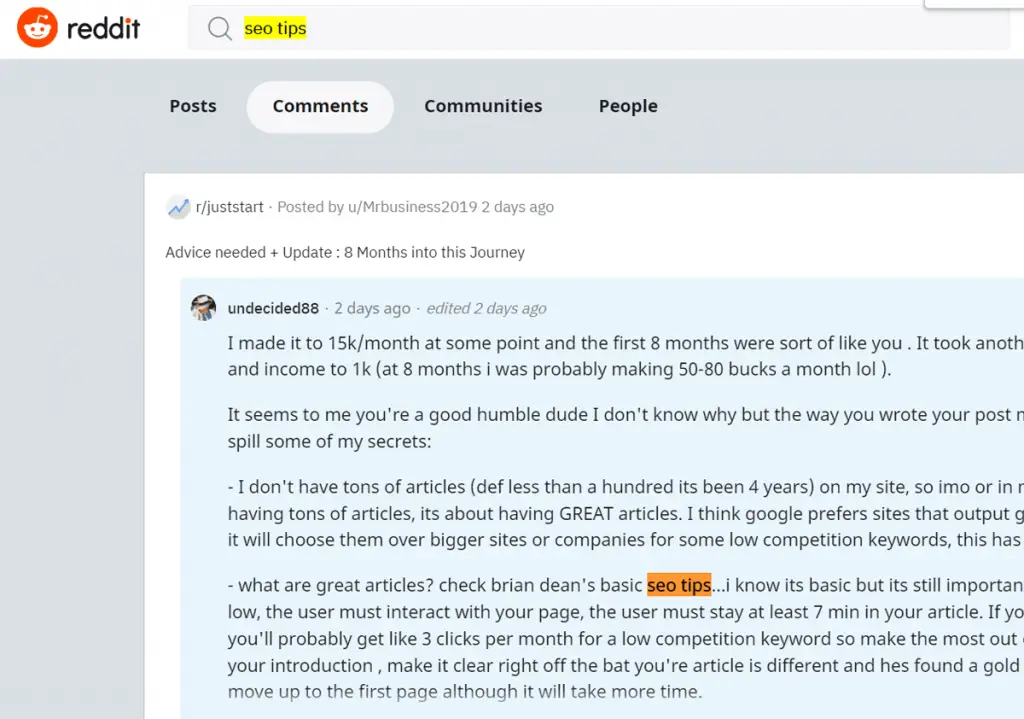 7. Create Your Own Subreddit for SEO
If you're serious about using Reddit for SEO, then you need to create your own subreddit for your website. By having a personal subreddit, you have ultimate control over the content you can post without any worries about other moderators removing your links or optimized content from the platform.
But before you can create your own subreddit, our Reddit account needs to be at least 30 days old and have a minimum amount of positive Karma, which is not exactly specified. That's why following the strategies outlined in tips #2 and #3 above is important to build up that valuable Karma score so you can your new subreddit started at the 30-day mark.
To create a subreddit for SEO purposes follow these steps:
Log into Reddit.
Click on "Create Community".
Name your subreddit. Ideally, it should be your brand name.
Fill out the other options and click "Create Community".
After your subreddit is set up, you can start posting your own SEO-optimized content to get your brand found more often in the Reddit search engine and on indexed pages in Google, Yahoo, and Bing. You can also add backlinks to your web pages to help improve their page authority metrics. See the next SEO strategy for more details.
8. Repurpose Your Existing Content
One of the easiest ways you can combine Reddit and SEO with link building is to repurpose the existing content from your website or blog on the platform.
You can do this in three ways:
Copy the entire content from one of your web pages over to a new Reddit post in your subreddit.
Extract only a section of that web page and post it into your subreddit.
Write a short 300 to 500-word summary of the target web page as a new subreddit post.
At the end of your personal subreddit post, you'll then add a backlink to the specific URL on your website. This method is a great way to get more exposure for your brand, drive targeted traffic to your blog content from Reddit users, and get more link equity for SEO. Other website owners in your niche may also discover these URLs and create organic backlinks to your content without you having to ask for it.
Ideally, you'll want to have a subreddit post for every article that's on your website. That way you can maximize the linking power and discoverability for every web page on your site. Just make sure to optimize the post for SEO in both the post title and in the content so the content has the best chance of ranking for those keywords in both Reddit and Google's search engines.
There are multiple ways to use Reddit for link building and tips #9-15 below will teach you how to create more backlinks from this platform. You also can read the full guide on building Reddit backlinks for SEO here.
Note: Reddit backlinks start out as nofollow links until the post receives a certain number of upvotes. The exact number is not known. However, although most Reddit links are nofollow links, they still reside on a site with high domain authority and Google has publicly stated that it now considers the nofollow tag to be a "hint" and not a "directive" for which links to index in its search engine. Therefore, the algorithm may pass link equity through those types of Reddit backlinks to improve your website's PageRank scores for SEO. In the past, this was not the case, which is why most people were obsessed with getting dofollow links. Today, a nofollow link is still a good link to get for your website's backlink profile to improve search engine rankings.
9. Join Subreddits That Encourage Link Sharing
There are more than 1 million subreddits on Reddit and some of those communities encourage link sharing. In fact, they don't even allow other types of posts.
Therefore, you should look for subreddits that are related to your niche that encourage link sharing. That way, you can easily share links to your website to get backlinks without any fear of the Reddit moderators deleting your posts. Plus, other people in your industry may link back to your content from their own websites and blogs after discovering it through Reddit.
10. Share Value-Added Content
Here's another content marketing strategy for SEO you can use on Reddit that will increase brand exposure for your website while also helping your backlinks stick on the platform.
The fact is Reddit moderators are very active at deleting comments and posts that are purely made for marketing. You can also have your Reddit account banned if you do too much self-promotion on other subreddits that you don't own.
However, one of the most effective ways to keep the Reddit moderators happy and achieve more upvotes than downvotes by the community is to share value-added content in the various subreddits you participate in. And you can do this simply and quickly by syndicating an existing article from your website or blog.
All you have to do is copy and paste the entire article as a new thread in a relevant subreddit. Then at the very end of the post, you put the source URL as a backlink. By posting value-added content like this on Reddit, you're showing the moderators that you're not trying to take users off the platform or just dropping a backlink in a spammy way.
Instead, you're allowing Reddit users to consumer quality content on the platform itself and if they want to learn more about your brand or website, then they can click on the backlink at the end of the article. That's the best strategy for how to share your value-added content on Reddit to keep everyone happy. Putting the link at the top of the post and/or adding a bunch of contextual links throughout the post will be seen as spam and won't be tolerated by the moderators or its users.
11. Analyze the Top Ranking Reddit Content for SEO Ideas
You can come up with new content ideas for your own website by using Reddit's search engine to find popular threads. Chances are if a topic is popular on Reddit, then a lot of people are searching for that type of content on Google, Yahoo, and Bing.
To find these new content ideas for SEO, do a search for a target keyword on Reddit. Then sort the results by "Top". You can also change the "Time" filter to the past year, month, week, 24 hours, or hour, if you want to narrow your search criteria even more.
12. Find a Hot Topic and Write an Answer Post for It
Another effective content strategy you can use on Reddit is to find the hot topics of the day or week and then write a direct answer post for it on your website. What this allows you to do is add a backlink to your website for SEO in a natural way that doesn't raise red flags as being spammy to the moderators.
Essentially, you'll write a quick blog post that answers the hot topic question and then post a comment in the thread telling people about that article.
You can find these golden opportunities for SEO and link building by searching for a keyword phrase on Reddit and then sorting the results by "Hot". This will show you which topics are getting the most recent upvotes in a particular subreddit.
13. Post Similar Content That Gets the Most Upvotes
This tip will help you uncover what type of content performs best on Reddit so you know what type of threads to create to get more attention on the platform.
All you have to do is search for a target keyword in Reddit's search engine and then sort the results by "Top". You can also change the "Time" filter to the past year, month, week, 24 hours, or hour, if you want to narrow your search even more. Next, just look for the threads that have the most upvotes. This indicates that the post is popular among Reddit users.
Once you know what types of posts in a particular subreddit are getting the most upvotes, you can then create your own Reddit thread in similar subreddits with a high probability that the post will get a lot of attention for your user profile and brand.
14. Add Links to Older Reddit Posts
This is a bit of a sneaky link building tactic for Reddit but it works quite well when you don't abuse it. You can also get dofollow links from Reddit threads that have met the criteria for changing embedded URLs from nofollow to dofollow links.
What you do here is search for a target keyword phrase on Reddit, then find relevant threads that are 6 months or older. Chances are these threads are no longer being moderated heavily and you can go in and insert a backlink to your website. Just make sure to also add a thoughtful and engaging comment in case someone does look back at that thread one day.
15. Create Backlinks to Your Reddit Content
The final tip for combing SEO and Reddit is to build backlinks to your own content. This includes the threads you create in your personal subreddit and the posts you add on public subreddits in your niche.
Essentially, you want to add backlinks to the URLs on Reddit that contain links to your website. The more backlinks you can build to those pages, the more link equity they'll pass through to your website to increase the PageRank value for SEO.
With all other things being equal, a backlink from a Reddit URL with 2 high quality incoming links is a much better backlink to have than a URL with 0 backlinks to it. You can check out these other guides on how to get high quality backlinks and how to build backlinks for free if you need ideas on what to do.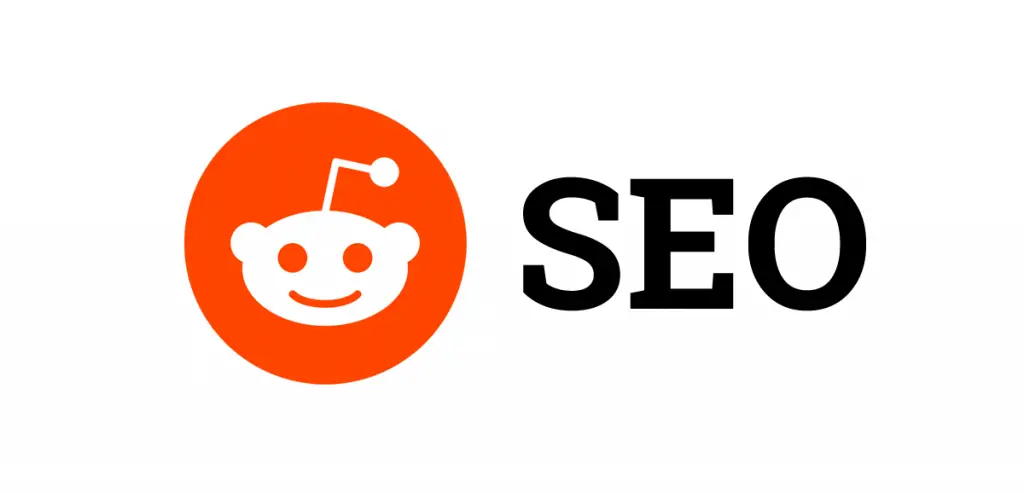 Reddit SEO Strategy Summary
I hope you enjoyed this guide on Reddit SEO.
As you discovered, a good Reddit SEO strategy can help in three primary ways: improving awareness of your brand on the platform, creating more high quality backlinks to your website, and increasing the number of pages that rank high on Google, Yahoo, and Bing for your target keywords to increase visibility for your business.
By using Reddit for SEO the right way, you can penetrate more of the market with your content and get in front of the right target audience who can create more organic backlinks to your website from their own sites and blogs.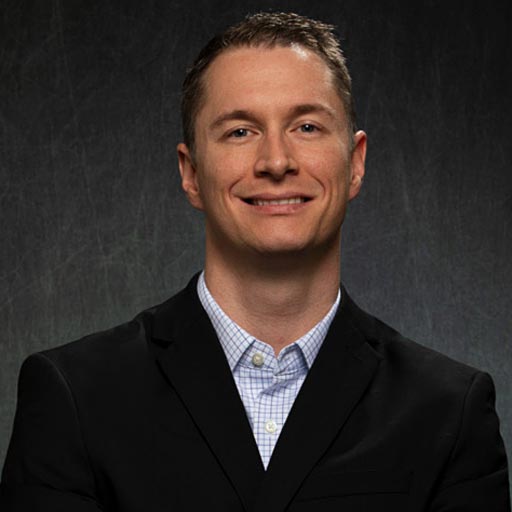 Stephen Hockman is an entrepreneur and founder of SEO Chatter. He specializes in search engine optimization and digital marketing and has been fascinated with SEO since 2005. His goal is to share the best tips and news about search engine marketing to help you get more website traffic.