This guide answers the question, "what is off-page SEO?"
But we'll go over more than just the definition of off-page optimization. We'll also explain how off-page SEO works, why it's important, and look at a number of off-site optimization examples, types, and tactics to help you build a better SEO strategy for your website.
By the end of this article, you'll have a clear understanding of what is off-page optimization in SEO and the elements required for proper link building and increasing authority and trust for your domain.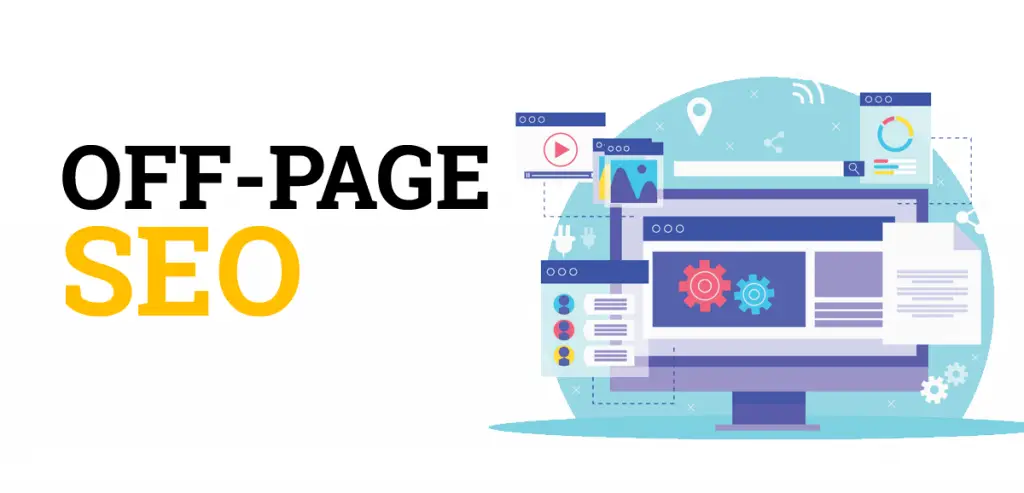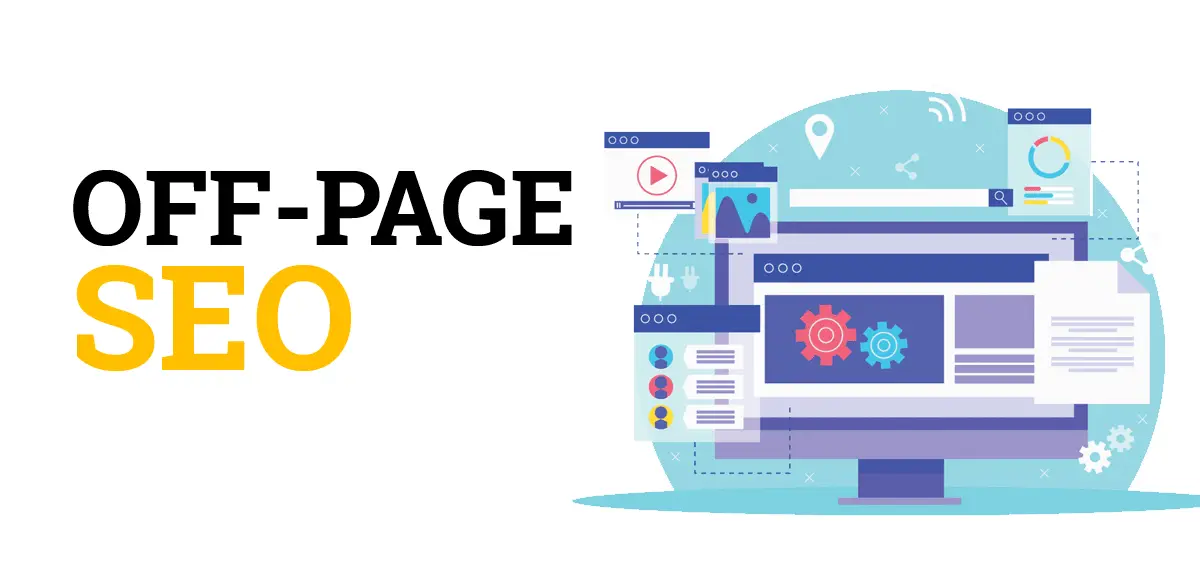 What Is Off-Page SEO?
Off-page SEO is the practice of taking actions outside of your website to improve search engine visibility and traffic. Good off-page SEO increases the authority and trust of your content by generating more backlinks, social shares, citations, references, and brand mentions.
If we take this off-page SEO definition a bit further, we get:
Off-page SEO is the process of optimizing for off-site ranking factors to improve the popularity, expertise, authority, trust, and relevance of a website. Good off-page optimization is achieved by having other reputable sources online linking to or promoting your website, and vouching for the quality of your content.
Now that you know the basic idea of off-site SEO, we'll now look at the importance and how this search engine optimization strategy works to increase rankings and traffic for your website.
Why Is Off-Page SEO Important?
Off-page SEO is important because it helps search engines like Google determine what other individuals and organizations think about your website, products, and services. Off-page SEO is a positive ranking factor because it tells search engines that your website is important to others on the web.
How Does Off-Page Optimization Work?
Off-page optimization works by link building for SEO and increasing the number of brand mentions for a website. Off-site SEO works to improve search engine visibility and traffic for a website because Google takes off-site data into consideration when ranking a web page.
Google's How Search Works documentation states:
"Our systems are designed to identify signals that can help determine which pages demonstrate expertise, authoritativeness, and trustworthiness on a given topic. We look for sites that many users seem to value for similar queries. For example, if other prominent websites link to the page (what is known as PageRank), that has proven to be a good sign that the information is well trusted."
When Google crawls the web, it scans each web page for off-page SEO types like outbound links and brand mentions. Once that work is complete, Google assigns the data it found to each individual website. If a website receives a lot of links and brand mentions from trusted sources, then its SEO score increases. (See backlinks vs referring domains for more information.)
After comparing, your website's off-page SEO score and on-page SEO metrics to other pages in its index, the algorithm can determine the relevance of your pages for specific queries and at what position they should rank in the SERPs. The work of off-page SEO is what helps increase your site's rankings for the keywords that matter most for your business.
To help website owners and industry professionals analyze the off-site SEO types and signals that Google takes into consideration, the software company Moz developed a set of off-site metrics called "Domain Authority" (DA) and "Page Authority" (PA). DA indicates the popularity and trust of the entire domain while PA measures the individual pages on the site.
Next, we'll look at some off-page SEO examples.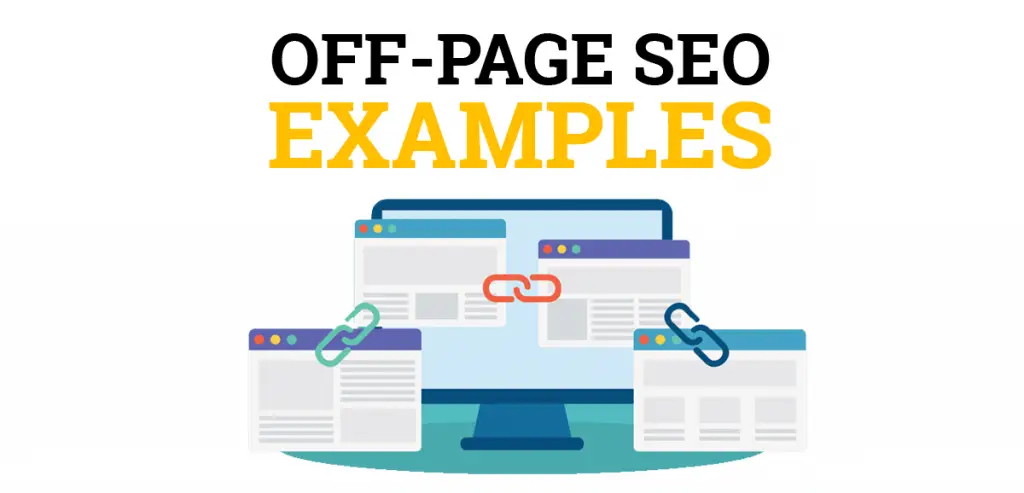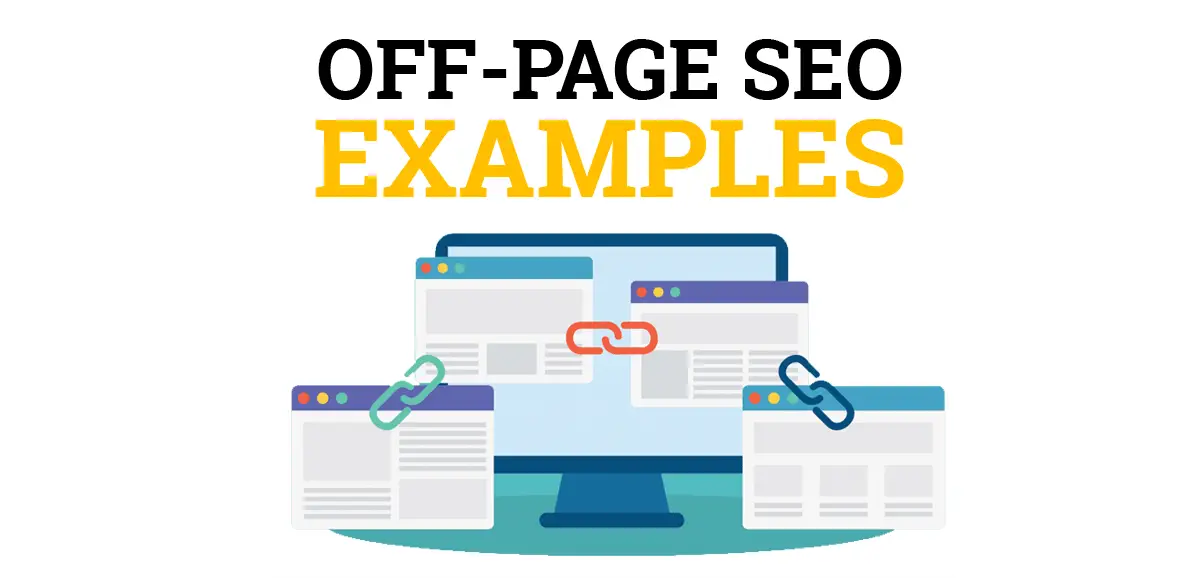 Off-Page SEO Examples & Types
Link Building
Link building is the practice of getting other websites to link to your content, which can improve your site's authority and relevance for its target keywords.
This example of off-page SEO consists of reaching out to other website owners and asking them to link to your web pages from relevant pages on their site. Popular strategies include guest posting, link insertions, and broken link building; all of which are explained in more detail below.
Other tactics for this type of off-site SEO include:
Analyzing your competitors' backlink profiles and finding opportunities to get links from the same or similar sources.
Offering testimonials for products and reviews in exchange for a backlink.
Finding resource pages on other websites that list useful links or websites related to your niche and asking the owners to add your site or content to their list.
Hosting events, contests, and giveaways to generate buzz around your company and its products and services to generate organic backlinks and brand mentions at scale.
Brand Mentions
According to Sparktoro, brand mentions will eventually replace the Google link graph for off-site optimization signals.
The article states:
"There's good evidence that over the long run, links won't be all that crucial to Google's rankings, and will be replaced by lexical references that connect topics and keywords to a brand, website, or page—what I'll call 'inferred links.'"
What this means is that getting your brand name or a specific web page mentioned (i.e. without a link attached) in the text on another website can be powerful off-page SEO type of strategy.
Brand mentions are a good off-page SEO example to try because they're much more trustworthy. Without a link attached to the brand or web page, the target owner has nothing to gain. Therefore, the host site is more than likely making an honest recommendation for the brand.
This makes a lot of sense because there is a lot of link schemes happening online where people buy or sell links to increase a website's PageRank. Google is even getting more aggressive on this off-site SEO practice by releasing another Link Spam Algorithm Update that identifies and nullifies link spam.
So try to get more brand mentions as an off-page SEO strategy to protect your site for the future.
Guest Posting
Guest posting is a popular off-page SEO practice for link building. What you do is contact other sites in your niche and ask to write an article to be featured on their blog. In return, you can add a backlink to your site within the body content or within the author bio at the end of the article.
There are a few Google search operators you can use to find websites that are open for guest authors, including:
Keyword + "write for us"
Keyword + "write for me"
Keyword + "guest post"
Keyword + "guest blogging"
Keyword + "contribute"
Keyword + "become a contributor"
Keyword + "blogging guidelines"
Link Insertions
A link insertion is the practice of adding your website's link to the existing content of another website to improve the reader's experience.
This off-page SEO element includes two steps:
Finding articles within your industry that relate to your target web page.
Contacting the site owners to see if they'll add a reference to your web page inside their article.
Local Listings
Local listings are an important off-site optimization technique for local businesses.
When done correctly, submitting your business to local directories can increase rankings and reputation for a brand in localized search results.
A good off-site local search optimization strategy includes optimizing for the Google Local Pack, which is a section of the search results that shows three local businesses related to your query, and Localized Organic results that appear in Google's search engine results pages (SERPs).
Influencer Outreach
Influencer outreach is a good off-page SEO example alternative to traditional advertising.
By connecting with influencers in your niche, or those who have a large following that matches your target audience, you can quickly develop credibility and awareness for your website and brand.
Asking an influencer to comment on, review, or give feedback for your products or services, while also adding a backlink to your site, often provides a faster and higher return on investment than standard paid advertising.
Broken Link Building
Broken link building is a common off-page SEO type for getting backlinks from high authority sites.
The process for broken link building is to find broken links on websites and then contact the owner to tell them that the linked resource is missing. But instead of the owner just removing the link, you inform that person you have a web page that could be a good substitute.
There are several tools you can use for broken link building:
Content Marketing
Content marketing is another powerful off-page SEO example of link building and brand mentions.
By creating and distributing valuable and consistent content online, you can attract more links and grown your audience. Content marketing can be in the form of blog posts, videos, images, and audio content that can easily be shared by people online.
Blog Commenting
Blog commenting is not the most powerful off-page SEO type available, but it does exist.
Most of these links are no-follow, which means they don't pass any PageRank authority to your site. However, when done correctly, you can get extra traffic to your site from visitors who take the time to read your comment on a blog post.
So it's best to approach blog commenting as a brand awareness strategy and an easy source for a no-follow link.
Forum Posting
Participating in forums that are related to your business can do three things for off-site SEO:
Raise brand awareness.
Build a connection with others in your community
Give you an opportunity to post links back to your website.
Just don't go into forums and start posting your links. Otherwise, you'll get banned quickly. Instead, be an active member of the community and help people with their problems. That way, you become a trusted resource for the forum and people will value your links.
Another good tip here is to try to participate in forums that offer do-follow links, which pass PageRank authority to your site.
Question & Answer Sites
An easy off-page SEO technique anyone can implement immediately is to join sites like Quora and start answer questions related to your industry.
By picking answering questions in a way that adds value to the platform, you can typically add a link back to your site in the answer without raising any red flags.
Another good strategy here is to copy and paste the content from an article you've previously written on the subject that answers the person's question. Inside that post, you can include a backlink to the original source so people can visit the page if they want to. This off-site SEO tactic allows you to build brand awareness, get more traffic to your web pages, and capture authoritative links to your site.
Check out this guide on creating Quora backlinks to learn more about these link building strategies for SEO.
Interviews
Getting interviewed is another simple way to do off-page SEO link building and get brand mentions. People who listen to the interview in audio or video form will be exposed to your business and this can help attract attention.
Plus, most interview hosts will include the name of your brand and a link back to your website in the show notes, which is good for both short-term and long-term off-site optimization results.
Social Posting
Although there's no direct response from Google that it uses links on social media to judge the authority and trustworthiness of a website, a good strategy will still include this type of off-page SEO.
In my guide on SEO vs SMM, I explain how adding links and keywords in social posts can send SEO ranking signals to the pages to which they link. And if Google does take these off-page SEO elements into consideration, then it will only benefit your pages.
Therefore, it's a good practice to optimize and share all of your content on social media networks like Twitter, Facebook, LinkedIn, Instagram, Pinterest, etc. to build topical relevance for the keywords you want the content to rank for.
Social Bookmarking
Social bookmarking is the final off-page SEO example to consider.
It used to be a good off-page optimization method for ranking web pages. However, it's not the most powerful solution anymore for off-site SEO.
You can choose to use it or not. But if you do, be sure to surround your links with keyword-rich descriptions to help boost the topical authority for those terms.
Some good social bookmarking sites for off-page SEO include Delicious, Digg, Reddit, Mix, Fark, Scoop.it, Medium, Instapaper, and Tumblr. See this related guide with a complete list of free social bookmarking sites.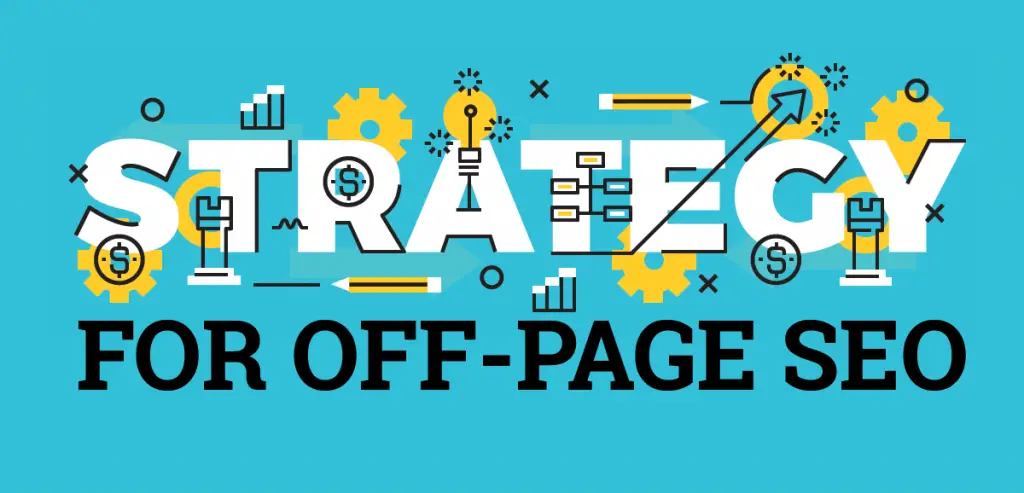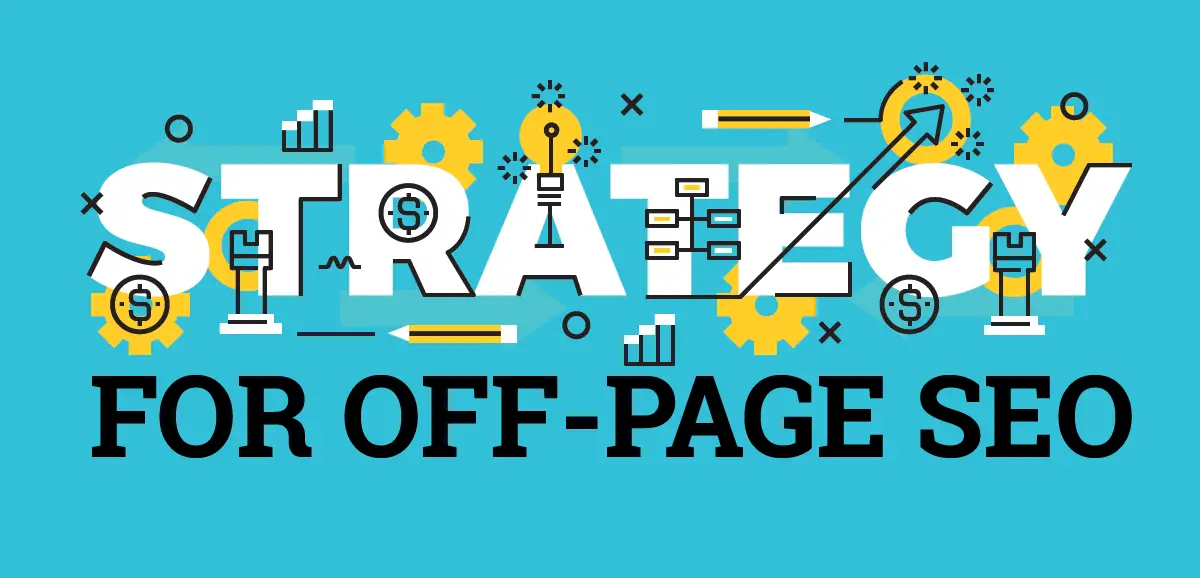 Off-Page SEO Strategy & Tactics
An off-page SEO strategy will include actions that build backlinks, increase brand mentions, and boost shares of your content on social media.
To achieve higher rankings for a website with off-page optimization, a good strategy will include on-page and off-page SEO tactics:
Evaluating your current backlink profile to see how strong it is.
Checking the backlink profiles of your competitors to find easy opportunities to get similar links.
Improving your internal linking with keyword-rich anchor text.
Fixing 404 errors so incoming PageRank is not being lost.
Optimizing your content for on-page SEO so it doesn't need as many backlinks to rank.
Assessing your link building options and choosing the best off-page SEO types to pursue.
Promoting content on social media.
Using paid ad campaigns to drive more awareness if your budget allows.
Producing high-quality content that gets natural links and brand exposure.
Double-downing on the off-page SEO tactics that work best for your business.
See my guide on how to build backlinks for free here for a complete list of link building strategies for off-site SEO.
Benefits of Off-Page SEO
Increases Your Website's Authority
Authority is a measure of how trustworthy and reputable your site and the content is for specific topics. By getting backlinks from other high-authority sites and external web pages, you can boost your site's overall Domain Authority and individual Page Authority scores.
Improves Your Site's Organic Rankings and Visibility
Organic rankings and visibility refer to how well your site appears in the search results for relevant keywords. By doing effective off-page SEO, you can signal to the search engine algorithms that your site and its content are valuable and relevant to your target audience. This can help it rank higher on Google, Yahoo, and Bing to generate more organic traffic.
Reaches a Wider and More Diverse Audience
Off-page SEO practices like link building can help expose your content to more people on other sites they visit. This can help you reach a wider and more diverse audience that may not find your site naturally through the search engines. You can also attract more referral traffic and leads from these third-party sources.
Diversifies Your Traffic Sources
Another benefit of off-site SEO is that it can help diversify your traffic sources and reduce your dependence on a single channel like Google Search. By getting traffic from different sources, such as backlinks, social media shares, referrals, etc, you can reduce the risk of losing a significant amount of traffic due to algorithm changes or other factors you cannot control. A well-diversified set of traffic channels increases your website's traffic stability and consistency.
Builds Better Relationships and Partnerships
Off-page SEO involves reaching out to other website owners, influencers, and journalists in your niche and asking them to link to or promote your content. This can help you build better relationships and partnerships with the people who matter most in your industry. As a result, off-site SEO practices can benefit your site in the long run. You can also leverage the authority and audience of these new partnerships to help boost your own.
Enhances Your Brand Awareness and Reputation
Off-site SEO is also important for getting positive mentions and reviews from other sites, which can enhance your brand awareness and reputation online. When people see your site being recommended by other trusted sources, they are more likely to trust you and visit your site to check out your products and services.
Generates More Social Signals and Engagement
Social signals are the interactions that users have with your site on social media, such as likes, shares, comments, etc. These signals can indirectly boost your off-site SEO performance by increasing your social presence and reach among people in your target audience who may want to link to your content. A good example of this is when you create and share a high-quality resource (e.g., checklist, template, or tool) that naturally acquires a lot of social shares and engagements, which, in turn, can lead to organic backlinks from other website owners in your niche.
Protects Your Site from Negative SEO Attacks
Negative SEO attacks are malicious attempts by competitors or hackers to harm your site's ranking and reputation by creating spammy or low-quality backlinks to your site. By focusing on high-quality off-page SEO, you can protect your site from these attacks by having a strong and diverse backlink profile that can outweigh the negative effects.
Future-Proofs Your Site's SEO Strategy
Off-site SEO can help you future-proof your site's search engine optimization strategy by following the best practices and guidelines for building authority and trust. By doing off-page SEO ethically and naturally, you can avoid penalties and ranking drops that may result from using black hat or outdated techniques. Good off-page SEO also helps to protect your site's organic visibility in the SERPs when search engines like Google adjust their ranking algorithms. Sites with high-quality off-site SEO signals typically do not experience wild fluctuations for their target keywords due to the established authority and trust.
Difference Between Off-Page and On-Page SEO
The opposite of off-page SEO is on-page SEO, which is a set of search engine optimization techniques that improve the on-site signals that ranking algorithms consider when ordering the keyword ranking positions in the SERPs.
The list below gives a general overview of the differences between these two optimization strategies. You can also read the full off-page SEO vs on-page SEO guide for a deeper level of understanding of how they compare to each other.
Off-page SEO refers to the actions you take outside of your site, such as building backlinks, social media marketing, guest posting, influencer outreach, and online reviews
On-page SEO refers to the actions you take on your own site, such as optimizing your content, keywords, title tags, meta descriptions, headings, images, internal links, and site speed
Off-page SEO is dependent on external website factors and harder to track than on-page SEO, but it also has more long-term benefits and can help generate more visibility for your content.
On-page SEO is more under your control but it also requires more technical skills.
The best way to do off-page SEO is to create high-quality content that attracts natural links from other sites, build relationships with other site owners and influencers in your niche, and promote your content on social media and other platforms.
The best way to do on-page SEO is to follow the best practices and guidelines from Google and other search engines, conduct routine site audits, and test new strategies to determine which factors deliver the best results for your content.
Both on-page and off-page SEO are important for improving your website's authority, relevance, and trustworthiness in the eyes of search engines and users
On-page SEO and off-page SEO are not mutually exclusive; they work together to complement each other and boost your site's overall ranking potential in search engines like Google, Yahoo, and Bing.
Off-Page SEO Optimization Summary
We hope you enjoyed this guide answering the question about what is off-page SEO.
As you discovered, off-page SEO is the practice of taking actions outside of your website to improve search engine visibility and traffic. And good off-page SEO increases the authority and trust of your content by generating more backlinks, social shares, citations, references, and brand mentions.
Now that you know what off-site optimization is, how off-page SEO works, and the importance of this activity, you can focus on implementing the best practices and off-page SEO types for your site to help increase its organic rankings and traffic in search engines like Google, Yahoo, and Bing.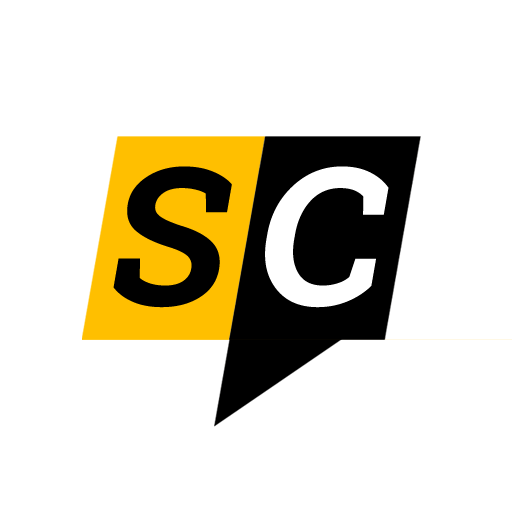 The Editorial Staff at SEO Chatter is a team of search engine optimization and digital marketing experts led by Stephen Hockman with more than 15 years of experience in search engine marketing. We publish guides on the fundamentals of SEO for beginner marketers.