This article covers SEO for Google Sites.
Below, you'll find out everything you need to know about making Google Sites more SEO-friendly so your websites can be indexed and ranked higher in the search engine results pages (SERPs) for specific keywords.
Google Sites are a popular digital marketing platform by Google that you can use to increase organic search engine visibility for your business. But to do that, you need to know how to optimize Google Sites correctly for the ranking algorithm.
Consider this your ultimate Google Sites SEO guide for driving more search traffic from Google's search engine.
What Is SEO for Google Sites?
SEO for Google Sites is the process of optimizing Google Sites to make them rank higher in the search engines for relevant keywords. A good Google Sites SEO strategy focuses on important HTML elements that search engines use for indexing and ranking content in the SERPs.
Google Sites are like any other type of website that's built with a content management system (CMS), like WordPress and Wix, which can be optimized for SEO and ranked in SERPs for relevant queries. The guide below will teach you how to maximize this search engine optimization performance.
Google Sites SEO
1. Change Google Sites Permissions
The first step in doing SEO for Google Sites is to change the permission for the website so it's publicly available on the Internet. This allows people to find and open the site as well as gives Google's web crawler access to the content. If you don't change this permission setting, then your Google Sites will not be indexed in Google's search engine, Yahoo, or Bing.
To make your Google Site publicly available, click on the "Share with Others" icon at the top of the Site builder screen and then change the "Published Site" setting from "Restricted" to "Public" to make the website public-facing and not private. This change opens the Google Site up to be crawled, indexed, and ranked in search engines.
2. Optimize the
Page Title

for SEO

The next step for effective Google Sites SEO is to optimize the page title for your main keyword. The page title is also referred to as the "Meta Title" because it appears in the meta title tag in the HTML code. And this title tag is one of the top ranking factors for on-page SEO.

If optimized correctly, Google will display your custom SEO page title in the SERPs for your website, which is the link people click on to view your site. Therefore, it's important to use your main keyword for the target page in this HTML location because it improves on-page SEO and user click-through rates (CTR).

To optimize the page title, click on the current page title that appears at the top of the Google Sites template and change it to include your most important keyword for the page. You can also include a brand name if you'd like, but the main keyword should be the first piece of text in this HTML location.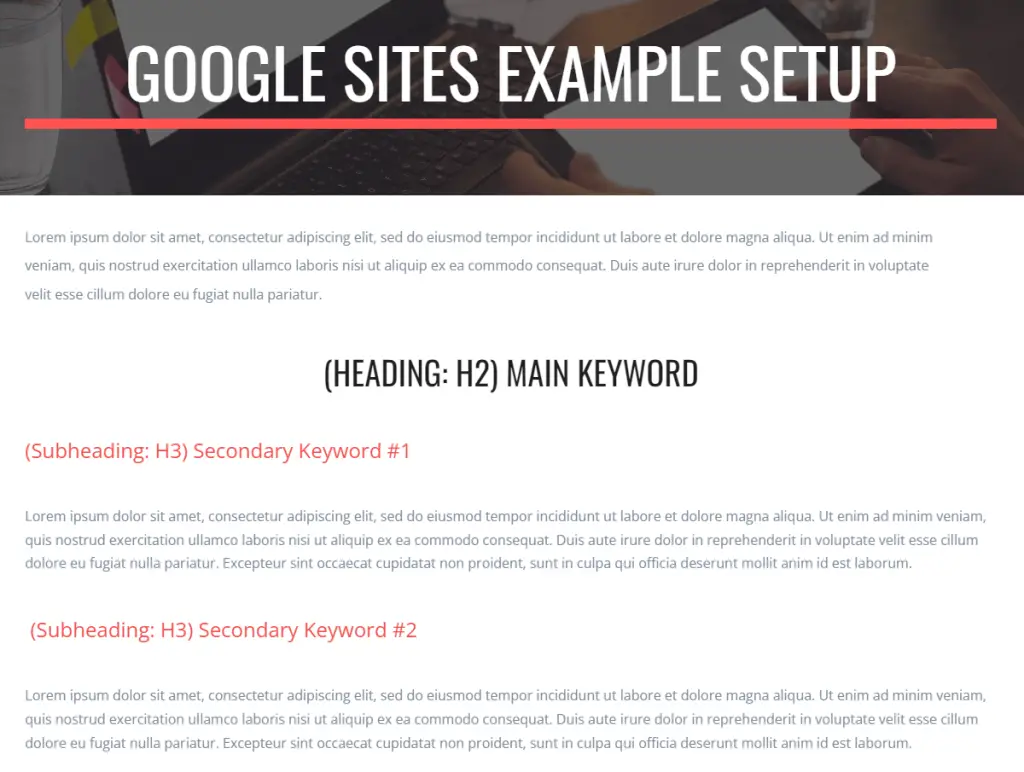 3.
Optimize Headings
There are three types of headings you can use on a Google Sites page: H1, H2, and H3. And these headings are important for SEO because Google crawls these HTML tags to help understand the outline, structure, and content on the page. Therefore, using your target keywords in the headings on a Google Site improves the SEO for higher rankings in the SERPs.
Unlike other CMS platforms like WordPress that let you select the proper HTML heading for your content (H1, H2, and H3), Google Sites doesn't refer to these headings in the same way; however, they are coded properly in the HTML code after publishing the site.
Google Sites uses its own naming system in the page editor tool as referenced below:
Title = H1
Heading = H2
Subheading = H3
When optimizing your Google Sites for search engine optimization, follow these guidelines for the headings:
Title: Only use one title for each page and make it the first piece of text at the top of the page. Include your main target keyword in the title section which becomes the H1 tag.
Heading: Use as many headings as you need to outline the content for the reader. Try to include one of your secondary keywords in each heading so each secondary keyword can be crawled in its own H2 tag.
Subheading: Use as many subheadings (H3s) as you need under each heading (H2). Subheadings are meant to be subsets of heading, so do not just create random subheadings on the page. Include variations (synonyms) of your keywords in the subheadings so you're not overoptimizing the H3 tags for exact match keywords in SEO.
4. Include SEO Keywords In the Content
After you've outlined your Google Sites with an optimized title, headings, and subheadings, the next step is to add each of your keywords to the main content on the page. Google's web crawler will scan the words on the page to try and understand what the content is about so it can be indexed for relevant keywords in the SERPs.
To optimize the content on a Google Site for SEO, add your keywords to the following sections:
Introduction: Include as many of your keywords in the introduction as you can one time without it sounding unnatural. Typically, you can include 2-3 keywords for SEO in this area of the page.
Main Body Content: Scatter your keywords throughout the main content on the page. For shorter pages (under 1,000 words), include your main and secondary keywords once. For longer pages, (over 1,000 words), include your target SEO keywords 1-2 times in a natural way.
Summary: Add a summary (or conclusion) on every Google Sites page. Then try to include as many as your keywords in the last 100-200 words while keeping the copy sounding natural.
5. Use Good Image SEO
Another area you can optimize Google Sites is the through the uploaded images. Google will crawl the readable text attached to these images and use them to help index your site for relevant keywords. The images will also appear in Google Image Search when optimized properly for SEO; giving your Google Sites another source of organic search traffic.
Before you upload an image to your Google Site, you need to choose a target keyword for the image that's relevant to the page. Then, you need to name the image file after that target keyword with dashes (-) between each word. For example, if your SEO keyword was "Google Sites Tips", then the filename for a relevant image should be "google-sites-tips.jpg".
Next, you want to upload the image to the Google Sites page. After that, you need to optimize the ALT text field for the associated keyword. However, you also need to make sure that you describe the image correctly because this field is used by screen readers to interpret the image for people with disabilities who can't see the image on the screen.
A good practice for optimizing the image ALT text for SEO is to include your target keyword while also describing the image accurately. For example, you could use a website app like Canva to create a custom image with the words "Google Sites Tips" over a background of a smiling business owner. Then, a good ALT text could be "Google Sites Tips: Smiling Business Owner".
6. Use Keywords In the URL
According to many SEO experts, the URL is another top-ranking factor for SEO. Therefore, you should maximize the search engine optimization of this field for your Google Sites main keywords.
Each web page on your Google Sites should be optimized for its own primary keyword and the URL should reflect that. For example, if you're target SEO keyword was "pay for performance SEO", then the URL structure for that page should be "/pay-for-performance-seo". And remember to use dashes (-) in between words; not underscores which Google doesn't recognize as word separators.
To customize new page URLs on Google Sites, click on the "Publish" button and add your main target keyword with dashes into the "Web Address" field to make it SEO-friendly. To edit the URL for an existing page, click on the "Publish Settings" option under the Publish button. Here's how the URL should look when you're done: https://sites.google.com/view/your-keyword-here
Note: Each URL must be unique and your chosen keyword structure may be taken by another Google Site. If that's the case, then just add another word or two to the end of your URL until it passes inspection.
7. Improve Topical Relevance for SEO
If you're serious about optimizing your Google Sites for search engine optimization, then you're going to need more than one page on your website. It's very rare that single-page sites rank in Google for their target keywords.
A simple SEO strategy you can use to increase the rankings for your Google Sites is to improve the topical relevance. This is done by creating new web pages that are focused on the same topic, which then signals to Google's algorithm that your Google Sites is an authority on that subject.
For example, if you're creating a Google Site about the best pet food on the market, then you should have additional pages on the website that answer common questions about pet food. The main homepage for the Google Sites could be a list of the best pet foods along with reviews and ratings while the other pages handle frequently asked questions such as "what are the different types of pet foods", "dry versus wet pet food", "pet food ingredients to avoid", etc.
8. Create Internal Links
Following up on the last Google Sites SEO tip, you can further improve the on-site search engine optimization for your website by creating internal links that are optimized for your target keywords. SEO testing shows that Google's crawler uses the anchor text for internal links to help understand which keywords the target page should be ranked for in the search engine.
To use this SEO strategy, you simply need to link relevant pages together with keyword-rich anchor text. For example, on each of the frequently asked questions pages mentioned in the last tip, you could add an optimized internal link within the content to the homepage using anchor texts like "best pet foods", "best pet food list", "best pet food reviews", etc. Those internal links include the target keyword which gives Google's algorithm the signals it needs to rank the page better in the SERPs.
9. Optimize Google Sites Navigation
The navigation menu for your Google Sites is not only important for users but it's also an area you can optimize for SEO too. Links that appear in the main navigation send a signal to Google and other search engines that the content is very important for the user and should be given more search visibility.
You should make sure that the most important pages on your Google Sites are included in the main navigation menu and optimized properly for SEO. Pages are automatically added to the navigation; however, they don't always have the best anchor text. As mentioned in the previous tip, Google uses the anchor text for internal links to figure out what keywords the target page should be ranked for in the SERPs. Therefore, you should change the menu item name for each page to be your main target keyword for that page.
To optimize your Google Sites navigation menu items, click on the "Pages" tab in the righthand sidebar. Then, click on the three dots (…) next to a menu item. Next, click on "Properties" and change the name to the main target SEO keyword. Click "Done" to save the change.
10.
Use Google Stacking for SEO
Google stacking is an advanced SEO for Google Sites strategy that can help you build on the existing authority of Google's domain. This technique builds (or stacks) links on Google platforms to other entity assets like a company's website to improve its backlink profile. Common platforms for Google Stacking include Google Drive, Docs, Sheets, Forms, and Slides which are stacked on top of each other for SEO.
This method works because Google properties have a high Domain Authority. And some of this authority can be transferred to the target website through backlinks to increase the PageRank value for SEO. It's especially useful for local search engine optimization where the competition is typically easier for local SEO keywords.
Check out the linked article above to get a complete overview of how to use Google authority stacking for your Google Sites.
11. Create an XML Sitemap
An XML sitemap is a file that provides information about the pages, videos, and other files on your website, and the relationships between them. XML sitemaps help search engines like Google understand your website structure and find new content that's published.
Google Sites used to automatically create an XML sitemap for you, but in March 2021, Google removed this feature. Now, no sitemap is created for Google Sites. However, if you have a proper navigation menu setup for your Google Site without any pages being hidden, then you should be fine with Google finding, crawling, and indexing every page on your website.
One workaround you can try is to create and host an XML sitemap on another domain. To do this, you'll need to specify the file's location in the robots.txt file on the other domain.
12. Connect the Site to Google Search Console
Google offers a number of free Google SEO tools for webmasters. One of which is Google Search Console which helps you measure your website's search traffic and performance, and report any technical SEO issues.
By connecting your Google Sites to Search Console, you can get a wealth of SEO data you need to make better decisions on optimizing your website for keywords, impressions, click-through rates, page speeds, and more.
13. Add Google Analytics to the Site
Another good and free SEO tool for Google Sites is Google Analytics. This tool is essential for understanding how visitors interact with your website so you can make better on-site marketing decisions. See this related guide on how to set up Google Analytics for Google Sites.
14. Build Backlinks to Google Sites
Google Sites are just like any other website on the Internet when it comes to ranking in the SERPs. And for some competitive keywords, a Google Site will require high-quality backlinks to increase the keyword positions.
Therefore, you should actively build links to your Google Sites to help improve the off-page SEO, which is a ranking factor in Google's algorithm. Check out these related guides to get tips on link building:
15. Keep the Google Sites Updated
After you've properly optimized your Googles Sites for search engine optimization, you also need to keep the website updated regularly to help maintain high keyword rankings. Otherwise, you may see a drop in visibility on search engines.
For some topics, Google has identified that users want to see new and current content, so the algorithm uses a process called Query Deserves Freshness (QDF) to increase visibility in the SERPs for web pages that meet the QDF requirements. This means you should keep the content on Google Sites updated so it stays relevant to searchers. The same thing goes for adding new content to the website. Stale websites tend to decrease in rankings over time. Therefore, a good habit to get into for SEO is to publish at least 1-2 new pages per month on your Google Sites that are optimized for target keywords that help strengthen the topical relevance of the website.
SEO for Google Sites Summary
I hope you enjoyed this guide on SEO for Google Sites.
As you discovered, Google Sites SEO is the process of optimizing Google Sites to help them rank higher in the search engine results pages (SERPs) for relevant keywords. And just like other popular CMS platforms like Wix and WordPress, certain HTML elements on Google Sites can also be optimized for SEO to increase the visibility for the content to search engine users.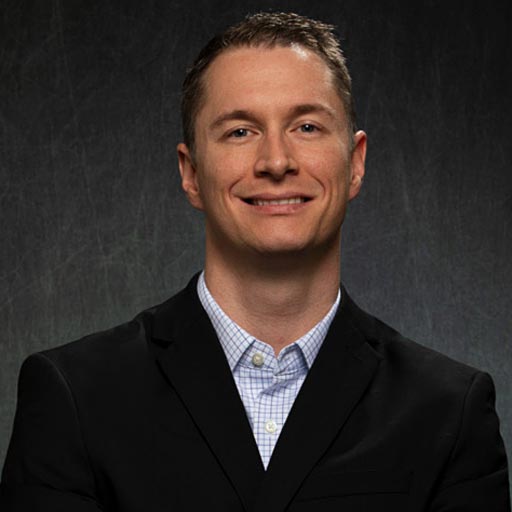 Stephen Hockman is an entrepreneur and founder of SEO Chatter. He specializes in search engine optimization and digital marketing and has been fascinated with SEO since 2005. His goal is to share the best tips and news about search engine marketing to help you get more website traffic.