In this guide, you'll learn how SEO works for websites.
If you're trying to develop a digital marketing strategy to improve the rankings and traffic for a website, then understanding how search engine optimization works is important for your success.
To make things easy, we'll first start with a general overview of how does SEO work on Google, Yahoo, and Bing.
Then, we'll move on to a step-by-step process you can follow to make your website more SEO friendly.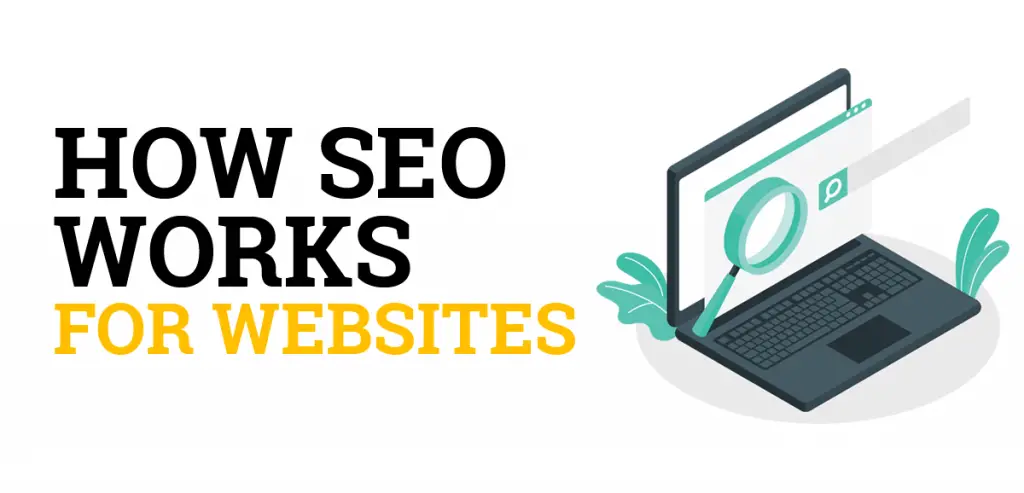 How SEO Works for Websites
SEO works for websites by optimizing a piece of content so search engines like Google will rank it higher in the search results pages for relevant keywords. Search engines scan and crawl sites to better understand what the content is about which is why SEO for websites is important work.
Quick Example of SEO Working for a Website
Consider a website that sells Internet marketing services that has not focused on any SEO work.
The organic traffic to this site from Google, Yahoo, and Bing for each of the web pages is not very high because the search engine web crawlers are not being given the correct signals for the relevant keywords each page should be ranked for in the SERPs (search engine results pages.)
Now, imagine the company hires an SEO expert to work on the website to improve the relevancy for each web page for their target search queries.
This search engine optimization works consists of updating elements like the page titles, meta descriptions, URLs, heading tags, internal links, and site navigation structure.
This type of on-site SEO work would increase the number of organic keywords the website ranks for in Google, Yahoo, and Bing as well as the average ranking positions in the SERPs, which leads to an increase in the total amount of traffic.
As you can see, SEO works to improve the search engine visibility and traffic for a website so the business can get more quality leads, customers, and sales.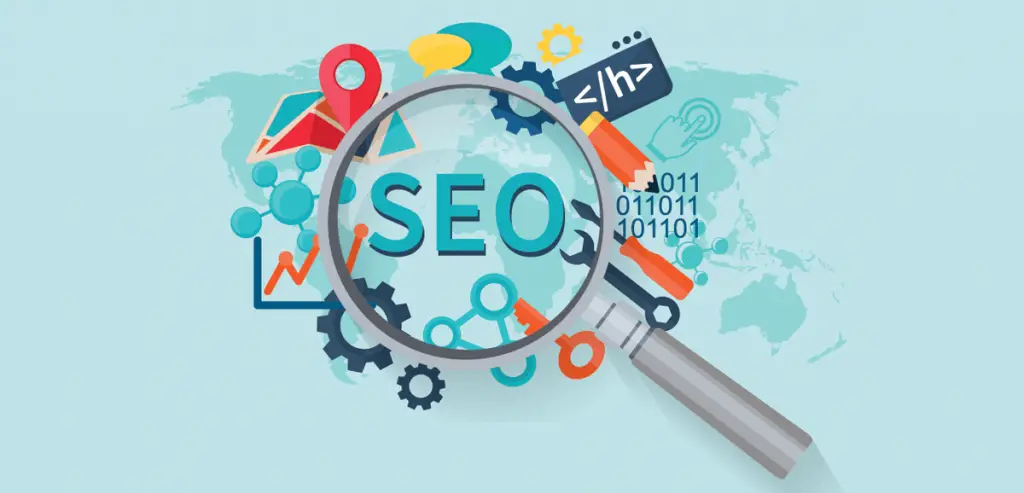 How Search Engine Optimization Works
Search engine optimization works to improve your website's position in the search results pages. The process of search engine optimization is to make your site rank as high as possible in search engines such as Google so you can increase organic traffic. SEO works with on-page and off-page factors.
Today, search engines like Google use more than 200 different ranking factors to assess a piece of content in order to rank it in the best position in the index.
This means there are a lot of different elements that the Google algorithm takes into consideration to determine the placement of your site's URLs in search results pages.
The two primary categories for search engine optimization include:
On-Page SEO
On-Page SEO strategies are techniques that work on your website to improve search engine rankings and visibility.
The top on-page SEO factors include:
Meta Title Tag
Meta Description
Headings
URL
Page Content (e.g., minimum word count for SEO)
Image Optimization
Internal Linking
Structured Data
Page Speed
Core Web Vitals
Mobile Optimization
Note: I have a complete Mastering On-Page SEO course on this topic that shows you how to get maximum SEO value out of every page you publish using on-page optimization techniques.
Off-Page SEO
Off-Page SEO strategies are methods that work off your website to boost trust and authority for your content.
The top off-page SEO techniques include:
Brand Mentions
Guest Posting
Link Insertions
Local Listings
Influencer Outreach
Broken Link Building
Content Marketing
Blog Commenting
Forum Posting
Question & Answer Sites
Interviews
Social Posting
Social Bookmarking
Now that you know about on-page and off-page SEO, keep in mind that search engine optimization works only for organic search results and not pay-per-click ads (or PPC).
For every search query, Google, Yahoo, and Bing will deliver a mixture of organic results and PPC ads to the user.
Therefore, it's important that you do all of the SEO work you can to increase your ranking positions in the SERPs for organic keywords that matter most to your business so you don't have to pay for the traffic.

How Is Search Engine Optimization Done?
Search engine optimization is done by optimizing on-page and off-page SEO factors that are relevant to a website such as page titles, meta descriptions, heading tags, URL structure, image optimization, page speed, and backlinks. SEO is done to improve the crawlability, indexing, and ranking of content in Google's search engine.
Step by Step Process for SEO Work
Step 1: Technical SEO Audit
The first step for doing search engine optimization work is performing a technical SEO audit.
This process is done to check over the website and server optimizations to ensure that search engine web crawlers can scan and index your site effectively.
The core factors of technical SEO include:
Page speed
Optimized robots.txt file
Crawlable XML sitemap
Site structure
URL structure
SEO-friendly web design
Schema Markup
Proper redirects
Step 2: On-Page SEO Work
The next step is to work on the on-page SEO factors in the HTML code and content for each web page.
This search engine optimization strategy helps the content rank higher on the search engine results page for specific keywords and their relevant search queries. As mentioned earlier in this guide on how does SEO work, the top on-page SEO factors include things like meta tags, headings, URLs, images, internal links, etc.
You want to make sure you optimize those areas correctly for your target keywords to send Google the right signals to help your web pages rank higher in the SERPs.
Step 3: Content SEO Updates
After you fix the on-page SEO elements, the next step is to work on the individual content to improve its SEO value.
Content SEO is a subset of on-page SEO that refers to the quality of the information and how well it meets the needs of the searcher.
The most important aspect of improving content for SEO purposes is to match the search intent of the user.
For example, this web page is an educational guide that has been written to answer queries like "how SEO works for websites". Therefore, you're going to learn all about how search engine optimization works for Google, Yahoo, and Bing as opposed to getting a list of SEO books or SEO tools to buy.
When you're working on your SEO content, make sure to focus on areas such as:
Publishing well-researched content.
Answering commo questions people have about the topic.
Including tables and charts to support data.
Having all of the right sections (i.e. headings) to improve topical relevance.
Cross linking between relevant pages on the website.
Step 4: Off-Page SEO Analysis
The next step is to work on off-site SEO factors that increase the exposure, trust, and authority of your website.
When a website has a large number of quality off-site signals that point back to individual web pages on the site, this sends a signal to Google that other Internet resources find your content valuable enough to link to it within their own content.
As a website earns more of these types of backlinks, search engines infer that the site possesses valuable content worth ranking higher on the SERPs.
As mentioned previously, you can improve off-page SEO for better search engine optimization by working on getting links back to your content through guest posting, business profiles, review sites, social media shares, etc
Step 5: Optimizing for Mobile
Today, Google predominantly uses the mobile version of the content for indexing and ranking.
Therefore, you need to work on this step of the SEO process to ensure your website is optimized for mobile devices.
When working on mobile SEO, you need to focus on:
Having a mobile-friendly website.
A site that loads fast on mobile devices.
Using the same meta robots tags on the mobile and desktop site.
Not lazy-loading primary content upon user interaction.
Making sure your mobile and desktop sites have the same structured data.
Step 6: Local and International SEO
The last step for SEO is to optimize for local search results or international search engines if this applies to your website.
If you have a business that relies on local customers to generate sales, then local SEO marketing will be important for you to work on.
And if you rely on ranking your content in multiple countries or for specific languages, then international SEO strategies will be a key area to add to your optimization workflow.
Step 7: Keeping Things Fresh
According to HubSpot, "Blogging is important for SEO if you want to increase visits to your website. But, if you are already posting valuable content, it might benefit you to go back and update that content, especially if after a little while, you want to give certain posts a boost."
"Blog post traffic is compounding, which means it gains organic results over time. This is why updating posts are important."
Also, Google's algorithm is built to give you fresher and more recent search results. In 2010, Google released a new web indexing system called "Caffeine" which provided 50 percent fresher results for web searches.
Then in 2011, the ranking algorithm was updated again to better determine when to give searchers more up-to-date relevant results for varying degrees of freshness.
Therefore, the way search engine optimization works best today is to through and update your content on a routine schedule for accuracy, refreshing old data with new statistics, fixing any broken links, and adding more relevant information to show Google your content still deserves to be ranked high in its index.
How SEO (Search Engine Optimization) Works Summary
I hope you enjoyed this guide on how SEO works for websites.
As you discovered, there are two primary areas for how search engine optimization works to improve a website's rankings and traffic: on-page SEO and off-page SEO.
However, there are additional factors you can optimize to further improve your website's search visibility such as technical SEO, content SEO, mobile SEO, local SEO, and international SEO methods.
How does SEO work on Google, Yahoo, and Bing to keep your rankings over the long term? The answer here is to maintain the freshness of the content by updating it frequently for accuracy and including new information that's helpful for the user.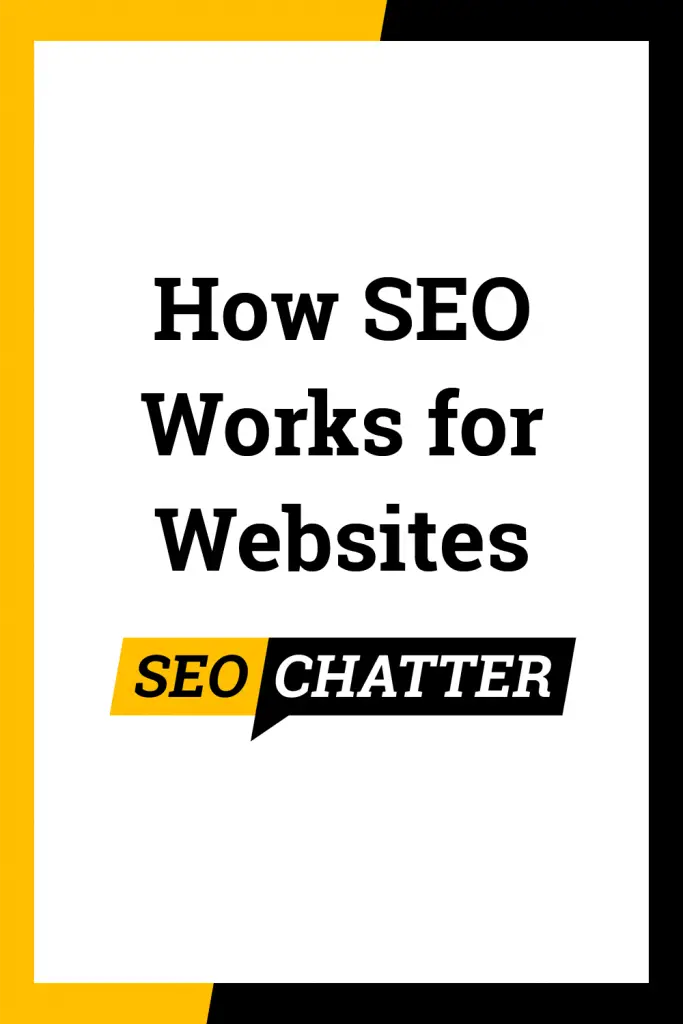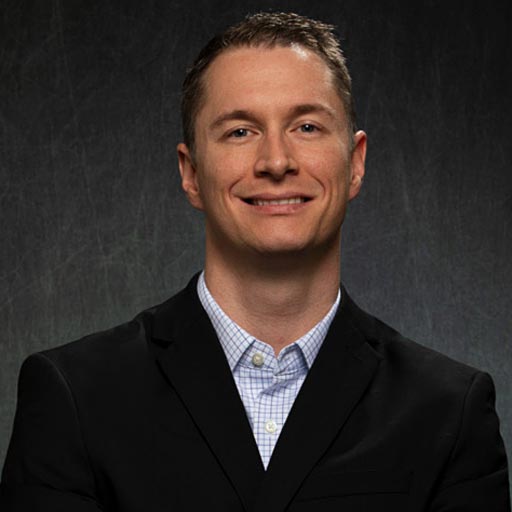 Stephen Hockman is an entrepreneur and founder of SEO Chatter. He specializes in search engine optimization and digital marketing and has been fascinated with SEO since 2005. Stephen's goal is to share the best tips and news about search engine marketing so you can get more traffic for your website.