In this guide, we'll answer the question, "what is mobile SEO?"
But we'll go over more than just the definition for mobile search engine optimization.
We'll also explain how mobile SEO works, why mobile SEO is important, and how to improve mobile SEO for a website using specific strategies.
By the end of this article, you'll know all the important details of mobile search engine optimization and how to use it to improve the visibility of your business in Google Search.
What Is Mobile SEO?
Mobile SEO is a type of search engine optimization for websites that focuses on mobile devices. Mobile search engine optimization techniques also ensure that your site functions properly on mobile browsers. Mobile SEO is the practice of optimizing your content to achieve higher rankings and a better user experience.
That's the basic definition for what is mobile SEO. Next, we'll go over why mobile SEO is important.
Why Is Mobile SEO Important?
Mobile SEO is important because it ensures that mobile visitors have a good experience that's optimized for their mobile device. Important factors of mobile search engine optimization include site design, site structure, page speed, and on-page mobile SEO practices.
According to Google, "When people have a negative brand experience on mobile, they are over 60% less likely to purchase from that brand in the future than if they have a positive experience."
Google also reports that "some people are spending up to 70% of their time on mobile". And "mobile conversion rates are 47% of the levels achieved on desktop."
And if you were not aware of this already, Google now uses mobile-first indexing where it predominantly uses the mobile version of the content for indexing and ranking.
As of this writing, the percentage of users who perform Internet searches worldwide with a mobile device is 55% reported by StatCounter and 61% by Perficient.
With those factors in mind, it's easy to see why mobile SEO is important for every website and brand.
How Does Mobile SEO Work?
Mobile SEO works by optimizing a website and content to achieve higher rankings in search engine results pages (SERPs). Mobile search engine optimization works to improve organic traffic, which is traffic coming to a site from the SERPs.
Google primarily crawls and indexes pages with its smartphone agent. And if you monitor the crawl traffic to your site, you should see an increase in traffic from Smartphone Googlebot.
Because of mobile-first indexing, the mobile version of your website is considered the primary version for crawling and organic SEO ranking purposes.
If your mobile and desktop versions are the same, then you shouldn't have any significant problems with your site's performance in the search results. However, if your mobile site serves different content than the desktop site, then you could experience ranking complications with search engine optimization.
The key takeaway here before we move onto the tips for how to improve mobile SEO is that the desktop version of a page's content doesn't matter much anymore. When evaluating the relevance of a page to a user's query, Google prefers the mobile version of your site for crawling, indexing, and ranking.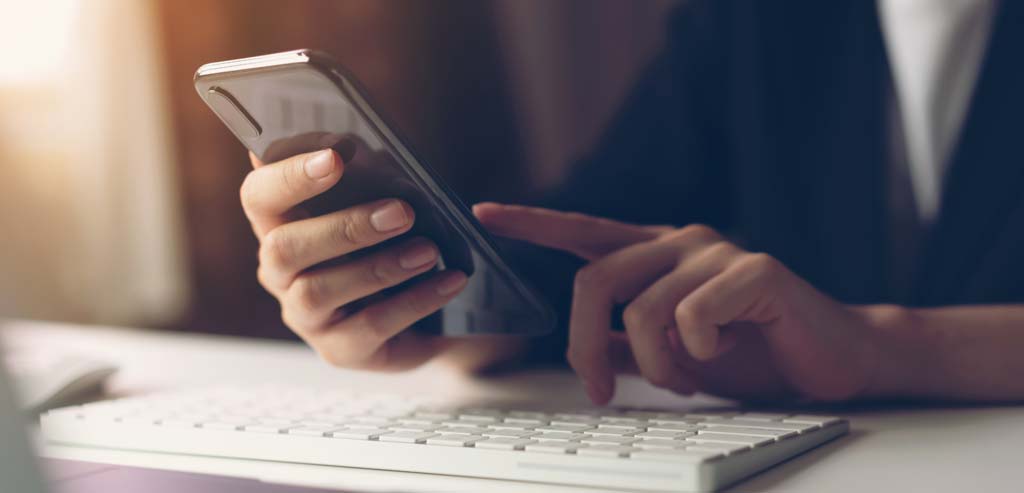 How to Improve Mobile SEO
1. Use a Responsive Design
Google advocates responsive designs for mobile SEO purposes.
So the easiest way for how to improve mobile SEO is to use a responsive design on your website.
With a responsive design, your site has one URL and all pages share the same content for both the mobile version and desktop version.
Responsive design is better than dynamic serving or a separate domain because it makes it easier for Google to understand the content and index it accordingly.
Dynamic serving uses server-side technology to serve a different version of your site to mobile users. The URLs stay the same but the files sent are completely different. 
A separate domain usually refers to a subdomain with an "m." attached to the domain and it has different content on it. When a user visits your website from a mobile device, the server can detect this and serve the subdomain content instead of the standard content.
Google supports separate domains but only if you make the correct connections between your regular desktop domain and the mobile domain.
2. Improve Your Mobile Site Speed
Speed is now a ranking factor for Google Search. So you must pay attention to it for mobile search engine optimization.
Google gives you access to a free PageSpeed Insights tool that allows you to measure individual page loading speeds on both mobile and desktop and gives you suggestions on how to improve the performance.
The two most important factors for mobile search engine optimization include:
LCP (Largest Contentful Paint): This measures the amount of time it takes for the largest element of a requested page to appear in the viewport. A higher score (i.e. faster speed) gives the impression to a user that a page loads faster. Sites should strive for an LCP of of 2.5 seconds or less.
FID (First Input Delay): This measure the time from when a user first interacts with an element on your site to when the browser responds to that input. Examples include clicking a link or tapping a button on the page. Sites should strive for a FID of 100 milliseconds or less.
There are a number of optimizations you can make for mobile SEO site speed, many of which fall under technical SEO, including:
Optimize Images and Use Fewer of Them
Use a Quality Web Host
Update to the Latest PHP Version
Transition to HTTP/2
Improve Server Response Time
Enable GZip Compression
Remove Unnecessary Redirects
Fix Render-Blocking Content Above the Fold
Optimize and Minify CSS and Javascript
Use a Contend Delivery Network (CDN)
Use Server-Side Caching or Client-Side Caching
Remove Unnecessary Plugins
3. Optimize for Mobile SEO On the Page
An essential part of mobile SEO is your on-page optimization.
This includes optimizing key areas of the page for your target keywords, including:
Meta Title
Meta Description
URL
H1 Tag
H2-H6 Tags
Body Content
Images
Internal Links
Navigation Menu
A mobile page that includes your keywords in the right places and the correct number of times can rank higher for those queries.
4. Use Structured Data
Structured Data, also known as Schema Markup, allows Google to better understand the type of content you have on your site.
And with good Structured Data in place, your pages can obtain rich results in the search engine results pages (SERP).
For example, Structured Data can get your content listed with review stars, recipe images, and event dates in the SERPs, which can significantly increase the click-through rate for your web pages. It can also display your business' name, address, and phone number (NAP) right on the SERP listing.
You can use Google's Structured Data Tool for testing your website and improve it for mobile search engine optimization.
5. Optimize for Local Search
According to Google research, "69% of smartphone users turn to mobile search first in a moment of need." And "76% of people who search on their smartphone for something nearby visit a related business within a day."
Therefore, a good mobile SEO strategy will include optimizing for local search, as long as your business serves local customers.
Local SEO can help you capture "near me" searches and localized searches with a mobile device. And a few good strategies for that include:
Writing localized content
Building local backlinks
Setting up a Google My Business Listing
Getting customer reviews on Google
Adding your business NAP information to your website with Structured Data
If this interests you, then check out my local search optimization guide for more SEO ideas.
6. Specify the Correct Viewport
The viewport is the user's visible area of a web page and it's very important for mobile SEO and responsive design.
By specifying the correct viewport, you can ensure that mobile visitors are served the mobile version of your site and not the desktop version.
To optimize your pages correctly, a meta viewport tag must be in the head of the HTML document. This meta viewport tag is what gives the browser instructions on how to control the dimensions and scaling for the page so it is displayed properly for a mobile visitor.
7. Improve Mobile Legibility
If a website is hard to read on a mobile device, then it can cause a poor user experience.
And poor user experiences can lead to a drop in rankings if your content cannot meet the needs of your users.
Use large fonts and good spacing being paragraph lines so the content is more legible and easier to read on a mobile screen.
8. Improve Tap Target Sizes
According to Google Developers, "interactive elements like buttons or links [need to be] large enough, and have enough space around them, to make them easy to press without accidentally overlapping onto other elements."
Google Developers goes on to say that "A minimum recommended touch target size is around 48 device independent pixels on a site with a properly set mobile viewport. The 48×48 pixel area corresponds to around 9mm, which is about the size of a person's finger pad area."
9. Don't Use Interstitials or Pop-Ups
Google has stated that "Pages that show intrusive interstitials provide a poorer experience to users than other pages where content is immediately accessible." And, "pages where content is not easily accessible to a user on the transition from the mobile search results may not rank as highly."
Therefore, it's best not to use interstitials or pop-ups on the mobile version of your site.
The biggest causes for concern include:
Showing a popup that covers the main content, either immediately after the user navigates to a page from the search results, or while they are looking through the page.
Displaying a standalone interstitial that the user has to dismiss before accessing the main content.
10. Monitor, Analyze & Test
As with all SEO practices, optimizing for mobile SEO is not a one-time project.
You need to continue to monitor your results, analyze the data, and test new strategies to find more winning opportunities.
Make sure to set up and regularly check your Google Analytics and Google Search Console for trends in keyword rankings, click-through rates, bounce rates, dwell time, and other metrics for your content.
Is My Website Optimized for Mobile SEO?
Google offers a Mobile-Friendly Testing Tool for you to test your website to see if it is optimized for mobile SEO.
All you have to do is paste the URL of your website into the search field and click "Test URL". Within a few seconds, Google will report back if your website is mobile-friendly.
If it's not, the tool will give you reasons why.
You can also keep up-to-date on how well optimized your website is for mobile SEO on a daily basis by checking the Mobile Usability Report in Google Search Console.
This report will show you how many pages are valid and which ones have errors.
Mobile SEO (Search Engine Optimization) Summary
I hope you enjoyed this guide on what is mobile SEO.
As you discovered, the basic definition for what is mobile search engine optimization is optimizing a website in a particular way that focuses on mobile devices.
And the essential concept behind how does mobile SEO work includes Google using mobile-first indexing crawl, index, and rank content in its search engine.
Fortunately, the steps for how to improve mobile SEO are easy to implement and mainly include responsive website design, speed optimization, using Structured Data, optimizing for local search, and improving the overall user experience on mobile devices.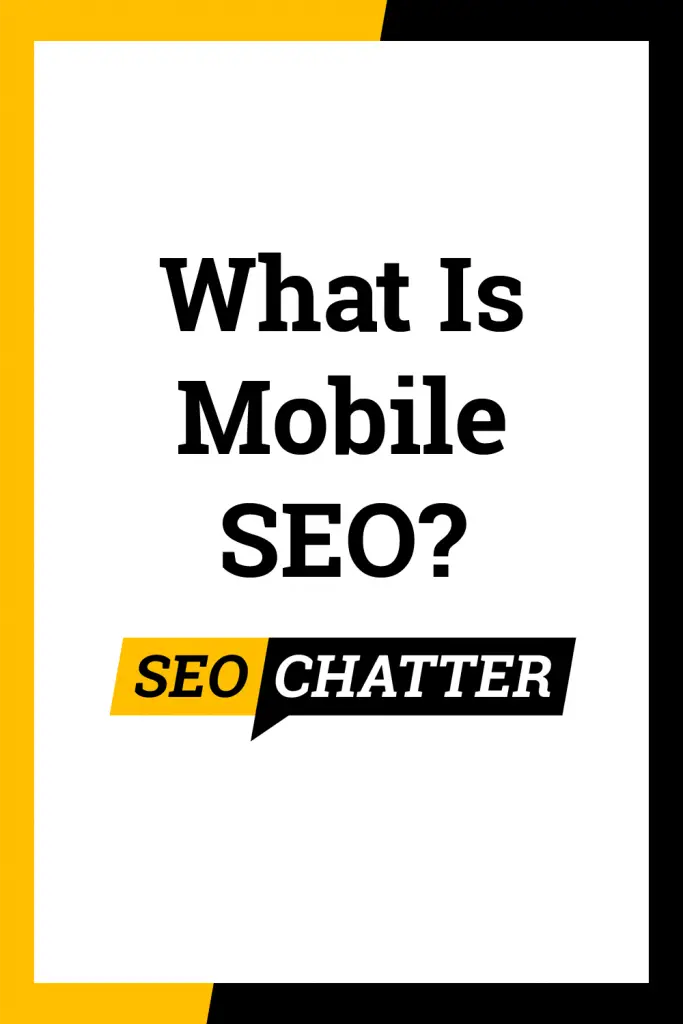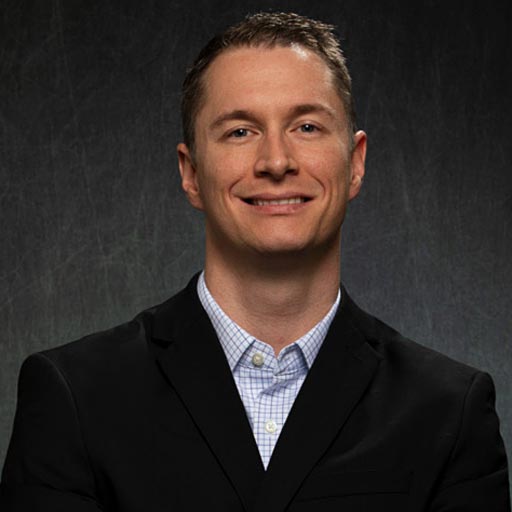 Stephen Hockman is an entrepreneur and founder of SEO Chatter. He specializes in search engine optimization and digital marketing and has been fascinated with SEO since 2005. His goal is to share the best tips and news about search engine marketing to help you get more website traffic.