If you've felt lost or frustrated with building a good SEO strategy for your business, then you'll get a lot of value out of this list of the best SEO books for 2023.
As you're already aware, there are thousands of blogs, podcasts, and videos covering every aspect of SEO, but they rarely give you all of the information you need to be successful; there's always another piece of content that you have to find to put the entire puzzle together.
To make things easier for you, I've put together a list of the best books to learn SEO on this page. Below, you'll find the top SEO books ever written and published. These are literally the best search engine optimization books you'll find online in paperback, hardback, Kindle, and audiobook format.
By reading any one of the books about SEO on this list, you'll get the guidance you need to create and implement a good SEO strategy for your website.
And after you're done looking through this list of books on search engine optimization, you may also be interested in my SEO success case studies page for some real-world data and examples of good search engine optimization. If you want to get the latest Google SEO news, then bookmark the homepage because it's updated daily.
Best SEO Books 2023
By Eric Enge, Stephan Spencer and Jessie Stricchiola
This is one of the best SEO books ever written and belongs on every serious marketer's bookshelf.
Originally published in 2012 and updated in 2015, it has been a fundamental must-read book in the SEO industry. And most of the content still applies today.
Whether you're an SEO beginner or a seasoned professional, you'll find a lot of value in this book. It's packed with more than 900 pages and covers everything you need to know about search engine optimization, including:
The underlying theory and inner workings of search engines: how they evaluate the content and what they see when spidering a page.
The role of social media, user data, and links and how these signals impact your SEO efforts.
A list of the best tools to track your results and measure success.
A good overview in the areas of SEO planning, the stages of SEO implementations, and building an SEO friendly website.
How to do keyword research.
An explanation of the most famous algorithmic updates that impacted the SEO industry: Panda, Penguin.
How to build an SEO team with defined roles so you can maximize your speed and success with search engine optimization.
This truly is the quintessential SEO book that every search engine marketer should read and it gives away a lot of Google ranking secrets. In fact, this book on search engine optimization has been issued as a textbook in colleges and universities around the world for digital marketing and SEO students.
All in all, it's the best book on SEO ever written.
---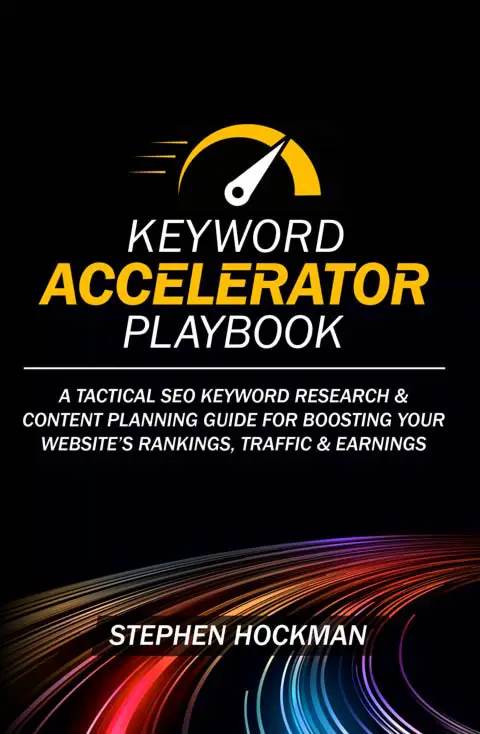 By Stephen Hockman
This book was written by yours truly. And it was 100% inspired by the SEO Chatter community.
(Note: For a LIMITED TIME you can read it for FREE online. Just subscribe to the SEO Chatter email list and you'll get instant access to the book, PLUS a free keyword research cheatsheet.)
After talking with people in my tribe, I discovered that a lot of bloggers, niche website builders, and affiliate marketers struggled with two major things when it came to SEO:
Doing keyword research the right way to get the best results.
Knowing how to create a content publishing plan for faster growth.
Oddly, these are two areas of Internet marketing that are not talked about much. And barely any books on these topics exist. It's like everyone thinks new website publishers will magically know how to do this part of the SEO writing process without teaching them how to actually do it.
So I wrote this book to help people discover the most optimal SEO keywords for their content and put them into a publishing schedule that can fuel their long-term goals. Inside this book, you're literally getting my complete SEO keyword research and content planning strategies that have fueled every successful website I've ever created.
The Keyword Accelerator Playbook includes step-by-step strategies for accelerating your website rankings, traffic & earnings as fast as possible using proven systems for growth; making it one of the only books on search engine optimization of its kind.
---
By Adam Clarke
This is another one of the best books to learn SEO in 2023 and continues to be a best-seller.
It was originally published in 2013 and the author updates it every year with a new edition. So you know that you're getting one of the top SEO books available with the most relevant information to learn search engine optimization.
If you haven't heard of Adam Clarke before, he is a Google Ads and Google Analytics certified professional who does SEO consulting and has achieved thousands of #1 rankings for large multinational brands and family-owned businesses.
And in this book, Adam tries to pass on all of his top knowledge in SEO to his readers in around 250 pages. His goal is to have the most relevant and comprehensive book on SEO optimization that will stand the test of time and help you grow your business.
Some particular strengths of this book include:
An understanding of how Google works to rank sites today versus years past.
How to find easy keywords that can send good traffic to your site.
How to structure your site properly for SEO.
Methods for how to use Google's search quality guidelines to your advantage.
A solid overview of link building, including how to acquire links, which links to avoid, link building strategies, and how to scale this process.
Local SEO tips and strategies for getting ranked above the competition.
The importance of social media and its impact on SEO.
Troubleshooting common SEO problems like pages failing to index and what to do if your rankings drop off.
How to use Structured Data to get into Google's rich results.
How to target Google's Featured Snippets and People Also Ask box.
An overview of some powerful SEO tools, including keyword research, optimization, link building, and web analytics.
Access to free SEO checklists and video tutorials.
What's good about this book is that the SEO strategies and tactics will work for most site owners. It offers a solid, SEO-focused approach to building and ranking your site, whether it be an e-commerce store, affiliate niche site, personal blog, etc.
This book covers virtually everything you need to know to plan and implement a successful organic SEO strategy. What you'll find when reading this book is that it gives you the skills for how to build a technically optimized site that can accelerate your organic traffic with effective SEO strategies and link building methods.
---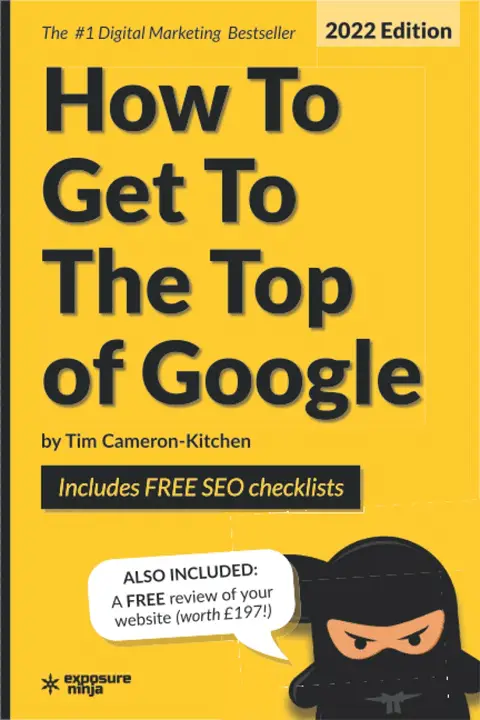 By Tim Cameron-Kitchen, Dale Davies, and Andrew Tuxford
Similar to my #2 SEO book review, this book was first published in 2013 and is continually updated with a new edition each year. The team of authors tweaks the content to apply current strategies that are working to get better rankings on Google and other search engines. You can expect the latest edition sometime in 2023, but the current version is still an excellent read.
It is written by Exposure Ninja, a digital marketing agency based in the UK that is also an official Google Partner.
With just over 280 pages, this book continues to be a best-seller on Amazon for teaching people effective SEO techniques. Inside, you'll find these types of topics:
Free ways to appear on the first page of Google

.
The steps necessary to get your most profitable keywords to hit the #1 spot.
How to spy on your competitors and steal what's working for them to use on your own site.
Ways to structure your site so it's easier to read by Google's web crawler.
Tips on how to turn your blog into a sales generator.
Advice on building relationships with key publication players in your industry.
Link building techniques for getting your site mentioned in newspapers.
How to design an effective and cohesive SEO strategy.
Insight into which metrics are best to keep track of for performance and the ones you can ignore.
Overall, this is a good SEO book for 2023 to read because it gives you an overview of how Google works, proven ways to gain better visibility for your site, and practical advice for every type of business owner.
With so much success from this book, the agency went on to produce three more publications that are now part of a four-book series called "Digital Marketing by Exposure Ninja". This series teaches a wide range of tips on SEO, social media marketing, and content marketing to help you grow your business.
---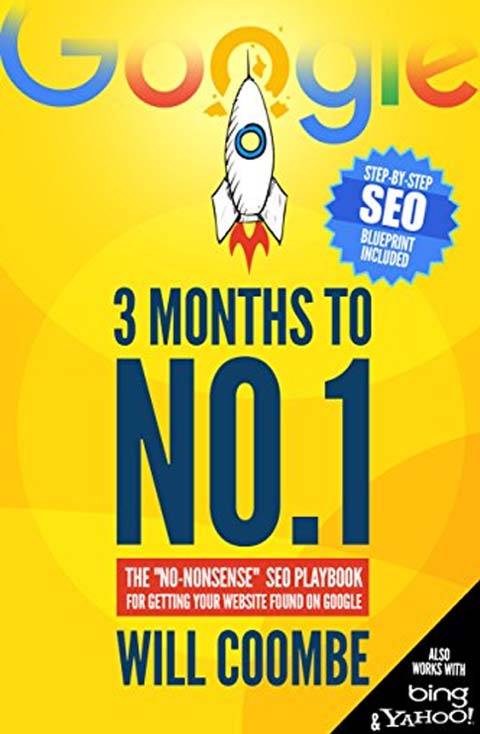 By Will Coombe
This book was written with the goal of helping you achieve extraordinary results from your SEO efforts in just 12 weeks time (i.e. 3 months).
The author is an ex-airline pilot who learned SEO on his own as a way to make money online as a side hustle. But after just two years of dabbling in SEO, Will became so good at search engine optimization and rankings that he was making more money each day from his SEO skills than the hourly wage he received as a pilot.
And so, Will finally decided to give up his wings and became a full-time SEO consultant. He then co-founded the London SEO agency Sharpe Digital and wrote this book to help others achieve success on Google, Bing, and Yahoo.
Now, this book doesn't hold any magical secrets that you can't also find sprinkled throughout the Internet. But it does cut through the noise and tells you what to focus on, and when, in your SEO journey to riches.
Essentially, by following the 3 Month SEO Blueprint in this book, you can get a better return on your time investment with SEO.
Chapters 1 to 23 cover the same topics as the other books about SEO reviewed on this page (on-page optimization, building links, content marketing, and social media for SEO), but the real differentiator here can be found in chapters 24 to 26.
In those final three chapters, you're given a week-by-week blueprint for how to apply SEO for maximum effectiveness. And that content alone is worth the cheap price of this book.
The book description on Amazon claims that you get access to 3 hours of video tutorials. After talking with Will Coombe about this added benefit, here's what he said to me: "The videos walk the reader through each step of the blueprint whilst giving a few more tips and tricks along the way. Obviously, some of the stuff is not best explained with text, so I created them to compliment the book."
To get access to those SEO videos, you need to register your copy of the book (Kindle or paperback) on Will's website by supplying the Amazon order number. Once verified, you can watch those extra training videos.
Now, if you dig into the customer reviews, you'll find one reviewer claiming their business moved from the 2nd and 3rd pages to an average ranking of #2 for all of their keywords by following Will's advice. Another person said his business hit the #1 position on Google in his target market just 11 months after applying the methods learned in this book. And the organic search traffic is now five times higher than it was before he bought the book.
Obviously, results will vary based on the 3-month plan that Will outlines in the book. Regardless, those review success stories are impressive results and something any business owner can get excited about.
---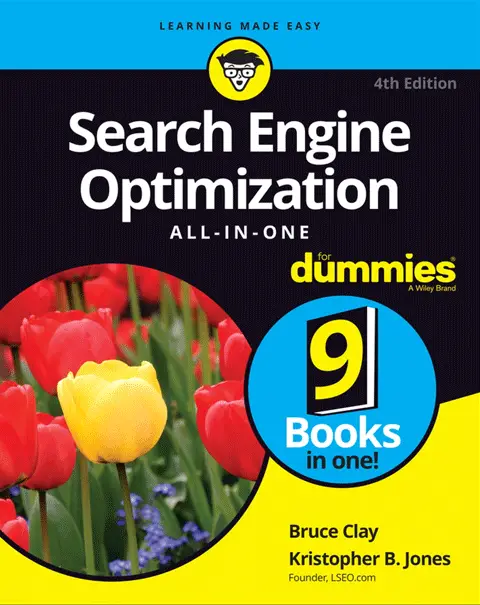 By Bruce Clay and Kristopher B. Jones
If you haven't heard of the For Dummies book series before, it's an extensive series of instructional books that present hard-to-understand language into easy-to-use content that enables learners at every level to expand their professional and personal development.
And this book on SEO does just that.
The authors explain important aspects of what is SEO to a non-SEO audience in a comprehensible way. They start with the basics of how search engines work and then walks you through the process of building a keyword strategy, compeitive positioning, link building, analyzing results, and more.
By the end, you'll know the important differences between on-page SEO vs off-page SEO and how to use each method to grow your website.
Some of the highlights inside include:
Getting your site to appear in the right results.
Selecting keywords.
Competitive research techniques.
Building an SEO-friendly site.
Establishign conent depth and page length.
Backlinking strategies.
Solving SEO roadblocks.
Tracking user behaviour with analytics.
Like all For Dummies books, this is the best book on SEO for anyone looking for a beginner-friendly publication that does a good job of conveying the basic principles of SEO without being overwhelming for people who are completely new to search engine optimization.
It's one of the best search engine optimization books for getting a good primer on how to build a simple search strategy that works to increase your website's rankings and traffic.
---
By Jason McDonald
Here's another good book on SEO that gets revised and updated each year, so you know you're getting the latest and greatest information to learn search engine optimization.
It was first published in 2015 and now includes updated tips and tactics for 2023.
The author is a professor at Stanford University and uses this book as a required textbook for his course in the Continuing Studies program to teach students the ins and outs of proper search engine optimization.
Spanning 429 pages, this book covers the full spectrum of SEO, link building, and key metrics to measure. The content is divided up into 7 chapters, including:
Attitude and Goals
Keywords
Page Tags and Website Structure
Content SEO with Blogging and Press Releases
Link Building with Social Media, Local SEO, and Review Marketing
Metrics to Measure
Additional Resources for Learning
This book goes beyond just teaching theories and ideas and offers a number of tools that the reader can use to put the information they learn into practice, including links to companion videos and worksheets that guide you step-by-step throug the search engine optimization process.
It's one of the only books out there that help marketers get into the right mindset of SEO before they even start the journey of optimizing their site for higher rankings. It also talks about the importance of getting everyone on board within your team so that you can achieve higher success.
One reviewer admits he had struggled with understanding SEO in the past. And this was one of the best SEO books in 2022 (the previous edition) that made things clear for him. It was super easy to read, informative, and up-to-date. After reading through the book, this person is now much more comfortable with using SEO to help grow his business.
---
By Eric Ward and Garrett French
The late Eric Ward was a pioneer in the SEO industry and was the person who laid the foundations for modern link building. In fact, he was a link strategist for websites before search engines even valued links on the internet.
Eric was the very first link marketer that Amazon.com hired to do the company's outreach.
Co-author Garrett French is the founder and chief link strategist of Citation Labs, a link building agency and campaign incubator.
Together, these men wrote one of the most important books on SEO and link building ever published. And there hasn't been anything else like it ever since it hit bookshelves in 2013. The most recent edition was updated in 2020 and it's one of the top SEO books that you should have on your shelf.
Spanning 24 chapters and pages, this book covers everything you ever wanted to know about professional link building for SEO. For many people, link building is the most challenging part of SEO, so the information and ideas presented in this book can make a major difference in your efforts.
Some of the topics you'll find covered included:
What actually makes a website link-worthy.
How to build an effective link building campaign.
What key metrics you need to measure to verify your success.
How to create linkable assets that generate links more easily.
How to do link prospecting the right way.
Methods to qualify your link prospects so you only build high-quality backlinks to your site.
Tips on design pitches for your outreach emails and how to handle responses.
How to find effective guest post opportunities.
How to do broken-link building campaigns the right way.
Ways to scale up your link building efforts so you can acquire more links in less time.
Knowing when it's o.k. to buy links and how to negotiate the best deals.
As you can see, this book covers every aspect of link building for SEO. And the book provides plenty of ideas on how to find opportunities in any niche and gives advice that can be applicable to any type of site.
You really have to read it to believe it.
---
By Michael Fleischner
First published in 2008, this SEO book is now on its 7th edition with more than 50,000 copies sold. An 8th edition is hopefully landing on bookshelves sometime in 2023.
I also recommended it last year in 2022. What makes this one of the best books to learn SEO is that it continues to reflect the most imporant aspects of Google's ranking algorithm so you can optimize your website for the long term.
The author is the founder and CEO of Big Fin SEO and has more than 20 years of experience in digital marketing. And this book continues to be a best-selling search engine optimization book on Amazon every time a new edition is published.
As you read it, you'll find that this is a good resource for anyone trying to learn more about effective SEO. It's a short book; however, with only 147 pages, but it's divided into three important sections for understanding and applying search engine optimization techniques:
On-Page Optimization:
The fundamentals of keyword research.
Proper keyword placement on the page.
A list of the most important on-page SEO factors.
How to optimize meta tags the right way.
Using ALT tags effectively.
How to link internally for better rankings.
Why sitemaps are good to have.
Off-Page Optimization:
How to get good backlinks.
The proper anchor ratio for your site's backlinks profile.
Methods to get links through blogging.
How to use social media sites for link building.
How aged domains can be helpful for SEO.
Ways to outsource link building.
Cautionary advice regarding automated tools and shortcuts.
Research to Practice:
Developing an SEO game plan.
The link building process.
Overall, this book gives you more than enough information to help you feel confident in tackling SEO for your own site or dipping your toe into client SEO services. It's a quick read and there are plenty of nuggets for you to walk away with to get better results from doing search engine optimization on a small or large scale.
---
By Ryan Stewart and David Krevitt
This book was co-authored by a well-known heavy-hitter in the SEO industry: Ryan Stewart.
Ryan is a marketing entrepreneur with over a decade of experience growing companies using the Internet. His agency WEBRIS was acquired in 2018 because it was such an attractive asset for delivering SEO services.
Under Ryan's leadership, the WEBRIS team developed a blueprint for getting effective results from search engine optimization across hundreds of websites. Their strategy worked each and every time, regardless of the client.
And now, in this book, you're literally getting Ryan's secret SEO blueprint for getting more organic search traffic to your site.
Inside the 275 pages, you'll find a five-phase plan that teaches you an evergreen approach to SEO that will work now and forever into the future.
Some highlights from the book include:
How to pick the types of keywords you should try to rank a site for first.
How to know what type of content to write and how to structure it for Google.
An explanation for why Google may not rank your content and what you can do about it.
A method for discovering which pages on your site have the most potential for getting higher rankings.
How to audit your site for hidden problems and what to do when you find them.
The type of page you should never build links to.
How to manage an SEO campaign.
Creating a web analytics measurement plan.
How to build an SEO report if you're working for a client.
This book essentially gives you a no-nonsense approach on how to do SEO from the ground up. And all together, the blueprint outlined in this book can give you a good overarching strategy for conducting search engine optimization the right way to get long-term results.
---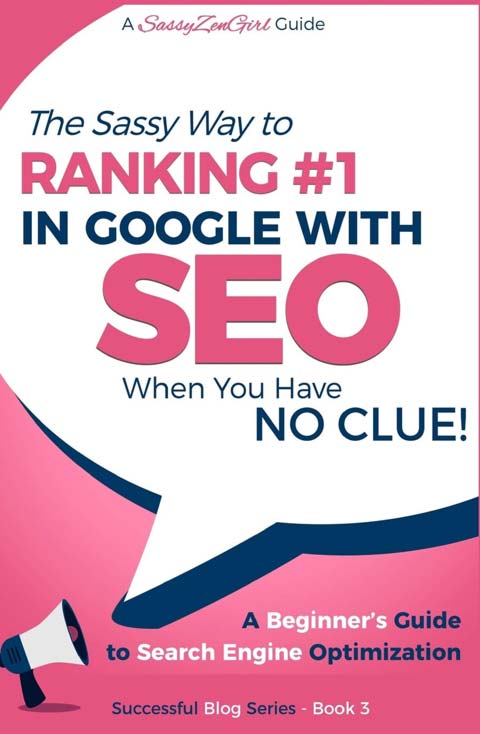 By Gundi Gabrielle
The author of this book is the founder and CEO of SassyZenGirl, a platform that helps new entrepreneurs turn their passion into a thriving business.
Gundi Gabrielle is a prolific writer with more than a dozen books published on Amazon surrounding the topics of SEO, passive income, blogging, and online marketing.
This book in particular is a short read at just over 100 pages. And it's the best book on search engine optimization who are completely clueless about the topic of SEO.
It starts out by explaining what SEO is and then moves onto the basics of on-page optimization and off-page optimization for improving your site's rankings in Google.
The content is quick to read and to the point. It's also written in a fun way that's easy to digest.
If you want to learn simple principles for how to optimize your blog posts better so they can get discovered in Google, then this is a good book to consider.
As for the off-page optimization strategies mentioned, the explanations are quite short. And if you're not familiar with any of the concepts, then you may find yourself Googling the terms to get a better understanding of how they work.
Now, this book doesn't provide all of the answers for how to do good SEO but it does give enough overview of the basics to help anyone who is just starting their first blog or niche site.
One reviewer summed this book up nicely, "The author takes the big scary monster of 'Search Engine Optimization' and knocks it down to just a small barking dog. I was immediately able to start applying many of Gundi Gabriel's suggestions and feel confident in the results."
---
By Dr. Andy Williams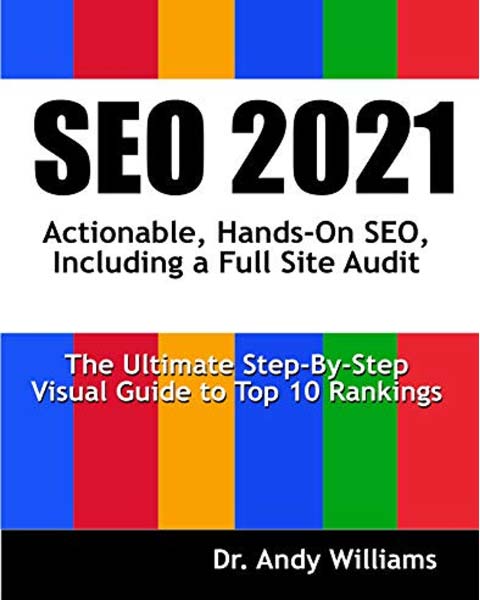 This book has been around since 2012 and it gets updated to a new addition just about every year. (Just waiting on the 2023 SEO book to be published…)
It's a self-published book on SEO and the author runs ezSEONews.com, a site for Internet marketing tips and advice.
Now, when many people hear the word "self-published", they immediately think "low-quality", but this book is far from it.
The book has just over 300 pages of content to help you learn a safe and effective SEO strategy.
It starts out with a primer on the top ranking factors such as page load time, internal linking, bounce rates, visit duration, and backlinks. Then it goes over the history of major Google algorithm updates that started in 2011. This includes Panda, Penguin, Hummingbird, and BERT, and more.
After that good introduction to how Google works, Dr. Andy then explains the four pillars of SEO:
Quality Content (includes good and bad examples)
Site Organization (includes simple tips on how to do this right)
Authority (includes methods on how to improve this)
What's in it for the Visitor? (includes information about website stickiness, ways to build trust, and types of content your visitor wants)
The last half of the book dives into the process of doing an SEO audit. And Dr. Andy covers everything you need to know here.
You'll find a checklist of items to go through when auditing a webpage along with a description of what each element means and the importance of it. The author even gives real work examples of bad SEO tactics that you should avoid.
What also makes this one of the best SEO books for 2023 is that it gives a good tutorial on how to use Screaming Frog software to do a technical SEO audit. This is a popular tool for SEO auditing (with a free version) and I've never seen any other search engine optimization book do this before.
At the time of this writing, only the kindle version had the customer reviews along with the Look Inside feature on Amazon for a preview of the content. So be sure to check that link before switching over to the paperback version if you want to buy a physical copy.
Overall, it's a good book about SEO. It's easy to digest and doesn't go on for pages and pages on one topic. You get a quick overview of the necessary concepts to know and how to apply them for improving your site's search engine optimization and rankings.
---
By Joseph Stevenson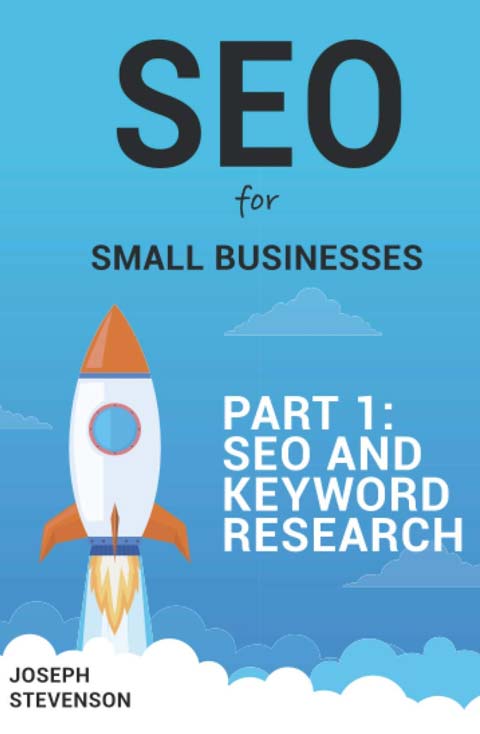 This is part of a two-book series with the second part reviewed next. So be sure to pick up both copies if you're interested in this material.
This book is 195 pages long but the font size is rather large. So you'll likely read through it pretty quick.
As the title of the book suggests, it was written for small business owners who are new to the concept of SEO. Inside, you'll find the basic principles behind the keyword research process.
Some of the topics covered include:
Defining keyword difficulty.
How to choose relevant keywords for your business.
An explanation of short tail and long tail keywords
An overview of exact match keywords versus broad match and phrase match keywords.
The idea behind negative keywords; along with how to identify them and remove them from your content.
You'll also find that each chapter includes a case study that relates to the concept you learned. You're also giving things to ponder on and a challenge to pursue that can help improve the SEO for your small business website.
---
By Joseph Stevenson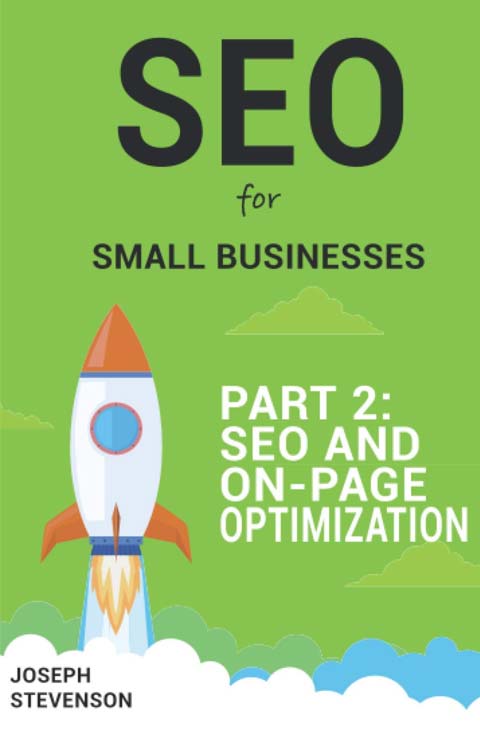 This is part two of the two-book series on SEO for small businesses. Part one was reviewed previously.
And like part one, this book gives the basics of SEO in an easy to understand tone and format.
What you'll get out of this book is how to apply on-page optimization strategies after doing your keyword research.
The topics covered include things like:
Using links on the page.
Using videos and images.
Selecting plugins and tools for the SEO process.
Understanding page speed importance.
Mobile optimization techniques.
An overview of Schema and tags.
And just like part of this two-book series, each chapter includes a case study, things to ponder, and a challenge for you to try with your small business website.
---
By John Jantsch and Phil Singleton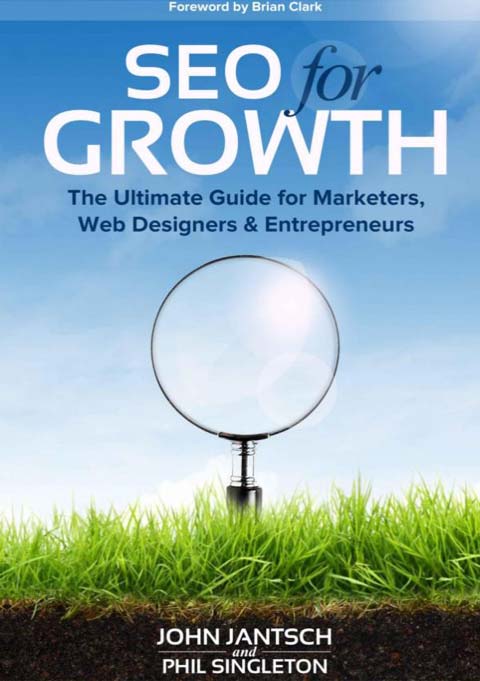 This book on SEO has a lot of endorsements. As you flip open the cover, you'll find several pages of testimonials from some big names in the SEO industry such as Dave Kerpen, Eric Enge, Ann Handley, Brian Dean, Jeff Bullas, Chris Broan, and Clate Mask.
Author John Jantsch is the creator of the Duct Tape Marketing System and Duct Tape Marketing Consulting Network that trains and licenses small business marketing consultants around the world. He also has a popular podcast.
Author Phil Singleton is a certified Duct Tape Marketing consultant and the founder and CEO of Kansas City Web Design & SEO.
This book was written primarily because general marketers, web designers, and business owners often treat SEO as an afterthought. And this book brings the importance and concepts of planning a good SEO strategy to the forefront for these business stakeholders.
It's one of the best books to learn SEO for people who are not actively thinking about search engine optimization.
The authors start by explaining how websites have evolved from digital brochures to full-fledged marketing platforms, but even though things have changed, many people in the web industry treat web design as a creative endeavor while leaving SEO and lead generation out of the process.
And this book helps marketers, designers, and business owners understand the importance and concepts behind search engine optimization without getting too technical so you can get more out of your team's effort on a website. It also explains a lot of other good things outside of the SEO arena for business growth.
Inside the 238 pages, you'll find topics like:
How to re-purpose content for multiple channels.
How to plan an editorial calendar.
Ways to use different social media channels to generate engagement with your content.
How to build and manage your online reputation.
What to do about negative reviews online.
Methods for doing quality link building.
How to conduct keyword research.
How to optimize your website content for better rankings in Google.
Tips on how to use pay-per-click advertising in the most cost-efficient way
How to use analytics to track and analyze your performance.
How to make the choice between doing SEO in-house or hiring an outside firm or dedicated SEO professional.
At the end of each chapter, you'll find recommendations on a top expert to follow in the SEO industry. This is a good piece of supplemental material because it helps you connect with someone in the real world that's putting the practices learned into action.
As Dave Kerpen put it in his testimonial inside the book,: "This is a must-read Internet marketing book for entrepreneurs and executives alike. Read it. Now. Do it. Live it. Then watch your business grow." It's considered one of the best books on search engine optimization ever written.
---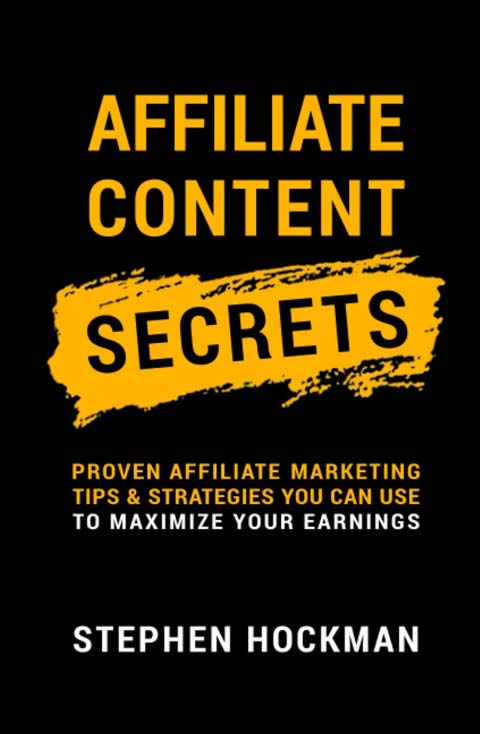 By Stephen Hockman
This is another book written by your SEO Chatter mentor to help people who are operating affiliate websites.
(See my reviews of the best affiliate marketing books if you want other good recommendations for this type of business.)
Inside, you'll discover the exact methods I've used over the years to make a six-figure income with affiliate marketing. The first section of the book is all about improving your content for higher conversions. The second section reveals my complete on-page SEO structure for top-ranking affiliate buying guides.
The affiliate marketing strategies and SEO methods you'll learn are universal to all types of websites and can help you maximize your profits on every affiliate page you publish, regardless of the niche and your affiliate network (i.e. Amazon, Clickbank, ShareASale, etc.)
If you want to improve your product click-through rates, conversions, and rankings on Google, then this book has a ton of secrets you can use to your advantage.
---
By Tarek Riman
The fact is anyone can do SEO on a website, but not everyone knows how to measure the performance of their efforts.
After putting SEO tactics into place, you need to ask yourself questions like, "Are my on-page optimization strategies working??, "Did the backlinks I built improve the site's keyword rankings?", "Are visitors being satisfied with the content?", etc.
And inside this 238-page book, you'll discover how to get the data you need and how to interpret it for making good SEO decisions.
As the author states, "without analytics, there is no way for a company to know how their website is performing in terms of attracting, informing and converting visitors. In this book, you will learn how to get started with Google Analytics and how to set it up for optimal tracking. You will also learn to assess which marketing campaigns bring the best traffic to your website, which pages on your website are the most popular, and how to extract information about your visitors."
It's good to learn the analytics side of SEO so you can gather important information like the location, interests, age, and behaviors of your visitors so you can better understand the people who are visiting the website. By uncovering this data, you can better capitalize on your marketing efforts.
This is one of the top SEO books on the subject of analytics and is a good read for anyone who wants to take their skills to the next level.
---
by Tim Ash, Maura Ginty, and Rich Page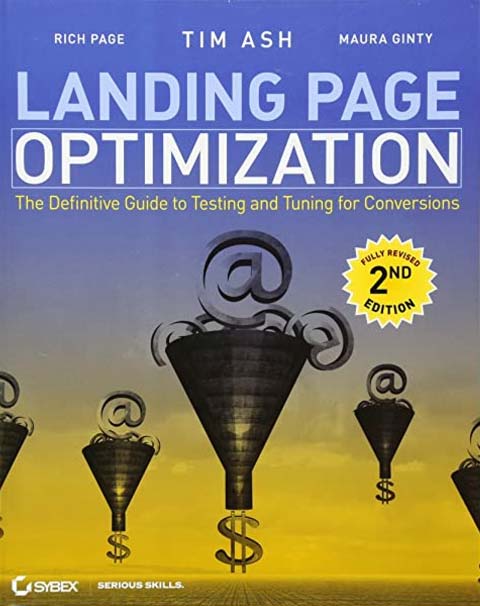 While this is not technically an SEO book, the fact is that many SEOs are the ones held accountable for more than just keyword rankings and clicks; they're also the people that a client puts the pressure on for revenue growth.
And if you want a well-rounded skill set in the field of SEO and conversion rate optimization, then this is the book you'll want to read. It will teach you how to change your website content and design to get more conversions (i.e. sales).
After reading it, you'll be well versed in the core fundamentals of landing page design, copywriting, persuasion, usability, A/B testing and analysis, audience segmentation, and e-commerce strategy.
It's a long book with over 490 pages, so you don't expect to read it in one setting. But throughout the material, you'll find important topics covered such as:
How to identify mission-critical parts of your website and establish their true economic value.
How to define important visitor classes and key conversion tasks.
Ways to avoid the seven deadly sins of landing page design.
Methods on deploying powerful neuromarketing techniques to persuade people to make a decision on the spot.
How to u

ncover problems with your pages and figure out which elements to test

for higher conversions.
How to develop an optimization action plan and get buy-in from all key players in the business.
The overall goal of this book is to help you get the right people on your website and then get them to take the desired action (e.g. buy, subscribe, donate, or call). And the information inside is good for any SEO or digital marketer who wants to up their game on landing page optimization.
---
By Stephanie Chandler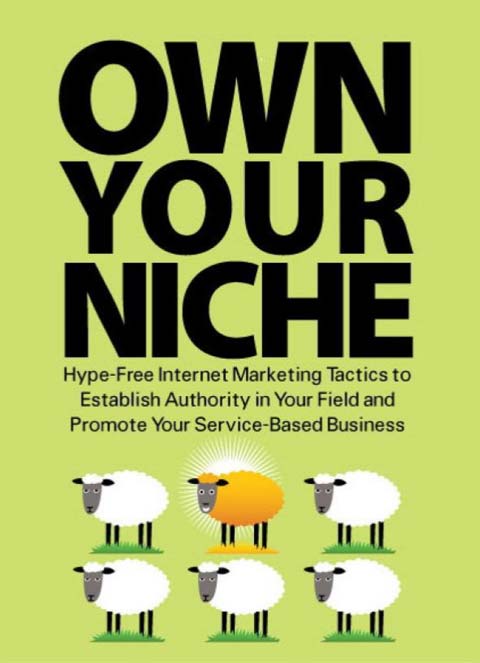 This book is not just about SEO but includes 13 chapters that are written to help you dominate your niche no matter what business you're in.
The truth is that if you want to be a really successful business owner or SEO, then you need to be a good digital marketer in multiple disciplines. And this book does an excellent job of teaching you how to do that with audience identification, creating and distributing high-authority content, and generating exposure through search engines, social media, word of mouth marketing.
While the focus on SEO is not too in-depth, the main strength of this 252-page book is that it aligns closely with every SEO's ultimate goal: to drive more qualified traffic to their website at the lowest possible cost. Therefore, this is a great book for anyone that has hit a plateau in their SEO efforts and wants to break through that barrier.
As all good marketers come to realize sooner or later, the success of any online business cannot stop with just organic SEO. If this is your only (or primary) source of traffic for generating revenue, then you can get burned at any moment from a Google core update.
So to keep yourself better diversified, it's good to own your niche on every marketing channel. And this book does an excellent job of bridging the gap between doing just SEO and expanding into a more holistic digital marketing approach.
---
By Brendan Kane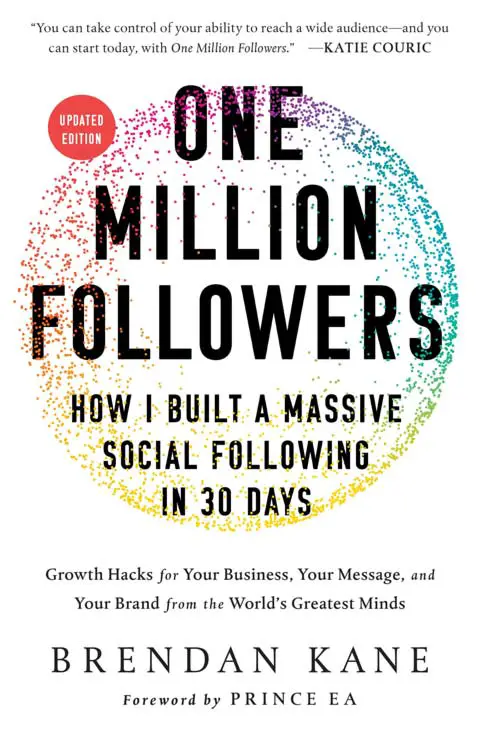 Similar to the previous book review, this publication goes above and beyond SEO strategies for websites.
Instead of focusing on how to optimize your site better, this book teaches you the skills for amassing a large social media following, which makes it an excellent accompaniment for any SEO book you choose to buy on this page.
The author is a digital strategist and growth hacker who has worked with famous music artists like Taylor Swift and Rhianna as well as top brands like IKEA, MTV, Vice, and Skechers.
And inside the 256 pages, Brendan Kane will show you how to make a significant impact in the digital world in 30 days or less. You'll learn proven methods for how to establish and grow a digital audience and keep them engaged so your brand becomes more popular.
Now, one of the repeating themes in the book is using advertisements on social media to boost brand awareness. So keep that in mind when ordering this book. If you're keen to the idea of doing online ads, then you'll learn a lot on how to do this in the most cost-effective way inside this book.
---
By Grant Cardone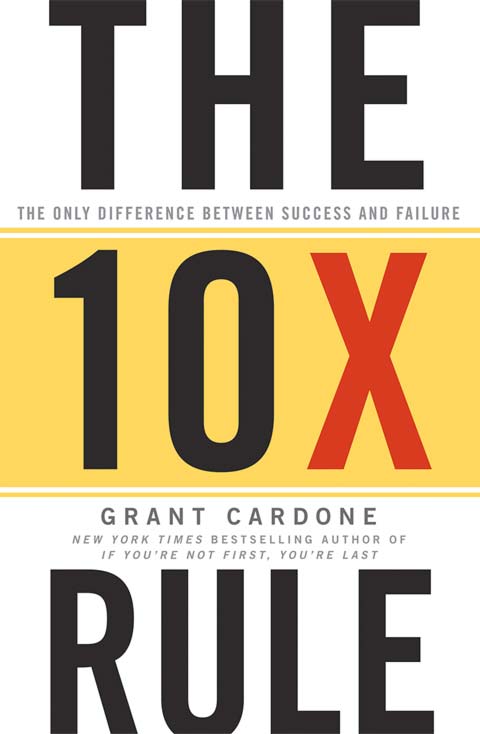 With 240 pages and more than 8,000 reader reviews, this book has helped thousands of people accomplish massive action in their businesses.
It's not a book on SEO but it is a good read for anyone who wants to improve their business efforts outside of the world of search engine optimization.
If I were to sum up this book in two sentences, it would be this:
The 10X rule says that you should set targets for yourself that are 10X greater than what you believe you can achieve. Then, you should take actions that are 10X greater than what you believe are necessary to achieve those goals.
For many people, the biggest mistake they make is not setting high enough goals. They only aim for a low target that's easy to achieve. However, taking massive action is the only way to fulfill your true potential and along the way, you'll do so much more than you ever expected was possible.
This book will help you to challenge traditions and established ways of thinking and be able to approach everything with the attitude that it can be done; no matter what.
---
By Ann Handley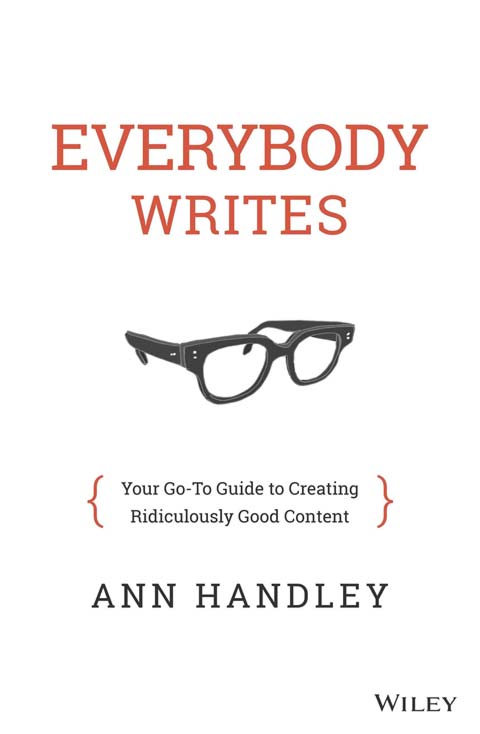 If you're in charge of writing any type of content on a website, then this is a must-have book in your collection.
Knowing the best practices and strategies in SEO is one thing, but if you're using the wrong grammar, punctuation, or language on the page, then it can render all of those efforts on SEO useless.
When I picked up this book, I couldn't put it down.
It was the most easy-to-read and thorough guide on putting together great content that I have ever seen.
Inside the 320 pages were the most important fundamentals of writing and content marketing for crafting better web pages, blogs, emails, and social media posts.
The author teaches you how to write great content that also has style and flair, correct punctuation, and proper grammar. Ann Handley also gives you the best practices for creating credible and trustworthy content, which is more important than ever in today's online world.
I can't think of any other book that's as good of a companion to SEO as this one right here. It should be required reading for every serious marketer who wants to produce ridiculously good content.
---
By Eli Schwartz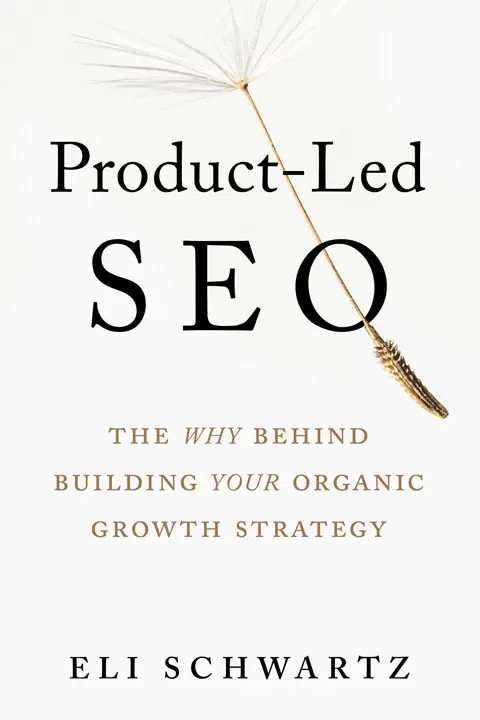 If you're a marketing manager or executive who wants to understand the logic and theory of SEO instead of reading a manual with step-by-step processes for implementing optimization techniques, then this book is exactly what you need.
As one reviewer put it: "You know your business and products needs to invest in building and maintaining a strong foundation in organic traffic & revenue, but you don't know what type of SEO to hire, or what kind of team to invest in building out… Product-Led SEO has you covered."
Inside this SEO book, you'll learn how to create a powerful growth engine for your business to help drive more leads, customers, and sales for your products by using both creativity and logic with an organic search engine optimization campaign.
Instead of just trying to gain website traffic for traffic's sake, you'll learn how to think more strategically about the quality of traffic you acquire by focusing on product-market fit that answers your prospective customers' questions in a unique way that separates your business from the competition.
---
By Jason Barnard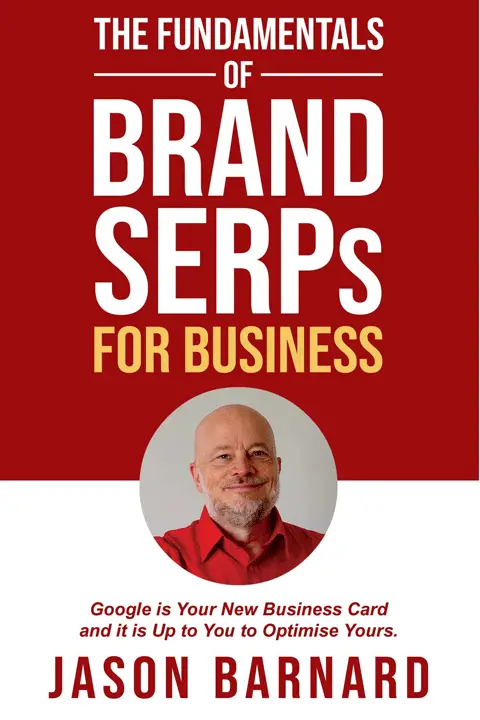 If you're serious about branding and SEO, then this book on search engine optimization is a must-read for 2023.
There's no other book on the market like it, and you'll learn the fundamental aspects of how to make your brand stand out in Google's search engine results pages (SERPs) when someone searches for your company or brand name.
Jason Barnard reveals exclusive insight from his business, Kalicube, to explain why Brand SERPs are a vital part of any digital marketing strategy. And once you understand how Google finds, collects, and displays key information about your business in the SERPs, including the Knowledge Panel, you'll be itching to put these SEO tactics into practice to dominate your "digital business card".
After reading this SEO book, and hearing about the successes of other SEO influencers who optimize their brands using Jason's techniques, I've started putting the same steps into practice to dominate my own personal brand name and the SEO Chatter brand name in Google Search.
So give this book on search engine optimization a read! You won't regret it.
---
Best Search Engine Optimization Books Summary
I hope you enjoyed this list of the best SEO books for 2023.
As someone who has personally been doing search engine optimization for more than a decade, these truly are the best books to learn SEO.
And while I do enjoy reading blogs, listening to podcasts, and watching videos on SEO, there's a breadth and depth of information inside these top SEO books that's not available in other formats.
So if you want to read some of the best search engine optimization books that can help you create a cohesive and impactful SEO strategy for your website, then give any one of these titles a try.
As a supplement source to these books about SEO, be sure to visit my SEO abbreviations page. It includes a list of the top acronyms and meanings for common terms and words used by search engine optimization specialists.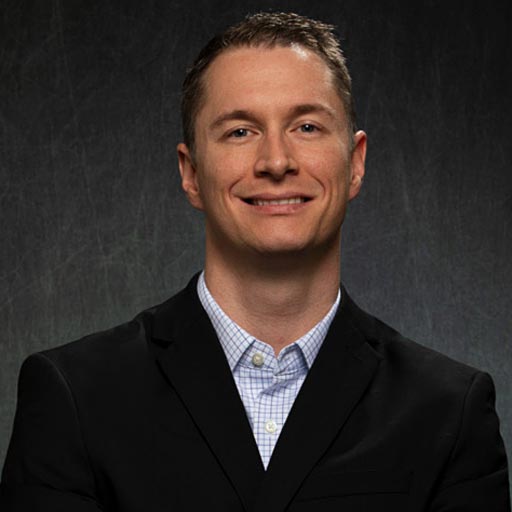 Stephen Hockman is an entrepreneur and founder of SEO Chatter. He specializes in search engine optimization and digital marketing and has been fascinated with SEO since 2005. His goal is to share the best tips and news about search engine marketing to help you get more website traffic.