In this article, we're going to answer the question, "what are organic keywords?"
But we'll go more in-depth than just explaining the definition of what does organic keywords mean in search engine optimization (SEO). We'll also cover the importance of organic search, how to find organic keywords in Google Analytics and Search Console, as well as tips on how to increase your organic rankings.
Consider this your complete guide on every aspect related to organic keywords in SEO.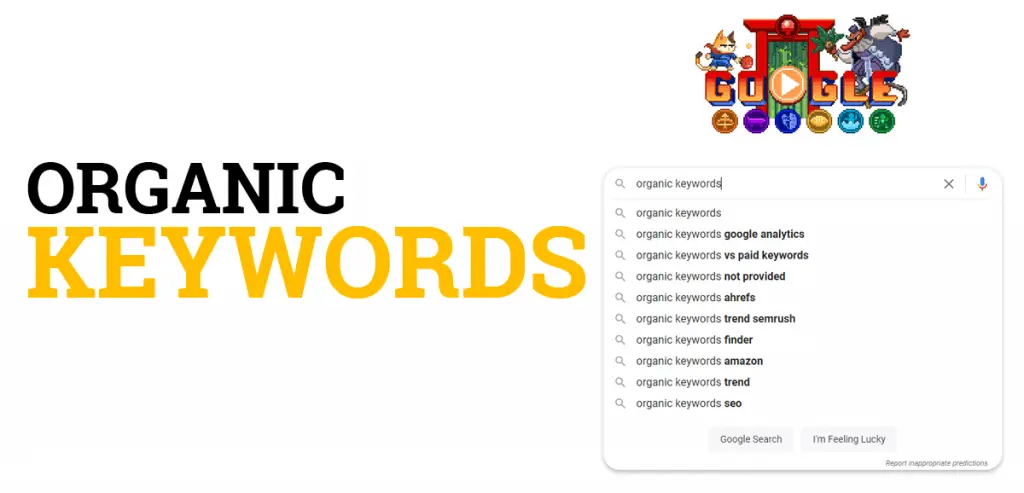 What Are Organic Keywords?
Organic keywords are a type of keyword that attracts free traffic with search engine optimization (SEO). An organic keyword allows visitors to find your website without clicking on an ad. Organic keywords are free to target vs paid keywords that cost money to rank for in the search engines.
Why Are Organic Keywords Important?
Organic keywords are important because they are targeted. Organic search traffic is also free. The traffic that comes from organic keywords is extremely important for attracting unpaid website traffic and increasing your site's visibility in the search engines.
How to Find Organic Keywords
Google Analytics is a way to find organic keywords that drive traffic to your website. Google Search Console is another way to find organic keywords your site is ranking for, the number of impressions each keyword receives, the click-through rate, and the average ranking position.
Google Analytics
The first method for how to find organic keywords is to use Google Analytics. You can see these keywords in Google Universal Analytics by navigating to the "Organic Search" section of the dashboard:
ACQUISITION > ALL TRAFFIC > CHANNELS > ORGANIC SEARCH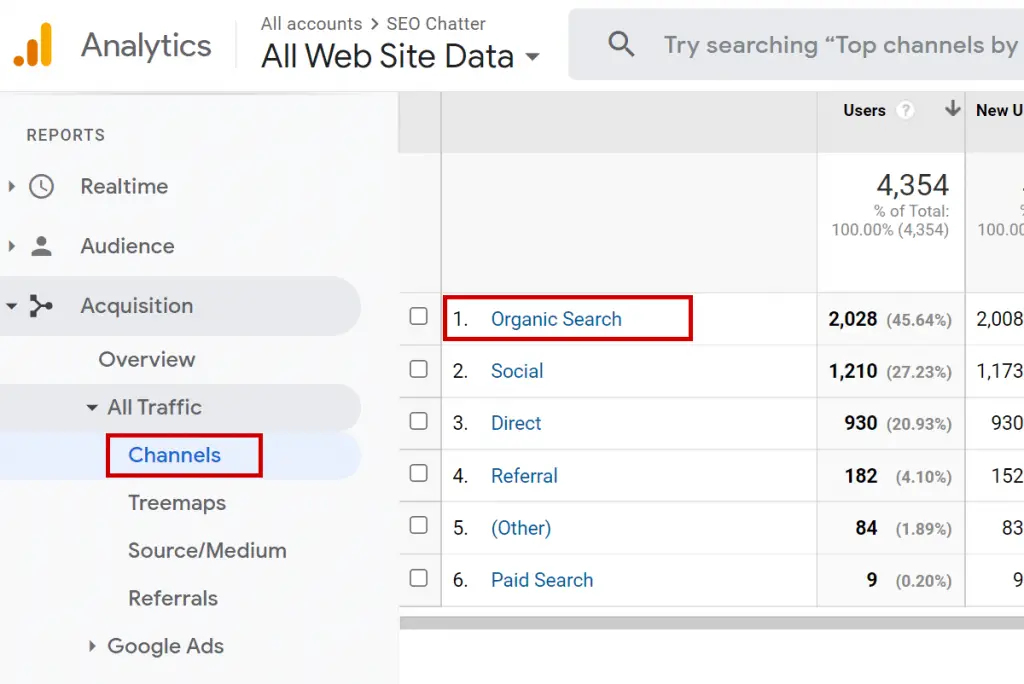 After clicking on the "Organic Search" link, you'll see a list of keywords that are delivering traffic to your website. However, this data will not be complete because the top result will show "(not provided)" along with only a few generic keywords.
In Google Analytics 4 (GA4), you only see general data for "Organic Search" without any reference to the keywords. You can get to this screen by navigating to the "Traffic Acquisition" section of the dashboard:
ACQUISITION > TRAFFIC ACQUISITION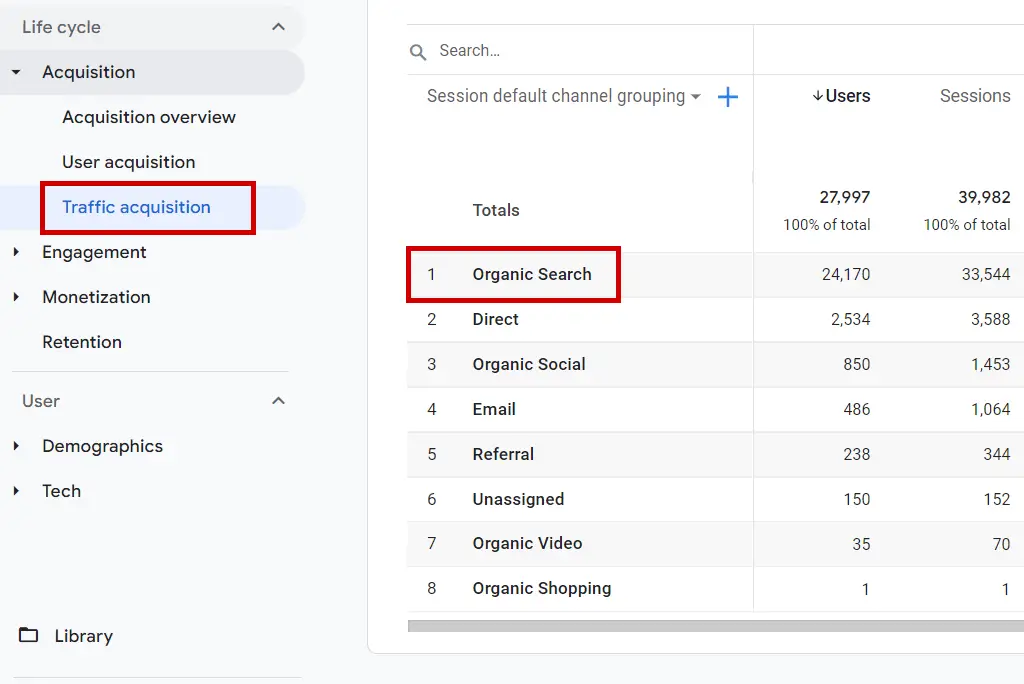 In 2011, Google switched to making search data more secure by protecting the privacy of its users:
"When a signed in user visits your site from an organic Google search, all web analytics services, including Google Analytics, will continue to recognize the visit as Google "organic" search, but will no longer report the query terms that the user searched on to reach your site."
Therefore, Google Analytics will recognize the visitor under the Organic Search channel but won't show you the exact search term that leads to a website visit. As a result, you'll see (not provided) in this report for organic keywords. Fortunately, Google Search Console (explained next) will give you the organic keyword data you need, which we'll cover next.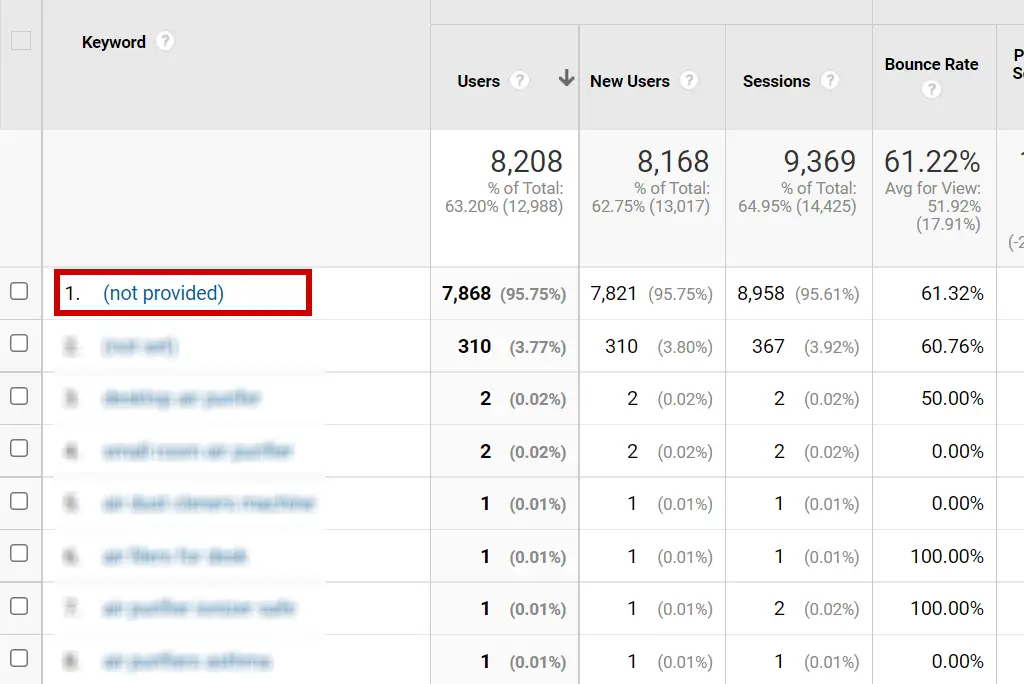 For more details about checking organic search traffic in Google Analytics 4 (GA4), check out this other guide on how to see organic traffic in Google Analytics.
Google Search Console
Google Search Console is much better for finding organic keywords your website ranks for because the data is not linked to individual users.
You can see a full list of your keywords by navigating to the "Performance" section of the dashboard:
PERFORMANCE > SEARCH RESULTS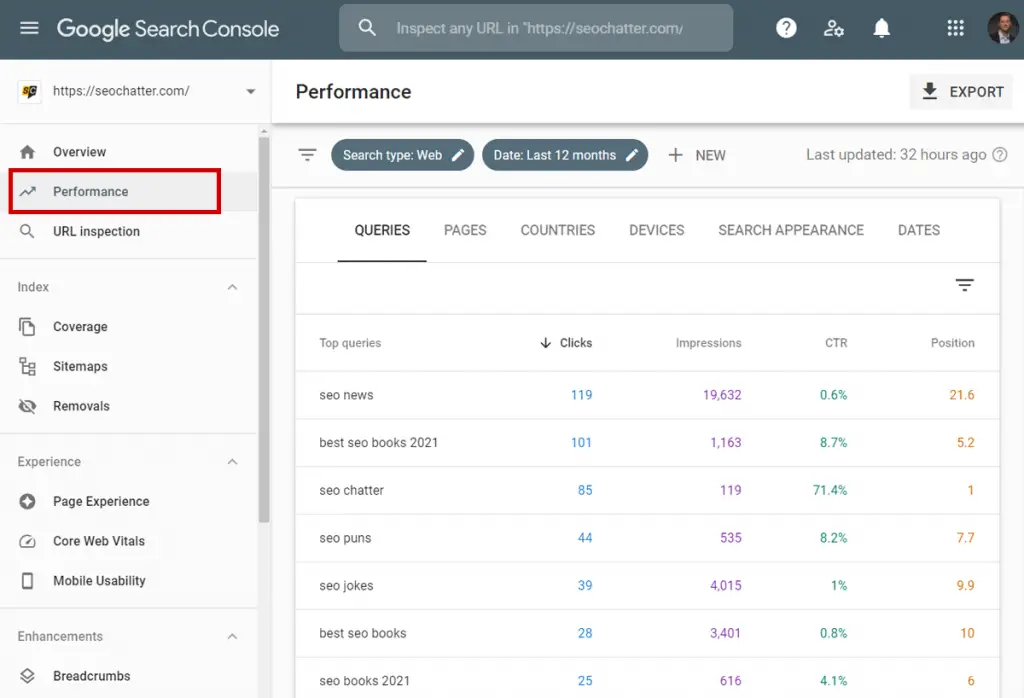 With Google Search Console, you can view a list of all queries (i.e. keywords) that refer the organic traffic to your site as well as the number of clicks, impressions, click-through rate, and position for each query.
Now that you know the answer for "what does organic keywords mean?" and how to find this type of data in your Google SEO tools, we can move on to some strategies for how to increase your organic keywords and SEO traffic for your website.
How Do I Increase Organic Keywords?
1. Create an Organic Keyword List
The best way to increase your organic keywords is to first generate a list of keywords to target.
For this step, you'll need a keyword research tool like KWFinder by Mangools (try it for free). It's one of the only SEO tools I recommend as an affiliate because it's cheap, yet powerful for keyword research.
(I also have a post on how to find low competition keywords here that include manual research methods.)
With KWFinder, you can type in a seed keyword and get a list of organic keywords people are actively searching for on Google. This takes the guesswork out of finding good keywords to target on your website.
Just think about how people would search for your products and services as well as the types of questions they have related to your industry and niche.
Make a list of those keywords and then start searching on KWFinder to see if they have a good level of monthly search volume. The sweet spot will be to find organic keywords with high search volume and low to medium competition, which indicates high traffic potential terms that are easier to rank for.
As you can see in the image below, KWFinder gives you that information under the "Search" and "KD" columns. KD stands for Keyword Difficulty, which is a score that KWFinder gives each keyword based on a variety of metrics. The lower the KD, the easier it should be to rank for the query.
2. Uncover the Related Keywords
The next step is to find all of the closely related organic keywords for each of the main seed keywords you're searching for.
In the previous image, you can see variations related to the search term "organic keywords". However, only one of those terms is directly related to the main search phrase:
It's best to look through the list and make a note of which keywords are closely related to the main keyword and ignore the rest. If you click the star icon next to a keyword in KWFinder, you can save it into a list.
Next, do a new search in a tool like KWFinder for those related keywords you found to uncover even more closely related keywords.
You can see how I did that in the image below by searching directly for "organic keywords meaning" which uncovered another term that's highly related:
organic keywords definition
This process can help you narrow down the set of keywords you need for clustering in step 3.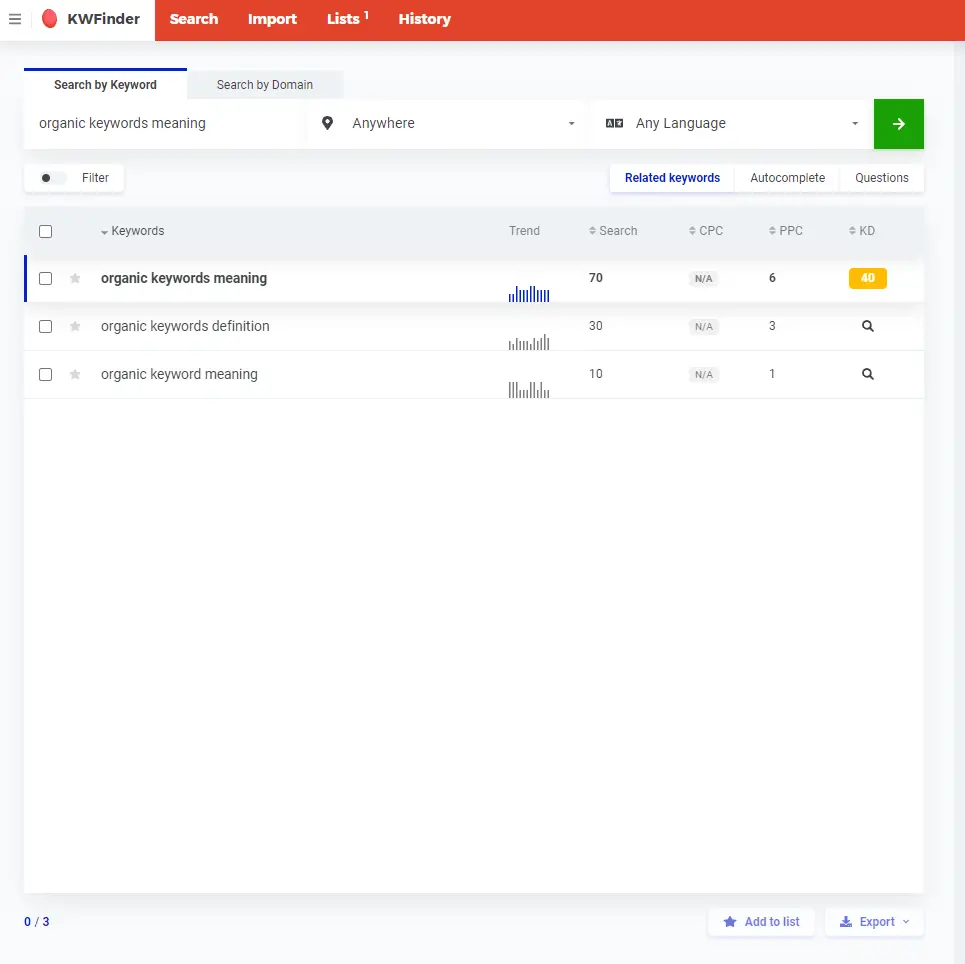 3. Cluster Your Organic Keywords for Each Page
After you repeat step 2 for every main keyword you thought of that relates to your business, you want to take the closely related keyword clusters and write an individual web page for each set.
(This is key for SEO based writing. See my post on SEO content writing tips for more details.)
You do not want to target multiple keyword clusters on one page because the search intent is different. And search engines like Google, Yahoo, and Bing rank different URLs in the organic search results based on that intent.
For example, in step 1 you saw that searching for the main seed keyword uncovered a variety of unrelated terms.
Three of those terms included:
organic search keyword not provided
organic search not provided
semrush organic search
The first two keywords should be on their own web page and the third should be written about separately because a person who wants to learn about "organic search not provided" is not looking for a tutorial on "semrush organic search" analysis.
4. Increase the Words On the Page
An easy way to increase your organic keywords is to write longer articles. The longer the SEO content, the more chances you have to rank for secondary keywords that are naturally used on the page. See this related guide for the minimum word count for SEO to help increase your keyword rankings for specific types of content.
5. Optimize Your Page Titles
The meta title, also known as the page title, is the most important on-page SEO ranking factor for a web page. And it's what is displayed for your web pages in the Google search engine results page (SERP) when people search for your query.
Therefore, you need to optimize your page titles by including your main keyword in this field. Preferably as the first words in the title.
6. Put Keywords In Your URLs
The URL is another Google ranking factor you can use to improve keyword positions for natural search. So put the main keyword in the URL for the page.
Use hyphens (-) in between the words and not underscores (_), so it looks like this:
7. Include the Keywords In Your Content
Google says verbatim in its document on How Search Works, "The most basic signal that information is relevant is when content contains the same keywords as your search query."
It's plain as day that you need to include your keywords within the content of the page if you want to increase your website's organic rank. See this related article with SEO keyword examples to find out all the types of keywords you can optimize for on-page SEO.
8. Optimize Your Header Tags
Google's How Search Work document also says, "if they appear in the headings…the information might be more relevant." In other words, put your organic keywords in the header tags like the H1 and H2 to help increase visibility on search engines.
The H3s should include partial match keywords or variations (synonyms) to reduce over-optimization. The H4 to H6 tags are not as valuable for organic ranking improvements.
9. Increase Topical Authority with Internal Linking
Everything we've discussed up to this point has been about on-page SEO for the page that is written about the target keyword phrase. And while that's a good way to inform Google that the page should be ranked for specific organic search keywords, you can improve those signals by doing strategic internal linking.
Linking to the target page from other relevant pages on your site using exact match keywords in the anchor text can increase the topical relevance of the target page. So not only is the page well-optimized for Google to understand what the topic is for the content, but the incoming internal links confirm that authority.
You just don't want to go overboard with this organic search marketing technique by using only exact match anchor texts pointing to the same page. Vary it up a bit so that you're not overoptimized for your key terms by using both partial keyword matches and extra filler words in the anchor text to keep the internal links looking natural.
10. Optimize Your Site for Mobile Devices
In my article on mobile SEO, I explain how Google uses mobile-first indexing for its search engine. This means that the algorithm predominantly uses the mobile version of the content for indexing and ranking.
So you need to optimize your website and content for mobile if you want to increase your organic keywords. A few tactics for mobile optimization include using a responsive website design, improving speed performance, not using interstitial pop-ups, and adding Structured Data on pages that can benefit from it.
Organic Keywords Summary
I hope you enjoyed this guide on what are organic keywords.
As you discovered, the basic idea behind what does organic keywords mean is the queries that your content ranks for in Google which deliver free traffic through search engine optimization (SEO).
And the easiest way for how to find organic keywords for your website is to use Google Analytics and Google Search Console.
Finally, increasing your rankings for organic keywords can be done with a few on-page optimization techniques as well as internal linking and mobile speed improvements.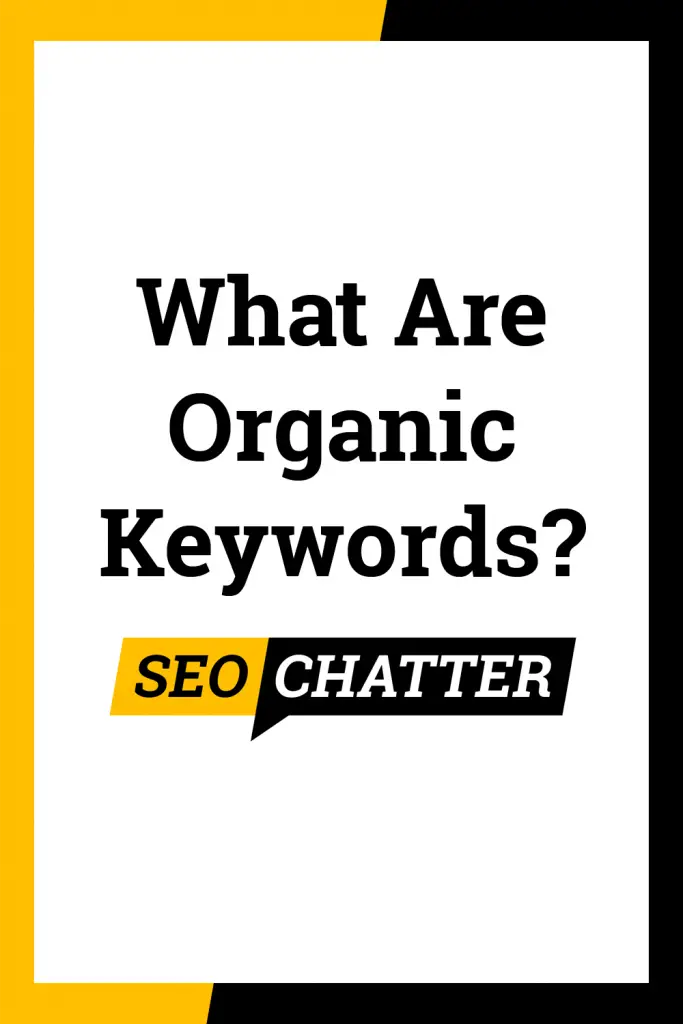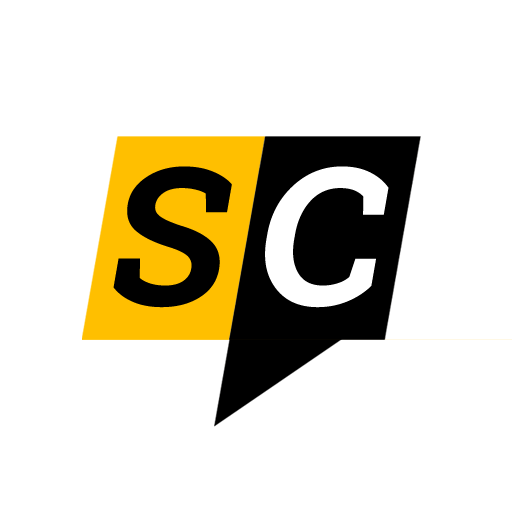 The Editorial Staff at SEO Chatter is a team of search engine optimization and digital marketing experts led by Stephen Hockman with more than 15 years of experience in search engine marketing. We publish guides on the fundamentals of SEO for beginner marketers.