This guide explains organic ranking.
Below, you'll find out what is organic ranking on search engines like Google, Yahoo, and Bing, why organic rank is important for search engine optimization (SEO), and get examples of the different types of organic search rankings that a website can have in the search engine results pages (SERPs).
Additionally, you'll find an explanation of the difference between organic and paid rankings so you know how each method applies to your website for SEO and digital marketing.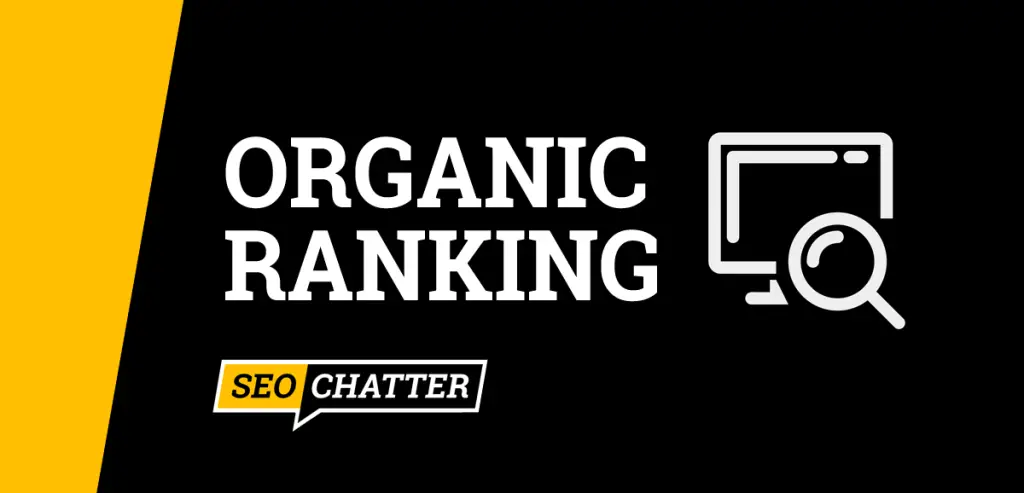 What Is Organic Ranking?
Organic ranking is the search engine ranking for web page listings that are ranked according to their relevance to the search term. Organic rank is the result of optimizing a website and its content for search engines to be ranked in unpaid search results.
Types of Organic Search Ranking
There are many types of rankings in organic search. In the past, search engines like Google, Yahoo, and Bing only listed around 10 website links for users to click on in the SERPs. Now, modern search engines include a variety of features to display websites to users depending on the search query.
Below are the top examples of those features that can drive organic traffic to your site.
Organic Search Listings: These are the unpaid listings that a website ranks for organically based on relevance and SEO.
Featured Snippets: These are snippets of information taken from a web page and displayed in the top-ranking position in the SERPs. Featured snippets include paragraphs, tables, lists, and videos, and get around 35% click-through rate (CTR) of the organic search engine rankings.
Rich Results: These are enhancements to organic ranking results that highlight key information for the user, such as review ratings, recipe information, pricing, vote count, author name, etc.
People Also Ask Results: This is a box that appears in the organic rank results that contain a list of questions and links to websites that are related to the initial query.
Things to Know: This includes important concepts that help searchers build their understanding of the topic from the ground so they can move through the journey of discovery.
Image Carousels: These include relevant images to the search keyword with links to the source website.
Video Carousels: These include relevant videos for the query with links to watch the video.
Top Stories: These articles are displayed when the organic ranking algorithm detects that a search query is news-oriented
Knowledge Panels: These are panels that show up for known entities (i.e., people, places, organizations, and things) that have verified information in the search engine's Knowledge Graph.
Local Packs: These are types of organic search rankings that appear for local search queries and include links to businesses and associated maps.
Popular Product Results: These appear in organic search for search queries with buyer intent, and include images, ratings, prices, availability, and description information for relevant products.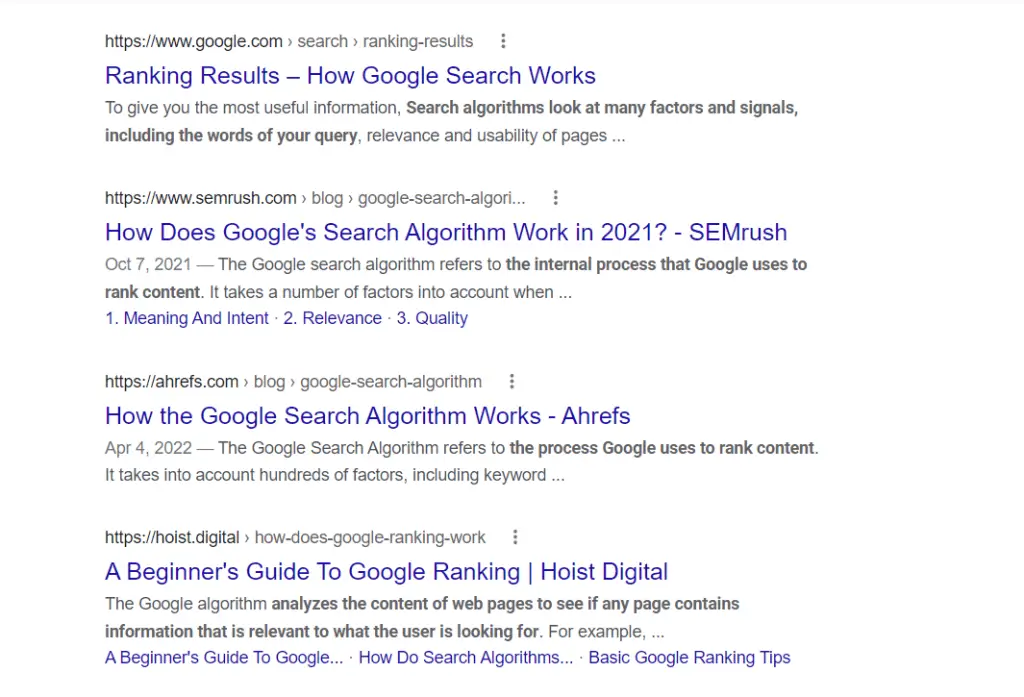 How Is Organic Search Engine Ranking Decided?
Organic ranking is decided according to the website's relevance to the search term as well as other organic search ranking factors such as incoming links, domain authority, page authority, user location, and many other ranking signals.
Google's search engine algorithm, for example, uses more than 200 ranking factors to decide which websites to rank for organic keywords and at what position in the SERPs. Google also makes hundreds of algorithm updates per year that affect the organic rank of websites each day with the ultimate goal of serving the best results for its users.
To improve your website's organic ranking positions, you need to focus on good on-page SEO and off-page SEO strategies like keyword optimization, matching user search intent, and quality link building.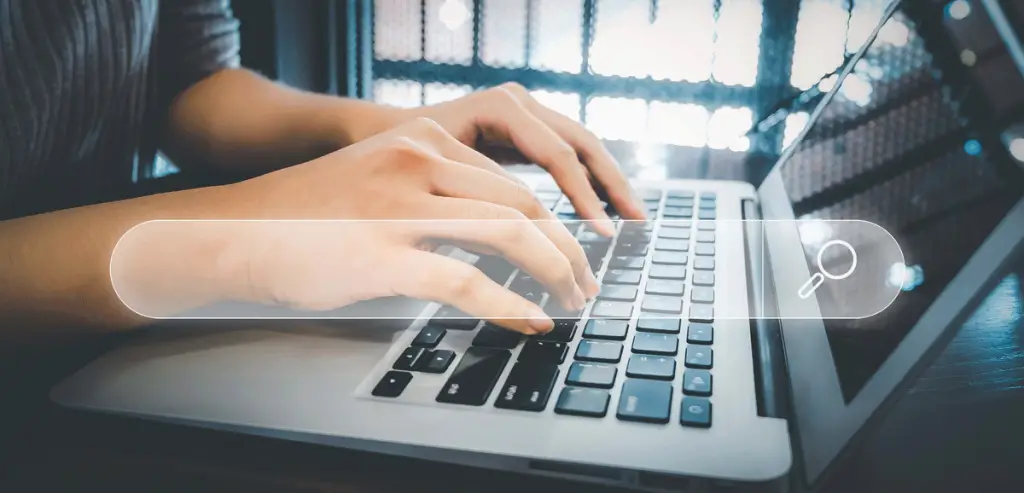 Why Is Organic Rank Important?
Organic rank is important because it's the best source of traffic for a website. Organic ranking is targeted, unpaid search traffic that creates a long-term, compounding ROI for a business which makes it important for digital marketing.
When a website ranks naturally in the search engines for relevant keywords, it can get higher-quality traffic that leads to more leads, customers, and sales without having to pay for those visitors. That's why organic SEO is an important strategy to use in your online marketing plan. See this related guide for more details on organic search marketing.
Organic Ranking vs Paid Ranking
Organic ranking is different from paid ranking because the organic rank is determined algorithmically by search engines like Google, Yahoo, and Bing. You cannot pay money to increase a website's visibility in the organic (or natural search) results.
However, with paid ranking, you can use pay-per-click (PPC) advertising strategies to have your site displayed in prominent locations on the search results pages. PPC ads charge a cost for each click that drives traffic to your site.
For more details on this topic, you can see these related guides to learn the difference between SEO and PPC and get a list of the advantages of SEO in digital marketing.
Organic Ranking Summary
I hope you enjoyed this guide about organic ranking.
As you discovered, organic rank refers to the unpaid search engine rankings for web page listings that are ranked according to their relevance to the search term and other key ranking factors like on-page and off-page SEO. Organic search engine ranking is important for digital marketing because your website can be displayed in search engines like Google, Yahoo, and Bing for relevant keywords to drive traffic back to your business at no cost.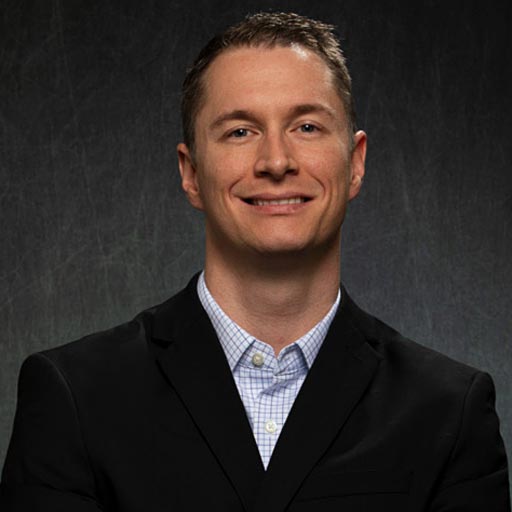 Stephen Hockman is an entrepreneur and founder of SEO Chatter. He specializes in search engine optimization and digital marketing and has been fascinated with SEO since 2005. His goal is to share the best tips and news about search engine marketing to help you get more website traffic.