If you really want to increase your organic search visibility, keyword rankings, and traffic, then you have to focus on both good content and SEO.
You can't have one without the other.
Gone are the days when you could optimize a poorly written page and jump to the top spots in Google. In a similar way, just writing high-quality content without paying any attention to SEO with the hopes that the page will get the natural rankings it deserves won't cut it either.
So to make sure you get the most value out of your content writing efforts, I put together this comprehensive guide on why content is important for SEO.
By understanding the relationship between content and SEO, including how content affects SEO, and ways to improve your SEO content, you can generate more organic traffic exposure for your business through the search engines.
Why Content Is Important for SEO
Content is important for SEO because it makes search engine optimization easier to do. Without good SEO content, search engines won't have enough information to index your pages correctly and help them rank. The main importance of content for SEO is that it improves your visibility and increases traffic.
That's the general idea behind why content is important for SEO. Let's now dig a little deeper to find out what SEO content is exactly as well as how content affects SEO and ways to improve it.
What Is SEO Content?
SEO content is content that's been well optimized for search engines. Good SEO content is written in a way that improves the visibility of your pages in the search engines so you can get more traffic to your website. The ultimate purpose of SEO content is to increase awareness, sales, and leads.
The term "SEO" refers to search engine optimization, which is the process of optimizing a webpage so that it can rank higher in search engines like Google, Yahoo, and Bing. SEO can be optimized through on-page or off-site efforts and is referred to as "on-page SEO" and "off-page SEO".
The term "content" refers to the actual words and media used on a webpage that your visitors consume. Content can consist of text, images, videos, charts, tables, and interactive media, with the sole purpose of satisfying the searcher's intent.
If we put these two ideas together, then the term "SEO content" refers to any type of content that's created to attract search engine traffic and satisfy the visitor's needs. The end result of this combination is to generate more awareness, leads, and sales for your business.
How Does Content Affect SEO?
Content affects SEO by making on-page and off-page optimization easier to do. The quality of your content affects SEO results by making it simpler or harder to optimize for search engines and get external links to the page. Essentially, content affects SEO in every regard to search engine optimization.
If you've ever struggled with getting higher rankings and wondered, "why does SEO take so long to work?", it could be that your content is not up to the quality level it needs to be to rank on the first page of the search engines.
As I explain in my guide on what is SEO writing, when you have good content that's outlined properly and written well, then it's easier to improve the content with on-page optimization methods.
Good content gives you more opportunities to place your target keywords in the right places to get higher rankings on the search engines.
Good content also better serves the needs of your visitors which helps improve the quality and trust of the page. A trustworthy page with good content and SEO makes it easier to get external links from authoritative websites in your niche. And the more high-quality links you can get to a page, the higher that page will rank in the search engines for your target keywords.
Now this all sounds good in theory, but how do you improve your SEO content to get more organic visibility, keyword rankings, and traffic?
I'll cover that in full detail for you next.
How Do I Improve My SEO Content?
1. Focus On the Right SEO Keywords
Every page of content should focus on a particular set of keywords. The goal is to match the SEO content to the user intent.
So pick keywords that match that intent. For example, if you're writing commercial content on the "10 best microwaves", then you'll want to focus on keywords like "best microwaves", "best rated microwaves", "best microwave brands", etc. You'll also want to structure the content so it includes rating and review information as well as images of the products.
But if you're writing content that answers a question like, "how to increase your SEO traffic in 30 days," as I did, then you'll want to focus on keywords like "increase SEO traffic in 30 days", "improve SEO traffic in 30 days", "30 day SEO plan", etc. It's also important to include a step-by-step plan with tactics for each day of the month.
I have another post on why is keyword research important for SEO, if you want to learn more about this topic.
But a good general rule of thumb here for how many keywords per page to focus on is two to three phrases. That gives you enough variety to rank for a lot more keywords than just the ones you're using on the page.
2. Improve On-Page SEO
On-page SEO is the most controllable aspect of search engine optimization for content and it can deliver faster results for keyword rankings than off-page SEO.
I have a complete guide on the difference between on-page and off-page SEO, but all you need to know here is that you can instantly improve your on-page SEO metrics by doing three things:
Improve the Title Tag: Add your target keyword to the meta title field. The closer to the beginning the better.
Rewrite the URL: Make the URL for the page the exact match phrase for your main target keyword. And use hyphens (-) in between the words.
Optimize the H1 Tag: Put your target keyword in the H1 tag. And similar to the title tag improvement tip, the closer to the beginning the better as I explain in my guide on how to optimize H1 tag.
If you want to learn all 27 ways for how to improve your SEO fast, then read that linked guide. You can also check out my detailed post on how to add keywords to a website to increase your rankings.
3. Go Deeper With Your Content
Creating content that goes deeper into a topic will help it to rank for many more keywords. It will also make the process of on-page SEO easier to do because you'll have more opportunities to put your target keyword in the right places on the page
When writing your content, it's important to go further than surface-level ideas. Essentially, you want to write ultimate guides for the topic at hand, similar to what I'm doing on this page.
I talk about this idea more in my post on how to boost search results for target keywords.
Some good ways to do SEO content like this are to write long-form articles that are 1,500 words or more, explore the subject matter from different facets and angles, and add multiple visuals or videos to the content.
4. Format Your SEO Content Well
A properly formatted page is easier to rank in the search engines and it improves reader retention.
One mistake I see people often do with SEO content is not structure the HTML elements the right way. What I mean by this is that they don't use the H2s, H3s, and list elements properly.
As explained in this other guide on how to write an SEO friendly article, to format your SEO content well, you need to use H2s for the main topic headings on the page and H3s for the sub-topics under each H2 heading. The order and unordered lists should go under H3 tags.
If you examine this page on why is SEO content important, you'll see exactly what I mean. I've formatted the page in the correct manner for the readers and Google to crawl to maximize the SEO value.
5. Improve Your Content Readability
If you look at the top 10 search results for highly competitive keywords, you'll likely see that they all have one thing in common: good readability.
Search engines like Google reward content with good readability because it better satisfies the user.
When a person visits your webpage and the individual elements make that person want to say longer on the page and share it with others, then it sends a good signal to Google that the content is highly relevant to the search query.
To be more readable, your content needs to organized well and clear to understand. By following tip #4 above, you can organize you content in the best way for your readers and SEO. As for clarity of the content, be sure to go in-depth on each topic as explained in tip #3 and user easy-t0-understand language instead of technical jargon that the average reader doesn't know.
6. Target Featured Snippets
In secret #3 on my top secrets to SEO guide, I give you the exact steps for how to optimize your content to win the featured snippets on Google.
The tips on that page include a walk-through video by Income School on how to organize your content to target featured snippets as well as a secret method by Steve Toth that shows you how to use the power of Google to help you write content on a page to snag the featured snippet spot using predictive text.
Here are those two resources below; however, I suggest that you read that entire SEO secrets guide to get all of the top tips and tricks for higher Google rankings.
Video on Winning Featured Snippets:
Article on Getting Featured Snippets:
How to get featured snippets using Google Docs by Steve Toth
7. Do Original Research
Writing SEO optimized content that's based on original research makes it a good link magnet for other site's in your industry to reference and serves your visitors' needs better.
According to Mantis Research, "One key reason to publish original research for marketing: backlinks. YOU become the source of authority in a topic, and people will link to you."
Additionally, people don't like reading the same content over and over again on different websites. So original research can help your content stand out from the competition.
If you can include fresh statistics and studies in your content, then you'll find it easier for other websites to link to your webpage by citing your findings. This strategy can lead to higher authority backlinks and more sources for free website traffic.
8. Be More Credible
An easy way to improve the credibility for a piece of SEO content is to add facts to the page and back them up with cited links.
These days, anyone can write a blog post or article and put whatever they want the page, regardless if it's true or not.
But if you provide supporting facts, sources, and data in your SEO optimized content, then you can easily differentiate it for the better.
As you've seen throughout this page, I've cited multiple sources to back up the claims I'm making. Therefore, this content is deemed to be more trustworthy in the eyes of my readers than a page they come across that has no facts or data with links to the original sources.
So use this tip to your advantage.
9. Add More Visuals
According to Jeff Bullas, "Articles with images get 94% more total views" and Invisa reports that "Video on a landing page can increase conversions by 80% or more."
If those stats don't convince you to use more visuals on the page, then also consider this:
Adding more images on a page gives you more chances to optimize for additional keywords. You can improve the on-page optimization for a piece of SEO content by putting the target keywords into the ALT tags and image filenames of the images used on the page.
10. Improve Your Page Speed
In a blog post by Pantheon on improving page speed, the company cites a case study performed by Backlinko. Pantheon reported that "page speed plays a major role in ranking sites. The quicker your page loads, the higher it'll rank in Google search results. In the study, all of the pages that ranked highest for a particular search had quick page speeds. It was evident that site creators had made an extra effort to optimize their loading time."
Google even released a confirmed statement about speed being a factor for Google Search and Ad performance.
The more you can improve the page speed for your SEO content, the easier it will be to rank for competitive keywords.
You can find out your current page speed scores by using Google's Page Speed Insights Tool.
Is More Content Better for SEO?
More content is better for SEO. Having more pages indexed in the search engines equals more opportunities to gain traffic from SEO. Also, longer content is much better for SEO because it can rank for more keywords. Plus, content length correlates to higher search engine rankings.
Summary for Why Content Is Important for SEO
I hope you enjoyed this post on why content is important for SEO.
As you discovered, there's an important—and beneficial—relationship between content and SEO. If you really want to succeed in getting more organic search visibility, keyword rankings, and traffic for your business, then you can't focus on these two marketing strategies in isolation.
When you understand the true importance of content for SEO and vice versa, and put the right content strategy into place, you can more easily achieve those first page rankings you desire.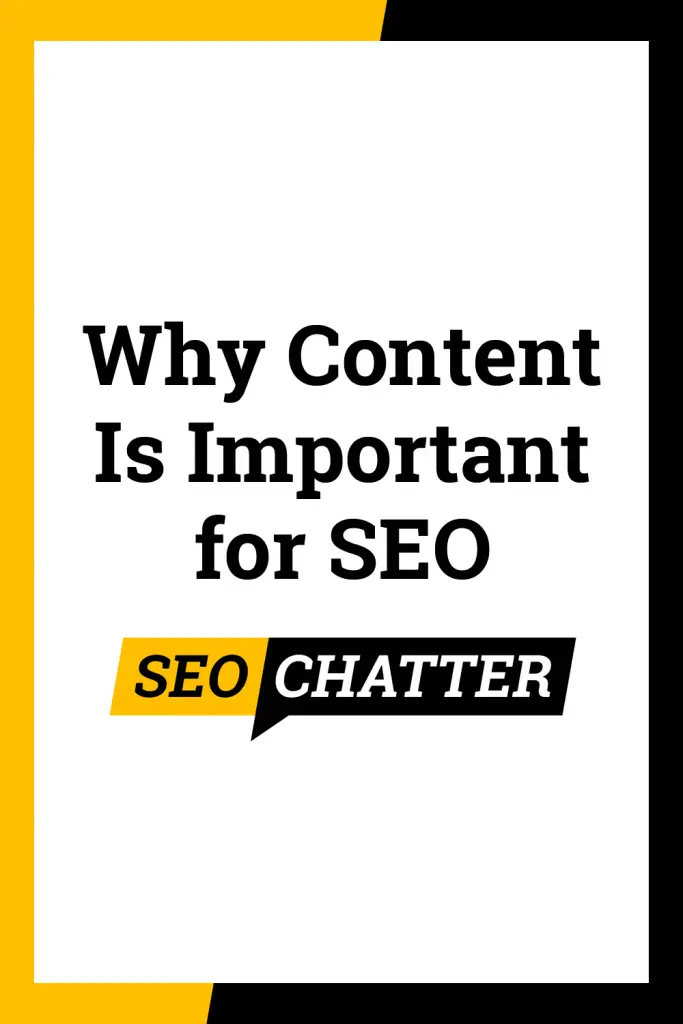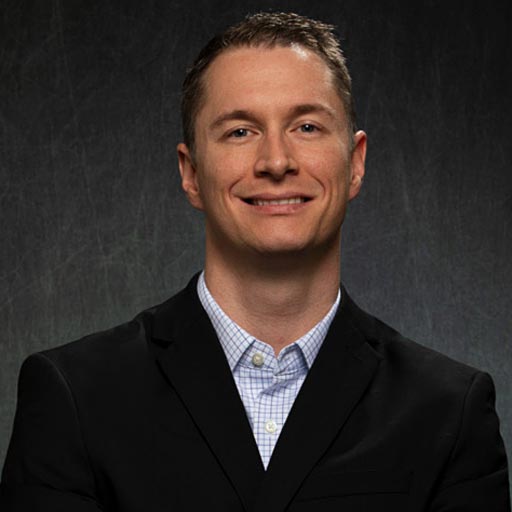 Stephen Hockman is an entrepreneur and founder of SEO Chatter. He specializes in search engine optimization and digital marketing and has been fascinated with SEO since 2005. His goal is to share the best tips and news about search engine marketing to help you get more website traffic.