This guide includes a list of the best keyword clustering tools for SEO.
Below, you'll find the top keyword grouping tools you can use to improve your website's search engine optimization (SEO) strategy. The recommendations on this page contain a variety of options to help you find the perfect keyword clustering tool for your digital marketing needs and budget.
Disclosure: This page includes affiliate links for a few of the keyword grouping software. When you purchase a paid subscription, I may earn a commission.
Best Keyword Clustering Tools for SEO
1. KeyClusters
KeyClusters is one of the best keyword clustering tools on the market because it automatically groups keywords into topical clusters in minutes. This software also supports popular keyword research tools such as Ahrefs and Semrush (mentioned below), or you can upload your keywords as a comma-separated values (CSV) file.
KeyClusters will output your results as an Excel file, and you'll have pure keyword insights based on real-time Google data. KeyClusters uses Google's search engine data to identify the top ten pages for your targeted keywords to cluster your keywords into topical groups that have three or more web pages ranking for the same terms.
Price: Free to try with 100 credits; $9.00 for the basic plan with 1,000 keywords and credits never expire.
2. Keyword Cupid
Keyword Cupid is another top keyword clustering tool that automates the process of creating clusters of keywords using machine learning. It has a state-of-the-art neural network that reverse engineers Google's Knowledge Graph to help you optimize your content holistically.
With Keyword Cupid, you can use data from other keyword research and grouping software or upload a CSV file to feed the tool with the relevant keyword data for your target market. After you've uploaded your data, select your chosen country, device, and search engine, and SERP Spy will scrape the search engine results pages (SERPs) to acquire ranking data to train its models for the best keyword cluster.
You'll receive an email report including an interactive mindmap and a downloadable Excel file with recommendations for niche-relevant pages targeting all the keywords that belong to the same group. You'll also receive suggestions for ideal word counts, outbound links, and image data to help your web page rank higher on Google, Yahoo, and Bing.
Price: Try free for 7 days; $9.99 per month for the starter plan with 500 monthly keyword credits.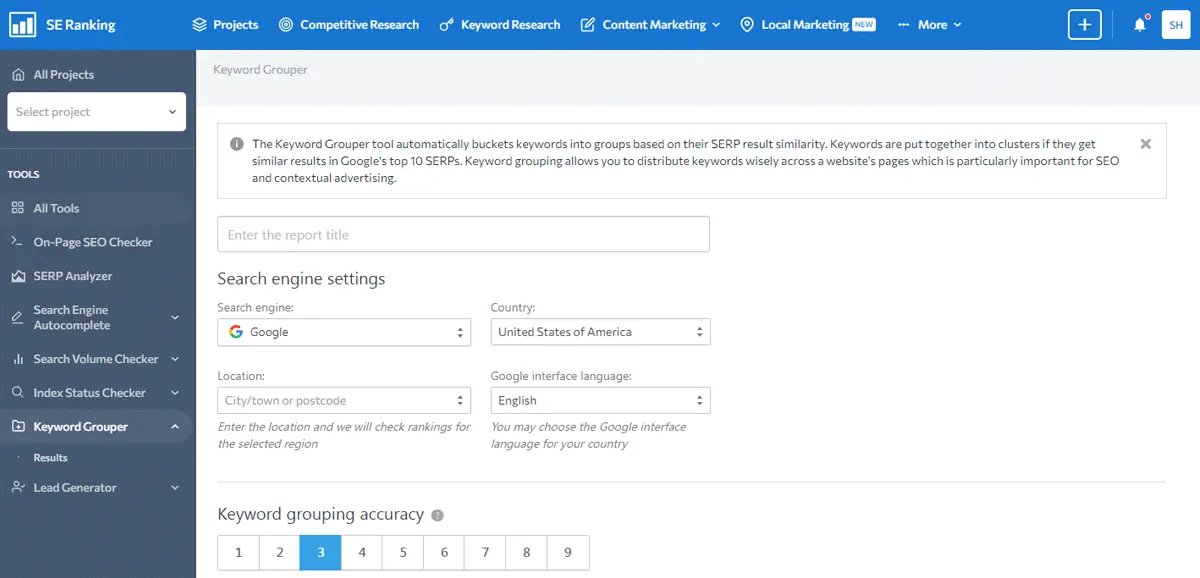 3. SE Ranking Keyword Grouper
SE Ranking has one of the most popular keyword clustering tools called "Keyword Grouper" which is part of the SEO software suite with 35+ other applications. Keyword Grouper enables you to plan your website's SEO architecture, content strategy, and segment your pay-per-click (PPC) grouping to improve the effectiveness of your advertising campaigns.
This tool automatically puts keywords into groups based on their SERP result similarity. If two or more keyword phrases have similar ranking results in Google's top 10 SERPs, then they are put into the same cluster.
You'll enjoy virtually error-free input when you use SE Ranking's Keyword Grouper, which helps you avoid typos and incorrect groupings. This software also enables you to prioritize keywords, instantly check search volumes, and helps you expand your content's semantics by suggesting new keyword variations based on synonyms and closely-related terms.
Price: Extended 30-day FREE trial using my partner link; $49 monthly for the essentials plan.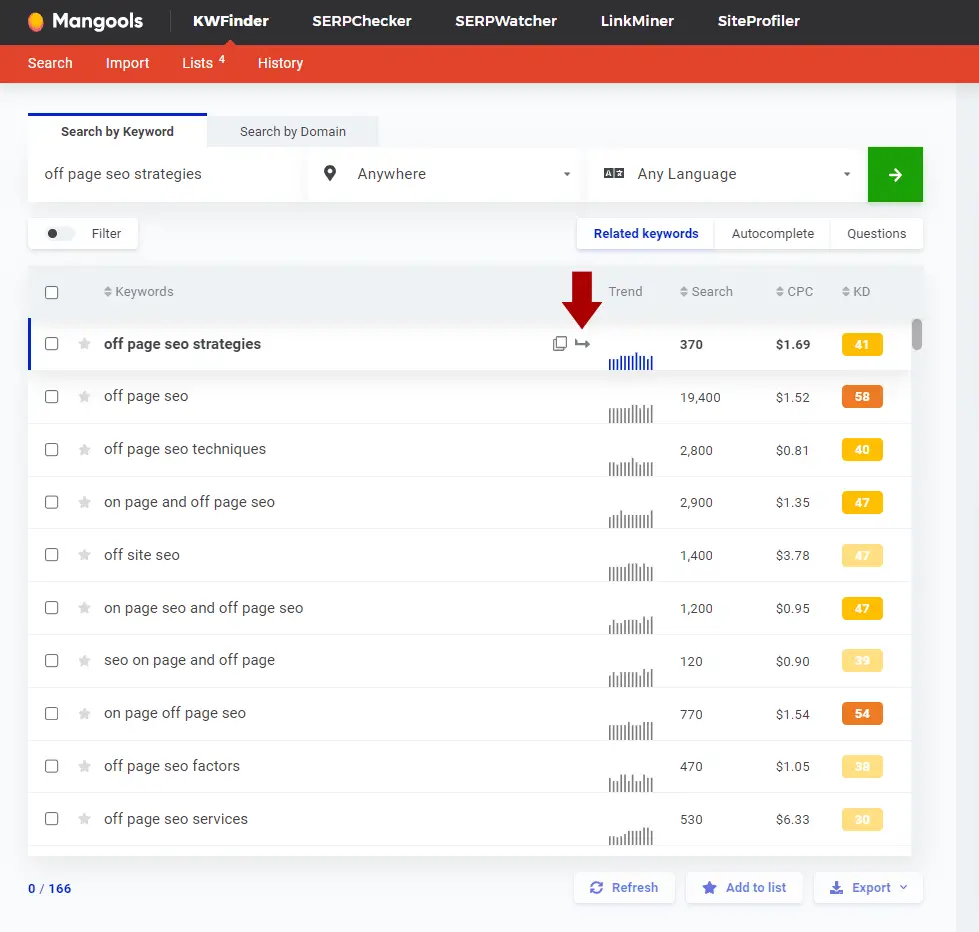 4. KWFinder
KWFinder is a good keyword clustering tool that's cheap, easy to use, and fast at grouping keywords for SEO. Its best feature is that you can enter a seed keyword to get a list of topically-related ideas, then click on a button to dive deeper into that cluster by searching for related keywords for that specific term or phrase.
KWFinder's database has more than 2.5 Billion related keywords with more terms and phrases being added monthly. You'll also enjoy targeted keyword analysis for over 52,000 supported locations worldwide.
What's also great about KWFinder is that this software helps you find keywords with low SEO difficulty and high search volumes. Plus, you can easily analyze your competitors' keywords and rankings to generate new ideas for your website. Finally, KWFinder allows you to search for location-specific long-tail keywords and identify seasonal keywords based on trends and historical search volumes to create the best keyword clusters for your content and website structure.
Price: Try free for 10 days using my partner link; $49.00 per month or $29.90 if paid annually with 100 keyword lookups per day.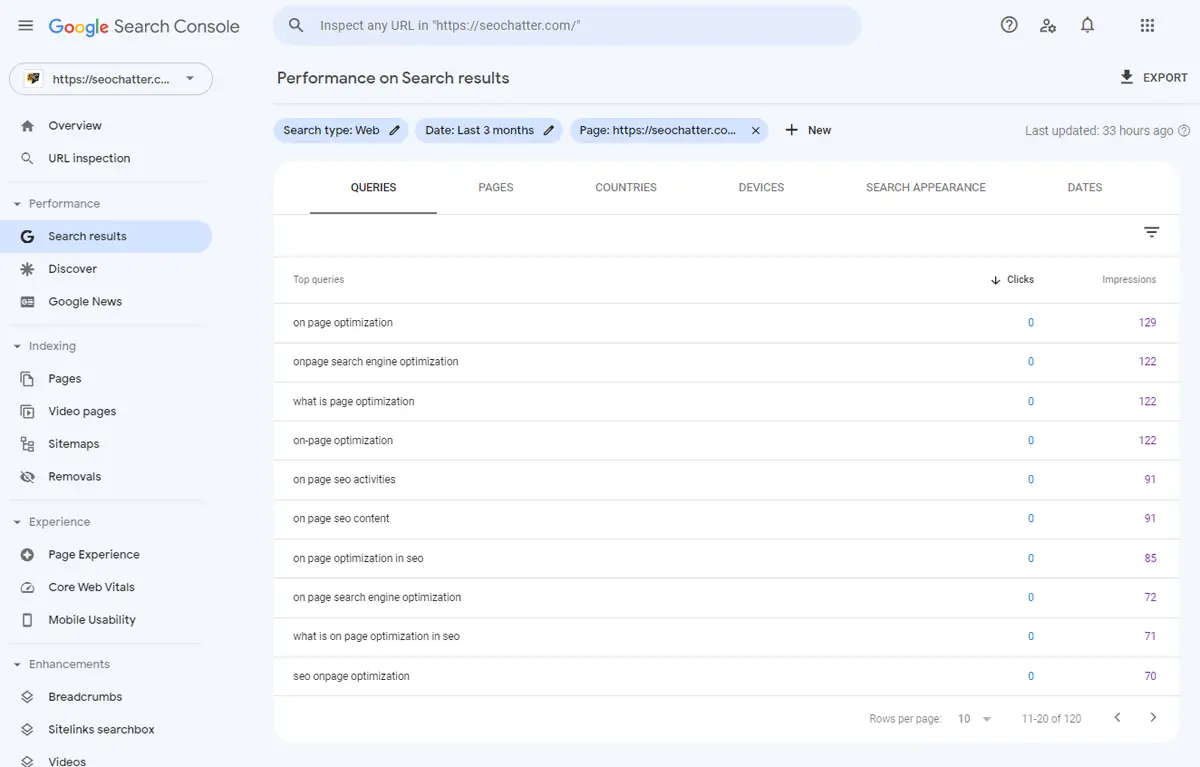 5. Google Search Console
Google Search Console is a web service offered by Google that allows you to measure your website's search traffic and performance. It also has one of the best keyword clustering tools you can use for free if you know how to properly analyze the keyword data.
With Google Search Console connected to your website, you can inspect individual URLs to find out what keywords Google's algorithm is currently assigning to the page. This provides accurate you need to fully understand how Google's web crawlers are indexing the content and to help build the perfect keyword cluster on the page without guessing.
Navigate to Performance > Search Results, then click on the "New" button. Choose "Page" and enter the URL you want to analyze for keyword grouping. Next, click on "Apply" and the data table below the chart will update with the top queries the URL is ranking for in Google's search engine. Sort the Impressions column in descending order to find out the top keywords Google is showing the web page for in the SERPs.
This query data provided in Google Seach Console can be useful to build the proper keyword clusters for each URL. If a term or phrase is receiving a high number of impressions, then you should make sure to include that text on the page because Google's algorithm clearly thinks the content should rank for that keyword in the SERPs.
Price: Free
6. Keyword Insights
Keyword Insights is an AI-driven content marketing platform with a powerful keyword grouping software you can try for just $1. You can upload your keywords into Keyword Insights to see what clusters of keywords are currently ranking based on live search results pages.
Keyword Insights uses Natural Language Processing (NLP) technology to identify the semantic relationships within your content and help you create high-quality content that ranks for low-volume, low-difficulty keywords in your target community. With Keyword Insights, you'll be able to quickly locate keyword groups for your content that is not ranking and create new content based on country-specific SERP data for each query.
Price: 750 credits for $1; $49 per month for the basic plan with 6,000 credits.
7. ClusterAi Software
ClusterAi is ranked as one of the top keyword clustering tools for SEO because it enables you to perform three years' worth of keyword research in minutes. You can import up to 25,000 keywords into ClusterAi using your favorite SEO tool or custom file import, and the more keywords you import, the better results you can expect.
ClusterAi makes keyword decisions based on Google SERP rankings for each keyword and will provide you with keyword groupings that include your main keyword and every variation of it as well as the total search volume for all combined keywords. This tool works by analyzing the SERPs to find three or more URLs that rank for the same set of keywords so you know to group them together on the same web page.
Price: Try for free and get 200 credits.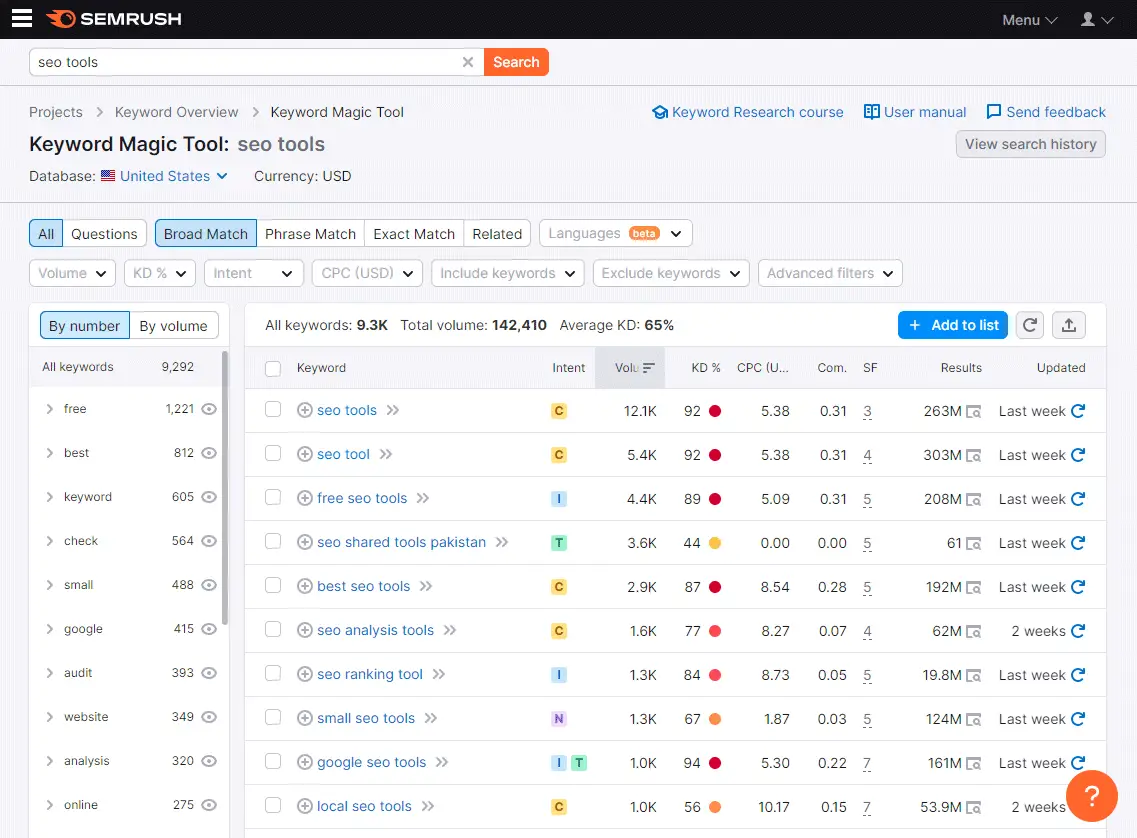 8. Semrush Keyword Magic
Semrush has one of the most popular keyword grouping tools called Keyword Magic which generates the most effective keyword ideas for optimization on any given topic with just a few clicks.
Semrush has a database of more than 23 billion keywords and you'll get specific recommendations to help you improve your search rankings using keyword clustering. You can easily select keywords that align with your marketing goals and find new ranking opportunities fast and easily.
Semrush also enables you to track and analyze your competitors' keyword data and backlinks to determine the difficulty of ranking for specific keywords. Plus, it has a Keyword Gap tool to analyze your website's keyword profile against the competition to help you map out a long-term SEO content strategy for quick improvement.
There's nothing Semrush can't do for keyword clustering, competitor analysis, and content planning for website growth. If want one of the most powerful tools on the market for SEO, then Semrush is worth a try.
Price: Extended 14-day free trial using my partner link; $119.95 per month for the pro plan.
9. Zenbrief
Zenbrief offers a good keyword clustering tool you can use 100% free without logging into a dashboard. All you'll have to do to get started is type in a topic, then enter a list of keyword ideas by copy-pasting them into the text field or uploading a text file. The topic will be used to organize clusters from most closely related to least closely related clusters.
The only drawback to Zenbrief's free software is that you must do some manual work up front by entering at least 30 keyword ideas for the tool to work its magic to build a cluster.
As mentioned in the user guide, Zenbrief uses a Network Time Protocol (NTP)-based combined approach of vector quantization and Google's BERT, a neural-based technique for Natural Language Processing. The tool then uses an optimization technique to find the optimal number of clusters to maximize each cluster's quality. You can target multiple keywords at once and organize your site for SERP rankings and organic search results.
Price: Free to use the Keyword Grouper; $79 per month for the AI content writing software.
10. MarketMuse Clustering Tool
MarketMuse goes beyond standard keyword grouping and offers a full-scale content clustering tool with topic modeling. It also enables you to analyze your competitors' clusters to determine how they approach their SEO strategy so you can gain inspiration for your own website.
MarketMuse is a powerful tool for helping you map out the complete buyer's journey for your target audience by determining what topics and keywords to prioritize based on their value and ranking difficulty. You can also quickly locate gaps in your existing content compared to your competitors' websites and review personalized recommendations for new linking opportunities.
If you want to establish your website as an authoritative source of information by developing a topic clustering content strategy that includes the most important keyword variants for supporting content related to your keyword cluster, then MarketMuse is a must-have tool for your business.
Price: Free to try with 5 queries per month; $149 per month for the standard plan with 100 monthly queries.
Learn More About Keyword Clustering
Check out our detailed guide on How to Do Keyword Clustering for SEO so you can create the most effective content plan for your website.
Keyword Clustering Tools for SEO Summary
I hope you enjoyed this guide on the best keyword clustering tools for SEO.
As you discovered, there are many keyword grouping tools to choose between that can help you improve your search engine optimization strategy. Feel free to give the top recommendations a try or test them all to find out which keyword clustering software works best for your needs.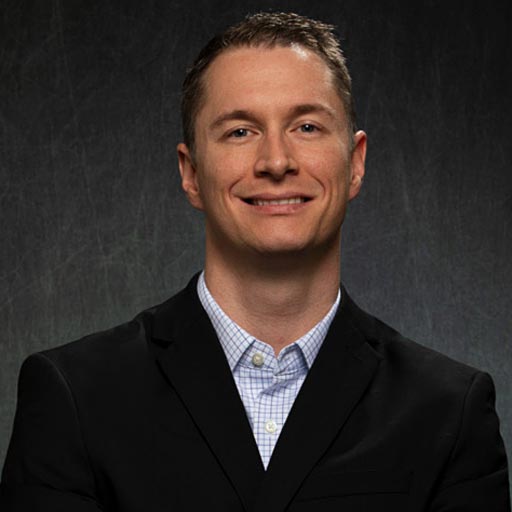 Stephen Hockman is an entrepreneur and founder of SEO Chatter. He specializes in search engine optimization and digital marketing and has been fascinated with SEO since 2005. His goal is to share the best tips and news about search engine marketing to help you get more website traffic.