In this guide, we'll answer the question, "what is SEO?"
The goal is to cover everything you need to know about what does SEO mean so you can walk away with the most important factors of SEO explained.
We'll start with the basic search engine optimization definition, then move on to an SEO example so you can see the importance of it.
You'll discover the different types of SEO and how SEO works.
Finally, you'll get a list of the most popular SEO tools and links to good resources to learn search engine optimization to improve the rankings of your website.

What Is SEO? (Search Engine Optimization)
SEO stands for search engine optimization. SEO is the process of improving your site's visibility in the search engines for specific keywords related to your business. Search engine optimization focuses on increasing the quantity and quality of unpaid traffic to your website through organic search engine results.
That's the formal search engine optimization definition for anyone who is looking for a basic understanding of what is SEO and how it works. In terms of what is search engine optimization as it relates to paid traffic and unpaid traffic, here are some additional details about what does SEO mean:
You can think of SEO as a broad set of search engine optimization strategies that target organic rankings in Google, Yahoo, and Bing. Organic search traffic rankings are the unpaid listings that appear in the search engine results page (SERP) which closely match the user's search query based on relevance.
Unpaid website traffic can originate from different kinds of searches, including text search, image search, and video search.
When Webmasters and content providers do SEO correctly, they can rank a web page in the top 10 search results on Google for specific keywords and phrases. And this Internet marketing strategy can increase the number of people who see the content and click on the link to view it from the search results.
So that's SEO explained in meaning and definition sense. Let's now look at an example of search engine optimization.
What Is an SEO Example?
An SEO example is a web page that has been optimized correctly to rank high for its target keywords. As you can see in the image below, this website is ranking in the top 10 search results for the keyword phrase "best SEO books".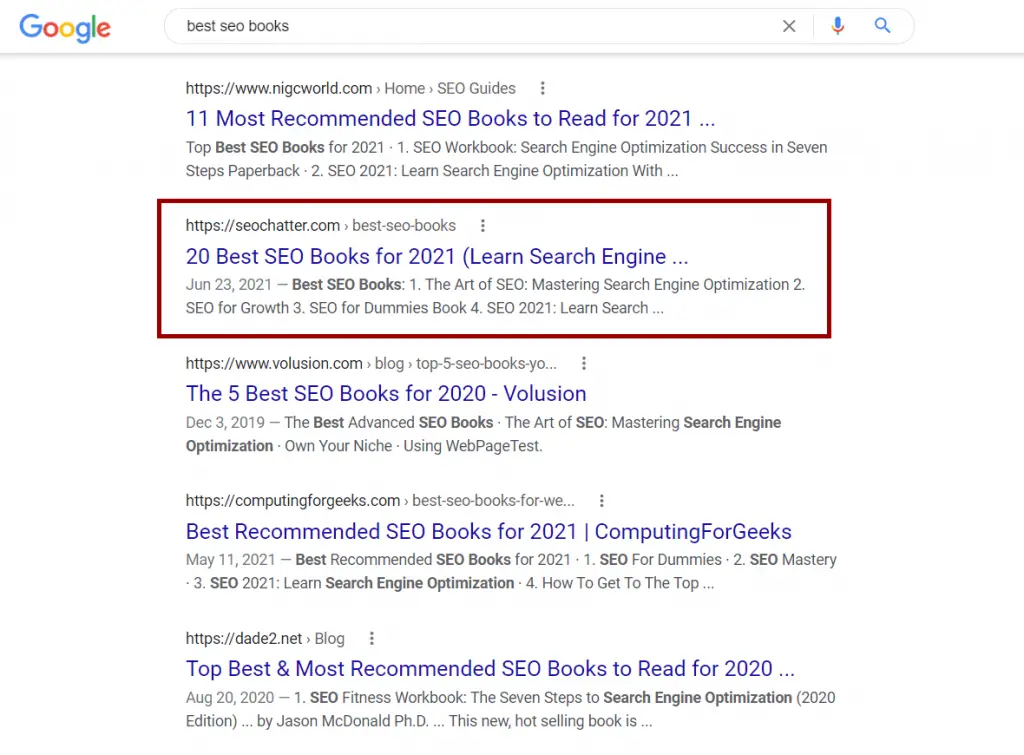 This is a good example of SEO because the web page has been optimized the right way for a specific term. (See my article on article on what is SEO writing to learn more about this type of content writing.)
Search engine optimization like this helps to maximize the number of visitors to the website by ensuring that the pages appear high on the list of results returned by a search engine.
This type of website traffic is called "SEO traffic", which you can find out more about in my post on what is SEO traffic.
Why Is Search Engine Optimization Important?
Search engine optimization is important because it helps your website rank higher in SERPs to gain more search engine visibility. A website with top positions for keywords also has increased trust with search engines and its users. Search engine optimization is an important part of building better relationships online.
Now, there are several important categories of SEO that you need to understand.
We'll cover those different types of SEO next and explain how each one works to improve keyword rankings and website traffic.
Different Types of SEO
On-Page SEO
On-page SEO is also referred to as on-site SEO. And this type of search engine optimization is directly focused on optimizing the HTML code and content on your website.
On-page SEO includes your adding your target keywords to specific areas of the HTML document for a web crawler to scan and index. This Internet marketing strategy helps the content rank higher on the search engine results page for certain keywords.
Elements that you can optimize for on-page SEO include:
Meta tags
URLs
Headers
Body content
Images
Navigation menus
Internal links
HTML attributes
See my guide on what is on-page SEO for more details.
Off-Page SEO
Off-page SEO is a type of SEO that's also referred to as off-site SEO. And this type of SEO is all about increasing the exposure and trust for your website through brand mentions and indexed links that point back to your web pages.
When Webmasters and content providers mention off-page SEO, they're primarily referring to link building (or inbound links), but it includes much more than that.
Off-page SEO examples include:
Guest posting
Natural backlinks
Business profile links
Social media shares
Website reviews
Brand mentions
See my guide on what is off-page SEO for more details on these categories of SEO factors.
Technical SEO
Technical SEO refers to website and server optimizations that help a search engine web crawler scan and index your site more effectively.
By making your website easier to crawl and understandable for a search engine, you can achieve higher rankings throughout the entire site.
The core factors of Technical SEO include:
Page speed
Optimized robots.txt file
Crawlable XML sitemap
Site structure
URL structure
SEO-friendly web design
Schema Markup
Proper redirects
See my guide on what is technical SEO for more details on this category of SEO.
Content SEO
Content SEO is a subset of on-page SEO. However, content SEO refers to the quality of the content and how well it meets the needs of the searcher.
If you have good on-page SEO but poor content, you won't rank as high⁠—or very long⁠—on the search engine results page for your target keywords.
Publishing the type of content that meets a user's search intent in addition to optimizing it correctly with on-page SEO is critical for getting indexed and ranking on Google.
Good content SEO includes:
Publishing well-researched content
Answering the most important questions people have about the topic
Using images, videos, and audio when appropriate
Having t

ables

and charts to support data
Writing long enough content to satisfy the search query
Having all of the right sections to improve topical relevance
Cross linking between relevant pages on the website
To learn more about content and SEO, check out my guide on what is SEO content.
Local SEO
Local SEO is a special type of SEO that solely focuses on a specific local area, rather than national or international locations. The goal of local SEO is to increase a website's presence in a particular community and promoting products or services to local customers.
Local SEO is targeted through:
Google My Business Listings
Local business directories
Business review sites
NAP (name, address, phone number) information
One thing to keep in mind as a Webmaster or content provider is that local SEO is different than traditional organic SEO. Local SEO focuses on local businesses while organic SEO can be global, national, or local in scope.
To learn more about these topics, read my guides on what is local SEO, what is organic SEO, and what is international SEO.
Mobile SEO
Mobile SEO is a specific subset of search engine optimization that focuses on mobile devices.
Today, Google predominantly uses the mobile version of the content for indexing and ranking and gives Webmasters and content providers recommendations on mobile-first indexing best practices.
When working on Mobile SEO, you need to focus on:
Having a mobile-friendly website
A site that loads fast on mobile devices
Using the same meta robots tags on the mobile and desktop site
Don't lazy-load primary content upon user interaction
Making sure your mobile and desktop sites have the same structured data
Using high-quality images
Following good on-page SEO practices
To learn more about mobile optimization, check out my guide on what is mobile SEO here.
White Hat SEO
White hat SEO is the purest form of search engine optimization in Internet marketing. It follows a set of strategies that improve a website's rankings on the search engine results page (SERP) without violating the rules of the search engine provider.
To learn more about this type of SEO, check out my guide on what is white hat SEO here.
Black Hat SEO
Black hat SEO is a form of search engine optimization that violates the search engine guidelines to increase the keyword rankings for a website on the SERPs. It's commonly referred to as spamdexing because it's using spamming methods to manipulate algorithms and indexes.
To learn more about this category of SEO, check out my guide on what is black hat SEO here.
Grey Hat SEO
Grey hat SEO is a combination of white hat and black hat SEO methods. However, it's mostly black hat techniques masquerading as white hat practices.
To learn more about this type of SEO, check out my guide on what is grey hat SEO here.
Importance of SEO
The importance of SEO is that offers many benefits for your business. SEO helps you build better relationships with your audience, improve your authority in an industry, increase traffic to your site, give you a ranking advantage over the competition, and expand your total organic search engine results.
SEO is also important because it is the only online marketing channel that your business can continue to benefit from over time without paying for brand exposure or website traffic. If you publish a good piece of content that's well-optimized and ranks high for its target keywords, you can get continuous visibility and traffic for your business without paid advertising.
Below are some SEO statistics from Impact that shows just how important is SEO:
In 2021 (to date), Google accounted for just over 70% of all global desktop search traffic, followed by Baidu at 13%, Bing at 12%, and Yahoo at 2%.
Google has already received 360 billion searches this year (and counting).
Of the billions of searches that happen on a given day, 15% of daily searches are new to Google.
On the first page alone, the first five organic results account for 67.60% of all the clicks.
70% of marketers see SEO as more effective than PPC.
Now that you know more about what is search engine optimization, why it is important, and the different categories of SEO, we'll now move on to how SEO works.
How Does SEO Work?
SEO works by optimizing specific on-page and off-page factors for certain keywords. When optimized correctly, a search engine will rank a page higher for those target keywords. Search engine optimization works on numerous factors, including SEO keyword placement, content quality, number of backlinks, site trust, and authority.
The first part of the SEO process starts with a search engine spider (or web crawler) crawling the web page and then taking that information it finds back to a series of algorithms for processing. These are the on-page (or on-site) signals for ranking.
The next step of the process is to take into account the off-page (or off-site) signals like inbound links and process those factors with the algorithms.
The final step in the SEO work is to compare all of the indexed pages against each other to determine the order for how all of the content should be ranked in the search engine for a given query.
According to Google, "Search algorithms look at many factors, including the words of your query, relevance and usability of pages, expertise of sources, and your location and settings." It goes on to say, "if other prominent websites link to the page (what is known as PageRank), that has proven to be a good sign that the information is well trusted."
PageRank is a metric based on the quantity and strength of inbound links. It was developed in 1998 by Larry Page and Sergey Brin, who developed the "Backrub" search engine (now called "Google") that used a mathematical algorithm to rate the prominence of web pages on the Internet.
PageRank is now just one of the 200+ ranking factors Google uses to evaluate and rank websites in the search engine results pages for keyword queries.
For more details about the working of SEO, check out my guide on how does SEO work here.
How Can I Learn SEO?
You can learn SEO in three ways:
Take the Mastering On-Page SEO Course to speed up the learning process and find out how to rank your site as quick as possible on Google.
Visit the SEO Chatter blog to learn free SEO tips and tricks that apply to various industries.
Learn SEO at home by sifting through various online resources that are available.
What are SEO Tools?
SEO tools are software that help you improve a site's search engine optimization. There are many different types of SEO tools, including keyword research tools, backlink analysis tools, technical SEO tools, on-page SEO tools, content writing tools, rank tracking tools, organic visibility tools, and site auditing tools.
SEO tools can be good for specific purposes but they're not required for ranking a web page in the search engines.
Practicing good on-page SEO, off-page SEO, technical SEO, content SEO, and local SEO (if you're targeting local queries) is all you need to increase the visibility for your website in search.
An SEO tool can be helpful if you're getting stuck in some part of the search engine optimization process. But for the most part, they are not needed to get good results for your business online.
The most popular SEO tools include:
Ahrefs
All In One SEO
Google Analytics
Google Search Console
KWFinder
Majestic
Moz Pro
Rank Math
Screaming Frog
SEMRush
Serp Robot
SpyFu
Surfer SEO
Ubersuggest
Woorank
Yoast
SEO (Search Engine Optimization) Summary
I hope you enjoyed this guide on what is SEO and how it works and the various aspects behind what does SEO mean.
As you discovered, understanding SEO goes beyond the basic search engine optimization definition and includes six different types of SEO: on-page SEO, off-page SEO, technical SEO, content SEO, local SEO, and mobile SEO.
Another part of SEO explained is that it's a complex process that works to rank pages in the correct order in the search engine for specific queries. And several algorithms process on-site and off-site information to come up with the best order of those search results.
However, you can improve your chances of getting ranked for certain keywords by putting good SEO practices into place.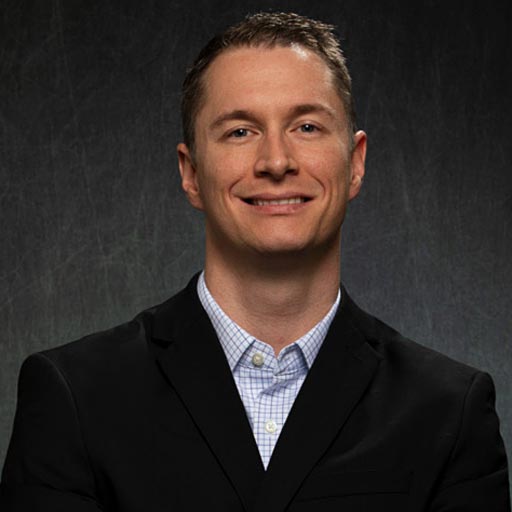 Stephen Hockman is an entrepreneur and founder of SEO Chatter. He specializes in search engine optimization and digital marketing and has been fascinated with SEO since 2005. Stephen's goal is to share the best tips and news about search engine marketing so you can get more traffic for your website.