In this guide, you'll get a complete answer to the question, "what is ecommerce SEO?"
Not only will you get the definition for what is SEO in ecommerce, but you'll also learn how to do SEO for ecommerce website.
The goal of this post is to educate you on every aspect of ecommerce search engine optimization so that you know how it can work to improve the visibility of your online business.
As you'll discover below, ecommerce SEO is a powerful strategy that can explode the number of visitors and traffic to a website that earns revenue by selling products. And this guide will help you fully understand what ecommerce search engine optimization is and how it works.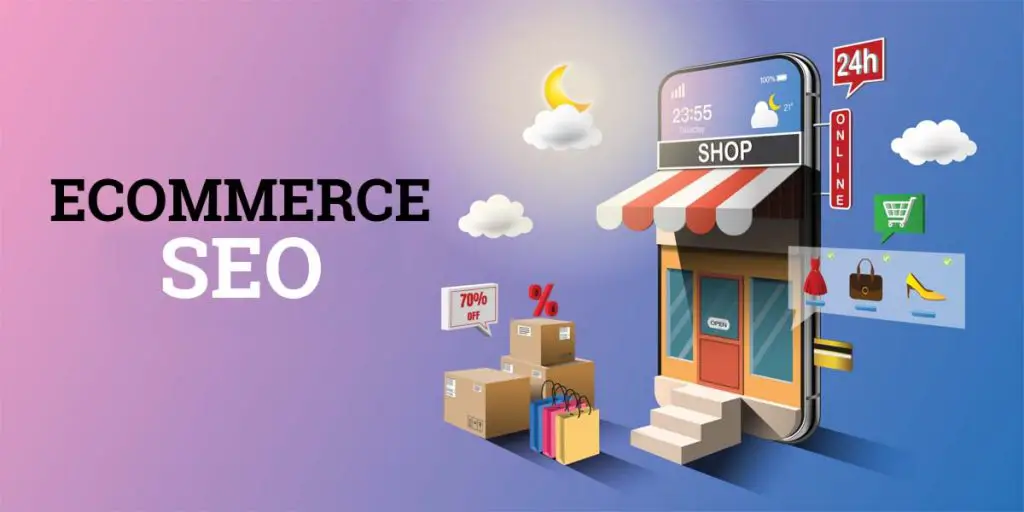 What Is Ecommerce SEO?
Ecommerce SEO is the process of making an online store more visible on the search engine results pages. Ecommerce search engine optimization is a strategy that focuses on ranking product pages as high as possible to get more traffic and sales. Ecommerce SEO is fundamental for an online store's success.
That's the basic definition for what is ecommerce SEO. But keep in mind that a good ecommerce SEO strategy includes specific search engine optimization methods that are specific to online stores and shops, which we'll discuss later in this guide on how to do SEO for ecommerce website.
Importance of SEO In Ecommerce
SEO is important in ecommerce because it helps increase organic search traffic for an online store. Search engine optimization is one of the top factors for pulling people to a website who want to buy a product. The importance of SEO in ecommerce is optimizing a website to rank higher on Google.
When an ecommerce website is optimized correctly for SEO, it can deliver a number of benefits for a business, which we'll go over next.
Benefits of Ecommerce SEO
Increased Brand Awareness In Search Engines
Search engine optimization is a good way to increase brand awareness.
By having your ecommerce store appear on the first page of Google's organic search results, you can improve the brand awareness for your business. Websites that rank in the top 10 search results are more favored by people who are looking to buy a specific product.
Some searchers view high rankings for an ecommerce store as a powerful endorsement, which improves their likelihood of clicking on your brand's link.
More Targeted SEO Traffic
Getting free organic traffic from search engines is good but it's the targeted SEO traffic that can make the most difference for your online business.
When you optimize your pages for specific keywords, you're more likely to get targeted traffic from searchers who want to buy exactly what you're offering.
Those users have a clear intent when they're typing in a search query in Google, Yahoo, or Bing.
By focusing on strategic ecommerce SEO, you can identify and optimize the keywords that drive the most revenue for your business.
(If you want to learn more about SEO traffic, I have a guide on that topic, what is SEO traffic.)
Filling the Ecommerce Marketing Funnel
Ecommerce SEO is not only about ranking your product pages, which are considered to be bottom-of-the-funnel content where a purchase decision is made (i.e. the action phase).
A good ecommerce SEO strategy will also include content that pulls in visitors at other stages of the buying journey, such as awareness, interest, and desire.
If you create, optimize, and rank content in the various phases of the buyer's journey, awareness (research) all the way to action (purchase), you can increase the likelihood that a person will choose your brand when making a buying decision.
The keyword choices people use will change when they move from informational to transactional and if your website appears for all of those queries, then you can increase the chances of getting a conversion.
Improved Ecommerce User Experience
Good ecommerce SEO improves the user experience. And it's no mystery that Google rewards websites that provide a good user experience with higher rankings.
If your site is filled with quality content that targets the right keywords and uses them correctly on the page so it meets the user's needs and Google's algorithm, your ranking can go up.
But if visitors who land on your ecommerce store are not getting the right type of content they expect and are immediately clicking away back to the search results page, Google will detect that as a negative experience and will lower your rankings.
Increased Conversion Rates
Having target SEO traffic, optimized content for the entire marketing funnel, and a good user experience for visitors can lead to increased conversion rates.
An ecommerce site that ranks high on the search engines with SEO, and meets the visitor's needs, will always have higher conversion rates than a lower-ranking site that's not customer-focused.
Lowering Paid Search Costs
An online store that gets more organic search traffic will not have to rely as heavily on paid search ads.
That lowers the overall marketing cost for the business.
Additionally, if you're using Goole Ads to drive paid traffic to your site, then a well-optimized page can improve your Quality Score for the landing pages. And the better the Quality Score, the lower the cost per click you pay for an ad.
Delivers Longterm ROI
Unlike paid advertising, where the benefits stop once a campaign ends, ecommerce SEO doesn't stop working for you overnight.
The major benefit of ecommerce search engine optimization is that the efforts you put into today can last for months, if not years, into the future. That means ecommerce SEO delivers the longest return on investment (ROI) than any other marketing channel.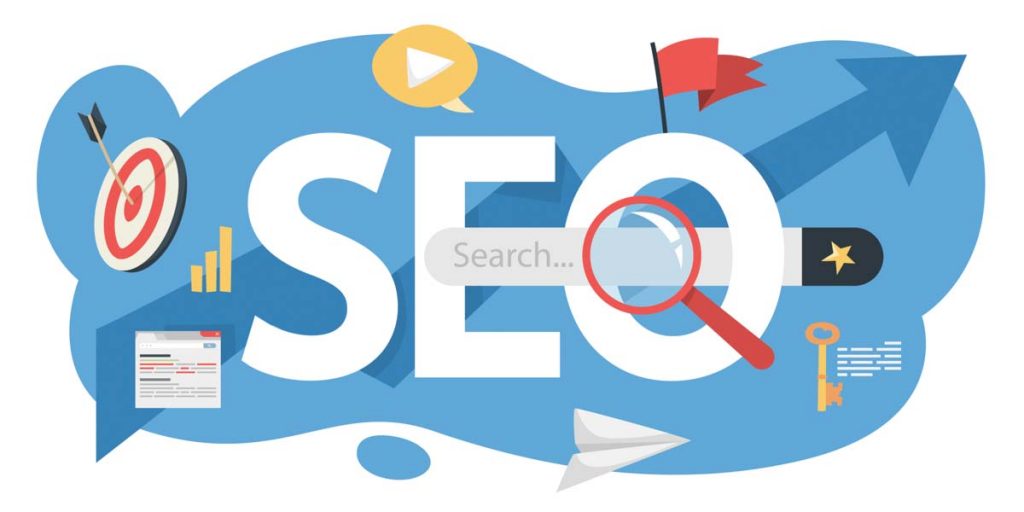 How to Do SEO for Ecommerce Website
1. Ecommerce SEO Keyword Research
The first step for how to do SEO for ecommerce website is keyword research.
You don't want to blindly create content for your online store, otherwise, you could be wasting a lot of time and effort.
Before you use a keyword, it's best to do some quick research on it.
This research will tell you three important things: keyword search volume, cost-per-click, and search intent.
A good tool for this process is KWFinder by Mangools (try it for free). It's one of the only SEO tools I recommend as an affiliate because it's cheap, yet powerful for keyword research.
Keyword Search Volume
Keyword search volume gives you an average for how many people are searching for a target phrase on a monthly basis.
A high search volume means greater popularity while low search volume indicates less interest.
Keyword Difficulty
Keyword difficulty gives you an indication of how competitive it is to get on the first page of Google for a target keyword.
Keyword difficulty measures the number and quality of backlinks to the top 10 pages in the search engine results page for a particular keyword phrase.
A high keyword difficulty score often means it's harder to rank for that query unless you have a strong backlink profile. A low keyword difficulty score means it's easier to rank without as many or strong backlinks.
When doing keyword research, it's best to look for ecommerce SEO keywords that have a high search volume and low keyword difficulty score. A combination like that is easier to rank content for new websites that don't have much authority yet.
Cost-Per-Click
Cost-per-click (CPC) reveals how competitive the query is for paid ads.
If a keyword has a high CPC, then it indicates that the phrase is profitable for a business and companies are willing to pay a lot of money rank for it in the paid ads section on Google.
On the flip side, if a keyword has a low CPC, then it indicates lower profitability for a business, and therefore, fewer companies are competing for that ad space.
A high CPC often correlates to harder keyword competition, but not always. That's where a keyword tool like KWFinder can help because it allows you to compare the CPC amount with the keyword difficulty score to decide if a query is worth optimizing for.
Search Intent
Search intent tells you what people expect to find when searching for are specific keyword.
Search intent relates to the various stages of the buying journey (or buyer's cycle), which includes awareness, interest, desire, and action.
If you want to capture people through every part of the buying journey, then you'll want to write content that targets each part of the marketing funnel.
A keyword research tool can help you determine what those queries are and which ones you should optimize your content for.
2. Site Architecture for Ecommerce Website
Ecommerce site architecture refers to the way your website's navigation menu, category pages, and product pages are set up.
And the best ecommerce websites are ones where no page is more than three clicks from the homepage.
According to Search Engine Journal, "Google's John Mueller revealed that more weight is given to pages in search results based on how many clicks it takes to get to them from a site's home page versus the URL structure." The article went on to say, "In Mueller's response, he stated that the number of slashes in a URL does not matter. What does matter is how many clicks it takes to get to a page from the home page."
A good ecommerce SEO strategy to follow for site architecture includes:
Linking to all of your categories in the navigation menu.
Linking to your most important product pages in the navigation menu (these could be sub-links under the category items).
Another SEO method you can use is to link to all of your category pages from the homepage and a few of your best product pages as well. The homepage tends to have the highest authority on an ecommerce website and linking to categories and pages like this can improve the chance of those pages getting ranked higher in search.
Also in my guide on how to do technical SEO, it mentions that you should use a flat website architecture that allows visitors to get to any page within 3 clicks or less. Google also likes to see that structure because it considers pages that are easier to get to more valuable for searchers, which can improve your rankings.
3. Homepage SEO
Your ecommerce website homepage should be optimized for short-tail keywords (1-2 words in length).
For example, if your online store sells mattresses and bed frames, then the homepage should be optimized for terms like "mattresses" and "bed frames". It should be focused on medium or long-tail keywords like "best mattress for twin bed" or "Crate and Barrel bed frame". Those queries should appear on individual product review pages or blog posts.
Make sure to optimize the meta title, meta description, H1 tag, H2 tag, and body content for the short-tail keywords.
And include in-depth content that builds up the topical authority for the various types of products your ecommerce site sells.
A properly optimized homepage will drive the overall relevance and authority an ecommerce store has for a particular topic.
4. Category Page SEO
Category pages need to be optimized for SEO on an ecommerce site to get ranked in Google and to provide topical relevance for the linked product pages.
Like the homepage, category pages should be optimized for short-tail keywords.
Put your target keyword for the category topic in the meta title, meta description, and URL folder (i.e. directory name).
Also include unique content on the page in addition to the product listings. This will allow you to further optimize the page for SEO by putting your target keyword into the H1 tag, H2 tag, and body content.
If you can optimize any images on the page for your target keywords, do that as well. Put the keyword in the ALT text, filename, title attribute, and metadata.
5. Product Page SEO
Product pages are the most important pages to get right for SEO on an ecommerce site.
That's because these are the pages that most people are looking for to make a purchase.
Product page SEO is similar to category page SEO but focuses on short and medium-tail keywords.
You want to optimize each product page for the specific query that matches the product, along with any related keywords that can drive more traffic.
Standard on-page SEO applies here, including keywords in the meta title, meta description, URL, H1 tag, H2 tag, body content, image ALT text, image filename, image title attribute, and image metadata.
You also want to include at least 1,000 words of unique content on product pages so that you can improve the topical relevance for the page and have extra areas to put your target keywords as exact match phrases.
6. Internal Linking
Internal links on an ecommerce site serve three purposes:
Improving the topical relevance for a linked page for a set of keywords.
Boosting the rankings for specific keywords in Google Search.
Increasing the time on site for visitors by encouraging them to explore other pages on the site.
A good ecommerce SEO strategy to follow for internal linking includes:
Linking together topically relevant pages.
Using exact match anchor text for 30% of the internal links to a target product page or category page.
Linking to as many relevant articles as possible within the content.
If your ecommerce website has a blog, then you'll find it easier to do internal linking for increased rankings.
Linking to related products in blog posts will help improve ecommerce SEO and make your site more appealing to navigate through to keep visitors on your site longer.
7. Local SEO
If your ecommerce website has a physical location, then you'll want to optimize for local SEO as well.
Local SEO can drive additional traffic to your online store and offline location. (See what is local SEO marketing for more details).
Local search engine optimization for an ecommerce store is quite simple. All you have to do is three things:
Claim your Google My Business profile
Build local citations on web directories
Get links from local business websites and online newspapers
Now, if your site is targeting international countries, then check out my international SEO page for specific tips on optimizing that type of website.
8. Link Building
Getting high-quality and relevant links to your website can increase its authority.
And higher domain authority often leads to easier rankings.
There are three simple ways to do link building for ecommerce SEO:
Resource Pages
A resource page is a page on another website that's full of resources in your industry.
Often, these resource pages are blog posts or individual pages that a site owner created to point visitors to other helpful content that relates to their niche.
If you can find such resources pages, and contact the site owner about being including, you can easily get a relevant backlink to your site.
To find resource pages, just do a search on Google with this operator:
Replace X with your product, topic, or industry.
Once you find a good list of resource pages, send an email to the site owner asking if your site can also be included.
Copy Competitor Links
There's no better way to improve your backlink profile than to get the same links as your top competitors.
And you can quickly find out what your competitor's most powerful links are by using a tool like Mangools LinkMiner (try it free).
By putting your competitor's URL into LinkMiner, you can get a list of all of the sites that are linking to that page. Once you have this data, you can contact the site owner and ask if they can link to your ecommerce page as well.
This SEO strategy can speed up the link building process for your ecommerce store and help you focus on getting links from the sites that count most for increasing your rankings.
Influencer Partnerships
Influencers are people in your industry who have a large following with a website.
And if you can partner with one of these influencers to get a link back to your ecommerce homepage or product pages, then you can potentially gain a free source of traffic and a boost the domain authority for your site.
Like with the other ecommerce link building tips above, all you have to do is identify who the top influencers are in your niche, then reach out to them to score a backlink.
But before you ask for the link, it's best to establish a relationship with that person first. This will improve your chances of getting a link to your ecommerce site.
A few ways you can build this relationship for ecommerce SEO purposes include:
Sharing and commenting on their content on a regular basis.
Asking them questions about their expertise.
Referring customers to them.
Giving them free products.
9. Reduce Page Speed
Page load speed is a ranking factor for both Google Search and Ads.
Google reports, "Users want to find answers to their questions quickly and data shows that people really care about how quickly their pages load."
So, the faster your pages load, the better Google will rank your ecommerce content.
10. Use a Responsive Design
Google uses mobile-first indexing, which means "Google predominantly uses the mobile version of the content for indexing and ranking".
Therefore, your ecommerce site must be optimized with a responsive design to look good on mobile devices. So pick a website theme or modify your existing template to be optimized for mobile searches.
Ecommerce SEO Summary
I hope you enjoyed this guide on what is ecommerce SEO.
As you discovered, the basic idea and definition for what is SEO in ecommerce are optimization strategies that are specifically used for an online store to make it more visible on the search engine results pages.
And the key methods for how to do SEO for ecommerce website include keyword research, site architecture, homepage SEO, category and product page SEO, internal linking, local SEO, and link building.
By putting all of those strategies together, you can rank an ecommerce site for the queries that matter most for the online store or shop.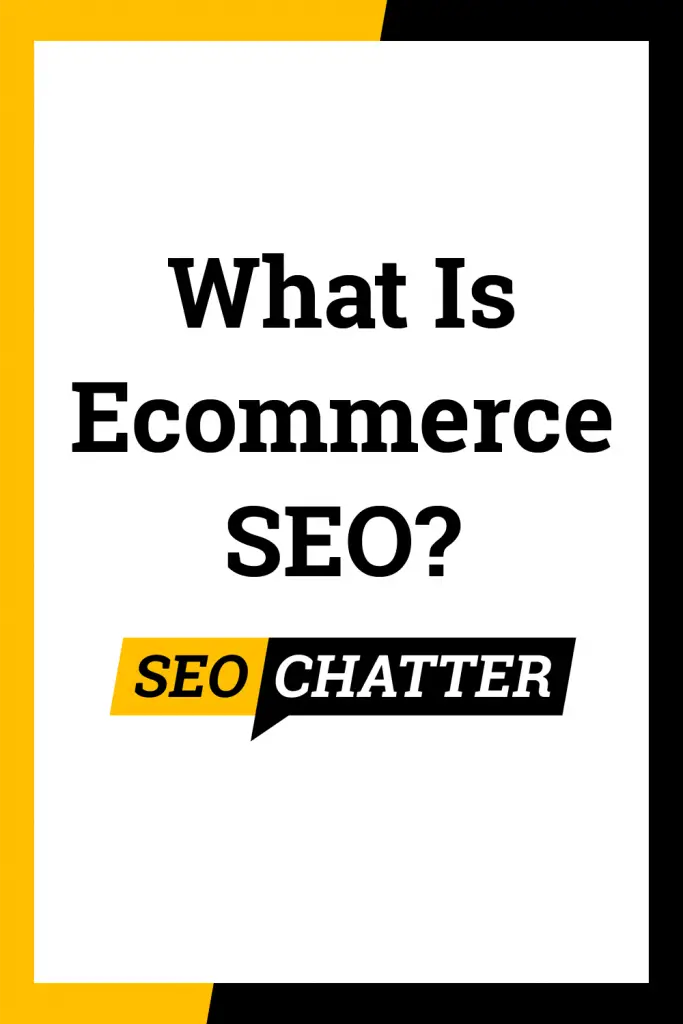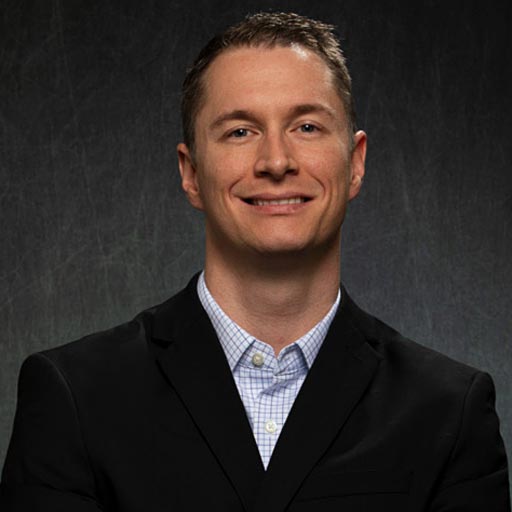 Stephen Hockman is an entrepreneur and founder of SEO Chatter. He specializes in search engine optimization and digital marketing and has been fascinated with SEO since 2005. His goal is to share the best tips and news about search engine marketing to help you get more website traffic.