Would you like an easy-to-follow strategy for search engine optimization that works?
What about a detailed plan on how to increase your SEO traffic in 30 days so you can get more visitors to your website without paying for it?
If that sound good, then this post can help.
Below, you'll find an effective one month plan for search engine optimization that anyone can follow to get better results for their site.
This strategy also works for any niche.
By the end, you'll how to improve your SEO traffic in 30 days to increase visibility for your business in the search engines so you can generate more leads, customers, and sales.
How to Increase Your SEO Traffic in 30 Days
Day 1: Pick Your Top 30 Traffic Posts
If you have more than 30 articles on your site, then you'll have an easier time getting this monthly SEO plan to work. If not, you can still see some gains in your SEO efforts. It just won't be as dramatic so use what you already have published.
On day one, pick out your top-performing articles that receive the most traffic. By focusing on these pages, you can increase your SEO faster in 30 days than trying to write new content and get it to rank.
Hopefully, you have Google Analytics installed and can figure out what these posts are rather quickly.
To do that just follow these steps:
Click on "Behavior" on the left navigation menu.
Click on "Site Content".
Click on "All Pages".
In the middle pane, scroll down past the 10th result and change the dropdown menu next to "Show Rows" to "50".
Make a note of the top 30 pages that are getting the most traffic. But only focus on individual articles that drive revenue or conversions for your business. Exclude pages like the homepage, blog roll page, category pages, contact page, about us page, etc.
With your list of top traffic articles in hand, you're done with day one. Tomorrow, we'll start the search engine optimization process to get that content to rank even higher in Google and drive more traffic to your website.
Day 2: Find the Right SEO Keywords to Increase
Today, you're going to identify which SEO keywords will give you the fastest improvements for each of your top traffic pages.
To do this, you'll need access to two things:
Google Search Console: Hopefully, you already have this installed for your website. If not, now is the time to do add Google Search Console so you can track your site's keyword data.
Keyword Research Tool: There are many to choose from. You can use a free tool or paid service. I prefer KWFinder by Mangools (cheap with free trial) or SEMrush (best with free trial). But you can also use Ahrefs (paid), Keysearch (paid), Ubersuggest (free), or Google Keyword Planner (free).
Now, pick one of your top-performing page URLs and follow these steps below to identify the right SEO keywords to focus on for an increase in rankings. These tips are also revealed on my best SEO secrets list, so give it a look when you're done reading this page.
Using Google Search Console
Open Google Search Console.
Click on the "Performance" tab in the left menu.
In the middle of the Performance screen, click on the "New" button and choose "Page".
In the pop-up box under the "Filter" tab, choose "URLs Containing" and paste the URL for the page you want to increase keyword rankings and traffic for. Then, click "Apply".
Below the graph, you'll see a table with several columns. Make sure "Queries" is selected. Then, click on the "Impressions" header column until it sorts in descending order (highest to lowest). This will show you which queries you're getting the most impressions for.
Now look at the queries on the left side of the table and make a list of the terms that are being displayed that you have not used as an exact match phrase on the page.
Step six here will arm you a good list of keywords that Google thinks your page is about, but you're not well-optimized for yet.
Using the Keyword Research Tool
Open your keyword research tool of choice.
Perform a search for the main keyword that you want the page to rank for.
Make a list of the related keywords that the tool suggests. Try to take note of as many keywords as possible that are directly related to your page content and the searcher's intent.
Step three is especially important here because it can help increase your page's topical authority on a subject.
For example, if we were targeting the keyword "best SEO strategies", then I would write down these terms as suggested by my favorite tool KWFinder: "best SEO strategy", "best SEO practices", "good SEO practices", "best SEO marketing", "on-page SEO", "off-page SEO", and "mobile SEO best practices".
I would not include these keywords that are also suggested because the search intent is wrong: "best enterprise SEO tools", "top 5 SEO tools", "best backlinking websites".
Now, do this same process with Google Search Console and your keyword research tool of choice for all of the pages that you're targeting to increase traffic in 30 days.
A good rule of thumb to remember for how many keywords per page to focus on is two to three phrases at a bare minimum. But try to go higher if you can, and if your content is long enough to include them without it sounding unnatural.
Day 3: Add Secondary SEO Keywords
On this day, you're going to start adding in those secondary keywords you discovered on day two of this 30-day search engine optimization plan to your articles.
And since you made a list of the those keywords for every post, this process should go fast.
How to Add Secondary Keywords to the Content
Open one of your articles.
Add in 3-4 instances of each missing keyword into the page content. Try to add one instance in the introduction, one or two in the middle, and one near the end of the article.
Save the page so your new changes take effect.
Rinse and repeat these for all of your posts.
Day 4: Compare Your Content to Competition
Day four of 30 is going to be a full day of writing. But in the end, it's going to be well worth your time.
If your webpage is not ranking in the top five results on Google, then it's likely missing some information that the search engine wants to find in the content.
You can easily fix this by visiting your competitor's pages and seeing where the content gap is. Then you can close that gap to start gaining more SEO traffic.
How to Close the Competitor Content Gap
Select one of the pages you want to increase SEO traffic for.
Perform a search on Google for the main target keyword for the page.
Open the top five ranking pages in new browser tabs.
Scan through each competitor page and take note of the outline and structure. Pay attention to the words being used in the H2 and H3 headings as well as other important information on the page that helps the user.
After analyzing the top five competitors, make a list of the sections and content that your page is missing.
Add the missing elements to your page.
When you're done with this process, your page should now be a combination of the best content that's already ranking high on Google. And after Google recrawls your page, you should start to see an increase in your SEO traffic because the content is serving the user much better.
Day 5: Improve Your SEO Title Tags
Optimizing the title tag is an easy way to get a quick boost in keyword rankings and traffic. The title tag is also called the "meta title" and it's the title for a webpage that appears on the search engine results page.
The experts at Page Optimizer Pro discovered the "meta title proved to be the undisputed highest weighted signal in on-page SEO" through a series of tests. So it's a critical element to get right for good search engine optimization.
Moz gives some best practices for a good title tag, including:
Limit your title tags to 55-60 characters (including spaces).
Put the keyword closer to the beginning of the title (preferably first).
Don't stuff your keywords.
So on this day, you'll want to go through all of your articles and fix the title tags so they fit that criteria. Also, try to make the SEO title tag click-worthy by adding a bit of mystery or a bold claim to it. That way, the person must click on your webpage to satisfy their curiosity.
For example, this is is a good title tag below that focuses on the keyword, "how to get featured snippets":
How to Get Featured Snippets (10 Tricks That Actually Work)
Compare that to this title tag that's less click-worthy and doesn't follow Moz's suggestion for putting the keyword as close to the beginning of the title as possible:
My Latest Blog Post On Getting Featured Snippets
Day 6: Optimize Your Meta Descriptions
The meta description is an HTML attribute that provides a concise summary of a webpage. And while it's not a Google ranking factor anymore, the meta description is still an area that you can use to your advantage for more SEO traffic.
Google will often rewrite your page's meta description by taking other relevant information from the page unless you write it in the correct way.
How to Write the Best Meta Descriptions
Choose one of the pages you're updating.
Go to Google and search for the main target keyword for that page.
Look at the meta descriptions being pulled for the top 3 ranking pages.
Take note of how they are structured and which words are in bold.
Copy the same format and be sure to use the same bolded words.
Keep it under 160 characters.
Repeat this process for all of your pages and you'll hopefully begin to see a higher click-through rate for your content over the next 30 days.
Day 7: Optimize Your H1 Tags
Today's task for increasing your SEO traffic should go really quick for you.
As you already know, SEO is important for online success and what we're going to do here is optimize the H1 tags on your pages.
The H1 tag is usually coded to be the title you see displayed on the page. And according to Google's own recommendations, you're encouraged to "match your page's meta title and H1" and changing the order up a bit is not a big deal.
So on day seven of 30, just go through each page and make sure that your H1's match the meta titles you wrote on day five. They don't have to be 100% exactly the same but try to keep them as similar to each other as possible. I go into more detail about this in my post on H1 SEO best practices.
And if you have extra time to spare, then you may want to check out my post on how to add keywords to a website that lists every place in the HTML document you can optimize for.
Day 8: Optimize Your H2 and H3 Tags
Back on day four, you compared each of your top traffic page's content to the competition. And then you closed the content gap by adding in the missing information.
During that process, you should have added in more H2's and H3's on the page to match what your competitors were doing. And this is important because Blake Akers at Webology discovered that the number of H2 tags you have on the page matter will matter for your keyword rankings. For example, if the page you're trying to rank only has two H2 tags, but all of the top 10 ranking URLs on Google have 15 H2's or more, then you're going to have a tough time getting on the first page of the search engine results page (SERP).
Now, we're going to take that step a bit further by optimizing the H2 and H3 tags for better SEO.
Open up one of your articles.
Put your main target keyword in the first H2 on the page.
Put as many of the secondary keywords you discovered on day three in the other H2's and H3's. Once for each is enough.
Use variations in the H2's and H3's to mix things up so not every instance is the same.
Day 9: Add Outbound Authority Links
This study from Reboot Online claims that "external links remain a ranking factor and good SEO best practice." And I've experienced good results from doing it myself. That's why you'll find numerous outbound links on this page.
Therefore, linking out to authoritative sources within your own pages can help your content get more SEO traffic.
So try to find links to other websites that feature experts in your field that can back up the claims you make or provide additional information on key topics. Then, just add an outbound link to those pages like you've seen me doing throughout this 30-day SEO traffic guide.
Day 10: Add Optimized Internal Links
Internal linking is an often underutilized trick for improving SEO traffic. But it can work wonders for your site.
As I explain in my post on internal vs external links, an internal link is any link from one page on your website to another page on your website. For example, this is an internal link to my post about on-page SEO vs off-page SEO.
Spencer Haws of Niche Pursuits conducted an internal linking case study to find out how many ranking increases he could get for a single post by adding a few internal links to that post and doing nothing else.
According to Spencer, "Out of the 47 pages, 36 of them increased in rankings, 7 stayed the same, and 4 decreased in Google position."
On average, he added 2-3 internal links to each post with keyword-optimized text. So it doesn't have to take much effort to see some good traffic improvements.
How to Add Optimized Internal Links
Pick one of your pages to focus internal linking on.
Find 3-5 other pages on your site that have a section of content that's related to the target page.
Inside each of those 3-5 pages, add a keyword-optimized internal link to the target page. Use the target keyword you want the page to rank for as the anchor text for the link.
Save the pages so your new changes take effect.
Wait for 30 days and see if the rankings and traffic improve for the target page.
If not, build 3-5 more internal links to that page. But this time, vary up the anchor text a bit so it's not an exact match each time.
Day 11: Optimize Your ALT Tags
The ALT text describes the content within an image on the page. And you can use this HTML field to improve your SEO score for the page.
To use this tip, follow these steps:
Here are some tips on how to implement this SEO method fast:
Open one of your pages.
Add an image to the page if one doesn't exist. Otherwise, focus on the first existing image.
Include the main target keyword inside the ALT text field.
If you can, try to have at least one image on the page for each main keyword you're targeting. That way you can increase the SEO value for the most important keywords for the page.
Day 12: Optimize Your Image Filenames
On day eleven of 30, you optimized the ALT tags for images. Today, we're going to replace those images with better-optimized image filenames while still retaining those ALT tags you updated.
Image filenames are a good place to add your SEO keywords. According to Adolab, "It's a good idea to use keywords in your image filename because this signals to Google that you want to rank for this term." Doing this will also help your images show up on both Google's text search results and image search results pages to get even more traffic from SEO.
Improving SEO for your image filenames can be done in these steps:
Open one of your pages.
Locate the original source of the images that are being used on the page.
Change the filenames for each of those images so they target your selected keywords. It's best to match up the keyword-optimized ALT tag to the appropriate image filename.
Use hyphens between the words in the image filename instead of underscores.
Replace the current image on the page with the same image with the new keyword-optimized filename.
Keep the ALT text the same as you had written it on day eleven.
Day 13: Add Structured Data
Structured Data is also known as Schema Markup, and it's an HTML markup that's used to help search engines like Google provide more informative search results.
When applied properly, Structured Data can help your pages get featured in Google's rich snippets which have the most visibility on the search results pages (SERPs).
Structured data is extremely helpful to a user and can set your pages apart in the search results, which can increase your SEO traffic fast. It's so useful, in fact, that Google has created a free Structured Data Markup Helper to make it easy for you to take advantage of its power.
So spend today looking over that tool and then going into each of your pages and trying to add in as much Schema Markup as possible. If you're using a CMS like WordPress, then you can easily get a free plugin that can help you get this information add to your pages without much effort.
Day 14: Add an Author Byline and Bio
Search engines like Google want to present the best search results for their users. And if you can meet Google's criteria for providing good expertise, authoritativeness, and trustworthiness (commonly known as E-A-T) on a topic, then you can easily gain more SEO traffic for your site.
Ahrefs has an entire article on the topic of E-A-T and SEO but the one sentence that matters most here is this, "[Google] raters look for a number of things to evaluate trustworthiness, including whether the website states who is responsible for published content."
For that reason, it's essential that you credit an author on all of the pages you want to rank higher in the search engine.
Now, there is no one-size-fits-all approach for this, but there are a few recommendations you can follow to get the most impact for your site.
Add an author byline to the top of the article.
Link the byline to a detailed author bio page.
On the bio page, list and link to all of the articles the author has written for the site.
On the bio page, link to the author's social media profiles and anything else online that would help establish their identity and authority.
An optional measure, but one I like to use myself, is to add an author bio box to the bottom of each article as well. This box should include the author's photo, name, a short description of their expertise, and a link to read their full bio.
Day 15: Improve Your Page Speed
Page loading speed is of high importance and you need to make it a priority for your entire website, not just the pages you want to increase SEO traffic.
According to Google, speed is now used as a ranking factor for both desktop and mobile searches. "Users want to find answers to their questions quickly and data shows that people really care about how quickly their pages load. The Search team announced speed would be a ranking signal for desktop searches in 2010 and [starting in 2018], page speed will be a ranking factor for mobile searches too."
So there you go from Google itself: site speed is an important ranking factor
My recommendation for today is for you to begin the process of improving your page speed. If site speed optimization is new to you, Crazy Egg has good tips here to help you get started.
And if you can't figure out how to best speed up your site or just don't want to perform this task yourself, then you can always outsource it to a web developer to get the job done fast.
Day 16: Optimize for Core Web Vitals
Today is related to day 15, but goes one step further.
Google introduced Core Web Vitals in 2020 as a common set of signals that it deems to be critical to all users on the Internet. And in 2021, Core Web Vitals will become an on-page SEO ranking factor.
The purpose of Core Web Vitals is to quantify the user experience with a website by factoring in the visual stability of a page and the load time before it's interactive. So it includes both speed and how a user interacts with the page.
The key metrics for Core Web Vitals include:
Largest Contentful Paint (LCP): This measures page loading speed and marks the point at which the majority of the page content has downloaded.
First Input Delay (FIP): This quantifies the speed of the first initial engagement a user can have with a page.
Cumulative Layout Shift (CLS): This measures the amount of layout shift on the visible content of the page (i.e. the visual stability as the page loads and is scrolled through).
You can check the current state of the Core Web Vitals on any webpage and get recommendations for improvements through Google's Page Speed Insights tool.
And again, like on day 15, if the idea of this task is foreign to you or you don't want to spend the time trying to figure it out yourself, there are tons of web developers you can hire online that can get your site's Core Web Vitals fixed for you in flash.
Day 17: Identify and Fix Keyword Cannibalization
Keyword cannibalization occurs when you have too many identical or similar keywords spread throughout the various pages on your website. As a result, a search engine like Google can't discern which content to rank higher.
When keyword cannibalization happens, you can experience lower SEO traffic. That's because two things can occur:
The wrong page may rank for a target keyword.
All pages with the shared keyword can suffer a ranking supression.
So today is a good day to focus on fixing any keyword cannibalization issues your pages may have.
Now, you can use a paid SEO tool like SEMrush or Ahrefs to find the pages that are suffering from keyword cannibalization or get the free data from Google Search Console.
Identifying Keyword Cannibalization with Google Search Console
Open Google Search Console.
Click on "Performance" on the left side navigation menu.
In the middle pane, you'll see a list of queries that your site has earned impressions and clicks from.
Click on one of the queries that relate to the top traffic pages you're focusing on this month.
On this new screen, click on the "Pages" tab to see a list of the URLs that rank for that query and the associated stats.
If you see more than one page ranking for the query and a high number of impressions for each, then you have a keyword cannibalization problem going on.
You can do one of three things to fix keyword cannibalization issues for an increase in SEO traffic:
Merge the content from the poorly ranking page into the page that is ranking high for the target keyword. Next, delete the poorly ranking page. Then, use an internal 301 redirect rule to redirect all traffic from the deleted page to the page with the merged content.
Delete the poorly ranking page entirely without copying the content to the higher-ranking page. You'll also want to use a 301 redirect to redirect all traffic to the better page.
Remove the target keyword and all similar words from the lower-ranking page so it can be de-optimized for those terms. Over time, this page will stop competing for the same keywords as the higher-ranking page. Hopefully, it will then start ranking for its own set of keywords and generate more traffic.
Day 18: Create Local Citations for Your Business
A local citation is any online mention of the name, address, and phone number of a local business.
Citations often occur on local business directories, websites, and social media platforms.
Citations can have a direct impact on local search engine rankings; however, they're not only beneficial for brick and mortar businesses. In fact, local citations can also be used to improve the rankings for national and online-only websites as explained by this case study by Diggity Marketing.
Essentially, building local citations for any site can result in easy backlinks, and an increase in trustworthiness; both of which Google values highly when ranking webpages in its search engine.
You can build local citations yourself or hire someone else to do it for you. Two good places to purchase this type of service are local citations by SEO Butler and Fiverr local citations gigs. (If you're a Fiverr seller yourself, check out these Fiverr gig SEO tips.)
Day 19: Find Guest Post Opportunities
Guest blogging, also known as guest posting, is the act of writing content for another company's website.
The purpose of writing a guest post is to get featured on similar blogs within your industry in order to:
Increase the number of backlinks to your website (a Google ranking factor).
Attract traffic back to your webpages (by including links within the content or your author bio).
Build more brand awareness (for direct traffic search).
And according to Optinmonster, "60% of blogs write 1-5 guest posts per month" and "62.96% of readers perceive blogs with multiple authors to be more credible." Many businesses are already capitalizing on the power of writing and featuring guest posts because they know the value behind it.
Therefore, your task for today is to find guest post opportunities for your own business. The goal here is to come up with a list of as many sites as possible that are willing to feature you as a guest blogger.
There are two easy approaches you can take to find these opportunities, and best-of-all, it's free to do on Google. All you have to do is use some keyword search operators in the Google search engine and it will return a list of results that meet the criteria.
In the examples below, just replace [your keyword] with a keyword that relates to your niche. Then include the other search operators exactly as you see them with the + sign and quotation marks ("").
The "Write for Us" Search Operators
[your keyword] + "write for us"
[your keyword] + "write for me"
[your keyword] + "become a contributor"
[your keyword] + "guest post"
[your keyword] + "blogging guidelines"
[your keyword] + "guest post guidelines"
[your keyword] + "contribute"
[your keyword] + "guest column"
[your keyword] + "submit a guest post"
[your keyword] + "accepting guest posts"
When you perform these searches, you'll come across sites that have dedicated "write for us" type of pages. On those pages should be the contact information and criteria for how to submit a guest post. Just follow the instructions in order to connect with the site owner to get featured.
Finding Hidden Opportunities Based on Other Guest Posts
Not all websites will advertise the fact that they allow others to write for them. In this case, you can use these search operators below to find content that was written by guest bloggers on those sites. Then you can contact the site owner and ask if you can provide a submission to get featured.
[your keyword] + "guest post by"
[your keyword] + "guest contribution"
[your keyword] + "guest author"
[your keyword] + "guest blogger"
[your keyword] + "guest column"
[your keyword] + "guest article"
[your keyword] + "contributing writer"
[your keyword] + "sponsored post"
[your keyword] + "sponsored content"
Day 20: Write Your Guest Posts
After you spent day 19 finding guest posts opportunities and reaching out to the site owners to get featured, you'll likely have to wait one or two days until you hear back from some of them.
In the meantime, you can start writing some of your guest posts to have on hand when those responses do come in.
Just pick a general topic that relates to your business and write a few different articles. Make them in-depth and well researched as well as a minimum of 1,500 words in length. Put as much effort into these articles as you would for a piece of content you'd publish on your own site.
By following those guidelines, you can increase your chances of the guest post being accepted on the first draft.
Day 21: Analyze Your Competitors' Backlinks
Alexa has a great blog post on why you should conduct a competitor backlinks analysis. And there are two key things mentioned on that page for why it's important:
It lets you see what sites your competitors are using to increase their rankings.
It allows you to emulate a competitor's strategy to earn the same backlinks.
In regards to the first point, after performing a competitor backlink analysis, you can find out which links are the most valuable to get for your own site. And as point number two indicates, it allows you to copy what's working for your competitors so you can improve SEO traffic at a faster rate.
Now, I won't go into full detail on how to do backlinks analysis here because every tool is different. Instead, I'll list the top online tools you can use for this process below.
Just gather a list of your top competitors' URLs for each page your working on for these 30 days of SEO traffic improvements and start pasting them into these tools below. Some are pad, while others give you a number of free searches before registration is required.
After you find out which high authority pages are linking to your competitors, make a list of these sites in preparation for tomorrow.
Day 22: Do Some Outreach
Now that you have a list of your top competitors' backlinks, it's time to start doing outreach to those linking site owners to try and get your own link added to the sites.
This is just a matter of finding the contact information for the site owner and asking them what opportunities they have for guest post and sponsored content.
So spend today writing emails to as many of these site owners as you can to start the conversation on how to get content featured as well as a link back to your site.
Now remember that good quality content on your site will make this task of getting backlinks much easier. So if you're having any trouble getting responses, then you may want to check out my guide on why is content important for SEO that includes steps to improve your articles to make them more link-worthy.
Day 23: Create Web 2.0 Sites
Web 2.0 is the term used to describe a variety of websites that allow anyone to create and share online information. They're mostly in the form of blogs, forums, and wikis where user-generated content can be published and uploaded for free.
What makes web 2.0 sites attractive for improving SEO traffic is that you can create your own backlinks without doing guest post outreach or competitor backlink analysis as recommended in days 19 to 22. I talk about specific cross linking strategies like this in my post on what is cross linking in SEO.
As Gotch SEO explains, "Web 2.0s are effective because you are piggy-backing off their authority and trust. Yes, it is a sub-domain and your page authority will start out with a goose egg ZERO. But there's one important thing to remember about these properties: They build Page Authority (PA) FAST. With only a few strong links, any given web 2.0 can go from a PA 0 to PA 30 +. In addition to the authority, you are also getting super a super relevant link. Relevancy is king when it comes to link building. Don't forget that."
So the task for today is to sign up for 10 web 2.0 sites. And tomorrow, you'll start putting them to good use.
Here are the top web 2.0 sites to consider:
| | | |
| --- | --- | --- |
| Web 2.0 Site | DA | PA |
| https://wordpress.com/ | 94 | 88 |
| https://www.weebly.com/ | 64 | 62 |
| https://www.wix.com/ | 63 | 60 |
| sites.google.com/site | 95 | 86 |
| https://www.tumblr.com/ | 96 | 96 |
| https://www.yola.com/ | 92 | 64 |
| https://www.webs.com/ | 91 | 65 |
| https://www.blogger.com | 92 | 82 |
| https://medium.com/ | 93 | 78 |
| https://www.bravenet.com/ | 91 | 63 |
| https://www.shutterfly.com/ | 50 | 53 |
| https://www.smore.com/ | 83 | 57 |
| https://www.livejournal.com/ | 78 | 66 |
| https://www.quora.com/ | 92 | 69 |
Day 24: Publish Articles On the Web 2.0 Sites
This is going to be a full day of writing content for the web 2.0 sites that you signed up for yesterday.
In order to make things go quickly, you can follow this plan:
Log in to each of the 10 web 2.0 sites.
Pick the first article on your site that you want to increase SEO traffic for over the next 30 days.
On the first web 2.0 site, create a new blog post and write a 500-700 word summary of the page you're focusing on.
Inside that blog post, include a link back to the target page for people to read the full article.
Use keyword-optimized anchor text in the link.
Once you're done with the above process, you can then immediately go to the next web 2.0 site and write a different summary for the target page you're focusing on. Just repeat the same steps as above but write a completely new piece of content.
After you're done there, move onto the next site until you complete a new blog post on all 10 web 2.0 sites. Once you're finished, you'll have 10 brand new backlinks to that target page.
Now I admit that this process will likely take you more than one day to complete as there's a lot of writing involved. So just try to get as much done as you can on day 24 and then pick up on it again during days 25 to 30 after completing the necessary tasks for those days.
Day 25: Create Social Media Accounts
If you don't already have social media accounts for your business, then now is the time to set them up.
Go to these sites and register an account for your brand:
Facebook
Twitter
LinkedIn
Pinterest
Reddit
That's all the work you need to do on day 25. To fill up the rest of your time, continue writing and publishing on your web 2.0 sites.
Day 26: Post SEO Optimized Links On Your Social Accounts
Today, you'll start adding links back to the pages you want higher SEO traffic for on the social media accounts that you created.
This process is very quick and simple:
Log in to the social account.
Create a new post on the social account that includes a link to the target page.
In the description, be sure to include as many of the keywords you want the target page to rank for. Just use those keywords naturally in the description so it doesn't seem forced.
Rinse and repeat this strategy for all of the social accounts you joined.
Now, I don't suggest that you publish a new social post for every single page you're targeting for an improvement in SEO traffic all at once. Or even throughout the day.
Instead, just post about 3-5 of your articles and continue with this strategy over the next one to two weeks. If you publish too much, too soon, that can be seen as spammy.
Day 27: Create a YouTube Channel
You only have one task for today, and that's to create a new YouTube channel. Google owns YouTube and it's an easy tool to use for increasing your SEO traffic.
Just follow this guide by Google to set up your YouTube Channel. And make sure to put a link to your website on the about section of the channel.
Day 28: Turn Your Top 30 Traffic Posts into Videos
As Bright Edge mentions, "YouTube SEO has the potential to impact your rankings in search if you do video SEO properly. Google owns YouTube and often displays videos in relevant search results. Although video SEO rich snippets have largely been eliminated from brand platforms, for relevant queries, they do appear with YouTube results."
Bright Edge goes on to say, "A well-ranked video and well done YouTube SEO can help to increase exposure even in standard SERPs. A popular video that inspires many people to click over to the brand website can also indirectly help to raise the rankings of your site itself."
Additionally, every YouTube video you upload gives you a new opportunity to add a backlink to your site.
As you can see, YouTube is a powerful platform to use for improving SEO and site traffic. And you don't have a be a professional videographer or editor to harness the power of this platform for higher rankings.
The goal for today is to transform your top traffic blog posts into video content.
And you can do this in one of two ways:
Use Powerpoint, iMovie, or any other free video editing tool to create a simple slideshow.
Hire this task out to a freelancer on Fiverr who can handle all of the work for you.
Regardless of the route you take for video creation, here is the overall strategy to use here:
Pick the article to turn into video content.
Make a list of the key takeaways from the article.
Create a short script for your video using those key points.
Use free stock video footage or images to rotate through in the video.
Add a free background music track.
Insert your script into the video using text effects.
Day 29: Upload the Videos to Your YouTube Channel
The next step in using your YouTube channel for SEO purposes is to upload the videos you created on day 28. If you hired this work out, then you'll just have to upload them as you get them back.
During the uploading process, include the main keywords you want the video and target page to rank for in the title of the video. Don't stuff too many keywords here but make it sound natural.
Also, include as many keywords and secondary keywords as possible in the description and tags for the video. Again, write something that sounds natural without keyword stuffing.
Finally, include a link back to the original article in the description. That way you can get the free backlink to your content.
Repeat this strategy for every video created so that every one of your top traffic pages has a video uploaded to YouTube associated with it.
Day 30: Finish Outstanding Tasks
Congratulations! You made it to day 30 for improving your SEO traffic.
This final day is when you'll work on any outstanding tasks you haven't finished.
For example, if you still have more web 2.0 articles to write, then get those done. If you have more YouTube videos to upload, then work on that. If you have more guest posts to write and submit to site owners, then focus on those.
Basically, try to complete any of the unfinished items over the last 30 days of this plan.
You can then read my blog post on how to check keyword rankings in Google so you can start tracking your progress.
Day 30 and Beyond for Improving SEO Traffic
If you have a larger site with more than 30 articles on it, then you can go back back to day 1 and repeat the entire process for the next batch of posts.
This one-month plan for search engine optimization was designed to be used repeatedly to maximize the SEO impact for every page on your site.
So for day 30 and beyond, work on optimizing the next batch of articles, getting more guest posts published, acquiring similar backlinks as your competitors, adding more posts to your web 2.0 sites, and getting your articles transformed into videos to upload to YouTube.
Over time, you'll stop the process of optimizing your existing content and be able to focus purely on outreach and syndicating your content. Typically, your website will get indexed by all of the major search engines by following this guide; however, if you want to make sure your content is always crawled by the top search engines, then check out this other guide on free website submission. It includes a list of sites you can use to submit your site to the most important search engines for additional SEO traffic.
How to Increase Your SEO Traffic in 30 Days Summary
I hope you enjoyed this guide on how to increase your SEO traffic in 30 days.
As you discovered, there are certain actionable steps you can take to improve your SEO traffic in 30 days. And if you follow this one-month plan for search engine optimization, you should see an uptick in your traffic and keyword rankings.
By having better-optimized content, more backlinks, and syndicated content, you're bound to improve the traffic to your site.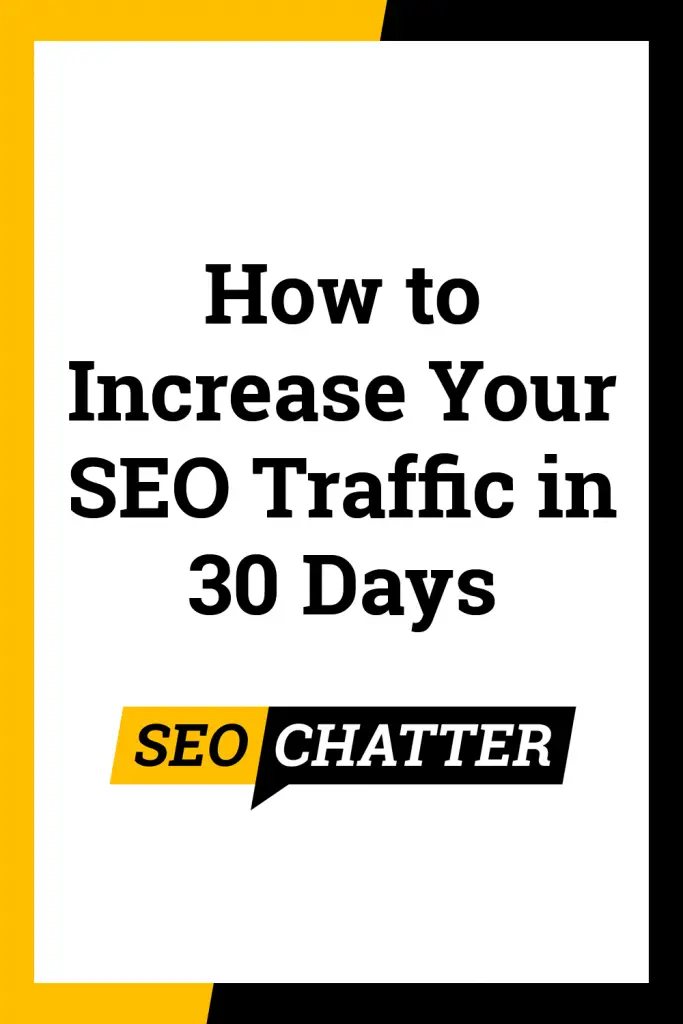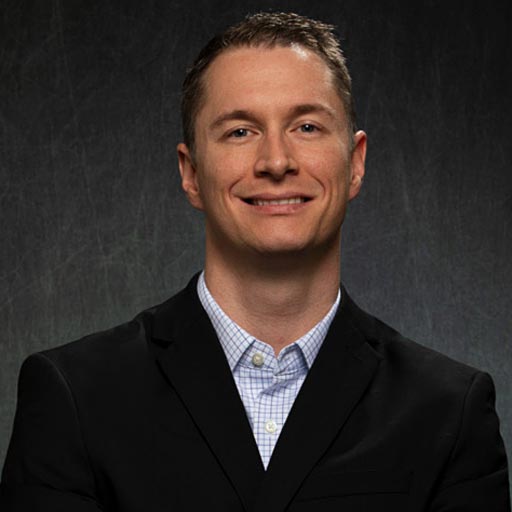 Stephen Hockman is an entrepreneur and founder of SEO Chatter. He specializes in search engine optimization and digital marketing and has been fascinated with SEO since 2005. His goal is to share the best tips and news about search engine marketing to help you get more website traffic.