In this article, you'll learn how to increase website traffic without SEO.
In particular, we'll go over 13 ways you can drive traffic to your website from outside of the search engines like Google, Yahoo, and Bing.
The purpose of this guide is to help you gain more brand awareness and increase visitors to your website without being so dependent on search engine algorithms.
The methods below are practical tips you can use right now—and forever—to grow your website traffic without using search engine optimization.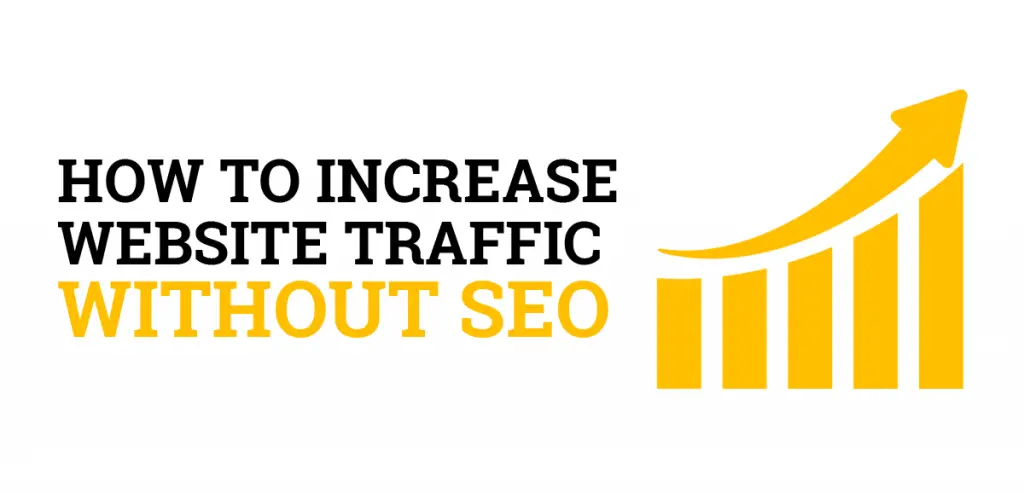 How to Increase Website Traffic Without SEO
1. Content Marketing
Content marketing is a strategic way to increase website traffic without SEO because it focuses on distributing valuable content into the marketplace to attract an audience to your brand.
As you build up content assets and place them around the Internet, more people will begin to find them, and this is a good long-term strategy to drive more traffic to your business. With content marketing, your efforts will compound on each other as time goes on.
Examples of content marketing include:
Infographics
Books and ebooks
PDFs
Audio Files
White Papers
Case Studies
Market Reports
2. Guest Blogging
Guest blogging is another strategy you can use to grow website traffic without SEO when you do it the right way. Most people just use guest blogging to build backlinks, but if you treat it as a method to get more traffic to your site, then it can help you in more ways than one.
The trick is to find popular blogs that receive a lot of traffic and leverage that existing audience to widen your brand's reach on the web. You don't just want to write a guest post on any site. Otherwise, you won't get much referral traffic from it.
Also, write the guest post from the first-person point of view. That way you can bond better with the reader and this will encourage them to look at your author bio to learn more about you and hopefully visit your website.
Here are some advanced search operators you can use on Google to find guest blogging opportunities:
keyword intitle: "write for us"
keyword intitle: "write for me"
Keyword intitle: "contribute to"
Keyword intitle: "submit" + inurl:blog
Keyword "submit a guest post"
Keyword inurl:/guest-post/
Keyword "guest post"
Keyword "guest post by"
Keyword "accepting guest posts"
Keyword "guest post guidelines"
Keyword "guest author"
Keyword "guest article"
Keyword "guest column"
Keyword "become a contributor"
inpostauthor:guest keyword
inpostauthor: "guest blog" keyword
inpostauthor: "guest post" keyword
3. Social Media Marketing
Social media marketing is another effective strategy to bring in more traffic to your website without worrying about SEO. This method also raises brand awareness and helps you connect with like-minded people online who are the perfect audience to attract to your site.
The key is to pick 1-2 social media channels you can post on consistently throughout the week. And to choose the place where your audience hangs out online.
For example, SEO Chatter has a lot of success getting traffic to the site by posting on Twitter. However, Facebook doesn't work so well, and so the Facebook page is not updated very often.
Good social media marketing channels include:
Instagram
Facebook
Twitter
Snapchat
TikTok
Reddit
4. Promotional Giveaways
There's no doubt about it, everyone loves winning something that's free. And you can use this tactic to your advantage to increase website traffic and create a lot of buzz around your business.
Promotional giveaways are easy to set up too. All you need to do is pick an awesome prize, choose a start and end date, and then promote it using any of the other methods mentioned on this page to get the word out online.
As a bonus tip, if you can encourage sharing the link or details about the giveaway as an entry requirement, that can really boost the exposure for your website too.
The most popular contest prizes include:
Cash
Gift Certificates
Free Products/Services
5. Influencer Marketing
Influencer marketing is one the fastest ways to increase website traffic without SEO because it taps into two powerful attributes: built-in trust with an existing audience and massive reach in the market.
According to Search Engine Journal, "Only 22% of customers trust ads and 27% trust branded content, whereas 51% trust an influencer's endorsement." So connecting with influencers in your industry can put you in a good position to raise awareness for your business and promote the website without search engine optimization techniques.
To find good influencers quickly, it's best to use software dedicated to this task, such as:
Awario
Brandwatch
Buzzsumo
Synthesio
Sysomos
6. Pay-Per-Click Advertising (PPC)
PPC is a good strategy to use when you want to generate a lot of website traffic fast. The problem with SEO is that it can take days, weeks, or even months for a new web page to gain organic traffic from the search engines.
With paid advertisements, you can skip the waiting period for organic rankings to kick in by making your website appear at the top of the search results above the free organic listings.
And depending on your budget, PPC ads can instantly generate hundreds to thousands of clicks to your website without SEO required.
Good PPC programs to use include:
Adroll
Taboola
Google Ads
Bing Ads
Amazon Ads
Facebook Ads
Instagram Ads
LinkedIn Ads
Twitter Ads
Note: If you want to learn more about running display ads on Bing, then check out this other guide on Bing Display Ads that explains how they work.
7. Pinterest Marketing
Pinterest is a powerful alternative to SEO for some niches to drive more traffic to a website. The other advantages Pinterest gives you are more inbound links, higher conversion rates, and the capability of your website content going viral.
If you want to use this platform as your main traffic-generating platform instead of SEO, Buffer offers these Pinterest marketing tips:
Pin at least 5x per day
Schedule your Pins
Apply for Rich Pins for your website or blog
Create "Pin It for Later" links
Design images at the proper size
Create and Pin images with text
Use multiple images with a Pin
Write keyword-rich descriptions and boards
See this other page for more tips on Pinterest link building.
8. Display Advertising
Display advertising is another popular method for how to increase website traffic without SEO. With display ads, a link to your site is placed on relevant third-party websites in the form of banners, images, and text ads.
Display advertising is different from PPC mentioned above because of how the ads are called forward. Instead of showing up based on a keyword search in Google, for example, a display ad is shown to users on other websites based on that user's search behavior or the keywords they've used in the past.
If you've ever seen an advertisement following you online after you did a search for it, then you've seen display ads working in real-time.
Examples of display advertising networks you can use include:
ReklamStore
Google AdSense
Media.net
Infolinks
RevenueHits
PropellerAds
Undertone
Chitika
9. Email Marketing
Email marketing is one of the best ways to get more traffic to your website on a regular basis without relying on search engine optimization.
According to OptinMonster, 99% of people check their email every day, with some checking it 20 times a day. No matter what age group you're targeting, where they're located, or their interests, email remains a great way to reach your audience.
The key to using email marketing successfully include:
Start building your email list today.
Offer value in every email so users want to open your emails.
Include links to your website in every email you send.
It's not uncommon for a website with an engaged email list to get 20-40% open rates which can translate into hundreds or thousands of clicks over to your website without SEO depending on how large the email list is.
10. Referral Marketing
Referral marketing is a common-sense approach to digital marketing, yet most of us tend to overlook it. With referral marketing, you make use of recommendations and word of mouth from your current audience to grow traffic to your website.
You can use referral marketing on social media, through email, in videos, and any other direct communication channel you have with your followers. And this method can be as simple as asking your fans to tell a friend about your business or giving them an incentive to do so.
11. Affiliate Marketing
Affiliate marketing can drive a lot of traffic to your website and increase brand exposure without you having to do a thing except pay your affiliates when a conversion happens. In short, your affiliates are the ones who are getting the word out about your website while you reap the long-term branding benefits.
To use this strategy, you need a product or service you can offer in the marketplace for others to promote on your behalf. You then give out website links to your affiliates and only pay them when a visitor turns into a customer.
Affiliate marketing is a powerful strategy for both traffic and SEO. Take Amazon for example. It has millions of affiliates promoting Amazon products on their websites and most of the top 10 search results for transactional queries are web pages that primarily promote Amazon.
Not only does Amazon get higher sales using this strategy but it also gets tons of free backlinks to improve its SEO metrics in addition to the billions of free referral traffic each month. And you can use this same tactic to your advantage.
12. Inbound Marketing
Inbound marketing is a method you can use to attract visitors to your website by creating valuable content and experiences that are tailored to them.
People often confuse inbound marketing and content marketing (mentioned above) but they're not the same thing. Inbound marketing focuses on building content and experiences that encourage your audience to perform an action such as inquire, buy a product, or complete a form. Content marketing just focuses on creating content that can be distributed across multiple channels online to bring awareness to your business.
Essentially, with inbound marketing, you want to provide the right content at the right time for your audience so you can attract the most qualified lead to your website.
Good examples of inbound marketing include:
Webinars
Newsletters
Press Releases
Live Streaming
Interactive Content
How-to videos
13. Video Marketing
Video marketing is becoming even more popular as a way to get more website traffic without doing SEO. It's estimated that in 2022, video content will claim more than 80% of all website traffic. So it pays to understand how to use this type of digital marketing strategy to increase website visitors for your business.
What's nice about video is that it can also be easily optimized for SEO so you can capture organic traffic from search engines like Google, Yahoo, and Bing in addition to marketing your content on other channels.
Some good tips for using video marketing in your online campaigns include:
Set a goal for the video, like more traffic to a specific web page.
Pick a target audience to attract.
Make a video that those people would enjoy.
Upload it to a popular video hosting platform like YouTube.
Use simple video SEO optimization to help it rank higher in YouTube and on Google search for your target keywords.
Can I Have a Website Without SEO?
You can have a website without SEO but it will never really be complete because you'll need to rely on other sources to drive traffic. With SEO, you can gain more visibility in the search engines to get more website visitors who are actively searching for your products and services.
The best strategy is to have a website that gets traffic from both SEO and non-SEO techniques. That way, your site is not dependent on a single source of traffic for its visitors. Having a diversified organic and paid traffic strategy is good for long-term and sustainable growth.
Does SEO Increase Website Traffic?
SEO does increase website traffic by making sure your website gets displayed for relevant searches. SEO helps your website get higher search engine rankings for the queries that matter most to your business which leads to more traffic, more leads, and increased sales and conversions.
SEO should always be something you're actively working on with your website, even if you're using non-SEO methods to capture a wider audience.
Increasing Traffic to a Website Without SEO Summary
I hope you enjoyed this guide on how to increase website traffic without SEO.
As you discovered, there are a number of ways for increasing website traffic without using search engine optimization. And you can mix and match any of these strategies to bring more awareness to your brand online to attract more visitors to your site.
However, a good SEO strategy will include both non-SEO and SEO methods to reach the widest audience possible.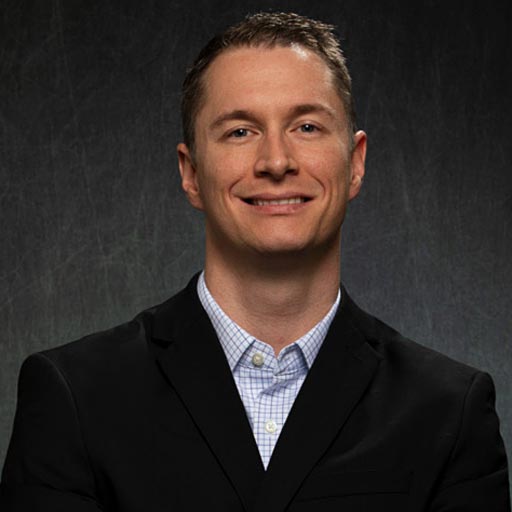 Stephen Hockman is an entrepreneur and founder of SEO Chatter. He specializes in search engine optimization and digital marketing and has been fascinated with SEO since 2005. His goal is to share the best tips and news about search engine marketing to help you get more website traffic.