This search engine optimization (SEO) guide explains how to do keyword clustering for SEO.
Below, you'll find a list of steps for creating keyword clusters for website content to help improve the organic rankings and traffic based on keyword clustering best practices in digital marketing. There's also a section with additional resources that explain more about the fundamentals of keyword clustering to help you create a better search engine optimization strategy.
Disclosure: This page includes affiliate links for the tools mentioned for doing keyword clustering. When you purchase a paid subscription, I may earn a commission.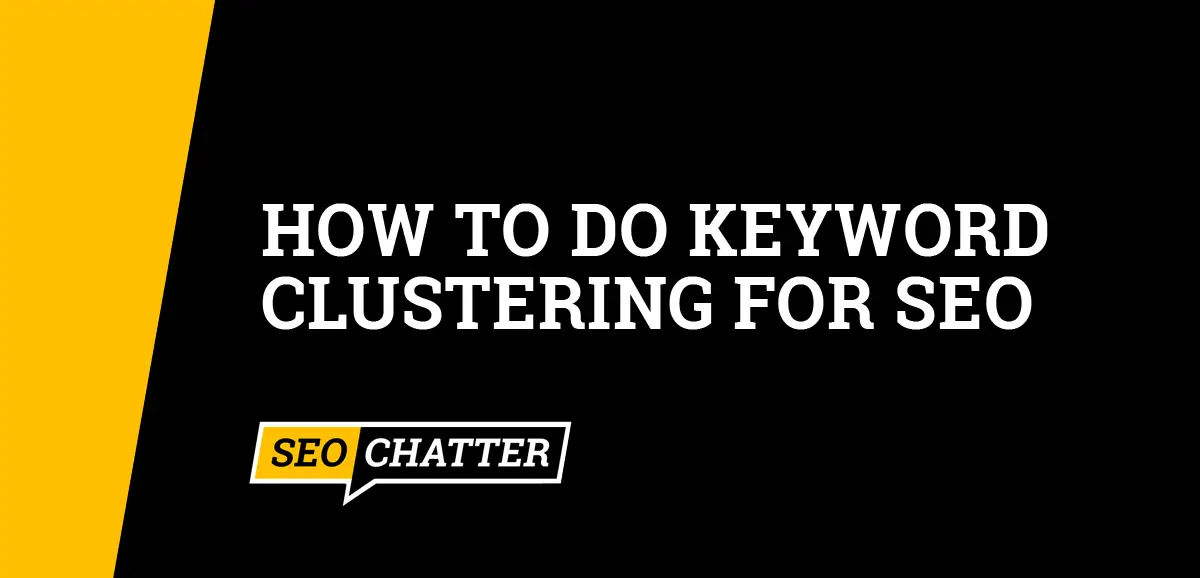 How to Do Keyword Clustering for SEO
1. Choose a Primary Keyword for the Cluster
The first step for how to do keyword clustering in SEO is to choose a primary keyword to target for the cluster. This is important because you need a primary keyword to drive the keyword research process (mentioned in the next step) and to focus on for on-page SEO (explained in step 5).
The primary keyword for the cluster can be any number of words; however, most SEO content that uses this keyword grouping strategy is optimized for a short-tail keyword (1-2 words in length) or a medium-tail keyword (3-4 words in length). Starting with a long-tail keyword (5 or more words) is not advised because it's too restrictive to begin the keyword research process.
2. Do Keyword Research for More Keywords
The next step for how to use keyword clustering for improve search engine optimization is to use a keyword research tool to analyze the primary keyword you chose for the content.
This process is important to uncover close keyword variations, relevant secondary keywords, synonyms, and semantically-related terms and phrases for the primary keyword. When you're creating a keyword grouping for SEO, it's important to dig up every possible term and phrase that can be used in the final keyword cluster.
Keyword discovery like this can be done manually with a keyword research tool or automatically with dedicated keyword grouping software. At the end of this guide, you'll find a link to the best keyword clustering tools for SEO that includes a list of good recommendations to consider. But for now, we'll go over how each method works for doing keyword clustering.
Essentially, with a keyword research tool, you'll analyze the primary keyword to generate a list of relevant terms and phrases. For now, you just want to uncover as many keyword variations, synonyms, and semantically-related words as possible to create a long list of potential targets for the keyword cluster. In the next step of this guide, you'll learn how to refine this list even further.
With keyword grouping software, the entire clustering process is automated. You simply insert a primary keyword into the tool and it fetches all of the relevant terms and phrases to be used for SEO.
3. Group Keywords By Search Intent
After you've conducted keyword research, you need to start grouping keywords by search intent. Not all keywords you find during the keyword research phase will meet the same user intent, so it's important to group them into the proper categories. Otherwise, you may use the wrong keywords in each cluster which can cause keyword cannibalization and ranking issues.
You can find out which keywords meet a specific search intent by manually analyzing the SERPs for each term and phrase you collected in the previous step. Or, you can speed up this process by using a keyword research tool like SE Ranking or KWFinder that provides an instant overview of the top-ranking URLs in Google for quick SERP analysis.
Below is an image of KWFinder (use my partner link to try it free for 10 days). On the left side of the tool, you'll see keyword ideas for the search term "organization hacks". Clicking on each keyword suggestion will bring up the top 10 ranking URLs in Google in the right side pane to analyze the SERP.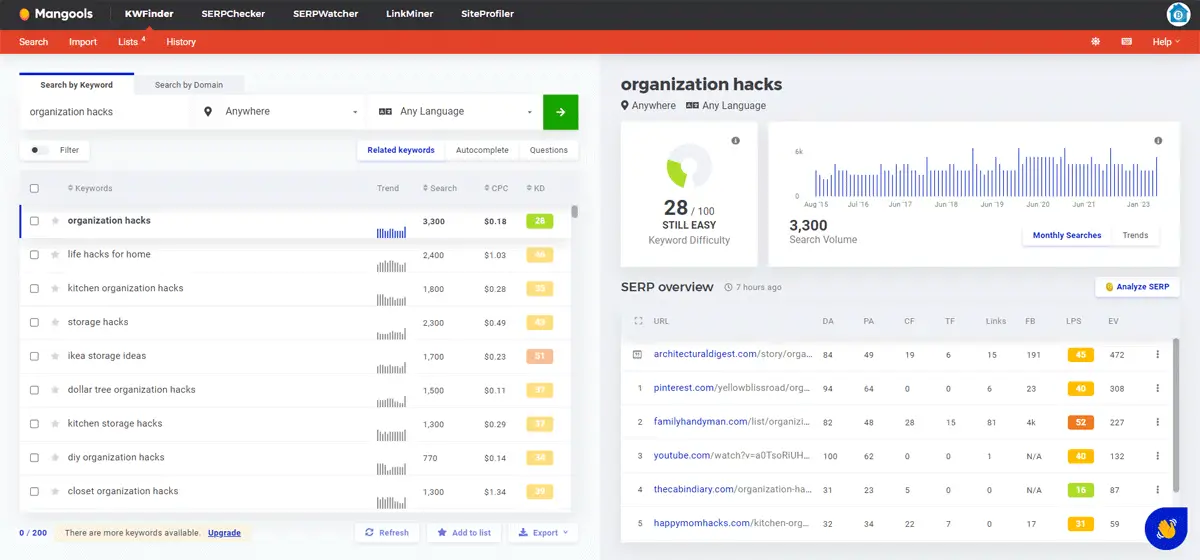 Now, here's an image of the SE Ranking keyword research feature (use my partner link to get an extended 30-day free trial). Under the keyword ideas section, you'll get similar and related keyword ideas. Clicking on "View Detailed Report" allows you to analyze the suggestions further and pull up the top 25 ranking URLs for each search term to help you build out your keyword cluster.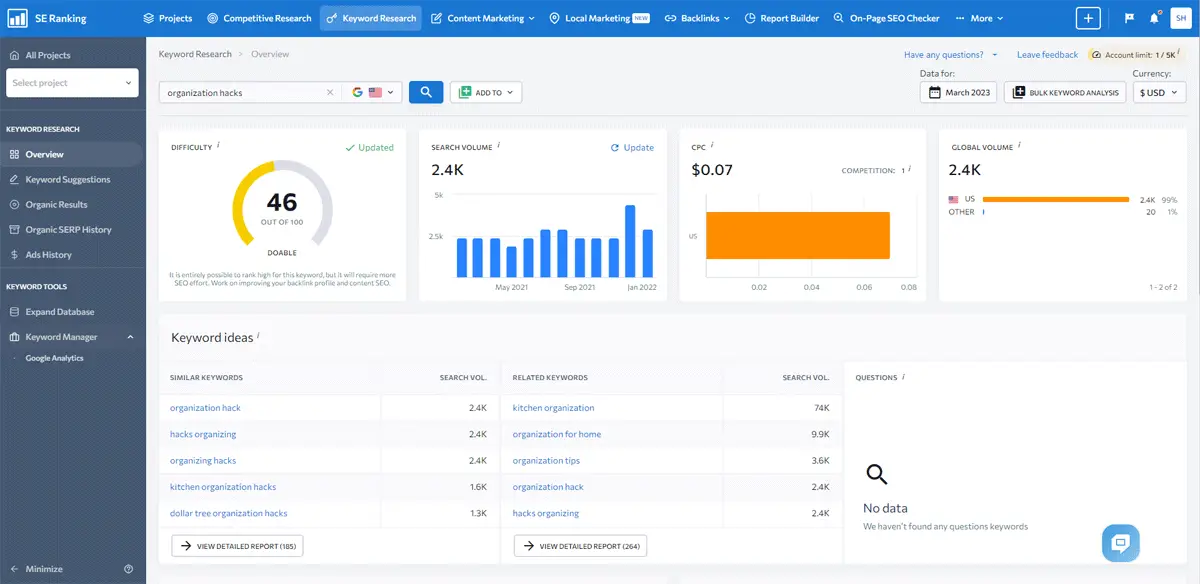 If 3 or more similar URLs are ranking in the SERPs for different keyword variations on your list, then those phrases should be grouped together because they meet the same user search intent. However, if a completely different set of URLs are ranking for a term or phrase, then they should be put into their own keyword cluster because they have different search intents.
For example, the two keyword phrases, "benefits of backlinks" and "importance of backlinks" may seem like they belong in the same keyword cluster; however, upon further keyword analysis, these two search terms provide a different set of results in Google. Therefore, two web pages should be created: one that's optimized for the top benefits of backlinks for SEO and another focusing on the importance of backlinks in digital marketing.
Similarly, the tutorial you're reading right now was created using the keyword clustering strategy for SEO. After conducting keyword research, I discovered that similar URLs were ranking for these two phrases, "how to do keyword clustering" and "keyword clustering best practices". On the surface, these keyword phrases seem like they would have different search intent, but they don't. Therefore, both of them belong on the same web page which is why they have been grouped together in the same cluster.
4. Make a Final Keyword List for SEO
Now, before you start creating content and optimizing it for search engines, you need to make a final list of keywords for the target web page. This is an essential step for doing keyword clustering for SEO to improve the website's rankings and make the on-page optimization process go faster.
In the previous step, you created a master list of keywords that could be targeted on one web page because they have the same search intent. However, you don't need to use every keyword variation you put in the group if you have a long list of options.
For example, there may be 20, 50, or even 100 keywords or more after you've completed the keyword research and clustering phase. But when it comes to writing and optimizing the content for SEO, you may not be able to include or optimize for every search term without falling into the realm of keyword stuffing.
Therefore, you need to pick the keyword variations, synonyms, etc, that have the highest search volume and/or lowest Keyword Difficulty scores to help narrow down the list. A good range to aim for with keyword grouping is between 5 to 10 keywords, which allows you to include enough keywords in the content for SEO without it seeming unnatural or keyword stuffed.
For example, if I were to create a web page that included a checklist and template for on-page SEO, the following list of keywords would be a good choice for the keyword cluster:
on-page SEO checklist
on-page optimization checklist
on-page SEO list
basic on-page SEO checklist
on-page SEO audit checklist
on-page SEO template
on-page SEO audit template
on-page optimization template
A list of keywords like the ones above gives me plenty of options to rotate through as I'm writing the content to I don't over-optimize for the primary keyword phrase: on-page SEO checklist. Also, by adding all of the keyword variations from the cluster in the content, it improves the ranking strength of every search term because they're semantically related.
5. Optimize the Content for Keyword Clusters
After you've gone through the process of narrowing down your final list of SEO keywords for the target page, you can begin using the keyword grouping for on-page optimization.
To perform this step, you want to select the top 3-5 keywords from the cluster based on monthly search volume and the Keyword Difficulty score. The keyword with the highest search volume will become your primary keyword and the keywords with a good combination of search volume and low Keyword Difficulty scores will be the secondary terms you'll target with on-page SEO.
Using our example list of keywords from the previous step of this guide, the search terms that meet this criteria include:
| Keyword | Search Volume | Difficulty Score | Target |
| --- | --- | --- | --- |
| on-page SEO checklist | 5,900 | 47 | Primary |
| on-page optimization checklist | 270 | 46 | Secondary |
| on-page SEO template | 140 | 42 | Secondary |
| on-page optimization template | 100 | 34 | Secondary |
With your finalized list of 3-5 target keywords, you'll need to optimize the following locations for on-page SEO:
Meta Title Tag: Put the primary keyword and as many secondary keywords as possible in this HTML field without repeating the same words. Also, keep the length under 60 characters so the title doesn't get truncated in the SERPs.
Meta Description: Include the primary keyword and 1-2 secondary keywords in a natural way. Keep this HTML field between 150-160 characters.
URL: Include the primary keyword only to make the URL SEO-friendly and short.
H1 Tag: Copy the meta title tag into the H1 tag, which should be the visible page title for the reader.
H2 Headers: Include the primary keyword in the first H2 subheading on the page and the secondary keywords in their own subheadings (one per H2 tag).
Body Content: Include every keyword variation from the keyword cluster inside the written copy on the page. Repeat the primary and secondary keywords 2-3 times throughout the content while keeping the copy sounding natural. Include the other keywords from the group around 1-2 times to avoid keyword stuffing.
Image ALT Text: Add one image per page for each of the top 3-5 keywords you're optimizing for SEO (if possible). Make sure you have at least one image optimized for the primary keyword. And, if you can add two more images, then optimize them for the secondary keywords in order of importance. Don't force adding an image if it doesn't make sense for the content or user. Include the target SEO keyword phrase in the image ALT text and image filename.
Learn More About Keyword Clustering
Check out our list of the Best Keyword Clustering Tools for SEO that can help make the process of clustering keywords easier for your search engine optimization campaigns.
Do Keyword Clustering for SEO Summary
I hope you enjoyed this guide explaining how to do keyword clustering for SEO.
As you discovered, the process for creating keyword clusters to improve your website's search engine optimization is straightforward and easy to do, with the top keyword clustering best practices including choosing a primary keyword to begin the keyword research process, uncovering closely related variations, grouping keywords by search intent, making a final list of terms and phrases to target, and optimizing the content for the top keywords from the cluster with on-page SEO techniques. Following these guidelines can help improve your overall SEO strategy for higher rankings and traffic.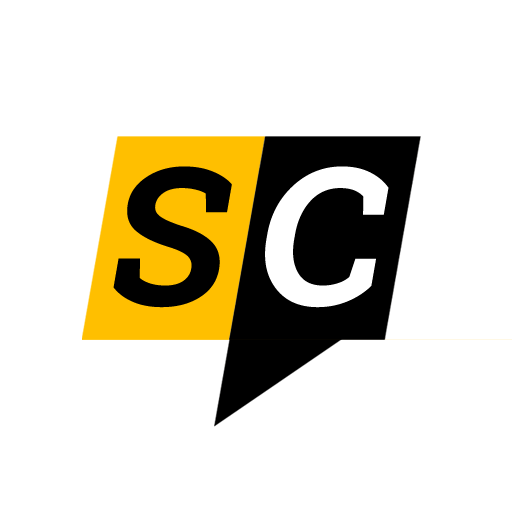 The Editorial Staff at SEO Chatter is a team of search engine optimization and digital marketing experts led by Stephen Hockman with more than 15 years of experience in search engine marketing. We publish guides on the fundamentals of SEO for beginner marketers.