On this page, you'll find a list of the top 5 search engines in the world.
You'll also find a chart at the end of this guide with the top 5 most popular search engines according to user rankings and market share.
The purpose of this guide is to give you a list of the five best search engines most commonly used today so you can understand which companies have the most dominance online. It's also here to serve as a top resource for you to cite and link to in your own articles, blog posts, and online publications based on search engine market research data.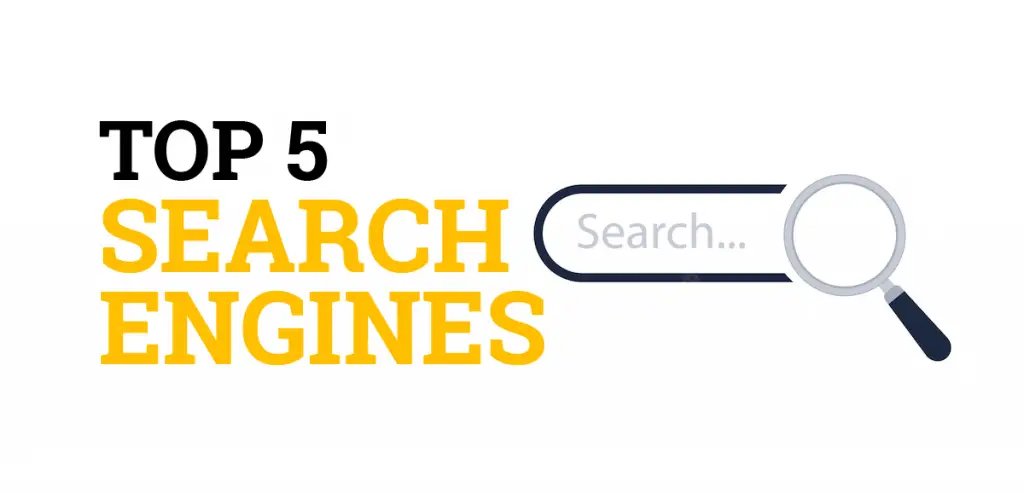 Top 5 Search Engines List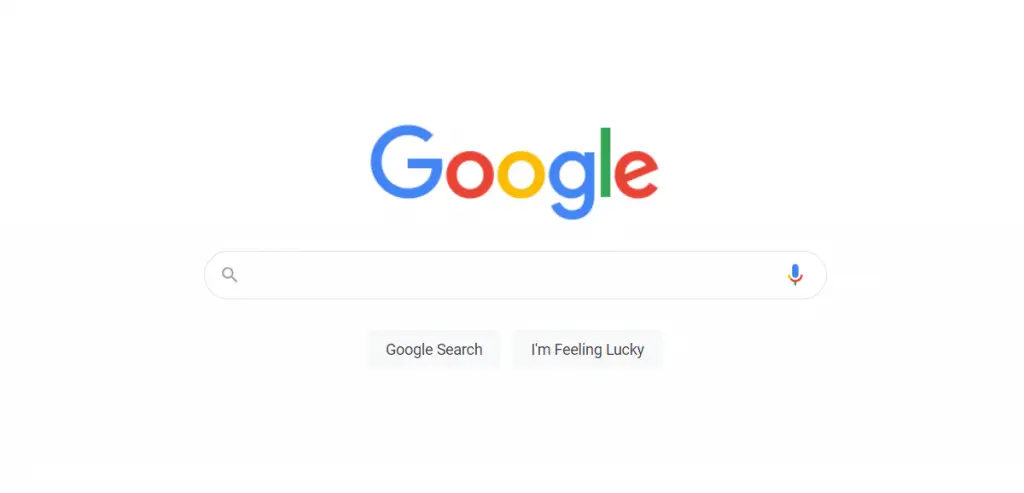 1. Google Search Engine
Google comes in at #1 on this list of the top 5 search engines in the world because it has the largest share of the search engine market: about 92.01% as of June 2021.
Link: https://www.google.com
In August 1998, Susan Wojcicki and her new husband rented their garage to two Ph.D. students at Stanford University. Armed with $100,000 of investor funds and the resolve to build a technology tool that would make it easier to navigate a twisted internet, Larry Page and Sergey Brin continued the Google Journey.
Fast forward more than two decades later and Google is at the pinnacle of all search engine rankings. Google Inc. has not only built one of the top 50 most popular search engines, but it also takes the lead in building technology tools that are integral to the everyday Internet user. Think Gmail, YouTube, Google docs, Google Drive, and more. 
It's estimated that Google processes up to 63,000 search queries per second, translating to approximately 6.9 billion global searches every single day. This comes as no surprise, given its consistency in churning out credible and reliable search results year in year out.
Google's dominance as the top five best search engines is largely fuelled by its regularly-updated algorithm. Google's algorithms ensure that only top-quality content makes it to its first or second pages, forcing content marketers to level up their game. It's also great how Google displays the dates of all its search results, hence enabling users to find the exact information they want when they want it.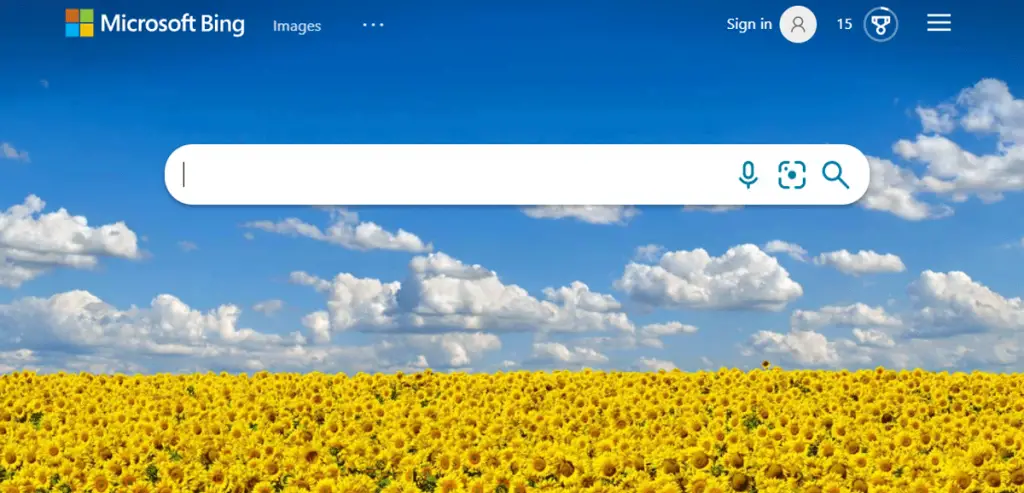 2. Bing Search Engine
Coming in second for the top five search engines most commonly used today is Bing.
Link: https://www.bing.com
In an attempt to tame Google's command in the search engine space, Microsoft launched Bing in 2009. The initial idea behind Bing was to introduce a "decision engine" that would showcase a high number of search results and organize them into categories. This would, in turn, enable users to make informed decisions on the links to click and the ones to ignore.
Did Microsoft achieve this?
Yes and No.
Yes because Bing ended up surpassing Yahoo to clinch the second spot in search engine rankings, and No because its market share (2.96%) doesn't come close to Google's.
However, Bing beats Google in having an appealing, customizable user background, professional image and video search results, and a stellar reward program. Bing's mobile app also has some noteworthy features that make it stand out.
A good example is the "Near me" feature. Tap this, and the search engine automatically rounds up the best restaurants within your locality. This also works with the "Gas" and "Fun" features which display a round-up of local gas stations and popular games respectively. 
Bing is accessible via its website, the mobile app, or Microsoft Edge, and is worth a shot for marketers who are keen on driving more web traffic outside of Google.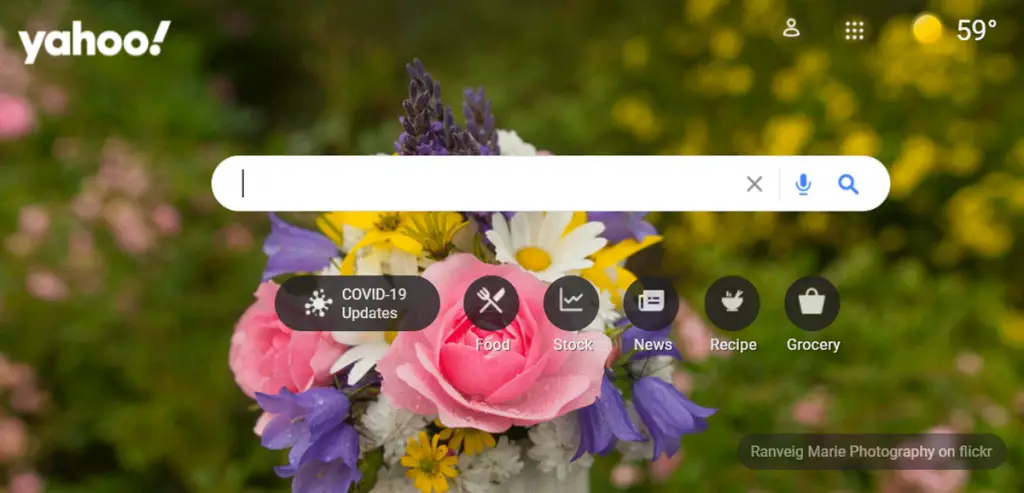 3. Yahoo Search Engine
Coming in at number three for the top 5 search engines in the world is Yahoo, which is actually powered by Microsoft's Bing. Yahoo commands a market share of  1.51% and is the default search engine for the Firefox web browser and comes in as the 11th most visited site on the Internet.
Link: https://www.yahoo.com
Yahoo is another creation that was born at Stanford University. The story of this search engine is as sad as it is inspiring.
Launched in 1994 by Jerry Yang and David Filo, this search engine that started as a web directory had a powerful yet fleeting reign. In its good days, Yahoo amassed a staggering net worth of $125 billion, which earned it the nickname "king of the Internet." 
Yahoo was the ideal portal for any information regarding finance, sports, music, finance, kids queries, you name it. The founders of Yahoo would later turn away two student-founders seeking an acquisition deal for their innovative search technology startup at just $1 million.
Turns out, these two young founders were Larry Page and Sergey Brin, who went on to build one of the five best search engines that completely threw Yahoo off its wheels (i.e., Google).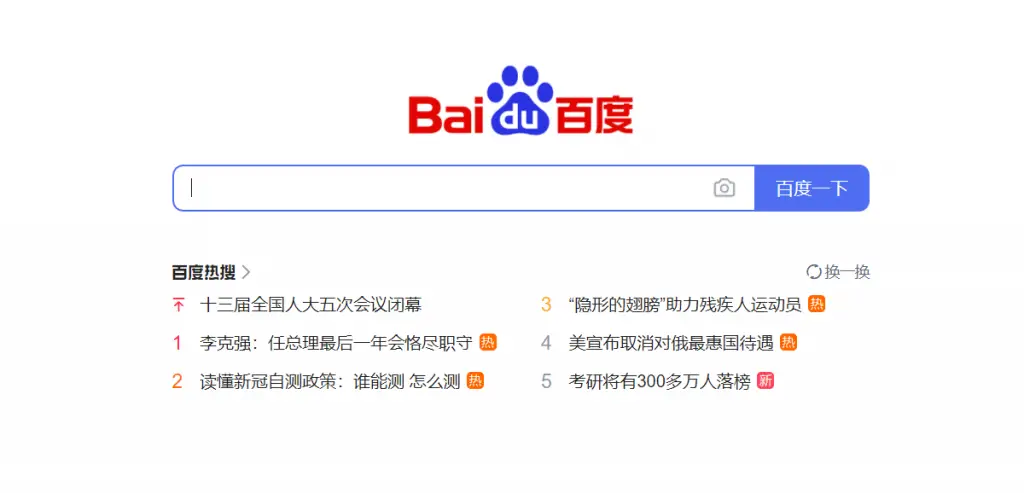 4. Baidu Search Engine
Baidu is the fourth most commonly used search engine in the world, with a market share of 1.17%. It's also the most popular search engine in China, with almost 86% of China's internet users accessing it.
Link: https://www.baidu.com
Easily considered to be China's version of Google, Baidu search engine stands out from other competitors by displaying its search results in Chinese, hence affirming its focus on the local Chinese market.
From music, food restaurants, news articles, statistics, games, and entertainment, Baidu has mastered the science of tuning its search results to its end users. Baidu-core, the company's key revenue contributor, focuses on keyword-based marketing while its secondary arm—iQIYI—offers online advertising.
As of December 2020, Baidu's mobile app was receiving about 220 million daily users, so if you have your eyes for the Asian market, this is a gold mine for search engine optimization.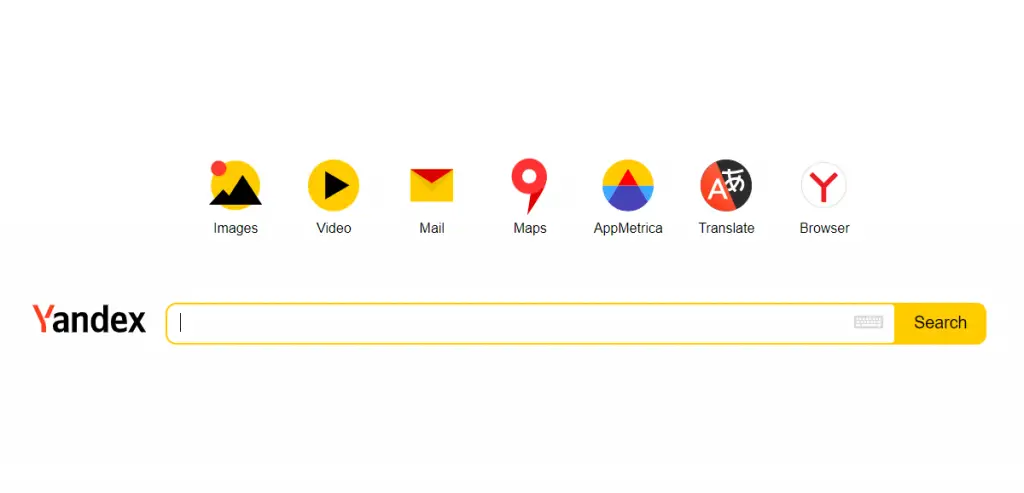 5. Yandex Search Engine
Coming in at #5 on this five best search engines list is Yandex. As of the last quarter of 2021, Yandex was the fifth most used search engine globally, and the most popular in Russia, with a market share of 65% in the country. Globally, Yandex holds a market share of 1.06%.
Link: https://yandex.com
Yandex's popularity in Russia is due to its unmatched Russian language search. From spelling, pronunciation, all the way to keyword optimization, Yandex ticks all the boxes. 
Similar to Google, Yandex offers email service, visual and audiovisual content, live traffic maps, and more. Also, Yandex's effort in combating spammy links is commendable. 
If you're familiar with the Russian online market, you probably realize the rife link spam techniques. With brands waking up to the importance of ranking highly on search engines, some of them seek the services of agencies that sell links. This is usually intended to help the said brands rank highly on search engines like Yandex and Google.
To help eliminate this problem, Yandex no longer uses links to sort out its ranking algorithm in specific locations within Russia. Rather, it restricts its algorithms to keywords crawled on the page and user experience, leaving sites with no option but to publish high-quality and user-satisfying content. 
Is There a Better Search Engine Than Google?
Bing and DuckDuckGo are considered to be better search engines than Google based on user experience and privacy protection. These two search engines are the most widely known Google search engine rivals.
You can find out more about DuckDuckGo in this top 10 search engines list and see how it compares to even more platforms in this top 15 search engines list, top 20 search engines list, top 50 search engines list, and top 100 search engines list. There's also a list of completely private search engines.
Top 5 Most Popular Search Engines Chart
| | | |
| --- | --- | --- |
| Ranking | Search Engine | Market Share |
| 1 | Google | 92.01% |
| 2 | Bing | 2.96% |
| 3 | Yahoo | 1.51% |
| 4 | Baidu | 1.17% |
| 5 | Yandex | 1.06% |
Data Source: StatCounter Search Engine Market Share
Top 5 Search Engines In The World Summary
I hope you enjoyed this list of the top 5 search engines in the world.
As you discovered, the top 5 most popular search engines consist of Google, Bing, Yahoo, Baidu, and Yandex. Feel free to cite and link to this list of the five best search engines most commonly used on the Internet in your own articles, blog posts, and online publications.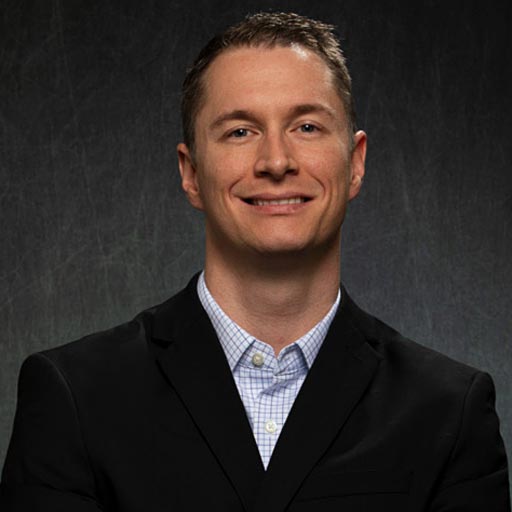 Stephen Hockman is an entrepreneur and founder of SEO Chatter. He specializes in search engine optimization and digital marketing and has been fascinated with SEO since 2005. His goal is to share the best tips and news about search engine marketing to help you get more website traffic.