On this page, you'll find a list of the best private search engines that don't track you.
You'll also find a chart at the end of this guide with the 20 top anonymous search engines to compare their rankings.
The purpose of this guide is to give you a list of the most popular private search engines being used to anonymously browse the Internet so you can understand which companies have the highest dominance for a safe and secure online search. It's also here to serve as a resource for you to cite and link to in your own articles, blog posts, and online publications based on market research data.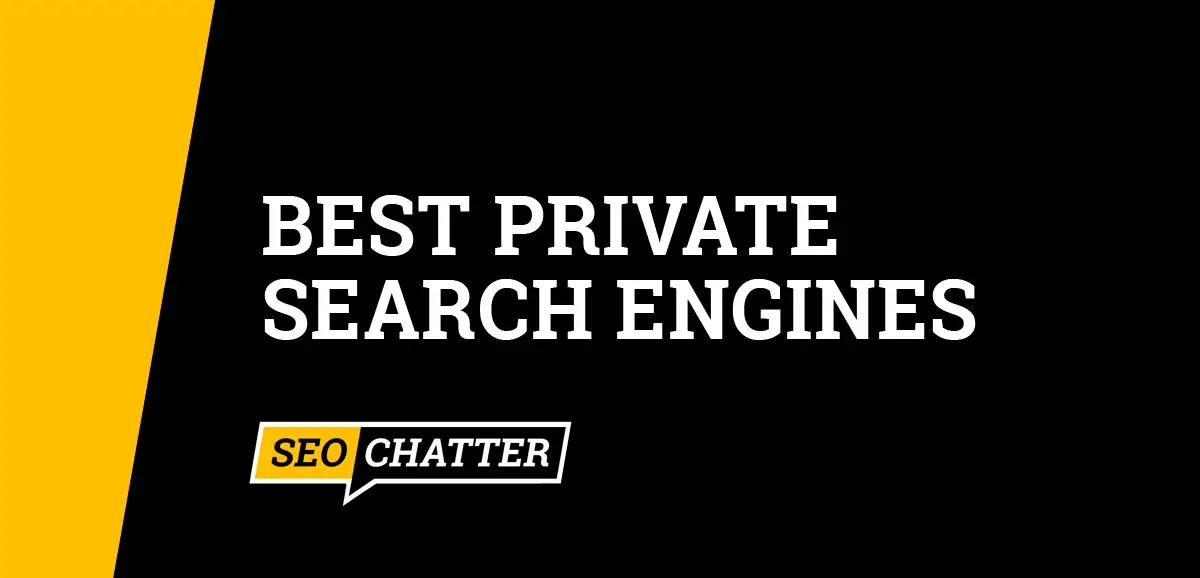 Best Private Search Engines That Don't Track You List
1. DuckDuckGo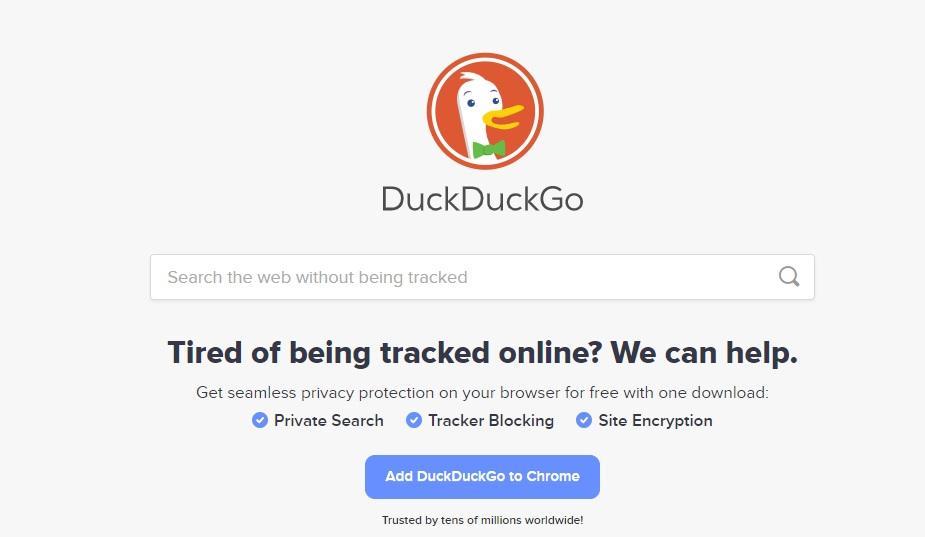 DuckDuckGo was launched in 1998 and has remained fully committed to user privacy ever since, earning it a reputation as one of the world's best private search engines that don't track you with the largest market share of 0.68%.
Each search query you make is encrypted and routed through proxy services to ensure your IP address and other identifiable information remain hidden.
DuckDuckGo doesn't store your search history and presents the same search results to all users regardless of location or search history. As a result, you may get less personalized results than on Google, though you can at least be sure that your data isn't being tracked or used for targeted advertising.
2. SwissCows

SwissCows is based in Switzerland and stays true to the European Country's excellent privacy and data protection laws by ensuring all your search queries are entirely anonymized. 
This top anonymous search engine service doesn't collect your search history, IP address, or other data which is why the user base is growing fast. Instead, Swisscows relies on semantic technology, giving it an advantage over other search engines in that it has a better understanding of search intent and, thus, can provide highly accurate and relevant search results. 
3. Startpage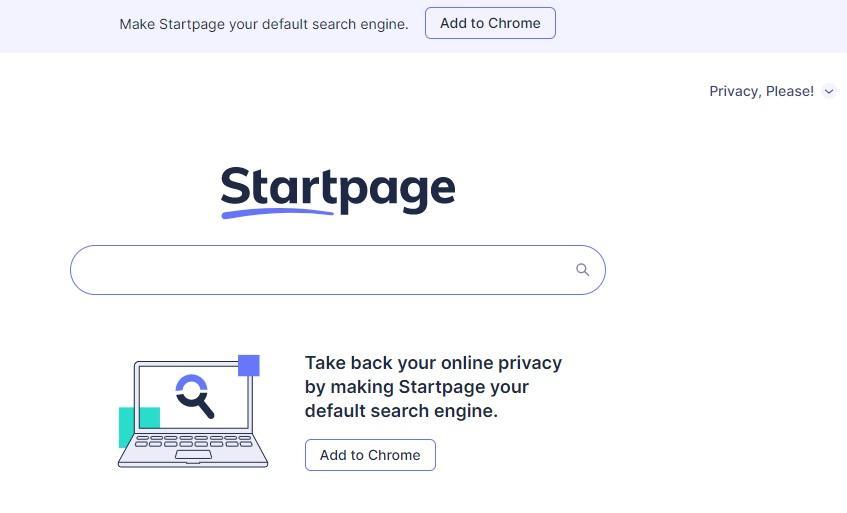 Startpage fetches search results from Google but doesn't track or store any personal data. This makes it a great choice if you enjoy the in-depth results you'd get from the major search giant but don't want to forfeit your privacy. Global market share is around 0.02%.
One standout feature of Startpage is its useful Anonymous View mode, which routes traffic through its own servers so that you can view websites privately, saving you the hassle of opening that site in an incognito or private window.
4. Qwant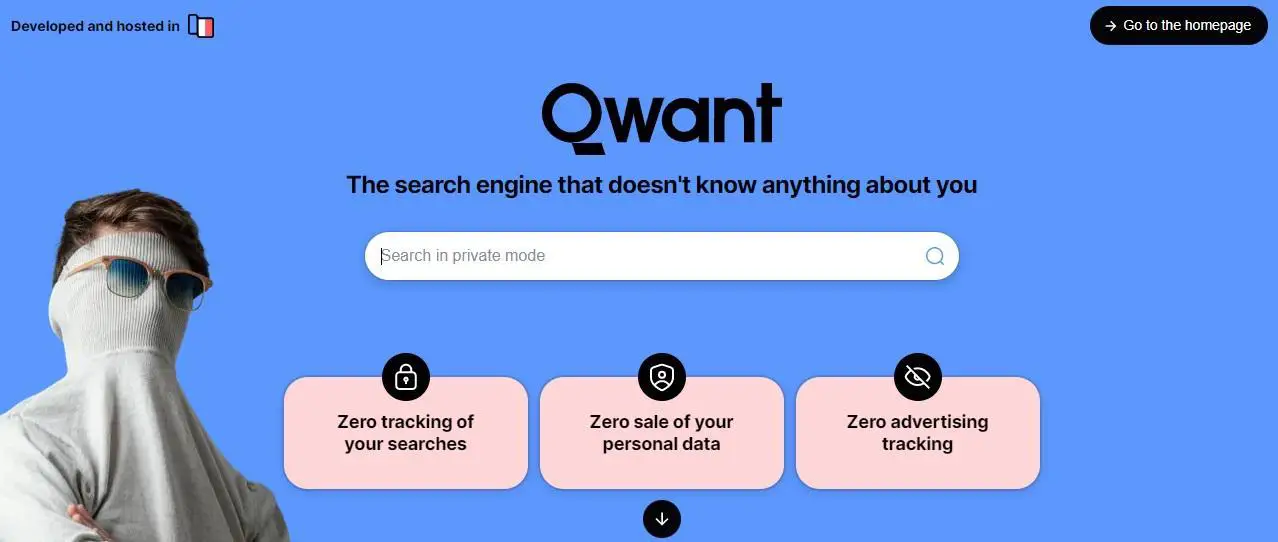 With an estimated 0.03% market share and about 50 million users a month, Qwant is located in France, meaning it's bound by the strict privacy laws of the EU General Data Protection Regulation (GDPR).
Unlike other popular search engines that don't track you on this list which pull their results from Google and Bing, Qwant relies on its own unique search algorithms to provide personalized results without tracking users' personal data or search history.
5. YaCy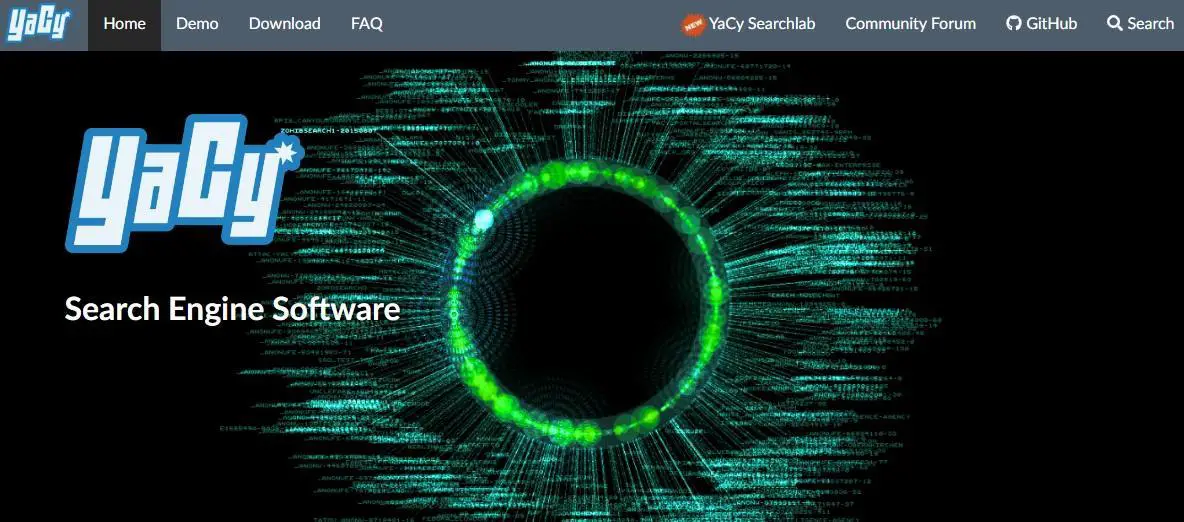 YaCy takes an innovative approach to private search based on the idea of decentralization. What this means is that rather than relying on a single company, server, or algorithm to deliver search results, those results are generated by users who run the secure YaCY.net software on their devices
The software acts as a crawler, contributing to the indexing and cataloging of web pages. Ultimately, this eliminates the risk of security breaches that can occur when personal data is stored in a centralized location, ensuring maximum privacy for users, and making it a fully anonymous search engine.
6. Searx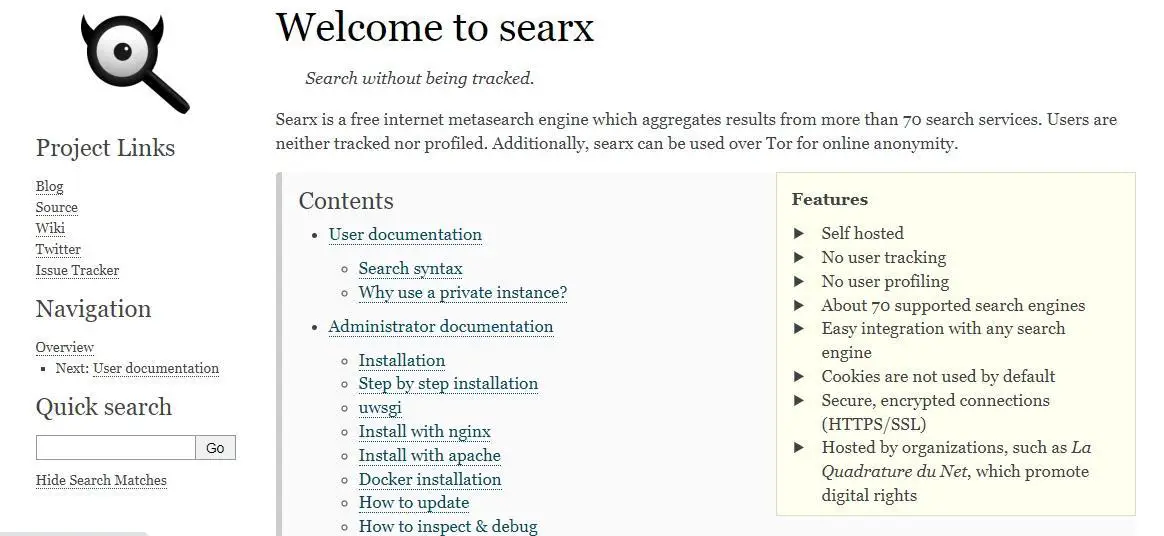 Searx is an open-source, metasearch engine that collates results from over 70 search engines. 
Like YaCY, Searx runs as software on your computer. Although it's much more complicated to use than your average browser-based search engine, it offers one significant advantage: it's fully customizable, allowing you to pick and choose which search engines you get your results from.
All queries sent through the software are stripped of any associated private data and fully encrypted to allow maximum anonymity while searching.
7. Ecosia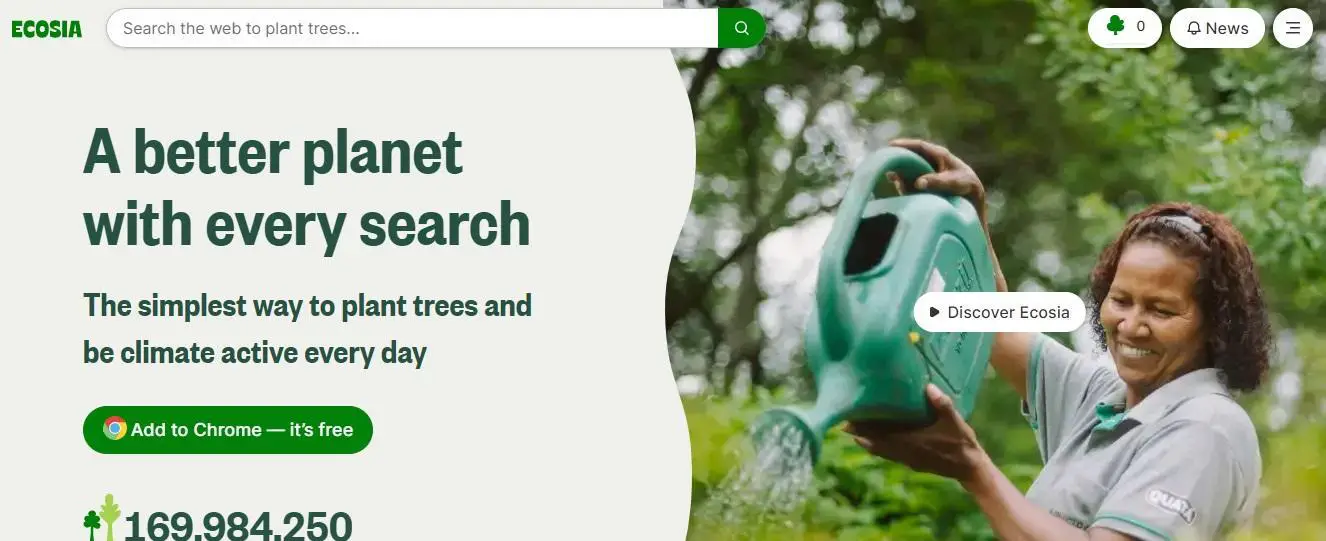 Ecosia is a good search engine that doesn't track you for anyone concerned about how their online activity impacts the environment.
Located in Germany, Ecosia is powered by Bing but doesn't track your history and information, giving you all the advantages of using Microsoft's powerful search engine with none of the privacy concerns.
What makes this one stand out; however, is that the service not only relies on renewable energy sources to drive its servers but also donates money to tree-planting initiatives in biodiversity hotspots worldwide. 
The more searches you make, the more trees you enable to be planted. Ecosia even allows you to track how many trees have been planted as a result of your usage so that you can see the positive impact your search use has on the planet.
8. Gibiru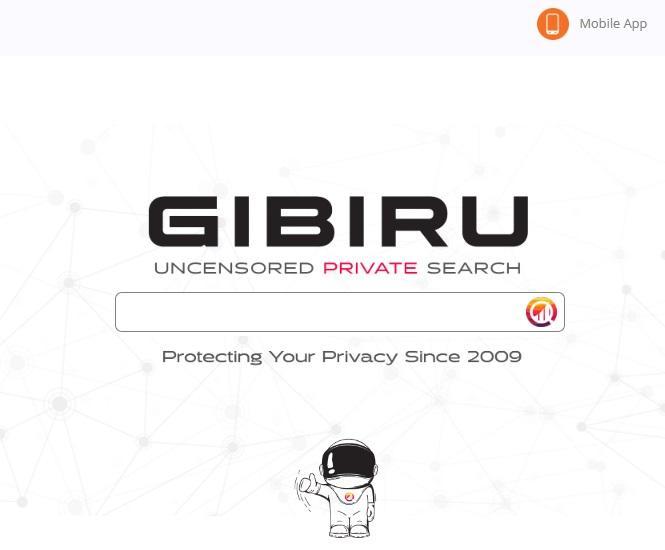 Gibiru places security at the heart of its entire operation. It doesn't store cookies on your browser, nor does it keep your IP address, search history, or other private details. 
It's also one of the few, and best private search engines around, that promise the ability to search the deep web, that is, websites that are not indexed by conventional search engines. Like Startpage's Anonymous View, Gibiru also allows you to click on search results and view websites anonymously by routing your activity through its own servers. 
9. MetaGer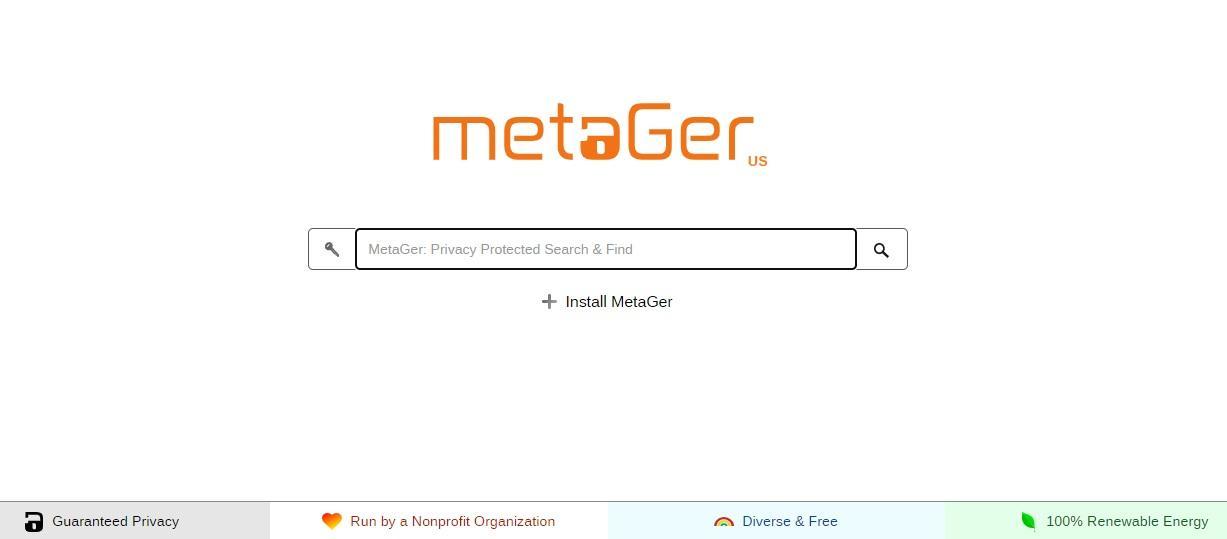 MetaGer is one of the most established browsers in the world, helping users to maintain their privacy online since as far back as 1996. 
This user-friendly platform aggregates search results from several different providers, with the origin of each search result listed alongside it. A quick "Open Anonymously" tab allows you to view each search result through a proxy server, while the Tor-Hidden search feature also allows you to dive into the deep web without giving away your personal details.
10. SearchEncrypt
SearchEncrypt has an excellent, clean, and minimalist interface that likely appeals to those who remember what Google used to be like before it became bogged down with ads, snippets, and all manner of personal data-collecting features. 
All search queries are encrypted to ensure anonymity, with no personally identifiable information being tracked or recorded. In fact, SearchEncrypt even wipes your search results clean after 30 minutes of inactivity, guaranteeing that there's no way to track your search history with this private search engine.
11. Mojeek

Mojeek has a strict no-tracking policy, ensuring no cookies are on your device and you can start browsing, safe in the knowledge that your personal data won't be saved. Mojeek doesn't record your IP address either, instead relying on a two-digit country code. 
Its main highlight; however, is that it relies on its own independent technology to crawl and index search results rather than pulling them in from other search engines. Therefore, you get results from this anonymous search engine that are free from manipulation or bias. 
12. Disconnect Search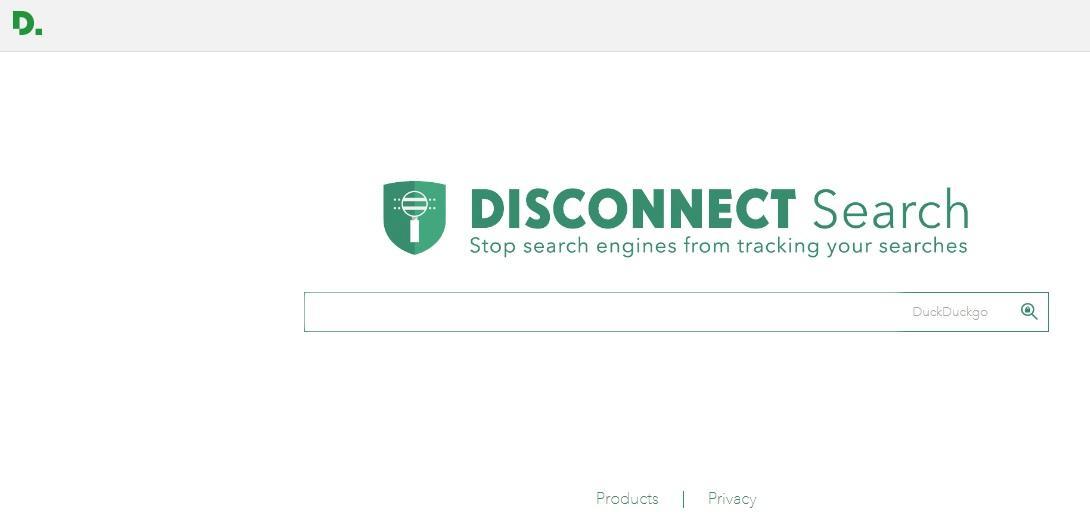 Disconnect Search Disconnect Search is the in-built search tool for the Disconnect range of privacy protection tools. On its own, the platform simply directs you to search results on DuckDuckGo, but when combined with the rest of Disconnect's tools, it helps to ensure all of your Internet activity can be carried in one highly-secure app.
13. WolframAlpha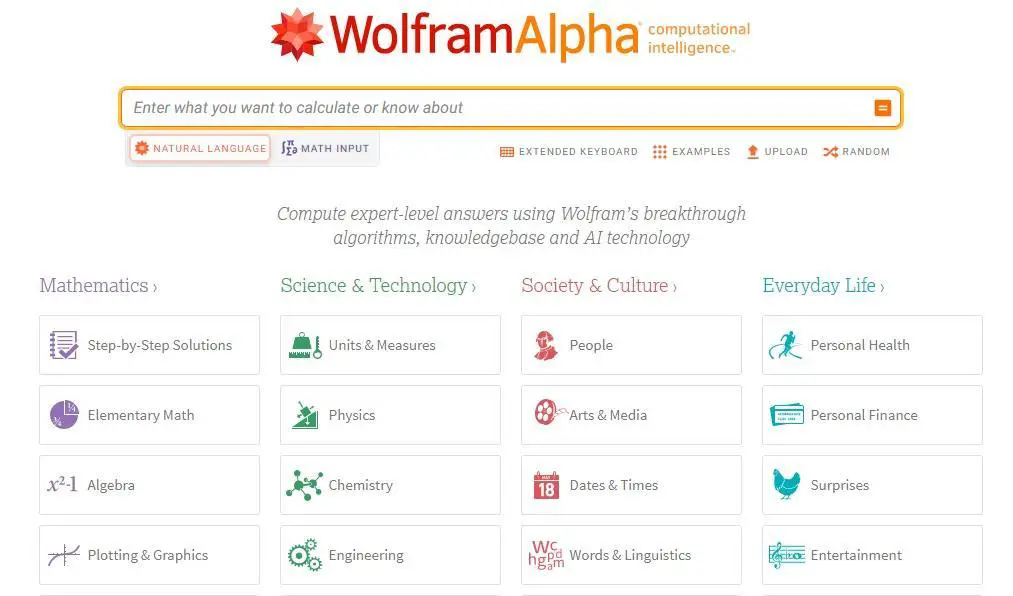 WolframAlpha is a computational search engine that is best used for generating expert-level answers to questions on academic subjects such as science, math, and linguistics. 
Unlike other search engines, the platform isn't focused on providing a list of links to click on. Instead, WolframAlpha relies on its own algorithms and use of AI technology to generate answers right on the page, typically presented through graphs, charts, and other visualizations.
All of this is provided with the high level of anonymity you'd expect from a top private search engine, as WolframAlpha doesn't store cookies, track your IP address, or collect other identifiable details about you to keep your identity anonymous while searching online.
14. Yandex
Yandex is the world's fifth-largest search engine with a global market share of 1.06%, giving the likes of Google and Bing a serious run for their money in their native Russia. 
The platform allows you to customize what data is stored about your online activity. This may make Yancex a useful option if, for example, you want the convenience of having your search history saved to improve future search results, but you still want to keep other information like your location private.
15. Kagi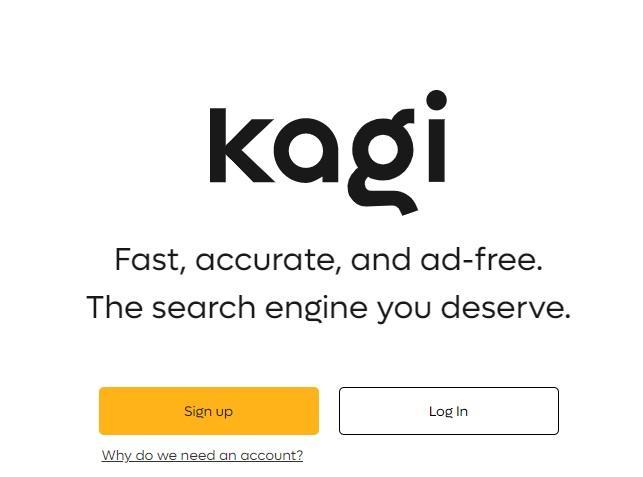 Kagi (formerly Peekier.com) has a stringent no-tracking policy, encrypted search queries, and advanced security tools. However, it's not just this strong commitment to user privacy that has seen it grow in popularity as of late. 
Earning a reputation as one of the best alternatives to Google for ad-free private searching, Peekier provides a visual preview of each search result, giving you a quick and easy way to assess whether that page will be helpful to you before you click on it. The only downside is that this ad-free search engine requires a paid subscription.
16. Lukol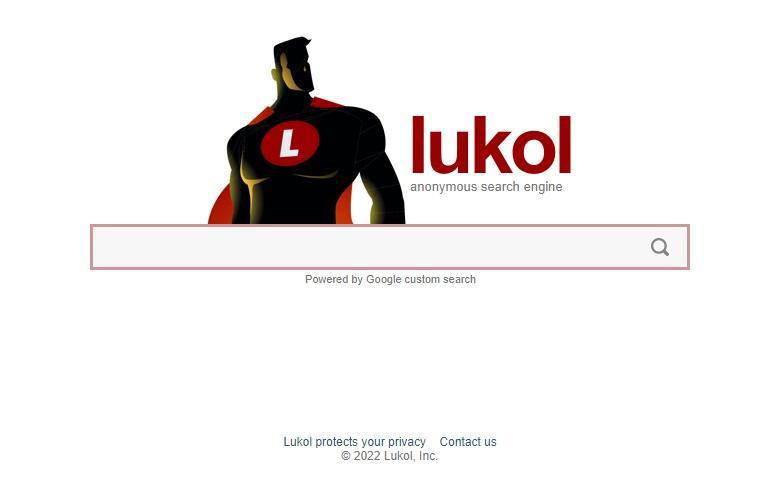 Lukol is a privacy-friendly Google alternative that delivers results from the search giant without tracking or storing your data. Minimalist in design and approach, the service delivers accurate, relevant results quickly, and anonymously.
17. Brave Search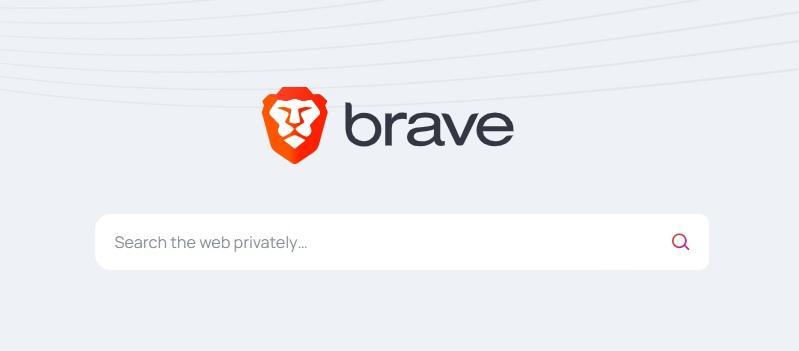 Brave Search is the in-built tool used by the popular Brave Private Web Browser. Using the two together ensures that not only will your search queries and activity remain 100% anonymous, but you'll also benefit from other integrated tools, such as ad-blocking and anti-tracking technology. 
Brave Search is also one of the top private search engines for conducting media searches and finding real-time news stories.
18. Infinity Search
Infinity Search requires an account to use the search engine, but this gives you access to an Anonymous Viewing mode which ensures all of your search activity remains private. Beyond that, the real benefit of using Infinity Search is that it allows you to search for the same queries across multiple content types, including recipes, academic resources, or media.
19. Oscobo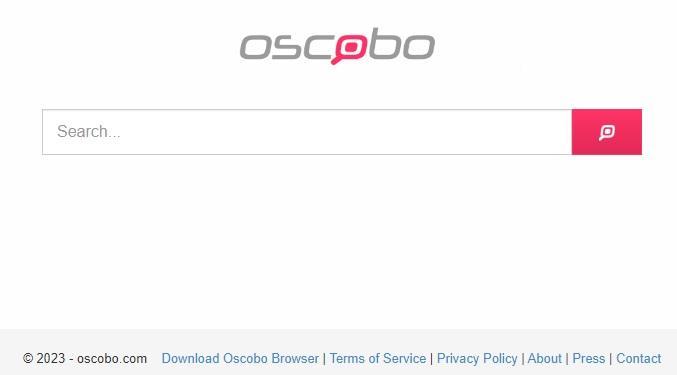 Oscobo is a fully self-reliant search engine, meaning it doesn't utilize any third-party tools which could potentially access or misuse your data. A beginner-friendly platform, Oscobo encrypts all search queries to deliver fast, accurate, and tracking-free results. 
20. Gigablast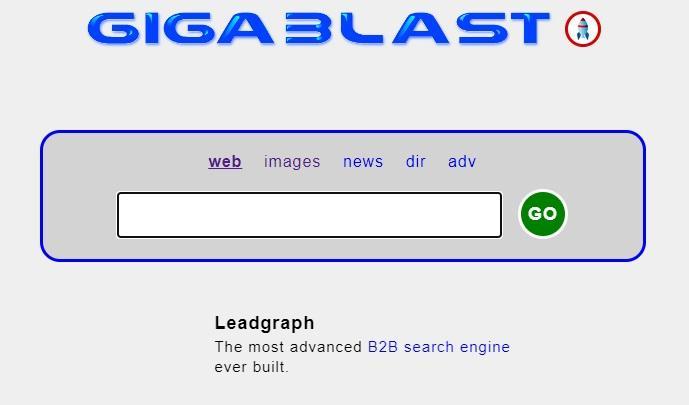 Gigablast is an open-source search engine that has provided fast, secure results since the turn of the millennium. Search logs are frequently deleted to prevent your search history from being traced, while advanced encryption prevents unauthorized access to your activity and personal data.
Don't be fooled by the dated look either; the retro aesthetic is deliberate and actually helps Gigablast deliver good results at lightning speed.
Top Anonymous Search Engines Chart
You can learn more about these search engines and how they compare to other popular Google search alternatives by visiting these pages: top 5 search engines list, top 10 search engines list, top 15 search engines list, top 20 search engines list, top 50 search engines list, and top 100 search engines list. Or by visiting this guide with only 
Private Search Engines That Don't Track You Summary
I hope you enjoyed this list of the best private search engines.
As you discovered, the top search engines that don't track you have their own unique features to keep your identity and search history private and secure. Feel free to cite and link to this comparison list of the most popular anonymous search engines in your own articles, blog posts, and online publications.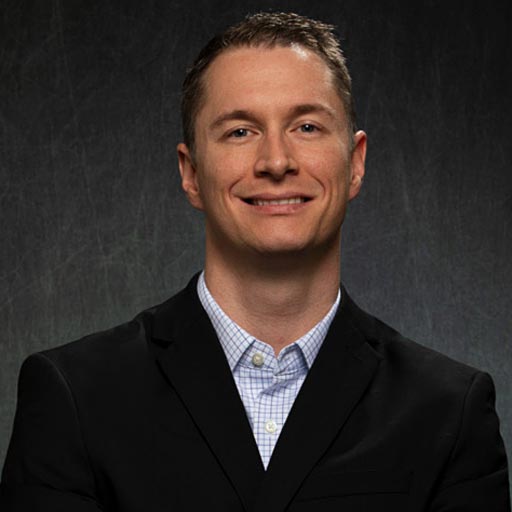 Stephen Hockman is an entrepreneur and founder of SEO Chatter. He specializes in search engine optimization and digital marketing and has been fascinated with SEO since 2005. His goal is to share the best tips and news about search engine marketing to help you get more website traffic.