In this guide, we'll answer the question, "what is SEO analysis?"
We'll also cover the important steps for how to do SEO analysis for a website so you can work to improve the keyword rankings and organic traffic.
The practice of analyzing a website for SEO is a good skill to have if you want to maximize your site's organic search visibility on Google, Yahoo, and Bing. So to top things off, you'll also find a list of tools you can use to perform search engine optimization analysis to help you speed up the process of checking a website.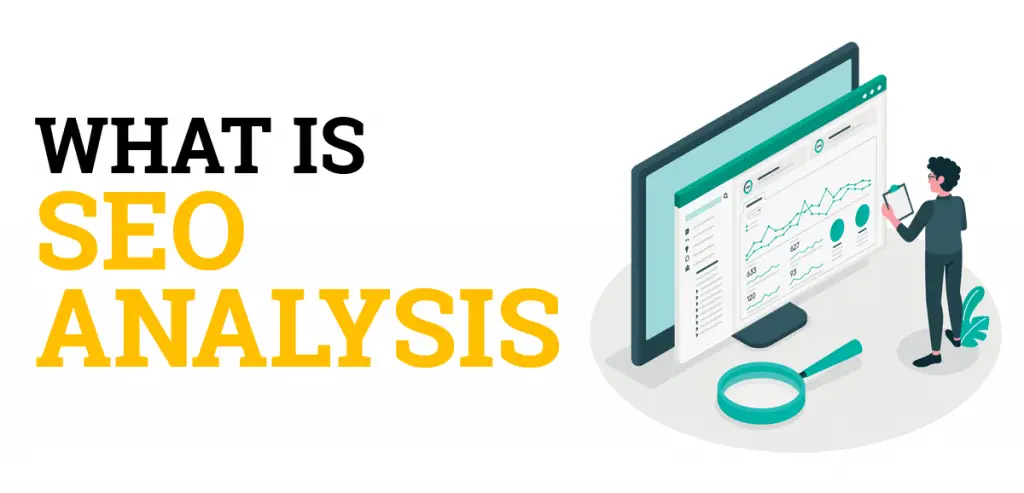 What Is SEO Analysis?
SEO analysis is the process of examining a website to understand how well it has been optimized. Performing SEO analysis helps identify opportunities for improving the website's rankings in search engines to capture more organic traffic.
Why Is SEO Analysis Important?
SEO analysis is important because it helps you make strategic decisions to improve your website's ranking in search engine results pages. The importance of SEO analysis is essential for building an effective SEO campaign to rank higher, get more traffic, and earn more conversions for relevant queries.
As you analyze SEO on a website, you'll be looking for important areas where you can improve your SEO strategies. The goal of SEO analysis is to identify the weakest pages on the site and make improvements to the on-page optimization and technical SEO factors.
By analyzing the SEO on your entire website, you'll discover the information you can need to make your existing content better for the Google algorithm to crawl and index higher for your target search queries.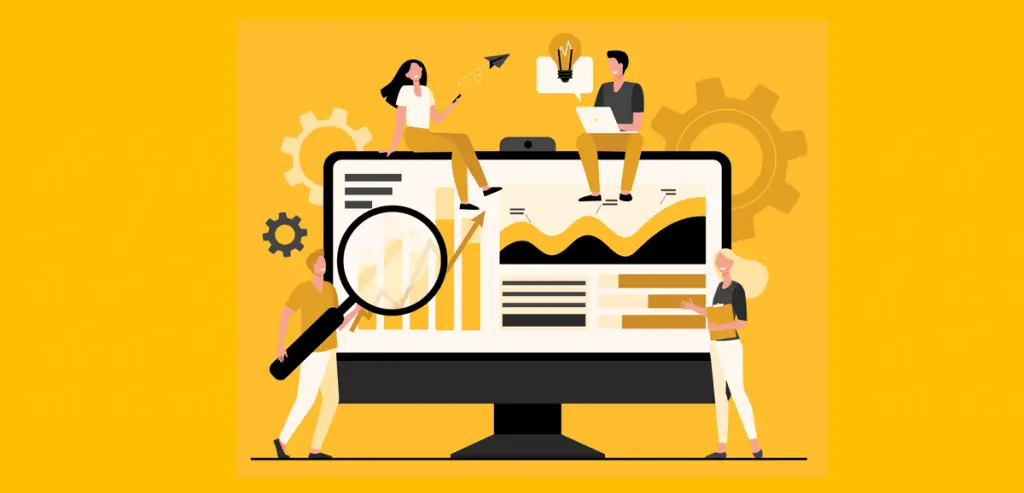 How to Do SEO Analysis for a Website
1. Analyze Your Website's Visibility On Google
The first step for how to do SEO analysis for a website is to analyze your site's organic search visibility on Google.
This is important because you need to find out how many of your pages are being indexed in the search engine results pages (SERPs) versus the number of published posts on your site.
The fact is that Google doesn't always index every single one of your pages. So it's good to know which pages are being suppressed before you move on to analyzing SEO throughout the rest of your site.
The simplest way to analyze your SEO visibility on Google is by typing this search operator with your domain into the search engine:
This search operator will return a list of all your pages that are currently indexed in Google Search. See the image below for an example of this in practice.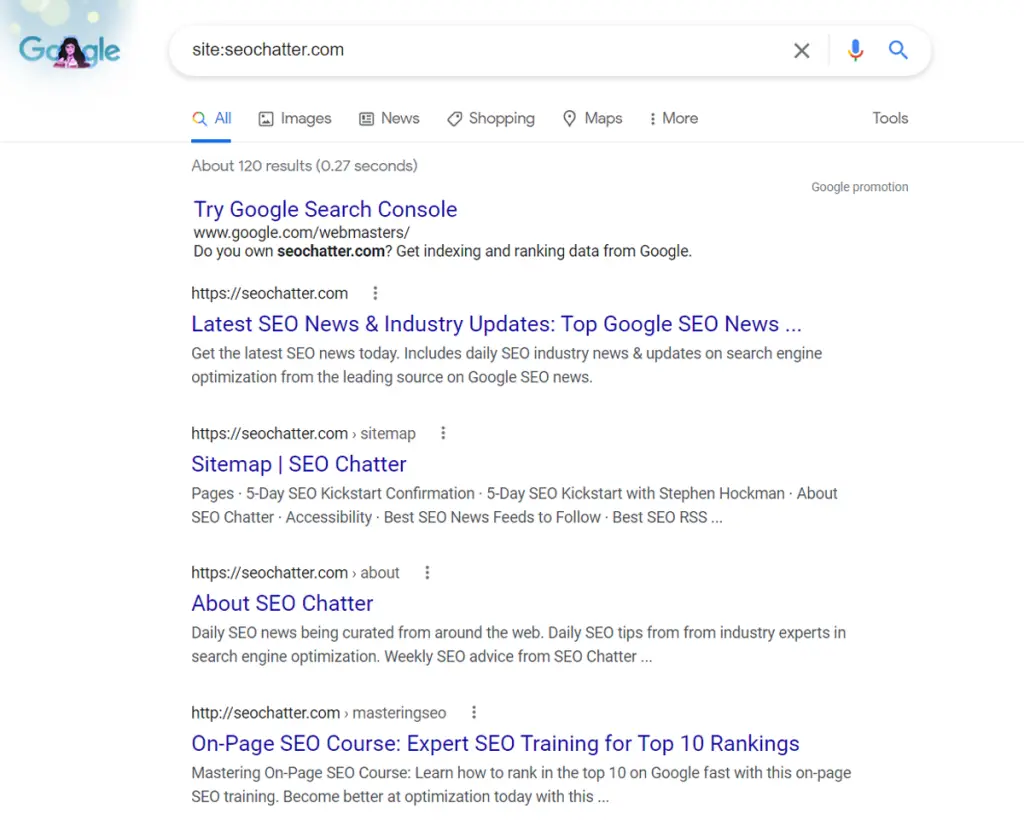 If there are more than 10 pages indexed, click on the "Next" button at the bottom of the search page until you get to the last page of the SERPs for your site. You'll instantly know how many of your pages are crawled and indexed in Google using this SEO analysis method.
If you see a fewer number of pages indexed in Google than published on your website, then you'll immediately know that there's an issue with the content or technical aspects of your site and you need to analyze the SEO further.
If the number of pages indexed closely matches the number of pages published, then you're in good standing for your overall search visibility. However, improvements can still be made to increase that visibility by following the next steps in the process for doing SEO analysis on a website.
2. Check Your Website's Rankings
Checking your website's rankings is the next thing you should analyze.
You can perform this analysis with a number of different SEO tools; both paid and free.
My favorite tool for doing a quick check on keyword rankings is KWFinder by Mangools (try it for free). It's one of the only SEO tools I recommend as an affiliate because it's cheap, yet powerful for keyword research and competitor SEO analysis.
Inside the tool, you can input your website's URL in the "Search by Domain" field and get a list of the keywords for your entire domain or individual pages. It also reports the current ranking position.
Below is an example of this SEO analysis tool in action for a specific URL on another popular site for search engine optimization: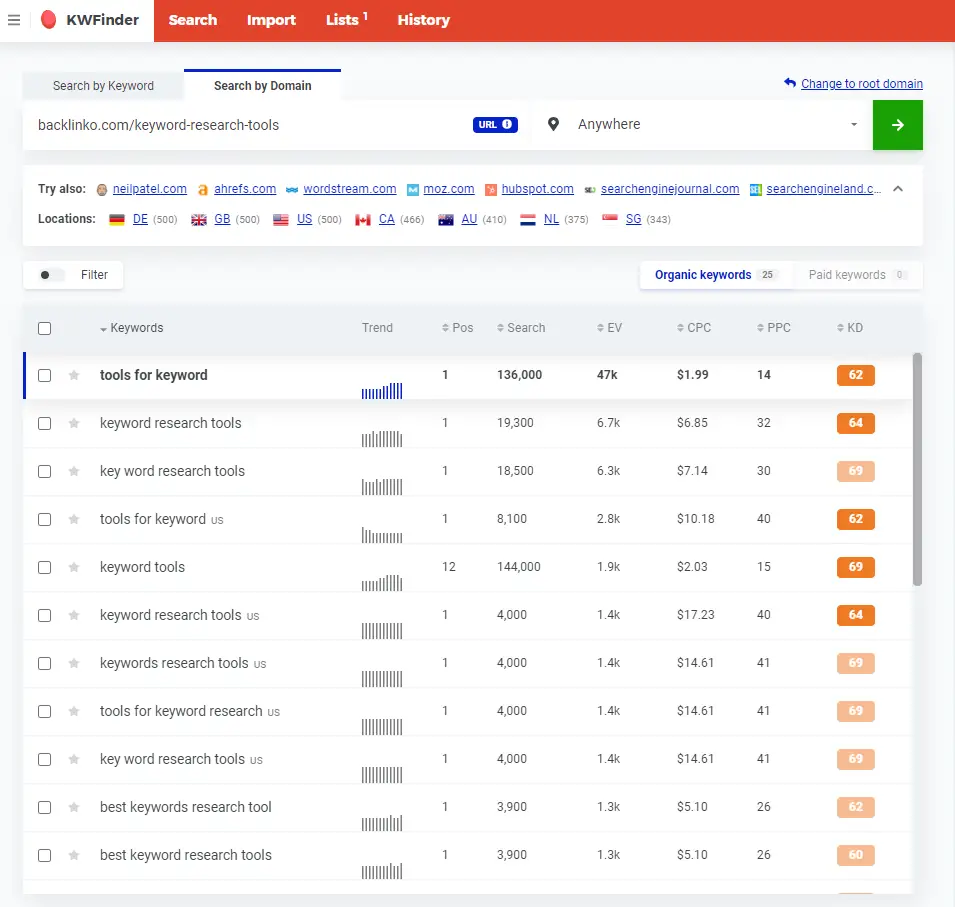 You can also get free website ranking data for your website in Google Search Console by following these steps:
Open Google Search Console.
Click on the "Performance" tab on the left sidebar.
Click on the "Pages" tab under the data chart.
Select a URL from the list to bring up data only for that page.
Click on the "Queries" tab to pull up the keywords Google is ranking the URL for.
At the top of the page, click on the "Average Position" box to activate it. The "Impressions" box should already be active. (You can toggle the "Total Clicks" and "Average CTR" boxes on and off too if you'd like to analyze those metrics.)
Scroll down to the "Queries" list to see the number of impressions and average positions for the keywords Google is tracking for the URL.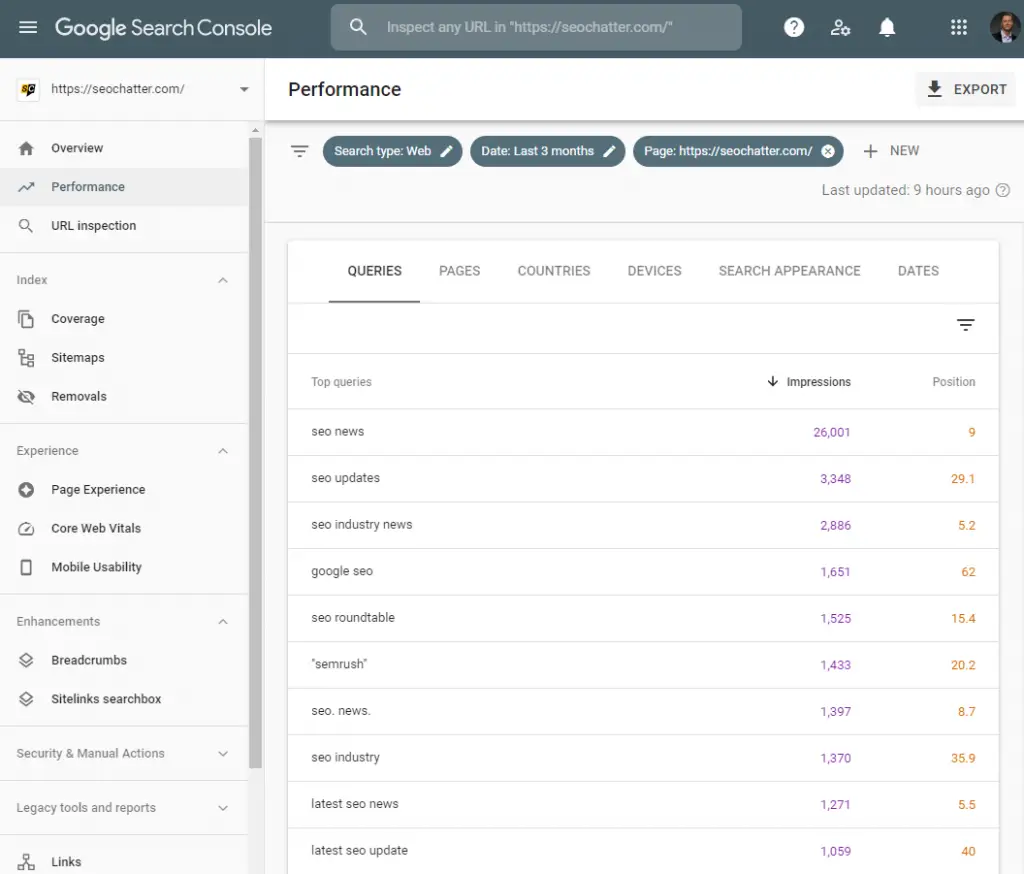 3. Perform SEO Analysis On Page Titles
Every web page should have a unique and optimized page title (also known as the meta title) because it's the top-ranking factor for on-page SEO.
It also plays an important role in your overall SEO score. See my guide on what is an SEO score for more details.
Go through your website and analyze each page title to ensure they meet these SEO criteria:
No more than 60 characters in length.
Main keyword appears first in the title (i.e. front-loaded).
Secondary keywords are added after the main keyword without repeating too many words.
Includes enticing language to attract higher click-through rates (CTR) on Google's search engine results pages for listing.
4. Audit the Meta Descriptions
An analysis of the meta descriptions is also important for SEO purposes.
While the meta description is not a direct ranking factor for Google's algorithm, it does impact how many users click on your listing in the SERPs because Google will bold the phrase if it matches the search query.
Therefore, you should include your main target keyword at the front of your meta description. Also, keep your meta description under 160 characters in length to avoid having part of it cut off in the SERP listing.
5. Review Your URLs
Your URLs should be optimized for your main keywords.
Review each page's URL for proper optimization and fix them where necessary.
When changing a URL on your website, make sure to create a 301 redirect from the old URL to the new URL so that you do not lose any inbound link SEO value. Also, be sure to update all internal links to the new URL so that an internal 301 redirect does not occur. (That's bad from a technical SEO perspective.)
A well-optimized URL will contain your main target keyword with dashes (-) separating each word.
For example, the URL for this guide on what is SEO analysis is simply:
You can easily tell what my target keyword phrase is by the structure of that optimized URL.
6. Analyze the H1 Website Headings
The H1 headings on your website are another key factor for on-page SEO and rankings. Therefore, a good analysis should be performed to ensure you're optimizing these headings the correct way.
Follow these SEO H1 tag best practices:
Front-load your primary keyword.
Include secondary keywords.
Keep it between 20 to 70 characters.
Only use one H1 tag on the page.
Copy your meta page title to make things easy for SEO.
7. Check for Keywords In the Content
Google's documentation on "How Search Works – Relevance" explicitly states how important keywords in the content are for ranking purposes:
"The most basic signal that information is relevant is when content contains the same keywords as your search query."
Having your keywords as an exact match phrase in the body content is important for getting ranked for relevant queries. Therefore, you should do a thorough SEO analysis for each page to check for the presence of your target keywords.
The best places to put your keywords in the content include:
In the introduction.
Throughout the middle of the page.
In the summary.
8. Inspect Your Images
Images are a good (and hidden) way to better optimize your content for Google. There are several image properties you can place your target keywords to improve the topical relevance for the page and to get your images to rank in Google Image Search for additional website traffic.
The areas for each image you should analyze for SEO and place your target keywords include:
Image ALT tag
Image filename
Image title attribute
Image metadata
By optimizing each of these locations for one image per target keyword per page, you can increase the overall SEO score for your content to help it rank for relevant search queries.
9. Check Your Internal Links
Internal linking on your website is a good practice for improving your search engine rankings and user experience.
Not only can you rank higher for certain keywords by optimizing your internal links, but you also help users find more relevant information to keep them on your site for longer periods of time.
Therefore, you should check the internal links on a website for the following criteria:
Each page receives at least one contextual internal link (this prevents pages from becoming "orphans" and not getting crawled by Google).
Your most important pages receive at least 5-10 internal links from other relevant pages.
The anchor text for internal links to a target page includes 3-4 different keywords you want the page to rank for.
The anchor text for each internal link is varied and not an exact match keyword duplicate for every instance.
By following those tips, you can avoid over-optimization for your internal links.
Two tools that can help you perform this SEO analysis for inspecting and creating optimized internal links include:
10. Look for Broken Links
Having a large number of broken internal or external links can cause a number of crawling and ranking issues.
So it's best to do an analysis of all links on your website to discover if any of them are broken and need to be fixed.
The previously mentioned Screaming Frog tool can help you with this process as well as the Broken Link Checker plugin.
11. Do SEO Analysis On Your Incoming Links
Incoming links, also known as inbound links or backlinks, are links to your website that come from other sites on the Internet.
Backlinks are an important factor to analyze for SEO because having a large number of poor-quality incoming links can cause Google's algorithm to devalue your content.
On the other hand, having high-quality inbound links serve as an indicator to search engines that your website is a trustworthy source for information, which can lead to higher rankings and traffic.
You can analyze the backlinks to your site using free and paid SEO tools to find out which websites across the Internet are linking to your content.
My favorite tool for this process is LinkMiner by Mangools (try it free). You can search for incoming links across your entire domain or for a specific URL with LinkMiner. It will also allow you to analyze key SEO metrics like Citation Flow, Trust Flow, Link Strength, NoFollow versus DoFollow, and more.
Below is an image of LinkMiner in action showing the current link profile for this website:
You can also get free inbound link data from Google Search Console. However, it's not always the most complete source of information. That's why a tool like LinkMiner is good to invest in if you're serious about doing SEO analysis for a website.
Here are the steps to follow to get the Google Search Console Data:
Open Google Search Console.
Click on the "Links" tab on the left sidebar.
Click on the "More" button under the "Top Linking Sites" box.
Scroll through the backlinks being reported by Google Search Console.
Click on a URL to inspect it and analyze which pages on your site are being linked to from that external website.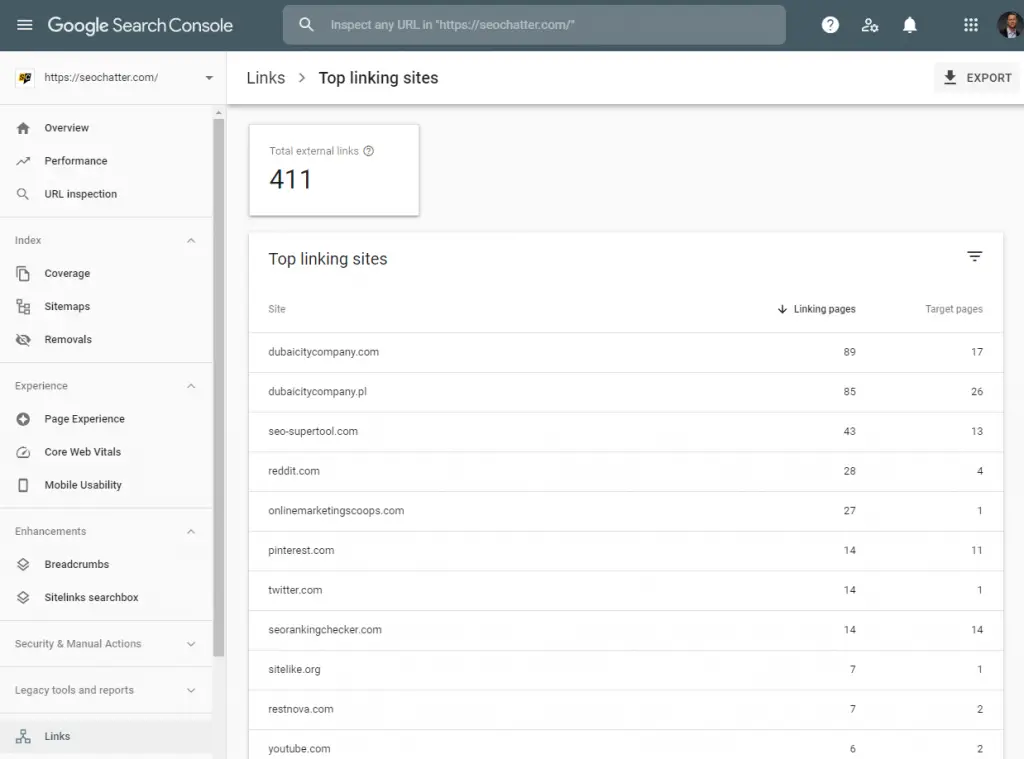 12. Analyze Your Spam Score
Moz created an SEO tool called "Link Explorer" that allows you to check your website's spam score.
According to Moz, "Within Link Explorer, Spam Score represents the percentage of sites with similar features to the site you're researching which we've found to be penalized or banned by Google. Spam Score is based on our machine learning model which identified 27 common features among the millions of banned or penalized sites in the data we fed it."
A score of 1%-30% is considered a Low Spam Score.
A score of 31%-60% is considered a Medium Spam Score.
A score of 61%-100% is considered a High Spam Score.
If your website has a high or medium spam score, then it's best to analyze your inbound links and try to eliminate as many of the bad links that are attributed to those scores.
To remove poor-quality backlinks, you can try two things:
Contact the webmaster and ask them to remove the link from their page.
Use Google's Disavow Tool to tell the algorithm to not count the links from questionable pages or domains that link to your website.
13. Check Your Page Speed
Page speed is now a Google ranking factor and should be part of your SEO analysis process. Therefore, analyzing the loading speed of every page on your website is an important factor to consider to improve your rankings and traffic.
You can test your page speeds and get in-depth analysis of the important metrics that can affect your SEO with Google's PageSpeed Insights tool.
14. Check If the Website Is Mobile-Friendly
Google uses mobile-first indexing where it predominantly uses the mobile version of the content for indexing and ranking.
Therefore, you must make sure that your website is adhering to good mobile SEO practices.
Do a deep analysis of the site as a whole and check for these things:
Responsive design
Fast page speeds
Correct viewport specified in the HTML code
Good mobile legibility
Good tap target sizes
No interstitial pop-ups
Structured data put in place where it matters
15. Check Google Search Console for Errors
A final step you should consider for how to do SEO analysis for a website is checking Google Search Console for coverage errors. Your website may have errors without you knowing it and this tool will help you discover them quickly so you can fix them.
Here are the steps to follow to get a list of Google Search Console Coverage Errors:
Open Google Search Console.
Click on the "Coverage" tab on the left sidebar.
Click on all of the boxes in the middle of the screen to activate the data: Errors, Valid with Warning, Valid, and Excluded.
Scroll through the "Details" list and click on each item that's reporting a questionable error. This will show you the URLs that are being affected so you can further analyze and fix the pages with SEO issues.
SEO Analysis Tools
There are a number of good SEO analysis tools you can use to inspect your website for search engine optimization improvements.
Content Gap Analysis: Analyze your content against the top-ranking competitors to identify topics and keywords you can better-optimize and write new content for.
Keywords Explorer: Find new keyword ideas, check the difficulty, and discover which keywords your website is ranking for.
Site Audit: Crawl your website to find SEO errors and warnings and get recommendations for how to fix them to improve site health and performance.
Audience Overlap Tool: Find competitor sites, run a competitive analysis, and uncover better ways to get in front of your audience.
Competitor Keyword Matrix:

Quickly discover opportunities to close the SEO gap between your site and the competitors.

On-Page SEO Checker: Get an easy-to-follow list of action items to maximize the results of your SEO content.
SEO Audit Tool: Find and fix technical issues that keep your website from ranking.
Website Traffic Statistics: Includes Alexa Rank, engagement metrics, and referral sources.
Core Web Vitals: Analyze which URLs have good page speed metrics and which need improvements.
Coverage: Discover errors and warnings that are affecting your website's ranking performance and search engine visibility.
Links: View internal and external links to your site as well as the top linked pages.
Mobile Usability: Find out which URLs have mobile issues.
URL Inspection: Inspect any URL in your domain to check its performance and indexing status.
(Visit this link to see more free Google SEO tools.)
Performance: Calculates page size, page requests, page speed, browser caching, compression, and more.
Mobile: Checks mobile compatibility for ranking purposes.
SEO: Checks basic on-page SEO locations for proper optimization.
KWFinder: Helps you find new keywords to target and analyze them for ranking difficulty.
LinkMiner: Lets you inspect the backlinks for your own website or a competitor's site.
SERPChecker: Allows you to quickly check the search engine results page for any keyword phrase.
SERPWatcher: Tracks your website ranking positions for target keywords.
SiteProfiler: Gives you an overview of top metrics for any URL, including domain authority, page authority, citation flow, trust flow, referring domains, top content, closest competitors, and more.
Backlink History Checker: Analyze the inbound links over time.
Clique Hunter: Find low-hanging fruit for link building.
Search Explorer: Inspect the page titles and URLs that have a specific keyword in them.
Keyword Explorer: Check top-performing keywords based on difficulty and volume.
On-Page Optimization: 

Get on-page SEO tips based on the top-ranking competitor URLs.

Link Explorer: Measure and track your website's backlinks and most valuable pages.
Site Crawl: Analyze technical SEO issues that affect crawlability of your site and get recommendations on how to fix them.
Broken Link Finder: Crawl your website to find broken internal and external links.
Page Titles and Meta Data Analyzer: Check all page titles and meta descriptions to find duplicates and discover which are too long or too short for SEO.
Domain vs. Domain: Compare your website against other sites to get performance and ranking insights for SEO improvements.
Keyword Magic Tool: An SEO tool that can help you find good keywords to target for new content.
On-Page SEO Checker: Analyze on-page SEO factors and get recommendations for improvements.
Site Audit: Analyze and monitor your site health to locate SEO issues that need to be fixed.
Keyword Research:

Get keyword ideas with quality, traffic, and PPC analytics.

Link Audit and Analysis: Assess your link profile, check every link's SEO value, and evaluate penalty risks.
Site Audit: Easily spot all tech and SEO issues that are holding your rankings back.
SEO Analysis Summary
I hope you enjoyed this guide on what is SEO analysis.
As you discovered, the process for how to do SEO analysis for a website is not too complex. It just requires a few steps to perform to ensure you're analyzing and fixing the most important areas on your site for better search engine optimization.
There are also a number of tools you can use to quickly check and analyze a website for SEO and get suggestions on what to fix to rank higher in the search engines for your target keywords.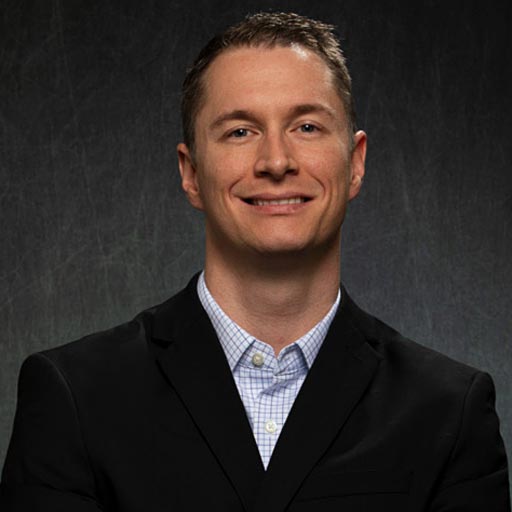 Stephen Hockman is an entrepreneur and founder of SEO Chatter. He specializes in search engine optimization and digital marketing and has been fascinated with SEO since 2005. His goal is to share the best tips and news about search engine marketing to help you get more website traffic.