In this article, we'll answer the question, "what is SEO writing?"
But we'll also cover more than just the definition and meaning for what is SEO content writing.
We'll also discuss the importance of SEO based content writing and give you some actionable SEO article writing tips to help your pages rank higher in the search engines.
By the end, you'll know how to explain SEO writing to others and use it to improve the visibility for your website in the search engines.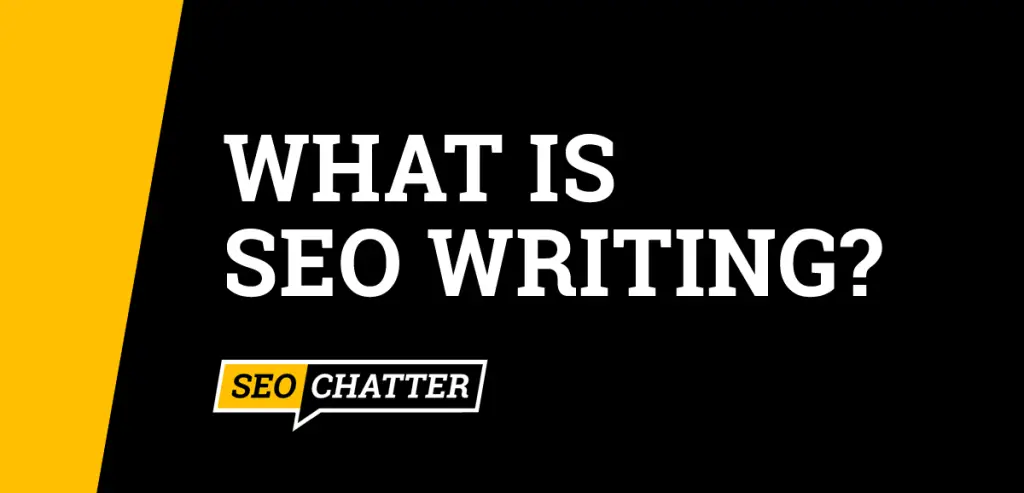 What Is SEO Writing?
SEO writing is the process of researching, writing, and optimizing articles to rank in search engines. SEO writing uses keywords in the content to improve relevance for search queries in Google, Yahoo, and Bing. Search engine optimization writing is a technical skill that increases traffic to a website.
What Is SEO Content Writing?
SEO content writing is the process of writing content for SEO. An SEO content writer plans, outlines, and drafts articles for a website. An SEO content writing job is focused on writing articles that rank for specific keywords in the search engines and meet the search intent of the user.
What Is SEO Writing Important?
SEO writing is important because it increases organic search visibility, rankings, and traffic for a website. The Google algorithm looks for important words at particular places on your web page or blog post to determine the relevance to search queries. SEO writing is an important strategy for online businesses.
What Is an SEO Writer?
An SEO writer understands search engine optimization and knows how to write content that ranks for target keywords. SEO writers are are experts in technical writing that is informative, compelling, and relevant for the search query. A good SEO writer can research, outline, create, and optimize content for search engines.
Keep in mind that an SEO writer is different than an SEO copywriter who uses persuasive language in the copy. See my article on what is an SEO copywriter to read more about the differences.
Below, we'll go over SEO article writing tips. If you want to learn more about what is SEO strategy, I have a post on that as well.
SEO Article Writing Tips
1. Choose 2-3 Keywords for Each Article
The first step in SEO article writing is to choose your target keywords for the content.
It's best to pick at least 2-3 related keywords for every piece of SEO content you write so you can maximize visibility in the search engines.
For example, this page is targeting these three keywords phrases:
what is SEO writing
what is SEO content writing
what is SEO article writing
Although the terms are slightly different, there are several websites ranking in Google for each variation. That means it's important for this article to target all three keyword phrases within the SEO based content.
You can find related terms like this by using a keyword research tool like KWFinder by Mangools (try it for free). It's one of the only SEO tools I recommend as an affiliate because it's cheap, yet powerful for keyword research.
With KWFinder, you can type in a seed keyword and get a list of other related terms people are actively searching for on Google. This takes the guesswork out of finding good organic keywords to target in your SEO writing.
The image below shows an example of how I found the related keywords for this article using KWFinder. And by clustering them together on one page, I can improve the organic search traffic for all of them.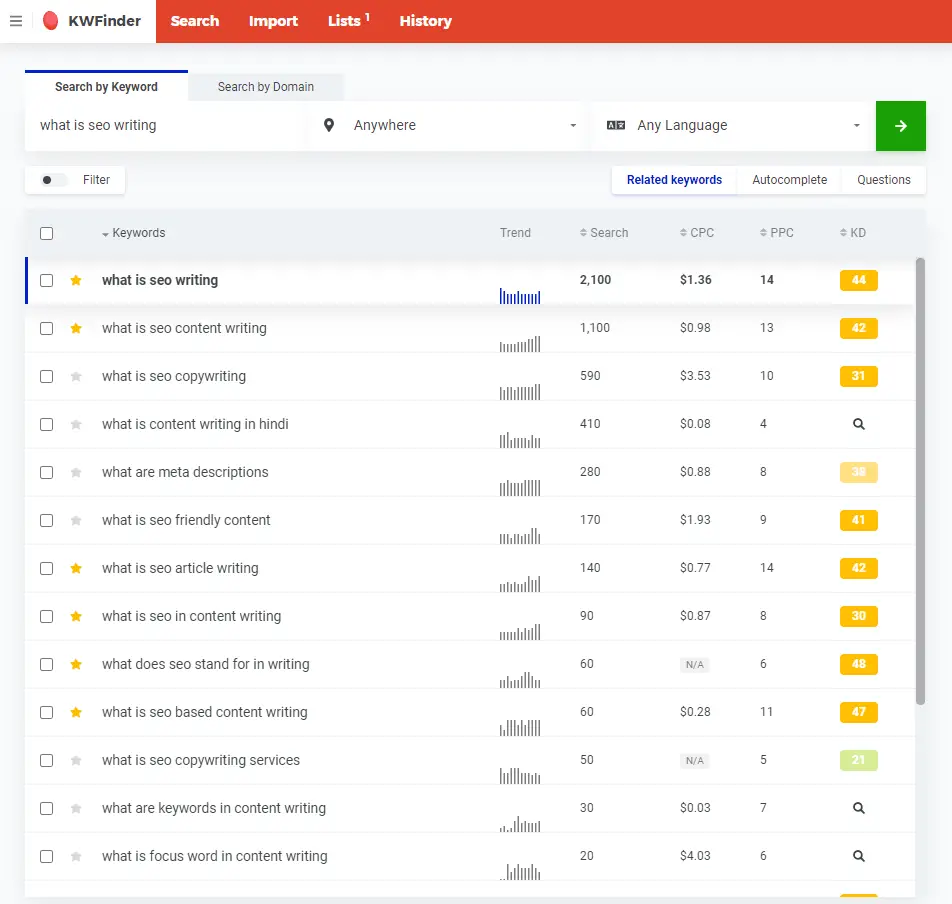 2. Study the Competition for Content Ideas
After you selected your target keywords for the page, there are two ways you can approach your SEO content writing.
Guessing at what to write about.
Studying the competition for ideas to write your article.
The first option is a bad choice because you could end up wasting a lot of valuable time writing an article that doesn't give Google's algorithm the content it wants to see on the page.
The second option is the better choice because you can take clues from the sites that are already ranking high in the search engine. These competitors are clearly satisfying the needs of the algorithm to get into those top positions.
Spend a few minutes analyzing the top 3-5 competitors to see what type of content they're including on the page. Look for overlapping sections and be sure to include the same information in your SEO article.
Working this way will ensure that you're meeting the search intent of the user without having to guess what they want.
3. Outline the SEO Article
The next step for SEO in writing is to create the outline for the content.
After analyzing your competitors, you should have a clear idea of the common types of content that are being written about on those sites. There's always a pattern to be found here.
Once you have those ideas gathered, start writing the headlines for each major section you're going to be covering in the SEO based content and put them in H2 tags. This will create the SEO outline for your article.
I used this exact same process to outline this SEO article here. Nothing on this page was written by chance. I got all of the ideas for each section from the top 5 ranking competitors.
If you scroll back up to the top of the page and open the table of contents, you'll see the complete outline for the article. I used H2 tags for the main sections and H3 tags for supporting sections, like this #3 SEO article writing tip.
Use that structure as a guide for your SEO content.
4. Write the Content
After the outline is complete, the next step is to write the actual content for the page.
Fill in each section by writing comprehensive content. And make it better than the top-ranking competitors giving the reader everything they need to know under each heading.
The more in depth you go, the better is for ranking.
Also, longer content tends to outrank short content, and it gives you more SEO opportunities to insert your target keywords as well as increases the total number of search queries your page ranks for.
5. Add Related Words While Writing
Once your first draft is complete, go back into the article and add related words to improve the topical authority for the page.
Examples of this include synonyms and relevant words for the main topic.
This is a key step when doing SEO article writing that many people do not know about and often hurts their rankings. SEO based content that lacks synonyms and relevant words indicates that it was not written by an authority on the subject and Google can detect this.
A classic example to illustrate this point is an article written about Apple, Inc.
Well-optimized content for a page on this topic would include words like mac, iPhone, iPad, technology, electronics, software, computer, etc. If the article didn't have those words, then the page could have a tougher time ranking for its target keywords.
Also, the inclusion of those synonyms and relevant words helps Google understand that the page is about Apple, the company, and not an apple, the fruit.
After writing this guide on SEO content writing, I went back in and added in synonyms and relevant words like these below to fill out the content to boost topical relevance to help it rank higher:
search engine optimization
on-page SEO
article writing
content writing
keywords
queries
algorithm
Google
Yahoo
Bing
optimize
articles
written
writer
research
outline
job
links
6. Optimize the Article for SEO
After your content is fully written, the next step is to optimize the article for SEO.
In my Mastering On-Page SEO course, I explain how to perfectly optimize any page for specific keywords. I also reveal the top ranking factors for Google.
On-page SEO is a tricky subject, but you can get some fast results by adding your keyword to a few elements on the page and in the HTML code.
I'll share a few of those locations below to help you get started with your content:
Header Tags
Body Content
Image Attributes
Just keep in mind that each of these areas must be optimized in a specific way. Otherwise, you may over or under-optimized for your target keywords, which can make it more difficult to rank.
If you want to master the art of on-page SEO, I encourage you to check out my course. No one else teaches this strategy in such a comprehensive manner in the same way that I do.
7. Optimize the Title Tag
In addition to doing good SEO in writing, you also have to optimize the meta title tag for the page.
This is an HTML element that Google pulls to display for your article in the search engine results pages (SERP) that people click on the visit your web page.
You want to optimize the title tag for both SEO and click-through rates.
For SEO writing, you'll need to put your main target keyword at the beginning of this field and also try to include the secondary keywords where they sound natural. Keep the title tag between 60-65 words so it doesn't get cut off in the SERPs when Google displays it.
As for increasing the click-through rates for your listing, you'll want to add enticing language to the title tag and create curiosity if you can. The more you can encourage people to click on your listing versus the competition, the more Google will see this as a positive signal and increase your rankings for the query.
Note: This step is also important for SEO analysis to improve the rankings for existing content. See my guide on what is SEO analysis for more details.
8. Write a Good Meta Description
The meta description is another HTML field that is pulled by Google to display under your listing.
Some people ignore the meta description because it's not a direct ranking factor. However, Google highly recommends writing a good meta description in its SEO Starter Guide for the following reason:
"Description meta tags are important because Google might use them as snippets for your pages. Note that we say 'might' because Google may choose to use a relevant section of your page's visible text if it does a good job of matching up with a user's query. Adding description meta tags to each of your pages is always a good practice in case Google cannot find a good selection of text to use in the snippet."
Therefore, you should always optimize your meta description for SEO writing and to get more clicks.
Include as many of your target keywords as possible without it sounding unnatural. And use language that entices the searcher to want to click on your listing.
Take clues from the top-ranking pages on Google for your target keywords to know how to optimize it well for SEO and clicks. You can get good ideas and examples right from the SERPs.
9. Add Internal Links to Relevant Content
As explained in this other guide on how to write an SEO friendly article, internal links are beneficial for both your users and the search engines so it's important to include them when you're doing SEO content writing.
Internal links are good for users because they help people find related content on your website. They're also good for search engines because they help the web crawler find and index more content on your site.
Aim for at least 3-5 internal links spread throughout the article. But try to add as many internal links as you can when writing your SEO content. The more, the better.
10. Include External Links to Authoritative Sources
Although Google claims that linking out to quality sites is not a direct ranking factor, the company has also made statements that it can impact your search engine performance.
Additionally, SEO case studies like the one from Reboot Online Marketing show that linking out to relevant, authoritative sites can result in a positive effect on rankings and visibility.
In many ways, Google's algorithm seems to trust sites less when they link to spammy or low-quality sites and parts of the ranking system encourages links to authoritative or high-quality sites.
Therefore, when you're writing SEO content, it's best to always include external links to authoritative sources. An easy way to do that is by citing websites that rank high in the search engines to back up your data and claims in the article.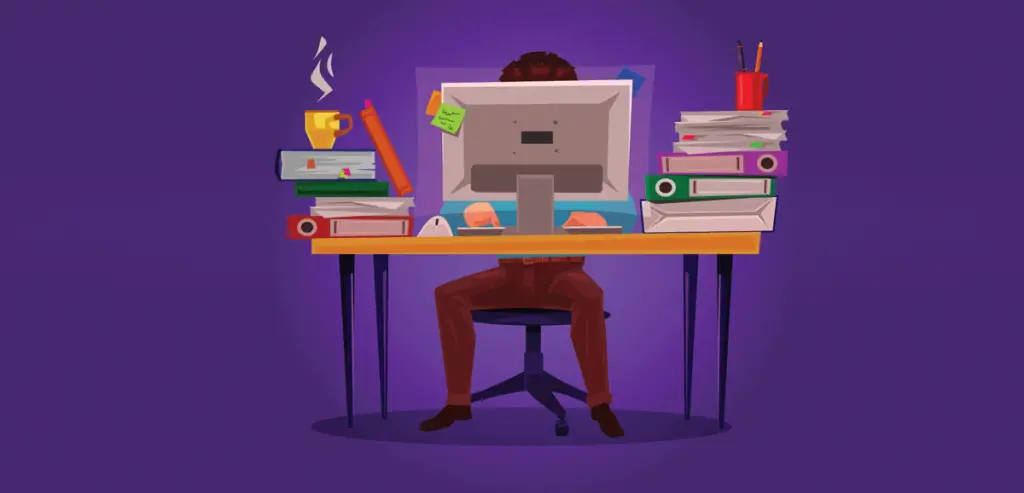 SEO Writing Summary
I hope you enjoyed this guide on what is SEO writing.
As you discovered, the basic idea behind SEO content writing is combining article research, writing, and optimization to rank content higher in the search engines.
And SEO article writing is easily accomplished when you follow a proven process for outlining and drafting your written content for a website using the tips given in on this page.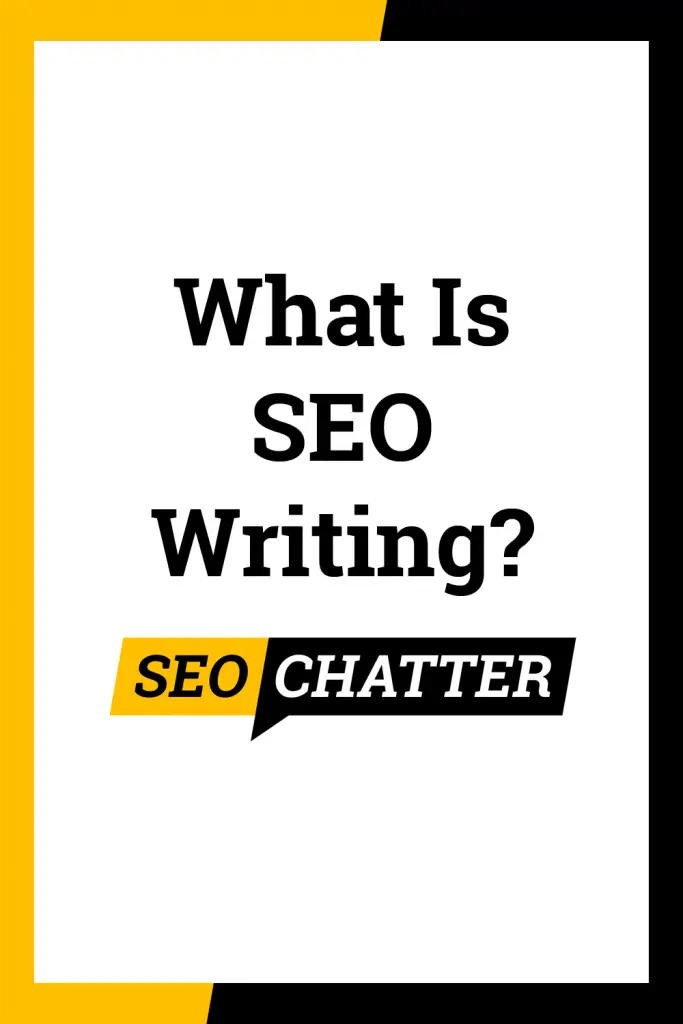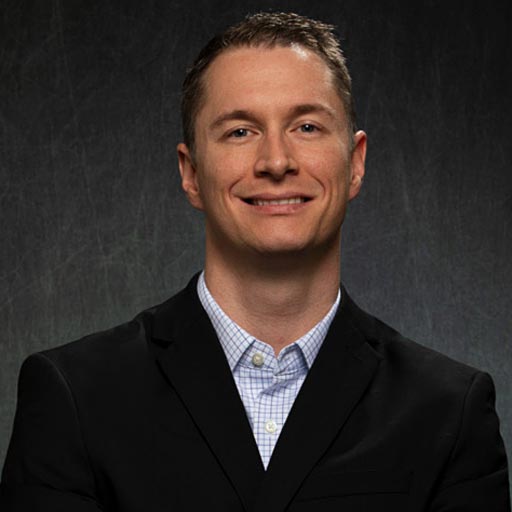 I'm the creator of SEO Chatter. I've been fascinated with SEO since 2005 and have spent most of my waking hours consuming SEO content from the top professionals in this field. My goal is to share the best tips and news about search engine optimization so you can get more traffic to your website.