Semrush and Google Analytics are two of the most popular web analytics tools for digital marketing specialists.
But what exactly is the difference between Semrush vs Google Analytics? And how do you know which service to use for website analysis to improve your search engine optimization (SEO) for higher rankings and traffic?
In this post, we'll look at the difference between Google Analytics and Semrush so you can understand how these digital marketing tools work. By the end, you'll know which service to pick for your needs and budget: Semrush or Google Analytics.
Consider this your complete guide on Google Analytics vs Semrush for SEO and digital marketing success.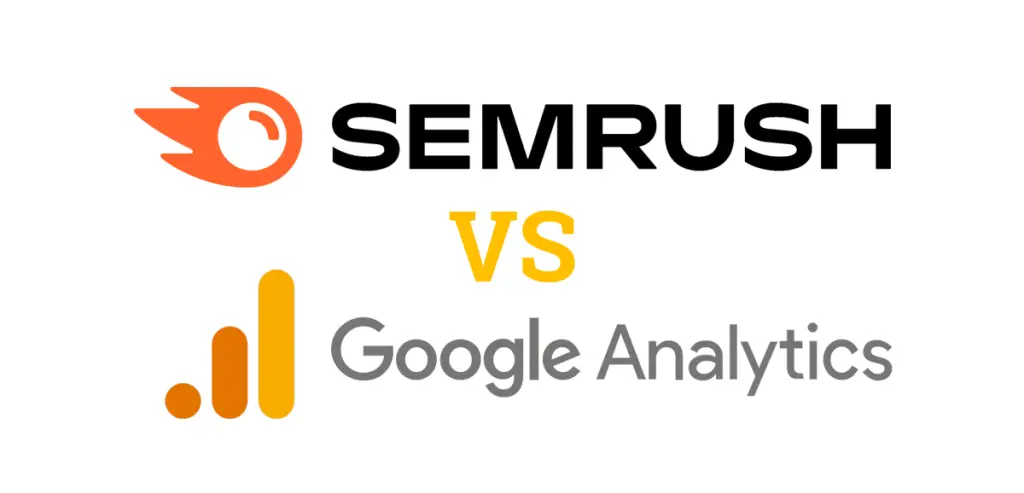 Semrush vs Google Analytics
The main difference between Semrush and Google Analytics is that Semrush is an external service for studying another company's website while Google Analytics is an internal service for studying your own website. Semrush combines data from consumers, Google, and third parties to provide insights for any website.
Difference Between Semrush and Google Analytics Comparison Chart
Here's a quick overview and side-by-side comparison between Semrush and Google Analytics. If you're looking for something more in-depth, then keep reading the rest of this guide.
| Criteria | Semrush | Google Analytics |
| --- | --- | --- |
| Price | $119.95/month and up | Free |
| Purpose | Track and measure SEO, PPC, SMM, and PR campaigns | Track website traffic and visitor data |
| Keyword Analysis | Yes | No |
| Backlink Analysis | Yes | No |
| Competitor Analysis | Yes | No |
| SEO Recommendations | Yes | No |
| Real-Time Traffic Reporting | No | Yes |
| Customer Support | Yes | No |
What Is Semrush?
Semrush is an all-in-one digital marketing tool for improving online visibility for your website and discovering marketing insights for competitor websites. Semrush includes software for SEO, PPC, SMM, PR, keyword research, content marketing, campaign management, and competitive research.
You can try Semrush for free here with my affiliate link to see what it can do for you. I only earn a commission if you upgrade to a paid plan at no extra charge to you.
What Is Google Analytics?
Google Analytics is a web analytics service that helps users identify trends in how visitors engage with their websites. Google Analytics tracks website activity such as session duration, pages per session, bounce rate, acquisition channels, conversions, demographics, and visitor technology, along with the information on the traffic source.
You can get started with Google Analytics here. It's free to use for any website.
Now that know what Semrush and Google Analytics are, the next section will cover the top advantages and disadvantages of these digital marketing tools.
Semrush Pros and Cons
Pros of Semrush
All-in-one digital marketing service with more than 50 tools.
Allows you to gain SEO, PPC, and SMM insights for any website domain.
Includes a keyword gap tool to help you find common keywords shared by your competitors and to discover missing opportunities for creating new content for your website.
Includes a backlink gap analysis tool for finding backlink patterns and gaps among your competitors so you can try to acquire the same high-quality backlinks for your website.

The SEO content template feature

helps you quickly create content briefs that allow writers to craft better-optimized SEO articles.
The

keyword magic tool analyzes keyword topics and reports the estimated search volume, user intent, keyword difficulty, CPC values, competition level, SERP features, keyword variations, and more

to help you find good terms to target.
The position tracking tool lets you track the daily keyword rankings for a target website.
The social media management tools let you schedule posts, track performance, and create, launch, manage and optimize ads.
Excelllent customer support.
Free Semrush Sensor tool for tracking SERP volatility in Google. Personal Semrush Sensor scores allow you to calculate the volatility for a set of keywords you have set up in the Position Tracking section.
See this related guide on How to Do Keyword Research In Semrush if you want to learn how it can be used to generate more organic search traffic for your website using a variety of SEO keyword research techniques.
Cons of Semrush
Not a free service.
The minimum price for Semrush is $119.95 per month for the Pro plan.
The trends feature costs an extra $200 per month for each user to gain access to traffic analytics and market explorer tools for analyzing your competitors' marketing strategies across all key channels.
Historical data can only be accessed by upgrading to the Guru plan at $229.95 per month.
Some features are only available as part of projects and Semrush limits the number of projects you can run based on your subscription plan.
Traffic insights and keyword analysis data for competitor websites are not 100% accurate because they are based on estimations using proprietory data collection methods (i.e., data is not taken directly from the domain like it is with Google Analytics).
Website traffic data is not reported in real-time.
Based on the advantages and disadvantages listed above, if Semrush sounds like an SEO marketing tool you want to use, then you can try Semrush for free here with my affiliate link.
Google Analytics Pros and Cons
Pros of Google Analytics
Free to use (the top advantage of Google Analytics vs Semrush).
Simple to set up for any domain.
Provides reports for acquisition, engagement, monetization, and retention.
Provides demographic details and technology details for your website visitors.
Can be connected to Google Search Console to report keyword data such as organic search queries, impressions, click-through rates, and average search position on Google.

Can manage multiple website properties under the same account.

Shows you real-time traffic data.
Lets you track custom events like downloads, link clicks, form submissions, etc.
Gives you the ability to track conversions to goals (e.g., purchases, downloads, and signups).
Is close to being 100% accurate for the website being tracked because the data comes directly from Google (See the related con below).
Note: A paid version of Google Analytics is also available for enterprise-level businesses. See these related guides on Google Analytics Pricing for more details.
Cons of Google Analytics
Only allows insights for domains you own or have administrator access to.
Only good for tracking and measuring SEO data. Does not provide any recommendations for improving on-page SEO or off-page SEO strategies for your website.
Google Universal Analytics will be discontinued in July, 2023 and Google Analytics 4 will not provide historical data for that service.
Does not provide organic keyword traffic data by default. You must connect Google Search Console to get access to that data in the dashboard.
Limited sampling of user data for some reporting features. This means only a portion of your website's data is analyzed for reporting and then applied to all visitors. For example, the average time on page does not take into account every single visitor but only a small percentage of users, which means the reported data is not 100% accurate.
No customer support.
Even though Google Analytics does not have as many advantages as Semrush, every website owner should still set up a free Google Analytics account because the data it provides is very useful for guiding your on-page and off-page SEO strategies. You can get started with Google Analytics here. Additionally, you can learn how to get certified in Google Analytics if you want to add an official certification to your list of career qualifications.
How Does Semrush Gather Analytics Data?
According to Semrush, it gathers website analytics data using its own machine learning algorithms and trusted data providers to present the data in its databases. The data in the Semrush Traffic Analytics and Market Explorer tools comes from a unique panel of more than 200 million real Internet users in over 190 countries and regions.
How Does Google Analytics Gather Data?
Google Analytics gathers website analytics through the use of page tags. A JavaScript tag is inserted into the HTML code of each web page. This tag runs in the browser of each website visitor to collect user data and sends it to one of Google's data collection servers, which is then reported in the Google Analytics dashboard for the tracked website.
Is Semrush Better Than Google Analytics?
Semrush is better than Google Analytics for doing competitor research and studying your own websites to make better decisions for SEO, PPC, SMM, PR, keyword research, content marketing, link building, and campaign management. Google Analytics is only good for tracking and measuring traffic data on your own website.
When choosing between Semrush or Google Analytics, you should consider how much analysis you want to do for your website and its associated marketing campaigns as well as the depth of competitor research you want to perform.
If you want an all-in-one tool for tracking, measuring, and comparing your website content and its marketing campaigns to your competition, then Semrush would be a better choice. In that case, I invite you to try Semrush for free here with my affiliate link. However, if you only want to track and measure web analytics data for your own site, then Google Analytics would be a good option to use.
Does Semrush Integrate with Google Analytics?
Semrush does integrate with Google Analytics and by connecting your website's Google Analytics account to Semrush, you can analyze all of your website's data from one central location. Semrush also integrates with Google Search Console to pull in that data for analysis.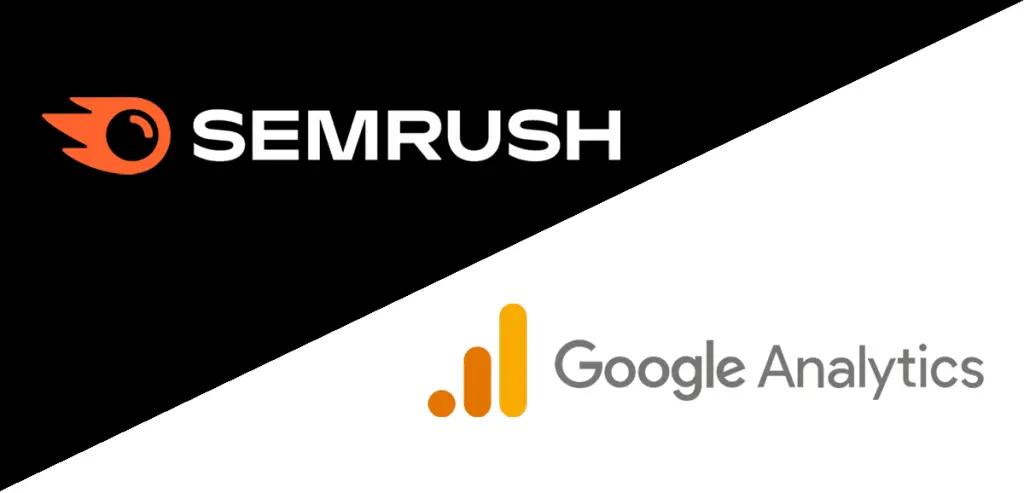 Semrush vs Google Analytics Summary
I hope you enjoyed this post on Semrush vs Google Analytics.
As you discovered, the main difference between Semrush and Google Analytics is that Semrush is an external service tracking and measuring the performance of another company's website and while Google Analytics is an internal service for studying your own website. However, both digital marketing tools can be beneficial when used together for SEO analysis.
If you're trying to decide which service to use: Semrush or Google Analytics, then it's best to figure out what the current goals are for your business. If getting the widest range of digital marketing insights, competitor research, and website analysis is most important, then choose Semrush. But if only tracking and measuring visitor data for your website is of greater importance, then choose Google Analytics.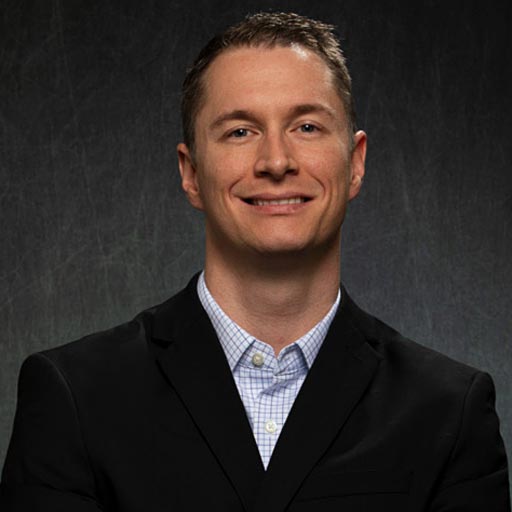 Stephen Hockman is an entrepreneur and founder of SEO Chatter. He specializes in search engine optimization and digital marketing and has been fascinated with SEO since 2005. His goal is to share the best tips and news about search engine marketing to help you get more website traffic.