What is the Semrush Sensor? And how does it work?
This guide will teach you everything you need to know about the Semrush Sensor that was developed by the Semrush company, including complete details behind the Semrush SERP volatility categories, how the Sensor scores are measured, and more.
Consider this your ultimate guide to Semrush Sensor for tracking Google algorithm updates.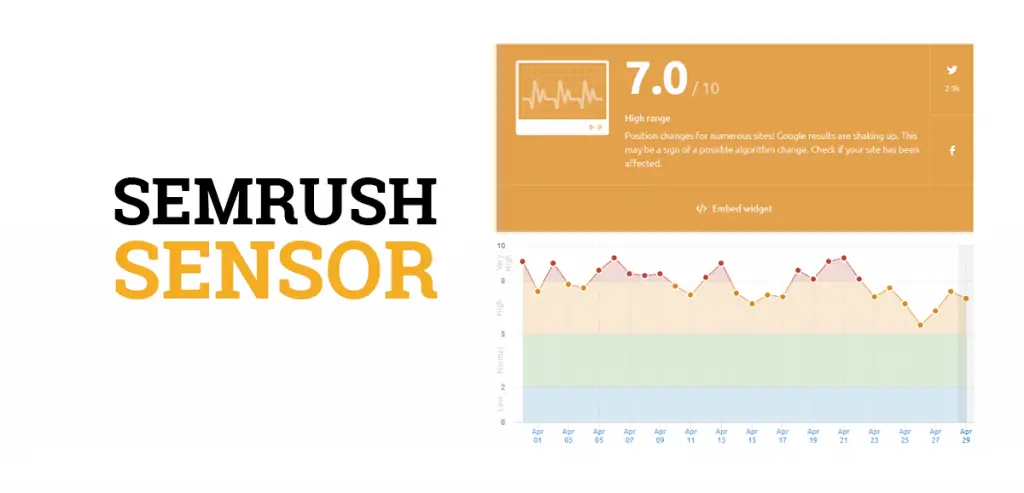 What Is Semrush Sensor?
The Semrush Sensor tracks volatility in Google's search engine algorithm by measuring millions of keywords in the index. Semrush Sensor scores are based on daily changes in SERP rankings and reported on a scale of 0-10 to indicate how much change is happening each day.
You can check the Semrush Sensor here or keep reading below to understand how this tool works to track Google ranking algorithm updates and SERP volatility, and the method it uses to calculate the score.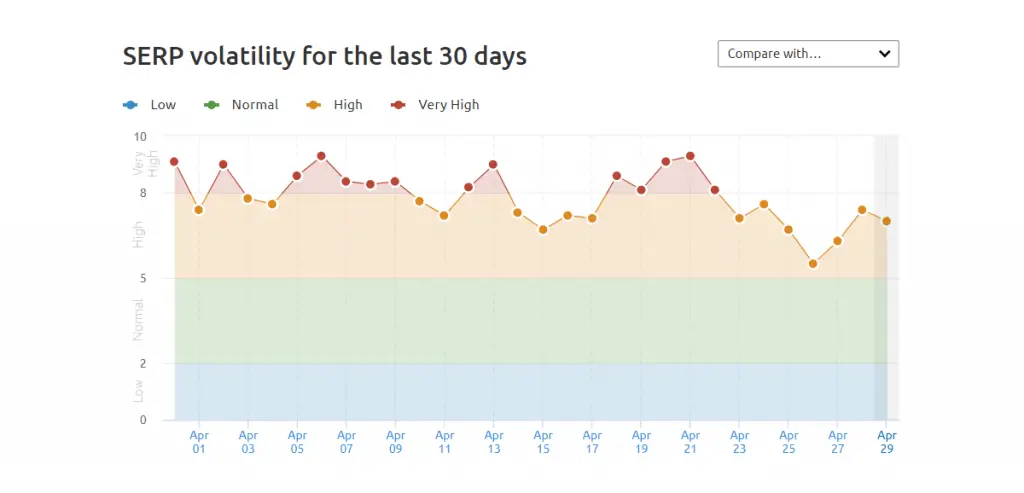 Semrush SERP Volatility
Semrush SERP volatility is measured across 25 categories and reports global position changes for websites ranking in Google's search results on a daily basis and the last 30 days. The Semrush SERP volatility also tracks the percentage of SERPS where specific features appear in the top 20 results.
The higher the Semrush SERP volatility score is, the more likely an algorithm update is being introduced by Google.
SERP Volatility Categories
Arts & Entertainment
Autos & Vehicles
Beauty & Fitness
Books & Literature
Business & Industrial
Computers & Electronics
Finance
Food & Drink
Games
Health
Hobbies & Leisure
Home & Garden
Internet & Telecom
Jobs & Education
Law & Government
News
Online Communities
People & Society
Pets & Animals
Real Estate
Reference
Science
Shopping
Sports
Travel
Semrush is one of the best SEO tools for serious website owners who want an all-in-one platform for SEO, content marketing, competitor research, PPC, and social media marketing. It's one of the few softwares I promote as an affiliate because it's that good. I invite you to my affiliate link here to try Semrush for free to see what it can do for you.
SERP Features Occurrence
Semrush's Sensor also tracks day-to-day changes in specific SERP features. Volatility is reported as a percentage of SERPS where a change is happening to specific features that appear in the top 20 results.
Featured snippet
Local pack
Shopping results
Knowledge panel
Top stories
Instant answer
Top ads
Bottom ads
Carousel
Featured Video
People Also Ask
Site links
Images
No SERP Features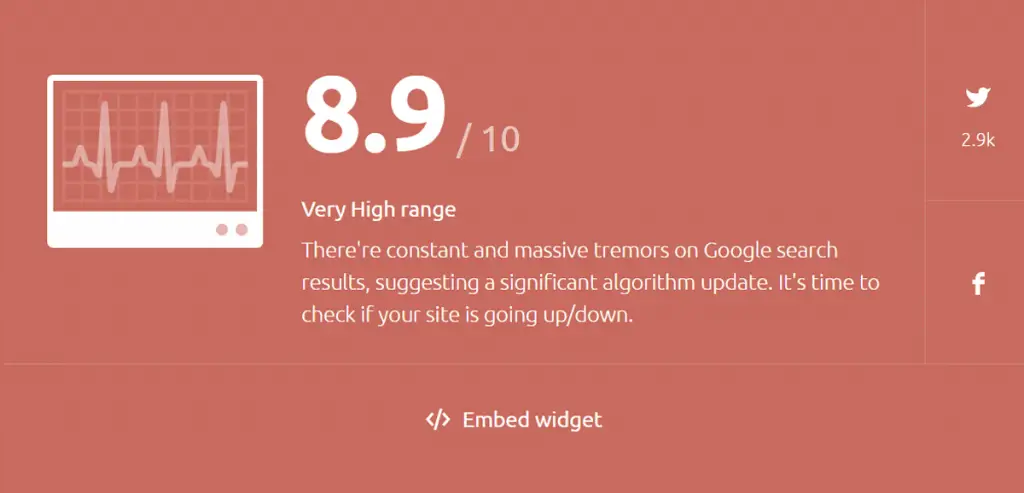 Semrush Sensor Score
The Semrush Sensor score is based on a 10-point scale:
0-2 is considered low
2-5 is normal
5-8 is high
8-10 is very high
For example, a Semrush Sensor score between 0 to 4 means it's an ordinary day with the Google SERPs. Although some websites may experience rankings changes, it's most likely because these sites are being updated or the backlink profile is changing in a positive or negative way.
If the Semrush Sensor score is 5 or higher, then the tool is detecting a significant change in Google's search results pages. The ranking positions have changed for numerous sites in the index and this could be a sign of an algorithm change.
How Is Semrush Sensor Score Calculated?
The Semrush Sensor score is calculated with a proprietary formula that checks the changes in search results for a fixed set of keywords on a daily basis. According to Semrush, "For each keyword, we do a per-item comparison of 'today's' results vs 'yesterday's' results. We measure how much has changed in a day using Levenshtein distance (as a basis) and normalization."
The total value of the Semrush Sensor score reflects the total SERP volatility for the day. If the score is high (5-8) or very high (9-10), then there are a lot of ranking position changes happening in the Google SERPs. This indicates that an algorithm update is occurring or a set of penalties has been put into place for offending websites.
Therefore, you may see a significant change in your website's rankings in Google's search engine; either positive or negative. However, it's not always guaranteed your site will be affected by this change in volatility.
Checking Your Website With the Semrush Sensor
If you have a Semrush account, then you can check your website's Semrush Sensor score by clicking on the "Personal Score" tab that appears on the main Sensor dashboard. If you don't have an account set up yet, then you can enter your domain into the tracking field and click the "Try It" button to register.
I invite you to my affiliate link here to try Semrush for free to test out all of the features. Personal Semrush Sensor scores allow you to calculate the volatility for a set of keywords you have set up in the "Position Tracking" section. To get the most accurate data, you'll want to have a large set of keywords in these campaigns.
Semrush Sensor Deviations
The Semrush Sensor dashboard has a tab called "Deviations". Deviations are calculated as the difference between volatility for a certain day and average monthly volatility. This feature shows you which of the tracked categories were unstable (i.e., deviating) from the average volatility score for the category.
Semrush Sensor Winners and Losers
Another tab on the Semrush Sensor dashboard reports the "Winners and Losers" for the day. This data comes from domains that are tracked by the Sensor and you can use it to research which domains are suffering the most during a Google algorithm update.
Getting Sensor Notifications
If you'd like to get Sensor notifications without having to visit the Semrush website, you can click on the "Subscribe to Notifications" button at the top of the dashboard to sign up for these alerts. (See image below.)
There are two options for Sensor notifications:
Email
Browser push notifications
After choosing your preferred notification method, Semrush will notify you about any significant fluctuations in rankings based on the Sensor data. As mentioned previously, I invite you to my affiliate link here to try Semrush for free to find out all the ways this tool can help you grow your business online.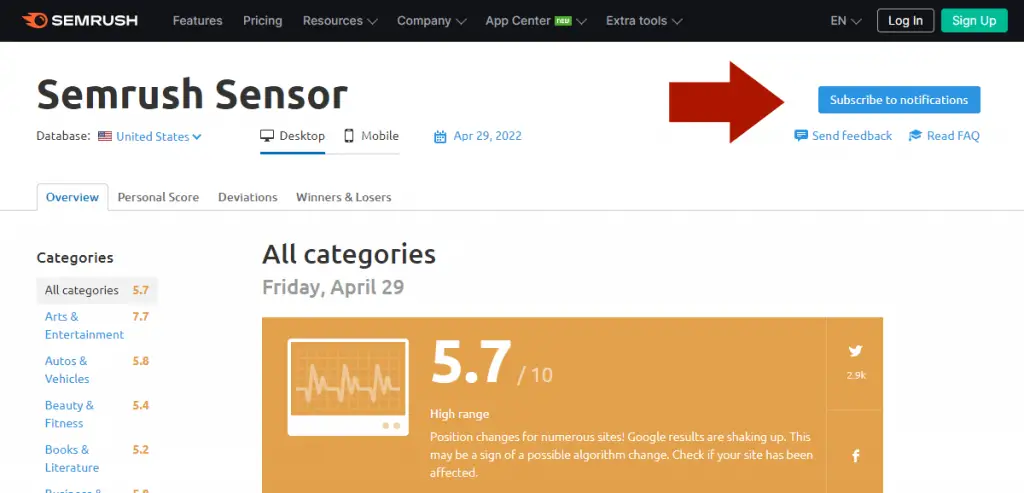 Now that you understand how the Semrush Sensor works and all of the advantages it offers, you may be interested in learning more about the difference between Semrush vs Google Analytics. Both Semrush and Google Analytics are popular web analytics tools for digital marketing specialists so it's good to know how they compare.
You may also want to check out my tutorial on How to Do Keyword Research In Semrush to generate more organic search traffic for your website using a variety of Semrush SEO keyword research techniques.
Semrush Sensor Summary
I hope you enjoyed this guide on the Semrush Sensor.
As you discovered, the Semrush SERP volatility changes are measured across 25 categories and 14 SERP features to give you the best estimate on a potential Google algorithm update. The Semrush Sensor score is also an important metric to check each day to know if global ranking position changes are high or low for specific industries or across the entire Internet.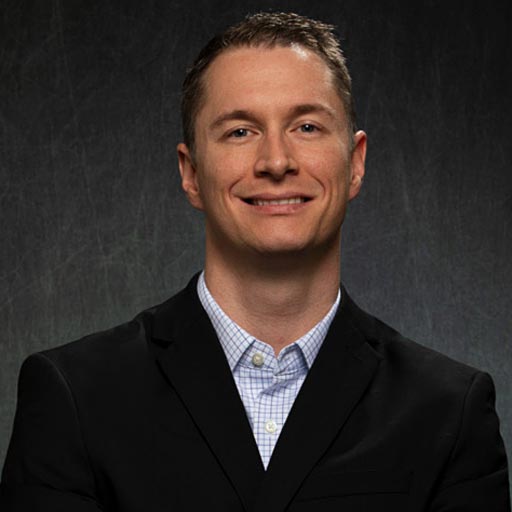 Stephen Hockman is an entrepreneur and founder of SEO Chatter. He specializes in search engine optimization and digital marketing and has been fascinated with SEO since 2005. His goal is to share the best tips and news about search engine marketing to help you get more website traffic.