In this article, you'll learn all about Quora SEO.
In particular, you'll get a complete Quora SEO strategy you can use to help your content rank higher on the social media platform itself and in the search engine results pages (SERPs) on Google, Yahoo, and Bing for your target keywords.
The ultimate goal of this digital marketing guide is to give you a list of proven methods for search engine optimization to increase the visibility of your content, build more quality backlinks to your website or blog, and create awareness for your brand where it counts most: on Quora and in the search engines.
After you're done reading this page, you'll know the best ways for using Quora for SEO to improve your website's domain authority and page authority metrics as well as get your content found by more Quora users on the platform.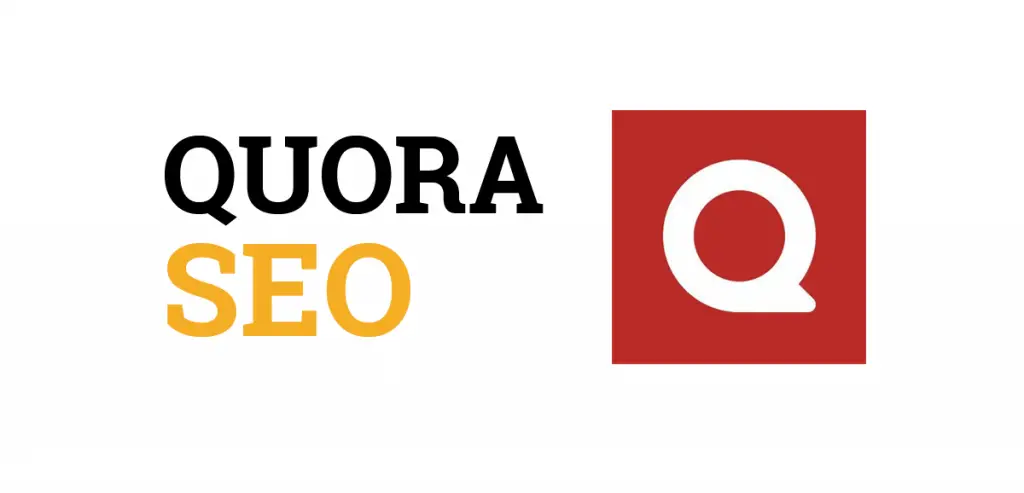 What Is Quora SEO?
Quora SEO is the process of optimizing Quora content to rank higher in the search engines and on the Quora platform for more users to find relevant content. A good Quora SEO strategy will increase both visibility for your brand and the number of quality backlinks to your website.
Is Quora Good for SEO?
Quora is good for SEO because it helps you do keyword research, boosts your site's SEO metrics, and the results from Quora can rank very well in the search engines. Quora is also good for SEO because you can add contextual backlinks that help search engines crawl and index your content.
Quora has a high domain authority and published articles can rank high in search engines for target keywords to help your business capture more SERP visibility. By using the combined power of SEO and Quora, you can increase the number of people who find your content on the social media platform and through search engines like Google, Yahoo, and Bing.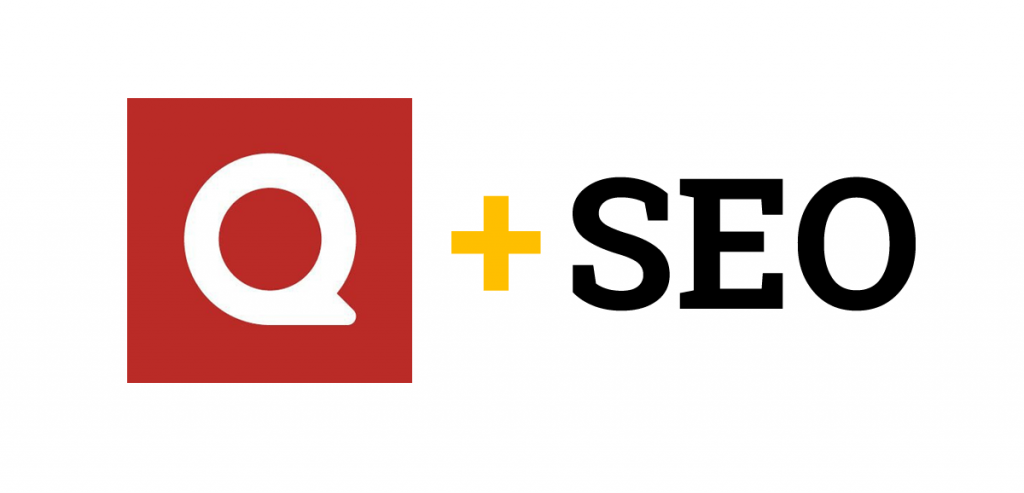 Quora SEO Strategy
1. Consider Keywords for Your Display Name
The first step in your Quora SEO strategy begins with your display name.
If you want to maximize the potential of ranking your personal profile on Quora for your main keyword phrases, then you should consider adding one or two to your display name.
Quora's search engine allows users to filter by "Type", and one of those types is "Profiles". By including a keyword in your display name, you can potentially rank your profile on Quora for that term.
You can edit your Quora display name by going to your personal profile page, then hovering over your name. An "Edit" button will appear for you to click on the change the display name text.
As you can see in the first image below, this method of SEO on Quora has been used a lot for the phrase "link building". There are numerous accounts that have optimized for this keyword phrase in the display name because it works.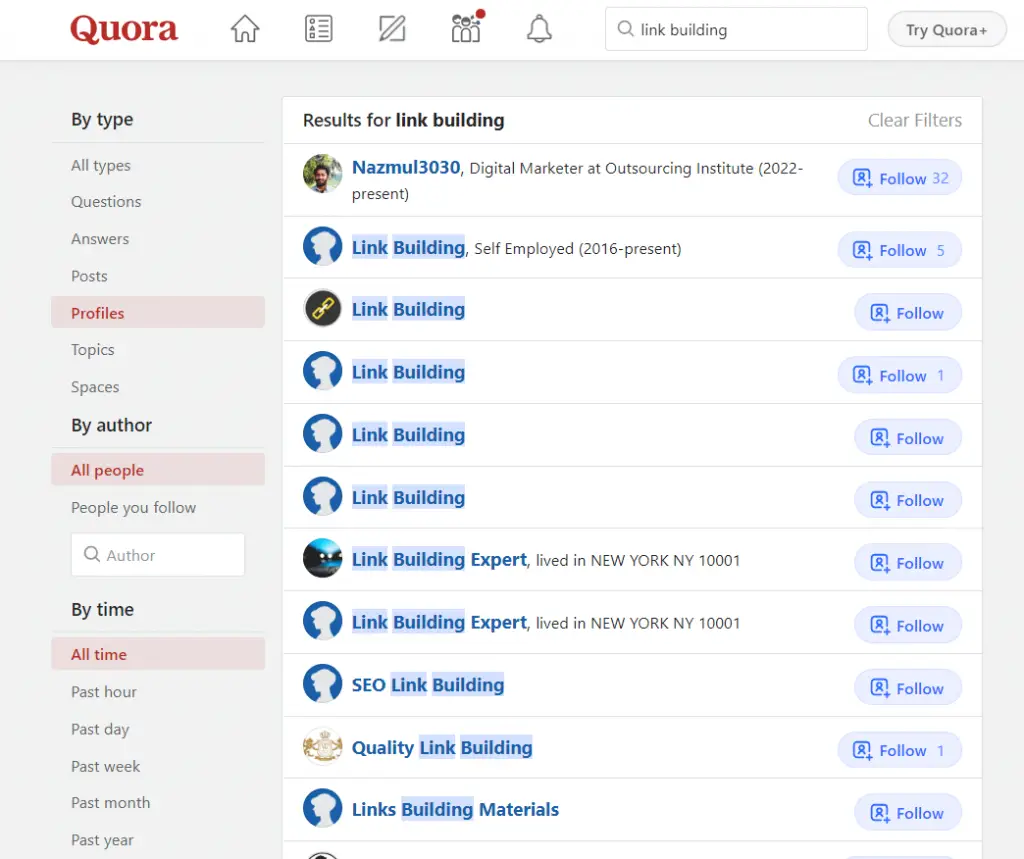 Due to so many other accounts optimizing for that exact match keyword phrase, it would be better to choose something else that's less competitive like "link building tips", which currently has zero profile results as you can see in the image below.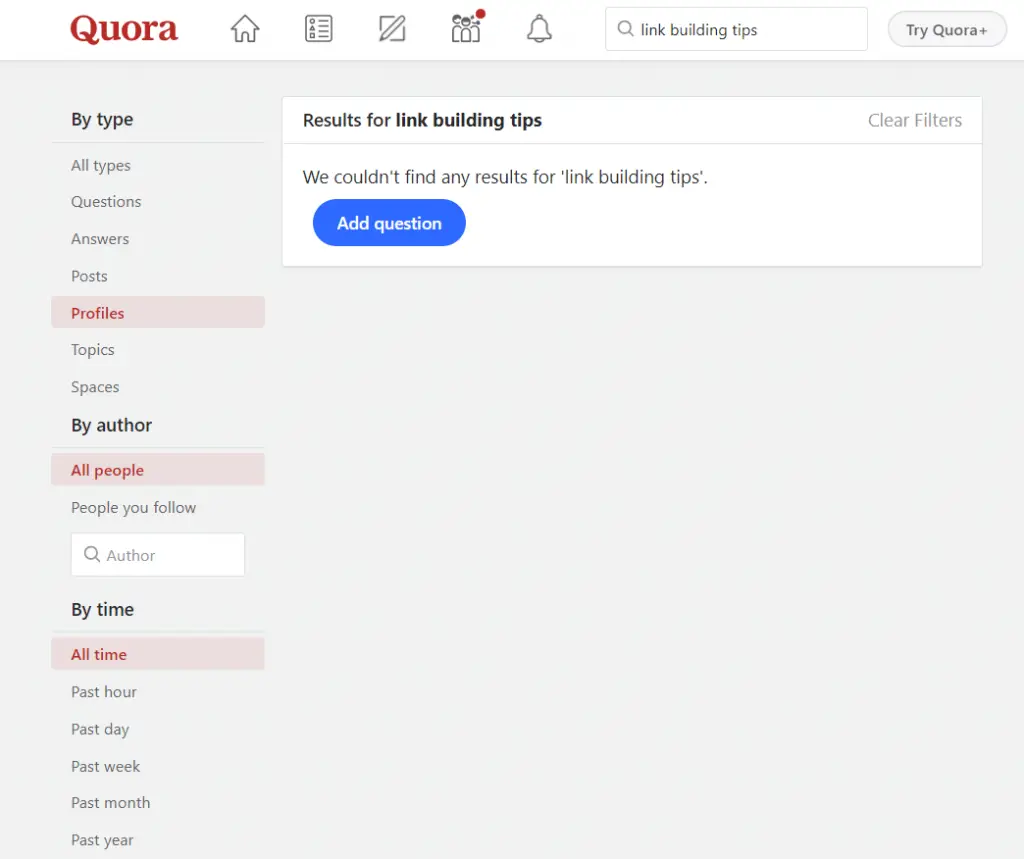 2. Put SEO Keywords In Your Quora Profile Credential
The next step for doing SEO on Quora is to add keywords to your profile credential.
This is important because each time you answer a question on Quora, your customized credential will appear below your display name. This helps users on the platform understand what your areas of expertise are and can encourage more people to click on your profile to learn more about you and view your content.
To customize your profile credential, go to your personal account page, then hover over the credential section below your name. An "Edit" button will appear for you to click on the change your credential text to anything you'd like. Also, make sure to select the "Default" button so this customized text appears under your name in your Quora answers.
As you can see in the image below, I've optimized my Quora profile credential for the keyword phrase "SEO tips".

3. Optimize Your Bio for SEO
Another quick way to use Quora for SEO is to optimize your bio to include your main keywords.
You can edit your Quora bio by going to your personal profile page, then hovering over the bio section. An "Edit" button will appear for you to click on the change the bio text.
As you can see in the image below, I've optimized my Quora bio for several keywords, including SEO tips, search engine optimization, keyword research, link building, and on-page SEO.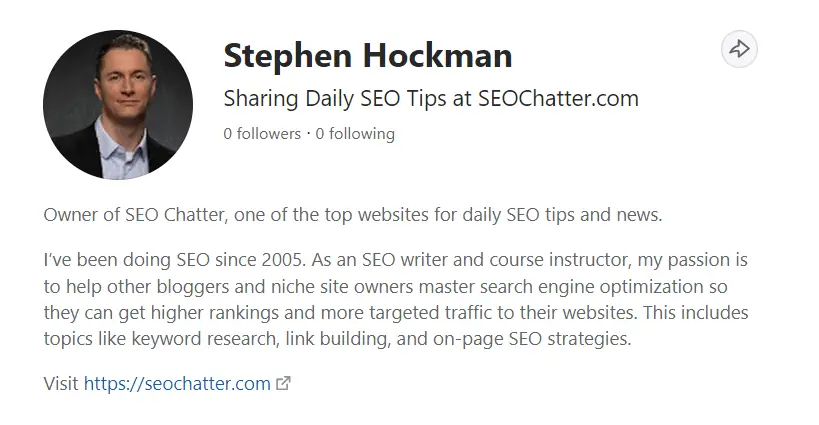 4. Create and Answer Your Own Questions
Many people don't know this but you can ask your own questions anonymously on Quora and then answer them for SEO purposes.
In fact, Quora even recommends this strategy as a best practice by stating:
If you know the correct answer to a question, you should post it — whether or not you are the original poster (OP) of the question. This is true whether you know the answer from the start (i.e., at the time you posted the question) or learned it later.
Along the same lines, users are encouraged to (1) add questions that they know the answer to and then (2) answer these questions immediately.
What's also great about this Quora SEO technique is that your questions will get indexed in Google's search engine and can rank for target keywords. This strategy can be combined with tips #10 and #11 below for maximum impact on search engine optimization and driving quality traffic to your website.
5. Create New Keyword Topics On Quora
Quora has another popular filter type for its users to find relevant content on the platform by sorting its search engine results by "Topics". And you can use this Quora SEO feature to help your content get found by more users on the platform.
When you ask your own questions on Quora there are two ways you can add topics to a question:
When adding a new question, one of the steps is topic selection. As you go through the process, Quora will allow you to add your own topics which you can optimize for SEO keywords.
Once a question is added to Quora, you can add topics by going to the question's page, and selecting the "…" menu located under the question text. Then, select "Edit Topics" from the drop-down list to start adding your own keyword-optimized topics.
6. Include Keywords In Your Answers
If you're serious about using Quora for SEO, then you need to make it a practice to include your target keywords in your answers. You also need to put those keywords as close as possible to the beginning of your answers and repeat them several times throughout the content in a natural way.
Following that strategy can help your answers rank higher on Quora for those keyword phrases when people filter the results by "Answers". Another key compontent here to the Quora ranking algorigthm is the number of upvotes your answers get. You want to provide the best and most in-depth answers so your content gets the most upvotes for a question to help it rank higher in the search engine.
As you can see in the image below, the answers that contain the phrase "on-page SEO" closest to the beginning of the answer along with two instances of it in the first few sentences of the text are ranking the highest for that phrase. These answers also have the most upvotes for their associated questions.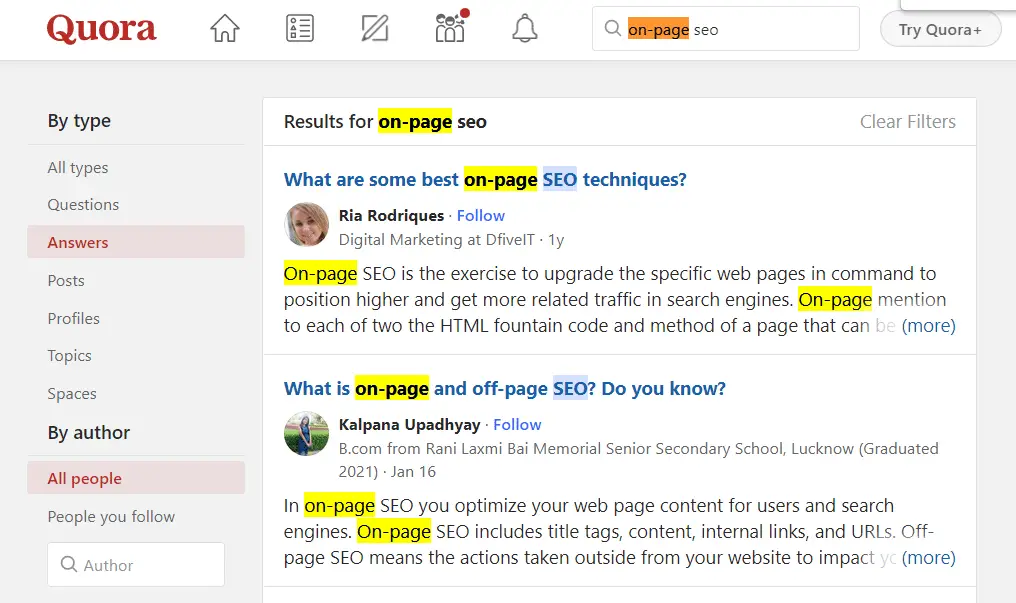 7. Create Quora Spaces for SEO
The next step for getting the most out of your Quora profile is to create Quora Spaces that are focused on your target keywords.
You can think of your Quora Spaces as mini content clusters that are highly optimized for SEO. What you want to do here are three things:
Create a keyword-optimized Space name.
Add posts to the Space that are also optimized for the same keyword.
Include backlinks in the posts to relevant URLs on your website.
As mentioned in previous tips of this Quora SEO guide, the platform allows users to sort its search results pages (SERPs) by various categories with one of them being "Spaces". Therefore, you want to optimize your Spaces the best you can so they rank higher in the Quora SERPs for your target keywords.
Also, Quora Spaces are indexed and ranked in search engines like Google, Yahoo, and Bing for the keywords they contain. You should do everything you can to create and optimize individual Spaces to increase SERP visibility on both Quora and the search engines.
Now, there are multiple other ways to use Quora for link building, and tips #8-15 below will teach you how to create more backlinks from this platform. You also can read the full guide on building Quora backlinks for SEO here.
8. Create a Business Account
Having a Business account on Quora will allow you to double up your SEO efforts on this social media platform. It will give you more opportunities to generate backlinks for your content and allow you to promote your business on Quora to get more organic reach.
Unlike your personal profile, a Business profile lets you post answers on Quora under a company name. Also, Business profiles can be managed by multiple people, which allows you to give access to other team members for link building.
Go to quora.com/business/create to set up your free Business profile.
9. Put a Backlink In Your Bio
The fastest backlinks you can get for your website on Quora is through your personal and Business profiles.
On your personal account, you can add a link to your bio section as a URL or contextual link. To add a hyperlink to a piece of text like this, just highlight it and then click on the "Aa" icon to bring up the text editor. Next, click on the link icon and insert your link. Then, click on the "Add" button to make the change. Finally, click on the "Update" button for your edits to be saved.
When creating a Business account, a website URL is required for your Business profile to be approved and will be instantly displayed on your page once it's made public.
(Note: If you want to know all of the places you can put links on other platforms like Facebook, Twitter, Reddit, Medium, YouTube, etc., then check out this other social media link building guide after you're done reading this page.)
10. Track Quora Topics for Link Building
Another good SEO strategy for Quora is to track notifications for topics related to your niche. That way you'll be notified of the newest questions being asked and can quickly jump in to provide an answer with relevant backlinks to your website.
Follow these steps to track Quora topics:
Search for a keyword on the platform.
On the left-hand side of the page, click on the "Topics" link to filter the list.
Click on the "Follow" button next to topics that you want to track.
11. Repurpose Blog Posts As Answers
Repurposing your existing blog post on Quora as answers is one of the most effective strategies for link building and brand awareness. Plus, Quora even recommends this as a best practice when operating a Business profile and can also be used with personal accounts.
Here's what it says in the Quora Business profile user guide:
"If your company has a content team or blog, convert your most successful content into a Quora answer. Just ensure the content is relevant to the question being asked, and use block quotes and citations for any paragraphs copied-and-pasted from your website."
What's also great about this method is that Quora posts can be ranked in SERPs for relevant search queries. Therefore, you can gain double exposure for your content and get more traffic back to your blog through the backlinks you place in the repurposed answer. Plus, this strategy works for other popular question and answer websites.
12. Use Keyword-Rich Anchor Text For Links
Each time you add a backlink in a Quora answer, you should optimize it with keyword-rich anchor text. By using contextual backlinks like this, you can help search engine crawlers better understand which search queries the target page should be ranked for in the SERPs.
Although Quora backlinks are nofollow links, this doesn't mean the linking page will not pass a PageRank value for SEO to the target page. Google announced an update to the nofollow tag saying: "All the link attributes—sponsored, ugc, and nofollow—are treated as hints about which links to consider or exclude within Search. We'll use these [nofollow tag] hints—along with other signals—as a way to better understand how to appropriately analyze and use links within our systems."
That's good news for every website owner who uses Quora for link building because it means that Google's search engine may pass link equity to the target site even though it has the nofollow tag. You can learn more about the differences between dofollow and nofollow links here.
13. Answer Keyword Specific Questions
Another good link building tactic you can use on Quora for SEO is to search for specific questions that contain keywords that are relevant to a particular web page on your site. By answering these types of questions and linking out to the relevant URL, you can build up topical relevance for the target page.
Plus, if make this a daily or weekly part of your digital marketing strategy, then you can create an endless number of new backlinks each month and capture much more referral traffic from Quora users. Not to mention more organic search traffic from the answers that rank in Google for their target keywords.
14. Respond to All Unanswered Questions
Unanswered questions are an easy target for quick SEO wins on Quora. When a question goes unanswered, you have zero competition to get chosen as the best answer. And if you make sure to include a backlink to your website, then you can also get free organic traffic.
Just use the search feature on Quora to find relevant questions that don't currently have any answers. Then jump into the conversation by providing an in-depth and helpful answer that leads people to want to visit your website.
15. Find Top-Ranking Quora Posts In Your Niche
The final tip for combining SEO and Quora is to find top-ranking posts in your niche and then try to siphon as much traffic from those questions as possible over to your website.
As mentioned in other tips above, Quora questions get indexed in Google for their relevant keywords and many of those URLs rank high in the SERPs. If you provide great answers and embedded backlinks throughout your content, then some of the users will click on those links to visit your website.
But how do you find out which Quora posts are ranking in the top 10 search positions on Google so you can capitalize on this free organic traffic?
You can use SEO backlink analysis tools like Ahrefs or Semrush to find these high-traffic questions. You can then target those specific questions by adding your answers to get more referral traffic from those popular articles.
Here's the process with Ahrefs:
Open Ahrefs Site Explorer.
Search for "quora.com".
Click on "Top Pages" in the left-hand menu.
Click on the "Volume" filter and type 100 in the "From" field. Then click on the "Apply" button for the change to take effect. This will filter out questions that have less than 100 monthly views.
Click into the "Includes" filter and type in your target keywords to narrow the list down to specific questions that mention those keywords. Separate keywords with a comma (,). For example: dog toys, dog beds, dog collars.
Make sure "Any" is also selected to find pages that mention any of the keywords you typed.
Look through the various Quora links to find posts with relevant questions you can provide answers to while also adding your backlink for SEO.
Here's the process with Semrush:
Open Semrush.
Search for "quora.com".
Under "Organic Research" on the left-hand menu, click on "Positions".
Scroll down to the filters section and add these filters:

Include > Volume > Greater Than > 100
Include > Position > Less Than > 10
Include > Keyword > Containing > target keyword

Look through the various Quora links to find posts with relevant questions you can provide answers to while also adding your backlink for SEO.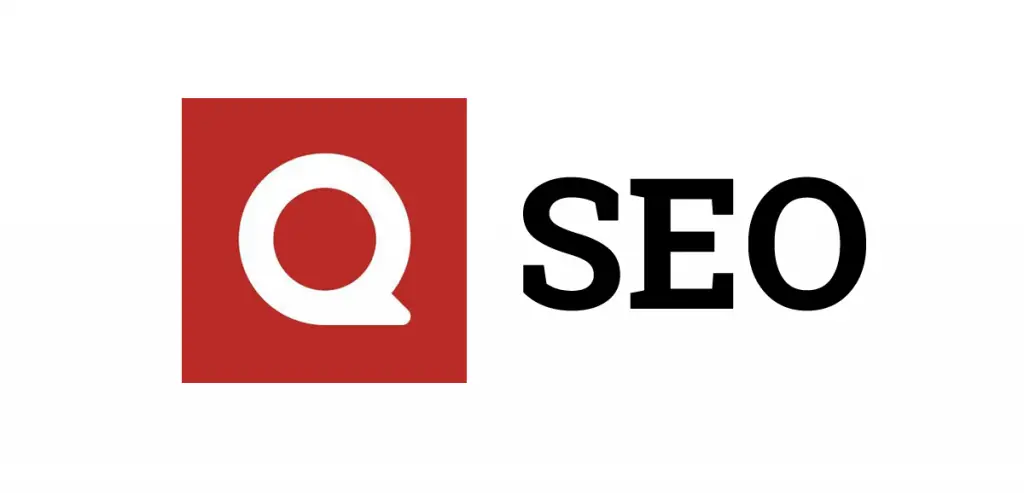 Quora SEO Summary
I hope you enjoyed this guide on Quora SEO.
As you discovered, a good Quora SEO strategy can help in three primary ways: improving awareness of your content on the social media platform, creating more high quality backlinks to your website, and getting more targeted traffic from Quora pages that rank high in Google, Yahoo, and Bing for your target keywords to increase visibility for your business.
By using Quora for SEO the right way, you can penetrate more of the market with your content and get in front of the right target audience who can create more organic backlinks to your website from their own sites and blogs.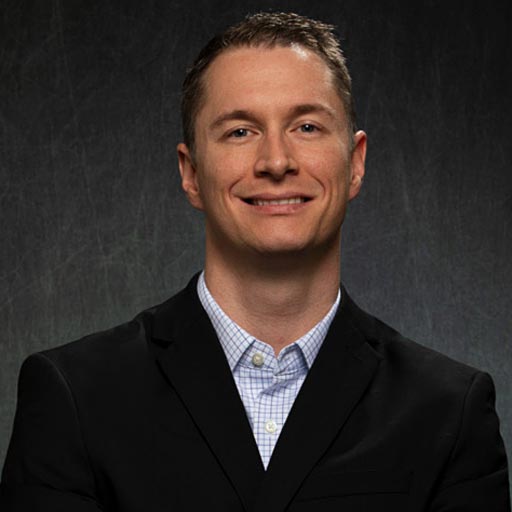 Stephen Hockman is an entrepreneur and founder of SEO Chatter. He specializes in search engine optimization and digital marketing and has been fascinated with SEO since 2005. His goal is to share the best tips and news about search engine marketing to help you get more website traffic.