I used to think topic clusters in SEO were just another fancy name for silos. 
They're not. 
It seems I was not alone in my thinking.
Many people within the SEO industry seem to interchange various terms for this inbound marketing strategy like topic clusters, silos, content hubs, spoke pages, pillar pages, and so on.
SEOs often spend countless hours arguing the finer points and nuances between these various terms around content clusters and SEO.
I won't join them.
Instead, I'm going to share my take on how I believe a focused topic cluster content strategy can significantly increase the organic traffic and ranking of your website. And thus, higher conversions and revenue from your target audience.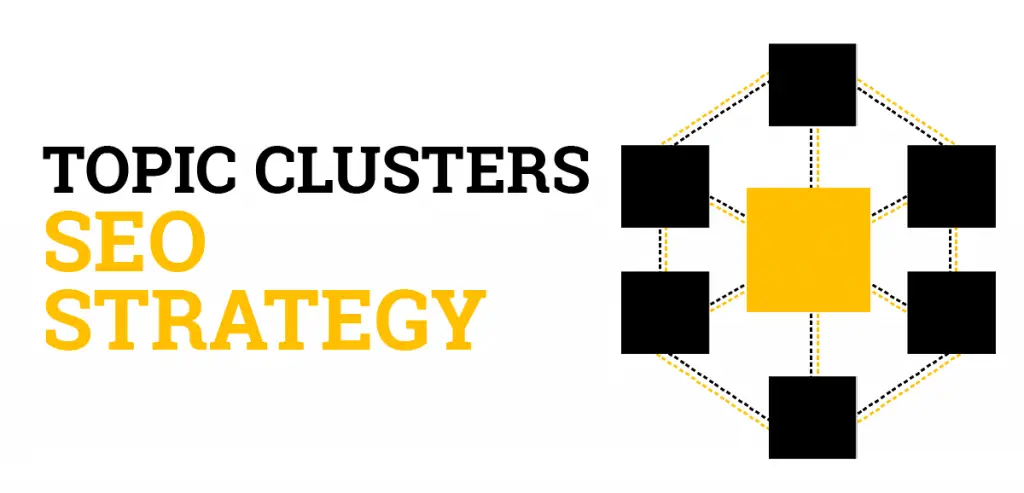 What Are Topic Clusters?
Topic clusters are like content silos on steroids. A topic cluster is a group of highly-related topic posts under a master pillar page. Each topic post usually links back to a parent pillar page. The pillar page will often link to the essential topic posts, but not necessarily every post.
Therefore, the concept of topic clusters relates directly to the more broadly defined pillar content strategy.
A website can have multiple topic clusters consisting of various pillar pages that, in turn, have many topic posts under each pillar post with internal linking.
So, topic clusters for SEO have three main elements:
A group of posts
A parent pillar post
Hyperlinks that link them together in a structured way
A topic cluster strategy like this has become an essential part of an inbound SEO marketing strategy ever since Google began to understand the search intent of a user.
In response, savvy SEOs now focus on content clusters instead of individual keywords for ranking higher in the search engine results pages (SERPs) for a target audience.
One of the principal benefits of creating and executing content clusters in SEO is to build up a site's authority within the eyes of Google without having to focus heavily on external link building.
No link-building, I hear you say? Correct, and this is probably music to the ears of the many site owners who have a strong dislike of building backlinks. 
As you'll see below, the only links you'll need to worry about are internal links.
It will probably take me many years, but I fully intend to build a blogging course reviews topic cluster on my website.
So how do we develop our topic cluster content strategy?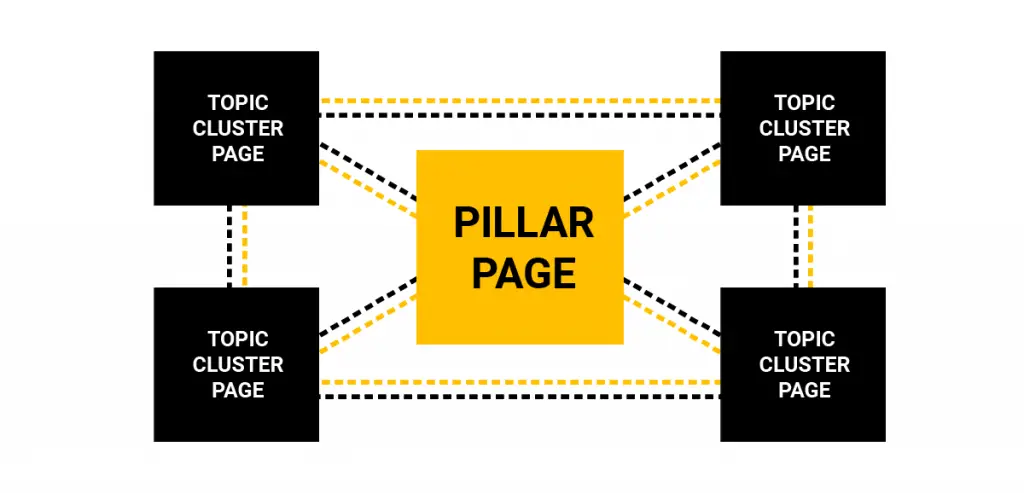 Topic Cluster Content Strategy
A topic cluster content strategy focuses on broader topics instead of individual keywords. A content cluster SEO strategy like this uses a topic model for marketing to rank more web pages in the search engine results pages to attract a wider target audience.
This method also increases your website's authority on a given topic which can help all of your web pages rank higher in the SERPs for related keywords.
Here are the steps to put this strategy into practice:
1. Pick the Topic You Want to Rank For
A topic cluster strategy will involve a lot of content, so I suggest you choose a topic that genuinely interests you. 
I also suggest that you use the free Google Trends tool to assess the validity of your chosen topic. It makes sense to select a topic that has a steady or rising trend with your target audience. Avoid topics with a declining trend unless you have a particular reason for pursuing them. (See these related guides on what is Google Trends used for and how Google Trends works.)
The topic itself needs to be broad enough to cover the main talking points on a 3,000 to 5,000-word pillar page article. Those figures are arbitrary, but there has to be a practical range.
Who wants to read a 20,000-word article anyway?
An example of a topic cluster for a website in the pet niche might be a specific dog breed. Dogs as a standalone topic would be too broad, in my opinion. However, narrowing it down to the labradoodle breed would make an excellent topic cluster for SEO.
The various topic cluster posts will cover the detail and nuances of topics such as:
What size crate for a Labradoodle?

Common health issues in Labradoodles
Is chocolate bad for my Labradoodle?
Can Labradoodles be left alone?
How to groom a Labradoodle
And so forth
Most of the individual posts will contain an internal link to the pillar post about the Labradoodle breed.
2. Plan Out The Topic Cluster Structure
It's time to fire up your favorite spreadsheet. You'll need to keep track of how you're breaking down the topic and what articles you will create for this SEO marketing strategy.
Taking our labradoodle example above, we can use various tools like AnswerThePublic, Ask Socrates, or plain old Google Autosuggest to help inspire us and show suggestions of the content we could create.
The easiest method for coming up with topic ideas is to answer questions surrounding the topic. Those include keywords with who, what, when, where, why, and how in the search query.
Topic cluster examples include:
Who are Labradoodles best for?
What do Labradoodle's cost?
When is a Labrodoodle fully grown?
Where is the Labradoodle dog from?
How to adopt a Labradoodle
Why are Labradoodles good dogs?
3. Produce Content & Build Internal Links
Now it's time to put digital pen to digital paper.
Armed with your spreadsheet hitlist of topics, you'll either write the content yourself or outsource it to other writers. You can check out this other guide on how to write SEO friendly blog posts to get tips on writing well-optimized content for your topic cluster.
After the content is published, you'll need to build internal links between the various posts.
Most, if not all, of the topic posts, will link back to the pillar post at the pinnacle of the topic cluster.
The individual topic posts should also internally link to each other as much as possible. A good rule of thumb is to have at least 3-5 internal links per post, depending on how long the article is. Just keep it natural without overstuffing your internal links.
By following this internal linking strategy, you can help to improve your overall keyword rankings for both the topic pillar page and content cluster posts.
If you have a lot of topic posts (you should), then an internal linking plugin for WordPress like Link Whisper will help make the manual linking process much faster and easy to track.
4. Perform A Content Audit On Existing Content
You may already have existing content on your website that would work well as part of a new topic cluster. A content audit will identify this content.
There will probably be opportunities to build internal links from the relevant existing content to the pillar page.
5. Review Your SEO Cluster Strategy Periodically
The final step is to carry out a periodic review of how your content cluster for SEO performs in the SERPs.
If you find particular topics within the cluster performing very well in search, it might make sense to publish more related articles to build up more relevance around the topic.
Benefits of Topic Clusters for SEO
Capture a Wider Target Audience
By going deep into any topic, you can attract users from all stages of the sales funnel. Informational articles will capture beginners, and buyer intent articles will capture users who are close to making a purchase.
Then, of course, other articles within the cluster will capture users who are in between those stages.
Website Authority & Ranking Boost
Most experienced SEOs will attest to the power of internal links. Experts say that a good topic cluster will help build the topical relevance of a website. 
Internal links are the glue that holds topic clusters together.
Improved Navigation
A well-executed topic cluster content strategy will provide a better navigation experience for users. Not only that, but it will be easier for Google to crawl the website and form an understanding of what your website is all about.
Attracts Natural Links
The natural effect of creating excellent topic clusters is that they will invariably attract many quality backlinks over time. 
This will result in possible time and resource savings in your overall inbound marketing strategy.
Drawbacks of a Topic Cluster Strategy
The way I see it, there are two main drawbacks of creating in-depth topic clusters. However, an alternative way of viewing this is that these drawbacks can be considered barriers to entry for competitors.
Time-Consuming and Hard Work
Be under no illusion; creating effective topic clusters in SEO involves a LOT of work. The idea is to explore the target topic or niche in a comprehensive manner.
This effort will involve a lengthy pillar post and a large number of topic posts. Planning out the cluster content strategy will be an involved process, and then, of course, there's the actual writing of the content.
Most people are lazy, though. Sorry for the generalization, but I believe that most people will opt for the easier path to success when it comes to building niche websites. In practice, this often means "stealing" successful keywords from competitors.
Expensive to Outsource Content
You can quickly burn through a few thousand dollars if you build out large topic clusters and outsource all or most of that content to freelance writers or writing agencies.
Even if you're writing the content yourself, you'll still pay with another cost using a topic cluster strategy—your time. (I always view time as being our most valuable asset.)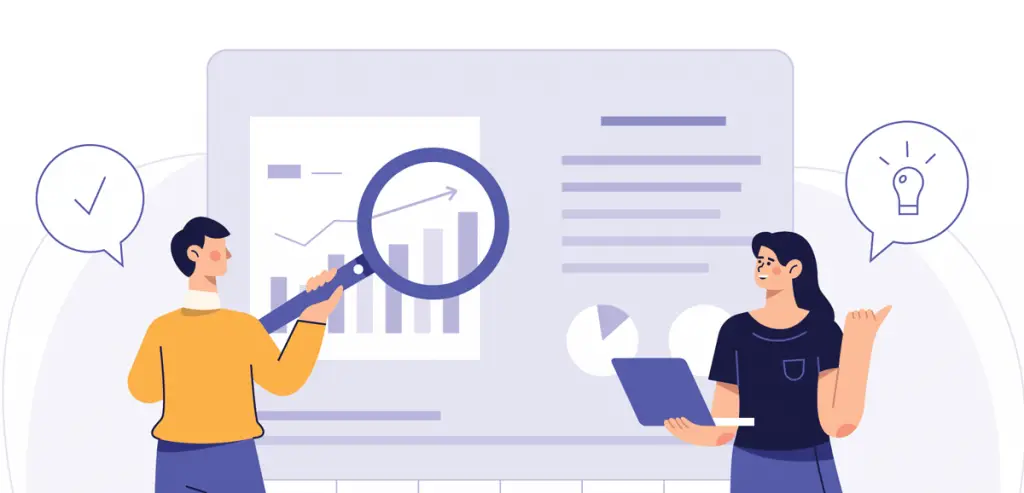 Real-World Example of Content Cluster for SEO
My favorite example of a real-world example of a topic cluster is Yoast's WordPress SEO guide.
Over a decade ago, I read every word of that article and many of the linked topic pages.
It's an excellent resource and a well-executed topic clusters SEO example that has lots of the pages ranking in Google's search engine.
Heres's a screenshot of everything the article covers, which is massive in length, and includes a large number of internal links between the related content in the cluster:

If you want some automated help with WordPress to create topic clusters and content silos like that, then check out this related guide on the Best WordPress Silo Plugins.
Topic Cluster Content Strategy Summary
So there you have it—a blueprint outline for creating a topic cluster strategy for your website.
We've covered the benefits and drawbacks of content clusters in SEO for inbound marketing and looked at a real-world example that's doing it well. The traditional approach of caring about search volume, keyword difficulty (or competition), and individual keywords is definitely nowhere near as relevant as it used to be.
Instead, you need to be thinking in terms of topics and clustering for SEO because that's what Google does.
Now, it's over to you. Are you ready to begin creating a topic cluster content strategy for your website?
Contributing Author: Keith Mint
Keith is building a portfolio of authority sites. While blogging is a relatively recent venture, Keith has 20 years of experience building websites with a focus on ecommerce, local SEO, and lead gen and is documenting his journey at Minted Empire.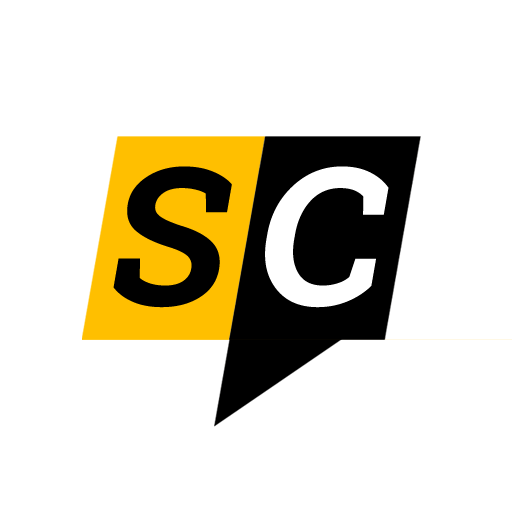 The Editorial Staff at SEO Chatter is a team of search engine optimization and digital marketing experts led by Stephen Hockman with more than 15 years of experience in search engine marketing. We publish guides on the fundamentals of SEO for beginner marketers.