This guide includes a list of the best WordPress silo plugins for SEO.
Below, you'll find the best WordPress silo builders to use for demonstrating your expertise in a topic area, improving user engagement, and boosting search engine rankings. The recommendations on this page contain a variety of the top WordPress siloing plugins available to help you find the one that best suits your budget and your search engine optimization goals.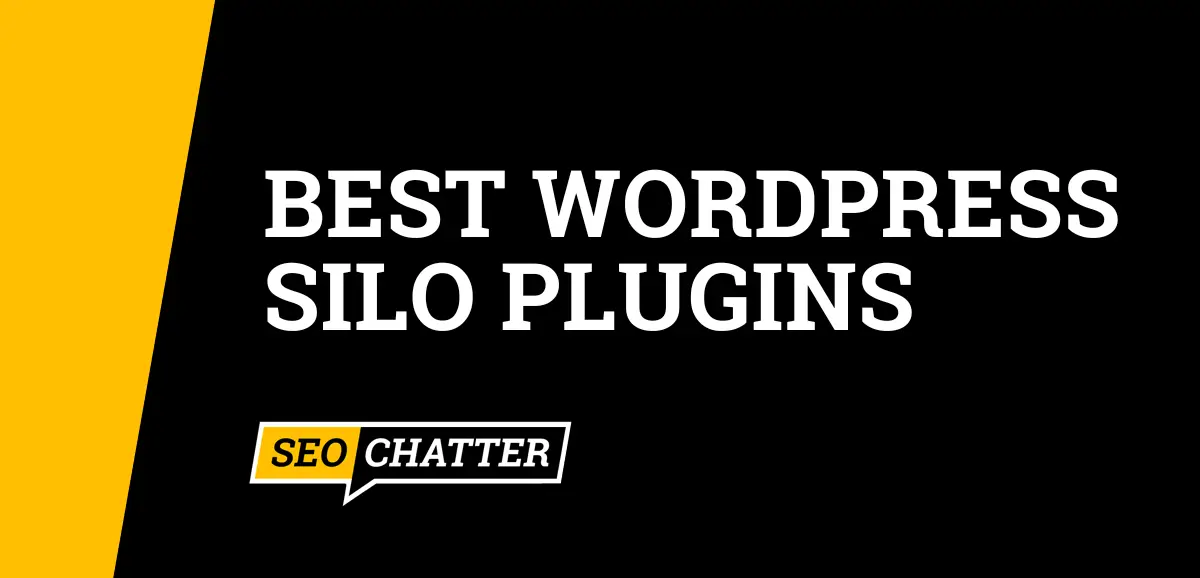 Best WordPress Silo Plugins
1. SEO Ultimate Pro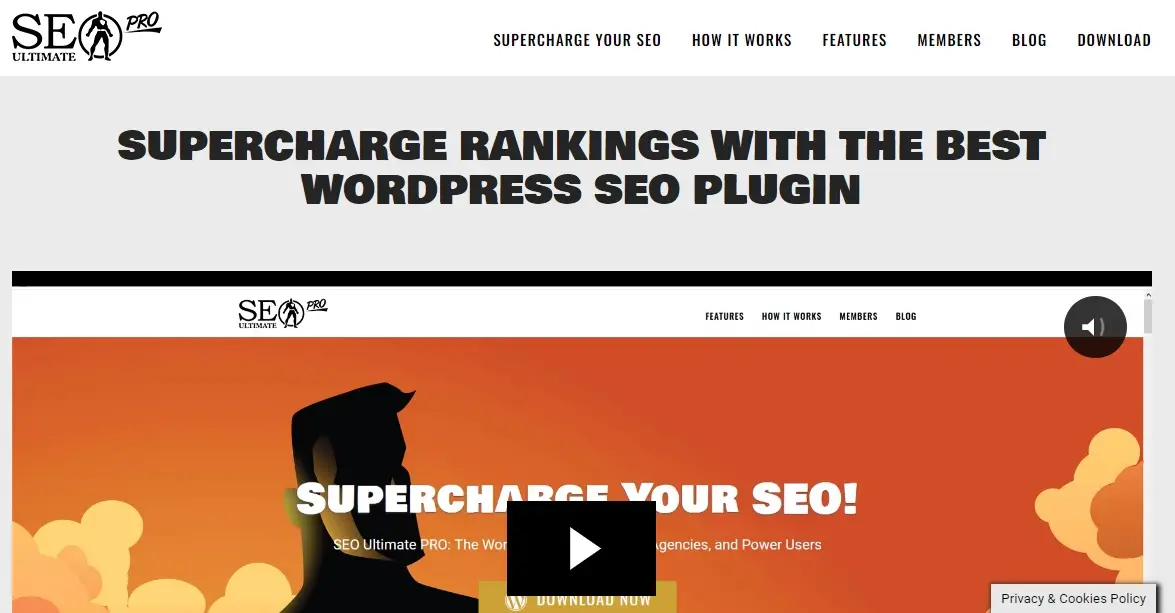 With a name like SEO Ultimate Pro, you wouldn't expect anything less than the best from this all-in-one SEO tool, and that's exactly what it delivers.
Along with simplifying a host of on-page and technical SEO tasks such as meta description optimization, robots.txt editing, and broken link checking, this powerful plugin really comes into its own as one of the best WordPress silo plugins on the market.
The Deep Silo Builder feature alone makes it worth installing as it provides you with a user-friendly interface that guides you step-by-step through the silo-building process.
Doing so, you can create a new silo, add categories to it, and then add your supporting articles to each category, all within a few clicks of a mouse, not to mention adding bespoke navigation menus for each silo.
Elsewhere, the rather boldly named Deeplink Juggernaut makes light work out of internal link optimization. Simply add your keyword, configure the settings, and the Juggernaut will blast through your content (including new posts you create), automatically applying internal links according to your preferences.
Prices for SEO Ultimate Pro start at $49 for a single site license, up to $997 for a 400-site agency license.
2. Rank Math SEO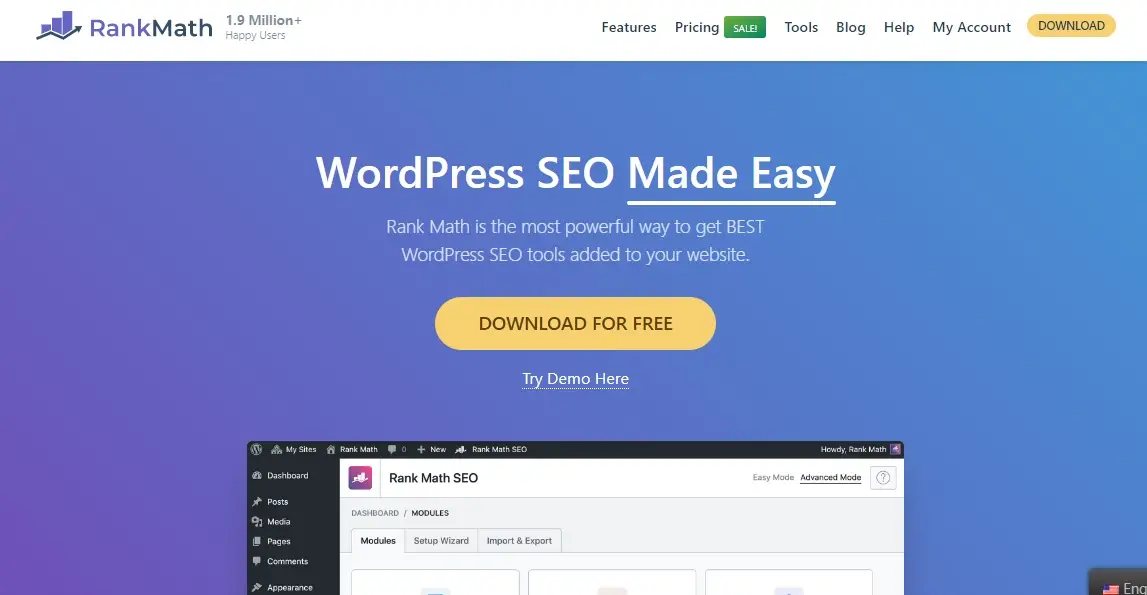 If you're a regular visitor of SEOChatter, you'll have heard me say countless times before that a silo is only as good as the quality of its content.
In other words, you could have a perfectly laid out silo structure in place, but if the individual posts within those silos aren't up to par, you won't reap the same level of rewards in terms of improved search rankings and web traffic.
That's where Rank Math SEO comes in.
Though not exclusively designed for silos, it deserves to be considered one of the top WordPress siloing plugins anyway for two main reasons:
First, it's one of the best WordPress SEO plugins to have come along in the last few years, doing an excellent job of helping you optimize your content for target keywords to help improve your search result positions.
Offering similar features to the Yoast SEO plugin most WordPress users are familiar with, Rank Math assists with everything from identifying related keywords and questions to use in your content to optimizing your metadata.
Secondly, the plugin offers a couple of handy internal linking features, including:
Internal Link Count
When you view your list of posts in the WordPress back-end, Rank Math shows you how many links are included in each post. This means you can quickly identify pages that need more internal links to strengthen your silo.
Link Suggestions
The Link Suggestions feature recommends links to include in your pillar pages depending on the category and tags for those pages. This ensures that you never overlook a valuable internal linking opportunity.
Rank Math is available in free and paid-for versions. The paid version starts at just $4.92 per month.
3. Related Posts For WordPress
Related Posts for WordPress is a free plugin that, as you've likely already deduced, displays links to other content related to your blog posts.
The tool gives you the freedom to choose whether these related posts are selected based on categories, tags, or a custom list of page IDs, and it can even display thumbnails to enhance each link's appeal to your visitors.
What does this have to do with content silos?
Quite a lot.
One of the main benefits of content silos is that they boost user engagement and keep visitors on your site for longer by providing them with further reading on the topics they're interested in.
While one way to do this is by internally linking to other posts throughout your content, displaying related posts at the end of each piece gives you one final extra opportunity to entice visitors to stick around.
4. Breadcrumb NavXT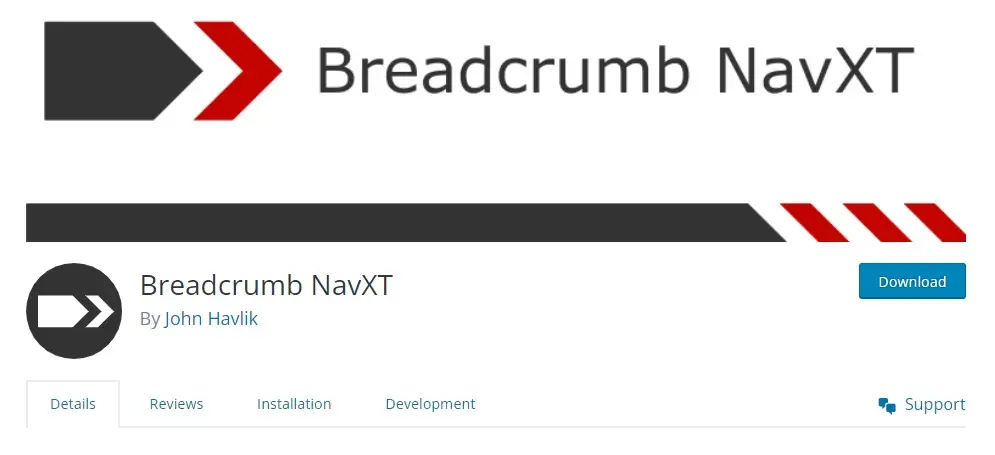 As much as content silos need quality content, they also need simple, user-friendly navigation to help users find that content.
That's where Breadcrumb NavXT comes in.
The popular plugin automatically generates navigational breadcrumb trails that help users quickly find their way around your silos with ease.
The best part is that each of these breadcrumb trails can be fully customized, giving you the complete control you need to deliver best-in-class experiences that meet your visitors' needs.
The free version of Breadcrumb NavXT is more than sufficient for most WordPress users. Premium extensions which add more functionality to your menus are also available. Prices range from $26-74.
5. Link Whisper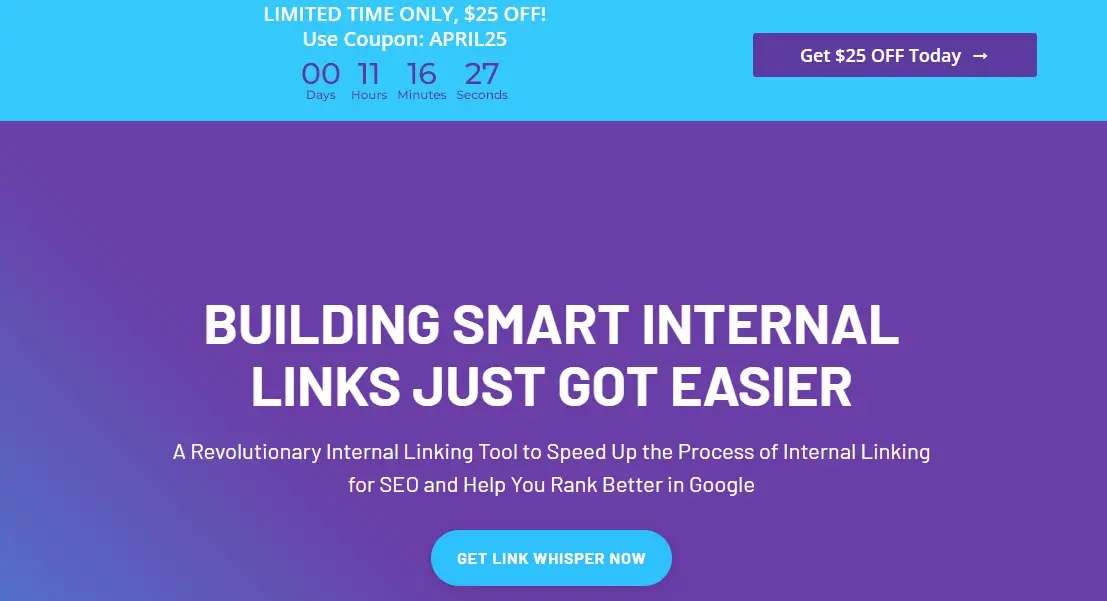 If the only challenge you face with building your content silos is building your internal links, then you should give Link Whisper a try.
This top-rated plugin utilizes artificial intelligence to suggest relevant internal links from the moment you start writing your latest post.
This speeds up the content creation process and ensures every possible internal link has been accounted for.
Beyond that, I'm also a big fan of Link Whisper's ability to sniff out orphan pages and quickly add internal links to them to reign them into your silos. However, we suspect that for many others, the real highlight is the automatic link building capabilities.
Enter a keyword and set the URL that you want that keyword to link to, and the Auto-Linking tool will go through your site, automatically adding links to all existing and future mentions of that keyword.
Link Whisper is a premium plugin with plans starting at $52 for a single site license.
6. Xagio Plugin Silo Builder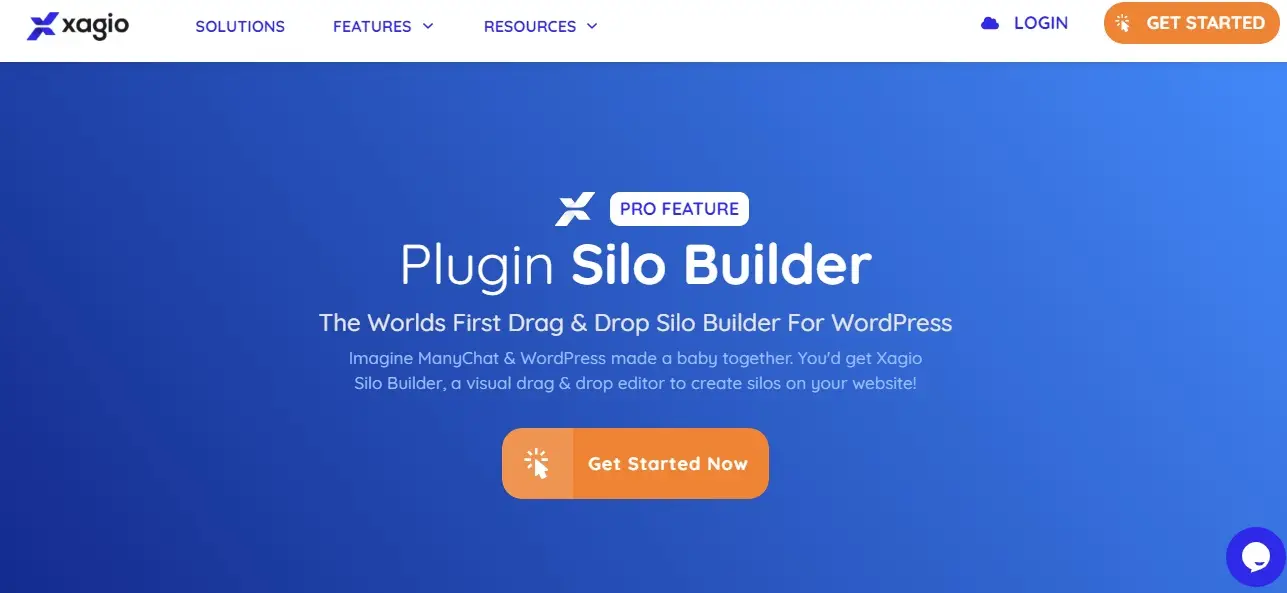 If you like the idea of creating silo structures but find other tools too technical or complicated, Xagio's Plugin Silo Builder may be the one for you.
Our pick of the best WordPress silo builder for beginners, the plugin uses intuitive drag-and-drop capabilities to design your structures quickly and efficiently before a single button tap turns your silo plan into an actual silo structure on your website.
The Xaigo Plugin costs $14 p/m for a five-site license or $58 p/m for use on up to 100 sites.
7. Network Empire Simple Silo Website Builder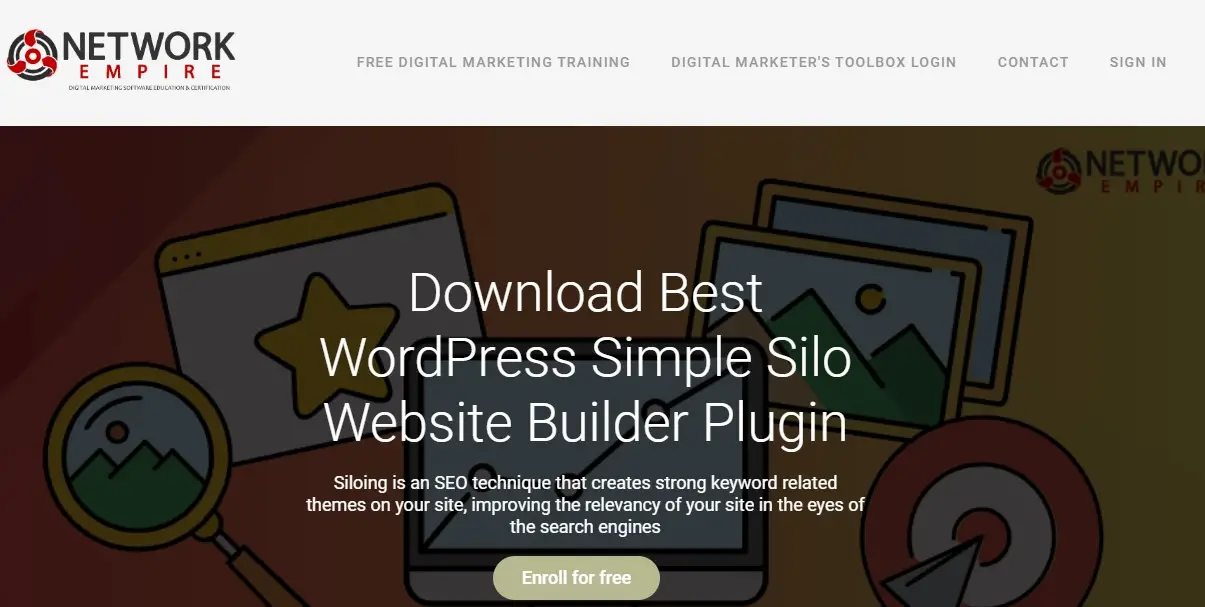 The WordPress Simple Silo Website Builder from Network Empire is a free plugin that you can use to develop a silo structure using folders within your website's root directory, all from within WordPress.
Although basic, the plugin does its job very well, making it an invaluable asset for taking advantage of the benefits of content silos with no technical know-how required. WordPress Simple Silo Website Builder is a free plugin worth exploring.
WordPress Silo Plugins Summary
We hope you enjoyed this guide on the best WordPress silo plugins for SEO.
As you discovered, plugins like SEO Ultimate Pro, Rank Math SEO, and Related Posts for WordPress are all among the best WordPress silo builders, as they offer a wealth of useful, easy-to-use features. Taking the time to consider the main challenges you face in building your silos will help you determine which of these top WordPress siloing plugins is right for you.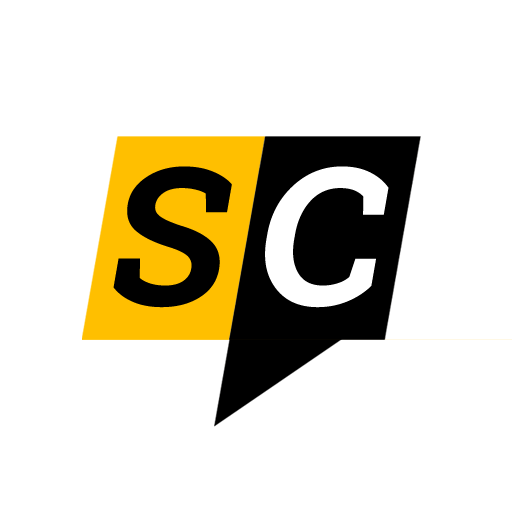 The Editorial Staff at SEO Chatter is a team of search engine optimization and digital marketing experts led by Stephen Hockman with more than 15 years of experience in search engine marketing. We publish guides on the fundamentals of SEO for beginner marketers.