If you're looking for a complete KWFinder review, then you'll find it here.
I've been using KWFinder since 2015 and continue to rely on this SEO keyword research tool to analyze potential search terms to target on my websites and to improve the overall search engine optimization strategies.
Below, you'll find a comprehensive KWFinder keyword research tool review to help you make the best decision possible on buying this digital marketing software. With the details on this page, you'll get an in-depth overview of the top KWFinder features, pricing, and pros and cons to accurately compare it with other SEO keyword analysis software you're considering.
The ultimate goal here is to provide you with the most detailed and trusted KWFinder review you'll ever find on the Internet so you can decide once and for all if it's worth it or not for your needs. And if you do decide it's something you want to invest in then, you can try KWFinder for FREE here using my affiliate link at no extra cost to you. I only earn a commission if you ever upgrade to a paid plan.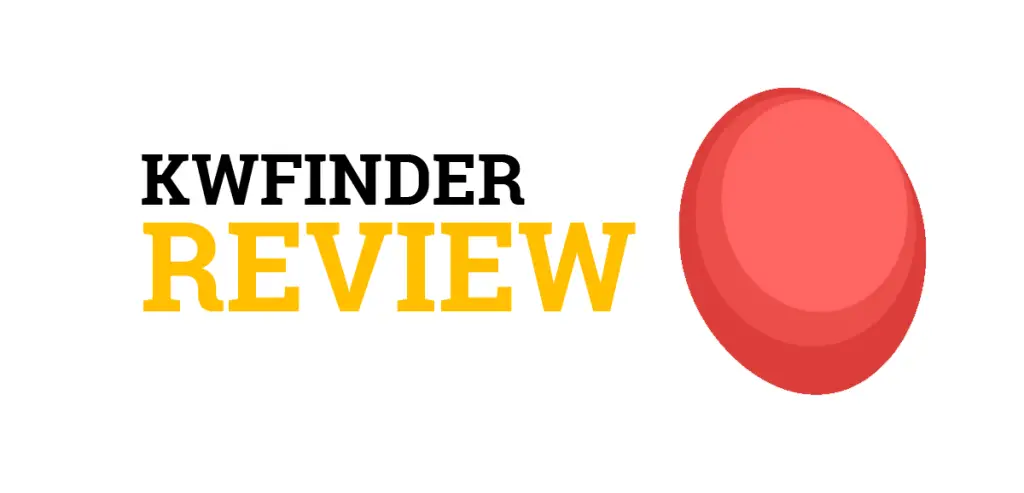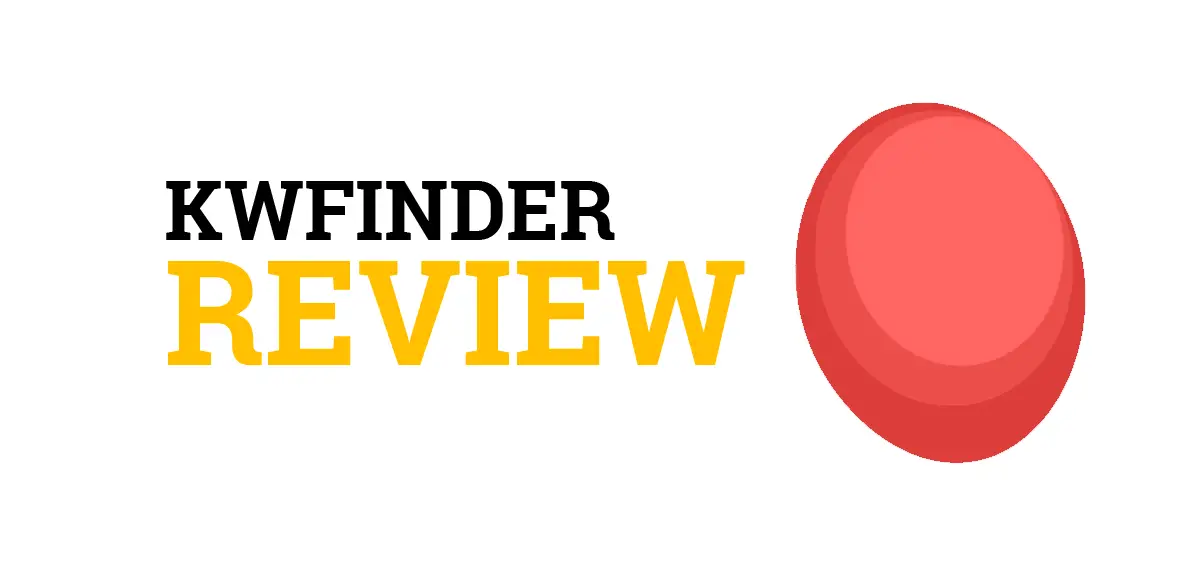 KWFinder Review
This review will cover the top benefits and features of KWFinder and show you screenshots of the most important aspects of this keyword research tool. But before we dive into the details of this keyword analysis software, let's first look at what KWFinder is and what it can do for your website's SEO strategy.
What Is KWFinder?
KWFinder is a keyword research tool for search engine marketing offered by Mangools. With KWFinder, you can find relevant SEO keywords to target on your website by analyzing the average monthly search volume, cost-per-click (CPC) price, pay-per-click (PPC) competition, and keyword difficulty score for ranking in the SERPs.
What Does KWFinder Do?
KWFinder is a powerful SEO tool that simplifies keyword research by helping you find topic ideas that people are searching for on search engines like Google. KWFinder tracks important keyword data metrics for you to analyze and find the best search terms to use on your website.
Average KWFinder Ratings
Based on the customer reviews, KWFinder has received the following average ratings:
Overall Rating: 9/10
Ease of Use: 9/10
Customer Service: 10/10
You can read sample customer reviews with both positive and negative comments towards the bottom of this review guide.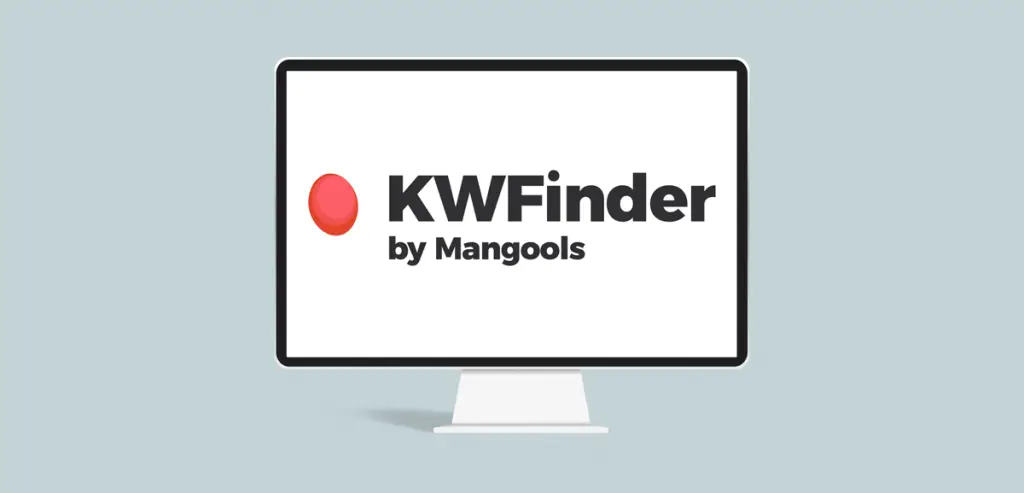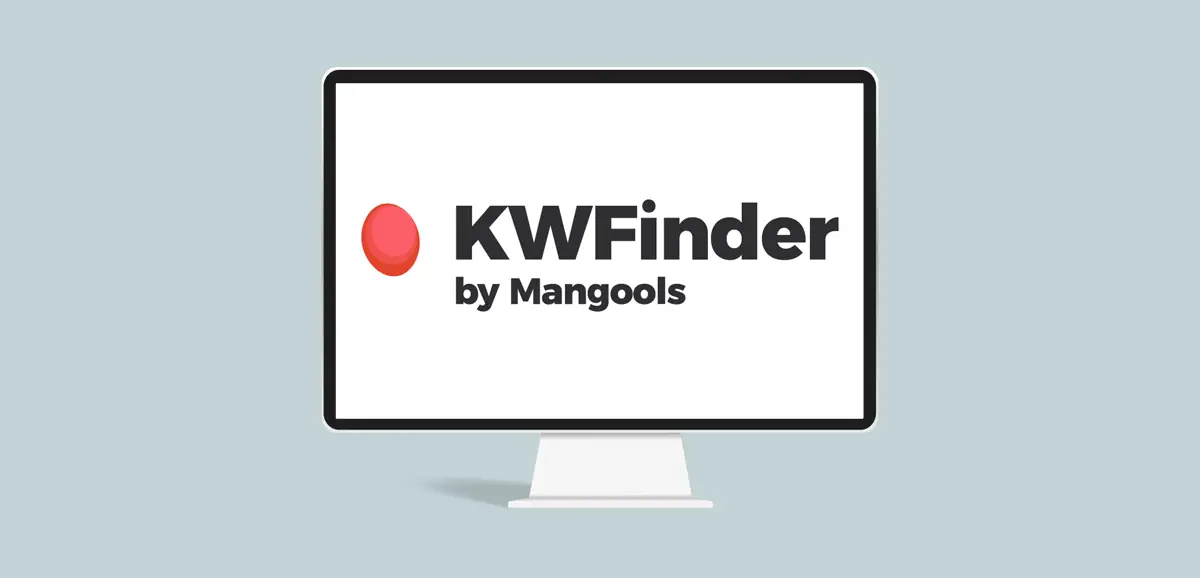 KWFinder Pros and Cons
Below is a list of the top pros and cons of KWFinder. As a user of this SEO keyword research tool, I have found these to be the most common advantages and disadvantages of the product.
Pros
Most user-friendly keyword research tool on the market.
Great data aggregation for keyword analysis.
Provides the Keyword Difficulty (KD) score to help you find easy keywords to rank for in the SERPs.
Multiple research options to find good keywords to target (e.g., Related Keywords, Autocomplete, and Questions).
Fast keyword loading times.
Shows a SERP Overview of the top-ranking URLs for every keyword along with important SEO metrics.
One of the least expensive keyword research tool for SEO.
Integrated with 4 other SEO tools.
Allows you to analyze competitor websites to find their top-ranking keywords.
Lets you create lists to save keywords for further analysis and comparison.
Cons
No keyword gap analysis feature.
Daily data request limits can be a problem for heavy users unless they upgrade to a higher-priced plan.
Keyword suggestions are capped at 700 results for every search.
Doesn't pull every keyword for a competitor's websites and some URLs are not in the database. (KWFinder is only updated a few times per year to save on data costs which is why this is the case.)
Not all suggested keywords include the Keyword Difficulty (KD) score by default. You need to analyze the keyword to get the KD score.
Some report KD scores are out of date based on user demand for the keyword; however, you can instantly get the current KD score by analyzing it.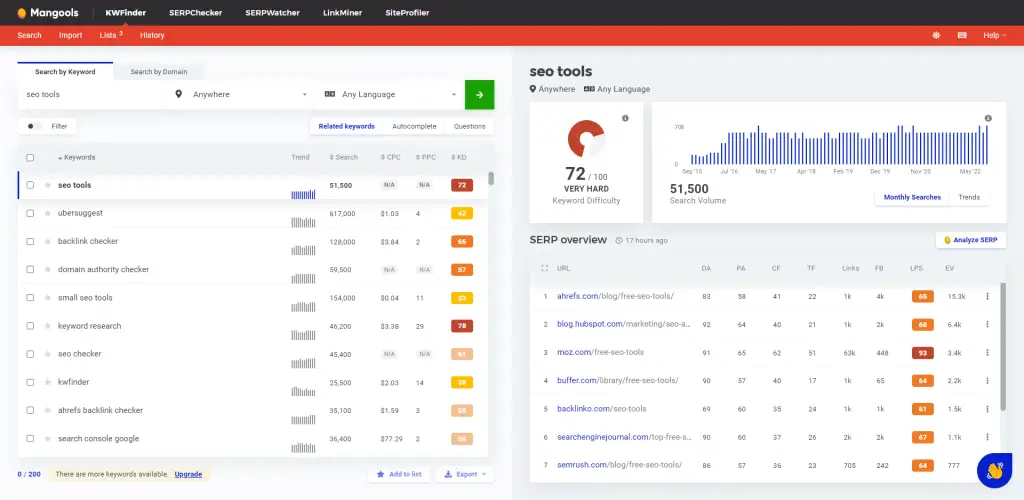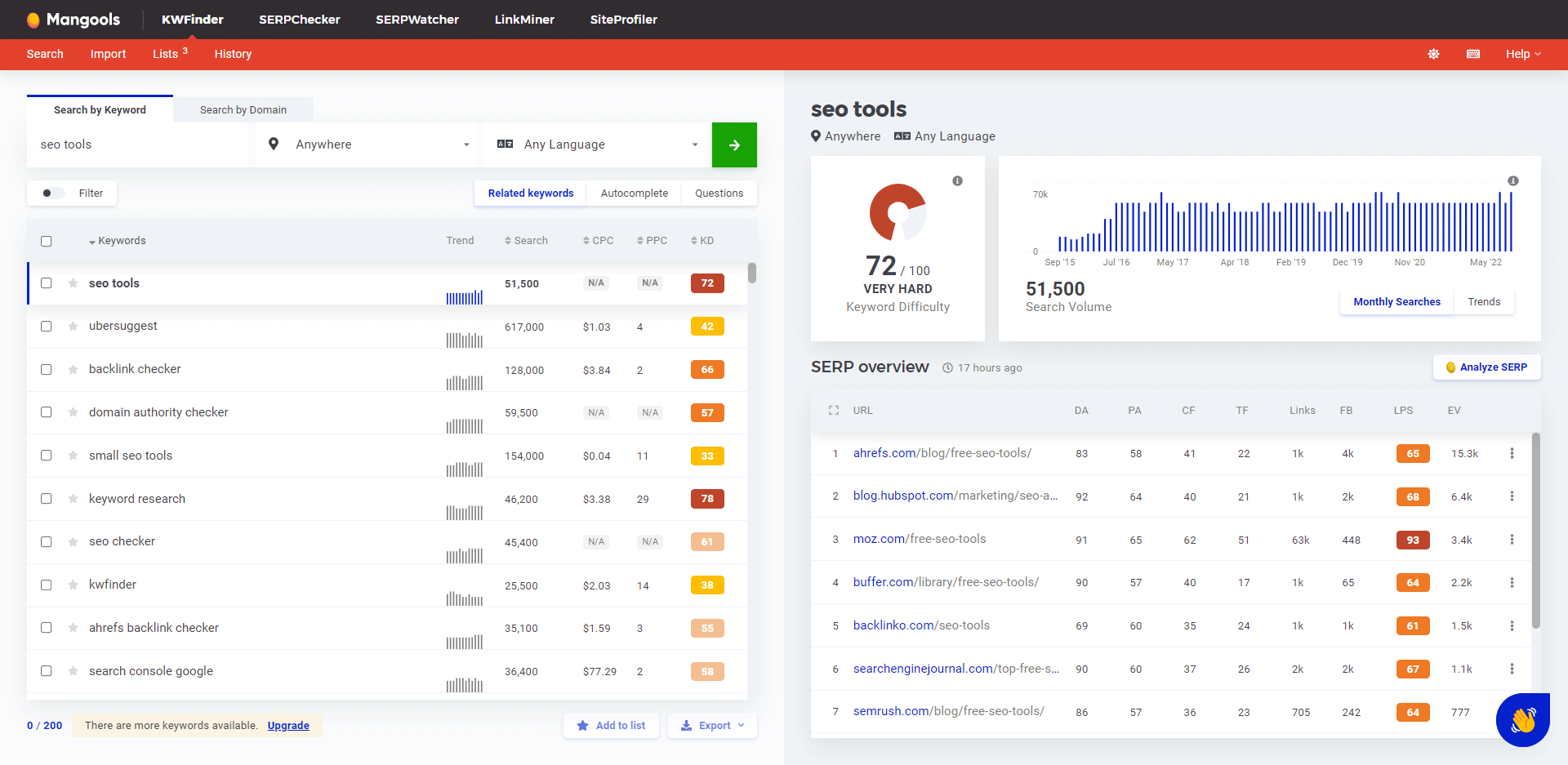 KWFinder Features
This section of the KWFinder review will cover the top KWFinder features you can use for keyword research and analysis. As you'll discover below, this software has a number of high-quality features that make SEO keyword research fast and easy to do for any website, which is why I highly recommend it.
You can try KWFinder for FREE here.
Search By Keyword
The top KWFinder feature you'll use most often is the "Search By Keyword" function. This field is where you add a seed keyword to generate relevant suggestions for SEO analysis.


When you search this way on KWFinder, the tool immediately displays important SEO metrics for that keyword, including:
Trend: This feature shows you how the keyword interest has been trending over the previous 12 months.
Search Volume: This SEO metric shows you the average monthly search volume data.
CPC: This value reports the average cost-per-click (CPC) in Google AdWords which indicates how competitive the keyword is for advertisers.
PPC: This value reveals the level of competition for pay-per-click (PPC) ads in Google AdWords (higher numbers mean more competitors).
KD: This SEO metric indicates the Keyword Difficulty (KD) score, which calculates the Link profile Strength (LPS) or the top-ranking URLs. KD scores below 29 are very easy keywords to target while 30 and above indicate that it may be more difficult to rank a web page without a strong backlink profile.
Search By Domain
Another good KWFinder feature is the "Search By Domain" function. This feature allows you to input the main domain or target URL of a competitor to find out what the top-ranking keywords are for that website or individual page. This is a powerful function to find easy-to-rank keywords your competitors are targeting that you can also go after on your website.
The only drawback here is that not all domains or URLs on the Internet have been crawled by KWFinder. Mangools only updates this part of their database a few times per year. Therefore, some domains and URLs may not deliver the most current data when using this KWFinder feature.
Choose a Search Location
With KWFinder, you can narrow your keyword searches to a specific country by selecting it from the location dropdown list. You can choose between options like the United States, Germany, United Kingdom, Spain, or Anywhere in the world.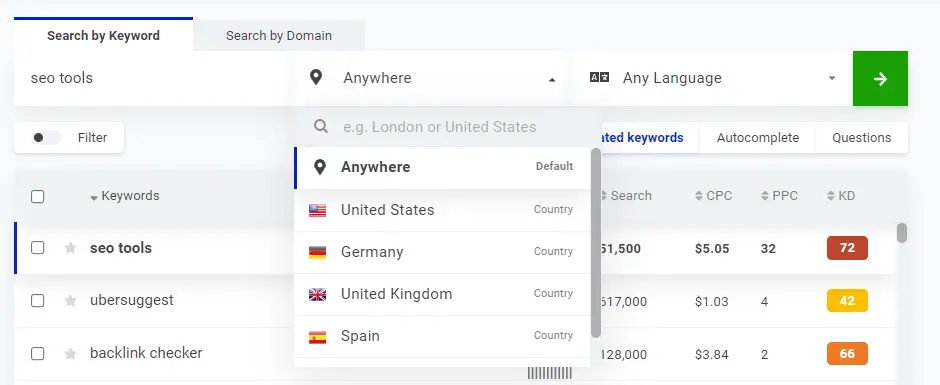 Choose a Target Language
You can also change the target language with KWFinder, which has over 40 languages to choose from. Options include Arabic, Chinese, English, French, German, Spanish, Ukrainian, Turkish, Any Language, and more.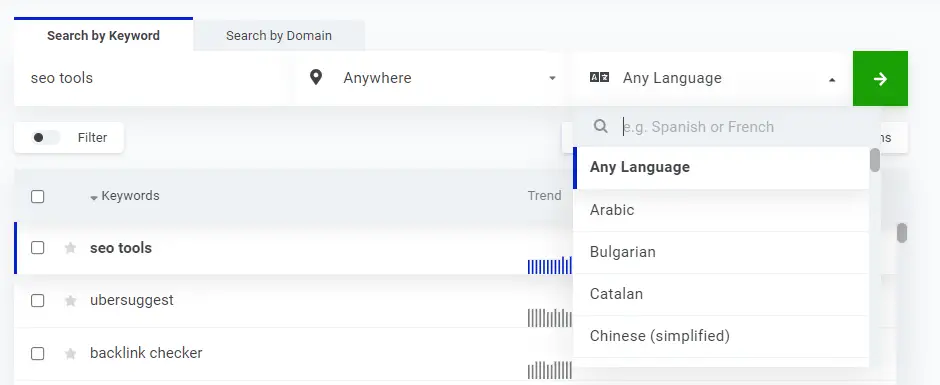 Keyword Research Filters
KWFinder has a powerful feature for filtering keywords. This allows you to set up parameters for the types of SEO keywords you want to find and analyze with the tool.
Filter options include:
Search Volume
Keyword Difficulty Score
CPC
PPC
Included Keywords
Excluded Keywords
Number of Words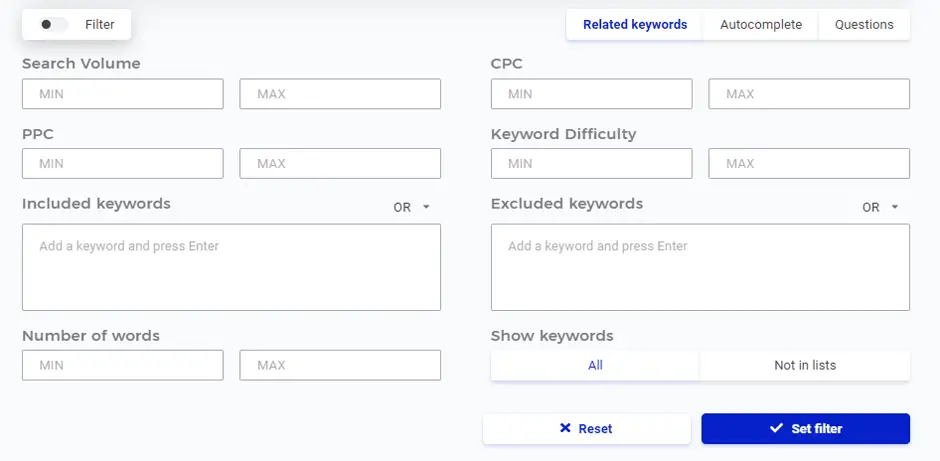 Keyword List Creation
KWFinder makes it easy to save SEO keywords for later use, analysis, or comparison. You can save keywords in two ways:
Clicking on the star icon next to individual keywords to save them on-by-one.
Checking the box next to multiple keywords and then clicking the "Add to List" button at the bottom of the tool to save keywords in bulk.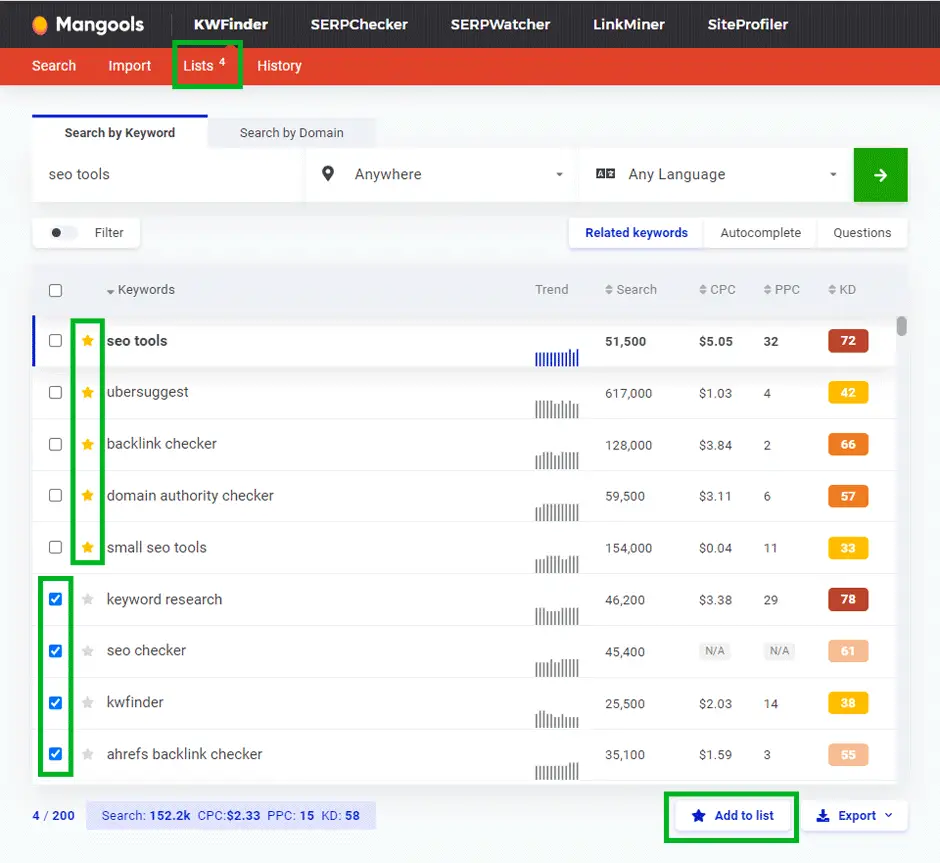 SERP Overview
One of the top KWFinder features that make this such a powerful tool is the SERP Overview function. When you click on a keyword in KWFinder to analyze it, you get the following SEO data for the top-ranking URLs so you can measure the strength of the competition:
DA: Domain Authority is a ranking score developed by Moz that estimates the authority of the entire domain based on its backlinks.
PA: Page Authority is another ranking score by Moz that estimates the authority of the specific page based on incoming links.
CF: Citation Flow is a ranking score developed by Majestic that estimates the influence of a URL based on the number of backlinks it has.
TF: Trust Flow is another ranking score by Majestic that shows the strength of the URL based on the quality of links pointing to the page.
Links: This reports the total number of incoming links to the URL. You can hover over it to see a breakdown of unique referring domains, referring IPs, and subnets.
FB: This shows the number of Facebook shares provided by the Facebook API.
LPS: This is a proprietary SEO metric by Mangools that estimates the Link Profile Strength for the ranking URL.
EV: This provides an estimated number of visits per month to the URL based on the ranking position in the SERPs.
You can try KWFinder for FREE here with my affiliate link to test out the SERP Overview function for yourself.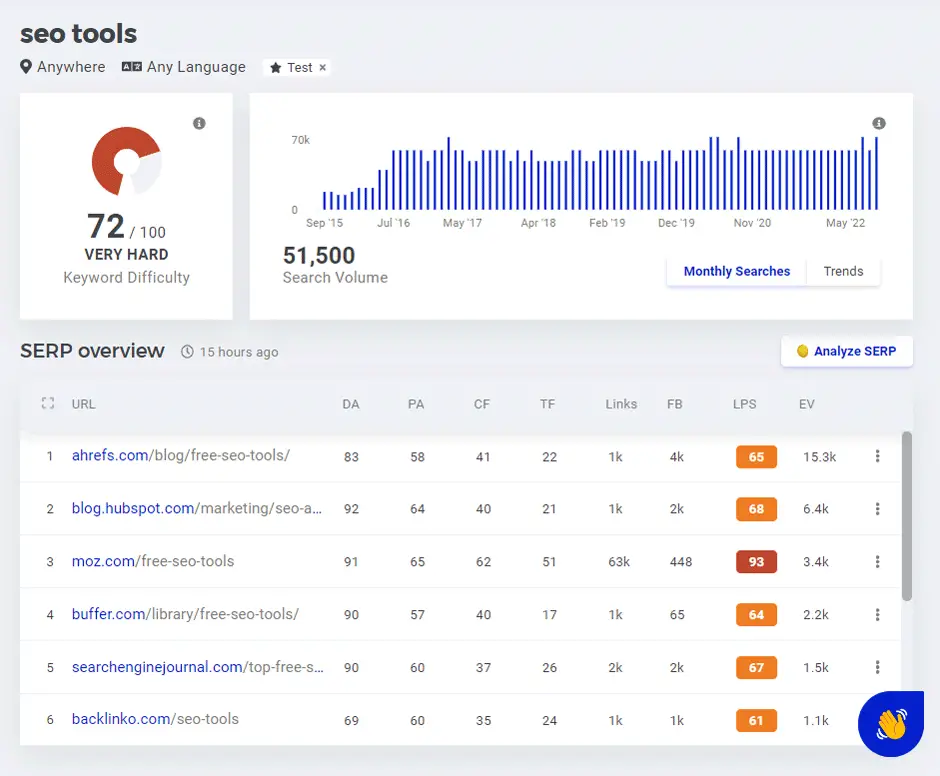 Another nice feature here is that you can click on the "Analyze SERP" button to bring up Mangools SERPChecker tool to get a snapshot of the first page of Google to find out what the search results page looks like for the user. You can use this information to check elements like meta titles, descriptions, and the impact of various SERP features.
Keyword Research History
KWFinder also makes it easy to find previous keywords you've searched for by saving them in the history section. When you click on this tab, you'll see a list of previous searches so you can revisit them without having to type them into the search field again.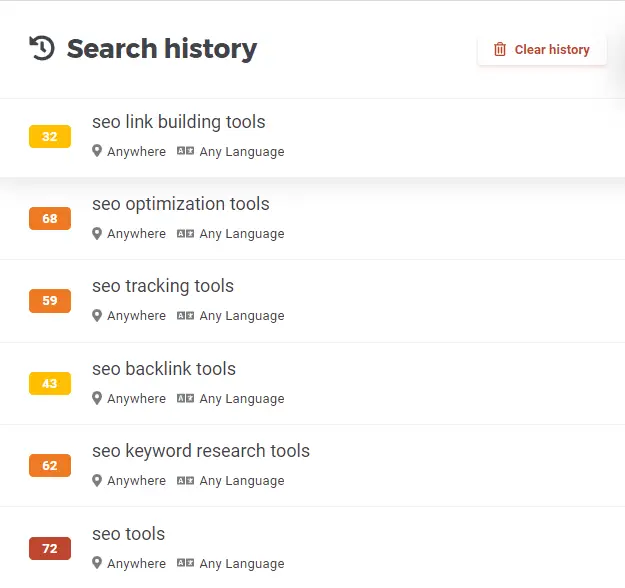 Export Keyword Data
If you want to export your keyword data to keep a local backup or to import it into another keyword analysis tool, then KWFinder allows you to do that too. All you have to do is check the box next to one or more keywords in the dashboard and then click on the "Export" button at the bottom of the tool. You'll then be given the option for exporting the keyword data as a CSV file.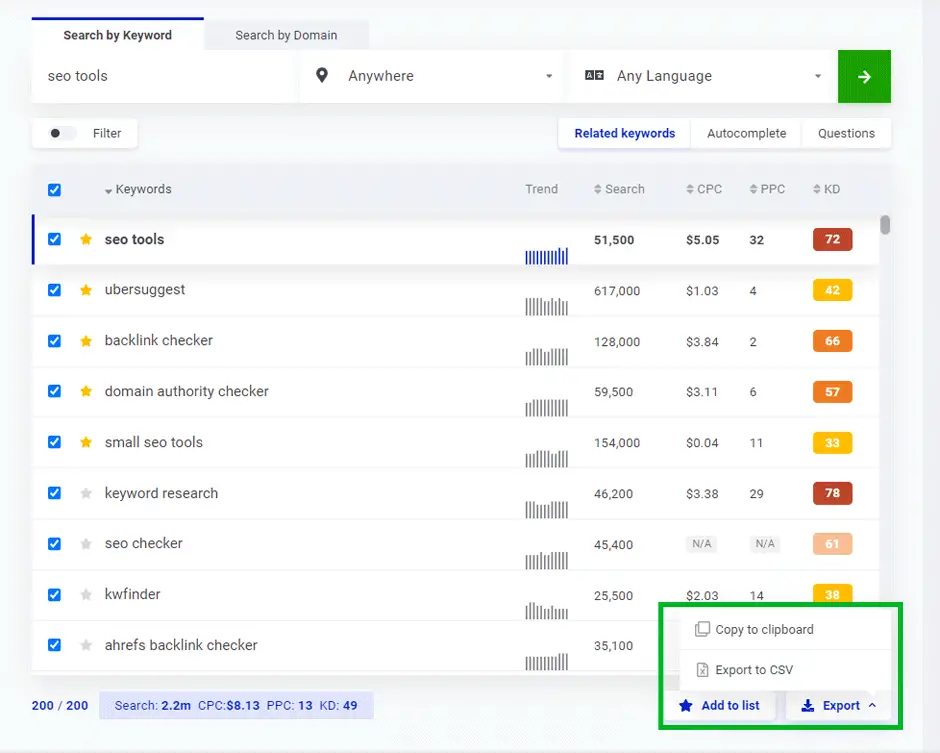 Import Keywords
If you have a list of keywords from another tool, then you can easily upload them in KWFinder by using the import function. You can also use this feature to manually type out a long list of keywords you want to analyze in KWFinder without having to search for them one by one.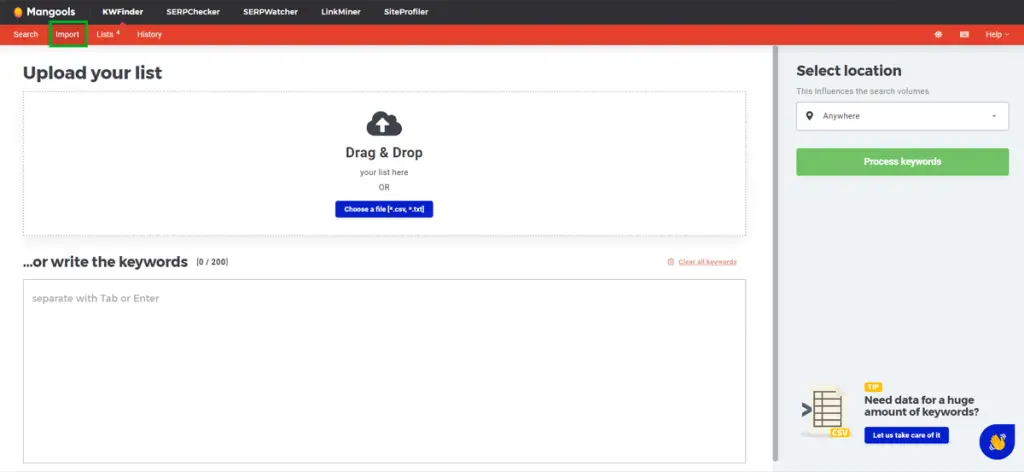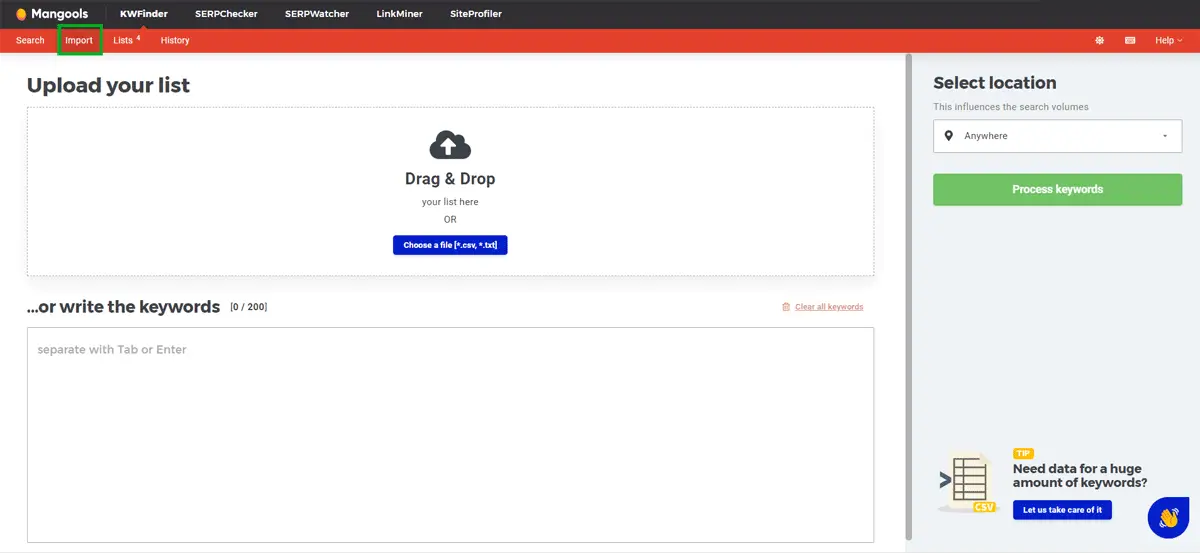 Simply click on the "Import" button and choose the option you want for a bulk upload of keywords: drag and drop, file upload, or handwritten. You can also set the location for the batch of keywords if you want to focus on getting SEO data for a specific area of the world. After your keywords have been added to the tool, click on the "Process Keywords" button for KWFinder to analyze the terms.
(Note: The import function has a maximum limit of 200 keywords per use.)
KWFinder Pricing
KWFinder by Mangools has three pricing plans that can be billed in monthly installments or paid as an annual subscription to save 40% off the yearly cost. Each plan includes the same KWFinder features; however, there are certain limits put on the SEO data that can be analyzed as shown in the table below.
Also, keep in mind that KWFinder comes bundled with 4 other SEO tools in the Mangools SEO suite: LinkMiner, SERPWatcher, SERPChecker, and SiteProfiler. See my complete Mangools Review to learn more about these extra tools.
Price Comparison Chart
Feature
Basic
Premium
Agency
Monthly Pricing
$49/month
$69/month
$129/month
Annual Pricing
$358.80/year
(Save $229.20)
$478.80/year
(Save $349.20)
$958.80/year
(Save $589.20)
Keyword Lookups (24 hrs)
100
500
1,200
Keyword Suggestions
200
700
700
Competitor Keywords
25
Unlimited
Unlimited
Simultaneous Logins
0
3
10
Note: Prices were current at the time of this KWFinder review and are subject to change at any time. You can upgrade, downgrade, or cancel your Mangools subscription at any time without any extra fee.
In my experience, the Basic Mangools Plan is good for most bloggers, niche site owners, and affiliate marketers who only do the occasional keyword research and analysis. The Premium and Agency plans are best for freelancers, small to medium enterprises, and SEO agencies that are often heavier users of the software.
KWFinder Money Back Guarantee
Mangools offers a 48-hour refund policy for KWFinder. You can claim a refund by contacting the company at info@mangools.com or through the live chat feature. I think this is a fair refund policy because Mangools does give you a free trial to test out the KWFinder tool for 10 full days before purchase. You can try KWFinder FREE here using my affiliate link.
Who Is KWFinder For?
There's no question that KWFinder is worth it for anyone who wants an affordable SEO keyword research tool that can give them accurate data to make better digital marketing decisions to improve their website's search engine optimization strategy.
However, KWFinder is not the perfect option for everyone. KWFinder features would be the best choice for these types of people:
Bloggers who want an easy-to-use keyword research tool without a complex learning curve.
Niche website owners who are on a budget and want access to important SEO keyword data to power their websites and to conduct basic competitor research.
Affiliate marketers who want to find low competition keywords for faster rankings and higher traffic.
Freelancers who offer SEO keyword research as a service but do not need the advanced capabilities of a tool like Ahrefs or Semrush.
Small to medium-sized enterprise businesses that need a fast and effective keyword research tool for an in-house digital marketing team for performing search engine optimization work.
SEO agencies that partner with smaller clients whose budget or needs do not require an advanced keyword research tool with complex features.
Anyone who does occasional SEO keyword research and wants a cheap tool for getting the data they need to guide their content publishing strategy.
Anyone who also wants access to 4 other powerful SEO tools for link building, rank tracking, competitor website analysis, and SERP analysis.
If you identify with any of these attributes, then I invite you to try KWFinder FREE here using my affiliate link. That way you can try out all of the features to make sure it's the right choice for you.
KWFinder Customer Reviews
If you're wondering what others think about KWFinder, then the following customer reviews taken from around the web can give you helpful insight into the top positive and negative comments about this keyword research software.
Positive Reviews
"Quick and easy keyword research. A great simple keyword tool finder without subscribing to Moz, Semrush, or Ahrefs; it's the easiest to use too. It's a quick and dirty version and gets very good results."

Sanjit Mandal (TrustRadius)
"YAY! Finally EASY SEO for small businesses. I have a small website with a very niche market and have tried many SEO tools. KWFinder finder has been by far the easiest for me to use."

Heather Figi (TrustRadius)
"The EASIEST tool to research your keywords with! KWFinder is one of the tools that I use regularly for keyword research. I am the only one that uses it. The business problems it addresses are the ease of researching keywords for any type of SEO campaign – whether it be keywords to put in blog posts, or initial keyword research for your business site."

Anonymous (TrustRadius)
Negative Reviews
"It would be great to be able to pay the monthly subscription with paypal that is currently only possible with business card."

Anonymous (G2)
"The keyword suggestions often provides very irrelevant keywords."

Yaniv G. (G2)
"Unfortunately, KWFinder is really lacking compared to the 'big dogs' in the field. At $30/month, it's a great value but it's not the best tool out there."

Angi B. (G2)
KWFinder Alternatives
KWFinder is not the only solution for keyword research and analysis. If you want to compare KWFinder to other software on the market, then these are the top alternatives for KWFinder:
Ahrefs
Keysearch
Keyword Chef
LowFruits
Moz Pro
SEO Powersuite

Semrush

Ubersuggest
Note: Some of these SEO keyword research tools are more robust than KWFinder; however, the pricing is also much more expensive. Before you choose one of these KWFinder alternatives, you should consider the actual features you're going to use in the software to make sure it's worth it for your needs.
In my experience, KWFinder has everything you need as a blogger, niche site owner, affiliate marketer, moderate size enterprise business, or an SEO agency that works with smaller clients. The extra expense you'll incur for the more professional-grade keyword research and analysis tools is not always necessary to get positive results for a small to medium size website.
You can try KWFinder for FREE here using my affiliate link to test it out for yourself.
Is KWFinder Accurate?
KWFinder is accurate for search volume, SEO keyword difficulty score, cost-per-click (CPC), and pay-per-click (PPC) competition levels and some users report that the data is much more accurate than Ahrefs. KWFinder data is pulled from a variety of databases including Google, Moz, and Majestic.
Is KWFinder Free?
KWFinder is not free but you can sign up for a 10-day free trial to test out this keyword research tool. A free KWFinder account is limited to 5 keyword lookups per 24 hours, 25 keyword suggestions, and 10 competitor keywords per search.
Is KWFinder Worth It?
KWFinder is worth it because it's one of the easiest SEO tools for keyword research and I highly recommend it for any website owner who wants an affordable tool for accurate search data. KWFinder keeps getting better with each update and is perfect for finding easy-to-rank keywords.
I invite you to try KWFinder for FREE here using my affiliate link at no extra cost to you. I only earn a commission if you ever upgrade to a paid plan.
More Mangools Reviews
As mentioned before, KWFinder is part of the Mangools SEO suite. You can read my published reviews of the other products in this toolset here:
KWFinder Review Summary
I hope you enjoyed this KWFinder review.
As you discovered, there are many KWFinder features you can use as a blogger, niche website owner, affiliate marketer, freelancer, small to medium enterprise, and SEO agency to make better data-driven digital marketing decisions for SEO keyword research to improve your website or a client's site for search engine optimization.
Hopefully, this in-depth KWFinder keyword research tool review gave you everything you need to make the best decision for your needs as an Internet marketer or SEO specialist.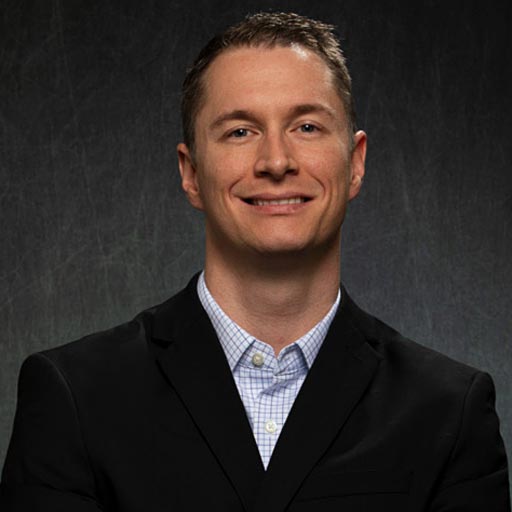 Stephen Hockman is an entrepreneur and founder of SEO Chatter. He specializes in search engine optimization and digital marketing and has been fascinated with SEO since 2005. His goal is to share the best tips and news about search engine marketing to help you get more website traffic.