This guide includes a list of internal linking best practices for SEO.
Below, you'll find the top internal linking strategies you can use to maximize the impact links have on your website's search engine performance. The recommendations on this page contain a variety of internal linking SEO best practices you can pick and choose that have been tested and proven to work by many search engine optimization experts.
The ultimate goal of this guide is to help you create the most effective internal link building strategy for your website to achieve higher rankings and traffic from search engines like Google, Yahoo, and Bing.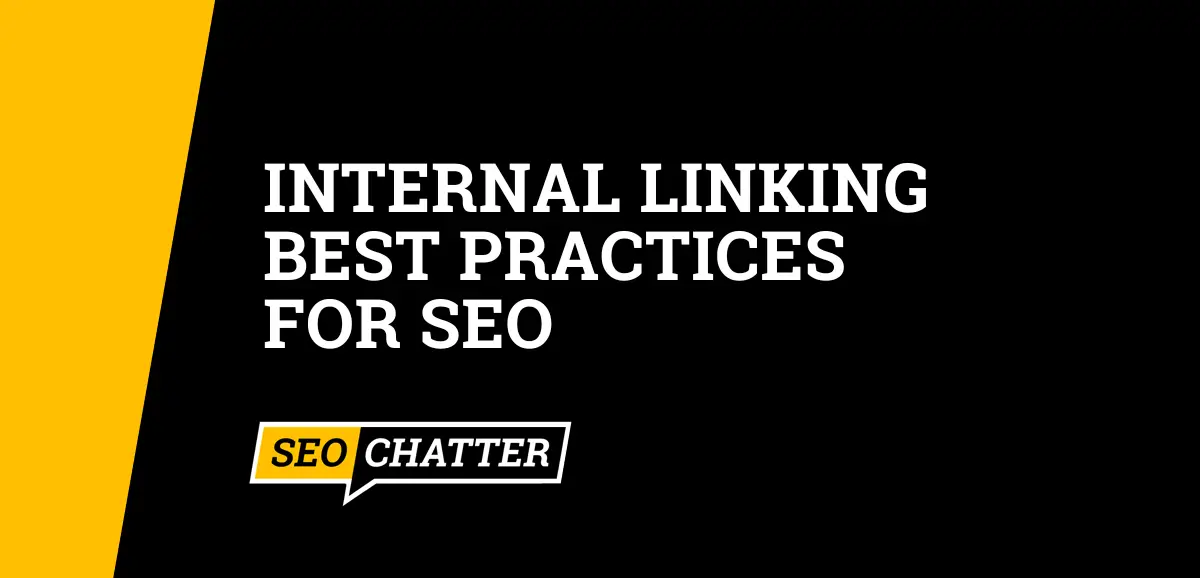 Internal Linking Best Practices for SEO
1. Focus On Contextual Internal Links
The first best practice for internal linking you should focus on to get the most ranking improvements for a target web page is to use contextual links. Contextual links are links placed within the body of text on a website as opposed to being located in the header, footer, or sidebar.
Contextual internal links are more powerful for on-site SEO because they help search engine crawlers understand the relevance and authority of a web page within the context of a topic or subject. (More on that later.)
2. Limit the Number of Internal Links for Maximum Impact
While there isn't a magic number of internal links you should use per page, an important factor to consider is that the more hyperlinks there are in the content, the less impact each link is likely to have for on-site SEO.
Google's algorithm, in particular, assigns a PageRank value for every page on the Internet based on the quality and quantity of its backlinks. And each page on your website has a finite amount of link equity (also known as link juice) that it can transfer out to other URLs on the same domain.
In other words, a web page that has a single outbound internal link will distribute 100% of the potential PageRank value to the target URL while a page that contains two outbound internal links will distribute that PageRank authority equally across the URLs at 50% each.
Therefore, a good SEO internal linking strategy for controlling the passing of PageRank is to select a small number of pages to link to in the content to prevent the link equity from becoming diluted, meaning each internal link carries more value to its target page.
3. Select Links Based On Topical Relevance
So, you know how not to overdo your links, but how do you decide which pages to link to?
One of the top internal linking best practices you can follow is to select internal link targets based on topical relevance. The more you can internally link pages that are written about similar subjects, the more topical authority the website will gain in those areas. As a result, your website can experience an increase in rankings across the entire set of linked pages in Google, Yahoo, and Bing.
A good interlinking SEO strategy is to connect highly-relevant pages together; not just random articles across the site. If you scroll down to the bottom of this page to the Learn More section, you'll see the practice put into action. This guide only links to the pages on the SEO Chatter website that discuss the topic of internal linking.
4. Choose 3-4 SEO Keywords for the Anchor Text
Another good strategy for internal links is to choose 3-4 keywords to target for a specific web page. These keywords should be the same search terms that the target page is optimized for with on-page SEO (i.e., the primary and secondary keyword phrases).
After you have this list of 3-4 keywords, you should then rotate through them in the anchor text as you build new internal links to the page. That way, you're using keyword-rich anchor text for all the internal hyperlinks to help boost the on-site SEO signals that the search engine crawlers take into consideration when indexing and ranking the content in the search engine results pages (SERPs).
As explained in our other guide with a list of anchor text optimization tips, a good ratio to follow for internal links to boost SEO performance includes:
60% Phrase Match Anchors: The clickable text includes a few words before or after the exact match keyword phrase to reduce over-optimization. Example: "see our top dog bed reviews here", where "top dog bed reviews" is the target keyword phrase.
30% Exact Match Anchors: The clickable link includes the exact match keyword and nothing else. Example: "top dog bed reviews".
10% Partial Match Keywords and Variations: The clickable text includes only a portion of the target keyword phrase (e.g., drop a word or two) or a variation of the main keyword (e.g., a reordering of the words or swapping out common words with synonyms). Examples: "best dog bed reviews", "canine bed reviews", and "reviews for dog beds".
5. Avoid Generic Internal Links
Following up on our last recommendation for internal linking, anchor text such as "click here" or "read more" should be avoided when building internal links.
Generical anchor text doesn't provide much context to search engine crawlers or your users about the subject of the content, meaning this type of anchor text can dilute the power of your interlinking SEO strategy.
Therefore, you should always use descriptive, keyword-rich anchor text for internal links because it gives both search crawlers and users a clear idea of what the content is about.
6. Optimize the Annotation Text
The late Bill Slawski, who was a world-renowned SEO expert for analyzing Google patents, discovered an interesting reference about annotation text in Google's anchor text indexing patent.
In this blog post on Go Fish Digital, Bill says: "One of the noticeable things that is new in the claims in this continuation patent is the mention of Annotation text, within a certain distance from anchor text for a link, which could influence what a page that is being linked to maybe about."
The big idea here is that the keyword used in the internal anchor text is not the only signal the ranking algorithm system takes into consideration when passing PageRank to a web page. It seems that the words within a certain distance of the anchor text are also indexed to better understand the meaning of the linked page.
Based on that discovery, you don't want to insert a hyperlink in a random paragraph on the page. Instead, you want to make sure that the text surrounding that internal link also includes relevant phrases and terms associated with the anchor text because the surrounding annotation text may be stored along with it in Google's index.
For example, if you were targeting the keyword phrase, "SEO tools for beginners", then a good paragraph with optimized annotation text would be as follows. Note: the relevant words have been bolded and the potential anchor text link is underlined for demonstration purposes.
Are you new to SEO? Then check out our list of the best 

SEO tools for beginners

. This popular software is easy to use for anyone just starting in the field of search engine optimization.
7. Never Use the Same Anchor Text for Other Pages
If you want to optimize your internal links for better search engine optimization in the best possible way, then you should never use the same anchor text for different URLs on the same website.
This is an important internal linking best practice to follow because many website owners accidentally get this part of on-site SEO wrong. And, when done incorrectly, it can cause significant keyword ranking issues throughout the site.
That's because the search engine crawlers get confused as to which URL should be correctly indexed and ranked for a particular keyword phrase when more than one web page on the same domain has internal links using the same key phrase.
In tip 3 above, we recommended that you choose 3-4 keywords to target for a specific web page. After you do that, a good practice to follow is to keep a log of those keywords for each URL in a spreadsheet or document so you know not to use those terms for internal links to any other URL on the site.
Additionally, if you ever link out to the same page more than once in the body content, always make sure to use the exact same anchor text for each link. For example, in the Learn More section below, you'll see a hyperlink for a list of the best internal linking tools for SEO. To avoid any confusion for the search engine crawlers, I used identical anchor text for that link in this paragraph.
8. Improve Rankings for New Content By Linking from High Authority Pages
Web pages with the highest rankings, the most traffic, and the highest Page Authority scores can be used strategically to boost the organic visibility of your newly published content.
This is partly because those well-performing pages have the most link equity (or PageRank) to distribute, meaning internal links to new content can help bolster the Page Authority of that content immediately after it's published.
Additionally, your high-traffic pages have the most visitors; thus, more people are likely to click on the internal links in that content, producing a traffic increase that search engine crawlers perceive as a positive user signal.
Therefore, you should make it a part of your post-publishing process to create internal links from your highest authority pages to your new content to help rank higher in the SERPs.
9. Always Use Dofollow Links
Back when the ranking algorithms were less sophisticated, there was an SEO internal link building strategy that was developed called "PageRank sculpting", which is a method of controlling the way PageRank flows from a parent page to other pages on the same domain.
This PageRank sculpting tactic consisted of adding the nofollow link attribute to all the links on the parent page that the website owner did not want to send link equity to. Essentially, by adding the rel="nofollow" tag to all but the most important internal links, the distribution of link equity could be consolidated to those target pages to manipulate the rankings in the SERPs.
But in 2009, Google changed the "rules of inheritance" that affect how PageRank is transferred from one page to another on the same domain to counter that internal linking SEO tactic. Now, all PageRank value gets passed on internally regardless if the internal link has the nofollow attribute.
This is an important concept to understand because some people still practice this internal linking strategy hoping that it works for SEO. But the fact is that having a lot of nofollow internal links is not a natural practice on the Web. And, Google's systems have been tuned to detect manipulation practices like this that violate their Search Essentials Guidelines.
Therefore, you should make sure that every internal link on your site is a dofollow link. This is the default value for all internal links, so no special HTML needs to be added to the link attribute.
As you learned in interlinking strategy #2 above, you can distribute the most PageRank value to a small number of pages by limiting the number of internal links on a page. This is a safe, and effective practice for SEO that follows Google's Search Essentials Guidelines.
10. Create More Content to Expand Your Interlinking Opportunities
Last but not least, to develop a winning SEO strategy for internal links, you need to make sure you're creating new content on a regular basis to expand your interlinking opportunities.
Google has officially stated that a URL that receives the most internal links sends a positive signal to the ranking algorithm systems that it's an important page for the website users. As a result, pages with more internal links often experience a ranking boost in the SERPs for their target keywords.
Additionally, a URL that continues to receive a fresh batch of incoming links further boosts this on-site SEO signal. Therefore, you should routinely produce new content to not only improve your topical authority on specific subjects but to also create endless opportunities for maximizing the SEO power of interlinking related content.
Bonus SEO Internal Linking Strategy
One final strategy you can use for internal linking that helps improve the user experience for your website visitors is to add the parent categories for your blog posts to the main navigation menu.
This tactic can help increase the average number of pageviews per session and time on site for your users, which are important metrics every website owner should focus on to generate more leads, customers, sales, and revenue.
For example, in the original design of the SEO Chatter website, the main navigation menu only contained a single internal link to the blog which housed all of the blog posts across every category. As a result, the blog category pages got little to no traffic and the website visitors were not aware of all the great content being published on the topics of general SEO, keywords, backlinks, monetization strategies, etc.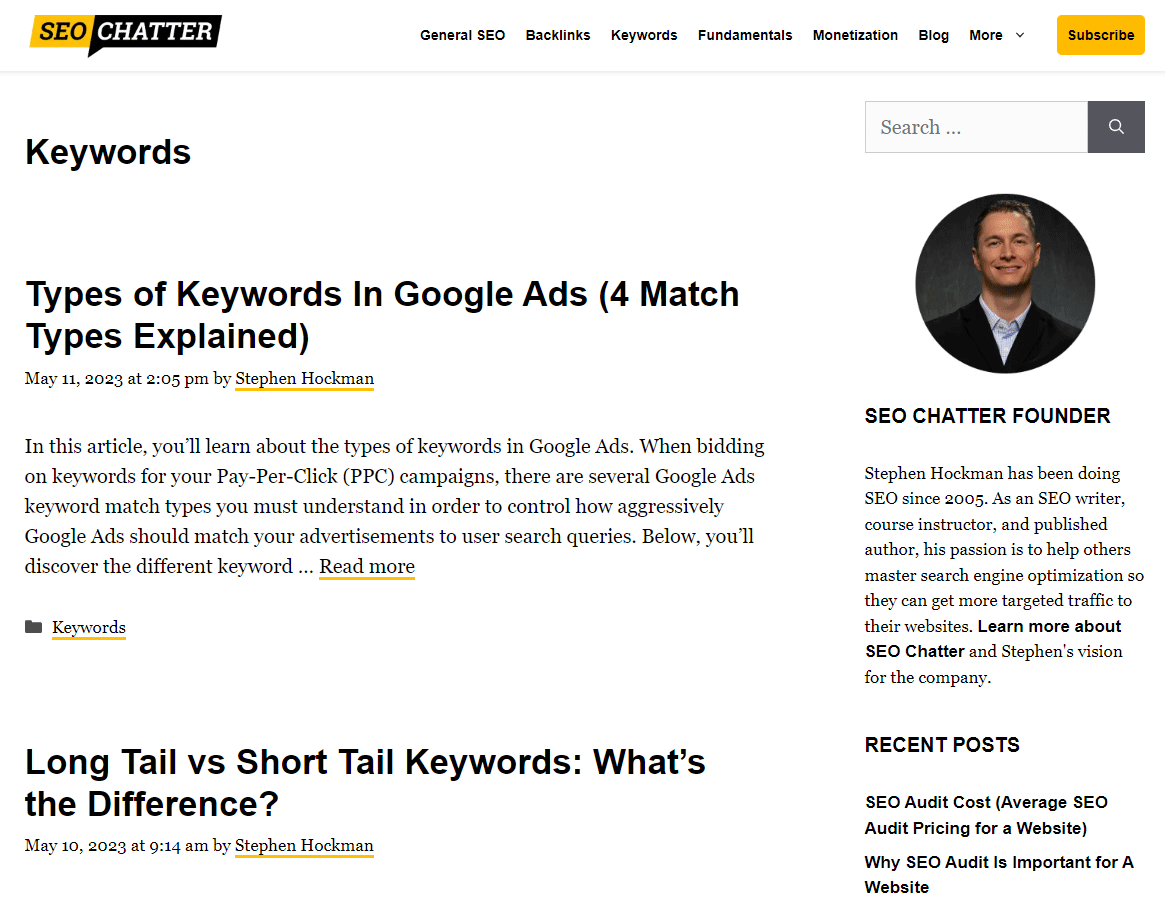 After those blog category links were added to the main navigation menu, traffic increased for those pages as well as the average pageviews per session and time on site. In the image below, you can see the Google Analytics data for the month-to-month comparison from this simple change where the total pageviews for the category pages increased by 1,070.34%.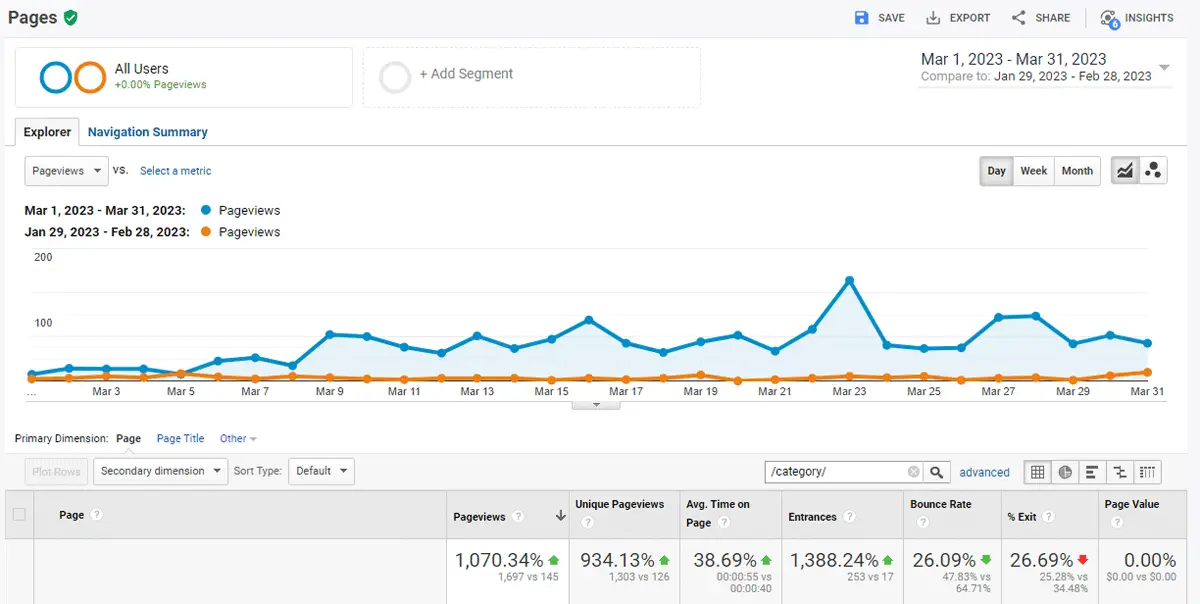 If you're not already displaying your blog category pages in the main navigation menu, then we encourage you to take advantage of this internal linking strategy for your website.
Learn More About Internal Linking
The links below will help you learn more about internal links and how to apply them effectively to your site. Use these resources to expand your knowledge on the subject.
Summary for Internal Linking SEO Best Practices
We hope you enjoyed this guide to internal linking best practices.
As you discovered, there are many important internal linking SEO best practices to consider, including limiting the number of links you use, using natural anchor text, and adding alt tags to image links. Apply these internal linking strategies to your search engine optimization efforts to help boost your website's rankings and traffic.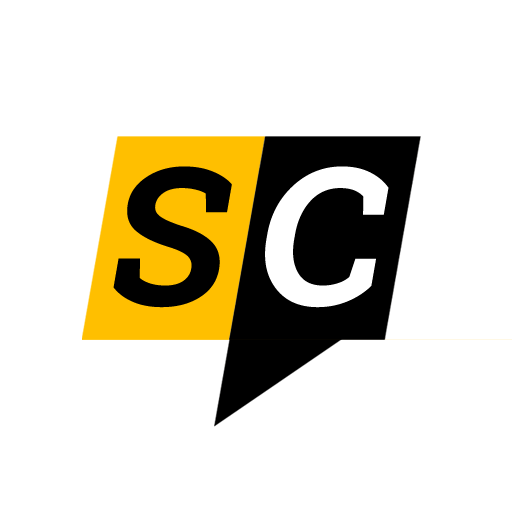 The Editorial Staff at SEO Chatter is a team of search engine optimization and digital marketing experts led by Stephen Hockman with more than 15 years of experience in search engine marketing. We publish guides on the fundamentals of SEO for beginner marketers.