This guide includes a list of the best WordPress internal linking plugins.
Below, you'll find the best internal linking plugins to use to develop a solid interlinking SEO strategy for your site. The recommendations on this page contain a variety of options to help you find the WordPress plugin for internal linking that best meets your budget and search engine optimization goals.
Disclosure: This page includes affiliate links for a few of the WordPress internal linking tools. When you purchase a paid subscription, I may earn a commission.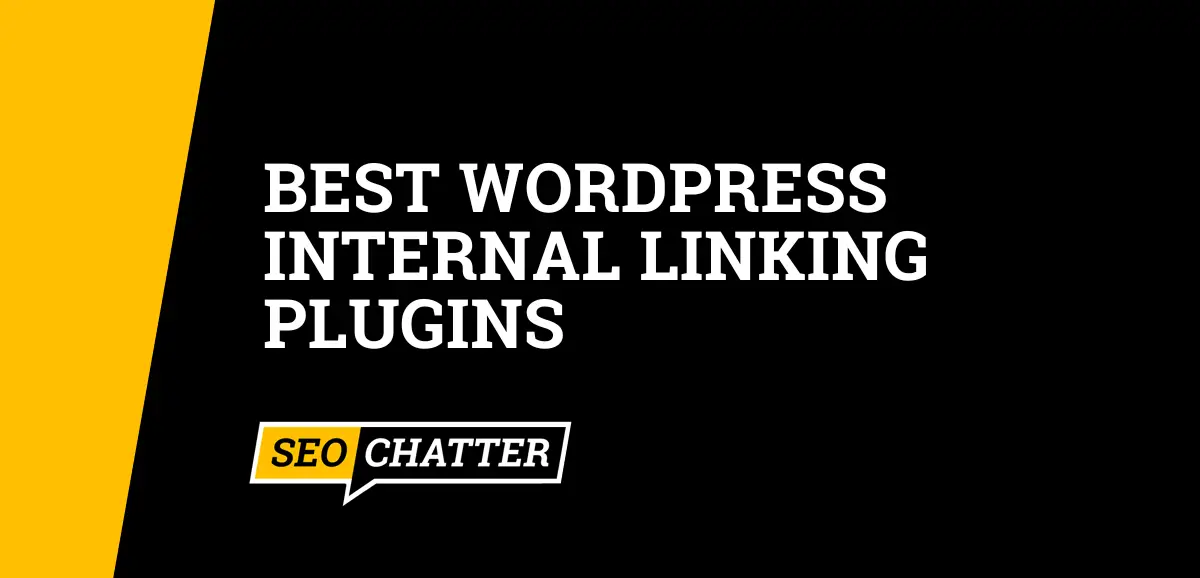 Best WordPress Internal Linking Plugins
1. LinkWhisper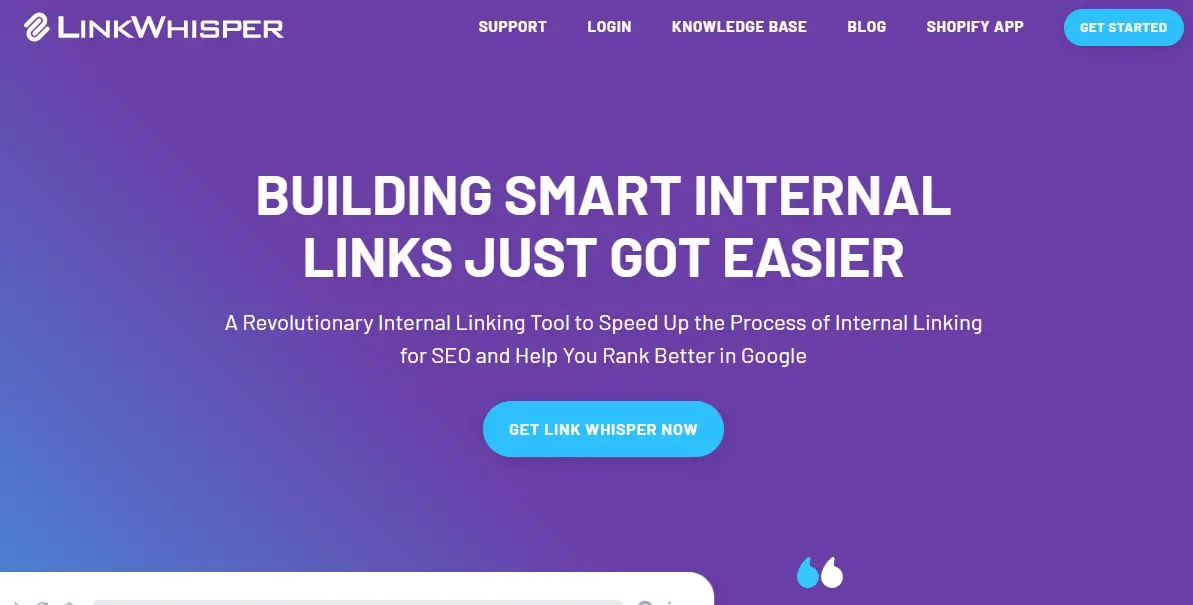 LinkWhisper may not be the only link building plugin for WordPress, but it remains the original and best option, paving the way for some of the other tools on this list to make the mark.
Since LinkWhisper focuses exclusively on internal links, you benefit from not only working with a company renowned for its unparalleled expertise in this crucial SEO factor but also from a purpose-built platform to help you develop a bulletproof internal linking strategy.
This begins with the beginner-friendly interface, where clear, structured menus meet with visual dashboards that make every task effortless.
It continues with the fast and highly accurate automated link suggester, which uses AI to provide real-time internal link recommendations as you write your content.
Link Whispers' value as the ultimate WordPress internal link tool peaks with the automatic link inserter, which spreads links to specific URLs based on keywords you enter, making it a perfect tool for rapidly adding a basic internal linking structure to sites that lack one.
That said, the excellent reporting features, broken link fixer, and Google Search Console integration also help make this not just a top option for WordPress users, but one of the all-around best internal linking tools available for any platform.
LinkWhisper plans start from $77 for a single-site license, but you can get $15 OFF using our special LinkWhisper partner link here.
2. RankMath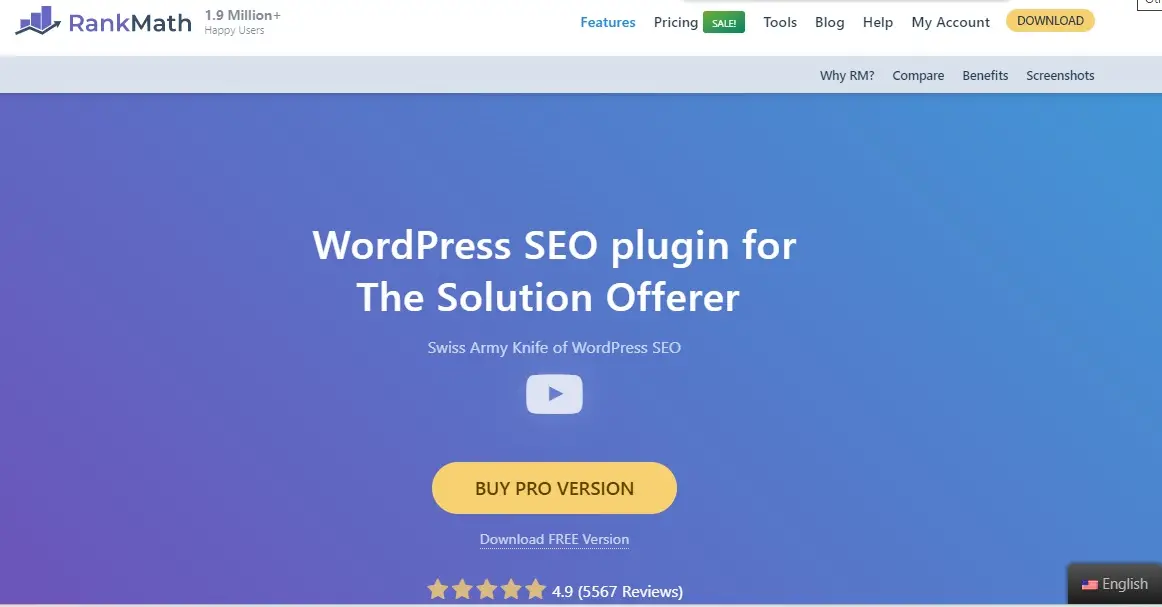 RankMath has experienced an explosion in popularity in recent years, threatening to usurp Yoast as the world's number one WordPress SEO tool (reviewed next on this list).
What makes RankMath one of the best WordPress internal linking plugins is that it's invaluable for optimizing your pillar pages with relevant, optimized links. After marking your content as a pillar post and enabling link suggestions in the settings, you can choose to either have links recommended based on the title or focus keyword of your post.
Having used this feature multiple times ourselves, we can vouch for what a game-changer it is in terms of the time saved optimizing each of our pillar pages for internal links. Plus, it's 100% free to use with the free version of the RankMath WordPress plugin.
RankMath is free to use with limited features and the yearly plans start at $499.
3. Yoast SEO
Boasting more than 13 million active downloads across the globe, Yoast SEO is one of the most widely-used search engine optimization tools on the planet. That means there's a good chance that some of our readers, and perhaps you, will be already using Yoast for tasks such as meta description optimization and keyword density analysis.
If you're one of those users, then it's worth taking advantage of the excellent internal linking tool available in Yoast instead of switching to another WordPress plugin.
However, keep in mind that the internal linking features is only available on Yoast SEO Premium plans ($99 per year). If you have a paid plan, then the tool helps you connect related content to create algorithm-pleasing structures and auto-suggests relevant internal links from the moment you start typing. It also allows you to drag those suggestions into the content from the main editor for quick and easy internal linking for SEO.
As beginner-friendly as any internal linking plugin we've come across, this feature makes it worth trying Yoast Premium.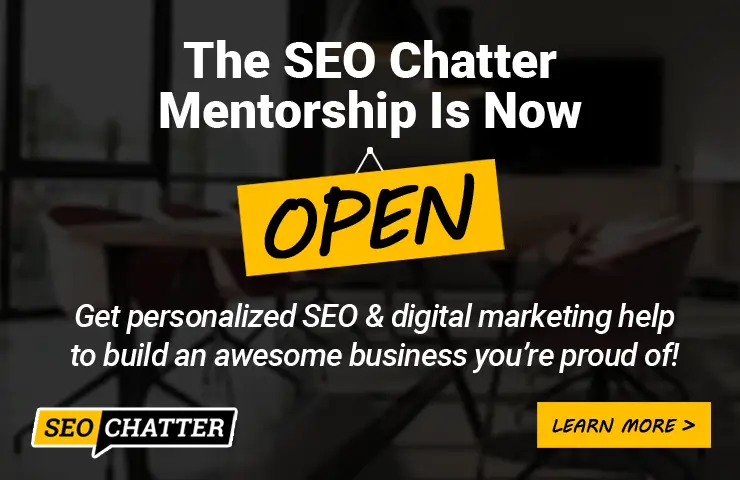 4. Internal Link Juicer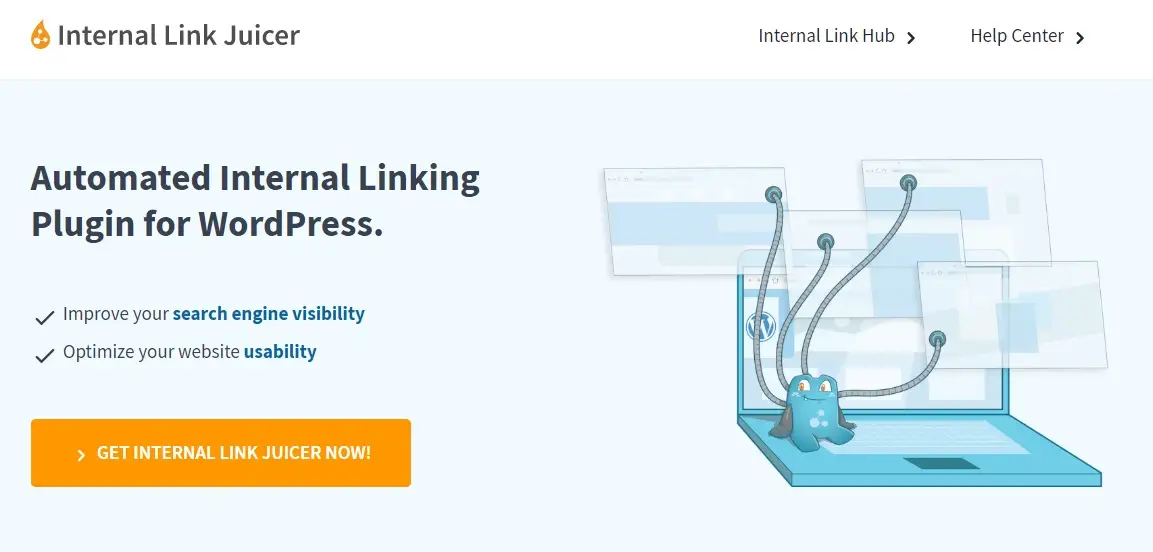 Having an effective internal linking strategy in place may be necessary, but it also takes a lot of time and effort.
If you're a time-starved small business owner looking to reap the rewards of internal linking without doing everything yourself, take a look at Internal Link Juicer.
The well-known WordPress plugin handles the whole process for you, drawing on keywords specified by you to automatically connect all relevant pages on your site at a click of a button.  All you have to do is add your keywords, specify which URL you want each keyword to link to you, and the plugin will analyze your entire site, automatically adding links wherever those keywords appear in the content.
If you want to turn your website into a platform like Wikipedia, where the core topics (or entities) on each page are linked to their associated pages for the user to dive deeper into the site, then Internal Link Juicer is a top WordPress plugin to create that type of user experience.
The Internal Link Juicer tool is available as a free plugin with limited features. Alternatively, you can upgrade to the Pro version for $69.99 to access features like user-defined links, linking only within certain categories, and premium support.
5. Interlinks Manager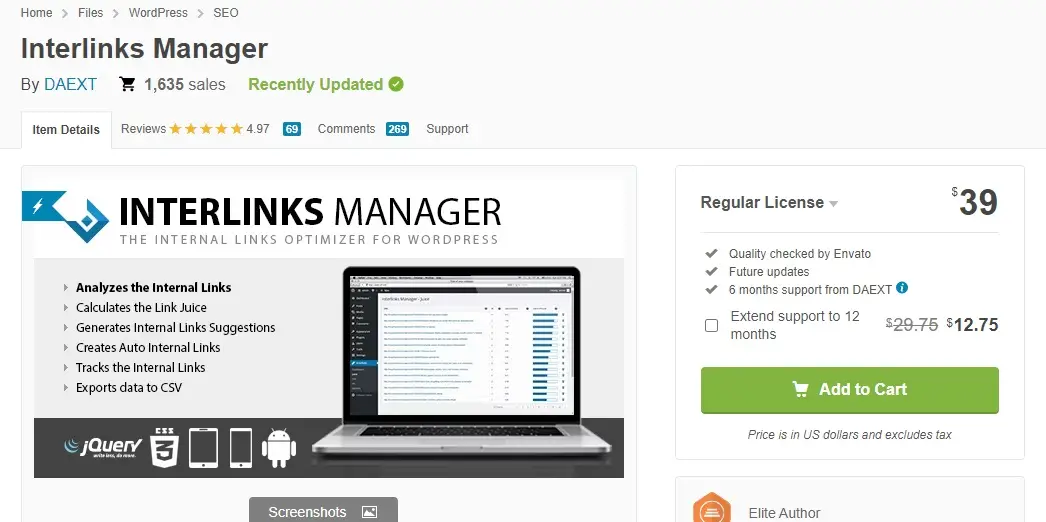 Interlinks Manager is an innovative, intuitive premium WordPress plugin that happens to be one of the best internal link analysis tools on the web.
(Note: this plugin was developed DAEXT which also offers the Autolinks Manager that's featured in our #8 review below. You may want to give both or either or of these tools a try.)
As one of the most in-depth internal link reporting tools we've come across, the plugin provides a complete evaluation of all the links on your site. This assessment results in a detailed report full of valuable statistics, such as the number of visitors each link generated and which links are distributing the most link equity throughout your site.
Beyond that, the plugin also offers both automated interlinking based on your chosen keywords and on-the-fly link suggestions while writing your content and the ability to export data in CSV format for use with other SEO software.
You can try Interlinks Manager for free with limited features or upgrade to the regular site license for $39 with 6 months of support by the developer.
6. AIOSEO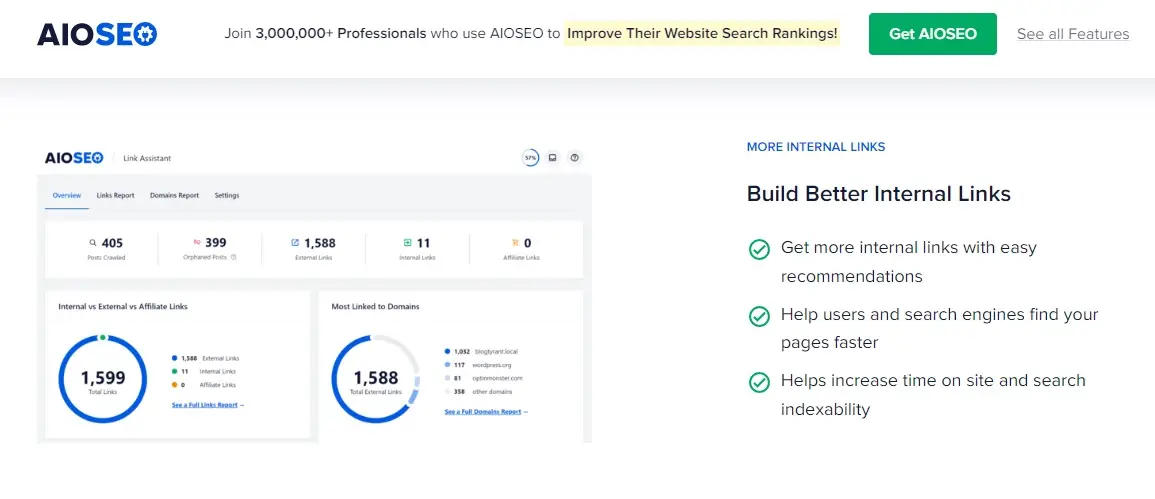 AIOSEO (All In One SEO) is another one-stop search engine optimization plugin for WordPress with impressive internal linking features.
Once activated, the popular SEO tool can provide internal linking recommendations as you write, eliminating the time and effort of searching for the most relevant pages to link to from your vast catalog of content.
There's also a Linking Opportunities report, which not only shows you which pages could benefit from internal linking, the best pages to add those links, and the best number of internal links per page.
Although there is a free version of AIOSEO plugin, the Internal Link Assistant feature is only available when you upgrade to AIOSEO Pro for $175 per year.
7. YARPP (Yet Another Related Posts Plugin)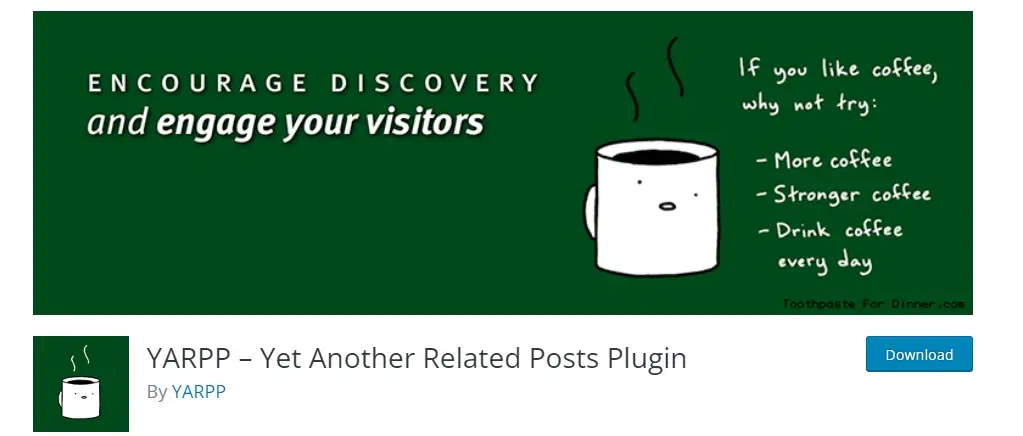 If you ask us, YARPP (Yet Another Related Posts Plugin) is selling itself short with its name because this is anything but just another plugin for linking posts together.
This helpful and 100% free tool pulls up related content from across your site using advanced, customizable algorithms that other WordPress plugins typically charge you for.
Additionally, you can make your related post links stand out with thumbnails and flexible styling options to really grab your reader's attention.
Out of all of the related post plugins on the WordPress market, YARPP truly is the best option. Other plugins try to come close to its long list of features and speed, but cannot really match the power of this tool for boosting visitor engagement, time on site, and SEO.
In our opinion, every website owner should at least try the YARPP internal linking plugin to see if it helps increase the number of sessions per user on the site.
8. Autolinks Manager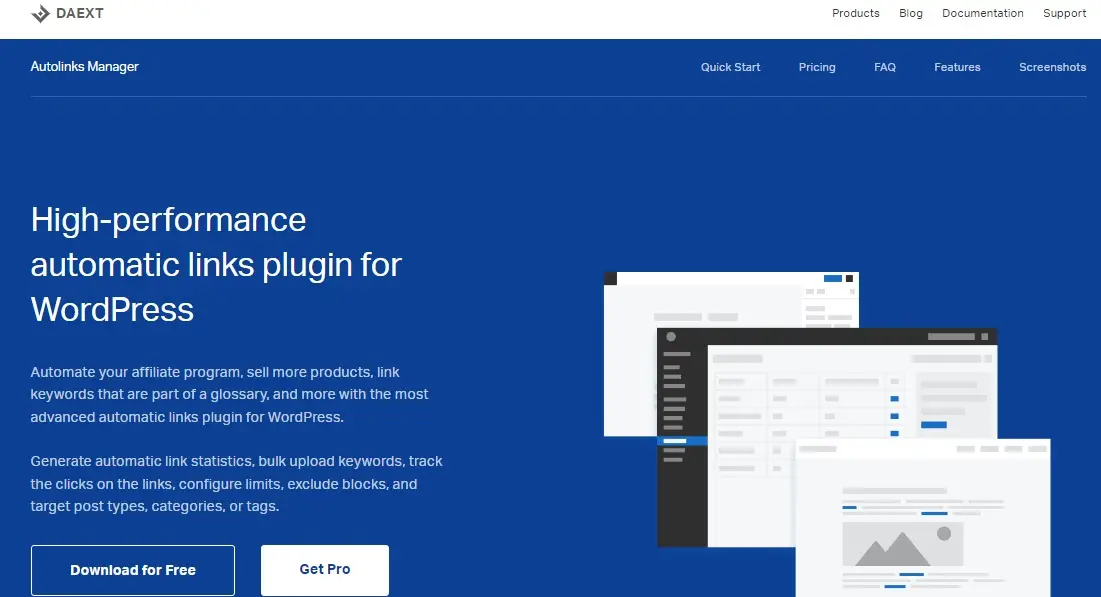 Built by leading WordPress plugin developers, DAEXT, AutoLinks Manager has one of the best automated linking features we've seen from any tool on our list.
Like other recommendations, this tool involves entering your URLs and selecting which keywords they should be linked to. Where AutoLinks Manager really excels; however, is that it offers over 50 customizable options to fine-tune your automated linking process based on tags, post types, categories, and more.
Additionally, any future mention of those keywords will automatically trigger a new internal link.
We're equally as impressed with the plugin's role as a link checker as it provides:
A detailed yet concise breakdown of all the links on each page.
The number of click-throughs they generate.
Recommendations on how to implement internal linking best practices throughout your site.
You can use the auto links feature in the free version of AutoLinks Manager. A paid version is also available starting at $49 for a single-site license. And don't forget, DAEXT also offers the Interlinks Manager which was the plugin featured in our #5 review above for you to consider.
Learn More About Internal Linking
The links below explain more about internal linking and how to optimize internal links correctly for SEO. Use these resources to improve your knowledge of the subject.
WordPress Internal Linking Plugins Summary
We hope you enjoyed this guide on the best WordPress internal linking plugins for SEO.
As you discovered, Link Whisper, Rank Math, and Internal Link Juicer, rank among the top internal linking plugins thanks to their impressive collection of easy-to-use features. Feel free to try any of these popular automatic internal linking plugins for WordPress you like the most or test them all to find the best WordPress plugin for internal linking that's right for your website.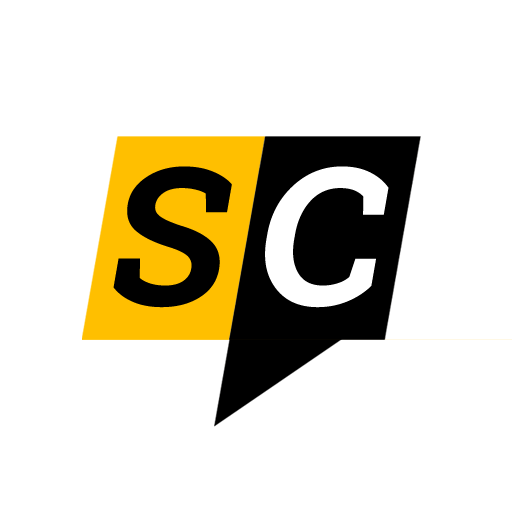 The Editorial Staff at SEO Chatter is a team of search engine optimization and digital marketing experts led by Stephen Hockman with more than 15 years of experience in search engine marketing. We publish guides on the fundamentals of SEO for beginner marketers.