This guide includes a list of the best internal link checkers for SEO.
Below, you'll find the best internal link checker tools to help you analyze the value of each link you include in your content. The recommendations on this page contain a variety of internal link analysis tools to help you find the one that best meets your budget and search engine optimization goals.
Disclosure: This page includes affiliate links for a few of the internal link checker tools. When you purchase a paid subscription, I may earn a commission.
Best Internal Link Checkers & Tools
1. Semrush Site Audit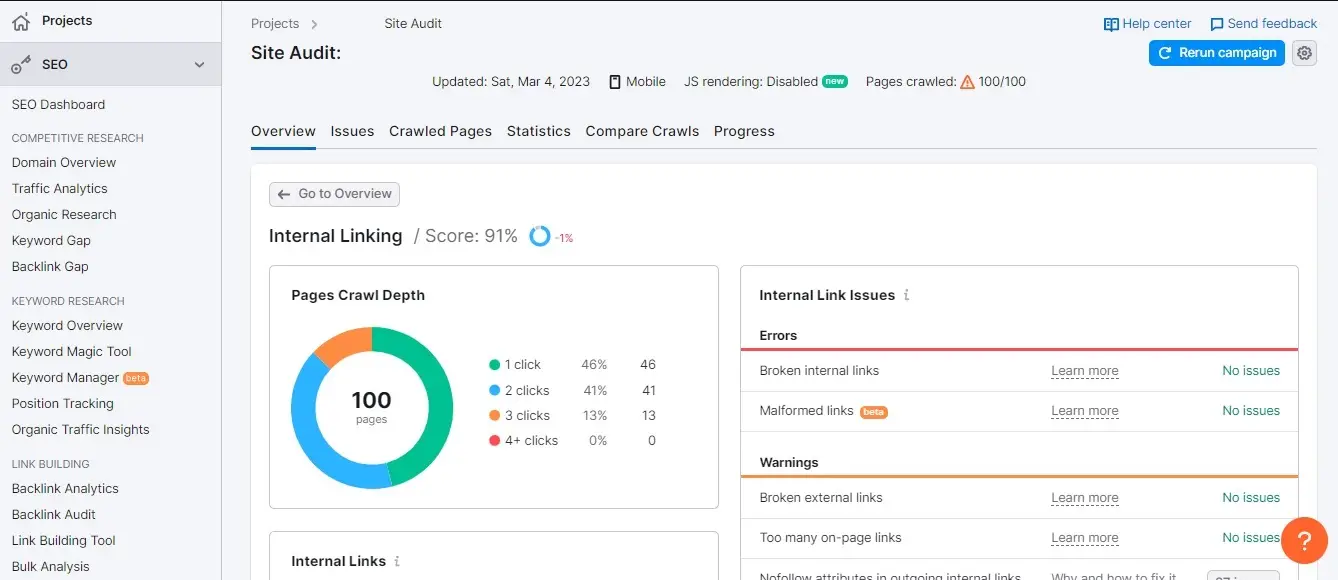 Even if you're new to learning about search engine optimization, there's a high probability you've already heard of Semrush.
This industry-leading SEO platform earns widespread acclaim thanks to its sheer number of features, providing a massive volume of data to help you make informed decisions about practically every aspect of your site optimization.
This is certainly true of Semrush's internal linking reports.
Found within the Site Audit feature, these reports establish Semrush as the king of internal link analysis tools by giving you valuable insights into every aspect of your hyperlinks.
The data provided includes:
Page crawl depth
Broken links and other internal link errors
Orphan pages
Internal link distribution
Pages that pass the most link equity
Nofollow tags
All of this data is presented in a clear, easy-to-understand format, so you can take quick action to improve your website's internal linking strategy for SEO.
If you use our special Semrush partner link here, you can get an extended free trial to test out the full capabilities of this software. After the trial ends, you can still use the Semrush Site Audit for free with up to 10 report requests per day for one project. For more projects and requests, you'll need a premium subscription which starts at $119.95 per month.
2. Interlinks Manager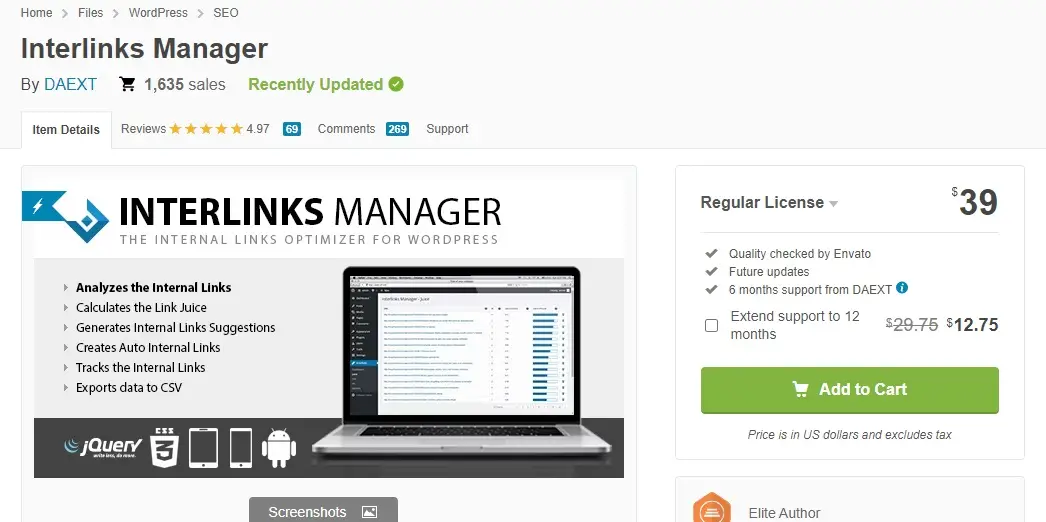 Interlinks Manager is our pick for the best internal link analysis tools for WordPress with the lowest price.
This low-cost plugin delivers a wealth of valuable insights into the performance of your internal links, showing you which links drive the most traffic and distribute the most link juice throughout your site.
It's a breeze to use, and the plugin also provides other useful features, such as automated link suggestions and the ability to set custom-defined values to determine whether each page has the optimum number of internal links.
You can try Interlinks Manager for free with limited features or upgrade to the regular site license for $39 with 6 months of support by the developer.
3. SEOMator Link Checker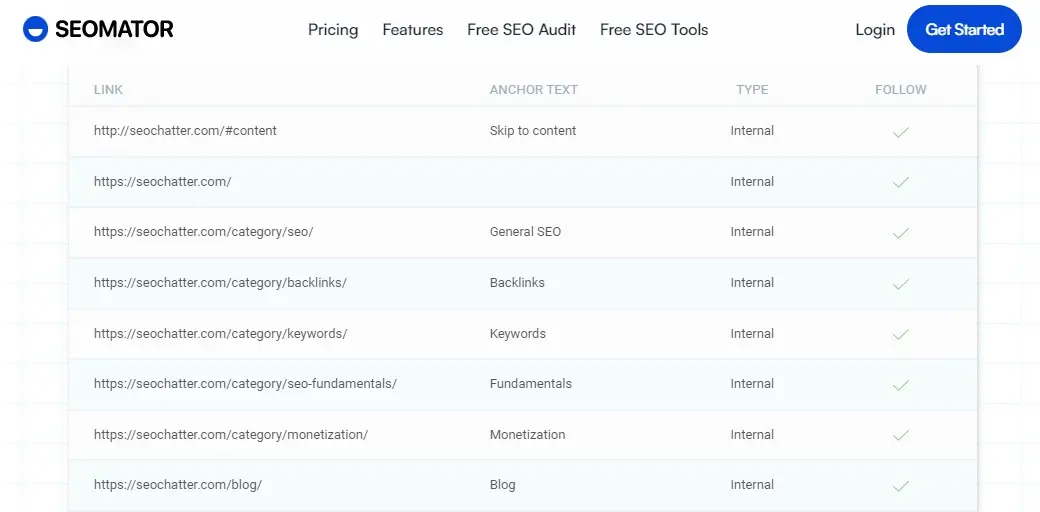 Our recommendation for one of the top free internal link analysis tools you can use without signing up or logging into a dashboard is the SEOMator Link Checker.
This is a free tool that provides a basic but helpful analysis of your existing internal linking efforts.
Enter a URL, and in a matter of nanoseconds, SEOMator will provide you a complete breakdown of:
The total number of links on the page.
How many of those links are internal vs external links
How many of those links are no follow links.
Anchor text used for each hyperlink.
This link data can help you make quick improvements to your internal linking strategy, such as rewording the anchor text or switching nofollow links to dofollow links.
The SEOMator Internal Link Checker Tool is free to use for everyone. The platform also has a paid option with extra features such as a backlink checker and rank tracking. Prices start at $49 per month.
4. SEO Powersuite Website Auditor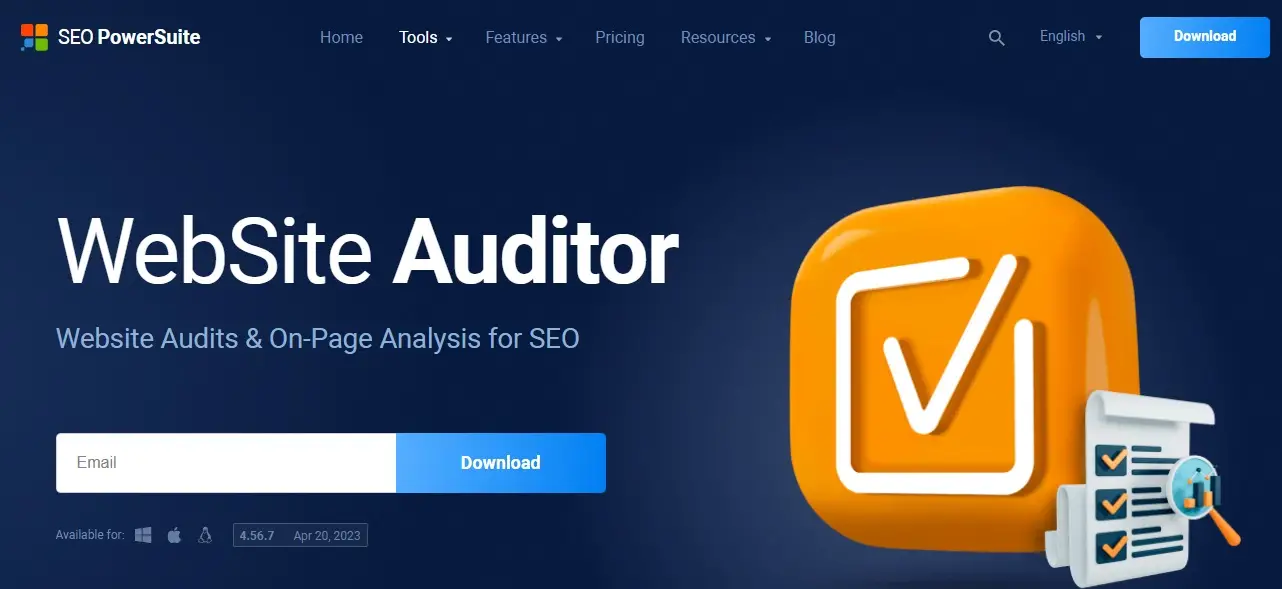 SEO PowerSuite may not enjoy the same level of global brand recommendation that other internal link checkers on our list, but judging by the merits of its powerful WebSite Auditor, SEO PowerSuite certainly deserves more attention.
Amidst its numerous features, there's a brilliant internal link checker tool that creates a visual representation of your site structure so that you can identify problems, track the flow of link juice throughout your site, and plan links for new content, all from one intuitive dashboard.
Internal linking features are included in the free version of SEO PowerSuite WebSite Auditor. Premium plans with more features and site licenses start from $299 per year.
5. Ahrefs

Ahrefs has become a faithful companion for countless successful bloggers, business owners, and solopreneurs thanks to its packed suite of search engine optimization tools.
From keyword research to broken link checking, the platform can do it all, including providing a comprehensive report on your portfolio of internal links that you can filter by anchor text, click-throughs, link equity, and other crucial factors.
Elsewhere, the in-depth Site Auditing features also give you a detailed overview of new internal linking opportunities to take advantage of based on your current keywords.
Both features are available with limitations in the free version with Ahrefs Webmaster Tools so you can try them out before you buy. Paid plans start from $99 per month.
6. Google Search Console
For a free and easy way to analyze your internal links, look no further than a tool you're probably already using: Google Search Console.
Under the Links Report, you'll see both your internal and external links, along with statistics about how many of your pages are linking to each URL.
Using the Links tool in Google Search Console can be a quick and effective way to discover which pages on your site have the most links and those that have very few incoming links so you can take steps to incorporate the lesser-linked URLs into your linking structure.
Google Search Console is a free platform for everyone to use.
7. SEOClarity Internal Link Analyzer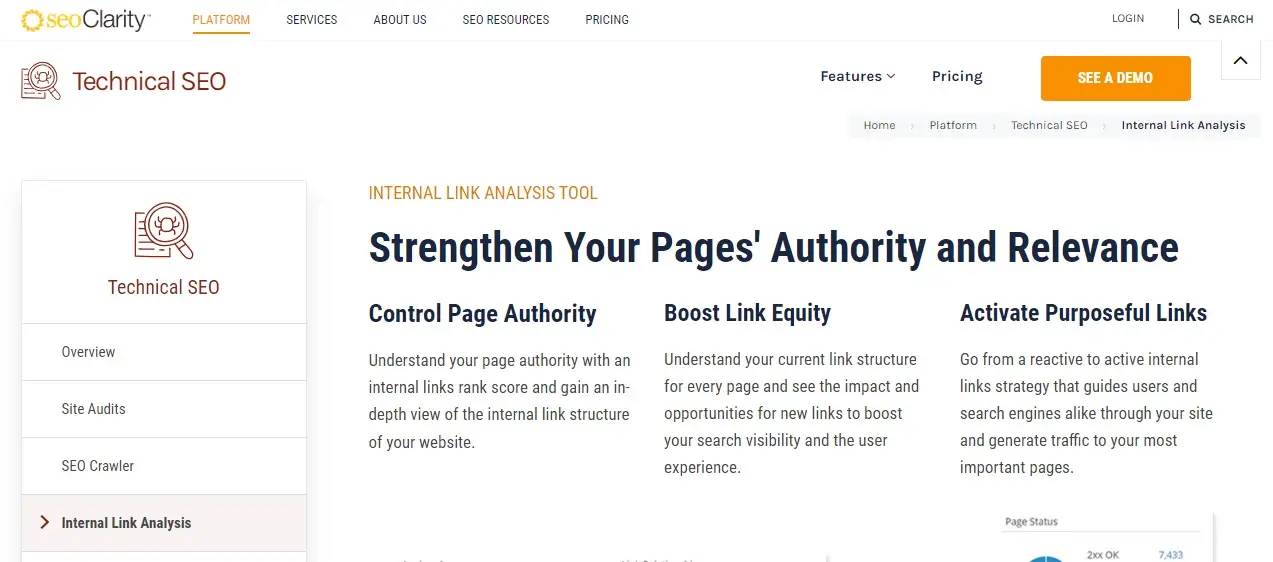 SEOClarity's powerful internal link analysis tool shows you the crawl depth and equity distribution for every link on your site, but that's only the beginning.
Powered by the platform's advanced site crawler, the link analysis tool can predict the value of potential links before you add them, helping you to quickly make intelligent decisions about which links to use and where.
Beyond all that, SEOClarity helps you to pick out both over-linked and under-linked pages, discover broken and nofollow links that may be hindering your SEO progress, and view a visual representation of your site structure to identify new linking opportunities.
SEOClarity offers custom pricing. You'll need to book a demo to receive an accurate quote.
Learn More About Internal Links
The links below explain more about internal links and how to optimize them correctly for SEO. Use these resources to improve your knowledge of the subject.
Internal Link Checkers & Tools Summary
We hope you enjoyed this guide on the best internal link checkers.
As you discovered, software like Semrush, Interlinks Manager, and SEOMator rank among the best internal link checker tools for website analysis thanks to their ease of use and range of features. Feel free to try any of these popular internal link analysis tools you like the most or test them all to find the internal link analyzer that's best suited for your needs and budget.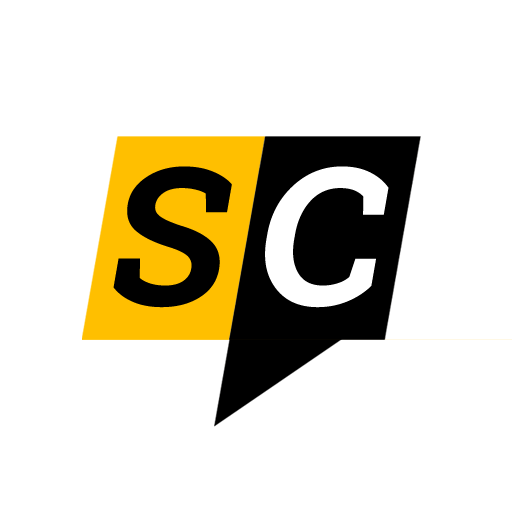 The Editorial Staff at SEO Chatter is a team of search engine optimization and digital marketing experts led by Stephen Hockman with more than 15 years of experience in search engine marketing. We publish guides on the fundamentals of SEO for beginner marketers.