In this article, you'll learn how to get EDU backlinks from educational institutions.
As you may know, getting .edu backlinks is considered some of the best quality links you can build for a website because academic institutions have high domain authority.
And if you can build a link on an EDU web page that also has high page authority with incoming links, then it can pass some of that PageRank to your website to help increase its rankings in search engines like Google, Yahoo, and Bing.
The fact is that EDU backlinks are good for search engine optimization (SEO) because they demonstrate value and trust for your website, which search engine algorithms measure. And this guide will teach you how to get more backlinks from .edu sites to help improve your digital marketing efforts.
What Are EDU Backlinks?
EDU backlinks are links from an .edu domain to a website. EDU domains are official websites of colleges, universities, schools, and other academic institutions and EDU backlinks are good for SEO because these links have high domain authority and trust which can help increase PageRank for the linked site.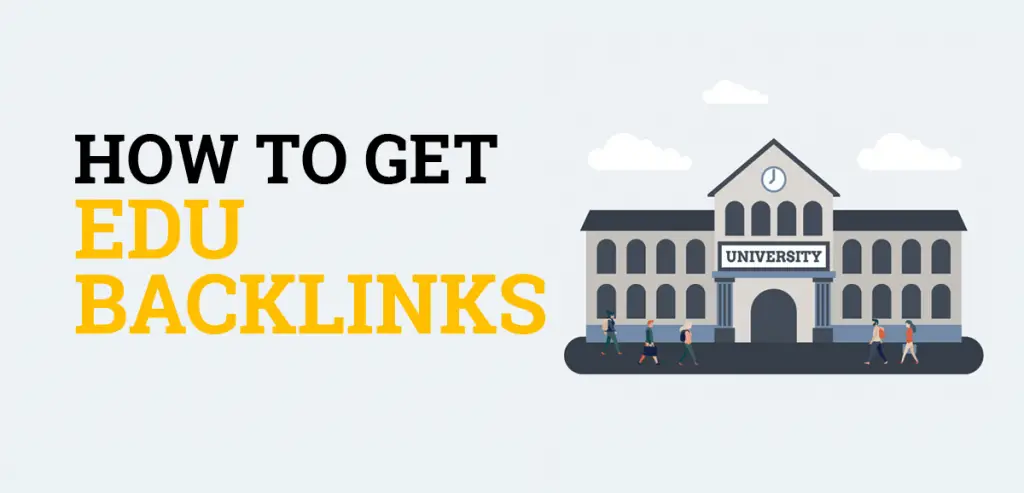 How to Get .EDU Backlinks
1. Get Local .EDU Backlinks
The first method for how to get EDU backlinks is to do local link building.
Most colleges, universities, and schools have a local resources page that directs faculty, staff, and students to local businesses. And if you have a registered address for your company, then you can contact an academic institution and ask to be put on their local resources list which will typically be a dofollow link.
2. Offer Discounts to Students
Another effective link building strategy for getting .edu backlinks is to offer discounts to students.
With most students being on a tight budget, any type of discount is good for academic institutions to publish on their websites. This strategy can work for all types of businesses too. As long as a student can benefit from your product or service, then you can offer a discount that can get your website a backlink from an EDU site.
3. Offer a Job or Internship
Every .edu website has a job board that you can get backlinks on.
And you don't have to just offer full-time work. Even a part-time job, internship, or freelance opportunity can get you a free EDU backlink on a high domain authority academic website. So come up with a detailed job description, send it to the human resources department, and then wait for the backlink to get added and indexed for your website.
Best off, this strategy can be repeated again for every new job opening your business has. And you can contact colleges, universities, and schools all across the nation to find the best hire and secure powerful backlinks along the way.
4. Hire a Graduate to Get .EDU Backlinks
Every academic institution wants to attract the best students. And one of the top questions prospective students have when choosing a college or university is this:
"Will I get a job after I graduate?"
That's why you'll find graduates being featured on the websites of every school after they've been for a job. These alumni will also be mentioned in the college magazines and sometimes published in a press release for the school to get more media attention about how well it prepares its students for the career world.
You can use this to your advantage to get high quality .edu backlinks by hiring a college graduate for full-time or part-time work, or even an internship. Just make sure to contact the school after you've hired the graduate so the academic institution knows about it. Then give them all of the details about why you selected their graduate along with a link to your website so it can get published as a backlink in various places online.
5. Interview Faculty or Staff
This tip was also featured in this article: best ways to get .edu and .gov backlinks. So you may want to check it out after finishing this guide.
Essentially, the department head (or chair) for each academic department often has influence over what content is included on the website for their areas of oversight. And one of the best ways to get a backlink on a .edu site is to interview a faculty member or staff member that's part of a niche-relevant department.
Three things can happen by following this link building strategy for EDU backlinks:
The department head may get their webmaster to feature a link to your interview on the academic department's web page to promote recent news about the faculty or staff member.
Your article may get featured by the institution's marketing department in a press release and/or blog post on the main college website.
The alumni and/or institutional advancement departments may link to the article from their own websites and/or post about it their alumni magazine. (These departments are always looking for new ways to show off the expertise of their faculty and staff members.)
This strategy can help you create a large number of both dofollow and nofollow links to create a healthy backlink profile for your website.
6. Make a Donation to the School
If your budget allows it, you can make a donation to any school that has a .edu domain and potentially get a high page authority backlink to your site. Similar to the last tip, the school will most likely talk about it in a press release and create a number of internal links on the website to the page with your backlink to increase the PageRank authority it passes to your site.
This method is very effective to get backlinks from local elementary, middle, and high schools that have .edu domain extensions in addition to colleges and universities. Plus, it works for both private and public institutions.
7. Create a Scholarship for Backlinks
All types of schools accept scholarships to help their students pay tuition. And you can use this to your advantage by offering a scholarship to students who are in financial need in exchange for a high quality .edu backlink.
The key for doing this type of scholarship link building EDU backlinks is to create a real scholarship fund; not just a fake one that never pays out to the students. See this guide on the San Diego Foundation for tips on how to start a scholarship fund with all of the proper eligibility requirements.
After your scholarship is set up, contact as many schools as possible to get the word out about the scholarship to get .edu backlinks to your website.
8. Offer a Local or Virtual Event
Here's a tip for getting EDU links at scale from a single event that targets students.
By offering a local event you can get academic institutions throughout an entire area to create quality backlinks for your site. And if you host a virtual event, then you can get backlinks from around the world.
Schools are always posting events on their websites that can help improve the well-being of their students and by hosting an event like a workshop, open house, mentorship, or any other type of event that appeals to younger audiences, you can get an easy backlink on .edu sites just by making them aware of it.
Another good tip here is to read this guide on how to index backlinks fast so you can get the ranking benefit of these links before the event is over. It can take a few days up to 10 weeks for a backlink to get crawled, so you want to do everything you can to get those links indexed quickly in Google, Yahoo, and Bing.
9. Contact the College Newspaper to Get Links
This method for building EDU backlinks is quite clever, and it's a wildly underused strategy for link building that can help set your website apart from the competition.
Students who work as journalists for the college newspaper are always looking for good stories to write about and are typically on a tight deadline to get articles published. They also need to include quotes, facts, and statistics in their articles just like a real journalist would.
You can pitch an idea to one of these college reporters that's related to your industry and hopefully get quoted in the article along with a free .edu backlink. You can also follow the next method for how to build .edu backlinks and then alert the college newspaper about the article you wrote. Once they know about your publication, the newspaper editor may have a student journalist reach out to you and/or just publish a backlink to the content while making a comment on it.
10. Write About the College or University
This link building strategy for EDU backlinks is very effective in all markets. Basically, all you have to do is write an article about a college or university and then let them know about it to get a link.
The sky is the limit for what topic you write about too. It can be a review about a niche-relevant academic department, an opinion piece on a new initiative the school has made public, a comment on a school play or sports game, etc.
This tactic is used every year by big brands like the Princeton Review and U.S. News where they rank colleges based on certain criteria, such as lowest tuition, safest campus, most graduates, etc. And these schools love the free publicity from these types of reviews and typically post a dofollow backlink to the report without any hesitation.
There's no reason why you can't use this link building strategy for your own site either.
11. Create a Linkable Resource
This method takes a bit more work than the other .edu link building tips already mentioned. However, it's a tactic that can be applied to academic institutions across the entire world so the effort you put into it can deliver great rewards.
Creating a valuable resource specific to your industry like a case study, white paper, or data analysis report, can give you a valuable digital asset that EDU websites could link to. The trick here is to pick a specific department on the institution's website that you want to acquire a backlink from and then create a new resource that relates to it.
For example, if your website is in the automotive niche, then you could create a job outlook report for the automotive industry. You would then reach out to academic institutions that train automotive technicians to get a backlink on their .edu website for a niche-relevant backlink that passes the PageRank authority.
12. Befriend a Librarian for Easy .EDU Backlinks
Here's something you may not know:
Academic libraries typically have their own sections on a .edu website or have an entirely separate sub-domain of their own. This means that the content is often managed by the library staff and not the college or university's IT department.
This also means it's much easier to get a high quality dollow .edu backlink for your website.
If you can create a valuable resource that would benefit students of the institution for research and school projects, then a librarian is much more likely to add a backlink to that content. These types of people are always championing the right to access quality information on the Internet with fewer restrictions in place than an IT department.
Best of all, your resource doesn't have to be an article either. You can also create a video, audio file, slideshow, or interactive application to build links from a library's section of the .edu website. The more creative you are, the easier it will be to get good links.
13. Get Backlinks with Broken Link Building
Broken link building is another good tactic for how to get high quality backlinks from EDU sites.
Essentially, links on websites become broken all the time because content gets deleted, moved, or consolidated to other URLs. And if you can discover these types of links on an educational institution's website, and offer a good replacement, then you can acquire new links that can pass high PageRank.
Using a broken link finder tool inside an SEO tool like Ahrefs or Semrush can help you find broken links quickly and easily. After you find these links, you can then send an email to the institutions letting them know about the broken link along with a suggested link replacement from your website.
14. Post Comments On University Blogs
Posting comments on blogs is one of the easiest ways to get .edu backlinks. However, you should know that most of these types of links are going to be nofollow links that don't carry much, if any, SEO PageRank power.
It's still a technique worth considering though, especially if you can get a blog comment on a topically relevant article that sends targeted traffic to your website.
Try this advanced search operator in Google to find colleges and universities with blogs that you can comment on:
15. Support an Academic Group
The last method you can use to build .edu backlinks is to support an academic group.
Colleges and universities have hundreds of different groups and organizations for their students to get involved with on campus. And many of these groups have their own sub-domains and/or sections on the main EDU website.
If you can find a group that has a web presence on a college or university domain, and it's somewhat related to your industry or niche, then you can look for a way to support that group to get a brand mention and backlink on their section of the website. The fastest way to find these opportunities is to contact the student life department of the institution and ask for a list of groups and their associated website URLs.
Once you find some good options, you can then offer a mentorship, free event, cash donation, or any other form of support for the student organization as a way to get public recognition along with a backlink back to your site.
Are .EDU Backlinks Good for SEO?
EDU backlinks are good for SEO because they can pass a high level of Google PageRank to improve your website's rankings in the search engine. However, the .edu backlink will only improve SEO if the linking page has its own incoming links.
As stated in this post on Digital Inspiration, Matt Cutts said: "[websites] don't get any PageRank boost from having an .edu link or .gov link automatically. If you get an .edu link and no one is linking to that .edu page, you're not going to get any PageRank at all because that .edu page doesn't have any PageRank." John Mueller echoed something similar: "[Google will] generally treat all links the same – be it from .gov or .edu or .info sites."
Therefore, your goal should be to get an .edu backlink on a URL that has its own backlinks; not some obscure page that has no external mentions.
Getting EDU Backlinks Summary
I hope you enjoyed this guide on how to get EDU backlinks.
As you discovered, there are many ways to get .edu backlinks from academic websites with high domain authority. All you have to do is think outside the box and a multitude of link building opportunities will present themselves for your business.
However, the ultimate goal is to provide a good resource or service for a school, college, or university, which makes it much easier to build these types of EDU links at scale.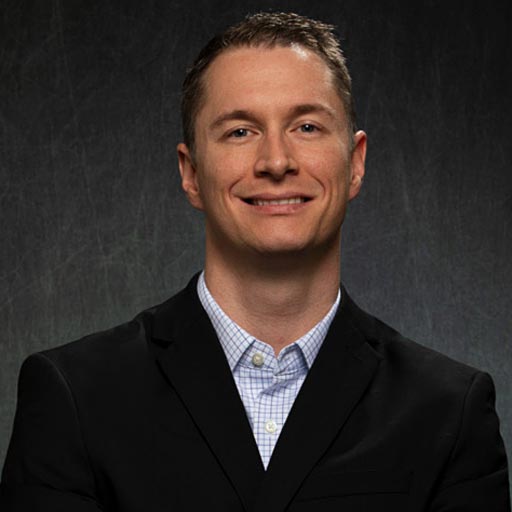 Stephen Hockman is an entrepreneur and founder of SEO Chatter. He specializes in search engine optimization and digital marketing and has been fascinated with SEO since 2005. His goal is to share the best tips and news about search engine marketing to help you get more website traffic.