In this guide, you'll find a list of the best Fiverr SEO tips to rank your gigs higher on the platform. The ultimate goal is to teach you how to use SEO on Fiverr to help you make more money from your services.
As you'll discover below, Fiverr gig SEO optimization consists of choosing the right keywords and then putting those terms in the top locations to get found in the search engine. Additionally, good Fiverr SEO also focuses on improving your account's profile which is another key metric that's taken into account by the ranking algorithm.
Fiverr SEO Tips
1. Choose the Right Fiverr SEO Keywords
The first, and most important, of all these Fiverr SEO tips, is to choose the right keywords to target for your gigs. Keyword research and selection are crucial because it drives the entire optimization process.
Therefore, you want to find the best SEO keywords for your gigs based on what buyers are actively searching for on the platform. To do this, simply type relevant words for the services you offer into the Fiverr search bar and see what terms appear as automatic suggestions.
Fiverr's automatic suggestions are the top keywords you want to target for your gigs. This simple keyword research strategy will help your gigs appear for more searches that are attracting buyers who want to spend money.
As you can see in the image below, typing the phrase "guest post" into the search bar brings up multiple automatic suggestions for relevant services. If we were going to offer a generic guest posting gig, then the best terms to target would be "guest post", "general guest post", and perhaps "guest post on high dr" if the website has a high domain authority.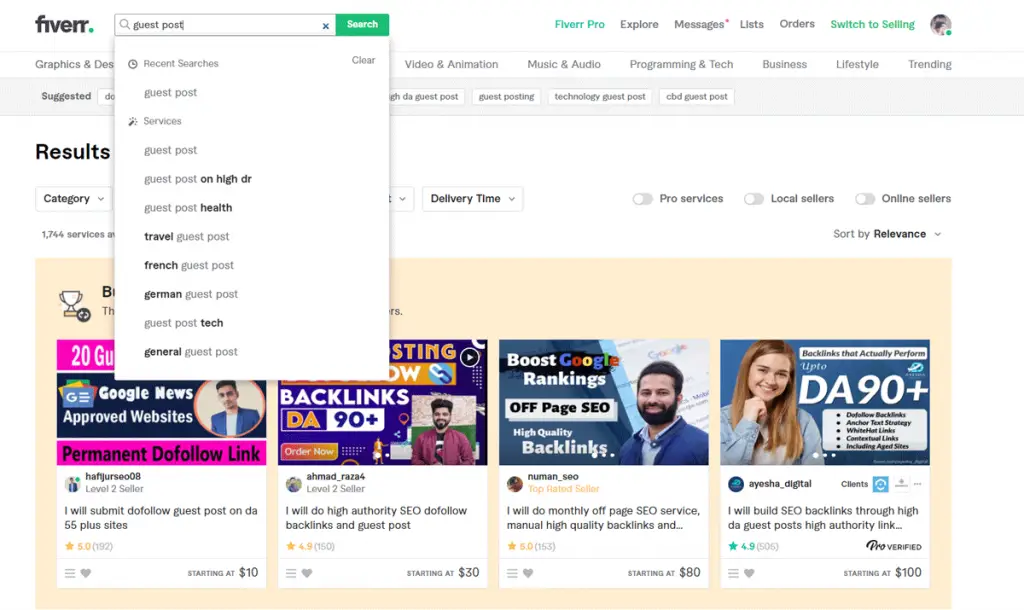 Taking the first step of doing Fiverr keyword research for SEO can also help you uncover new phrases to target for your gigs. For example, in the previous image, there were also automatic suggestions for "french guest post" and "german guest post". This tells us that buyers are looking for sellers who can provide language-specific guest posting in SEO services. And if you can offer those types of gigs, then you can make more money on the platform.
2. Optimize Fiverr Gig URL for SEO
After you've done your keyword research, the next most important Fiverr gig SEO tip you need to follow is to optimize your gig's URL for the search algorithm.
This step cannot be skipped because your gig's first title generates the URL. And that URL is unchangeable. Therefore, when you're first creating your Fiverr gig, you'll want to write an SEO optimized title without any creativity or copywriting in mind.
Simply insert your target keywords without repeating too many similar words in the title and publish the gig. After the gig has been published, you can then go back to the title and change it to attract buyers as mentioned in the next step.
In the image below, you can see how the first title created for this example gig is purely optimized for SEO. It doesn't make any sense to the buyer. That's because we want to optimize the URL for these two keywords: "SEO blog writing" and "SEO blog content writer". After publishing this gig, the URL will become "fiverr.com/username/seo-blog-writing-content-writer".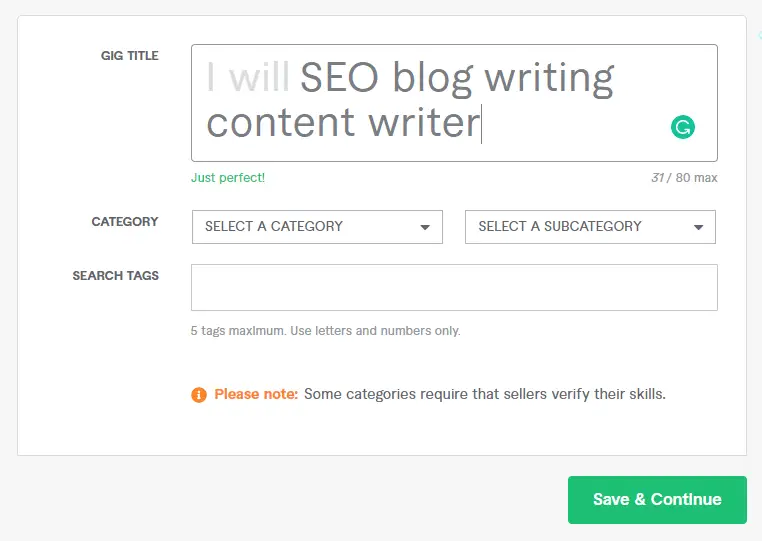 3. Optimize Fiverr Gig Title for Keywords & CTR
After following the previous Fiverr SEO optimization tip, you should now have a URL that improves the keyword relevancy for the algorithm. The next step after publishing your gig to get this optimized URL is to go back to the title and adjust it for both SEO and click-through rate (CTR).
On Fiverr, the gig title is one of the most important factors for the ranking algorithm as well as attracting buyers. Therefore, you want your titles to be written in a way that works for both search engine optimization and enticing people to click on your listing to view the details of your services.
To gain that competitive edge, you just need to create a gig title that includes these three attributes:
Your SEO keywords
Attention-grabbing words
Reinforces your service excellence
You can use up to 80 characters for your Fiverr titles, and each character should be used to the max for SEO and CTR.
For example, instead of just writing something basic like this: "I will best your SEO blog writing content writer", which works for SEO only, you can make it more enticing to increase your CTR by using something like this: "I will do SEO blog writing for any niche – FAST SEO content writer 24hr or less!"
4. Use the Best Tags for Search Engine Optimization
Fiverr allows you to use up to 5 tags for your gigs, which the algorithm takes into consideration when ranking your gigs for relevant search queries. And like the previous Fiverr SEO tips, you want to include your most important keywords in the tags field.
5. Offer & Optimize Fiverr Packages
A lot of people don't know this but a secret Fiverr search engine optimization strategy is to offer more than one package and then optimize those packages for SEO keywords.
Similar to website on-page SEO optimization, the heading tags on the page are important areas that search engine algorithms crawl to understand topical relevance. And if you inspect the HTML code for the Fiverr package titles, you'll see that they are coded as H3 heading tags that get extra ranking weight for the keywords crawled in those tags.
A simple optimization strategy here is to offer three packages (Basic, Standard, and Premium) so you can include your target keywords in the package titles. You should also add keyword variations to the package descriptions to further improve topical relevancy.
As you can see in the image below, this Fiverr seller has used this exact SEO tip to optimize their package titles and descriptions for the keywords "dofollow link" and "dofollow backlink". And it's working. This was the first gig that showed up when I searched for those phrases on the platform, which is not a coincidence.

6. Add Keywords to the Description
Another area you can do SEO for Fiverr is in the gig description field. This allows you to use your target phrases in a more organized and informational way for your buyers.
Keyword-rich descriptions can help get your gig into the top ranking positions on Fiverr when you follow these tips:
Include your top keyword within the first 50 words and last 50 words.
Include each secondary keyword within the first 100 words and last 100 words.
Include your main and secondary keywords one additional time scattered throughout the middle of the description. Consider using them as section headings by bolding them.
You can use up to 1,200 characters for your Fiverr gig descriptions, and it's best to use as many of those characters as you can for SEO and to entice people to purchase your gig.
However, make sure you're not sacrificing a well-written pitch just to force your keywords into the description. They must flow naturally within the text. After all, there's no point in ranking your gig higher on Fiverr if you don't get any orders from those impressions.
The ultimate goal here is to use SEO to get more buyers to the page and an attractive description to get those people to buy your services so you can earn money.
7. Optimize the FAQs Section
According to expert sellers on the Fiverr support forum, gigs with 10 FAQs seem to get the most reviews. So it's a good idea to come up with the top 10 questions you think buyers want to know about your services to help them feel comfortable making a purchase.
Additionally, the FAQs section also allows you to further optimize your gigs for SEO.
For this Fiverr SEO tip, you want to try to include your target keywords in at least one FAQ question title and one FAQ answer. This search engine optimization strategy will help add more topical relevance to your gig's listing page so it appears for relevant searches.
8. Put SEO Keywords On Fiverr Images
This tip doesn't necessarily apply to Fiverr gig SEO for the ranking algorithm; however, it's an important step to take because it can attract more buyers to your listings to help you make money.
The more things you can do to increase the CTR for your gigs, the more people will visit your listings. And the more people who visit your listings, the more orders you'll hopefully get, which is another key part of the ranking algorithm as mentioned in the next section of this guide.
For this step, all you have to do is add your target SEO keywords so they appear as written text on your gig images. The primary image for your gig will show up in the search engine and buyers will naturally look at these images to make a decision on if they should check out your gig or not.
Therefore, you should always add your target keywords to the images to help make the connection in the buyer's mind that your gig is the most relevant service for their needs.
As you can see in the image below, the second and fourth-ranking gigs are using this tip for SEO on Fiverr to increase their CTR for the keyword phrase "press release distribution". Notice how the sellers have those words in big, bold print on the featured image. It's no surprise that these two gigs also have the highest number of Fiverr ratings and purchases.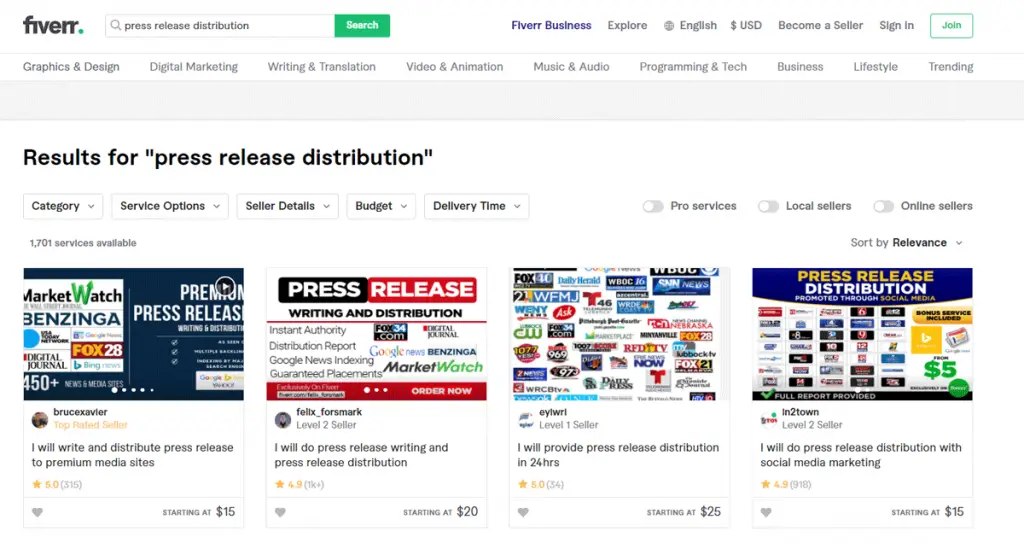 9. Include an Optimized Gig Video
If you can invest in a short, professional video for your Fiverr gigs, it can help increase the CTR for your listings. A good video also adds an extra layer of credibility to your services which can lead to more sales.
When you add a video to your gig's gallery, your listing will get a play button on the main image that appears in the search engine feed. This small, yet subtle detail, can help encourage more buyers to click on your listing because people love to watch videos. Therefore, you should try to add at least one video to your gig to better optimize it for CTR.
In the image below, you can see how the video play button looks on a well-optimized Fiverr gig. This additional feature helps the second gig ranking for the search term "copywriting" stand out from the competition who do not have a pay button to generate more clicks.

10. Create Multiple Fiverr Gigs for SEO
Another good Fiverr search engine optimization tip is to take everything you've learned so far in this guide and repeat the strategies for additional gigs. Essentially, the more gigs you can create on Fiverr as a seller, the more chances you have to get your services found by buyers.
It's not unusual for some of the top-ranking and top-selling Fiverr accounts to 10, 20, or even 30 gigs that are minor variations of each other. Similar to ranking a website in Google, you want as many web pages in the index as possible to increase your organic search traffic. When you create multiple gigs and optimize them properly for SEO and CTR, then you can attract more traffic to your services.
As you can see in the image below, this Fiverr seller has created multiple gigs to target various search terms for local citations services. Instead of creating just one gig that offers buyers the opportunity to select the country they want citations for, this seller has created a separate gig for each geolocation to improve their chances of ranking in the Fiverr search engine for relevant queries.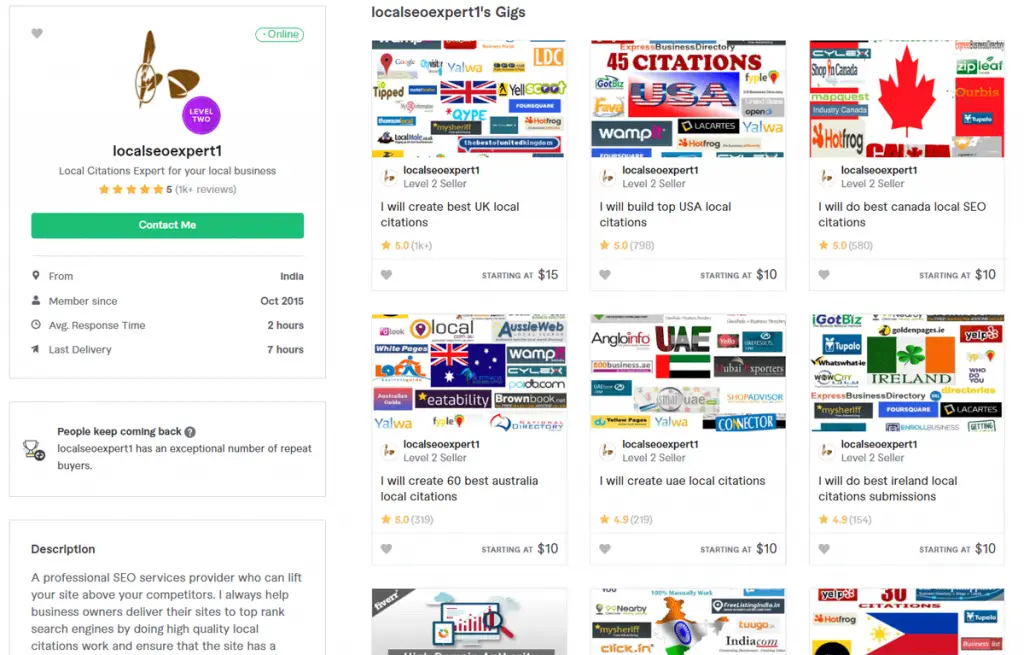 A similar strategy can be used to expand your reach for nearly identical services. For example, let's say you were offering resume writing services. You could create three gigs from one idea with a slight change in the title and description by doing something like this below:
Gig 1: I will write a resume and cover letter in 24hrs or less
Gig 2: I will write a resume and cover letter in 48hrs or less
Gig 3: I will write a resume and cover letter for any business
One key thing to remember here is that having duplicate gigs is against Fiverr's Terms of Service. So you need to find a way to make each gig stand out so it attracts a different set of buyers. Always try to present a different topic and presentation of your service to keep your listing from getting deleted.
Note: New sellers can have up to 7 gigs; Level 1 sellers can have up to 10 gigs; Level 2 sellers can have up to 20 gigs; and Top Rated sellers can have up to 30 gigs.
11. Use Strategic Pricing
If you're a new Fiverr seller, then you'll want to do everything you can to get those first few buyers to boost your gig in the rankings. As mentioned in the next section on the Fiverr search algorithm, gigs that get more buyers tend to rank higher on the platform.
A simple strategy you can use to attract buyers is to price your services lower than the competition. For example, if others are charging $10 for a service, try $5. If it's $100, try $90. This will help you get your first set of buyers and reviews so you can improve your gig's rankings. After delivering a few orders, you can then increase the price to be more competitive and to earn more money.
13. Increase Your Response Rate
Your response rate to users' questions can be a major factor in how many people purchase your gigs. Therefore, you should try to answer these questions as fast as possible and never ignore a message. Fiverr also requires you to achieve at least a 90% response rate to move up through the various seller levels.
14. Complete All Gigs On Time
Another important aspect of Fiverr is the order completion rate. The system wants you to score at least a 90% order completion rate to be eligible for the next seller level.
15. Get More Positive Reviews
The more satisfied customers you have on Fiverr, the higher your gig can rank in the search engine. The algorithm takes into account the number of reviews and star ratings for your individual gigs. This makes sense because higher-rated gigs have more happy customers, which leads to more sales on the platform for its sellers, and that generates more money for Fiverr to collect through commissions.
To be more successful on Fiverr, you'll want to encourage your customers to leave positive reviews with the highest star rating possible. Some sellers overdeliver for each buyer to gain better ratings and/or offer a discount on the next gig purchase to entice customers to leave a 5-star review.
Fiverr Gig SEO & the Ranking Algorithm
Fiverr's search algorithm ranks gigs according to several factors, including the number of reviews, conversion rate, gig title, tags, and description. Therefore, it's important to increase the number of sales and positive reviews your gigs get in addition to optimizing them for SEO.
If you truly want to be a successful seller on Fiverr and gain favor with the ranking algorithm, then you should follow all of these Fiverr SEO optimization tips:
Get your first order as fast as possible.

Achieve a 90% or higher on-time delivery score.

Increase your conversion rate.
Encourage reviews from your customers.
Maintain a 4.7 star rating or higher.
Increase your average selling price by offering gig extras.
Increase the number of repeat buyers.
Become a higher-level seller.
Achieve a 90% or higher response rate.
Add keywords to gig URL.
Add keywords to gig title.
Add keywords to gig package names and descriptions.
Add keywords to gig descriptions.
Add keywords to gig FAQs.
Add keywords to gig images.
Include a video in each gig.

Create multiple gigs in the same category

.
Summary for Fiver SEO Tips
I hope you enjoyed this guide with the top Fiverr SEO tips for gig optimization.
As you discovered, Fiverr search engine optimization starts with adding your target keywords to the most important areas of the gig details. However, Fiverr gig SEO can only get you so far in the rankings as a seller. If you're serious about getting your gigs found on the platform by more buyers, then you also have to optimize for the Fiverr algorithm using the tips covered on this page about improving your seller status.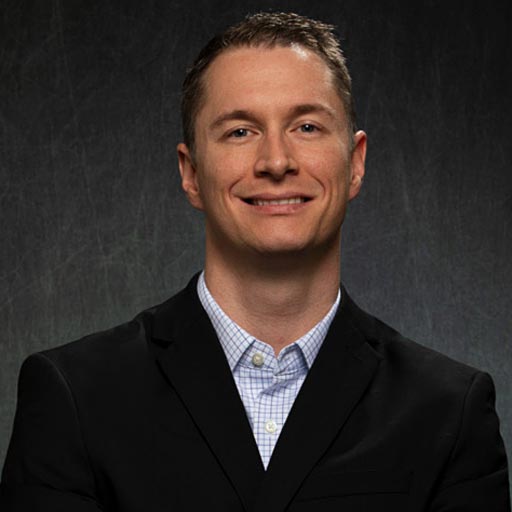 Stephen Hockman is an entrepreneur and founder of SEO Chatter. He specializes in search engine optimization and digital marketing and has been fascinated with SEO since 2005. His goal is to share the best tips and news about search engine marketing to help you get more website traffic.