Looking for the latest and best copywriting books to improve your skills as a copywriter?
This guide includes my top picks of the most popular books on copywriting to read that can help you master all aspects of copywriting, such as persuasive sales copy for landing pages, business letters, advertisements, emails, and more. Everything you'll learn inside these handbooks is classic and timeless advice that pro copywriters have been using for years to craft better copy that sells.
Why You Can Trust These Book Reviews: This list of book recommendations includes my unbiased reviews from books I've read without affiliate links. I even suggest you check your local library for these copywriting guidebooks so you can read them for free.
Best Copywriting Books to Read
1. Breakthrough Advertising
The Holy Grail of Copywriting Books
By Eugene Schwartz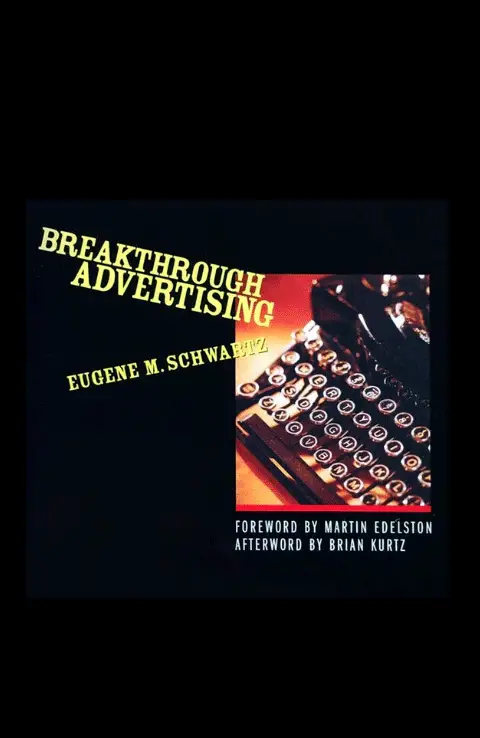 The timeless advice and insights contained within Breakthrough Advertising by Eugene Schwartz have solidified its place as one of the best copywriting books of all time. In fact, this book was out of print for many years and getting your hands on a copy was extremely rare. Random copies would show up on sites like eBay for around $400.
Luckily, Brian Kurtz (a famous direct marketer) got exclusive rights to Breakthrough Advertising and has made the book available again for a more affordable price: $125.
Note: Make sure to buy this copywriting handbook through the breakthroughadvertisingbook.com website to get the best deal. There are still people overcharging for it on Amazon, eBay, and other sites.
This book is a careful study for those who want to delve deeper into copywriting beyond the basic training wheels approach. The author, Eugene Schwartz, was a master copywriter and offers insight into his control creation thought process.
If you ask any professional copywriter about this book, they'll tell you they have a copy of Breakthrough Advertising on their bookshelf or sitting right next to them on their desk.
Some of the things you would learn from this book include:
How to think like a master copywriter.
The importance of finding the right headline for your product and guidance on how to do so.
How to evaluate a product's market potential and decide whether it's worth pursuing 
How to know if a new market segment should be targeted.
My favorite part of this book for copywriters is the seven techniques of writing great copy, which include:
Intensification: Intensify the satisfaction your prospect thinks he'll have once he buys your product.
Identification: Tell the customer he will be the person he desires to be in his head.
Gradualization: Start with a belief your prospect accepts and extend it.
Redefinition: Remove roadblocks before they arise.
Mechanization: Explain how the product works.
Concentration: Disqualify the competition.
Camouflage: Write your ad as if it was an informational article.
One final word of warning before you buy this book: it is not the best book on copywriting for beginners. You need to understand the basics of copywriting like you'll get from other books on this review list to get the most value out of Breakthrough Advertising.
If you are a beginner copywriter, I suggest you start with book recommendations #3, #5, #10, or #12, which are the best books to learn copywriting from the ground up. After you're done reading one of those guides, you should then get a copy of the Breakthrough Advertising book to dive deeper into the world of copywriting to fully master the craft of sales copy.
Buy Direct from the Publisher
2. The Adweek Copywriting Handbook
Best for Ad Copy
By Joseph Sugarman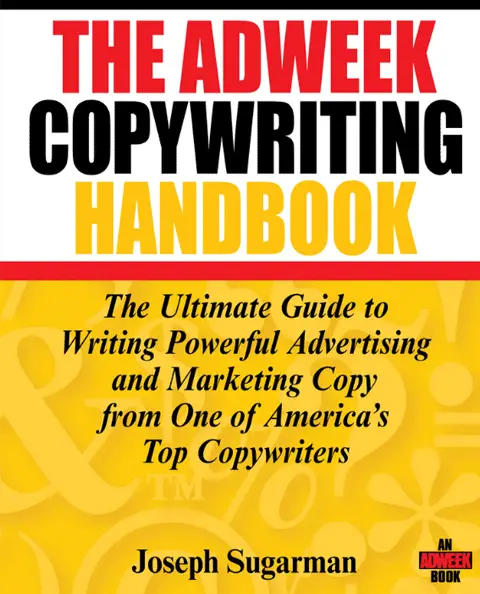 This is another one of the top copywriting books ever written. It is a comprehensive and authoritative guide to writing copy that sells. The 368 paged book is timeless, easy to follow, and filled with practical advice that is backed by real-world examples you can use for inspiration in your own copywriting projects.
In this book, Sugarman teaches:
How to understand the complete copywriting process from start to finish.
Why the first sentence of your copy is an extremely important element to hook your reader's interest.
What works and doesn't work in good ad copy.
The psychological triggers that make people want to buy a product.
Around 70 pages of documented ad examples along with explanations about what makes them work to generate leads, customers, and sales.
How much copy to write based on the product and target customer
Methods to sow the seeds of curiosity to make readers take action.
While the book is primarily focused on copywriting for advertising, the principles and techniques it teaches can be applied to any form of persuasive writing. Much of today's modern copywriting advice stems from the lessons inside this book. It is available in Kindle, paperback, audio CD, and audiobook formats.
View On Amazon
3. Copywriting Secrets
Best for Plug and Play Copywriter Formulas
By Jim Edwards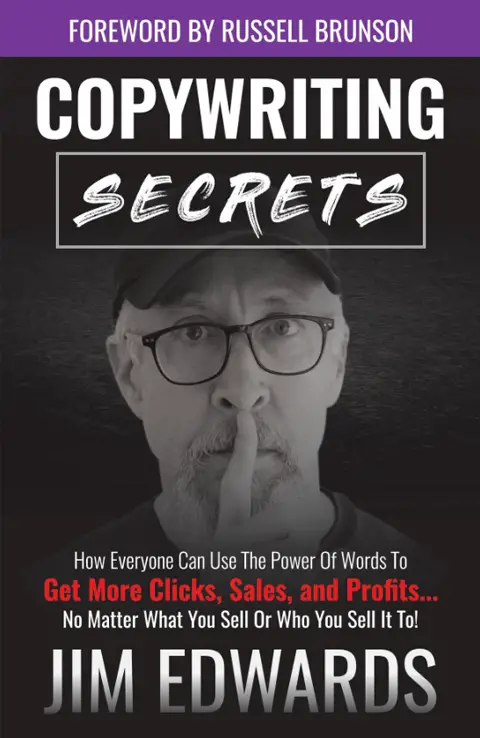 Copywriting Secrets by Jim Edwards is a good book to learn copywriting as a beginner and the tips offered in this resource are quick and easy to understand. The book is 328 pages long and available in Kindle, paperback, audio, and spiral bind formats.
The top takeaways you will learn from this handbook include:
The importance of understanding your target audience and their needs to create effective sales copy that resonates with them.
How to use storytelling to engage the reader and create an emotional appeal.
The practical techniques and formulas to use for writing effective sales copy.
3 sales formulas that never fail.
Advice on how to create your own copywriting swipe file.
My favorite chapter to read was, "Without a Strong Why, People Don't Buy". It explains the top 10 reasons that motivate people to buy a product or service that you can use as the basis for your copywriting:
Make money
Save money
Save time
Avoid effort
Escape mental or physical pain
Get more comfort
Achieve greater cleanliness or hygiene to attain better health
Gain praise
Feel more loved'
Increase their popularity or social status
Note: You can get the best deal on a new copy of this book (100% FREE) by purchasing it through the author's website at copywritingsecrets.com. You only have to pay the shipping and handling which is $7.95 US or $14.95 internationally. Just know that you'll be bombarded with upsells and downsells during the checkout process because the book is sold through the ClickFunnels system. You can safely ignore any or all of the promotions you don't want to buy and still get the book for cheap.
View On Amazon
4. The Boron Letters
Best Free Book About Copywriting
By Gary Halbert
The Boron Letters by Gary Halbert is considered one of the greatest copywriting books of all time (next to Breakthrough Advertising, the #1 top book on this list) and belongs in every serious copywriter's collection.
This copywriter's handbook is a series of letters written by the author to his youngest son, Bond, where he shares insider tactics and wisdom about direct marketing and copywriting and how to navigate life's hurdles. So it's not technically a complete book on copywriting as the other publications recommended on this list. However, the bits and pieces and lessons throughout are golden nuggets for every aspiring copywriter.
The book is available for purchase in Kindle and paperback formats and spans 146 pages. However, you can also read it for FREE by going to this link to begin chapter 1: https://www.thegaryhalbertletter.com/Boron/BoronLetterCh1.htm.
The late Gary Halbert is known as the world's best copywriter for direct response marketing. His insights on direct marketing and copywriting are timeless and include tips on attracting attention, stimulating interest and desire, and crafting a call to action.
Some of the top advice Gary gives you in this guidebook is this: You first want to find a hot market, then pick a product that serves those hungry buyers. Operating backward is foolish. Even the greatest copy in the world cannot create a desire for something if it doesn't exist.
Additionally, Gary outlines the general process of developing and testing direct marketing packages so you can improve your response and sales rates.
View On Amazon
5. The Copywriter's Handbook
Best Step-By-Step Guide
By Robert W. Bly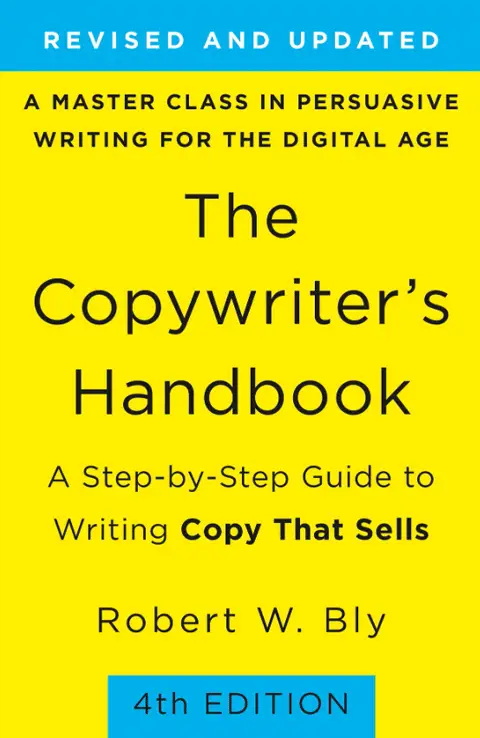 This is an indispensable guide to anyone who writes or approves copy and continues to top the charts on every list of the best books on copywriting.
The book provides a plethora of copywriting methods that writers can use to craft print and online ads, emails, and websites that are compelling and captivating to read; thereby, boosting product sales.
One of the aspects I appreciated most about this book is that it is both comprehensive and easy to read although it dives into some deep copywriting topics. It is also full of practical advice and real-world examples that go beyond just the theory of copywriting, especially on generating higher sales and profits from each customer lead.
The Copywriter's Handbook is available in Kindle, audiobook, hardcover, and paperback formats, and it is 496 pages in length. I highly recommend the book to anyone who wants to improve their copywriting skills, whether they are a beginner or a seasoned professional. It's a valuable book for copywriters of all levels.
View On Amazon
6. Scientific Advertising
Best Introduction to Copywriting Sales Techniques
By Claude Hopkins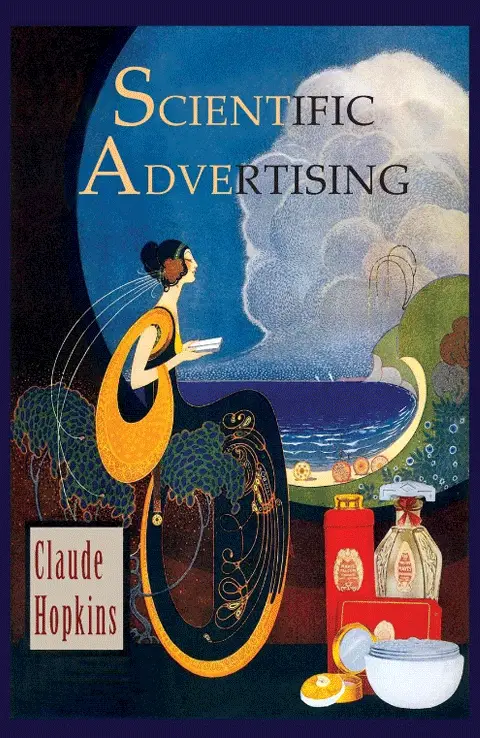 Scientific Advertising by Claude Hopkins is another classic and timeless copywriting book that revolutionized the advertising industry. With a concise length of 114 pages, this book is a fast read for anyone who wants to understand the core principles of effective advertising.
I personally review this book from time to time throughout the year to refresh my memory about easy copywriting tactics that can be used to increase sales for the various products I promote.
As one of the best copywriting books for beginners for learning simple sales techniques, here are some of the takeaways from this excellent training guide:
How to craft better headlines that hook readers into reading the rest of the copy.
The psychology of buying and how to make people want to buy your product just by changing the way you word sentences with call-to-actions.
The importance of testing and measuring the effectiveness of advertising campaigns.
The concept of split testing and how this approach that ensures that losses from unsuccessful ads are minimized, while gains from profitable ads are maximized.
The benefits of using coupon-based customer tracking and loyalty schemes, which help to build a strong relationship with customers.
Effective tactics you can use to tap into buyer psychology to generate more responses and sales.
Scientific Advertising is available in both Kindle and paperback formats, making it accessible to a wide audience. If you're looking to improve your advertising skills, this book is a valuable resource that should not be missed.
Note: There are many poor-quality knock-offs of this book in print because it fell into the public domain. The link I'm providing to Amazon is the best version for you to read. You can also do a Google search for "Scientific Advertising summary" or "Scientific Advertising notes" to get a quick rundown of everything you'll learn in this book from other readers before making a purchase.
View On Amazon
7. The Robert Collier Letter Book
Best Book With Full Sales Copy to Study
By Robert Collier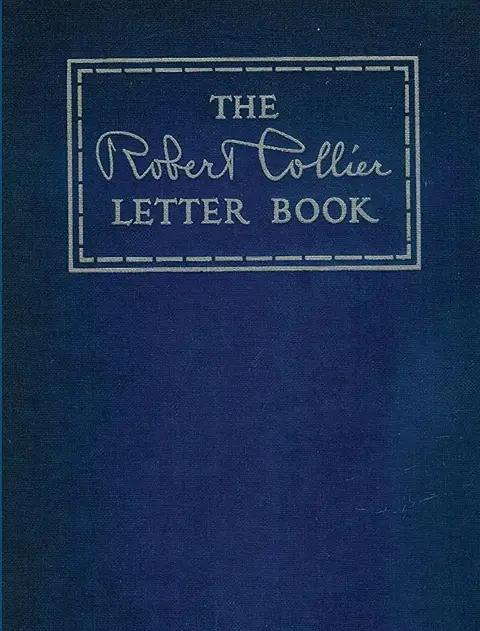 Although the book is based on old advertising examples from before the 1930s, the strategies and techniques mentioned in it are timeless and still apply to today's consumers. This is a good copywriting book on crafting compelling sales letters of all types.
Robert Collier's letters are golden examples of effective sales letters, which have stood the test of time. The book serves as an excellent source of inspiration for anyone seeking to create impactful sales copy that converts.
This book for copywriters of any level includes a treasure trove of ideas, strategies, and techniques for writing effective sales letters that turn casual readers into warm leads and buyers. While you may choose to customize the letters to fit your own specific business needs, the book serves as an invaluable resource for getting started with your advertising copy.
The Robert Collier Letter book is a long read with over 400 pages; however, most of it includes full-page examples of sales copy for you to analyze and learn from.
The heart of copywriting training spans the first 60 pages. Chapter 9 (The Six Essentials) is one of the best overviews of how to write an effective sales letter I've ever found which includes this copywriting framework:
The opening.
The description or explanation.
The motive to buy.
The proof or guarantee.
The snapper or penalty.
The close.
This framework made it so much easier for me to write sales pages that attract the reader's attention, increase desire for the product, and convert those people into buyers. I highly encourage you to learn this structure as well because it's so effective and takes a lot of the guesswork out of creating great landing pages that are meant to generate sales.
This book is available in Kindle, audiobook, hardcover, and paperback formats. If you choose the paperback version, make sure to buy the version with the blue cover which I linked to on Amazon below. There are many copies of this book on Amazon with poor formatting and missing chapters, so you want to get the best version possible to read.
View On Amazon
8. Ogilvy On Advertising
Best Cheap Book On Ad Copywriting
By David Ogilvy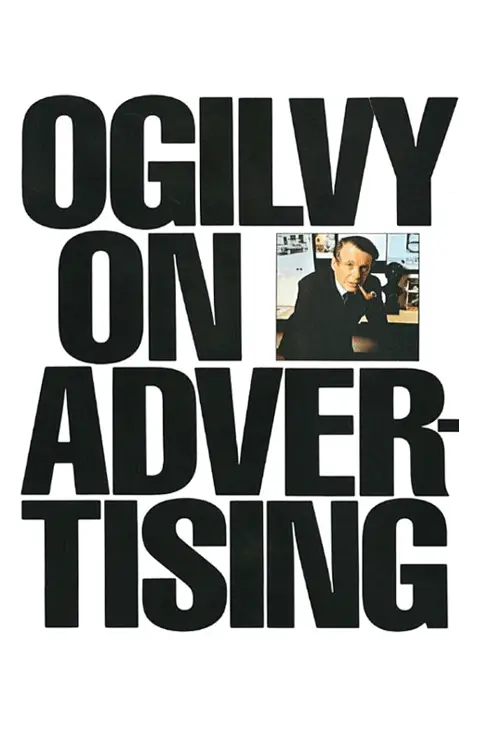 David Ogilvy was a British advertising tycoon and is referred to as the "Father of Advertising". It's no wonder this publication is considered to be one of the top books on copywriting.
This exceptional book spans 224 pages and can be purchased in Kindle, hardcover, and paperback formats
In this book you'll learn:
How to choose the right advertising platform for your product.
The secrets behind advertising that works.
The specifics of successful copywriting and the importance of research.
How to get clients.
Direct mail tips.
Advertising for good causes.
Branding tips
How facts sell better than hype.
Why long copy wins.
And much more.
David Ogilvy provides readers with numerous examples from his own career and explains what makes them successful. He even includes examples of ads he dislikes and explains why they don't work.
What I appreciated the most about this book is that it's practical and overflowing with storyboards and scripts for real adverts. The author's decades of experience are distilled into wisdom that is timeless and still relevant today. You can often find a used copy of it for around $6.
View On Amazon
9. Ca$hvertising
Best for Understanding Consumer Psychology
By Drew Eric Whitman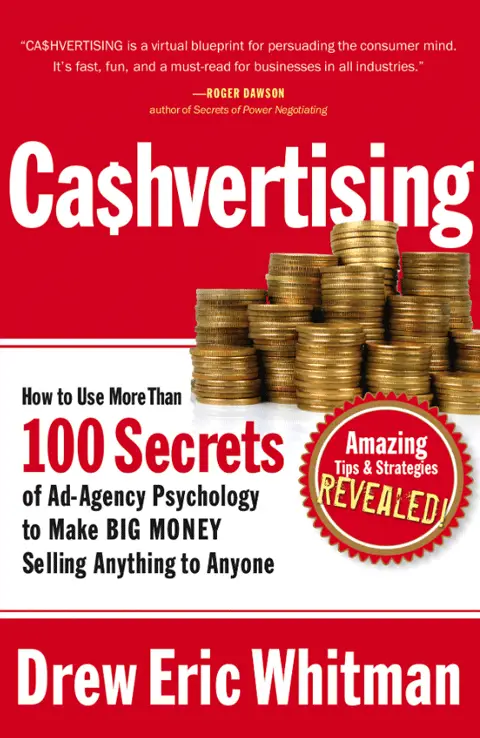 For anyone looking to learn from one of the most popular books on copywriting ever written, Ca$hvertising by Drew Eric Whitman is a great place to start.
The book is a must-read for anyone who wants to understand consumer psychology and how to use it to create effective advertising copy. It goes much more in-depth on this subject than my #6 review for Scientific Advertising above.
Ca$hvertising is just over 200 pages in length and available in Kindle and paperback formats or as an audiobook for listening.
The author shares the well-guarded secrets of advertising psychology, providing 17 foundational principles of consumer psychology and 41 proven techniques for selling anything to anyone using the power of the written word. He also includes 101 easy ways to boost your ad response and a recommended reading list to expand your education as a copywriter.
Whitman covers how to write headlines that get read and get a response, long versus short copy, and how to use emotional words to melt sales resistance.
This book is very informative, easy to read, and practical for all levels: beginners to seasoned writers. Whether you're a copywriter, business owner, or marketer, you'll find this book to be invaluable. Plus, you can often find a used copy for less than $8.
View On Amazon
10. Breakthrough Copywriting
Best for Beginners
By David Garfinkel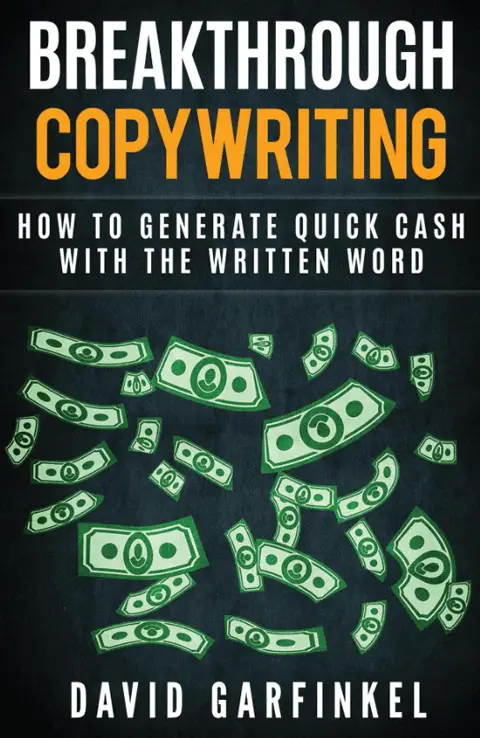 This book by David Garfinkel is an excellent choice for those new to copywriting, often cited as one of the best books on copywriting for beginners.
The book offers a comprehensive toolkit for new copywriters as well as innovative strategies and tactics for experienced marketers. At 154 pages in length, it's a quick read, and available in both Kindle and paperback formats.
One of the book's main strengths is its clear, step-by-step process for building a powerful sales message. Garfinkel breaks down the elements of successful copywriting, plus gives insider secrets for increasing the emotional power of your copy to make it more persuasive and impactful.
One minor criticism is that the book focuses heavily on direct response copywriting, which may not be relevant for all readers. However, the principles and techniques presented in this guide can be applied to a variety of marketing and advertising contexts. So even if you're not writing direct response copy, the book can still be beneficial to read.
View On Amazon
11. Tested Advertising Methods
Best for Understanding Advertising Tests
By John Caples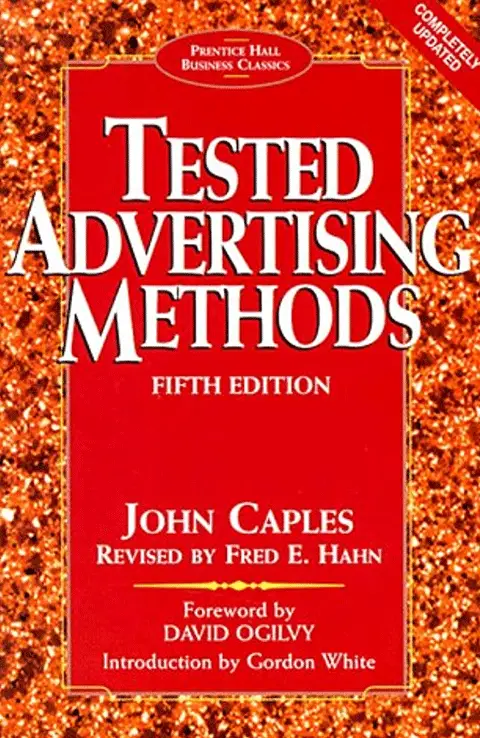 Tested Advertising Methods by John Caples is a great book to learn copywriting for anyone interested in creating effective advertising campaigns. The book lays emphasis on the vitality of testing and experimenting to improve the potency of advertising.
John Caples was a famous copywriter whose considerable talents in mail-order advertising earned him a memorable place in advertising history. David Ogilvy, mentioned previously, referred to Caples as "One of the most effective copywriters there has ever been."
In this book, you'll get Caples's advice on:
Crafting headlines.
Using drama and attention value.
Creating effective copy.
Valuable insights into reader psychology.
How to arouse curiosity, using specific facts, and avoiding excessive self-promotion.
Throughout the book, Caples emphasizes the importance of testing and experimentation, with practical advice on testing the copy, media, position, and timing. He also guides the key factors in every advertising campaign, including copy, media, position, and seasonality.
Just over 300 pages in length, Tested Advertising Methods is available in both hardcover and paperback formats and is a great comprehensive guide to effective advertising with copywriting.
View On Amazon
12. Copywriting Made Simple
Best for Basic and Advanced Methods
By Tom Albrighton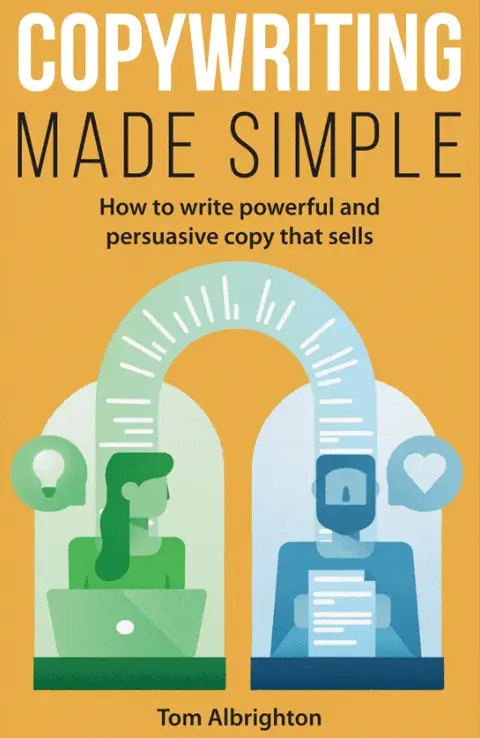 This book by Tom Albrighton is a detailed manual on the art of copywriting, packed with real-life examples from a wide range of brands. It's around 300 pages in length and is available in various formats, including Kindle, audiobook, hardcover, and paperback.
Copywriting Made Simple is an excellent resource for anyone looking to learn copywriting because it covers everything from the basics to more advanced concepts and techniques.
The book starts with an introduction to what copywriting is, how it works, and where it's used, making it very helpful for beginners. It also provides an elaborate guide on how to enhance copywriting skills, accompanied by a comprehensive chapter filled with practical suggestions for crafting effective content across various mediums, such as ads, websites, broadcast media, direct mail, social media, and print.
This book covers a range of topics too, including persuasion, psychology, and more, making it the best all-around introduction to copywriting you can buy to jumpstart your career as a copywriter.
View On Amazon
13. Words That Sell
Best Quick Reference Book
By Richard Bayan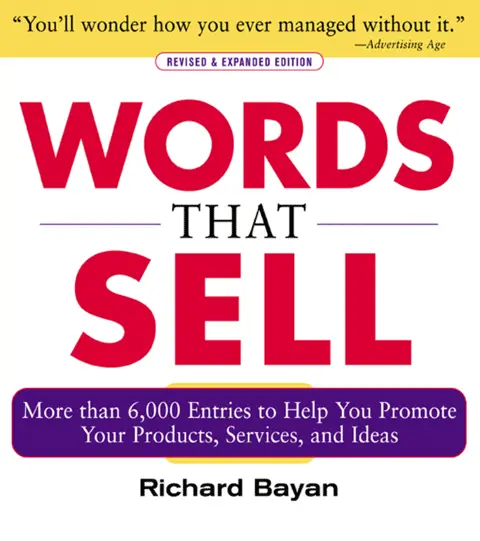 Words That Sell by Richard Bayan is a must-have resource for anyone in the business of writing copy that drives sales.
As a part-time, freelance, or full-time copywriter, it's one of the top copywriting books to keep next to you on your desk. This book is packed with over 75 lists of powerful and persuasive words and phrases that will help you win over customers using written copy.
Essentially, this book is a copywriter's Thesaurus to jump-start creative thinking, which is why so many people consider it to be an essential guide to have in their copywriting collection.
One of the standout features of the book is the crash course that it offers in basic copywriting techniques as well as helpful lists of commonly misspelled words, confusing words, and pretentious phrases to avoid.
At 150 pages long, Words That Sell is concise and to the point, making it easy to reference and apply in your writing. The book is available in both Kindle and paperback versions to meet your preferred style of reading. The paperback book is in a square format (8.8 in. x 8.8 in.), making it easy to hold and quickly thumb through to get fresh ideas when writing sales copy.
View On Amazon
14. The Halbert Copywriting Method Part III
Best for Copywriting Tricks
By Bond Halbert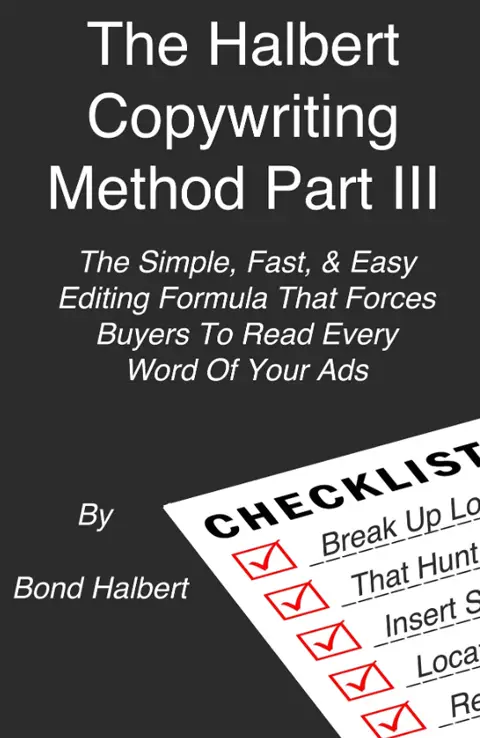 This copywriting book was written by Bond Halbert, son of Gary Halbert, who is the author of the #4 book on this review list (The Boron Letters).
It's a short, but powerful book, that focuses on the critical aspect of editing sales copy to create a professional and persuasive message. Although it's not a complete course on copywriting, it's a good source of information that every beginner copywriter should go through at least once.
At just 106 pages in length, this book is available in both Kindle and paperback formats.
One of the best features of this book is the simple checklist at the back, which helps readers create the famous "Greased Slide" effect, ensuring that their promotions are compelling enough to drive sales.
Note #1: There is no part 1 or 2 for this book volume. I'm not sure why the author titled it "Part III". Perhaps it was a copywriting trick to increase sales.
Note #2: The book has some poor formatting issues for some of the chapters in the paperback version, but it's still a good purchase if you're new to the copywriting world and want to establish a solid foundation in the craft of copywriting. It looks like the author copied some lessons from other books he wrote or blog posts he has published and pasted the content into the book without reformatting it to match the rest of the book's layout. I wanted to point this out before you make a purchase so you're not surprised by the weird formatting issues that pop up inside the book.
If you're looking to polish your copy to the point where buyers can't stop reading until they have an uncontrollable urge to buy, then this book can help you achieve that result for your own sales copy or for a client project.
View On Amazon
15. Persuasive Copywriting
Best for Psychology-Driven Techniques
By Andy Maslen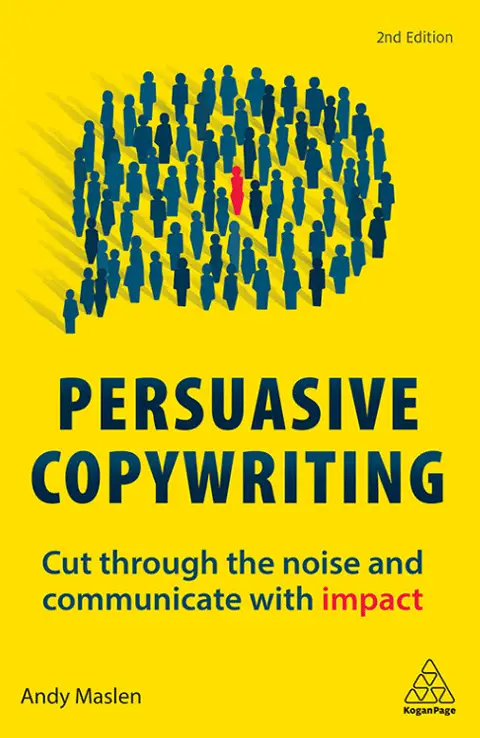 Finishing out this list of the top books on copywriting is Persuasive Copywriting by Andy Maslen. Maslen has written a comprehensive guide that offers practical advice and techniques to enhance copywriting skills, including psychology-driven strategies that tap into consumer decision-making processes.
This book is highly regarded among the best books to learn copywriting by not only myself but also many other professional copywriters.
Inside, you'll find valuable lessons to help you master the craft of copywriting, such as:
Utilizing advanced, psychology-based techniques to enhance one's copywriting skills and to get an edge over competitors.
Gaining practical insights into human decision-making and how to engage with consumers more effectively.
Discovering how to integrate copywriting skills into various aspects of the industry, including storytelling and content marketing.
Learning how to measure and assess the effectiveness of copywriting.
Written in an inspiring, digestible style that is easy to understand and apply, this book is just shy of 300 pages. It is available in Kindle and hardcover formats.
Overall, Persuasive Copywriting is an excellent resource for marketing or creative professionals seeking to enhance their copywriting skills with psychology-driven techniques. And, in my opinion, a must-read for anyone looking to create a stand-out copy that taps into consumer decision-making processes to convert more casual readers into buying customers.
View On Amazon
More Books That Can Help With Copywriting
The following books are also worth your time to read because they can help you mix the art of copywriting with other parts of the sales funnel using a variety of digital marketing strategies. These guidebooks teach you how to write better SEO content, optimize copy for higher conversions, and maximize your website's growth potential.
Copywriting Books Summary
I hope you enjoyed this list of the latest and best copywriting books to read to gain knowledge about becoming a better copywriter.
As someone who has been studying copywriting for many years, I can attest that any one of these books will be a great resource for your library to help you write better copy for your own projects or clients. Each one of these recommended titles has been extremely helpful in improving my own skills as a copywriter, and I'm confident these books on copywriting can also give you the advanced knowledge you need to improve your own skills. Just pick the books that that offer the training you need right now, to get the results you desire for yourself or a client.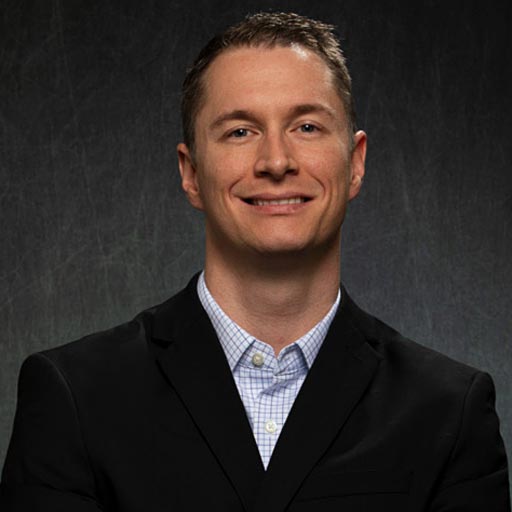 Stephen Hockman is an entrepreneur and founder of SEO Chatter. He specializes in search engine optimization and digital marketing and has been fascinated with SEO since 2005. His goal is to share the best tips and news about search engine marketing to help you get more website traffic.