This guide includes a list of the best content writing books you can read.
Below, you'll find the top books on content writing you can buy on Amazon or check out from your local library (if available). By reading any one of these dedicated books for content writers, you'll expand your knowledge on how to write better articles and blog posts that meet the content marketing goals for your website or a client's site.
Note: I also have reviews for the best books on search engine optimization, the best email marketing books, and the best copywriting books if you're looking to improve your expertise in those digital marketing areas.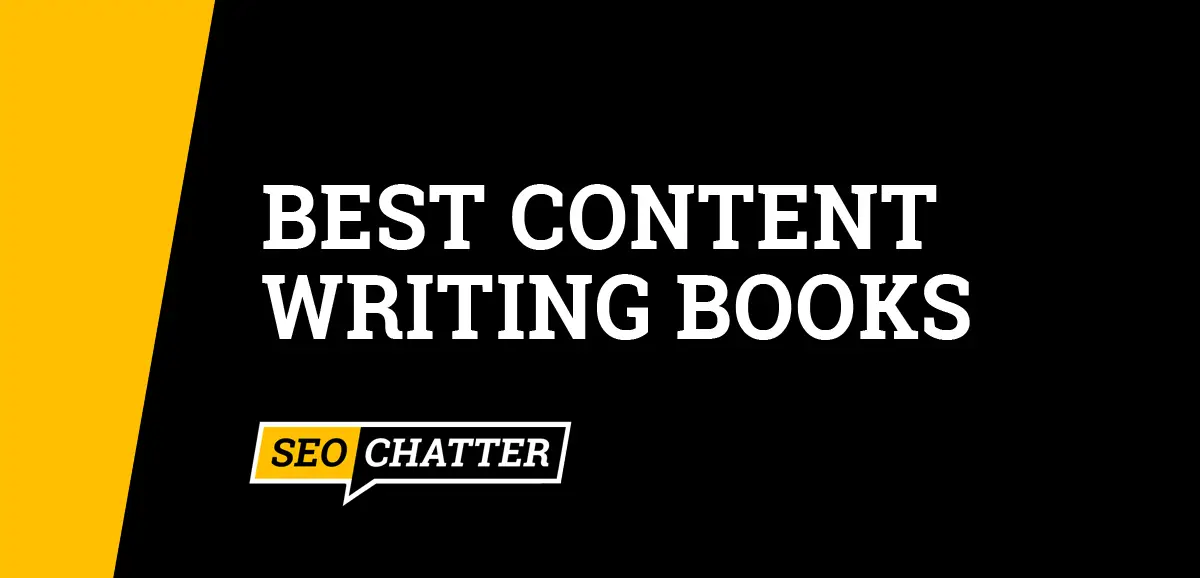 Best Content Writing Books List
By Ann Handley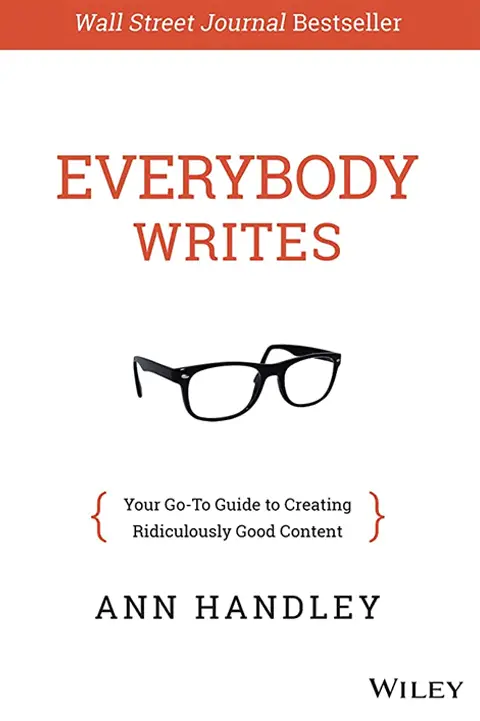 Everybody Writes is an indispensable guide to creating exceptional online content that engages and retains customers. This book is among the best content writing books for beginners and is a valuable resource for anyone looking to improve their writing skills and create compelling content for their online assets.
Here are some of the things that you will learn from this book:
The importance of writing well in the digital age and how it impacts your brand.
Easy grammar and usage rules for business writing.
How to craft 17 specific types of content that marketers use.
The essential tools needed for creating great content.
I think everyone should read this book. If you're serious about improving your content writing you need to have it on your bookshelf or in your audio player. It will drastically improve every part of your writing.
I am a self-taught content writer who didn't do well in English or composition classes in high school or college. Therefore, writing was difficult for me as a beginner blogger and niche site builder. But after reading this book, I was able to write content so much better and faster, and I stopped questioning if the words and phrasing I was using were the right choices. I now know what to do to write better sentences that are grammatically correct.
Ann Handley's writing style is engaging and the book is full of practical tips and examples that make it easy to apply what you've learned.
The first edition of this book is available in hardcover and audio CD format. The revised second edition here includes a Kindle version, audiobook, and hardcover.
Check Amazon Reviews & Price
---
By William Zinsser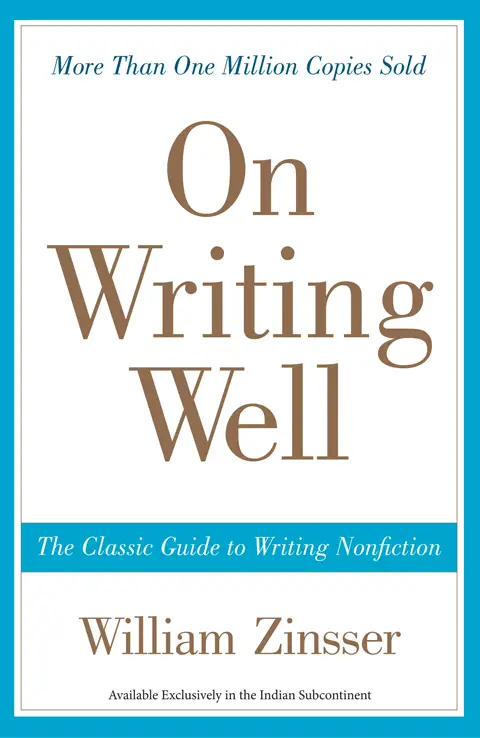 On Writing Well by William Zinsser is a classic guide to writing nonfiction that has stood the test of time since its first publication in 1976. If you liked the first book on content writing I recommended, then this is a good second choice to expand your basic writing skills. It's a must-read book for content writers with more than 4,000+ positive reviews.
I personally read this book after my top pick, Everybody Writes, and gained a lot of extra tips and tricks on how to become a better content writer. You can often find a free copy of On Writing Well at your local library because it's that much of a classic. Otherwise, used paperback copies can be bought on Amazon for around $5.
Inside this book, Zinsser teaches:
The art of writing with simplicity.
How to remove clutter from your copy.
How to write about people and places in an engaging way.
Methods to inject humor into your content to make it more enjoyable to read.
The proper ways to craft the start and end of your content.
How to use the correct pronouns, tenses, and basic grammar in your writing.
Ways to write so compellingly that the reader doesn't want to stop reading your content.
Tricks to never run out of ideas for new content.
You can get the book in different formats, including school and library binding, paperback, and Kindle. With a page length of 336 pages, it's a comprehensive guide to writing nonfiction that can be used as a valuable resource for every level of content writing: beginner to advanced.
Check Amazon Reviews & Price
---
By Joseph Robinson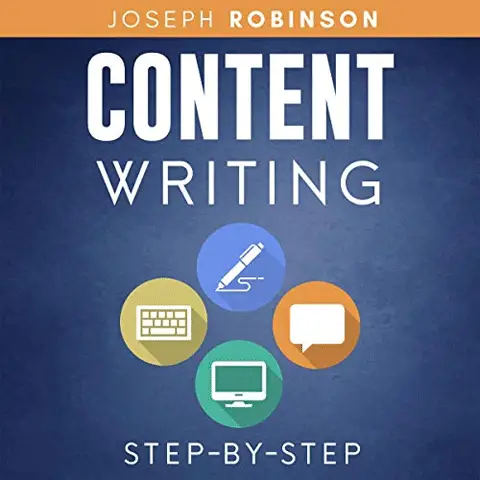 This is a good book for content writers that comes in an audiobook format that provides step-by-step guidance on how to be a better communicator with the written word. Plus, the sense of humor infused in the writing style makes it more engaging and approachable than other books on the subject that tend to be dry and matter-of-fact.
In this audiobook you'll learn:
Tips for generating great ideas for your content.
The step-by-step formula for creating the best content for your audience.
How to write content that converts.
How to become a successful entertainer with your written words.
This audiobook has a listening time of 3 hrs 14 mins, which makes it quick to get through so you can start writing better content for your website, blogs, or client projects.
Check Amazon Reviews & Price
---
By Nicolas Cole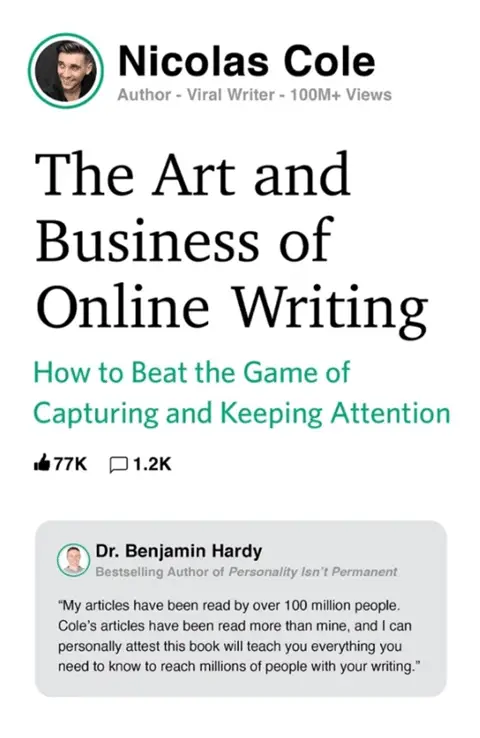 The Art and Business of Online Writing by Nicolas Cole is a comprehensive guide for anyone interested in pursuing a career in online writing. The book is 340 pages long and available in both Kindle and paperback formats.
One of the most striking things about this book is that it challenges the traditional notion of starting a blog as the only way to establish oneself as a writer online. Cole provides alternative platforms and strategies for writers to showcase their work and reach a wider audience.
The book also delves into the complexities of internet publishing and provides insights into the seven levels of success in online writing. Cole shares practical tips on how to generate endless ideas for writing, crafting headlines that grab readers' attention, ways to structure the perfect blog post for readers, and creating a content roadmap that positions writers as authoritative voices in their niches.
The author truly sets you up with how to write content in a way that people want to read and share with their colleagues and friends. He even shows you a framework for how to structure the perfect blog post, which made every penny of this book worth it for me (and likely you too).
I highly recommend this book as one of the top content writing books to aspiring writers and established writers looking to expand their online reach.
Check Amazon Reviews & Price
---
By Kim Scaravelli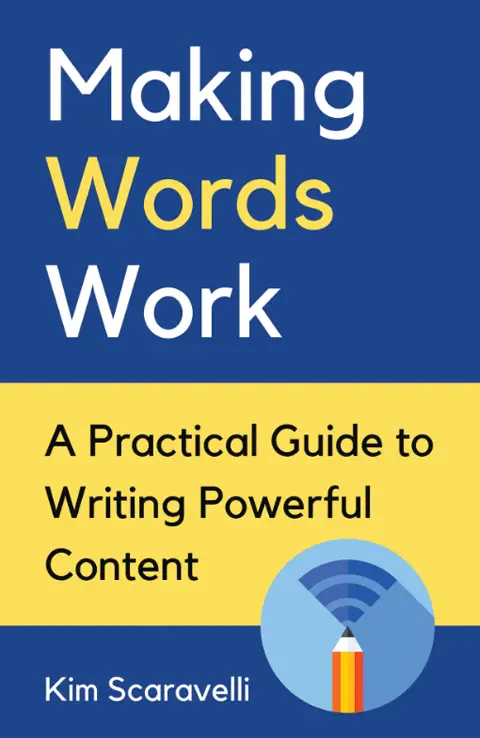 Kim Scaravelli's Making Words Work: A Practical Guide to Writing Powerful Content is a valuable resource for writers seeking to enhance their online content. This book is available in paperback, Kindle, and audiobook formats and spans 220 pages.
The book provides readers with essential takeaways such as:
The significance of proper planning, research, and organization to facilitate faster and easier writing. 
Strengthening creativity and building confidence in writing skills. 
How to create a first draft with substance and style.
Understanding the psychology of online reading.
How to design content for optimal engagement of your target audience.
You'll also get practical content writing advice like these:
Why you should limit the use of acronyms.
Using humor the right way.
Being persuasive without being pushy.
Tightening up your sentences.
Using bullet points properly.
Creating headlines with hooks.
Scaravelli's insights on tone, style, and voice help writers differentiate their content from others so they can get attention in a crowded market. Additionally, the book provides easy editing techniques to enhance content quality and guides writers to work smarter, not harder, to enjoy their work fully.
I highly recommend this as one of the best books on content writing for anyone seeking to create powerful and engaging content that resonates with their audience. There are 76 chapters, and each chapter is about 2-3 pages in length; making it free of fluff with only actionable content writing tips for success.
Check Amazon Reviews & Price
---
By Charles Maxwell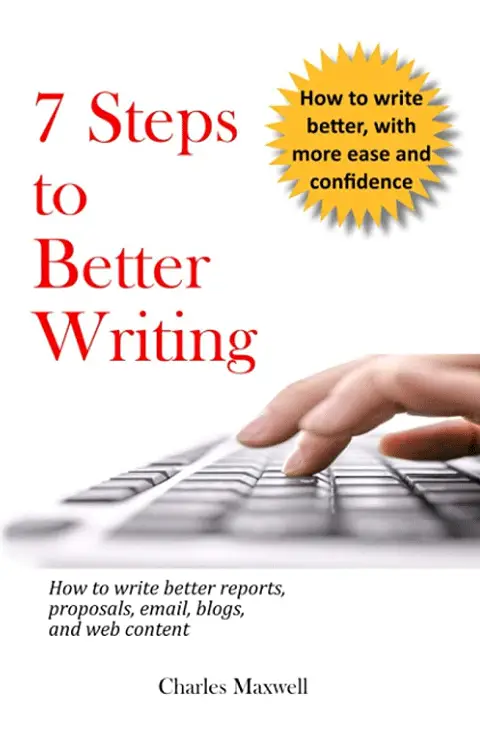 This book by Charles Maxwell is one of the most effective content writing books for beginners because it's a comprehensive guide that provides readers with a clear understanding of the steps needed to improve their writing skills.
The book is 185 pages long and is available in Kindle and paperback formats.
This book will teach you the following content writing strategies:
Identifying the reader's needs.
Controlling the tone of writing.
Collecting and organizing information.
Brainstorming effectively.
Using mind-mapping software and Ishikawa Diagrams to structure your ideas.
Writing the first draft.
What to do when revising your content.
What goes into the proofing stage before publishing your content online.
The book also covers techniques for organizing your thoughts and materials, analyzing problems, proposing changes, persuading others, explaining complex topics, telling stories, and generating powerful sales copy.
7 Steps to Better Writing by Charles Maxwell is an excellent resource for anyone looking to improve their writing skills in a broad way. The book is packed with valuable information, backed up by extensive research and decades of experience, and it can help readers become stronger writers for websites and blogs.
Check Amazon Reviews & Price
---
By Stephen Hockman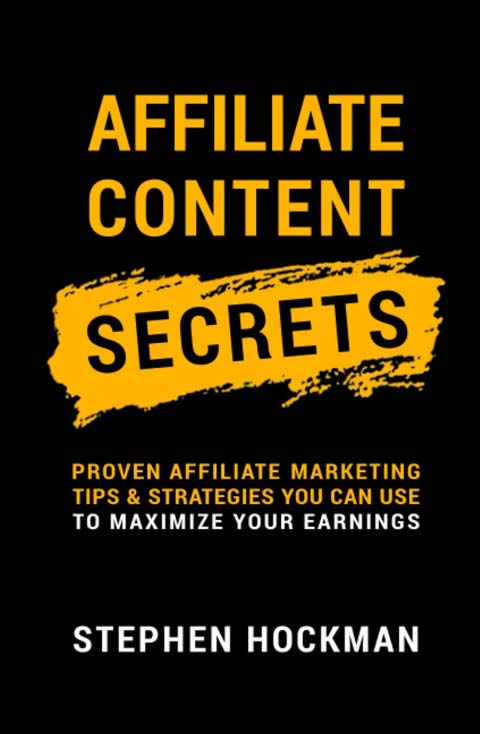 If you're looking for one of the best content writing books for affiliate marketers, then you should consider picking up a paperback copy of this guide.
It was written by yours truly to help affiliate website owner owners and content writers create better copy that converts more visitors into buyers.
Inside, you'll discover the exact methods I've used over the years to make a six-figure income with affiliate marketing. In fact, everything you learn in this paperback book is taken from 12+ years of trial and error and a multitude of strategies I've gathered from hundreds of other digital marketing resources, affiliate marketing blogs, SEO courses, consumer psychology books, and more.
The first section of the book is all about improving your affiliate content for higher conversions using simple methods of persuasion to build instant credibility, trust, and influence with your visitors. This is the heart of a book about content writing that no one else in the affiliate industry is writing about.
The second section reveals my complete on-page SEO structure for creating top-ranking affiliate buying guides that are the primary money-makers for this type of business. I'm literally showing you the exact locations to put your target keywords to help improve your rankings for an affiliate page and how to structure the page to improve engagement and click-through rates.
The content writing techniques, affiliate marketing strategies, and SEO methods you'll learn by reading this book are universal to all types of websites and can help you maximize your profits on every affiliate page you publish, regardless of the niche and your affiliate network (i.e. Amazon, Clickbank, ShareASale, etc).
If you want to improve your product click-through rates, conversions, and rankings on Google, then this book for content writers that focus on affiliate articles has a ton of secrets you can use to your advantage.
Check Amazon Reviews & Price
---
By Henri Junttila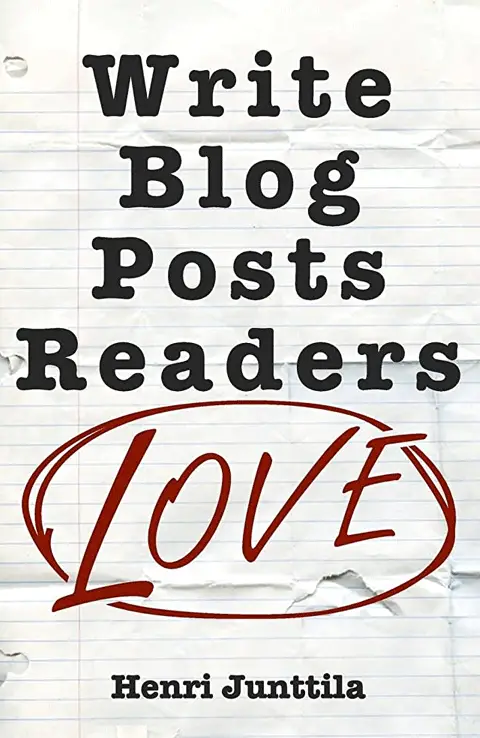 If you're a blogger struggling to come up with ideas or experiencing writer's block, Henri Junttila's book is a must-read to get past those roadblocks.
In this 130-page guide, Junttila shares his expertise in blogging, offering practical tips and techniques to help you write better blog posts that will inspire your readers. He draws from his own experience as a successful blogger with 10,000+ subscribers to provide a step-by-step blueprint for writing blog posts that your readers will love. 
One of the most significant strengths of this content writing book is that it offers practical strategies you can implement right away as you're reading through it. Whether you're a beginner or an experienced blogger, Junttila's advice is easy to follow and applicable to any niche.
The author also shares a powerful process for writing faster while increasing the quality of your writing, ensuring that you don't get bogged down when crafting your copy. You'll learn how to write more compelling headlines, create scannable blog posts, leverage content templates, and more.
Available in both Kindle and paperback formats, this book is a great choice for anyone who wants to improve their blogging skills. And, as one of the top books about writing content for bloggers, this book is well worth the investment for anyone who wants to make a full-time living from their blog.
Check Amazon Reviews & Price
---
By Maria Veloso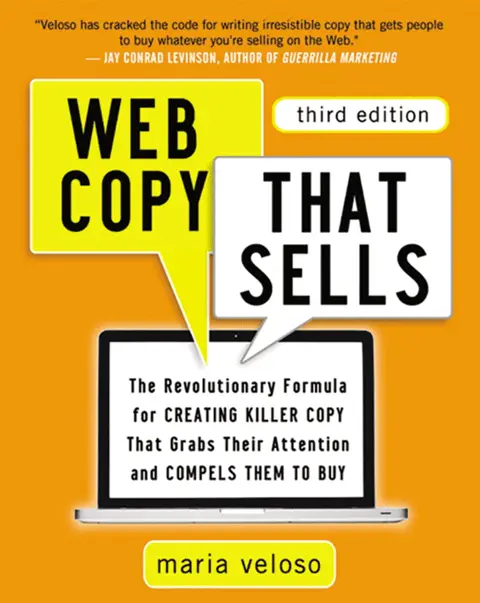 Web Copy That Sells by Maria Veloso is another must-read for anyone in the digital marketing industry. The book is now in its third edition, around 300 pages, and available in both Kindle and paperback formats.
I read the second edition, which had a different book cover, and it blew me away. In fact, a lot of the way I write sales pages and blog content comes directly from the lessons taught in this book.
Veloso's book is a comprehensive guide that helps marketers create compelling, clickable, and actionable content. She teaches you how to inject emotion, add credibility, and use psychological devices to connect with your readers.
Some of the top takeaways from the book include:
Crafting content that can grab readers' attention and persuade them to take the action you desire (e.g., sign up for a newsletter, register for an event, buy a product, or share the blog post).
Streamlining messages to create "cyber bites" for social media and web banners ads.
Using psychological tactics that influence customers to make purchases. (These tips alone are worth more than the price of the book.)
Why the first paragraph of any content matters the most, and how to write it the correct way to keep people interested in your article.
How to talk about money and ways to introduce the price of a product or service.
Words you absolutely should avoid using in your content.
How to use hypnotic language.
Writing video scripts that generate sales.
Writing for the mobile web.
Writing content for emails.
Overall, Web Copy That Sells provides a wealth of valuable insights into how to create compelling copy that drives sales in content writing. Veloso's practical advice can help writers of all levels improve their marketing communication skills and achieve success with their website or blog.
I highly recommend this book to anyone looking to enhance their digital marketing and content writing skills. You'll definitely walk away with new insights on how to create better copy that sizzles in the minds of your readers that is not taught in any other content writing book.
Check Amazon Reviews & Price
---
By Meera Kothand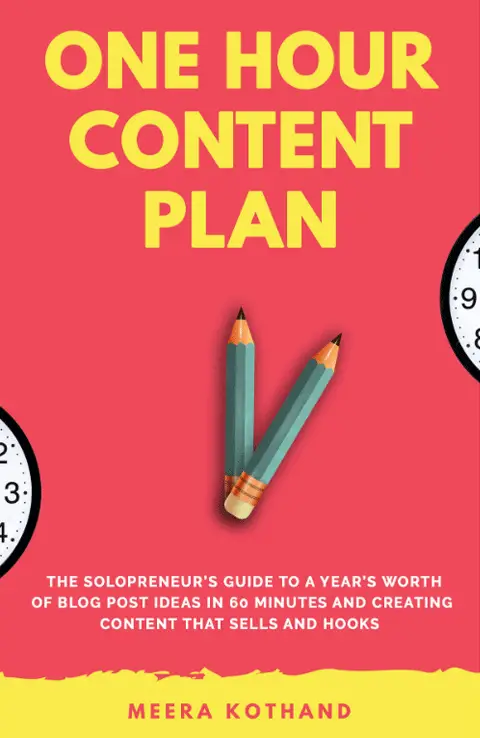 The One Hour Content Plan is another top favorite because it's a valuable resource for content creators who are struggling to come up with fresh and engaging ideas on a daily or monthly basis to fill out their content publishing plan.
The book is available in Kindle, audiobook, and paperback formats and is 148 pages in length, making it quick to read or listen to.
Important lessons that content writers can learn from this book include:
Three core ways to generate content ideas with ease and overcome content overwhelm.
How to build content around topics related to your blog's purpose.
Determining your brand voice to create content that aligns with your values and resonates with your audience.
Identifying the eight must-not-neglect elements that can make or break your blog posts, and how to optimize each of them.
Different types of articles you can use to feed your readers' interests.
Understanding the five types of content that will attract subscribers and eventually convert them into buyers.
Avoiding the common trap that bloggers and solopreneurs fall into with producing content and learning how to hook more eyeballs on your articles and blog posts.
How to manage the editorial workflow.
And most importantly, how to set up a long-term content plan for success.
The book is undeniably one of the top content writing books for beginners and veteran publishers. It provides practical tips and strategies for creating purposeful content that drives results and grows your blog and business.
It also emphasizes the importance of having a long-term content strategy, instead of just winging each month, and offers a step-by-step approach to creating a solid content plan in just one hour (hence the name of the book).
Overall, the One Hour Content Plan was one of the best books I have read as a full-time content writer. It gave me the clarity I needed to think strategically about the type of content I produce for my audience. That's why I highly recommend this book to anyone who is serious about building a successful online presence with their website or blog.
Check Amazon Reviews & Price
---
Content Writing Books Summary
I hope you enjoyed this list of the best content writing books.
As someone who has been writing articles, blog posts, and sales pages for more than a decade, these truly are the top books for content writers looking for expert guidance. Each one of these recommended titles has been extremely helpful in improving my own writing, and I'm confident these books on content writing can give you the advanced knowledge you need to improve your own writing skills.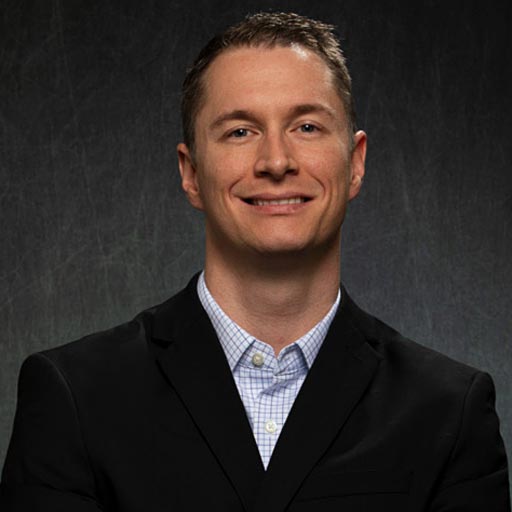 Stephen Hockman is an entrepreneur and founder of SEO Chatter. He specializes in search engine optimization and digital marketing and has been fascinated with SEO since 2005. His goal is to share the best tips and news about search engine marketing to help you get more website traffic.