In this guide, we'll answer several questions about keywords, including, "what does keyword mean" and "what is keywords in SEO".
We'll also go over some examples of keywords so you can understand the various types of SEO keywords, their meaning, and how they relate to search intent.
But that's not all.
You'll also discover how to find keywords to target, strategies for choosing the best phrases and terms for your content, and how to use them for better search engine optimization.
The purpose of this article is to give you more than just the definition of what is a keyword by explaining everything you need to know about this topic in regards to SEO.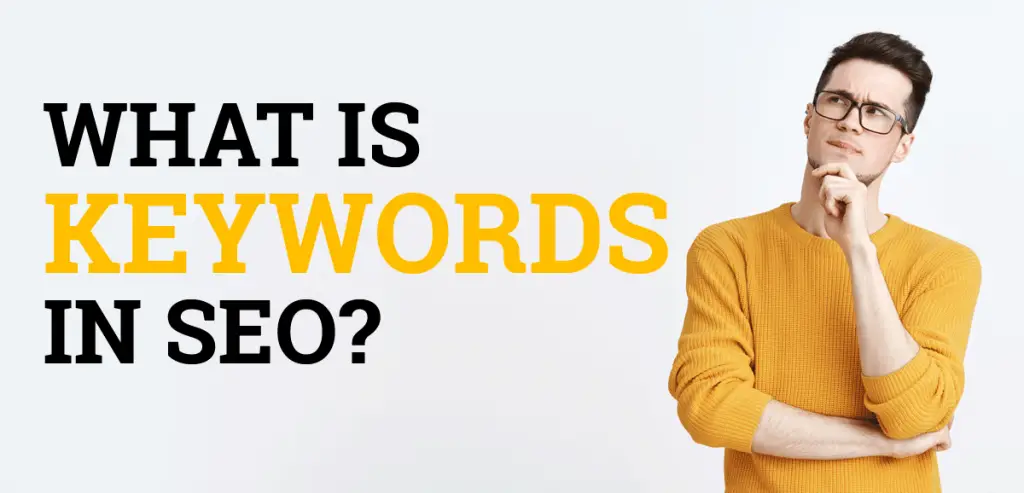 What Is Keywords In SEO?
Keywords in SEO are the keywords and phrases in your content that make it possible for people to find your site in the search engines. SEO keywords define the ideas and topics for the content and include single words and phrases that represent the search queries users are searching for.
Why Are Keywords Important?
Keywords are important because they tell search engines about the content on your website. Keywords in SEO are the link between the queries people are searching for online and the content your website provides to meet that need. Keywords are important for helping search engines identify topics your content covers.
When creating content, it's important to focus on the keywords that will help your site rank higher in search engines like Google, Yahoo, and Bing for the phrases that matter most for your business. This is known as keyword optimization.
Search engine spiders (also known as web crawlers) like Googlebot scan each web page on your site to uncover the SEO keywords that match relevant search queries. This is the basic idea for how does SEO work.
When you optimize for specific keywords in SEO, this will help search engines better understand the content on your page and how it's relevant to the person looking for it so your content can be indexed and ranked properly.
Keyword optimization is the core component for using SEO in blogging, an ecommerce site, local business, or any other type of website.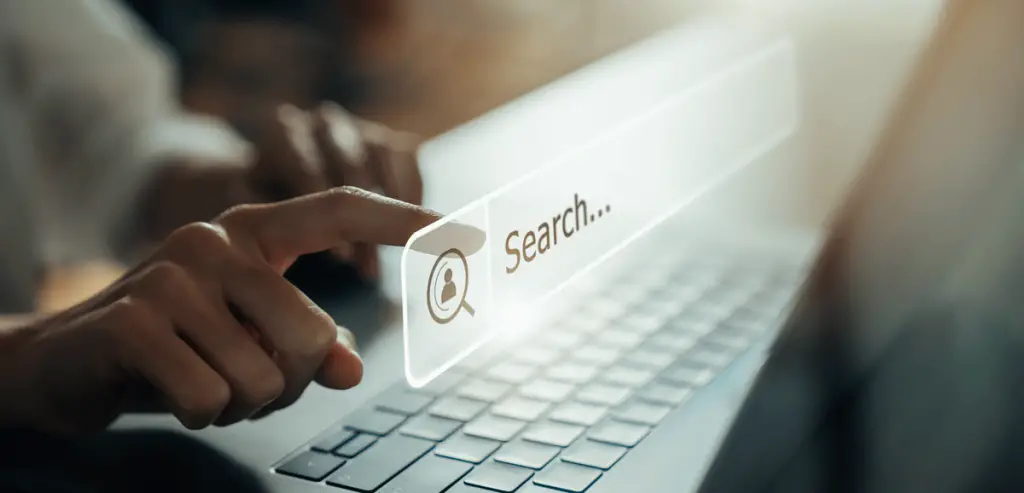 Types of Keywords for SEO
Short-Tail Keywords
Short-tail keywords are one to two words long, have a high search volume, and the most competition. They're also not particularly targeted because the search intent can be ambiguous.
Typically, it's best to avoid optimizing for short-tail keywords because it's too hard to compete for them and get targeted conversions. If you rank for a short-tail keyword, that's great, but don't plan your SEO strategy around it.
Examples of short-tail keywords include:
dogs
cat food
Internet marketing
keywords
SEO
search optimization
treadmill
Medium-Tail Keywords
Medium-tail keywords are three to four words long, have a moderate search volume, and average competition. They are more targeted than short-tail keywords because search intent is easier to establish and has higher conversions.
There are many untapped medium-tail keywords in most markets so it's good to focus on them for SEO.
Examples of medium-tail keywords include:
dog that don't shed
cat food recipes
Internet marketing strategies
what is a keyword
what are SEO keywords
search optimization for beginners
treadmill workout plan
Long-Tail Keywords
Long-tail keywords are five words or longer, have the lowest search volume, and least competition, making them good SEO keywords to target for a quick increase in rankings and website traffic.
Long-tail keywords have the most direct search intent too. When a person is searching for a long-tail keyword on Google, they typically want an answer to something specific. So the conversion rate is higher than any other type of keyword. (See my article on the advantages of long-tail keywords for more information.)
Examples of long-tail keywords include:
dogs that are good with kids
cat food safe for allergies
internet marketing advantages and disadvantages
what do you mean by keywords
how to improve seo for small business

why treadmills are bad for your knees
If you want some tips on how to find easy to rank keywords, check out this post on how to find low competition keywords.
Search Intent of Keywords
According to Alexa, "Search intent is the reason behind a searcher's query on search engines. It represents the objective the searcher is trying to accomplish."
Therefore, it's important to understand the different types keyword search intents and how to optimize for them.
Informational Intent
Informational keywords are used to meet the search intent for people who are looking for an answer to a specific question or general information. 
These types of SEO keywords typically start with "who", "what", "when", "where", and "how", but they don't have to. The user may omit those qualifiers before the search query.
Google's search engine results pages (SERPs) for informational searches often contain knowledge panels, carousels, and infoboxes to provide quick answers to the user when applicable.
Informational keywords don't have transactional or commercial search intent, so they're not the best choice for making sales. However, these types of keywords in SEO can be valuable for building brand awareness and answering questions with informational content to educate visitors on a topic to bring them into your sales funnel.
Examples of informational keywords include:
what is off-page SEO?
how do keywords work?
calories in a pizza
presidential election date
why are whales so big?
Transactional Intent
Transactional keywords are used when a searcher is ready to buy something. They have the strongest search intent for taking an action and are commonly known as "buyer keywords".
These types of SEO keywords typically start with "best", "top", "buy", "purchase" or include "for sale", "to buy", or "near me". The person searching for keywords like this is at the bottom of the sales funnel which makes these keywords a good target for both SEO and pay-per-click (PPC) campaigns.
Because the search intent for transactional keywords is so strong for purchasing a product or service, the Google SERPs often have shopping ads and carousels in them.
Examples of transactional keywords include:
best SEO company
top keyword research tools
buy stocks online
used car dealer near me
lawn mower for sale in Dayton
Navigational Intent
Navigational keywords are used when people know what they want but are not exactly sure how to find it.
The most common examples are when a searcher is looking for a particular website, brand, or product to buy. They know it exists but need Google, Yahoo, or Bing to help them find the website, location, or contact information.
Google's SERPs for navigational searches often contain maps and knowledge panels to help the user get as much information as possible inside the search results.
Examples of navigational keywords include:
YouTube
Petco
SEO Chatter website
Google Trends
Dave's autobody repair shop
You can find an even longer list of examples of keywords here if you want to find out about all of the types of keywords you can optimize for SEO.
How Do I Find Keywords?
Use Google Autocomplete
Google's Autocomplete function is a feature in Google Search that can be used to find relevant keywords for your website.
The intention of Google Autocomplete is to "generate predictions that help people save time by allowing them to quickly complete the search they already intended to do." These predictions reflect real searches that have been done on Google so you know they're good keywords to target.
Just start typing a word into Google's search engine and it will suggest individual words and phrases that are based on both real searches and word patterns found across the Internet.
Check Google Trends
Another way to find keywords is with Google Trends. This tool can be used to see how often a term was searched for in the past hour, days, months, and years along with a graph showing the keyword's interest over time.
Furthermore, Google Trends can show you keyword interest by subregion, related topics, and queries to help you build the best SEO strategy for your website and content.
To fully understand how valuable this tool can be for finding keywords, check out my other guides on what is Google Trends used for and how Google Trends works.
Use Google Keyword Planner
Google's Keyword Planner is a free tool that helps marketers understand search volume and how competitive a keyword is. To use it, you'll need an AdWords account.
You can use Keyword Planner to generate lists of keywords that are related to a particular topic and can filter them by monthly search volume, level of competition, and cost-per-click (CPC) estimates.
Use a Keyword Research Tool
Tools such as Ahrefs, SEMRush, KWFinder, WordStream, Moz, and SpyFu have keyword research capabilities that go beyond Google's Keyword Planner.
These keyword tools are good for SEO because they can identify the average number of searches per month and the level of competition for a keyword phrase. They also provide suggestions for related keywords for you to consider for your content.
Moreover, these services often have a way to track the progress of your keyword rankings so you know if you're getting an increase in Google Search visibility and hitting your traffic goals.
Try Answer The Public
Answer The Public is another great tool for finding relevant keywords. The user can submit a question or prompt, which then generates all of the related keywords that can be used to answer questions surrounding it.
For example, when you type "how to lose weight" into the tool, it generates a list of over 380 different keywords. These phrases may include things like "how to lose weight in a week," "how to lose weight in thighs," and more.
Answer The Public offers keywords suggestions that are divided up into questions, prepositions, comparisons, and a full list of phrases sorted in alphabetical order. You can also check out my Answer the Public alternatives page to find free and paid tools that work equally as well.
Browse Amazon for Ecommerce Keywords
Another great resource for SEO keyword ideas is Amazon. And it's especially good for ecommerce keywords.
It's similar to Google's Autocomplete feature but is based on the search data in Amazon's user database.
As you type a word into Amazon's search bar, keyword predictions will appear to help you complete the search. These phrases are good keywords to target for SEO because they're actively being searched for by people on the platform, which means there's a high probability that the keywords are being searched for on Google as well.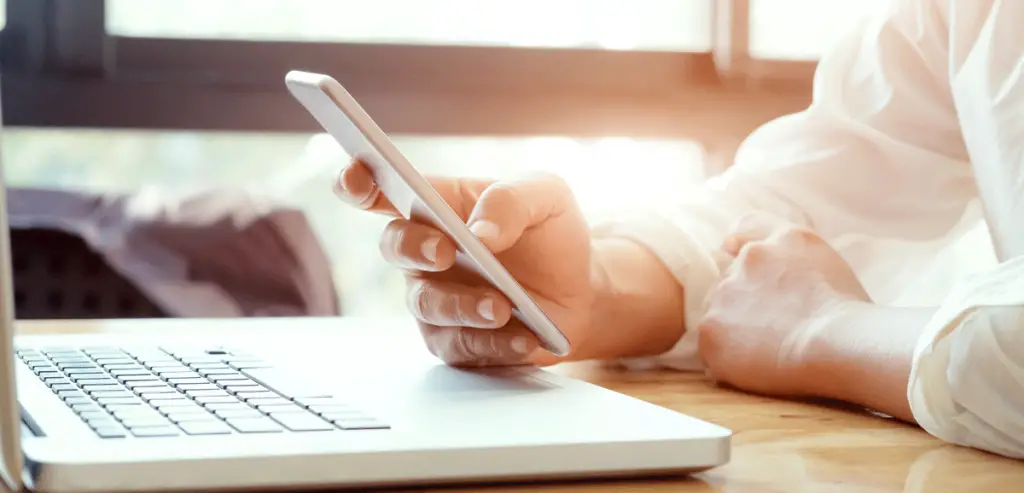 How to Choose Keywords for SEO
Think About Search Intent
Search intent is very important when choosing keywords for SEO.
You always want to match the keywords you're targeting to the user's search intent. Otherwise, your content may not rank well for the query.
For example, this web page is targeting informational search intent keyword phrases like "what are keywords", "what does keyword mean", and what are SEO keywords".
This implies that people are looking for a definition and explanation of keywords in SEO; not a web page that lists the best SEO keyword research tools. Therefore, the content on this page answers all of the questions and concerns about keywords in general for search engine optimization to match the intent of the user.
Choose Keywords for SEO That Fit In Your Niche
You always want to choose keywords that align with your industry or niche. Trying to target keyword phrases that are outside of your target market can make it harder to rank for those terms.
If you stick to a specific niche for your content, you'll gain favor in Google's algorithm for that type of information. And that will make it easier for you to rank high for related keywords.
Therefore, it's important to choose keywords for SEO that will help you rank for the topics your audience is searching for and Google thinks you're an established authority on to display your site in the SERPs.
Pick Low Competition Keywords with High Search Volume
When you're choosing keywords, it's best to go for phrases that are easy to rank for and generate a good amount of traffic.
In the world of SEO, these keywords are referred to as, "low competition and high search volume keywords".
The best way to find these types of keywords is with a keyword research tool like Ahrefs, SEMRush, KWFinder, WordStream, Moz, or SpyFu. These tools list the average monthly search volume for keywords and the level of competition each phrase has based on a number of SEO scoring factors.
Choose 2-5 Keywords for Each Page
A good SEO strategy is to choose 2-5 relevant keywords per page. That way, you can get better ranking results and more traffic for the content.
If you only choose one keyword to target, you're severely limiting your potential rankings and reach.
Cluster Similar SEO Keywords On the Same Page
Another good strategy to choose keywords for SEO is called clustering.
Clustering similar keywords on the same page can help improve the topical relevance and rankings for the entire set of phrases.
Also, keyword clustering cuts down on the possibility of keyword cannibalization, which is when Google finds the same keywords on multiple pages on your website and is not sure what content to rank for those target queries. This often leads to each of those pages having a ranking suppression because Google can't figure out which is the proper page to rank for the keywords.
How to Use Keywords for SEO
There are many ways for how to use keywords for SEO, including:
Meta Title: Put your main and secondary keywords in the meta title while keeping it natural. The meta title is what appears in Google's SERPs for your page listing.
Meta Description: The meta description should contain your keywords for SEO as well as a short description of what users can find on your page. The meta description, if Google chooses to use it, will appear under your listing's meta title in the SERPs. (Don't confuse this with meta keywords which are ignored by Google.)
URL: The URL identifies a specific page on your website and is as good place to put your SEO keywords. For example, the URL for this web page is /what-is-keywords-in-SEO/ which is targeting the main keyword phrase I want this content to rank for.
Page Title: This is typically the H1 tag for the page and it's a good place to put your main and secondary keywords for SEO purposes.
Subheadings: You should add your keywords to some of your subheadings; the most important being H2 and H3 tags. Adding your keywords to these locations helps improve the topical relevance for the page.
Image ALT Text: Google crawls ever element in your content, including images. Therefore, it's best to optimize these elements as well for SEO. You can do this by adding your keyword phrases into the image ALT text field. But make sure that you're not just keyword stuffing it. Instead, create a useful piece of text that accurately describes the image while also optimizing it for SEO keywords.
Now, this is by no means a complete list for using keywords for SEO.
To learn more optimization strategies, check out my in-depth guide on how to add keywords to a website here.
Keywords Summary
I hope you enjoyed this guide on what is keywords in SEO.
As you discovered, the definition for what does keyword mean includes words and phrases people are searching for on Google, Yahoo, and Bing.
And when you strategically add SEO keywords to your content using the tips given above, you can increase the chances of your web pages being found in the search engines.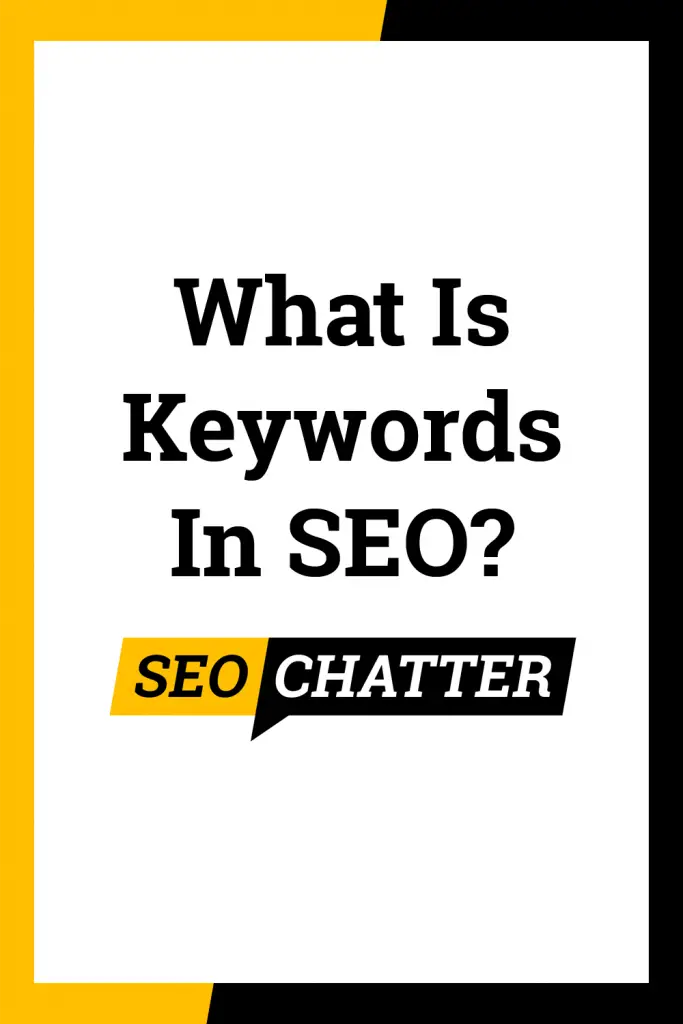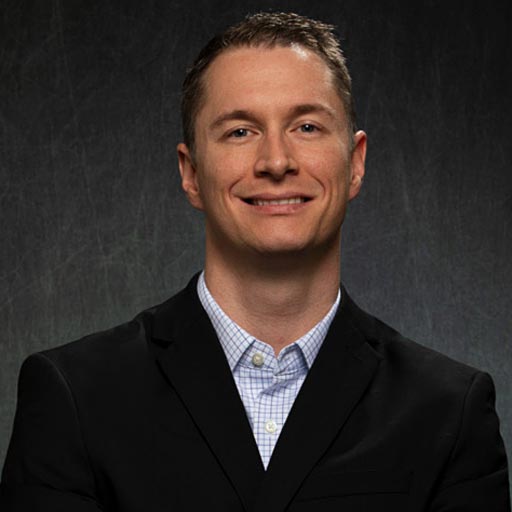 Stephen Hockman is an entrepreneur and founder of SEO Chatter. He specializes in search engine optimization and digital marketing and has been fascinated with SEO since 2005. His goal is to share the best tips and news about search engine marketing to help you get more website traffic.