As a food blogger, you pour your heart and soul into your recipe content.
But unfortunately, great content is not enough to appetize the Google algorithm.
You have to understand the art behind SEO for food blogs so you can get the rankings and traffic that you deserve.
That's exactly why I put together this SEO for food bloggers guide: to help you get more organic traffic for your recipes by feeding Google exactly what it needs.
As you'll discover below, search engine optimization for food blogs is not magic. Nor does it have to be guesswork.
All it takes is a few simple adjustments to your blog content and recipes to maximize your ranking potential as a passionate food blogger.
SEO for Food Bloggers
1. Pick Easy SEO Keywords for Your Food Blog
The first thing you should think about when doing SEO for food blogs is to look for easy wins.
So much of search engine optimization for food bloggers is finding the right organic keywords to target for your recipes. (If you're new to the concept of organic search keywords, see my article on what does organic keywords mean.)
Of course, it would be great to rank your food blog for the phrase "baked chicken", but that keyword is just way too competitive. Millions of other food bloggers have already targeted that phrase, and you likely can't compete for it.
So it's better to focus on easy keywords that your blog can rank for.
To do that, you'll need a good SEO keyword research tool like KWFinder by Mangools (try it for free). It's one of the only SEO tools I recommend as an affiliate because it's cheap, yet powerful for keyword research.
The Mangools suite of tools also comes with other great things like a Keyword Rank Tracker, Backlink Miner, and Site Profiler. And in my opinion, there's no other tool you need as a blogger to be successful with SEO.
So how does KWFinder help you find easy SEO keywords for your food blog?
After you open up the tool, you can search for a seed keyword like "kale recipe" and KWFinder will show you related phrases along with the average monthly search volume and keyword difficulty score.
In the image below, you can see three suggested keywords with a monthly search volume between 890 to 2,400 ("kale pasta sauce", "blanched kale", and "kale and spinach salad"). That means a lot of people are looking for those types of recipes on Google.
Additionally, anytime you see a green colored square under the KD (Keyword Difficulty) column, that means it's an easy keyword phrase to target.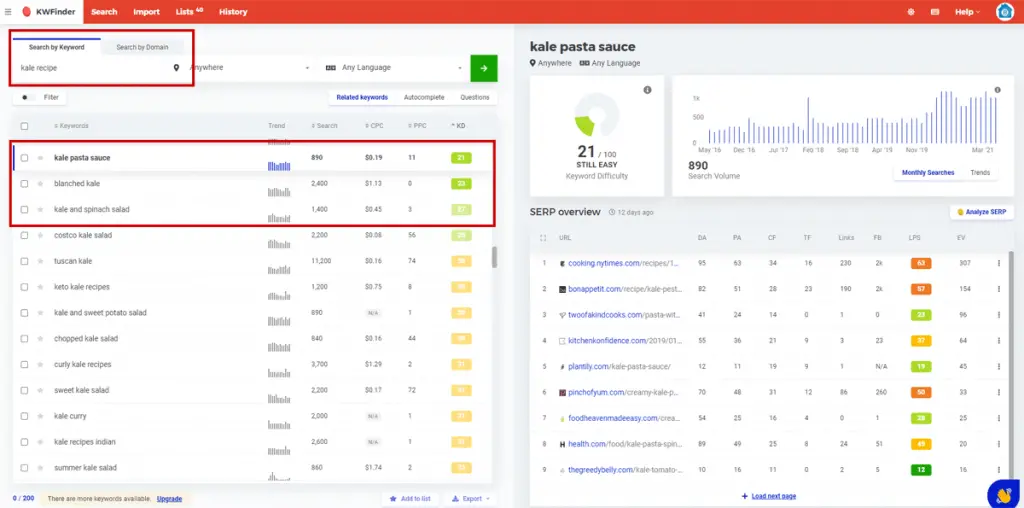 As a food blogger, you should be looking for keywords with high search volume and low keyword difficulty to write recipes on. By doing so, you can maximize the SEO impact for your blog faster than if you were to go after harder terms.
2. Get SEO Ideas from Other Food Bloggers
Another good SEO for food bloggers tip is to get content ideas from your competitors or other food blogs you enjoy.
And the easiest way to do that is also with the KWFinder tool.
KWFinder allows you to input the URL of any website domain and instantly find out what keywords that site is ranking for. You can also sort the list by keyword difficulty to discover easy recipe ideas to write content about on your own food blog.
In the image below, you can see that I searched for the website domain "basibelle.com" and uncovered a variety of easy recipe ideas to target around "sweet potatoes", "try tip steak", and "garlic bread".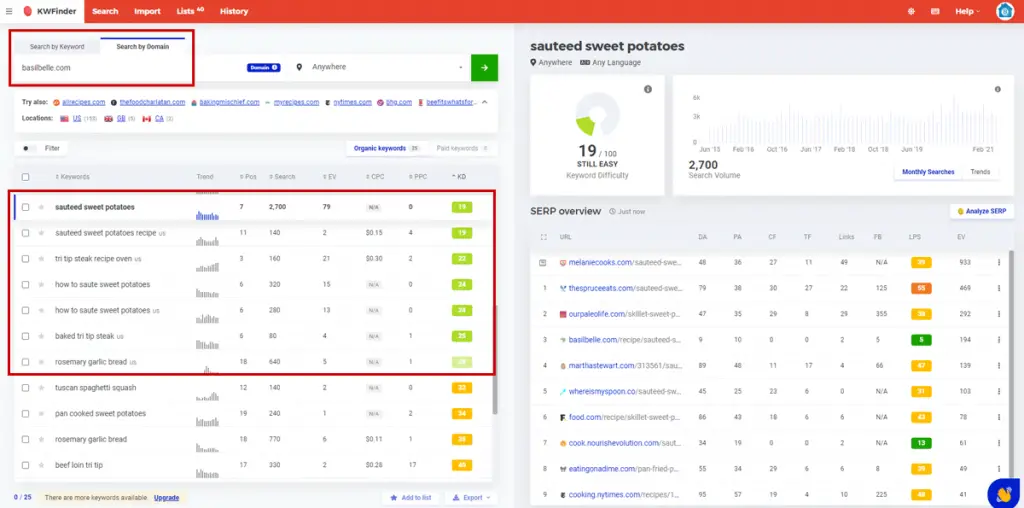 As you can see, using the KWFinder tool to spy on your competitors is a fast and simple way to generate loads of new SEO content ideas as a food blogger.
3. Optimize Your Blog Post Meta Titles
The title of your blog posts is the most important SEO factor you can control on the page.
I also talk about its importance in my general guide on how to do SEO for a blog.
Also known as the "meta title" or "title tag", this HTML element is crucial to get right for higher rankings in Google.
At the most basic level, every one of your recipes and blog posts should have the main keyword you're targeting in the meta title field. It should also be as close as possible to the beginning of the blog title.
For example, if you wanted to rank a page for the keyword, "sauteed sweet potatoes recipe", then the meta title should be something like this, "Sauteed Sweet Potatoes Recipe (Pan Fried & Delicious)".
Now, if you're using WordPress for your food blog, then you won't automatically see a field to edit the meta title for your blog posts. To get this feature to appear, you'll need to install a free plugin like Yoast, All In One SEO, or RankMath.
After you install one of those plugins, go back to your old blog posts and improve the SEO keywords for the meta titles. A simple update like this can give your food blog a quick jumpstart it needs to receive more of the traffic it deserves.
4. Optimize Your Recipe Content
Another SEO tip you can use as a food blogger is to properly optimize the body content of the recipe.
This is as simple as placing your main keyword in the right spots on the page, which include:
The H1 tag (often coded as the blog post title)
The first 100 words
The last 100 words
Two to three times within the content spread out naturally
If you follow the advice above, you'll have a good starting point for a well-optimized SEO food blog post.
5. Optimize Your Image ALT Text and Filenames
As a food blogger, you have many more opportunities to SEO optimize your images than other types of bloggers.
The ALT text is an HTML element that can be added to any image on the page. And it's intended purpose is to allow people with disabilities who use a screen reader to understand what the image is about without actually seeing it.
However, the ALT field is also a good place to put your target keywords and include additional words to improve the topical relevance of the blog post.
For example, if you're sharing a pumpkin pie recipe that features step-by-step photos, then these would be good examples of SEO optimized ALT text you could use:
Finished pumpkin pie recipe
Ingredients for pumpkin pie recipe
M

ixing ingredients for pumpkin pie

Rolled out pumpkin pie crust
Pumpkin pie in the oven

Single serving of pumpkin pie on a plate
You can edit the ALT text in WordPress by selecting the image and editing the text field under the block editor as seen in the image below.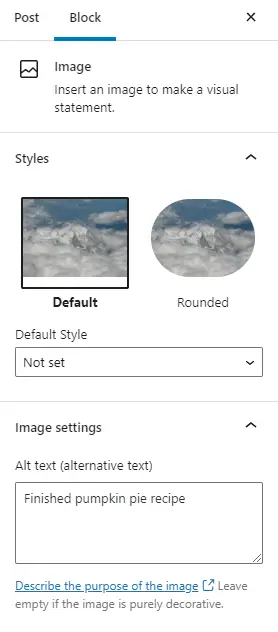 Now, the other part of image SEO for a food blogger is the filename of the photo. And to get this right, all you have to do is use the same words as the ALT text witin the filename.
For example, the associated filenames for the step-by-step photos listed above would be:
finished-pumpkin-pie-recipe.jpg
ingredients-for-pumpkin-pie-recipe.jpg
mixing-ingredients-for-pumpkin-pie.jpg
rolled-out-pumpkin-pie-crust.jpg
pumpkin-pie-in-the-oven.jpg
single-serving-of-pumpkin-pie-on-a-plate.jpg
A final note here is to always use dashes (-) instead of underscores (_) between the words in the image filenames because Google recommends it.
6. Use the Right SEO Food Categories
When most food bloggers start blogging, they don't really think about their blog post categories.
And what often happens is that many food blogs end up with a disjointed list of both broad and narrow subjects for the recipes.
But establishing proper blog categories is critical for SEO and the overall user experience. So if you want to have long-term success as a food blogger, then you need to know how to leverage the power of categories and subcategories.
As Meyne explains, the list below is what it usually looks like when the food blog categories are not planned ahead of time:
Breakfast
Chicken
Chocolate
Cupcakes
Beef
Dessert
Dinner
Eggs
Side dishes
Smoothies
But what you actually want is to have a handful of categories that your recipe content can broadly fit under and then use subcategories to make the posts more specific.
So instead of doing something disjointed like the above, you should take those same categories and organize them into a parent category and a subcategory so they look more like this:
Breakfast
Dinner
Side dishes
Now don't worry if some of your recipes cross over and go into multiple categories and subcategories. That's perfectly fine for SEO on a food blog.
7. Use an SEO Recipe Plugin
If you're serious about improving SEO for food blogs, then you must install an SEO recipe plugin.
As Google is moving more toward voice search so that recipes can be read out loud in voice through smart home deviecs like Google Assistant and Google Home, it's crucial that your food blog has something called "structured data" or "schema markup" for your recipes.
Without getting too technical here, Google says that "When you provide information such as reviewer ratings, cooking and preparation times, and nutrition information, Google can better understand your recipe and present it to users in interesting ways."
And that can lead to higher rankings for your recipes in Google and more traffic for your food blog.
The image below is an example of how your content can appear in Google's search results when structured data is used properly.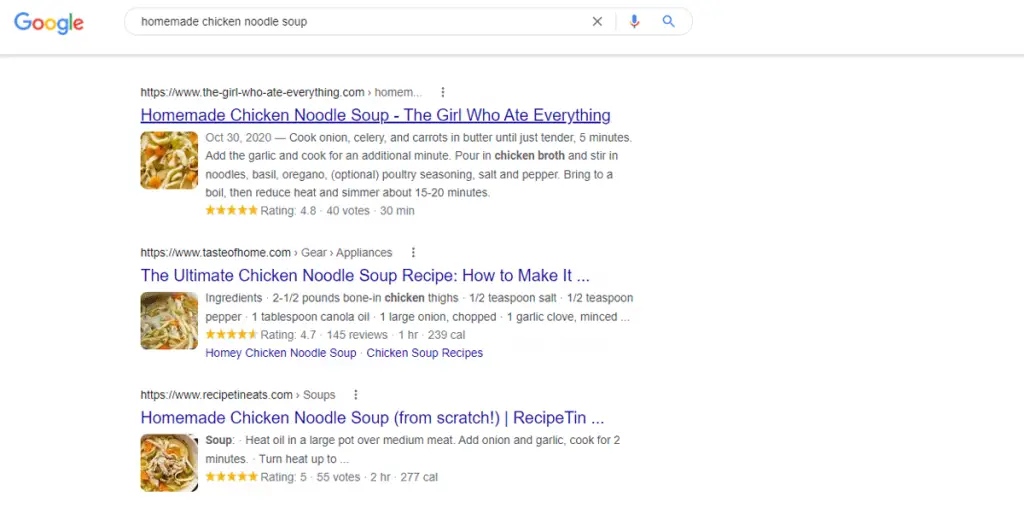 Fortunately, all of this can easily be done without any coding knowledge by using a food blog recipe plugin like these:
8. Write Longer Food Blog Posts
According to Backlinko, who analyzed 11.8 million Google search results, "The average Google first page result contains 1,447 words."
Therefore, longer content ranks best on Google.
And when it comes to food blogs, you can easily expand the number of keywords that each blog post ranks for just by making it longer and covering more aspects of the recipe topic.
For example, instead of just writing 500-word blog post that includes a "roasted sweet potato recipe", you could lengthen that content (and rank for more related keywords) by covering additional topics such as these on the page:
Explain the history sweet potatoes.
Descrive the nutritional value of sweet potatoes.
Explain the differen shades of sweet potatoes.

Describe different techniques to roast sweet potatoes.

Provide alternatives to sweet potatoes in a recipe.
Cover the

myths around sweet potatoes.

Include a FAQ section about roasting sweet potatoes.
But just remember, the purpose of long-form content is to provide more value to the reader, not watering it down. So use longer content to improve the reader experience while also maximizing the SEO value of the blog post.
9. Boost Your SEO with Internal Linking
Hopefully, you already know the difference between internal links vs external links. If not, you can read that linked post.
Using internal links in your recipes can do two things:
It keeps readers more engaged with your site.
It can increase your keyword rankings for a page.
Linking to your other food content is a good way to increase the number of pageviews for every visitor who lands on your blog. It also helps turn first-time visitors into returning visitors.
But more importantly, internal linking is a powerful tactic you can use to boost your blog post rankings in Google. That's because pages that are linked to more often and valued higher by Google when it crawls your site.
Plus, if you use keyword-rich text in your internal link anchors, you can improve the SEO for the target page.
For example, I want to rank a page on this site for the keyword phrase, "cross linking SEO". Therefore, I used that exact match phrase in the linking anchor text. By doing that, I'm sending a clearer signal to Google that I want that page to rank for a specific keyword.
So as a food blogger, you should be using this same SEO trick. But don't make every internal link to a blog post the same exact phrase. Switch it up a bit and add in extra words so you don't overoptimize the text.
For example, if you wanted to rank a blog post on "baked vidalia onions", then you could use the following types of anchor text for your internal links:
baked vidalia onions
baked vidalia onions recipe
easy baked vidalia onions
my baked vidalia onions recipe here
10. Plan Ahead for Your SEO Food & Recipe Content
My final SEO tip for food blogs that you can do on the site itself is to always plan for your content ahead of time.
(Backlinking search engine optimization tips for food bloggers is next.)
The fact is that SEO is a long-term game. And when you publish new content or update old blog posts, it can some time to see the full effect of your SEO optimization efforts.
In my experience, it usually takes about two weeks to several months for a blog post to settle into a good ranking position.
And because of that, the life of a food blogger often means that you're publishing recipe content on the off-season for that type of food (if it applies). For example, you should be publishing Thanksgiving recipes in September and July 4th recipes in March.
Getting ahead of the game before other food bloggers have a chance to publish their content can help you reap the rewards of your SEO efforts just in time for when it counts the most.
How Do I Get Backlinks to My Food Blog?
Comment on Other Food Blogs
The easiest and fastest way is to get backlinks to your food blog is to visit other food bloggers' sites and leave useful comments on their posts.
You can often add a link to your name that appears next to your comment which leads back to your food blog.
Write Guest Posts
You can contact other food bloggers and ask if you can write a guest post on their site. This post can be a new recipe or about a general food-related topic, depending on what the site owner will accept.
If you do get a guest post opportunity, make sure to add a link to your sit in the author biography. You can also put a link to a related recipe on your blog within the content so you can get two backlinks from one guest post.
Post Your Recipes on Pinterest
If you're a food blogger, then you need to be adding your blog posts to Pinterest. Pinterest not only can drive a lot of traffic to your site, but it also helps your recipes get discovered and linked to from other sites on the Internet. See this other guide on creating Pinterest backlinks for SEO.
Join Food Forums
You can join forums that revolve around recipes and food and get quick backlinks to your blog.
But remember, you can't just spam the forums with your links or you'll get banned from the platform. Instead, offer helpful contributions and participate in the discussions while only including links to your recipes when it makes sense to do so.
Publish Press Releases
There are hundreds of press release distribution services online that can help to get the word out about your food blog. And even if you don't have a physical location as a business, you can still send out a press release as a food blogger.
Just come up with something that you can share with the media that is newsworthy. It can be as simple as a website redesign you just completed or an upcoming podcast you're going to be featured on (mentioned next) or a new YouTube channel your starting (also explained below).
Make sure to include a backlink to your blog in the introduction of the press release so you can get the SEO benefit.
Get Interviewed on a Podcast
Contacting podcasters that talk about food and asking if you can be interviewed is another simple way to get backlinks to your food blog.
Usually, the podcast host will link to your blog in the show notes and you can even ask if they'll link to specific recipes that you want to drive the most traffic to.
Create Videos
If you can create a short video for your recipes, then you can upload them to video sharing sites like YouTube, Vimeo and DailyMotion.
And if you SEO optimize the video descriptions, and include a link back to your blog, you can take advantage of those free backlink opportunities.
Host a Giveaway
Everyone likes to get free stuff. And if you host a giveaway, then you can generate a lot of good buzz for your business.
That buzz can also result in acquiring a number of free backlinks to your site.
You can host the giveaway on your own blog or ask a fellow blogger, forum member, or podcaster in your food niche to promote a giveaway sponsored by your site.
How Do Food Bloggers Rank?
Food bloggers rank on Google by following certain SEO strategies that give their content a competitive edge in the search engine.
Here's a recap of the top ranking methods food bloggers use:
Pick easy keywords to rank for
Take rankable ideas from other food bloggers
Optimize their blog post titles
Optimize their recipe content
Optimize their images with SEO
Use the right food categories for their content
Use a recipe plugin
Write long-form content that ranks for more keywords
Increase rankings with internal linking
Plan ahead to rank their seasonal content on time
Get backlinks to their content through outreach and promotion
SEO for Food Bloggers Summary
I hope you enjoyed this guide on SEO for food bloggers.
As you discovered, the secret behind doing SEO for food blogs is to focus on improving certain key elements of the page. And if you optimize those sections well, then your content can rank higher in Google.
The tips on search engine optimization for food blogs I revealed here can work for any blogger in any food niche. So feel free to use these methods to increase your search engine visibility for all kinds of cuisine.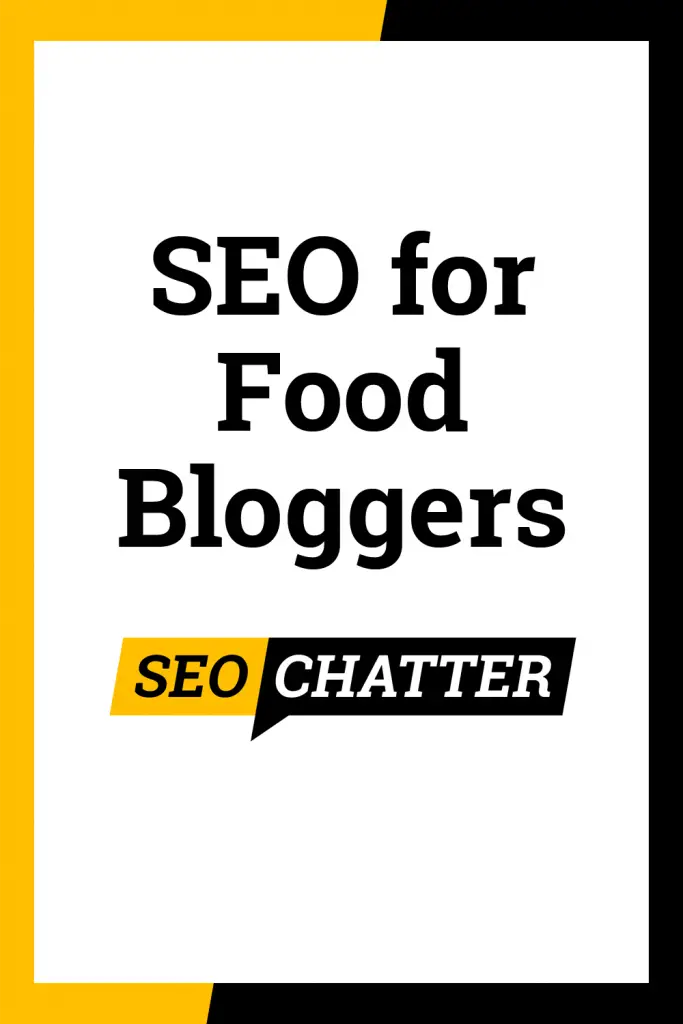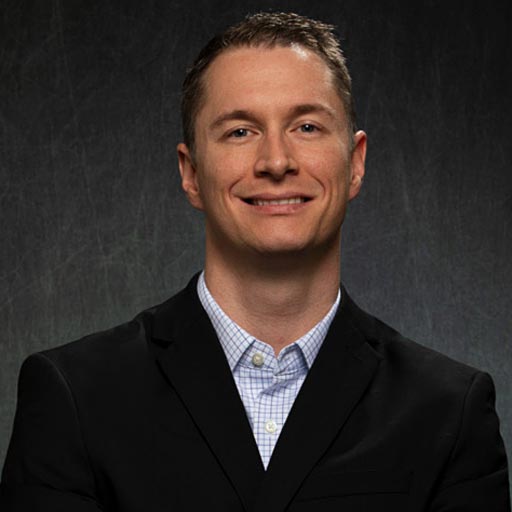 Stephen Hockman is an entrepreneur and founder of SEO Chatter. He specializes in search engine optimization and digital marketing and has been fascinated with SEO since 2005. His goal is to share the best tips and news about search engine marketing to help you get more website traffic.