If you're an artist with a website, you'll benefit a lot from SEO.
When you understand how to do SEO for artists the right way, you can get found on Google when people search your artist name or the type of artwork you make.
And that's great for business!
As you'll discover below, just by making a few SEO tweaks to your website, online portfolio, or blog, you can reach a lot more people with your art.
Search engine optimization does not have to be hard for an artist like you, and these 7 SEO tips for artists will prove it.
And after the list of tips, I'll also give you some of the top SEO keywords for artists you can focus on right now to get more traffic to your site!
SEO for Artists
1. Put Your Artist Name in the Domain
The easiest way to rank #1 for your name is to put your artist name in the domain.
The domain is the part of your website's URL that comes before the top-level part of the domain name (TLD), such as .com or .net.
Here are a few examples of using domain name SEO for artists:
You also want to make sure that your artist name is in the title of the homepage because this is what appears in the Google search results. (See image below for an SEO example.)
This field is often referred to as the "meta title" or "page title" and it can easily be updated with a free SEO plugin like Yoast, All In One SEO, or RankMath.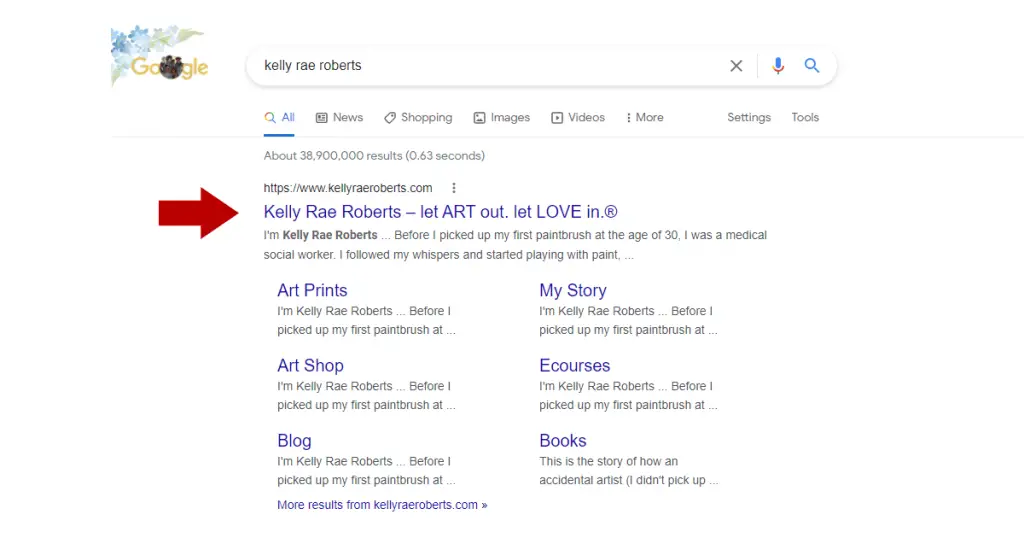 2. Choose the Right SEO Keywords to Use
The next SEO strategy you want to focus on as an artist is to think about the type of audience you serve and the words that relate to your artwork.
Are your potential art buyers young or old, edgy or sophisticated, interested in lower-cost art or investment pieces?
Is your artwork abstract, modern, pop, contemporary, impressionism, surrealism, fantasy, or something else?
Do you use charcoal, crayons, oil pastels, water colors, pens, markers, ceramics, mixed media, or digital software to create your art?
Your audience, the type of art, and the medium you use are what will drive the SEO keywords you should use on your website.
And the more defined you can be with your keywords, the easier it will be for you to get found as an artist in Google.
A good (and cheap) tool to use for this keyword research process is KWFinder by Mangools. (Give the free trial a try!)
KWFinder can help you find good keywords to target that have high search volume but low competition. That means you have an easier chance to rank for those keywords to get traffic to your artist website.
Just remember, it's best to choose SEO keywords that are very specific rather than general terms.
For example, picking a keyword like, "oil painting modern art" will be easier to rank for than just "oil painting" or "modern art".
The same thing is true for locations. Choosing and keyword phrase like "ceramic art in Ohio" is better than "Ohio artist".
And one of the great things about KWFinder is that you can put in basic seed keywords and the tool will help you discover longer keyword phrases that are easier to rank for. So check it out.
3. Optimize Your Artwork Images for SEO
If you want your artwork to be found in Google Image Search, then you must optimize the uploaded images on your site for SEO.
Without good image optimization, you're artwork will not get found in the search engine.
To ensure your art is optimized well for SEO, you'll want to focus on these four areas for every image you upload to your site:
Image Filename
This is the string of text for the digital file.
For example, your-artwork-name.jpg.
Always label the filename with the title of the artwork, important SEO keywords, and your artist name with hyphens (dashes) between the words; not underscores (Google doesn't like them).
For example, morning-river-oil-painting-modern-art-by-laura-edwards.jpg.
Image ALT Text
The ALT text for an uploaded image is the alternative text that is to be rendered when the image fails to load on the page. It's also used by screen readers to help people with disabilities (i.e. those who can't see) understand what an image is about.
Google also uses the ALT text to understand what keywords the image should be associated with and ranked for.
As an artist, you'll want to optimize this field for SEO for every image you upload to your site.
The same tips for the image filename apply to the ALT text field, except for the use of hyphens; label the image with the title of the artwork, important SEO keywords, and your artist name.
This can easily be done in any content management system like WordPress, Squarespace, or Wix by clicking on the uploaded image and typing information into the ALT text field.
Here's an example image of how that would look in WordPress: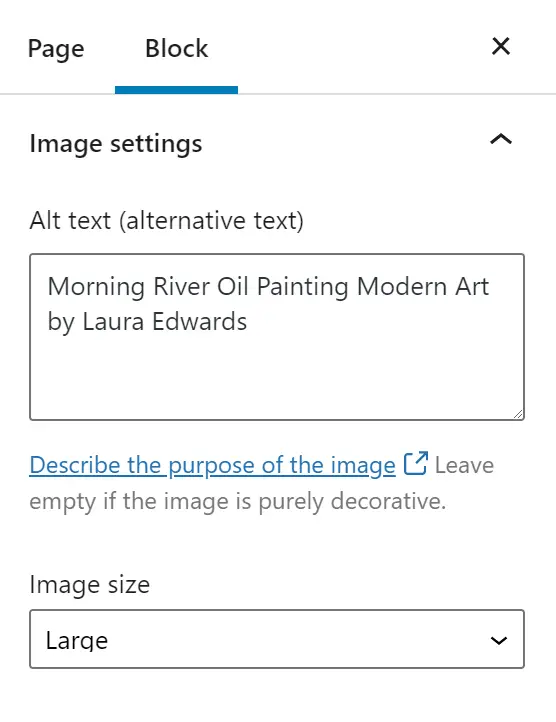 Image Title
The image title defines the tile attribute for the artwork.
And this is another SEO field you can optimize for your target keywords.
Just copy the information you put in the ALT directly into the title attribute field. It's that simple.
Below is an example of how that looks in WordPress: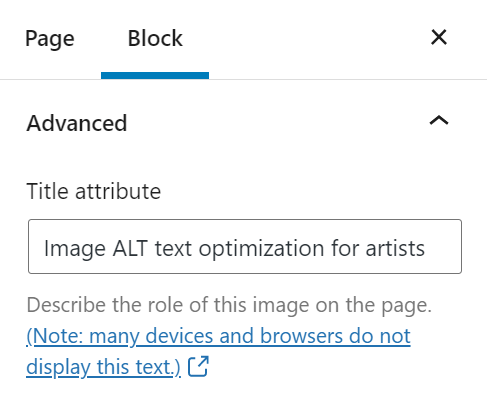 Image Metadata
Simply put, IPTC describes image metadata as this:
"A set of data describing and providing information about rights and administration of an image. It allows information to be transported with an image file, in a way that can be understood by other software and human users."
But image metadata is also a powerful SEO tip for artists that is often neglected.
By using an image editing software like Photoshop or GIMP, you can add your SEO artist keywords into the metadata field of your images.
And when you do that, you're giving Google more information about which keywords the image should be ranked for in the search engine. It also helps the page that the image is on rank higher for its target keywords.
The easy SEO tips for artists here include:
Put the name of the artwork in the Document Title field.
Put the artist's name in the Author field.
Put the target keyword in a natural way in a sentence in the Description field.
Put the target keyword as an exact match phrase in the Keywords field.
Below is an image with these SEO strategies applied:
4. Optimize Your Artwork Pages for SEO
After you've optimized your artwork images for SEO, the next step is to make sure the actual pages the artwork is being displayed are also well optimized.
For each web page, you'll want to put the target keyword in at least these 4 key areas:
Meta Title
Meta Description
The Page's URL (use hyphens between words; not underscores)
H1 Tag (this is usually pulled from the main title for the page)
By optimizing those locations, you'll give your artwork page a better chance ranking on Google for it's target keywords.
5. SEO for Artists Blogging Tips
If you're serious about SEO and getting more traffic to your artist site, then you need to start blogging.
As Textileartist.org puts it, "A blog is a fantastic way of connecting with people and those people are potentially your most-likely collectors."
A blog also allows you to get more pages indexed in Google. And the more pages you have in the search engine, the more opportunities you have to get found as an artist.
Here are some quick SEO tips for artist blogs:
Focus on one topic per blog post.
Choose 1 main keyword and 2-3 secondary keywords to use in the blog post. (KWFinder is your best friend for this and it's free to try.)
Put your main keyword in the meta title, meta description, URL, H1 tag, an H2 tag, and several times throughout the text in the blog post.
Add images to the blog post and optimize them for your main and secondary keywords as described in steps 3 and 4 of this guide.
Now you may be wondering, "What should I blog about as an artist?"
It can be anything!
Use your blog as an online journal, to promote events, to offer how-to articles on art, etc.
Just write about the topics that inspire you and eventually you'll narrow it down to your favorite things to blog about. They key is to just get started so more of your content can get ranked in Google to drive people to your site.
6. Get Other Artists to Link to Your Site
Up until this point, we've focused on solely on on-page SEO.
And in many cases, good on-page SEO is all you need to rank high in Google for certain keywords you're targeting.
It's what provides the most relevance and topical authority for the keywords you want your site and its pages to rank for.
But another part of Google's ranking algorithm is something called "backlinks", which are other web pages on the Internet that link back to your content.
For example, this link here, Art News, is a backlink from this SEO Chatter website to the artnews.com site.
Google considers backlinks as a kind of vote. And the more "votes" a web page has from other sites, the more authority it can generate.
That's the basic idea behind backlinks, but how does this apply to SEO for artists?
Well, the more websites you can get to link your artist homepage, individual artwork pages, or blog posts, the more authority your domain will have. And this higher authority can result in an increase in rankings for the keywords you're targeting.
But you don't just want to get links from any site on the web.
What you want to do is get links from other artist websites and art galleries back to your content. Being linked to from other sites related to art is important here because the more niche-relevant the backlink is, the more it improves your topical authority.
For example, an SEO backlink to your artist site from a car dealership wouldn't be as valuable as a link from another artist in your field.
So reach out to other artists you know and art galleries to score nice-relevant backlinks. You can also add yourself to artist directories and other sites that allow you to create an artist profile. These types of sites generally allow you to put a link back to your site in the URL field or bio section.
7. Stay Consistent and Be Patient
Ranking in the top 10 on Google and getting floods of traffic for your artist website doesn't happen over night.
But if you put stay consistent, put the SEO tips for artists in to practice you discovered here, and be patient, then you can see positive results for your site.
Focusing on good on-page SEO, building niche-relevant backlinks, and a little bit of time are generally all it takes to get more visibility in Google's search engine for your target keywords.
And if you focus on the basics as we've discussed here, and think long-term, you can be successful.
SEO Keyword Tips for Artists
Now that you know how to optimize your website as an artist, you may be wondering what are some good keywords to target for SEO and your artwork.
The next section includes a table with the top SEO keywords for artists that you can use for inspiration.
Just remember to optimize each image on your site with the appropriate keywords in the right locations as mentioned in the SEO tips above.
SEO Keywords for Artists
| SEO Keywords to Use | SEO Keyword Examples |
| --- | --- |
| "Your Artist Name" + "Art" | Laura Edwards Art |
| "Your Local Area" + "Artist Type" | Waynesville Ohio Painter |
| "Art Type" + "Art Medium" + "Art" | Abstract Oil Painting Art |
| "Art Type" + "Art Medium" + "Intended Use" | Contemporary Sculpture for Garden |
| "Art Type" + "Art Medium" + "Art" + "Your Local Area" | Modern Portrait Art in Lexington Kentucky |
Note: These SEO keywords are general ideas for artists. You can mix and match the examples and use other words that apply to your particular style of artwork.
SEO for Artists Summary
I hope you enjoyed this guide on SEO for artists.
As you discovered, the basic principle is to optimize key elements of the digital images of your artwork as you add them to a web page. You can also focus on specific types of SEO keywords for artists to get the most ranking value for your artwork on Google.
The search engine optimization tips I revealed here can work for any artist, no matter the medium they use, or the style of art they produce. So feel free to use these SEO methods to increase your search engine visibility for all kinds of artwork online.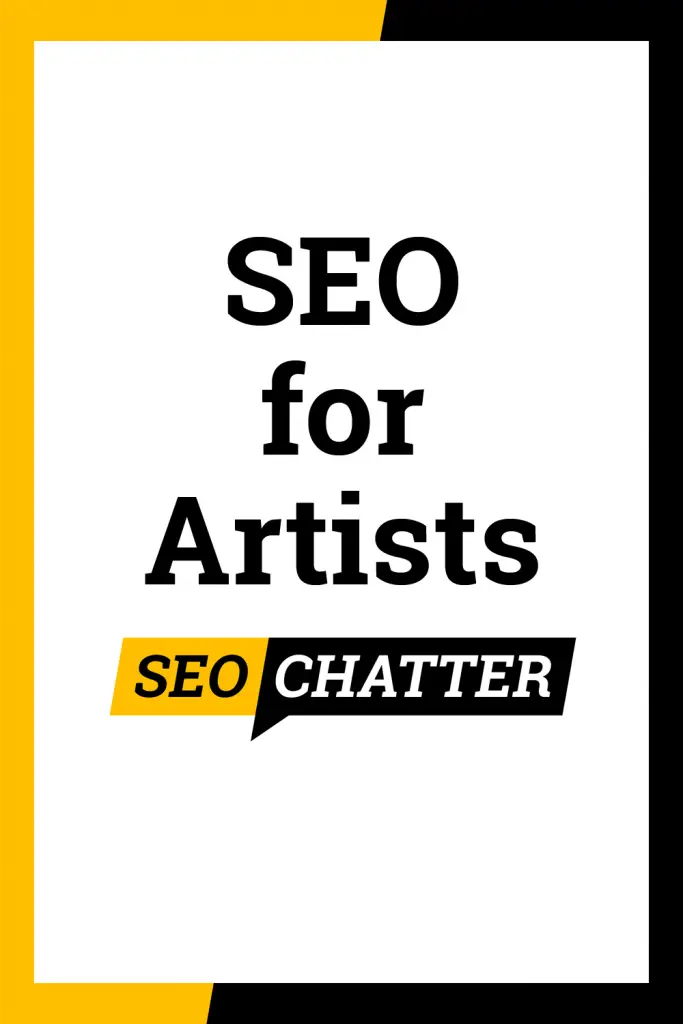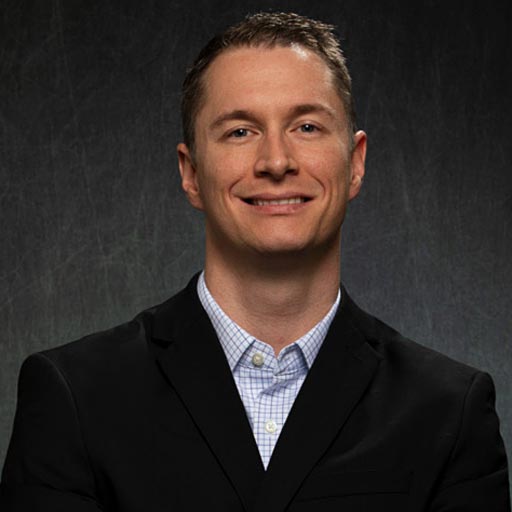 Stephen Hockman is an entrepreneur and founder of SEO Chatter. He specializes in search engine optimization and digital marketing and has been fascinated with SEO since 2005. His goal is to share the best tips and news about search engine marketing to help you get more website traffic.