Are you a band or music artist trying to get more traffic from Google?
Would a list of the best music SEO tips make a huge impact on you?
If so, this guide on SEO for musicians is exactly what you need.
Below, you'll find the top search engine optimization tips and strategies that any band or music artist can use to rank their website higher in Google to get more visibility. You'll also find a list of the best SEO keywords for musicians to target to speed up the content creation process.
By the end, you'll have a solid plan for SEO to increase exposure for your music online.
SEO for Musicians
1. Put Your Name In the Domain
This first tip on SEO for musicians is for new bands and artists without a website yet.
If you have a website already, then skip to tip #2.
The easiest way to rank #1 for your band name, musician name, or artist name, is to put your full name in the domain.
The domain is the part of your website's URL that comes before the top-level part of the domain name (TLD), such as .com or .net.
Here are a few examples of using your music name in the domain name:
You also want to make sure that your musician or band name is in the title of the homepage because it sends a strong signal to Google that your site is a good match for that query.
It also controls what appears in the Google search results so that searchers know to click on your link instead of another one in the list. (See image below for an SEO example.)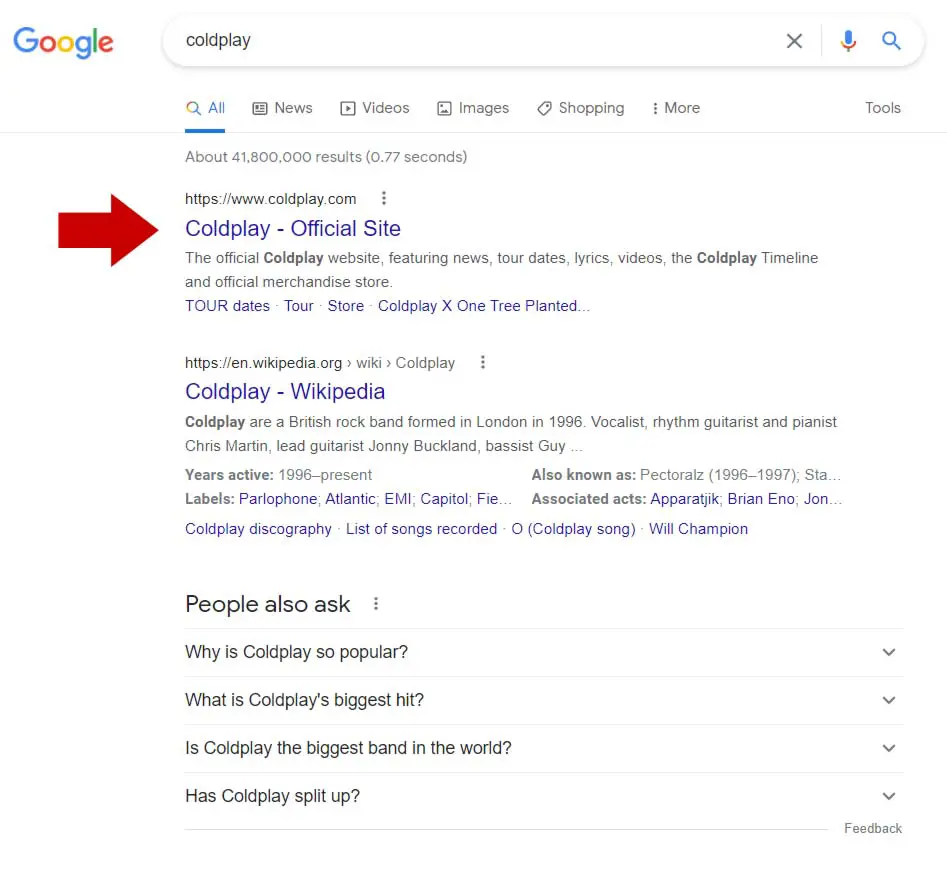 This SEO field is often referred to as the "meta title" and it can easily be updated with a free SEO plugin installed on your site like Yoast, All In One SEO, or RankMath.
2. Know Your Music SEO Goals
After following SEO tip #1, you'll have a much better chance of ranking high in Google for your searches that include your musician name.
But before we move on to the other SEO tips for musicians, you need to think about what your goals are for your website.
Is being found just for your band name good enough for you?
Or do you want to reach more people beyond your immediate fans who are searching for other artists that perform your style of music?
Spend a few minutes thinking about who you want to reach through the search engines and the types of content those people generally look for. This simple exercise in SEO is what will fuel your strategy to get more traffic to your musician site.
3. Pick the Right SEO Keywords for Musicians
After you figure out your goals, you then need to pick the right keywords to target. And the best SEO keywords for musicians will vary depending on the style of music you perform.
There are common keywords that every musical artist site should include, such as:
"band name" + discography
"band name" + shows (or tour dates)
"artist name" + albums
"artist name" + lyrics
"musician name" + songs
"musician name" + merchandise
"musician name" + videos
But then there are also keywords that each musician should target that relate to their genre, such as:
new indie rock band
best hip hop instrumentals
classical violin music
New York punk bands
how to make house music
how to become a session musician
ways to learn professional guitar
The scope is unlimited for the types of SEO keywords you can target as a musician.
The best advice you can follow here is to target both sets of keywords mentioned above.
First, make sure that you have individual pages on your site that are optimized for the common keywords every musician should be targeting.
Second, create a list of good keywords that you can make additional pages about related to your genre to get more traffic. We'll cover why this is important in the next music SEO tip.
A good (and cheap) tool to use for this keyword research process is KWFinder by Mangools. (Give the free trial a try!)
KWFinder can help you find good keywords to target that have high search volume but low competition. That means you have an easier chance to rank for those keywords to get traffic to your music website.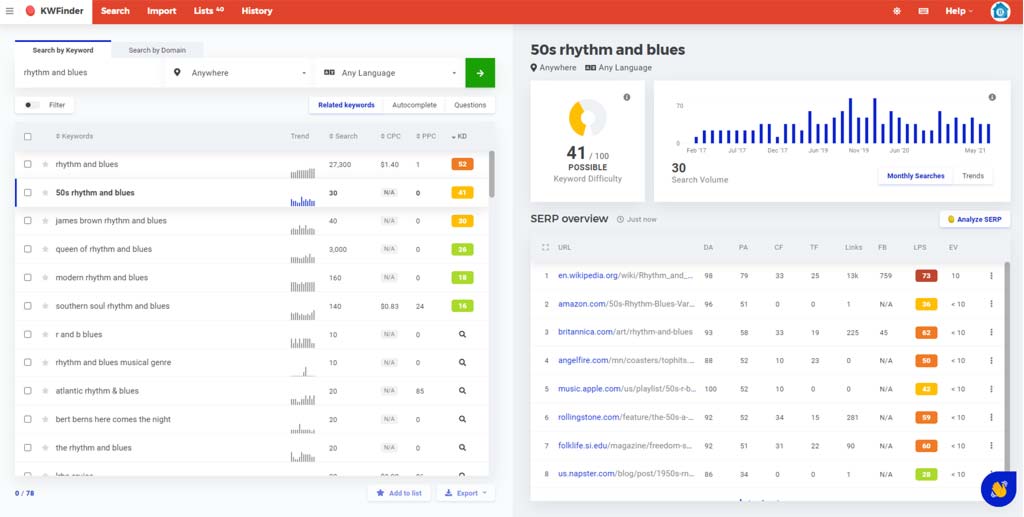 One of the best things about KWFinder is that you can put in basic seed keywords, like "rhythm and blues", "classical violin", or "make house music" and the tool will help you discover longer keyword phrases that are easier to rank for. So check it out.
4. Write More Music Content
If you're serious about increasing traffic to your website and getting more exposure as an artist, then you must write more music content.
Content is the foundation for SEO.
Without content, you cannot rank in Google for anything.
Plus, the less content you have on your site, the fewer chances you have to get noticed for your music.
So the goal here is to fill your website up with high-quality content that your current fans and potential new fans will enjoy.
And the easiest way to do this is to have a blog.
On the blog, you can include a mix of different types of content to capture all types of visitors.
Some people will be looking for your band or artist page directly, but others will stumble across you when searching for music-related keywords.
That's why it's important to use a keyword research tool like KWFinder to discover a good set of keywords to target for your blog post.
And once you have a list of 10 or 20 keywords you want to write about in your music genre, move on to the next step to make sure you optimize your blog posts correctly from the day you click the publish button.
5. Optimize Your Page Titles
After you write a good blog post on the topic of your choice, the next step is to optimize your page titles so they give Google the signals it needs to rank your content for those keywords.
You did this briefly in step #1 of this SEO guide for musicians for the homepage.
But for each individual blog post, you'll want to optimize the meta title tag for the main keyword the article is targeting. And to do that, you just need to edit this field in the SEO plugin that you have installed on your site.
The meta title tag is one of the most important on-page SEO ranking factors.
So you have to get it right or your rankings will suffer.
And the easiest way to optimize this field correctly is to put your main target keyword at the beginning of the meta title so it appears first in Google's search engine. This position also has the most SEO weight.
Here's an example of a good meta title tag for a blog post that's optimizing for the keyword phrase, "characteristics of R&B".
5 Characteristics of R&B: Music for the Soul by the Adam Tinley
You can also look at the top 5 ranking pages for your main keyword to get ideas on the meta title.
6. Optimize Your Meta Descriptions
The meta description is another important field for SEO that you'll want to optimize on a musician's website.
This is also done with the same SEO plugin you used to edit the meta title.
Meta descriptions give Google a brief summary of the page content. It's also what appears under your band or artist's listing on the search engine results page if you optimize it correctly.
A simple tip here is to include your main target keyword as the first piece of text in the meta description. Then include as many secondary keywords as you can without repeating too many of the same words.
Also, keep it under 160 characters as Google will truncate it to that number.
Here's an example of a meta description for a blog post that's optimized for two keywords, "indie rock chords" and "indie rock chord progressions".
Indie Rock Chords for powerful melodies. Includes indie rock chord progressions for arpreggios and strumming. Learn G, C, Am7, B7, G5, D and more.
If you need ideas for your meta descriptions, just look at the top 5 ranking pages on Google to find out what's working well that you can use for inspiration.
7. Set Up Google Search Console
Every musician should have Google Search Console connected to their website.
After signing up for the free service, you can start to see the various keywords that your website ranks for.
You can also find out the keyword positions, click-through rates, and the number of impressions your website is getting for particular phrases.
Essentially, Google Search Console is a free SEO tool for musicians to get important data to make choices about improving their website.
Having Google Search Console set up also lets Google know that you exist as a band, musician, or artist. And it will know that you are the official representative of the entity.
Plus Google Search Console allows you to suggest a change in your Knowledge Panel if an error ever pops up for you as a band, musician, or artist.
8. Create Wiki Entries
Google uses these things called "wiki sites" to get reliable information for entities like musicians on the web.
There are a few wiki sites you should try to make entries on for your band or artist persona:
If you can get listed on those sites, it makes it easier for Google to verify your information as a musician. It also helps feed Google's Knowledge Panel that appears in the search engine.
So add as much information as you can to these wiki sites for SEO, including links to your website and social accounts so everything is interconnected.
9. Create a YouTube Channel
Every musician needs a YouTube channel, even if they don't want to use it as a marketing channel.
YouTube offers some powerful SEO opportunities for musicians. By uploading a video and optimizing the title, description, and tags for the video with SEO keywords, you can increase your chances of ranking on the first page of Google for those target keywords.
Plus, you can add a link back to your website or individual blog posts in the YouTube description as a way to build relevance and trust for your site.
Create a YouTube channel if you don't have one already and start linking back to your site while optimizing those key locations mentioned for your keywords.
Note: A site that uses this strategy well is Guitar Chalk, which provides guitar lessons and gear reviews. Check out the Guitar Chalk YouTube Channel.
10. Link From Your Social Accounts
Having a variety of social accounts for your music is also important because it can help generate traffic to your site.
Additionally, you can use the description field on each social post to include keywords you want your band or artist page to be associated with when linking back to your site.
So use this free resource as much as you can to increase exposure for your music.
11. Get Links from Other Musicians
Although you can usually rank well with good on-page SEO alone, it's still important to get backlinks to your website from other musicians.
There is a correlation between the number of backlinks a site has and the higher it ranks for certain keywords on Google. (But it's not always the case.)
For example, the homepage of this site ranks in the top 10 for current Google SEO news. However, at the time of this posting, there is only 1 link pointing to that page!
That goes to show you how well the on-page SEO tips for musicians I've shared with you on this page can work to increase rankings and traffic.
But it's still good to get backlinks from other musicians to build up your trust and authority. So reach out to other bands and artists and ask them if they'll link to your homepage or an individual blog post.
The more links you can earn over time, the better it will be for your SEO.
12. Include Schema Markup
The word "Schema Markup" may sound scary to you as a musician, but don't worry, I'll make it easy for you to understand.
Schema Markup is an important type of SEO for musicians because Google uses this structured data for their Knowledge Graph that feeds the Knowledge Panel that appears for your listing in the search engine.
As Google explains, "When information is highly structured and predictable, search engines can more easily organize and display it in creative ways."
Therefore, using Schema Markup on your musician site can only help you do better with rankings and traffic.
In a basic sense, Schema Markup types for SEO are just a way to tag information on a website so that it's structured well for search engines to understand. So it's not for your visitors to see at all.
And as Bandzoogle explains, "When you add the right schema to your website, you can influence the rich information that can appear in Google search result pages for your band keywords."
Now, there's a lot of details that go into adding Schema Markup to your website for music SEO. So instead of trying to explain it all here, you can visit this page on How to Optimize Your Band's Schema by Bandzoogle. It's the most informative guide on the subject for musicians.
Best SEO Keywords for Musicians
| SEO Keywords to Use | SEO Keyword Examples |
| --- | --- |
| "band name" + discography | The Verge discography |
| "band name" + shows (or tour dates) | Rocketeers tour dates |
| "artist name" + albums | Big L. albums |
| "artist name" + lyrics | Tina Lawson lyrics |
| "musician name" + songs | Eddie Maxwell songs |
| "musician name" + merchandise | X-Factor 9 merchandise |
| "musician name" + videos | The Bungees videos |
| "how to make" + "your type of music" | how to make folk music |
| "chord progressions for" + "your type of music" | chord progressions for alternative rock |
| "your type of music" + "teaching or lessons" | Classical guitar lessons |
| "your type of music" + "your area" | Pop punk in Maryland |
Note: These SEO keywords for musicians are just general ideas. You can mix and match the examples and use other words that apply to your particular music. And if you have a blog, think about content ideas that will attract the type of fans for your music. Offering free information about topics related to your genre can help to gain more fans to your site who are not necessarily looking for a new band or artist to listen to, but need help with their own musical skills.
How Do I Drive Traffic to My Music?
There are several ways to drive traffic to your music website:
Optimize your website for SEO
Start a blog to capture more fans for your music
Share links to your music on social media
Create accounts on music sites like Sound Cloud and Band Camp
Write a guest blog on another music site
Create an email list and send them your music links
Run Facebook ads to drive traffic to your music
Use Google AdWords to drive traffic to your music
Run a contest or album giveaway online
Ask your fans to share your music for you
How Can I Improve My Music Blog?
Only write about topics in your music genre
Publish weekly on your music blog
Optimize each blog post for SEO
Stop writing content that doesn't get viewed
Do interviews with other musicians
Upload samples of your music as blog posts
Post videos or audio of fans covering your music
Add images to your blog posts
Create categories for your content
Turn on commenting to get reader feedback
SEO for Musicians Summary
I hope you enjoyed this guide on SEO for musicians.
As you discovered, the basic strategy for music SEO is to optimize certain elements on each web page so you can rank higher for specific keywords on Google.
And the best SEO keywords for musicians will depend entirely on the type of music you produce and if you want to rank for more than just your band or artist name or not.
The search engine optimization tips I revealed here can work for any musician, no matter what genre or type of music they produce. So feel free to use these SEO methods to increase your search engine visibility for all kinds of music online.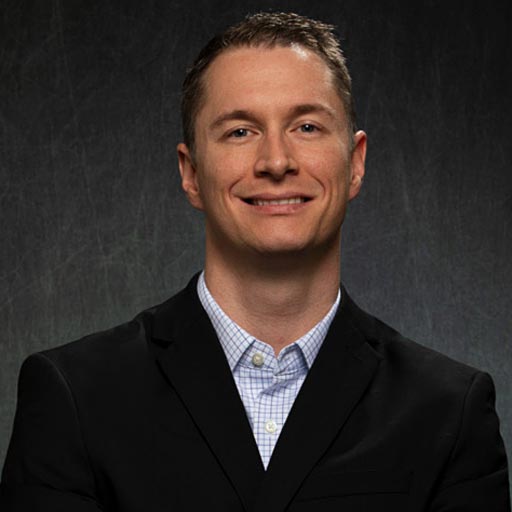 Stephen Hockman is an entrepreneur and founder of SEO Chatter. He specializes in search engine optimization and digital marketing and has been fascinated with SEO since 2005. His goal is to share the best tips and news about search engine marketing to help you get more website traffic.