This guide covers SEO for banks.
Below, you'll find a list of tips that can help improve search engine optimization for a banking website for both local SEO and national rankings. Understanding how to do good banking SEO is essential for getting more organic search traffic, which means more customers coming through the door to use the bank's financial services.
You'll also find a set of SEO keywords for banks to help you get started with the on-page and off-page search engine optimization process.
By the end of this guide, you'll know how to set up a complete SEO strategy for banks so the website has the best chances of ranking for its target keywords in search engines like Google, Yahoo, and Bing.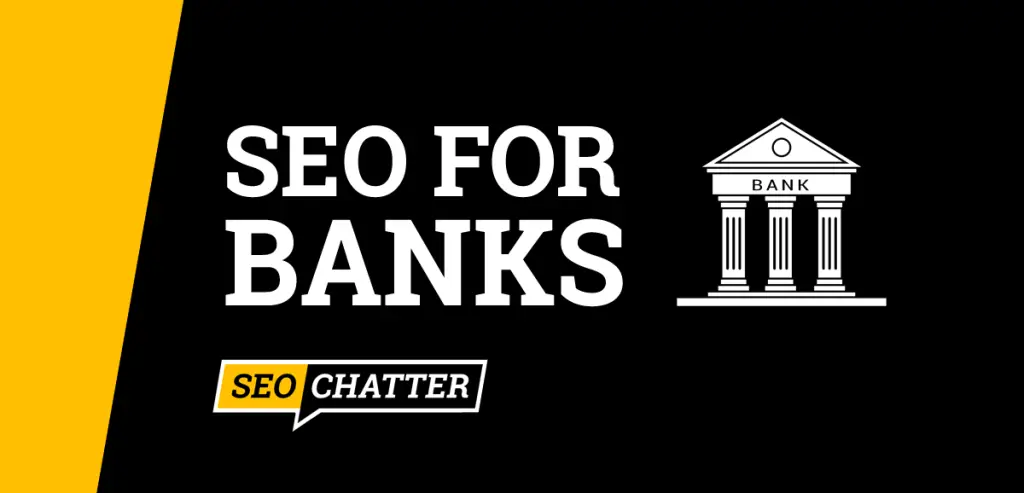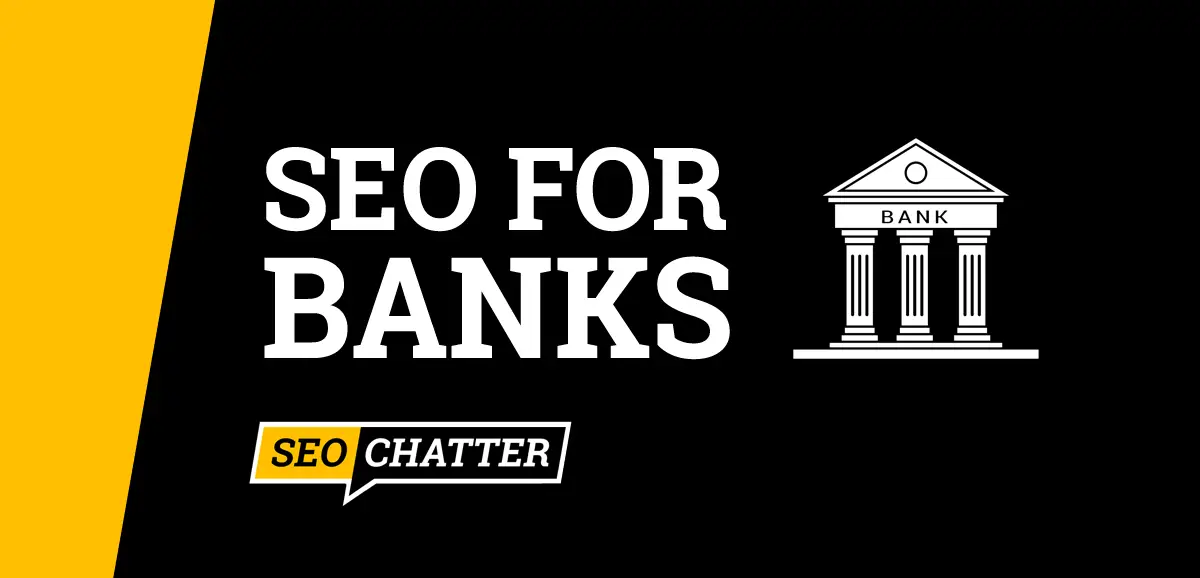 What Is SEO for Banks?
SEO for banks is the process of using search engine optimization to help a bank's website rank higher on the search engine result pages (SERPs). Bank SEO uses a collection of strategies to generate organic search traffic for banking institutions.
Why Banking SEO Is Important
Banking SEO is important because it helps banks attract customers, leads, and physical traffic for the financial institution. SEO for banking also generates a better return on investment (ROI) than other marketing techniques.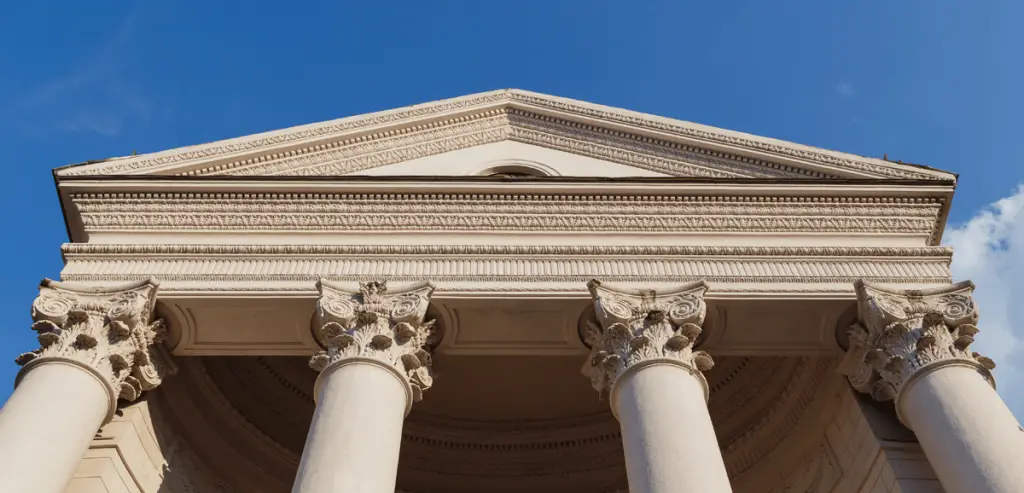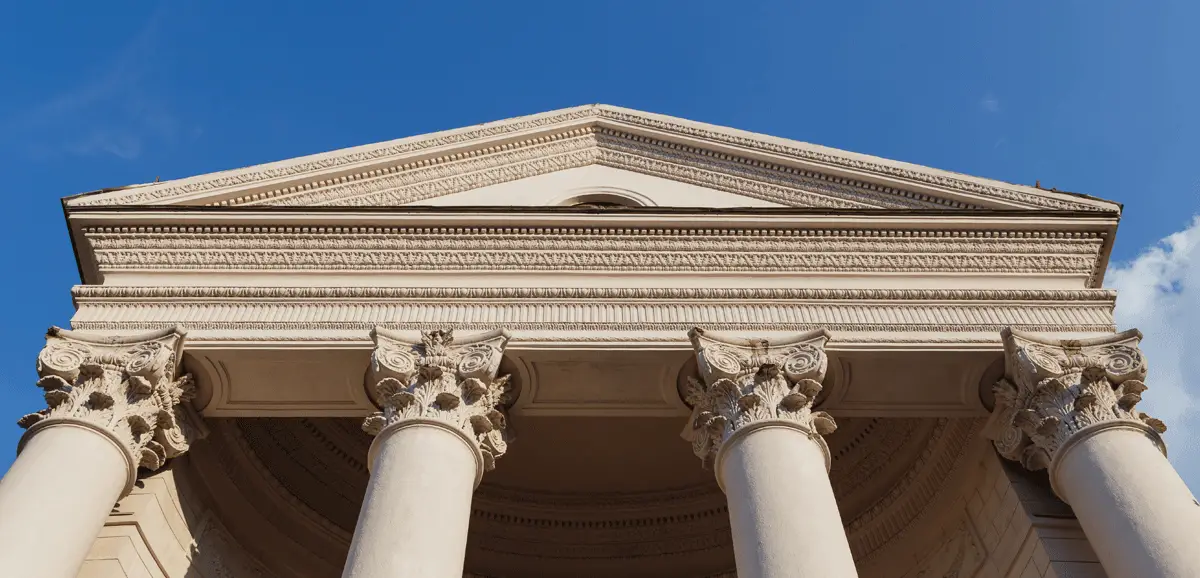 SEO for Banks
1. Focus On Local SEO for Banks
The first step in doing SEO for banks is to use a local search engine optimization strategy. Local SEO is a key factor for helping banking institutions rank in Google, Yahoo, and Bing for local keyword searches.
To get started, you'll want to set up the following accounts for the bank:
Note: Only one account is needed for multiple bank locations. You can add each bank branch to the main account.
Creating local business listings is critical for banks with a physical location. Without these listings, your banking institution will not be displayed in the search engines when potential customers are searching for local banking information.
For banks, a Google My Business Profile, Bing Places Profile, and Yahoo Business Profile also ensure that your banking institution can be featured in the Map Pack that appears in the SERPs for local searches. The Map Pack is a SERP feature that enables users to quickly identify the most relevant businesses that provide the service they're looking for online.
You can further maximize local SEO for banks by following a few best practices for optimizing the profiles on Google, Yahoo, and Bing. This Google My Business Optimization Checklist applies to all types of bank listings online, so give it a look after you've finished reading through the rest of this guide.
2. Add NAP & Schema to the Website
After setting up your local bank profiles, the next SEO strategy for banks is to add NAP information to the banking websites using Schema Markup. NAP refers to the name, address, and phone number of a business. Schema Markup is a set of HTML tags that feed this information to the search engine crawlers.
Having consistent NAP information online is important for bank SEO. Even a slight mismatch of NAP information for a banking institution can cause a number of ranking and search engine visibility issues.
For example, there are many ways to format an address for a bank that's located on a route highway, such as:
Route 11
RTE-11
RT-11
US Route 11
U.S. Route 11
Highway 11
US Highway 11
U.S. Highway 11
The best tip for banking SEO is to establish a single standard format for the address and stick with it for each bank branch. The same thing is true for the bank name and phone number. Choose one main phone number for each branch to direct customers online.
After you've established consistent NAP information for the bank, you'll then want to make sure the bank's NAP information is listed accurately on all of the site's web pages. There are three ways to do this SEO strategy for banks:
Put the name, address, and phone number for each branch in the website footer.
Include the NAP information for all banking locations on both the about and contact pages.
Include Schema Markup on the site that has the NAP information for each bank branch.
Schema Markup requires a bit of technical SEO knowledge, however, it's important to ensure that the correct names, addresses, and phone numbers are attached to your banking institution without any mistakes. Schema Markup also helps improve the quality of your business listing in Google, Yahoo, and Bing because it will have key information to display for your site.
You can create the Schema Markup for your bank website by using Rank Ranger's Schema Markup Generator. Choose the "Local Business" option to get the correct fields for NAP and SEO. This will create structured data for a single bank branch. To add additional branches in the markup, you'll want to add additional local business types with the parent organization and NAP information. See this Schema Markup example by Odd.Dog with multiple locations.
After you're done writing the Schema Markup, copy the code and place it in the HTML section of the footer on your site. Then, create a dedicated web page on the bank site for each branch. Next, add these URLs to your Google, Yahoo, and Bing business profiles for each branch listed in the account.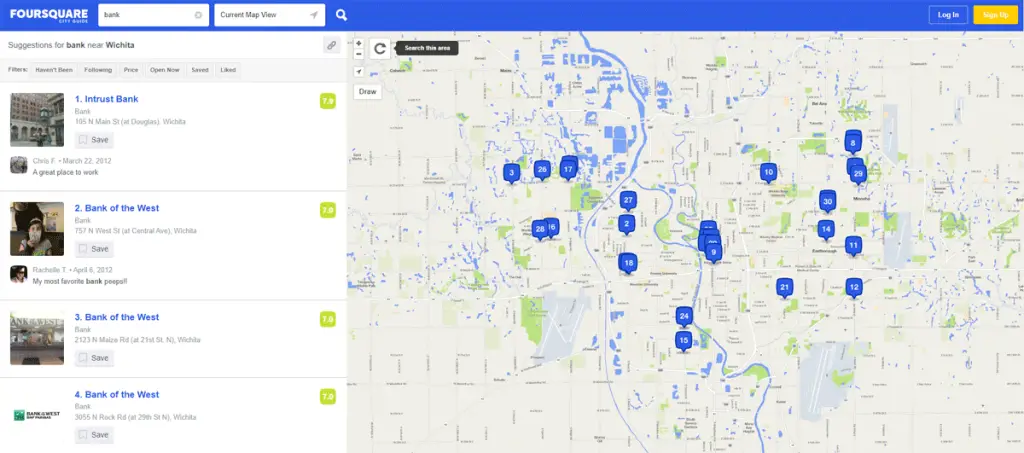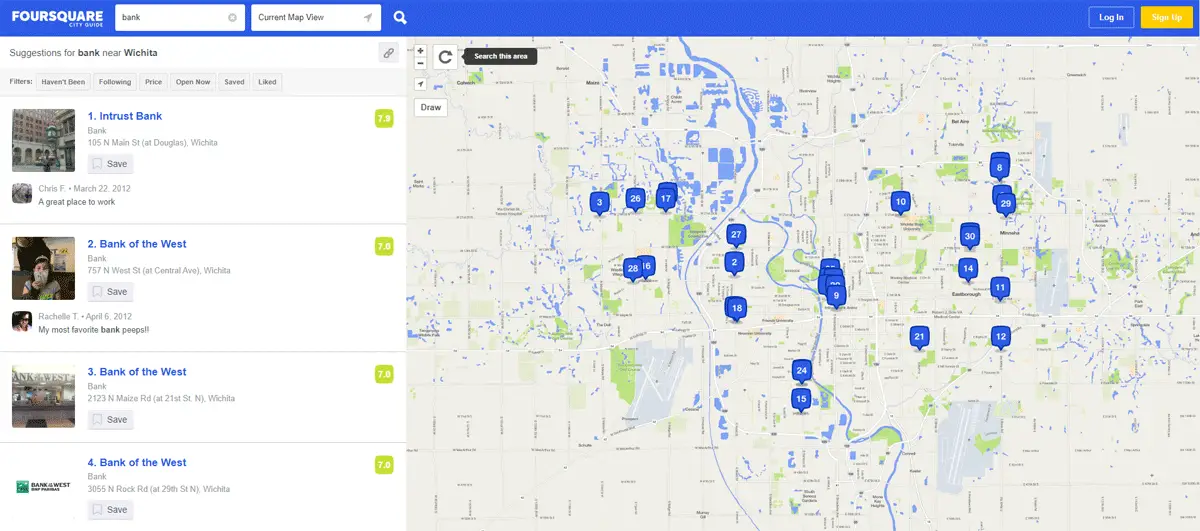 3. Build Local Citations
Local citations are mentions of your bank's name, address, phone number, and website URL on third-party sites. There are many directories online that are dedicated to business listings like these to help customers find local services.
When it comes to local SEO for banks, citations help people discover the institution and can also impact local search engine rankings. Essentially, local citations act as authoritative backlinks that confirm the NAP information about the bank is valid, which is important for search engines to index and ranking banks in the SERPs.
Below are some of the best directories for creating local citation profiles and backlinks for your bank. You can also visit this other page with a complete list of business listing sites for SEO link building.
yelp.com
foursquare.com
bbb.org
local.yahoo.com
mapquest.com
yellowpages.com
hotfrog.com
local.com
pro.angi.com
manta.com
Note: You'll want to build local citations for each bank branch. As you do this, make sure to use the location-specific URL on the website. That's why it's important to have a separate web page for every branch of the bank.
4. Choose SEO Keywords to Attract Banking Customers
The next step for doing bank SEO is to create a list of keywords to target on the website. This type of planning helps you attract the right type of traffic to your banking institution.
At the end of this guide, you'll find a section with a list of good SEO keywords for banks to help you generate ideas. But to get started here, just think about the types of information that potential customers would use to find your bank on search engines like Google, Yahoo, and Bing.
If you're trying to attract local banking clients, then you'll want to focus on keywords that include your local city, town, or state, such as:
bank in Boise
mortgage lender in Texas
Detroit personal loans
Washington investment bank
If you're trying to attract customers on a national or international level, then you can target general keywords in the banking industry, such as:
online banks
online savings account

investment banks

commercial banks
Additionally, you'll also want to come up with a list of keyword phrases that answer common questions about banking and financial services to target for articles and blog posts for your bank website. This type of content will help attract people who are at the top of the sales funnel and looking for general information about savings, investing, lending, etc, which can then lead to an online sign-up, request for information, phone call, or in-person visit.
As a bank, you probably receive certain types of questions more than others, which can be great ideas for generating website content. Below are a few examples of these kinds of informational SEO keywords:
what are the different types of banks
what is a certificate of deposit
how to switch banks

do banks issue bonds
To make the keyword research process easier, it's good to use an SEO keyword research tool like KWFinder by Mangools (try it for free). KWFinder is one of the only SEO tools I recommend as an affiliate because it's cheap, yet powerful for keyword research. However, you can use any other tool you like on the market.
A keyword research tool like KWFinder allows you to search for a seed keyword like "bank in Idaho Falls" and get a list of other related terms to fill out your SEO keyword list. Also, it shows you the average number of searches per month for each keyword and the SEO difficulty score to help you estimate how hard it may be to rank for that term in the top 10 positions on Google.
Below is an example image of the KWFinder dashboard and the related keywords for the term "types of banks". As you can see, it reveals additional keywords to target that you may not have thought of initially, like credit, debit cards, commercial banks, etc.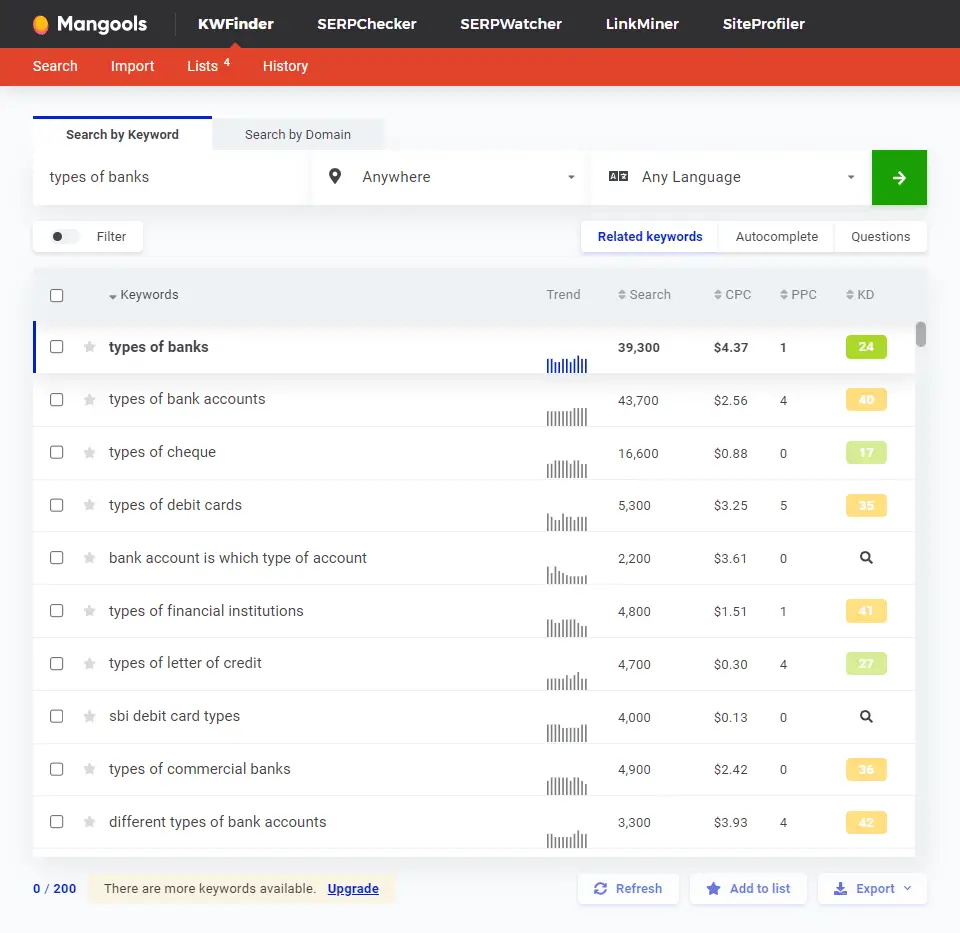 5. Create Keyword-Specific Pages
The next tip for banking SEO is to create keyword-specific pages on the website. After you've gone through the keyword research process, you should have a list of potential keywords to target. However, not every term should be used on the same page. That's because each keyword has its own user search intent.
For example, each of these keyword phrases should have its own dedicated web page:
types of bank accounts
types of credit cards
types of commercial banks
Once you have the main SEO keyword selected for the page, you'll then want to return to your keyword research tool and inspect the term further. This will uncover other related keywords that should be placed on that same page.
For example, inspecting the keyword phrase "types of mortgages" reveals these related SEO terms:
types of mortgage loans
kinds of mortgages
types of home mortgages
If you were to create three separate pages for each of the SEO keywords above, then those pages would compete against each other in the search engines, which would reduce all of their rankings. That's why it's important to conduct good keyword research before writing the content for the page or optimizing it for SEO (explained in the next two steps).
6. Write Quality Content That Ranks
After you've researched your bank-related keywords and put them into the appropriate clusters, the next step for bank SEO is to publish articles based on those terms to get organic search traffic for your website.
However, you need to know what type of content search engines like Google want to see for those keywords before you start writing it. Otherwise, you'll end up publishing a piece of content that cannot rank high in the SERPs no matter how well you think it's written.
The simple SEO strategy here for banking is to type one of your keywords into Google's search engine and inspect the top 5-10 ranking pages. Those sites will give you a clear idea about the following factors:
Content format.
Average article length (i.e., word count).
Types of sections to include.
Additional media to include, like images, videos, charts, tables, etc.
Analyzing those factors will help you create an article that matches the user search intent. The top-ranking pages in the SERPs are there because they're doing a good job of satisfying Google's algorithm for that particular SEO keyword phrase, which is partially based on how satisfied the user is with the content on the page.
The goal here is to find the common overlaps among the high-ranking pages. That way you don't have to guess at what to write or include on the page. Essentially, you'll be taking the best elements of the top 5-10 websites and serving that to your users. After the content writing and formatting step are complete, you'll need to optimize it for on-page SEO.
7. Optimize for On-Page SEO
Writing quality content that meets user search intent is only 50% of the process for publishing content that can rank high on Google's search engine. The other half is doing proper on-page SEO.
Without good on-page SEO, your bank's content can struggle to get to the top of the SERPs because it's missing key elements that the search engine crawlers analyze for indexing and ranking. Therefore, you want to optimize specific on-page HTML elements to help Google, Yahoo, and Bing's algorithm correctly identify the target keywords you want the banking website to rank for in search.
Below are the top 4 locations to put your main target keyword for each page to improve the on-page SEO. You can read the full on-page SEO guide to get more tips here: how to put keywords in an article.
Page Meta Title Tag
The page meta title tag is the top on-page SEO ranking factor because it tells the search engines what the main topic of the content is about. Page meta titles are not seen by the website visitor but are displayed in the SERPs for your bank's web page listings. Therefore, putting your bank's SEO keywords in the page meta title field is essential for higher rankings.
If you're using WordPress as your content management system (CMS), you can install a free SEO plugin on your site like All-In-One SEO, Yoast, or RankMath, which give you the ability to edit and optimize the meta title for each web page to include your target keywords for the content.
The best SEO tip for banks is to put the main target keyword for the page at the beginning of the meta title field so it's the first text crawled by Google, Yahoo, and Bing.
Here's an example of a good meta title tag that's optimizing for the keyword phrase, "why use a local bank".
Why Use a Local Bank? (Advantages of Local Banking)
You can also look at the top 10 ranking pages for your main keyword to get ideas on how to write and optimize your meta titles. If a bank is ranking in those positions, then they're doing a good job at optimizing the page meta title field.
Meta Description
The meta description is another important HTML field you'll want to optimize on a bank website. An SEO plugin will also make this option available to you. Meta descriptions give search engine crawlers a brief summary of what the page content is about and helps confirm the target keywords the content should rank for in the SERPs.
The meta description also appears under your listing on the search engine results page if you optimize it correctly for SEO. If you don't, then Google, Yahoo, and Bing may choose to rewrite your page's meta description by pulling random text from the page.
A few simple bank SEO tips for this HTML element include:
Put your main target keyword at the start of the meta description.
Include as many of the related keywords you found when inspecting your search term in a keyword research tool without repeating too many of the same words.
Keep the length of text under 160 characters. Otherwise, Google will truncate it for the user.
Here's an example of a meta description that is optimized for the keywords "bank in Texas", "banking in TX", and "banking services in TX".
Trusted bank in Texas. Offering banking services in TX for personal, small business, and commercial checking, savings, investments, and loans.
Similar to optimizing the page meta title, you can also look at the meta descriptions for the top 10 ranking pages on Google to get ideas on what type of words to include for your bank's web page.
URL
The page URL is another important SEO ranking factor for banking websites because it helps confirm the ranking signal for the main keyword.
Optimizing the URL for your bank's web pages consists of two basic tips:
Put the main target keyword as an exact match phrase in the URL.
Use dashes (-), not underscores (_), between words in the URL. Search engine crawlers don't recognize underscores as word separators and that can harm your SEO efforts on a bank website.
For example, the URL of this guide that's targeting the phrase "SEO for banks" is:
Heading Tags
The heading tags for a web page outline the structure of the content for both search engine crawlers and users. There are six levels for heading HTML tags: H1 to H6.
The H1 tag is the most important heading for SEO purposes because it carries the most ranking weight. It's typically coded as the main title for users to read on the page. If your bank site's HTML is not set up this way, then it should be changed so the H1 heading becomes the page title.
The H2 to H6 tags are used to outline the subheadings for the content. In a proper HTML structure, the H2s are the main topics while the H3s are subtopics under the associated H2 heading. H4s would be under H3s, and so forth, down to the H6 subheading.
For banking SEO, you only need to worry about the H1, H2, and H3 tags. The H4 to H6 subheadings have little to no SEO value. That's why you rarely see them on high-ranking web pages.
Follow these best practices to maximize the headings for SEO for banks:
Copy the page meta title text into the H1 heading. You want both HTML fields to be duplicates of each other.
Put the main keyword for the content in the first H2 on the page. Preferably, it should come directly after the introduction.
Include the other related terms (i.e., secondary keywords) in their own H2 tags while also including other words to properly describe the subheading section.
If you use H3s, then only include partial keyword phrases in these fields to help increase topical relevance. Do not use the entire exact match keyword phrase for any target keyword. Otherwise, the page could become over-optimized for SEO.
If you analyze this guide, you'll see these SEO tips for banks being used on the page. Study the outline and structure to fully understand how it works.
8. Create Optimized Internal Links
After you've optimized the on-page elements for SEO, you can further improve the ranking signals for your pages by adding optimized internal links for the target keywords.
The anchor text for the internal links on a bank website is used by search engines like Google to confirm what keywords the content should rank for in the SERPs.
Here are the basics you need to know to get started for banks:
Include at least 3-5 internal links to every important page on your site. If you can add more, then do it because Google counts the number of internal links pointing to a page as a signal of importance.
Use the main keyword for the target page as the anchor text for the internal links.
For any internal links you build above number 3, include additional filler words in the anchor text to avoid over-optimization for the exact match keyword phrase.
Here's an example of how to use this SEO strategy for banks that has a web page targeting the keyword phrase, "bank savings rates":
Internal Link #1: bank savings rates
Internal Link #2: bank savings rates
Internal Link #3: bank savings rates
Internal Link #4: current bank savings rates
Internal Link #5: bank savings rates chart
9. Build Quality Backlinks for Your Bank
In competitive markets, you'll need to build quality backlinks to your bank's website to help it compete in the search engines for its target keywords.
There are many ways to create backlinks for a banking institution, such as:
Asking local businesses to link to the bank's home page or individual branch page.
Sponsoring events and getting your bank's URL listed on the event site.
Getting other banks to link to your bank from a resource page.
Have one of your banking specialists write an article for a financial website that includes a backlink to your bank's site.
Asking realtors to put a backlink on their site to refer clients to the bank as a potential mortgage lender.
You can also check out these related guides with more tips on building backlinks yourself or outsourcing the task:
10. Get More Online Reviews
This final SEO tip for banks can improve the ranking positions for the local business profiles that were mentioned in step 1 of this guide. Essentially, the more reviews your banking website has, the more trusted it becomes for both users and search engines. And Google's algorithm, in particular, prefers to rank trusted banking sites higher in its search engine results pages because they provide a good user experience.
Therefore, you want to get as many positive reviews about your bank as possible on the most popular business listing site, such as Google, Bing, Yahoo, Yelp, Angie's List, Better Business Bureau, and TripAdvisor. You can do this by encouraging your banking clients to leave a review about their experience online as part of the standard operating procedures for customer relations at the bank.
Now that you know to do good SEO for bank sites, we can now move on to the list of SEO keywords for banks. Use this list below to help generate ideas for new topics you can target for your articles to attract potential banking clients.
SEO Keywords for Banks
| Bank Keyword Ideas | SEO Keyword Examples |
| --- | --- |
| "bank" + "your local area" | bank in Topeka, KS |
| "commercial bank" + "your local area" | commercial bank in Reno, Nevada |
| "investment bank" + "your local area" | investment bank in Filmont, AK |
| "savings and loan bank" + "your state" | savings and loan bank in Delaware |
| "retail bank" + "your state" | retail bank in Texas |
| "small business bank" + "your state" | small business bank in Vermont |
| "24 hour bank" + "your state" | 24 hour bank in Ohio |
| "banks" for "purpose" | banks for small business |
| "banking services" for "purpose" | banking services for students |
| what is a "banking service" | what is a checking account |
| how to choose a "banking service" | how to choose a savings account |
| types of "banking service" | types of money market funds |
| when to use a "banking service" | when to use a certificate of deposit |
| how much do "banking service" cost | how much do bank security boxes cost |
| do I have to use a "banking service" for "purpose" | do I have to use a checking account for my LLC |
Note: These SEO keywords for banks are just general ideas. You can mix and match the examples above and use other words that apply to your particular area of service in banking.
SEO for Banks Summary
I hope you enjoyed this guide on SEO for banks.
As you discovered, the basic strategy for SEO for banking is to set up business profiles on Google, Yahoo, and Bing to rank for local searches. You can then choose specific types of keywords to publish content about on the website to attract potential customers. Optimized internal links and quality backlinks are also important for bank SEO as well as getting more positive online reviews.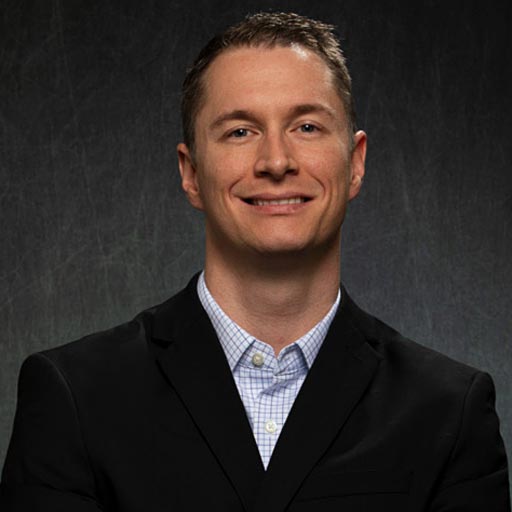 Stephen Hockman is an entrepreneur and founder of SEO Chatter. He specializes in search engine optimization and digital marketing and has been fascinated with SEO since 2005. His goal is to share the best tips and news about search engine marketing to help you get more website traffic.