This guide includes a list of the best link building books you can read.
Below, you'll find the top books on building backlinks that you can buy on Amazon that teach you how to create effective off-site search engine optimization (SEO) campaigns. By reading any one of these books, you'll expand your knowledge on link prospecting and outreach to help land high quality backlinks for your website or a client's site.
Note: I also have a review page for the best books on SEO if you're looking for tips and techniques on the entire search engine optimization process.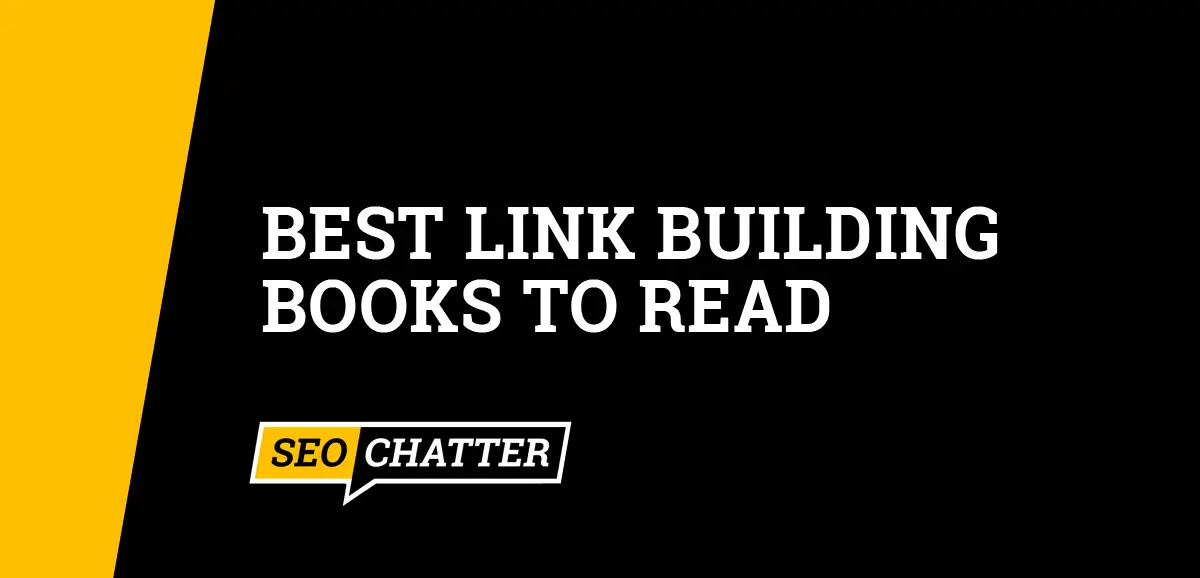 Best Link Building Books List
1. Ultimate Guide to Link Building
By Eric Ward and Garrett French
If you're looking for the best link building book ever written, this is it. Every aspiring link builder should own and read a copy of this book if they're serious about off-site SEO.
The primary author, the late Eric Ward, was a pioneer in the SEO industry and was the person who laid the foundations for modern link building. In fact, he was a link strategist for websites before search engines even valued links on the internet.
Eric was the very first link marketer that Amazon.com hired to do the company's outreach.
Co-author Garrett French is the founder and chief link strategist of Citation Labs, a link building agency and campaign incubator.
Together, these men wrote one of the most important books on SEO and link building ever published. And there hasn't been anything else like it ever since it hit bookshelves in 2013. The most recent edition was updated in 2020 and it's still considered to be one of the top books on link building you should have on your shelf.
Spanning 24 chapters and pages, this book covers everything you ever wanted to know about professional for SEO. For many people, creating backlinks is the most challenging part of off-page search engine optimization, so the information and ideas presented in this book can make a positive impact on your efforts.
Some of the topics you'll find covered include:
What actually makes a website link-worthy.
How to build an effective link building campaign.
The key metrics you need to measure to verify your success.
How to create linkable assets that generate links more easily.
How to do link prospecting the right way.
Methods to qualify your link prospects so you only build high-quality backlinks to your site.
Tips on design pitches for your outreach emails and how to handle responses.
How to find effective guest post opportunities.
How to do broken link building campaigns the right way.
Ways to scale up your backlinking efforts so you can acquire more links in less time.
Knowing when it's o.k. to buy links and how to negotiate the best deals.
As you can see, this book covers every aspect of building backlinks for SEO. And the book provides plenty of ideas on how to find opportunities in any niche and gives advice that can be applicable to any type of site. You really have to read it to believe it.
2. Link Building Mastery
By Julian Goldie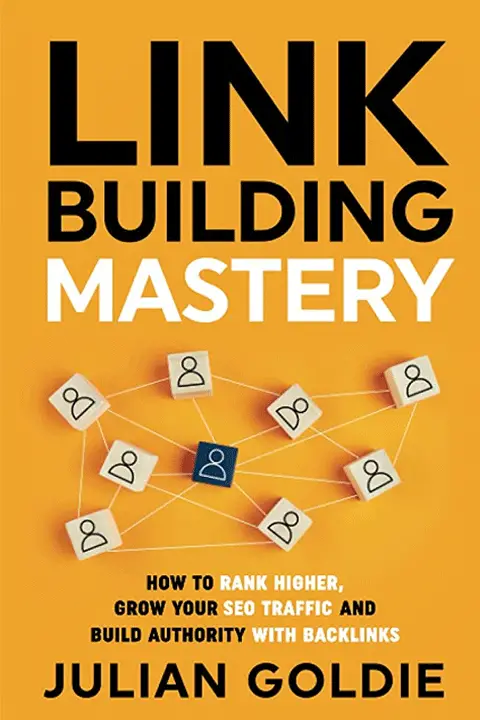 Link Building Mastery by Julian Goldie is another great book for anyone who is serious about creating backlinks that can improve the rankings of their website. 
What makes it one of the best backlink books available is the practical and easy-to-follow steps for bloggers and website owners who are struggling to get high-quality backlinks for SEO.
In this 120-page book, Julian Goldie provides useful tools, tips, and techniques to help readers decipher the complicated process of effective link building.
Available in Kindle and paperback formats, this book is well-written and the author provides straightforward, implementable advice that readers can use to improve their SEO strategy. It is easy to understand and follow, making it an excellent resource for beginners and advanced SEO professionals alike.
Some of the information you will find in this book include:
Link building mistakes you must avoid to keep your sites safe from a penalty.
An easy outreach strategy that can help you land backlinks without writing a single blog post.
Ways to build backlinks using social proof.
How to land powerful backlinks at scale without paying for them.
A unique method for calculating the value of a backlink to find out if it is even worth it to pursue or not during a link building campaign.
As a bonus, Julian also gives you free access to his link building mastery video course to help you understand the backlinking concepts on a deeper level.
If you are looking for a comprehensive guide (with a video course) that provides all the tools and techniques you need to quickly improve your link building skills and website rankings on Google, then give this book a read.
3. Link Building Is Dead. Long Live Link Building!
By Sage Lewis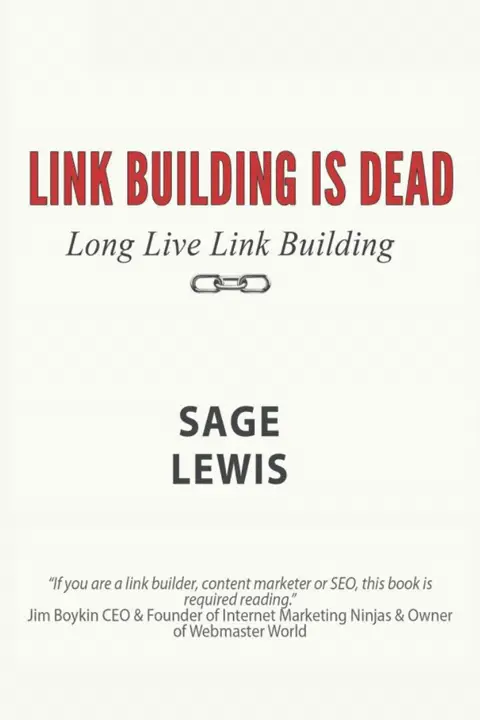 This book by Sage Lewis is not only considered one of the top books on building backlinks by myself, but many professional SEOs and link builders.
For example, Jim Boykin, Founder and CEO of Internet Marketing Ninjas recommends this book as "a required reading for link builders, content marketers, and SEOs".
Sage Lewis, the author of the book, is an excellent guide for anyone who is perplexed by the do's and don'ts of link building. In this guide, he delves into the significance and evolution of link building as well as offers valuable insights and practical suggestions for crafting an effective link building campaign that works.
Best of all, this book is accompanied by relevant examples you can use for inspiration; not just pages of text with untested backlink building theories. There are also personal anecdotes and historical asides that make it an enjoyable read you can trust.
The concrete tactics and helpful tips are an excellent resource for implementing a quality link building campaign in the current era of Google's post-Penguin algorithm. The book is 216 pages long and available in both Kindle and paperback formats.
4. Link Juice: Understanding and Using Backlinks for Better Search Rankings
By Mike Wood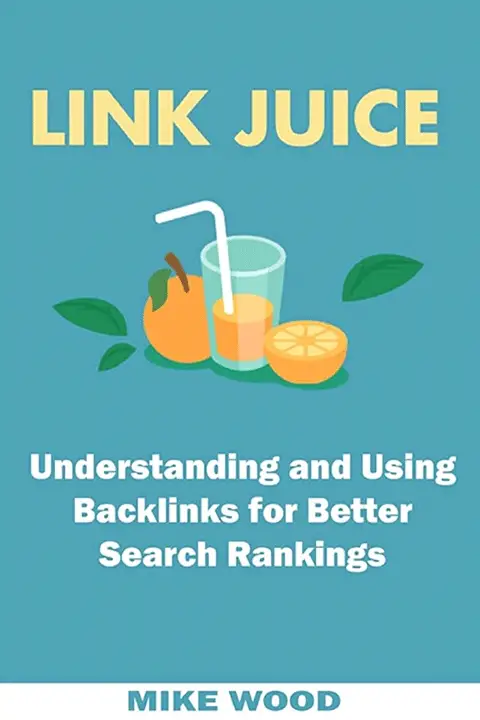 This link building book by Mike Wood is a concise and informative read that provides a solid foundation for those looking to understand backlinks and their importance for off-site SEO.
At just 142 pages, and an affordable price of around $5, it's best backlink book for beginners who are new to the world of link building and want to learn the basics before diving deeper into more advanced concepts that are found in the other books on the subject.
Available in Kindle and paperback formats, the book covers a range of topics related to creating backlinks, including:
Why building high-quality backlinks is crucial for improving search rankings.
Best practices for acquiring high-quality links.
The importance of anchor text and LSI keywords.
The differences between link wheels and link farms.
What sets this book apart from other publications on this list is Wood's writing style. He explains complex ideas in a way that is easy to understand and injects humor into his explanations that turn a relatively technical process into something that is fun to read and learn about. 
Readers will come away with a solid understanding of backlinking and plenty of practical methods for implementing it effectively. This book is an excellent starting point on the subject, making it one of the best link building books for beginners at a low price point.
5. Free PR: How to Get Chased by the Press Without Hiring a PR Firm
By Cameron Herald and Adrian Salamunovic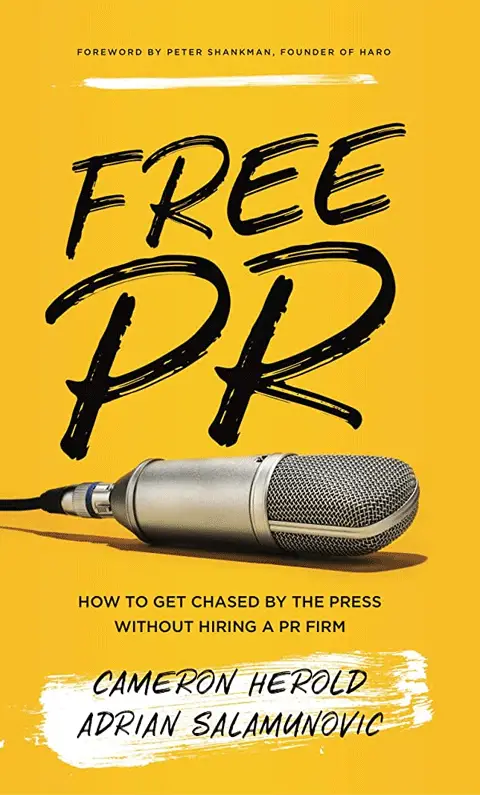 Although this is not a book on link building per se, it's still a great guide to read or listen to because it offers priceless insights and practical recommendations for generating buzz around your business to create natural backlinks for your website.
PR stands for Public Relations. And inside, you'll learn how to create your own PR team, conduct successful interviews, and gain excellent media exposure without spending a dime, all through a few simple steps.
What sets this book apart from other link building books and PR manuals is its emphasis on thinking outside of the box to create backlinks for your website or a client's site, attracting free media coverage, and leveraging interviews for greater success.
The authors, Cameron Herald and Adrian Salamunovic, also teach you how to write a compelling story angle that journalists can easily shape into a final product that gets published in newspapers, magazines, journals, and blogs.
Some of the most useful parts I found in the book include:
Guidance on understanding the current media climate.
Identifying prospects who would be available for interviews and as referral sources when pitching to media.
Ways to align all aspects of a digital marketing strategy to get more free PR.
Unique ways to generate buzz for any business that builds great brand awareness and high-quality backlinks.
Whether you're a small business owner, link builder, blogger, or PR professional, this book offers practical advice that anyone can use to attract attention and stand out from the competition in a crowded digital world. It is available in Kindle, paperback, hardcover, and audiobook formats.
Summary On Link Building Books
I hope you enjoyed this list of the best link building books.
As someone who has been studying SEO for more than a decade, these truly are the top backlink books for beginners who want to conduct their own link building campaigns or create an agency to sell backlink services. Each one of these recommended titles can give you the expert knowledge you need to develop effective off-site SEO strategies that get results.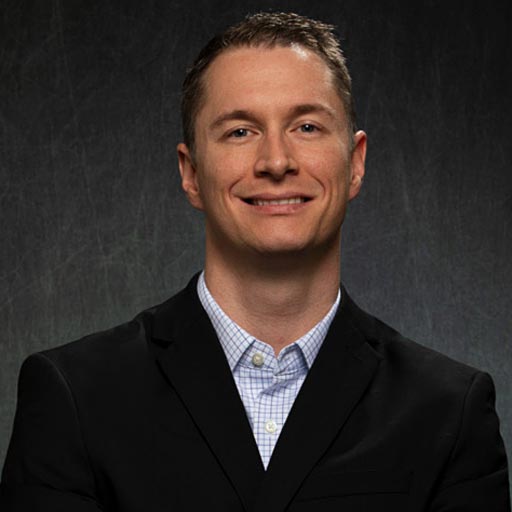 Stephen Hockman is an entrepreneur and founder of SEO Chatter. He specializes in search engine optimization and digital marketing and has been fascinated with SEO since 2005. His goal is to share the best tips and news about search engine marketing to help you get more website traffic.