If you help manage people's money as a financial advisor, planner, or wealth management service, then you'll benefit greatly from this guide on SEO for financial advisors.
Understanding how to do SEO for financial planners of any kind can lead to more traffic for your website, which means more clients coming through your door. And knowing good financial advisor SEO tips also means you can rely less on paid ads because you'll be acquiring more free organic traffic from Google.
In this guide, I'll share with you a list of the 10 best SEO tips for financial advisors as well as good keywords to target so you can generate more content ideas for your website.
SEO for Financial Advisors
1. Pick the Right SEO Keywords for Financial Advisors
The first step in doing SEO for financial advisors is to create a list of keywords to target on your site. It takes a little bit of planning but the results can go a long way to delivering the right type of traffic to your website.
At the end of this guide, you'll find a dedicated section with good SEO keywords for financial advisors to help you generate ideas. But to get started here, just think about the types of words and phrases potential clients would use to find your financial advising business online.
If you're trying to attract local clients, then you'll want to focus on keywords that include your local area or state. For example, "financial advisor in Cleveland", "wealth management in Vermont", "Orlando financial advisor", or "financial planning in Nebraska".
If you're trying to attract clients on a national or international level, then you can target general keywords in the financial advising niche. For example, "certified financial advisor", independent financial advisor", "fee only financial planner", or "wealth management consultant".
To make this process easier, it's good to use an SEO keyword research tool. And one of the best tools for the job is KWFinder by Mangools (try it for free). It's one of the only SEO tools I recommend as an affiliate because it's cheap, yet powerful for keyword research.
The Mangools suite of tools also comes with other great features like a Keyword Rank Tracker, Backlink Miner, and Site Profiler that make the other tasks of SEO easier. And in my opinion, there's no other tool you need to be successful with SEO.
Here's a quick demo of how the tool works:
After you open up KWFinder, you can search for a seed keyword like "financial advisor in Chicago" and it will show you related phrases along with the average monthly search volume and keyword difficulty score.
In the image below, you can see suggested keywords like "financial planner Chicago," best financial advisors Chicago", "wealth advisor Chicago", "fee only financial planner Chicago", and many more.
Additionally, anytime you see a green-colored square under the KD (Keyword Difficulty) column, that means the keyword phrase is easy to target.
As a financial advisor, you should be using a tool like KWFinder to look for keywords with high search volume and low keyword difficulty to write content for your site. So keep adding in new seed keywords to get more ideas for what to write about.
By following this SEO for financial planners strategy, you can get better and faster results than if you were to go after harder terms with high KD scores.
Another thing to keep in mind here is that when creating your final list of keywords, it's best to cluster the closely related keywords together so you can target them all on one page.
For example, you wouldn't write a separate piece of content for "financial planner Chicago" and "financial advisor Chicago". Both of those keywords belong on the same page.
However, you could write two separate pages for "wealth advisor Chicago" and "fee only financial planner Chicago" because those two terms are different. A person who is looking for a wealth advisor is not necessarily looking for a fee only advisors and vice versa.
2. Write Quality Content That Ranks
After you have your list of keywords figured out, the next step is to put those keywords to work to get your website some traffic.
Now, writing quality content may sound obvious but it really isn't. As a financial advisor, you may think that a 500-word article on the value of diversifying a portfolio with index funds is great content, but Google may not agree with you. So you need to know what type of content Google wants to see before you start writing it.
To do that, just type one of your keywords into Google's search engine and inspect the top 5 ranking pages.
Those top-ranking sites will give you the answer to what you should write a new article about. They'll also clue you into what type of sections you need to include to satisfy the search intent for the user. And what the length of the article needs to be.
Once this research is complete, you'll have a better idea of how to approach the writing of your content so that it meets the user's needs, is high-quality, and feeds Google's algorithm what it needs to get into the top 10 search results.
3. Optimize Each Page for SEO
Writing a quality piece of content is only half the battle when it comes to ranking high on Google's search engine. The other half is on-page SEO.
Without good on-page SEO, you're content will not rank as high as it deserves. That's because Google needs to see certain elements on the page to correctly identify those keywords around financial advising to rank your content for them.
Now, there are about 20 areas you can optimize a financial advisor website for SEO, but the 5 elements listed below are the best places for you to get started. By optimizing these locations the right way, you'll give your content a better chance at ranking on the first page of Google.
Meta Title Tag
The meta title tag is the top on-page SEO ranking factor. Get it wrong and your content will have a poor chance of ranking for the financial advisor keywords you're targeting.
Meta titles tell Google what the page content is about and are what get displayed in the search engine results page for your listing. So keywords in this field are essential for higher rankings.
Using a free SEO plugin on your site like All-in-One SEO, Yoast, and RankMath makes it easy to optimize the meta title for a page to include your target keywords.
Once you have the plugin installed, you can write an optimized meta title for any page on your site. The best way to do this is to put your main target keyword at the beginning of the meta title so it appears first in Google's search engine. This position also has the most SEO weight.
Here's an example of a good meta title tag that's optimizing for the keyword phrase, "financial advisor in Austin".
Financial Advisor in Austin (Fee Only Wealth Management Planner)
You can also look at the top 5 ranking pages for your main keyword to get ideas on the meta title.
Meta Description
The meta description is another important field you'll want to optimize on a financial advisor website with an SEO plugin.
Meta descriptions give Google a brief summary of what the page content is about. It's also what appears under your listing on the search engine results page if you optimize it correctly. Without good SEO in this element, Google may choose to rewrite your page's meta description, so it pays to get this area optimized correctly.
A simple financial advisor SEO tip here is to include your main target keyword as the first piece of text in the meta description. Then include as many secondary keywords as you can without repeating too many of the same words. Also, keep it under 160 characters as Google will truncate it to that number.
Here's an example of a meta description that is optimized for the keywords "financial planning in New York", financial planner NYC", and "fee only financial planner NYC".
Top financial planner in New York. As a fee only financial planner in NYC, we offer financial and investment management without earning commission or kickbacks.
And just like optimizing the meta title, take a look a the meta descriptions for the top 5 ranking pages on Google to get a better idea of what words to include.
URL
The page URL is another important SEO ranking factor for financial advisor websites.
Page URLs are the string of text that appears in the search bar and point to a particular page on a website. Google also displays a portion of this URL in the SERPs. Therefore, it's good to have your main keyword and any secondary keywords in the URL without repeating words.
You also want to use dashes (-), not underscores (_) between words in the URL. Google doesn't recognize underscores as word separators and that can harm your SEO efforts on a financial advisor website.
For example, the URL for this SEO guide is:
/seo-for-financial-advisors/
Now, if you are targeting two or more keywords that have overlapping words and variations, then you would want to maximize the usage of those words in the URL without repeating the same words. Always start with the main keyword in the URL and then add any variations to the end.
For example, let's say you were targeting these 3 keywords for a financial advisor website:
financial planning San Francisco
financial planner San Francisco, CA
San Francisco certified financial planner
Then your URL could be something like this below to include all of those target keyword variations:
/financial-planning-san-francisco-ca-certified-planner/
Header Tags
The header tags for a web page include the H1 to H6 tags.
The H1 tag is usually coded in the site's template to be the main title for the page. And this is the most important header tag for SEO purposes. A good rule of thumb here is to just copy the meta title tag text into the H1 tag. That way, both fields have the target keywords you want the page to rank for.
The H2 to H6 tags are used to outline the content. H2s are the main subheadings, while H3s are subheadings under H2, and so forth down the line to H6.
As for SEO for financial advisors, you want to put your main keyword in the first H2 on the page and try to add each secondary keyword in at least one H2 tag.
If you have H3 tags, then they can have keyword variations. The H4 to H6 tags can be ignored for SEO as they don't have as much ranking power.
4. Use Sitewide SEO Tactics
After you follow tips #1 to #3, your individual web pages will have good optimization. But you can further improve this by using two sitewide SEO tactics: internal linking and the navigation menu.
Internal Linking
Linking internally to a page on your site can boost the topical relevance of that page when the anchor text is optimized correctly.
For example, if you do good on-page SEO on your financial advisor website as mentioned up until this point, you'll be giving Google a good idea of what keywords a particular page should rank for.
But if you also use those target keywords in the link anchor text from another page on your site that points to that page, it can give Google additional signals that confirm what keywords it should be ranked for.
Here's an example of how to use this SEO tip for financial advisors that have a web page that targets the keyword, "wealth management for seniors".
A blog post about wealth management options has a section on senior citizens. In that section is a link that leads to the web page on wealth management for seniors.
The link anchor text reads "Wealth Management for Seniors".
Notice how that anchor text has the exact match keyword phrase in the link. You'll want to do something similar on your site. Link internally with your keyword phrases from other relevant content. This will improve the topical relevance for the keywords you want the target page to rank for.
A good rule of thumb here is to not use the same anchor text over and over again but to add a few additional words to make each internal link unique.
For example, if we had 3 blog posts linking to that web page on senior citizen wealth management, then we could have each link anchor text be like this:
Blog Post #1: Wealth Management for Seniors
Blog Post #2: Top Wealth Management for Seniors
Blog Post #3: Guide on Wealth Management for Seniors
Navigation Menu
If a web page is linked within the navigation menu, then it sends a clear signal to your users and Google that it's an important page worth ranking. Therefore, it's best to link to your most important content in the main navigation menu.
Simply use an exact match phrase for the main keyword in the menu item link anchor text.
For example, if you were targeting this SEO keyword for a financial advisor website:
best financial planner in Fort Worth
Then the navigation menu item could be:
Best Financial Planner in Forth Worth
5. Set Up a Google My Business Profile Listing
Creating a Google My Business Profile listing is critical for financial advisors with a physical location. Having a physical location listed with Google My Business (GMB) will help your financial advising services be better optimized for both local SEO and national SEO.
For local businesses, a GMB listing ensures your business shows up in the Google Map Pack in the search engine. The Google Map Pack is a SERP feature that enables users to quickly identify the most relevant businesses that provide what they searched for.
A GMB listing also allows you to include photos, hours, contact information, and reviews, so it's beneficial for more than just SEO.
But just setting up a new Google My Business Profile listing won't make your financial advisor website rank #1 for your local keywords.
Follow these best practices to maximize your SEO efforts here:
Complete All of the Information Fields: Fill out as much information as possible on your Google My Business profile, including your physical address, phone number, and category. The more information you include, the easier it is for Google to match your business with relevant keyword searches.
Verify Your Location: Verification is essential for proving your business is located where you say it is. A verified location increases your chances of showing up on Google Search and Maps.
Update Your Business Hours: Make sure the hours your business is open are accurate and up to date. Also include holiday hours as the approach. This improves the reliability of your Google My Business listing.
Add Photos: Photos are another essential element for financial advisors. Uploading photos to your Google My Business listing helps show off your building so that potential client will want to visit your location and know that they're in the right place upon arrival.
Respond to Reviews: If a person leaves a review, then make sure to immediately respond to it; regardless if it's a good or bad review. This shows your potential clients that you are active on the platform. Also, encourage current clients to leave positive reviews on your Google My Business listing. The more positive reviews your business receives, the better chance it can show up in the SERPs for your local keywords.
6. Include NAP and Schema Markup
NAP refers to the name, address, and phone number of a business. And having consistency online for your NAP information is important for SEO for financial planners because it relates to your Google rankings. A mismatch of NAP for a financial advisor website can cause a number of ranking issues, which you don't want to happen.
NAP information is also important even if you don't have clients coming into your office.
The first step here is to make sure your NAP is listed on all of your web pages. To do that, you can put this information in the website footer. It's also a good idea to put your NAP on your about page.
The next step is to include Schema markup on your financial advisor website that includes the NAP information. Schema markup is another way to improve the quality of your business information to increase your rankings in Google.
Schema markup is a set of HTML tags that help search engines like Google identify what specific types of content are on a site. And when it comes to NAP information, Schema markup can make sure that the name, address, and phone number are attached to your business without any mistakes.
The NAP information in your site's footer is visible to everyone, but the Schema markup is hidden from view and can only be seen by Google's crawler.
You can easily create Schema markup for free to add to your site using Rank Ranger's Schema Markup Generator. Choose the "Local Business" option to get the correct fields for your financial advisor website.
Once you're done using the tool, copy the HTML code and place it in the HTML section of the footer on your site.
7. Get Backlinks for Your Financial Advisor Website
In some markets, you'll find a lot of competition for SEO and financial advisors. So it can be harder to rank for the keywords you want. But in others, good on-page SEO will be all you need to succeed.
For the tougher markets, you'll want to get some high-quality backlinks pointing to your financial advisor site to boost its authority. The more links a site has, the more trusted it can appear in Google's algorithm.
And there are two ways to do that:
Outreach
This requires you to contact other financial advisors, retirement planners, wealth managers, and other professionals in your industry and ask them to link to your site.
You can also reach out to financial and investment websites that allow guest posting and write a piece of content for those sites that include a link back to yours in the bio section.
Additionally, you could ask your local clients who have websites to link to your site from somewhere on their site. Perhaps they could add a small testimonial as an endorsement along with the link.
Local Citations
Local citations are a type of SEO crosslinking that is made up of directory listings with online profiles that include your business name, address, phone number, website URL, and additional information about your financial advisor business.
Most local citations are free to create too. And these can be an important part of your SEO strategy they can act as authoritative backlinks.
Below is a general list of local citation sites you can create a profile for your business.
yelp.com
foursquare.com
bbb.org
local.yahoo.com
mapquest.com
yellowpages.com
angi.com
here.com
city-data.com
manta.com
tomtom.com
justlanded.com
citysearch.com
merchantcircle.com
superpages.com
dandb.com
us.kompass.com
factual.com
local.com
brownbook.net
company.com
yellowbook.com
chamberofcommerce.com
infobel.com
insiderpages.com
yellowbot.com
communitywalk.com
elocal.com
hotfrog.com
ezlocal.com
local.botw.org
storeboard.com
tupalo.com
cybo.com
ibegin.com
salespider.com
showmelocal.com
neustarlocaleze.biz
citysquares.com
n49.com
cylex.us.com
yasabe.com
threebestrated.com
2findlocal.com
bizvotes.com
b2byellowpages.com
8. Get More Online Reviews
I mentioned this previously in SEO tip #5 about Google My Business reviews, but you want to try and get positive reviews on as many relevant sites as possible.
The more positive reviews your financial advisor website has, the more trusted it becomes. And Google likes to rank trusted sites higher in its search engines. So encourage your clients to leave a review on Google My Business Profile, Yelp, Angie's List, Better Business Bureau, etc.
9. Make Sure Your Site is Mobile-Friendly
According to Statcounter, 55% of Internet usage is through mobile devices and it's growing each year. Google also uses mobile-first indexing means Google predominantly uses the mobile version of the content for indexing and ranking.
You need to make sure that your financial advisor website is mobile-friendly. If it's not, your rankings can suffer.
If you're using WordPress, there are millions of free and paid themes available that are mobile-responsive. So just pick one to use if your current theme is not loading well on mobile devices.
10. Improve Website Speed
Research by Google reveals that a page that takes 3 seconds to load has a 32% increase in bounce rate. And a 5-second load time increases that probability to 90%.
Google now uses site speed as a ranking signal in its algorithm. If you've got a slow-loading site, then it could negatively impact your keyword rankings and traffic.
You can use Google's PageSpeed Insights tool to measure the current speed of your web pages and get suggestions on how to improve them.
SEO Keywords for Financial Advisors
| SEO Keywords to Use | SEO Keyword Examples |
| --- | --- |
| "Financial Advisor" + "Your Local Area" | Financial Advisor in Clearwater, WI |
| "Financial Planner" + "Your Local Area" | Financial Planner in Misty, OH |
| "Financial Planning" + "Your Local Area" | Financial Planning in Filmont, AK |
| "Financial Planning Type" + "Your Local Area" | Wealth Management in Jackson, MS |
| "Certified Financial Advisor" + "Your Local Area" | Certified Financial Advisor in Austin, TX |
| "Fee Only Financial Advisor" + "Your Local Area" | Fee Only Financial Advisor in Barton, NV |
Note: These SEO keywords for financial advisors are just general ideas. You can mix and match the examples and use other words that apply to your particular area of expertise in financial planning.
SEO for Financial Advisors Summary
I hope you enjoyed this guide on SEO for financial advisors.
As you discovered, the basic strategy for SEO for financial planners is to optimize certain elements on each web page and throughout the site so you can maximize the ranking value for each keyword on Google. It's also important to write quality content that meets the needs of your users and Google's search algorithm.
By combining good content written with SEO keywords for financial advisors along with a Google My Business Listing, website backlinks, positive online reviews, mobile-friendliness, and fast site speed, you can improve your chances of ranking for the keywords you want to get more traffic to your business.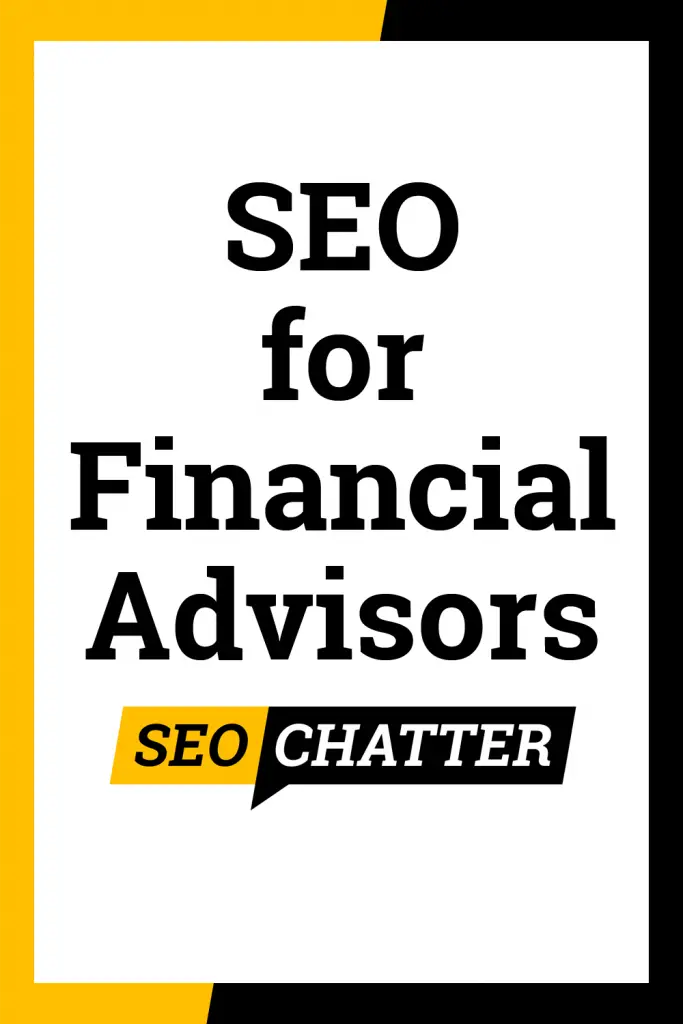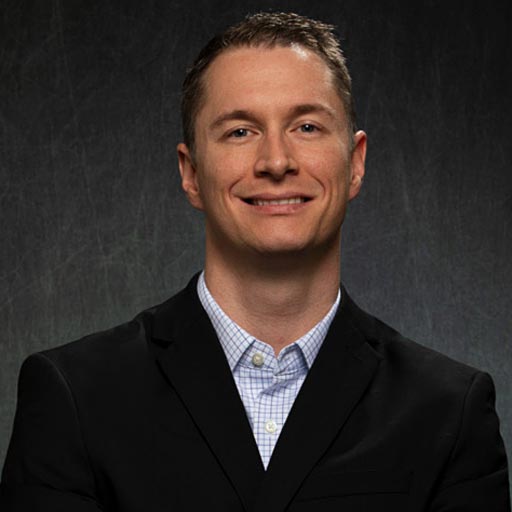 Stephen Hockman is an entrepreneur and founder of SEO Chatter. He specializes in search engine optimization and digital marketing and has been fascinated with SEO since 2005. His goal is to share the best tips and news about search engine marketing to help you get more website traffic.