This guide covers SEO for accountants.
Below, you'll find a list of tips that can help improve search engine optimization for an accounting website. Understanding how to do good SEO for accounting firms is essential for getting more organic search traffic, which means more clients coming through your door.
You'll also find a set of SEO keywords for accountants to help you get started with the on-page and off-page search engine optimization process.
By the end of this guide, you'll know how to optimize an accountant website so it has the best chances of ranking for its target keywords in search engines like Google, Yahoo, and Bing.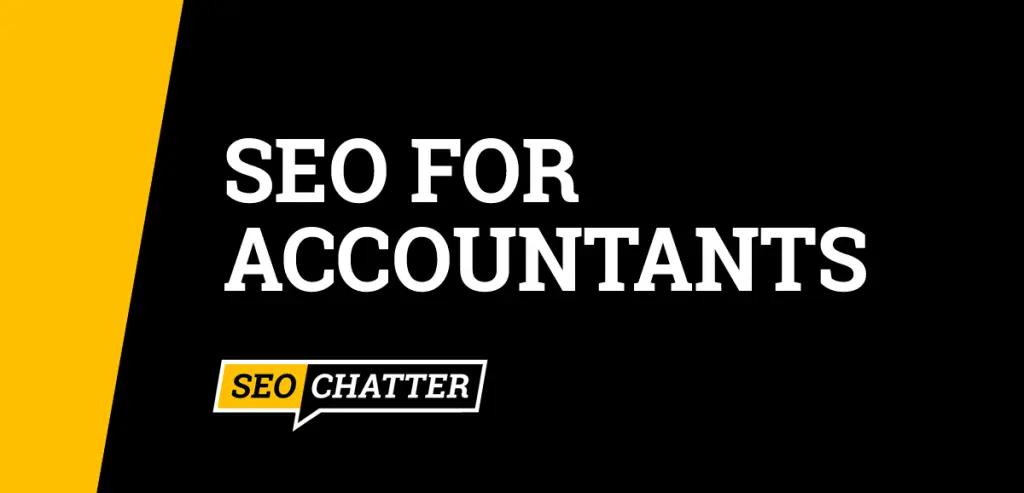 What Is SEO for Accountants?
SEO for accountants is the process of using search engine optimization to improve an accountant's website so it shows up more in the search engines for relevant keywords that attract clients. Accountant SEO focuses on getting results for accounting firms through organic search traffic.
Why SEO for Accounting Firms Is Important
SEO for accounting firms is important because it helps accounting firms reach the highest number of potential clients without using paid search campaigns. Good SEO is also important because it improves lead generation for accounting firms which results in more revenue.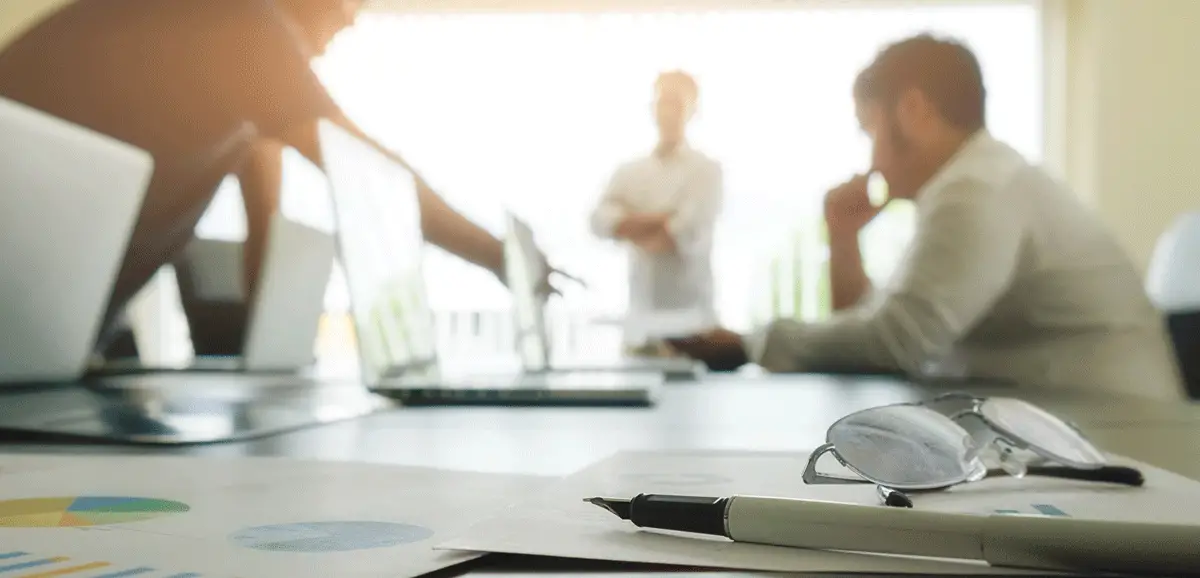 SEO for Accountants
1. Pick the Right SEO Keywords for Accountants
The first step in doing SEO for accountants is to create a list of keywords to target on the website. This type of planning helps you attract the right type of traffic to your accounting firm's website.
At the end of this guide, you'll find a section with a list of good SEO keywords for accountants to help you generate ideas. But to get started here, just think about the types of words and phrases that potential clients would use to find your accounting firm on search engines like Google, Yahoo, and Bing.
If you're trying to attract local clients, then you'll want to focus on keywords that include your local city, town, or state, such as:
accountant in Boise
CPA in Texas
Detroit accounting firm
Washington tax accountant
If you're trying to attract clients on a national or international level, then you can target general keywords in the accounting industry, such as:
certified public accountant
managerial accountant
chartered accountant
personal accountant
Additionally, you'll also want to come up with a list of relevant keyword phrases that answer common questions about accounting to target for future articles and blog posts for your site. This type of content will help attract clients who are at the top of the sales funnel and looking for general information about accounting to help them make a decision on which independent accountant or firm to choose.
Here are a few examples of these types of informational SEO keywords:
what do accountants do
how to find an account for a small business
what are average accounting firm fees
do accountants need my tax returns
To make the keyword research process easier, it's good to use an SEO keyword research tool like KWFinder by Mangools (try it for free). KWFinder is one of the only SEO tools I recommend as an affiliate because it's cheap, yet powerful for keyword research. However, you can use any other tool you like on the market.
A keyword research tool like KWFinder is important because you can search for a seed keyword like "accountant in New York" and get a list of other related terms to fill out your SEO keyword list. Also, it shows you the average number of searches per month for each keyword and the SEO difficulty score to help you estimate how hard it may be to rank for that term in the top 10 positions on Google.
In the image below, you can see this process in action. Related keyword ideas for "accountant in New York" include "CPA NYC", "accounting firms in New York", "tax preparer NYC", and many more.
As an independent accountant or accounting firm, you should be looking for SEO keywords with the highest search volume and lowest keyword difficulty score (KD) to use on your website. By following this SEO for accountants strategy, you can get faster results than if you were to go after harder keywords with high KD scores.
Another thing to keep in mind here when you're creating your list of keywords is to cluster similar terms together so you can target them all on one page. For example, you wouldn't create a separate web page for "CPA New York" and "CPA NYC". Both of those keywords belong on the same page because they refer to the same thing.
However, you would want to create two separate pages for "tax preparer NYC" and "accounting services NYC" because those two terms are different. A person who is looking for a tax preparer is not necessarily looking for ongoing accounting services and vice versa.
2. Write Quality Content That Ranks
After you have your list of accountant-related keywords, the next step is to publish articles based on those terms to get organic search traffic for your website. However, you need to know what type of content search engines like Google want to see before you start writing it. Otherwise, you'll waste a lot of time and effort publishing a piece of content that cannot rank high in the search engine results pages (SERPs).
The simple strategy here for accountant SEO is to type one of your keywords into Google's search engine and inspect the top 5-10 ranking pages. Those sites will give you a clear idea about the following factors:
Content format.
Average article length (i.e., word count).
Types of sections to include.
Additional media to include, like images, videos, charts, tables, etc.
Analyzing those factors will help you create an article that matches the user search intent. The top-ranking pages in the SERPs are there because they're doing a good job of satisfying the user while also feeding Google's algorithm the content signals it needs for that particular SEO keyword phrase.
After you've figured out the common overlaps within the high-ranking content, you can then create an article that combines the best elements of the top 5-10 websites. That way, your content becomes the best of the best on the Internet and is then ready for the next step: optimizing it for on-page SEO.
3. Optimize for On-Page SEO
Writing a quality piece of content that meets user search intent is only half the battle when it comes to ranking high on Google's search engine. The other half is good on-page SEO.
Without good on-page SEO, you're content will not rank as high as it deserves in the SERPs, especially for competitive keyword phrases that other accounting firms are targeting. Therefore, you want to optimize specific on-page HTML elements to help Google's algorithm correctly identify the target keywords you want your website to rank for in search.
Now, there are about 10 locations you can optimize each web page on your account site for SEO, but the 4 elements listed below are the best places for you to get started. By optimizing these HTML elements the right way, you'll give your content a better chance at ranking on the first page of Google.
Note: You can read the full on-page SEO guide here: how to put keywords in an article.
Page Meta Title Tag
The page meta title tag is the top on-page SEO ranking factor. Get it wrong and your content will have a poor chance of ranking for the accounting keywords you're targeting.
Page meta titles are invisible to the reader; however, they tell Google's indexing algorithm what the page content is about and are what gets displayed in the SERPs for your listing. Therefore, putting your accounting firm's SEO keywords in this field is essential for higher rankings.
If you're using WordPress as your content management system (CMS), then you can install a free SEO plugin on your site like All-In-One SEO, Yoast, or RankMath, which give you the ability to edit and optimize the meta title for each web page to include your target keywords.
The best SEO tip for accountants for the page meta title is to put your main target keyword at the beginning of this field so it's crawled by Google and appears first for your listing in the search engine. This position has the most SEO value for your accounting firm's content.
Here's an example of a good meta title tag that's optimizing for the keyword phrase, "what do accountants do".
What Do Accountants Do? (5 Ways Accountants Help Business Owners)
You can also look at the top 10 ranking pages for your main keyword to get ideas on how to write and optimize your meta titles.
Meta Description
The meta description is another important HTML field you'll want to optimize on an accountant website with an SEO plugin. Meta descriptions give Google's crawler a brief summary of what the page content is about and helps confirm the target keywords the content should rank for in the SERPs.
The meta description also appears under your listing on the search engine results page if you optimize it correctly for SEO. If you don't, then Google may choose to rewrite your page's meta description by pulling random text from the page.
A few simple accounting firm SEO tips for this HTML element include:
Put your main target keyword as the first piece of text in the meta description.
Use as many of the closely related terms you found with the keyword research tool without repeating too many of the same words.
Keep the length of text under 160 characters. Otherwise, Google will truncate it for the user.
Here's an example of a meta description that is optimized for the keywords "accounting firm in West Virginia", accounting firm WV", and "accounting services in WV".
Top accounting firm in West Virginia. Offering accounting services in WV for tax preparation, tax planning, auditing, payroll, and more for small businesses.
Similar to optimizing the page meta title, you can also look at the meta descriptions for the top 10 ranking pages on Google to get ideas on what type of words to include.
URL
The page URL is another important SEO ranking factor for accountant websites. Page URLs are the string of text that appears in the search bar and point to a particular page on a website. This makes the URL a good element to optimize for both SEO and the user.
Optimizing the URL for your accounting firm's web pages includes two basic tips:
Put your main target keyword as an exact match phrase in the URL.
Use dashes (-), not underscores (_), between words in the URL. Google doesn't recognize underscores as word separators and that can harm your SEO efforts on an accountant's website.
For example, the URL of this guide that's targeting the phrase "SEO for accountants" is:
As you can see, it meets the two guidelines above for optimizing the URL for search engines.
Heading Tags
The heading tags for a web page outline the structure of the content for both search engine crawlers and users. These heading tags include six levels: H1 to H6.
The H1 tag is the most important heading for SEO purposes. That's why it's typically coded as the main title for users to read.
The H2 to H6 tags are used to outline the subheadings for the content. In a proper HTML structure, the H2s would be the main topics while the H3s would be subtopics under the associated H2 heading. H4s would be under H3s, and so forth, down to the H6 subheading.
To maximize the headings for SEO for accountants, you should follow these best practices:
Copy the page meta title text into the H1 heading. That way, both HTML fields have the main target keyword you want the page to rank for in the SERPs.
Put your main keyword in the first H2 on the page, which should come directly after the introduction.
Include the other related terms (i.e., secondary keywords) in their own H2 tags while also properly describing the subheading section.
If you have any H3s, then include parts of the target keywords without using the exact match phrase. You want to increase the relevance of the keywords without over-optimizing them on the page.
The H4 to H6 tags can be ignored for SEO as they don't have as much ranking power.
If you analyze this guide, you'll see these SEO tips for accounting firms in action. Study it well so you can copy the same strategies to maximize your keyword rankings and traffic.
4. Build Internal Links for SEO
After you follow tips #1 to #3, your individual web pages will have good optimization signals for the search engine crawlers. However, you can further improve the on-site signals for your pages by adding optimized internal links for SEO.
Each time you link internally to a page on your accounting site, you're telling Google's crawler that the page is important for your users. And the more internal links a page receives, the more search engine visibility the website should have.
Additionally, the anchor text used for the internal links is also a ranking factor for SEO. Google's crawler uses this information to help confirm what keywords the content should rank for in the SERPs.
Here are the basics you need to know to get started for accountants:
Include at least 3-5 internal links to every important page on your site.
Use the main keyword for the target page as the anchor text for the internal links.
For internal links you build above number 3, include additional filler words in the anchor text to avoid over-optimization.
Here's an example of how to use this SEO tip for accountants that has a web page targeting the keyword phrase, "CPA for small business":
Internal Link #1: CPA for small business
Internal Link #2: CPA for small business
Internal Link #3: CPA for small business
Internal Link #4: choosing a CPA for small business
Internal Link #5: CPA for small business services
5. Include NAP and Schema Markup
NAP refers to the name, address, and phone number of a business. And having consistent NAP information online is important for accountant SEO. Even a slight mismatch of NAP information for an accounting firm can cause a number of ranking and search engine visibility issues. For example, using "North" versus "N." for your street address. Pick one version and only use it for your business online.
To get started with this step, you want to make sure your accounting business's NAP information is listed accurately on all of your site's web pages. There are three ways to do that for SEO:
Put the name, address, and phone number in the website footer.
Include the NAP information on both the about and contact pages.
Include Schema Markup on the site that has the NAP information.
Schema Markup is a set of HTML tags that help search engines like Google identify specific types of content on a website. And when it comes to NAP information, Schema Markup can ensure that the correct name, address, and phone number are attached to your accounting firm without any mistakes.
Schema Markup also helps improve the quality of your business listing in Google because it will have key information to display for your site. You can create the Schema Markup for your accountant website by using Rank Ranger's Schema Markup Generator. Choose the "Local Business" option to get the correct fields for NAP and SEO. Once you're done using the tool, copy the HTML code and place it in the HTML section of the footer on your site.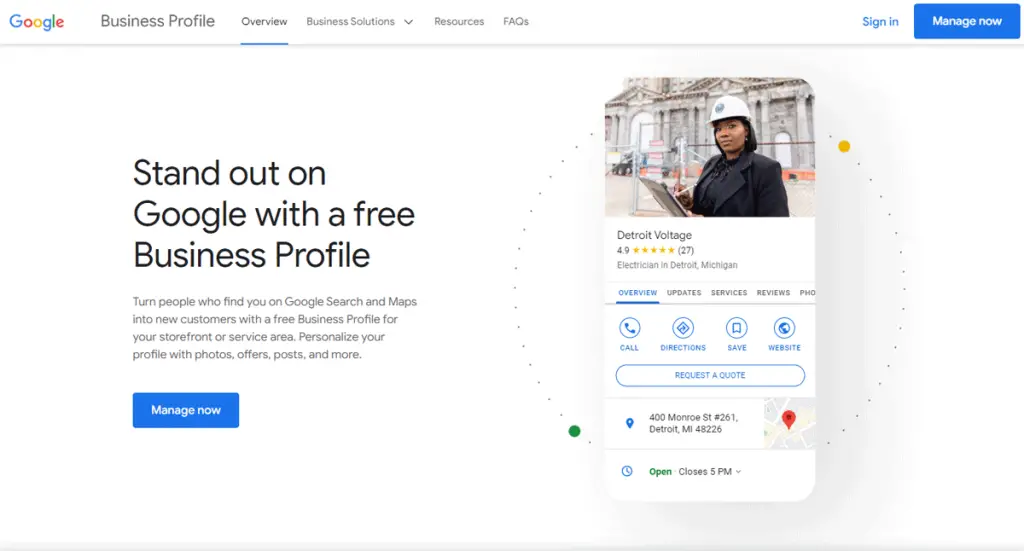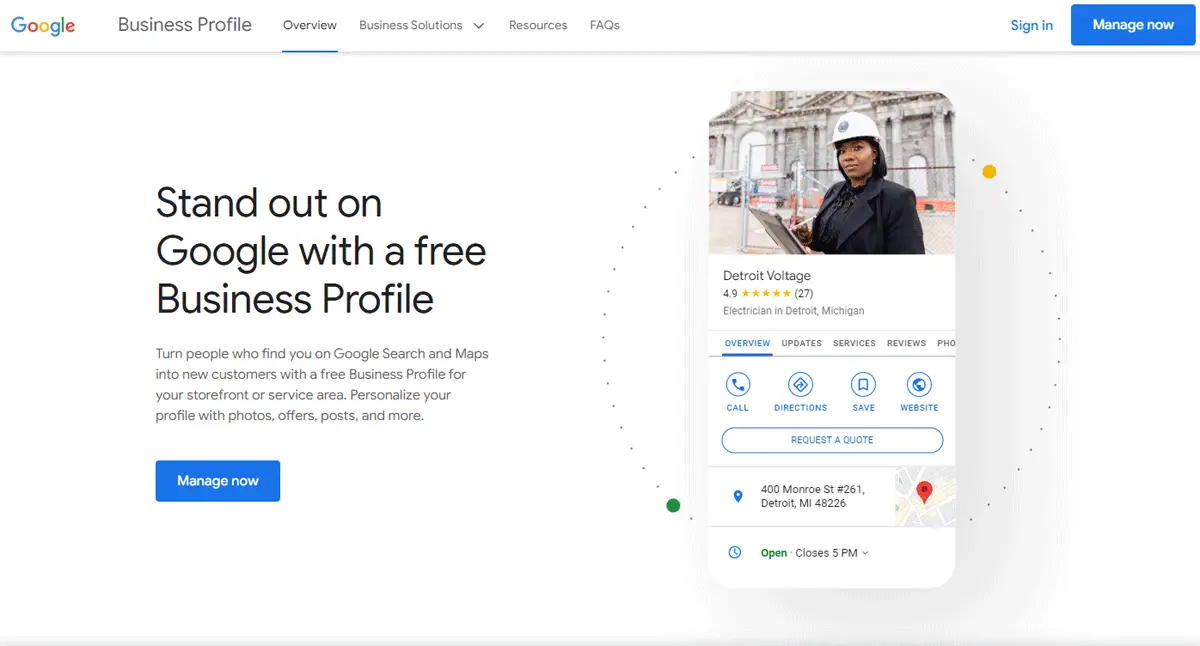 6. Set Up a Google My Business Profile
Creating a Google My Business Profile is critical for accountants with a physical location. Having an office location listed with Google will help your accounting services be better optimized for local searches.
For local businesses, a Google My Business Profile ensures that your accounting firm can be displayed in the Google Map Pack in the search engine. The Google Map Pack is a SERP feature that enables users to quickly identify the most relevant businesses that provide the service they're looking for online.
A Google Business Profile listing also allows you to include photos, hours, contact information, and reviews for your accounting services, making it beneficial for more than just SEO.
But just setting up a new Google Business listing won't make your accountant website rank #1 for your local keywords. You'll need to follow a few best practices to maximize your SEO efforts as mentioned below. These tips come from my other guide with a complete Google My Business Optimization Checklist.
Complete All of the Information Fields: Fill out as much information as possible on your Google Business profile, including your physical address, phone number, and category. The more information you include, the easier it is for Google to match your business with relevant keyword searches.
Verify Your Location: Verification is essential for proving your business is located where you say it is. A verified location increases your chances of showing up on Google Search and Maps.
Update Your Business Hours: Make sure the hours your business is open are accurate and up to date. Also include holiday hours as the approach. This improves the reliability of your Google My Business Profile listing.
Add Photos: Photos are another essential element for accountants. Uploading photos to your Business Profile listing helps show off your building and staff so potential clients will know what to expect at your place of business.
Encourage Reviews: The more positive reviews your accounting business receives, the better chance it has to show up in Google for your local keywords. Also, any time a person leaves a review about your accounting firm, make sure to immediately respond to it; both good and bad reviews. This shows potential clients that you're responsive and adds quality points to your Google My Business Profile to help it rank higher in search.
Note: Bing Places is another good business profile site you should use for your accounting firm. It's just like a Google My Business Profile but appears on Microsoft Bing's search engine.
7. Create Backlinks for Your Accounting Firm
In some markets, good on-page SEO will be all you need to succeed with ranking your accountant site on Google, Yahoo, and Bing. However, in other markets, and for certain keywords, you'll find a lot of competition for SEO and accountants. This can make it harder for your website to rank for the keywords you're targeting.
For the tougher markets, you'll want to get some high-quality backlinks pointing to your accounting website to increase its Domain Authority. The more quality links a site has, the more trusted is by Google's ranking algorithm.
The easiest way to create backlinks for accountants is to build local citations, which are business directories that list your NAP information along with your website's homepage URL. (More about this strategy is below.)
Additionally, you could ask your local clients who have their own websites to link to your site. For example, they could add a small testimonial as an endorsement for your accounting services along with the link or list your business on a local resources page.
Another method for building backlinks is to conduct outreach with other professionals in your industry and ask them to link to your site. You can also write a high-quality article that appears on their accounting firm's site while embedding a backlink to your website within the content or the author bio section. See this related guide on the top ways for how to create backlinks for free.
As mentioned above, local citations can be an important part of your accountant SEO strategy because they act as authoritative backlinks that verify your business's name, address, phone number, and website URL.
You can visit this other page to get a complete list of business listing sites for SEO link building. Below are some of the example directories you can use to create a profile and backlinks for your business:
yelp.com
foursquare.com
bbb.org
local.yahoo.com
mapquest.com
yellowpages.com
hotfrog.com
local.com
pro.angi.com
manta.com
8. Get More Online Reviews
This SEO tip for accountants was mentioned briefly in the strategy above about setting up a Google Business Profile. But essentially, you want to try and get positive reviews about your accounting services on as many relevant business listing sites as possible.
The more positive reviews your accounting firm's website has, the more trusted it becomes for both users and search engines. And Google's algorithm prefers to rank trusted sites higher in its search engine because they provide a good user experience.
Therefore, you should encourage your accounting clients to leave a review on other popular sites like Yelp, Angie's List, Better Business Bureau, etc, to maximize the SEO value of your brand on the Internet.
9. Make Your Site Mobile-Friendly
Search engines like Google now use mobile-first indexing. This means that Google uses the mobile version of your content for indexing and ranking purposes.
Today, having a mobile-friendly site is essential for ranking high in the SERPs. If you're using WordPress for your accounting site, then there are thousands of free and paid themes available online that are mobile-responsive. If your current website theme is not loading well on mobile devices, then just install a theme that is so you can take advantage of this SEO ranking factor.
10. Improve Website Speed
According to Google, a web page that takes 3 seconds to load has a 32% increase in bounce rate. And a 5-second load time increases that probability to 90%.
Statistics like these make it easy to understand why Google now uses site speed as a ranking signal in its algorithm. If you have a slow-loading accounting site, then it could negatively impact your SEO and keyword ranking performance.
You can use Google's PageSpeed Insights tool to measure the current speed of your web pages and get suggestions on how to improve them for better rankings. If this type of optimization work is difficult for you, then there are plenty of optimization services online that can help speed up your site's performance for a fixed fee.
Now that you know to do good SEO for accounting sites, we can now move on to the list of SEO keywords for accounts. Use this list below to help generate ideas for new topics you can target for your articles to attract potential clients.
SEO Keywords for Accountants
| Accountant Keyword Ideas | SEO Keyword Examples |
| --- | --- |
| "accountant" + "your local area" | accountant in Clearwater, WI |
| "cpa accountant" + "your local area" | CPA in Misty, OH |
| "small business accountant" + "your local area" | small business accountant in Filmont, AK |
| "managerial accountant" + "your state" | managerial accountant in Maryland |
| "chartered accountant" + "your state" | chartered accountant in Texas |
| "tax accountant" + "your state" | tax accountant in Nevada |
| "accounting firm" + "your state" | accounting firm in Michigan |
| "accounting services" for "purpose" | accounting services for restaurants |
| "personal accountant" for "purpose" | personal accountant for taxes |
| what do "accountant type" do | what do tax accountants do |
| how to choose a "accountant type" | how to choose a small business accountant |
| types of "accountant type" | types of certified accountants |
| when to hire a "accountant type" | when to hire a chartered accountant |
| how much do "accountant type" cost | how much do managerial accountants cost |
| do I have to use a "accountant type" for "purpose" | do I have to use a tax accountant for my LLC |
Note: These SEO keywords for accountants are just general ideas. You can mix and match the examples above and use other words that apply to your particular area of expertise in accounting.
SEO for Accountants Summary
I hope you enjoyed this guide on SEO for accountants.
As you discovered, the basic strategy for SEO for accounting firms is to pick specific types of keywords for the website, then optimize important elements on each web page for SEO. After that's complete, you can further maximize the rankings on Google, Yahoo, and Bing by adding optimized internal links, building business profiles, getting off-site backlinks, encouraging online reviews, making the accounting site mobile-friendly, and improving page speed.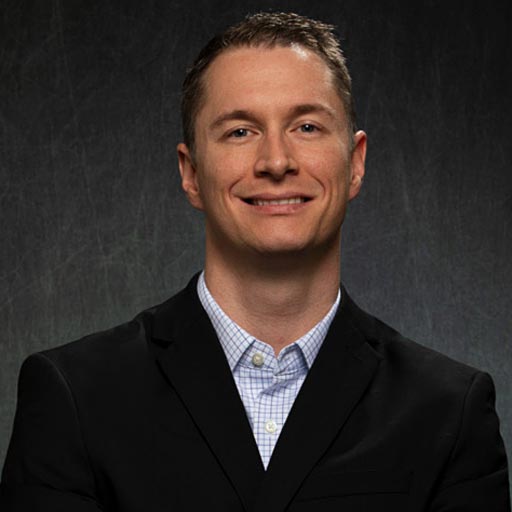 Stephen Hockman is an entrepreneur and founder of SEO Chatter. He specializes in search engine optimization and digital marketing and has been fascinated with SEO since 2005. His goal is to share the best tips and news about search engine marketing to help you get more website traffic.