Are you wondering, "Is Ezoic trustworthy?"
If so, you'll find out just how legit Ezoic is in this post.
The goal here is to answer all your questions about Ezoic's trustworthiness so you can make an informed decision on using this company for display advertising on your website.
Below, you'll learn how good Ezoic is as a company, get a list of ratings and reviews by current website publishers and employees, and see examples of monthly earnings and site revenue that for payment proof.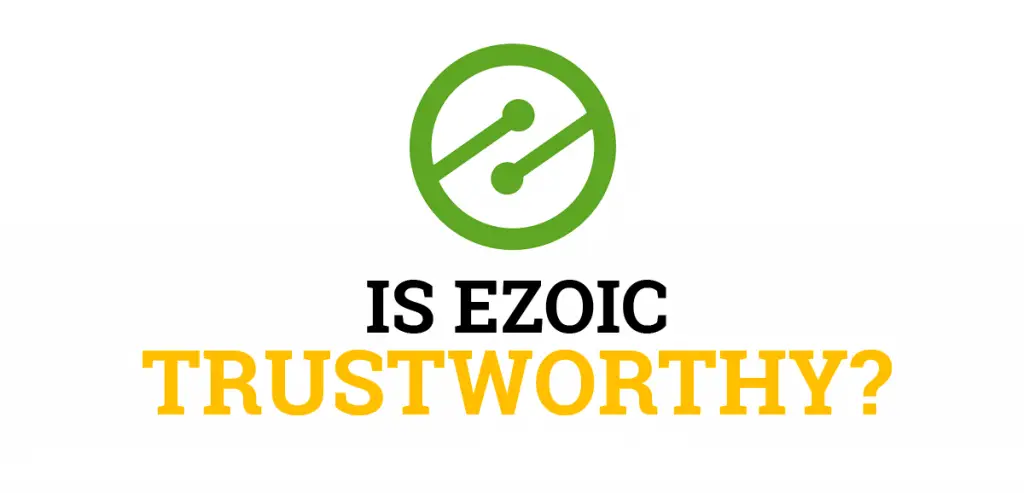 Is Ezoic Trustworthy?
Ezoic is trustworthy and a legit company. Ezoic only works with qualified advertisers and credible website publishers to grant access to its innovative technology that enhances the quality of display ads being served on websites.
One key aspect that makes Ezoic an honest company to partner with is its ad mediation feature, as explained in this overview page on what is Ezoic. With ad mediation, Ezoic allows you to connect any number of ad networks to your account so they all compete for your ad inventory. This means you'll always get the best deal and the highest earnings for each ad served on your website. In some cases, you can see an increase in earnings by 50-100% or more.
Additionally, Ezoic always pays its website publishers on time each month and payments are made directly through Paypal.
The company also provides various online training sessions throughout the year to help its members better optimize their ad placements to increase earnings with the Ezoic platform.
If you're an Ezoic Premium member, then Ezoic goes even further to earn your trust and help you make more money with your website. Check out this Ezoic Premium review page to learn more about the benefits of being an Ezoic Premium publisher which is an invite-only program.
I've personally been using Ezoic since October 2021 and rate it 4 out 5 based on customer support, monthly earnings, and ease of use. I invite you to use my Ezoic affiliate link here to check it out for yourself or keep reading below for more details about how good Ezoic is for website publishers.
As a company, Ezoic has the following public ratings:
Trustpilot score of 3.9 out of 5.
Trustradius score of 8.6 out of 10.
Glassdoor score of 4.4 out of 5.
84% of users on Glassdoor would also recommend Ezoic to a friend.
G2 score of 4.2 out of 5.
Facebook review score of 4 out of 5.
You can read more Ezoic reviews here.
How Good Is Ezoic?
Ezoic has a high number of good ratings and reviews with extremely happy website publishers. In terms of earnings, Ezoic is a good choice for programmatic advertising when compared to other options like Adsense, Mediavine, and Adthrive.
What makes Ezoic so good to use is that it provides access to thousands of ad networks, exchanges, and ad partners to help you monetize your website in the most effective way.
Check out these resources below to find out more about why so many people like Ezoic is as a company:
It's also worth mentioning that Ezoic has various programs to meet every website publisher's needs, regardless of monthly traffic volume. Unlike Mediavine and Adthrive which have monthly requirements for site traffic between 50,000 to 100,00 visits, Ezoic lets even new website publishers gain access to their network without a minimum monthly traffic threshold.
Here are the opportunities Ezoic has for website publishers to partner with the company:
Basic: No traffic requirements. (A better alternative to Adsense.)
Access Now: < 10,000 monthly pageviews. (Best for small sites.)
Levels: > 10,000 monthly pageviews. (Best for larger sites.)
If you want to get started with any of those programs, then I invite you to use my Ezoic affiliate link here to sign up today to start the approval process. Or visit this other page to learn more about all of the Ezoic requirements.
How Much Money Do You Make from Ezoic?
You can make as much as $10-40 per 1,000 page views from Ezoic. The total amount of money you make from Ezoic will depend on the monthly search traffic your website receives and the number of ads displayed to those visitors.
Read this other article on how much Ezoic pays for 1,000 views to get a more accurate answer to this question for your website. And this other guide on how to increase Ezoic earnings to make more ad revenue with this platform.
Below is an example of Ezoic's earnings dashboard so you can see payment proof of how transparent the company is with your income split between Mediation Ad Partners, Ezoic Ad Partners, and Premium Ad Partners. Note: Ezoic uses an ad revenue metric called EPMV which is a more accurate way to measure total session revenue than with RPM. You can learn about EPMV and how it relates to Ezoic average RPM here.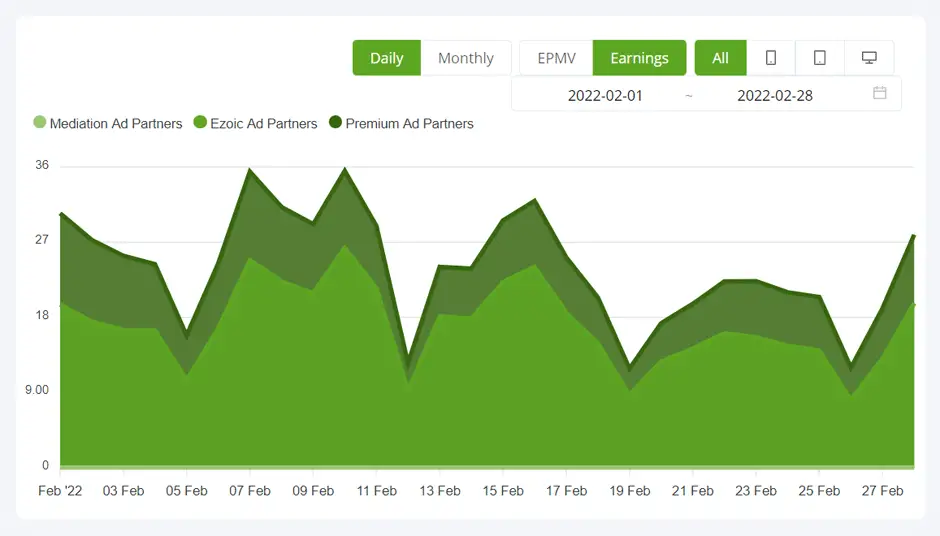 If the above chart excites you about monetizing your website with Ezoic, then I encourage you to use my Ezoic affiliate link here to get started with the setup process.
Ezoic Is Trustworthy Summary
I hope you enjoyed this guide answering the question about is Ezoic trustworthy.
As you discovered, Ezoic is a legit company with a proven track record of success with website publishers. If you're thinking about partnering with Ezoic for programmatic advertising, then you now know how reputable the business is in the marketplace which can help you make your final decision.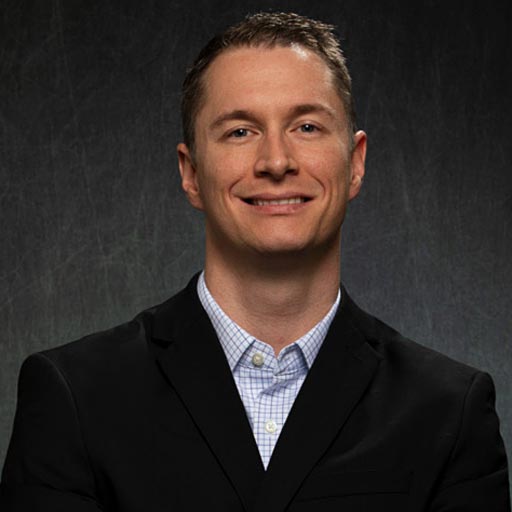 Stephen Hockman is an entrepreneur and founder of SEO Chatter. He specializes in search engine optimization and digital marketing and has been fascinated with SEO since 2005. His goal is to share the best tips and news about search engine marketing to help you get more website traffic.