This search engine optimization (SEO) guide explains how to find long tail keywords for SEO.
Below, you'll learn how to find long tail keywords for free in a variety of ways, giving you ample opportunities to uncover great keywords to use in your SEO strategy.
There's also a section with additional resources that explain more about the fundamentals of long tail keywords and methods to implement them in your content for maximum effect.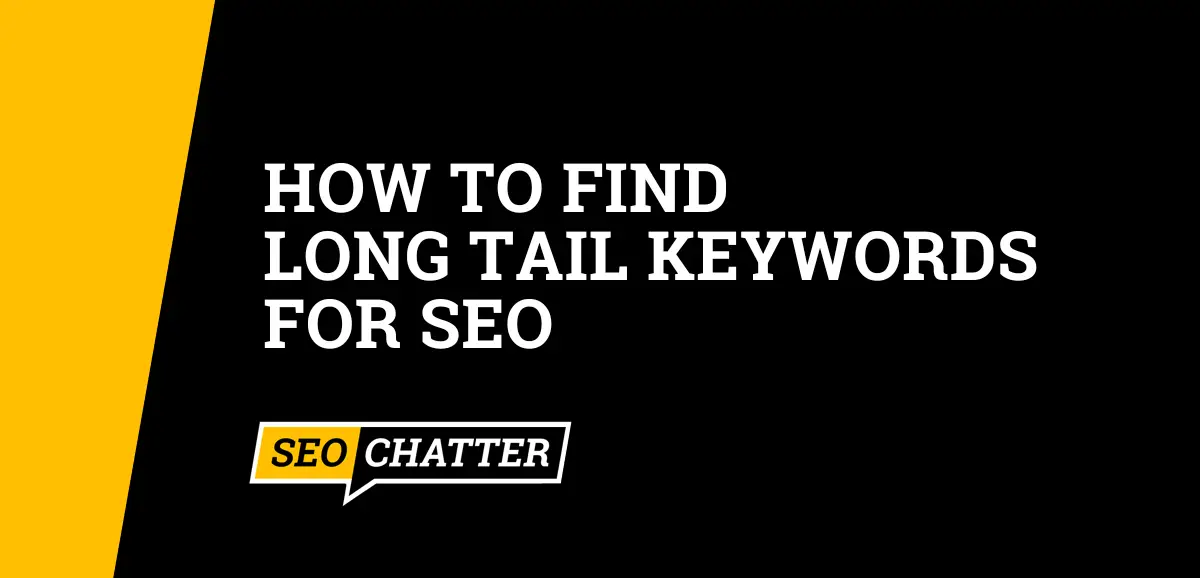 How to Find Long Tail Keywords For SEO
1. Use Google Autocomplete
The first way for how to find long tail keywords is to use Google Autocomplete, which is a feature in Google Search that makes it faster to complete searches as you type.
Think about a term or phrase that best describes the subject or product you want to rank for and start a search query that begins with an interrogative pronoun (what, which, when, where, who, whom, whose, why, whether, and how), followed by the term or phrase.
For example, if you owned an ecommerce store that sells screwdrivers, then you might start a search with the words "which screwdriver". As you can see in the example below, Google's Autocomplete technology shows you the most popular long tail keyword search queries beginning with those two words.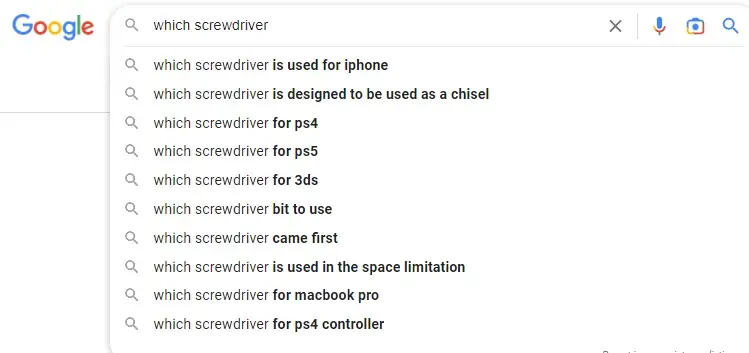 The Google Search results reveal that many people search for screwdrivers compatible with gaming consoles, giving you plenty of new long tail keywords to start with for SEO content.
Of course, you're not limited to question-based long tail keywords here. You could also try combining the subject of your keyword with other words, such as "best" or "how to". As you can see in the example below, Google Autocomplete is finding long tail keywords for the phrase "best electronic lawn mower".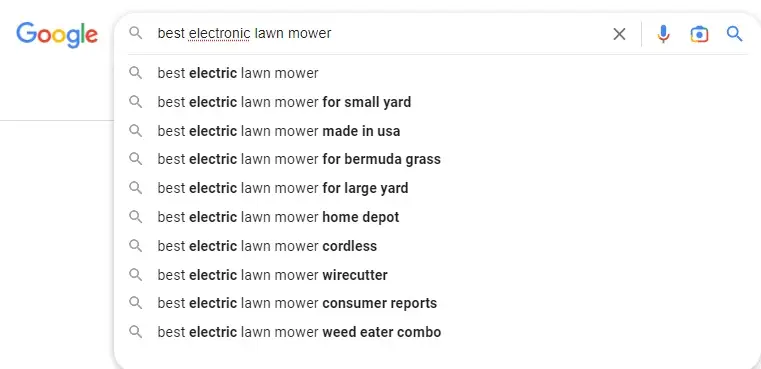 You'll also notice that the system is intelligent enough to correct the search phrase by replacing "electronic" with "electric", which is the most popular term that people use to find electrical-powered lawn mowers. This subtle, yet important difference, is crucial for targeting long tail SEO keywords you want to rank for in the search engine results pages (SERPs).
2. Review People Also Ask
Once you have a list of possible long tail keywords from Google Autocomplete, the next step to finding more ideas is to simply pick one to search for and look at the "People Also Ask" snippet for that search query.
This method shows you a list of questions related to that query that people want answers to.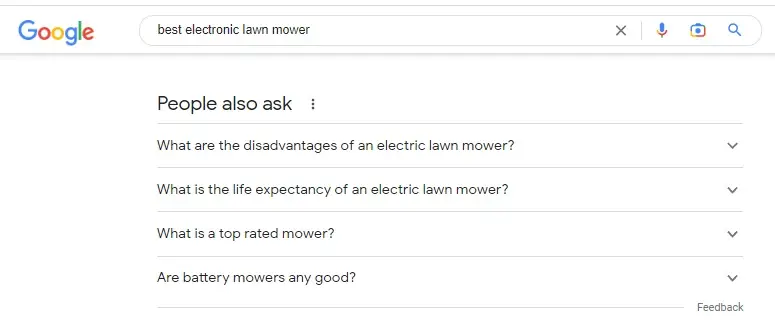 Expanding any of the People Also Ask results not only shows you the type and quality of content that ranks for those questions but also reveals even more long tail keywords to target. Each time you click on a question, three or more new questions will appear that are closely related to that result; giving you endless possibilities of new long tail keywords to identify for SEO.
3. Identify Keywords In Forums
Forums that are related to your niche can prove to be an untapped goldmine of long tail keywords.
For example, let's say you want to attract more visitors to your home improvement blog. A quick search on forums related to fixing things will show you the kind of questions, answers, and solutions people are specifically asking for online, all of which can be used as long tail keywords to target on your website.
As you can see in the example below, there are people on Reddit asking questions about how to fix the gap in a garage door, sagging floor joists, flexing stairs, and brick walls; all of which are excellent ideas for long tail keywords to target on a home improvement blog.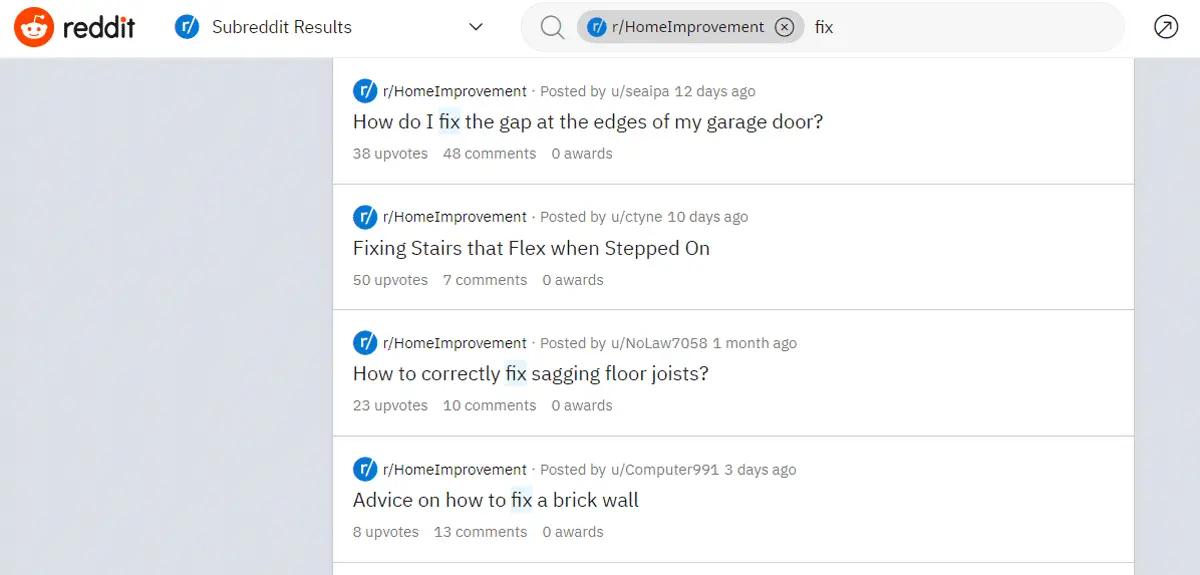 4. Explore Social Media
The next step in learning how to identify long tail keywords is to examine social media groups where people are talking about your niche.
For local service-based businesses, this may mean joining local Facebook groups and paying attention to posts that are relevant to your industry.

If you're a dog groomer, for example, then finding posts from people searching for a dog groomer not only gives you the opportunity to reach out to that person as a potential new client but also reveals a wealth of possible long tail opportunities to target on your site, such as:
"Best mobile dog groomer in…"
"Dog groomers in…
"Local dog groomers specializing in older dogs"
5. Do Keyword Research on Semrush
If you want to know how to find long tail keywords free of charge using one of the most powerful SEO platforms on the market, then you should sign up for a free Semrush account and take advantage of its excellent Keyword Magic Tool. (Note: SEO Chatter readers get an extended free trial period using that link which gives you access to the Pro version of the software. After the trial ends, you're limited to 10 free keyword searches per day.)

With the Semrush Keyword Magic Tool, you can enter any keyword and get an extensive list of related keywords, including long tail options and questions.
The best part about using Semrush to discover long tail keywords is that the platform provides you with valuable data about the search volume and keyword difficulty of each long tail keyword opportunity. This can help you make better informed decisions about which keywords are worth targeting to improve your website's SEO.
Even if you never upgrade to a paid Semrush plan, you should make this software part of your SEO toolkit. Semrush has one of the largest keyword databases in the world and also gives you access to other powerful SEO tools for competitive research, link building, content optimization, and more. Sign up for a free Semrush account.
6. View Questions in Ahrefs
Another top SEO tool for doing long tail keyword research is Ahrefs. However, you don't have to pay for an Ahrefs subscription to get access to quality keyword data. The Ahrefs platform offers a free Keyword Generator that shows you the search queries people make for a specific keyword, along with a breakdown of volume and difficulty.

The one thing we like best about Ahrefs Keyword Generator is that it's simple and quick to use. Plus, it generates a list of keywords based on phrase match and questions, which helps you identify long tail keywords to target for SEO.
7. Review Queries In Google Search Console
If your website is connected to Google Search Console, then an easy way for how to find long tail keywords for SEO is to navigate to Performance > Search Results > Queries tab.
This Google Search Console report reveals a list of all the terms people who visit your site search for, along with details about how many impressions you earned for that term and the average ranking position.
This keyword data can provide a valuable opportunity to improve your content strategy for long tail keywords by building on the existing topical authority. As mentioned in the first step of this guide for how to find long tail keywords for SEO, you can use type those seed keywords into Google Search along with interrogative pronouns like what, which, when, where, who, whom, whose, why, whether, and how, to identify relevant questions for new SEO content.
For example, taking the data in the Google Search Console report for the SEO Chatter website above, we could easily expand the topical authority on Ezoic and Google Sites by publishing more content that answers common questions about those two products.
8. Use Google Analytics
If you're a regular user of Google Analytics, then you can put it to work as a long tail keyword finder by syncing it up with Google Search Console. (See this related guide with instructions on how to see keywords in Google Analytics which walks you step-by-step through the setup process.)
Once your accounts are connected, you can view the keywords that users searched for to find your content by navigating to Acquisition > Acquisition Overview > Google Organic Search Queries.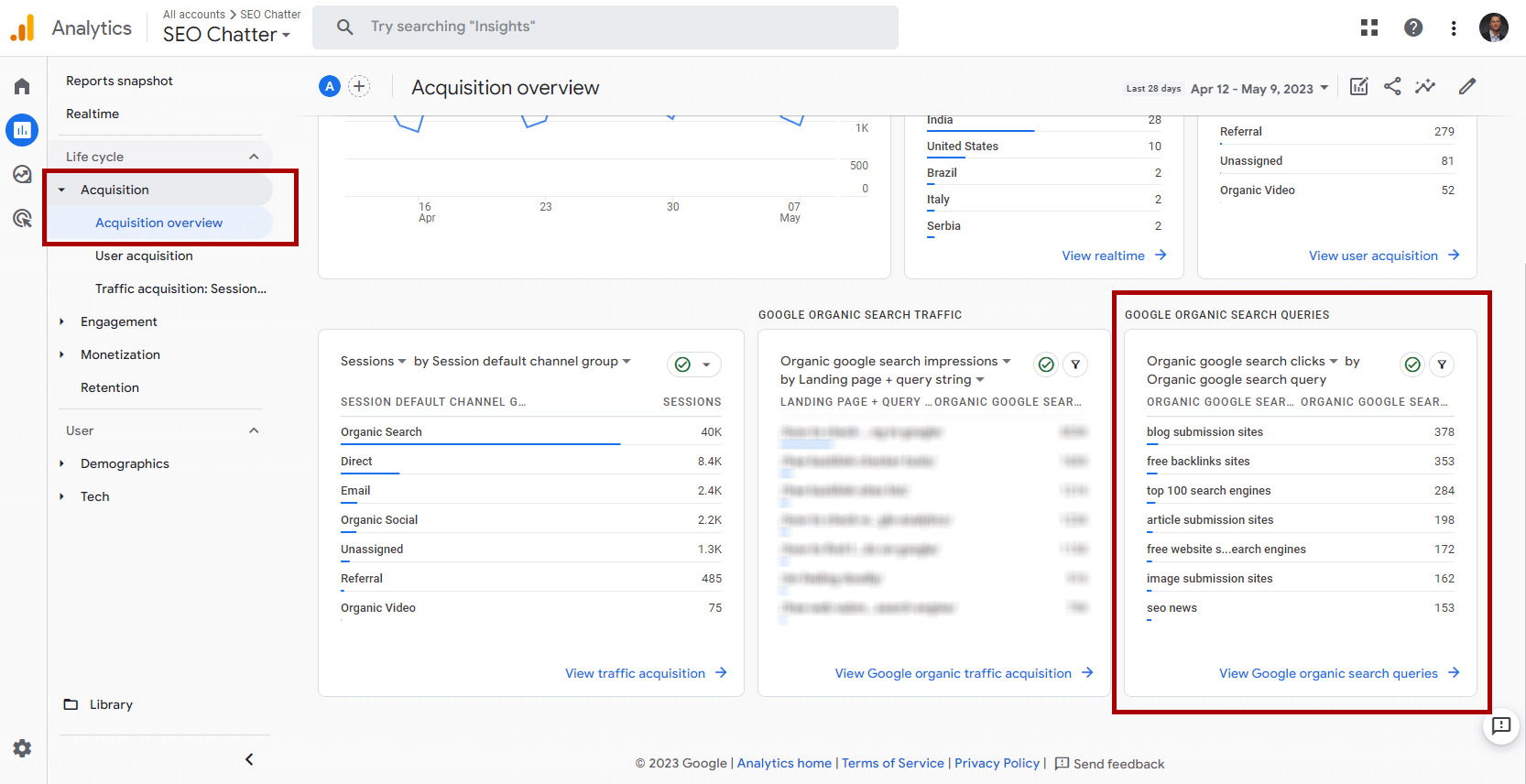 This method will show you the type of search queries your website is already ranking for and gaining traffic from, giving you a list of seed keywords to use in a keyword research tool like Semrush (mentioned previously) to uncover related long tail keyword ideas to target to capitalize on topical authority.
9. Find Long Tail Keywords In Answer the Public
Answer the Public is a free tool developed by well-known digital marketing expert Neil Patel that shows you relevant long tail search queries relating to a particular keyword.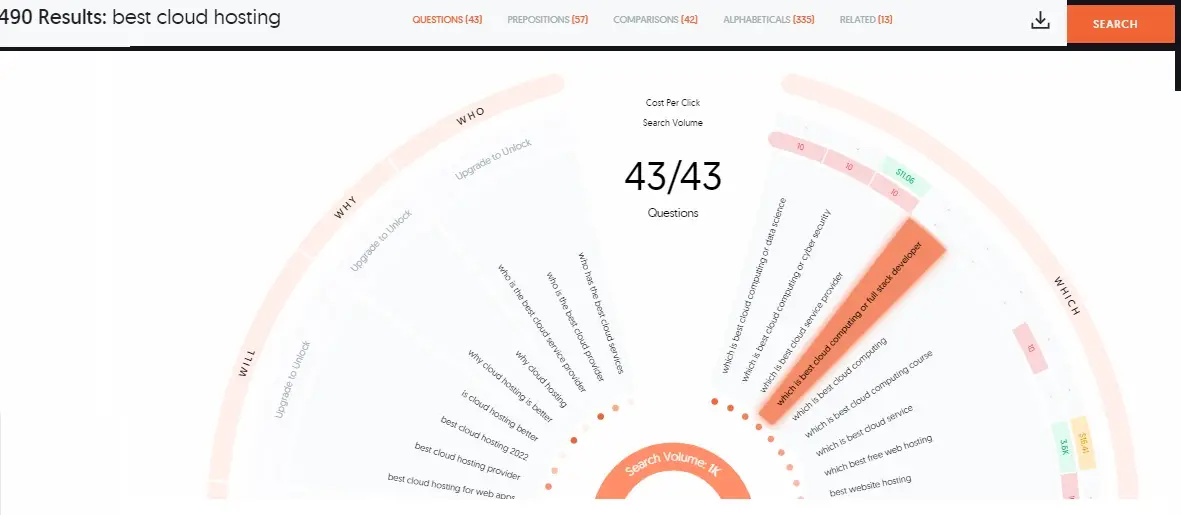 For example, if you're a cloud hosting provider, you could type in "best cloud hosting" and get a visual representation of the most popular long tail keywords with a search volume of at least 1,000.
Clicking on any of these keywords takes you directly to the search results page for that term so that you can assess the kind of content that's most likely to help you rank highly for that term.
Note: The public version of Answer the Public only gives you 1 free keyword search per day. If you register for an account, then you can get 3 free searches per day. Individual plans start at $9 per month for 100 searches per day. See this related guide with good Answer the Public alternatives to find comparable tools or long tail keyword research.
10. Analyze Your Competitors' Keywords 
Last but not least, if you want to learn how to find long tail keywords for free that you can focus on to outrank your competitors, the best approach is to look at what they're doing and figure out how you can do it better.
There are several ways for how to find competitors keywords by analyzing their ranking data with tools like Google Keyword Planner, Screaming Frog, KWFinder, and even looking at their sitemap.
From there, you just need to inspect each potential keyword to identify the phrases that are most valuable to your business. You also want to check the keyword difficulty score and ask yourself if you can create better content for the user. If so, then you should go after that keyword phrase.
Look for the long tail keywords your competitors are targeting in their content, including titles, headings, meta descriptions, and throughout the body text. Then, make sure you're targeting the same phrases with proper on-page SEO. See this related guide with the top on-page SEO factors for more details.
Following this step can speed up the keyword research process for finding long tail keywords for SEO content. Instead of guessing what works, you can pick off the top-performing keywords from your competition to maximize the return on investment for new SEO content.
Learn More About Long Tail Keywords
The links below explain more about long tail keywords and how to use them effectively for search engine optimization. Use these resources to expand your knowledge on the subject.
Find Long Tail Keywords for SEO Summary
We hope you enjoyed this guide explaining how to find long tail keywords for SEO.
As you discovered, you find long tail keywords for free using a variety of methods and tools such as Google Autocomplete, People Also Ask, forums, social media, keyword research tools, Google Analytics, Search Console, and by analyzing your competitors' top-ranking keyword data. Following these guidelines on how to identify long tail keywords can help you discover the best search queries you should be targeting to improve your website's online visibility and organic traffic.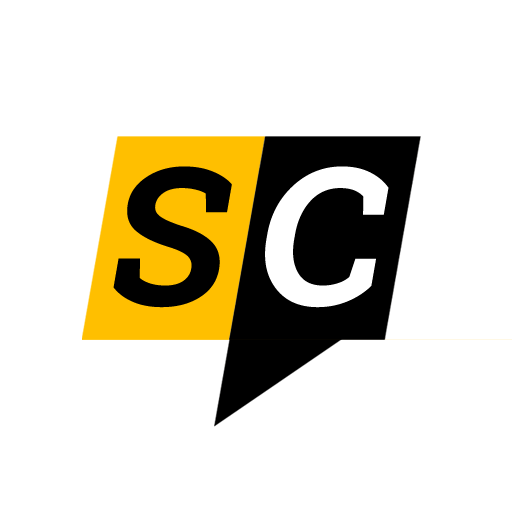 The Editorial Staff at SEO Chatter is a team of search engine optimization and digital marketing experts led by Stephen Hockman with more than 15 years of experience in search engine marketing. We publish guides on the fundamentals of SEO for beginner marketers.