This search engine optimization (SEO) guide explains how to build an SEO silo structure.
Below, you'll find a step-by-step guide showing you how to create an SEO silo structure that helps you boost your web page rankings, improve usability, and drive more traffic to your website.
There's also a section with additional resources that explain more about the fundamentals of website silo structure to help you create a better search engine optimization strategy that can help you achieve whatever SEO goals you have in mind.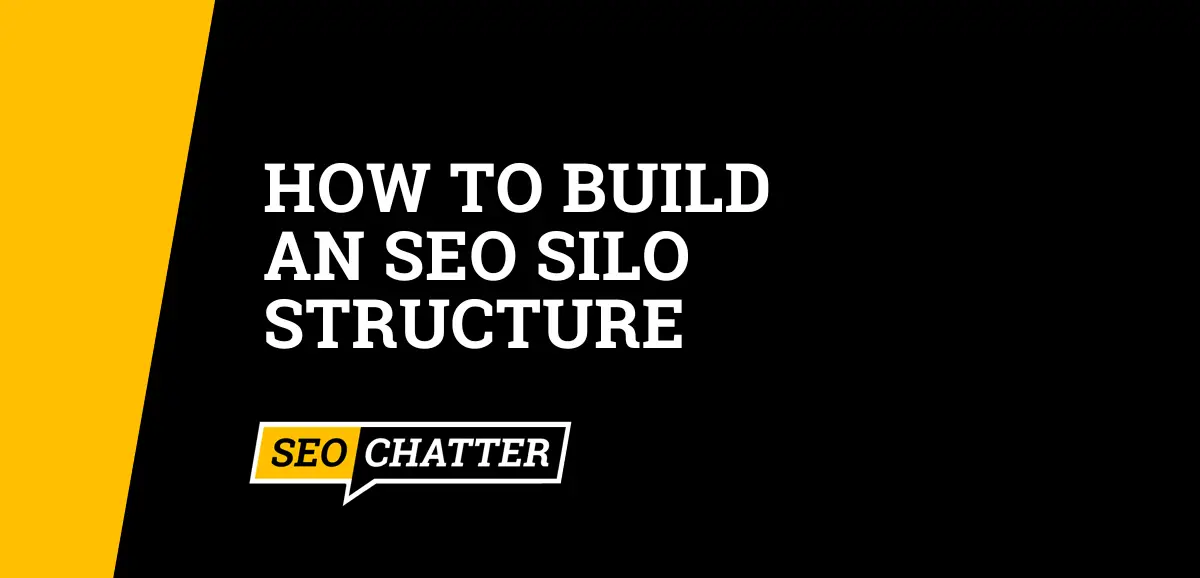 How to Build an SEO Silo Structure?
Content silos are broad categories that group your content by theme, typically with multiple sub-categories underneath the main category.
They help search engines understand how to index your site effectively and improve user experiences for your visitors, both of which can positively influence your search rankings.
Here's how to create them:
1. Identify Your Silo Topics
The first priority for building your silos is to identify which subjects they will cover. Ideally, these subjects will sit at the intersection of expertise and audience need.
Remember, one of the main reasons to create a content silo structure is to establish your website as an authoritative source of information on its subject, something which helps tremendously in meeting the Experience, Expertise, Authoritativeness, and Trust (EEAT) standards that Google maintains when determining how to rank content.
As such, you'll get the most out of your silos if you build them around the subjects you want your business, brand, or blog to be known for.
For example, if you run a travel blog about New York, you may want to build a reputation as the definitive source of information on hotels, tourist attractions, and places to eat in New York, which would give you your three main silos.
You can further narrow down which topics to begin working on by using a tool like Google Analytics to research which subjects your audience most wants to read about.
To give another example, suppose you run a food blog about regional cuisines. You may discover that your posts on Indian and Latin American foods generate most of your traffic, while your Italian and British food content gets no love whatsoever.
In that case, you'd likely make your first silos about Indian and Latin American food.
2. Create a List of Posts for Each Silo
Now that you know what subjects to focus on, it's time to list all the possible topics that could potentially sit within it.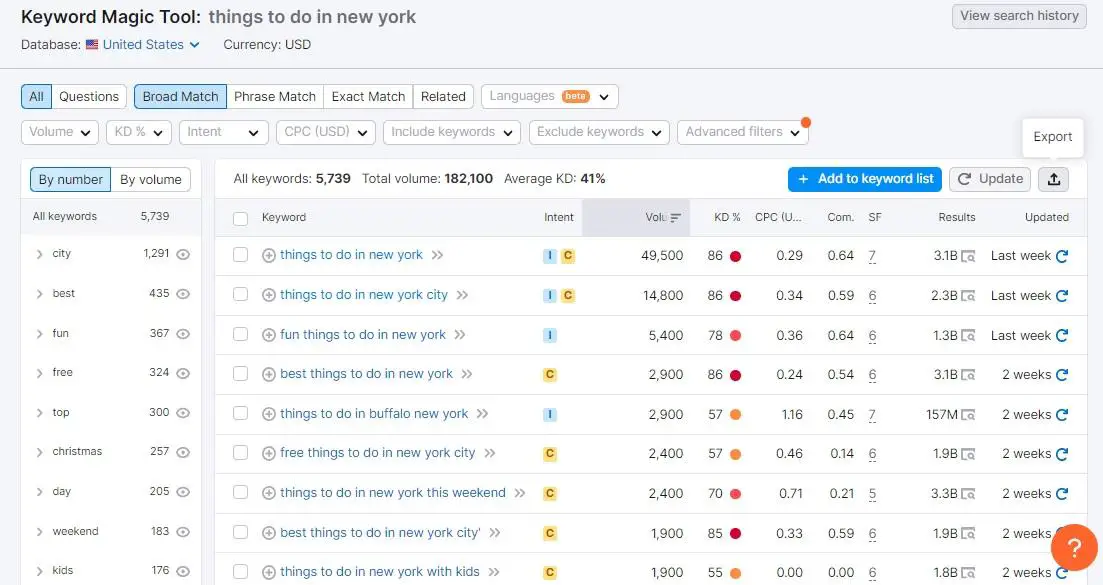 This is where taking the time to do effective keyword research will prove helpful.
To refer back to our New York Travel Blog, you may decide to create a silo around 'Things to Do in New York' which would show you that people are searching for terms such as 'best free things to do in New York' and 'things to do with kids in New York.'
Right away, you've got two potential big topics to cover that you can create sub-categories for in your silos.
From there, you'd come up with a list of free activities you could blog about, and likewise, for child-friendly activities, being sure to refer back to your keyword research to validate their value to your website.
3. Conduct a Content Audit
Depending on the size of your site, you can either do this next step manually or use a tool like Semrush Content Audit to make your life easier.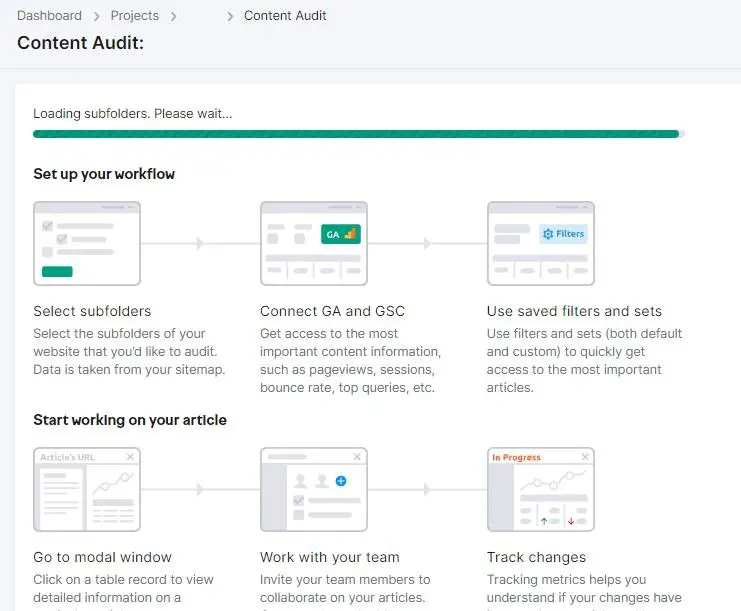 Either way, the goal is the same: To identify existing posts that may be suitable to include in your silos.
4. Create Your Content Map
A content map outlines where your content sits on your site and its relationship. This is a helpful feature for planning your silos before building out the content.
You can do this on pen and paper or use a tool like Lucid Spark to create your map as a flow chart.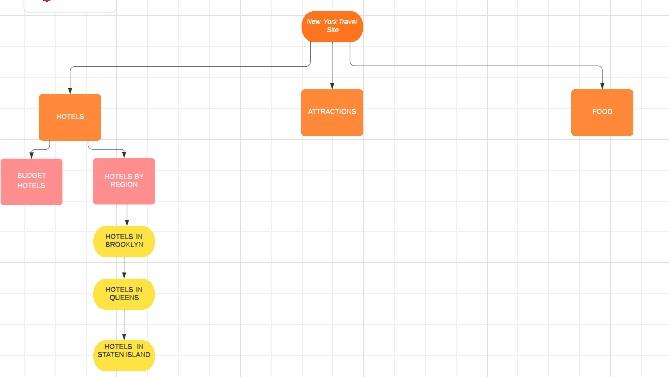 You can see an example of a work-in-progress content map in the image above. This content map will serve as a blueprint that will prove invaluable as you develop your website silo architecture.
5. Create Your Category And Subcategory Structure
Following the plan laid out in your content map, it's time to create the main categories within your website's structure.
There are two ways you can do this.
The first is to manually create folders on your hosting server via FTP or your hosting company's file manager, with one new folder for each main silo category and further sub folders for your sub-categories.
The second way applies if you're using a top CMS like WordPress, where you can create your category and sub-category structure from the WordPress dashboard.

Start by creating a new category for each main silo. These will be the "parent categories" under which you can add as many sub-categories as each silo requires. Of course, it's also possible to create sub-categories within sub-categories, for example:
6. Create Your Main Pillar Pages
Pillar pages are the gateway to the rest of your silos. They will typically be your longest and more detailed pages as they cover most of the significant aspects of the subject one brief section at a time, linking from each section to other pages within the silo to provide further reading.
If you think about your content silo as a hierarchy, your pillar pages will be at the top. Read our guide on pillar content strategy for detailed help on this step.
7. Create Your Sub-Category Pillar Pages
For the New York travel blogger example, the three main pillar pages would be Hotels, Attractions, and Restaurants. With those done, the next step is to create more pillar pages for all of the main sub-categories within each one.
For example, hotels would have 'budget hotels' and 'hotels by area' sub-category pages, attractions would have pillar pages for free, kid-friendly, and other activities, and so on. These sub-category pages will be the next step down on your silo hierarchy.
8. Create Your Posts
Here's where the real work comes in, creating posts on all of the individual topics within your silo. Remember, to benefit the most from silos, your content has to be as strong as possible. Our guide to content optimization can help with this step.
9. Manage Your Internal Links
Internal links are essential to making content silos work properly. They also just so happen to be an important ranking factor, which is why so many website owners use them.

The main task is to create a flow between your posts and pillar pages. All of your posts should link up to the pillar page of their sub-category, which should then link up to the main category pillar page. Your pillar pages then link back to individual posts where relevant.
Make sure to use keyword-optimized anchor text for the internal links to pass on-site SEO signals for the target keywords you want each page to rank for in search engines like Google, Yahoo, and Bing.
10. Update Your Website Navigation
Another key reason so many people use content silos is that they improve user experiences by making it easier for people to find the information they want.
To ensure an optimum user experience, you'll have to update your navigation menus to incorporate your silos, with the structure of your menu and sub-menu items following the same format as laid out in your content map.
Learn More About Content Silo Structures
The links below explain more about content silo structures and how they benefit your SEO efforts. Use these resources to expand your knowledge on the subject.
Build an SEO Silo Structure Summary
We hope you enjoyed this guide on how to build an SEO silo structure.
As you discovered, there are a number of steps you need to take to create an SEO silo structure that helps you achieve your SEO goals, starting with pinpointing your key silo topics and organizing your existing content, and finishing with updating your navigation.
Following these guidelines can help you reap the biggest rewards of website silo architecture, including improved search visibility, establishing your website as an authoritative source, and getting more visitors to your content.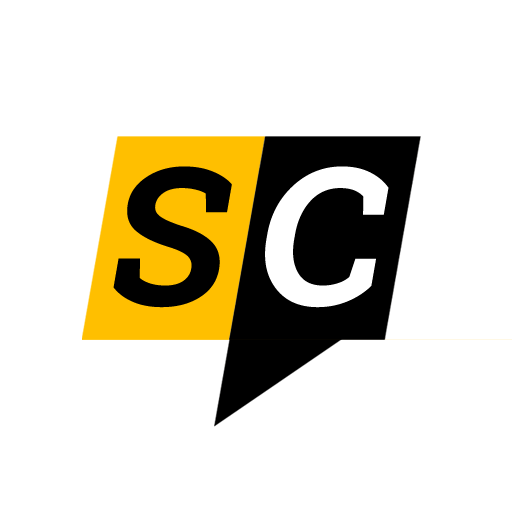 The Editorial Staff at SEO Chatter is a team of search engine optimization and digital marketing experts led by Stephen Hockman with more than 15 years of experience in search engine marketing. We publish guides on the fundamentals of SEO for beginner marketers.