If you're looking for a complete Ezoic Niche IQ Topic Suggestions review with real test results that show keyword rankings, then you'll find it here.
I've been using the Niche IQ platform since October 2022 and have been experimenting with various features like Topic Suggestions to help grow the organic traffic for several websites.
This Ezoic Topic Suggestions review will cover 12 keyword tests and their results. I'll also share my personal takeaways about the data and how the tool helped with keyword research and content planning so you can get additional insight from the experiment that can be applied to your own Niche IQ experience.
Disclosure: This is a sponsored post by Ezoic. All reviews and opinions expressed in this post are based on my personal views and use of the NicheIQ Topic Suggestions platform.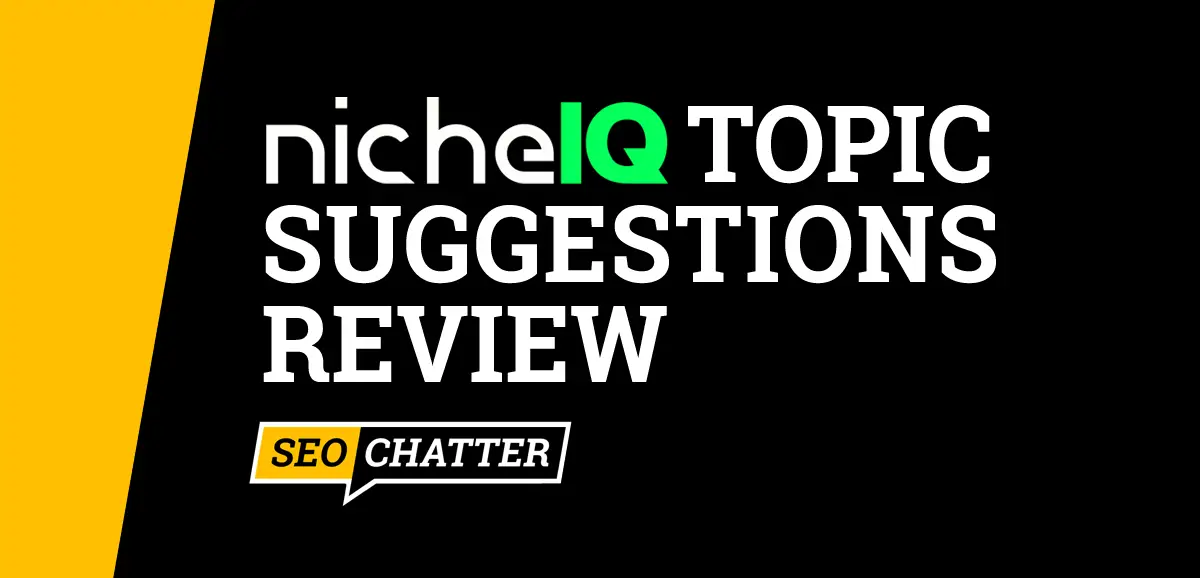 Ezoic Niche IQ Topic Suggestions Review
For this review, I selected a website I manage in the animal niche to test the Topic Suggestions provided by Niche IQ. It's a fun side project I created that's focused on answering common questions about animals. At the start of the experiment, the site had a Domain Authority score of 18.
The Topic Suggestions tool did an excellent job of finding good topics for me to cover based on the site's topical and domain authorities as you'll discover in this walk-through.
Initial Topic Suggestions By Niche IQ
The image below shows the initial Topic Suggestions by Niche IQ based on the types of content published on the animal site. Some of the suggestions were ideas I had never thought about, such as "corn snake vs copperhead", while others were spot on with the existing content I've been publishing, such as "are iguanas native to florida".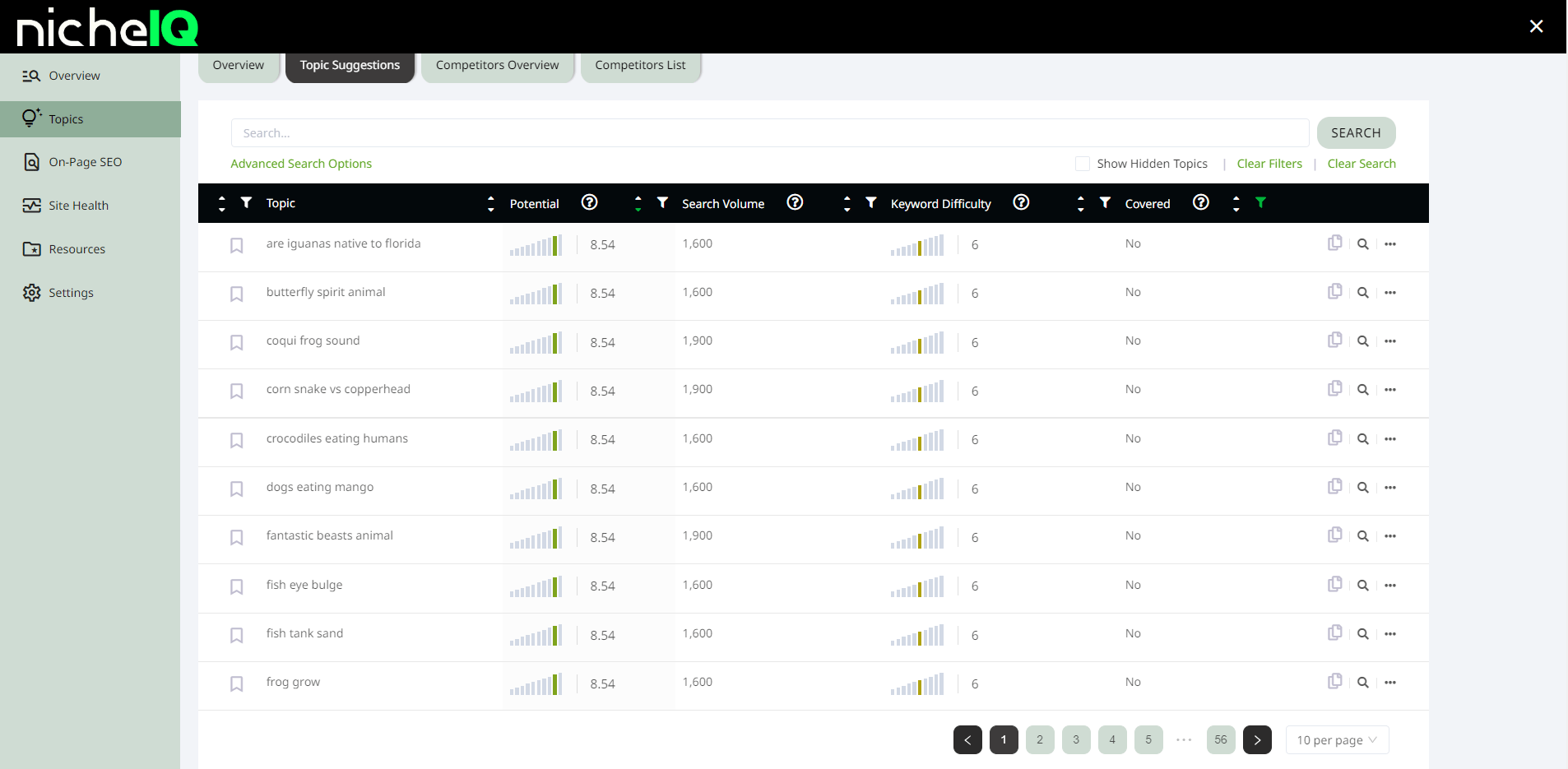 Filtering Topic Suggestions By Question Type
To help refine the list of Topic Suggestions to use in my tests for this review, I used the search bar to filter for question-based ideas. The nature of the animal site is to answer common questions about animals that start with "what", "why", "how", "are", "when", etc. Therefore, I wanted to eliminate all topic ideas that were not focused on questions by filtering for keyword phrases that only included those types of question-based starting words.
As you can see in the images below, there was a large number of potential topics I could cover that were based on common questions people have about animals. When I found a keyword phrase I liked, I used the bookmark feature (blue icon in the lefthand column) to store it in my list of bookmarks for later analysis.
At this stage, I was just collecting topic ideas for my tests and would choose the final keyword phrases after I was done going through the entire list of suggestions (about 560 ideas in total).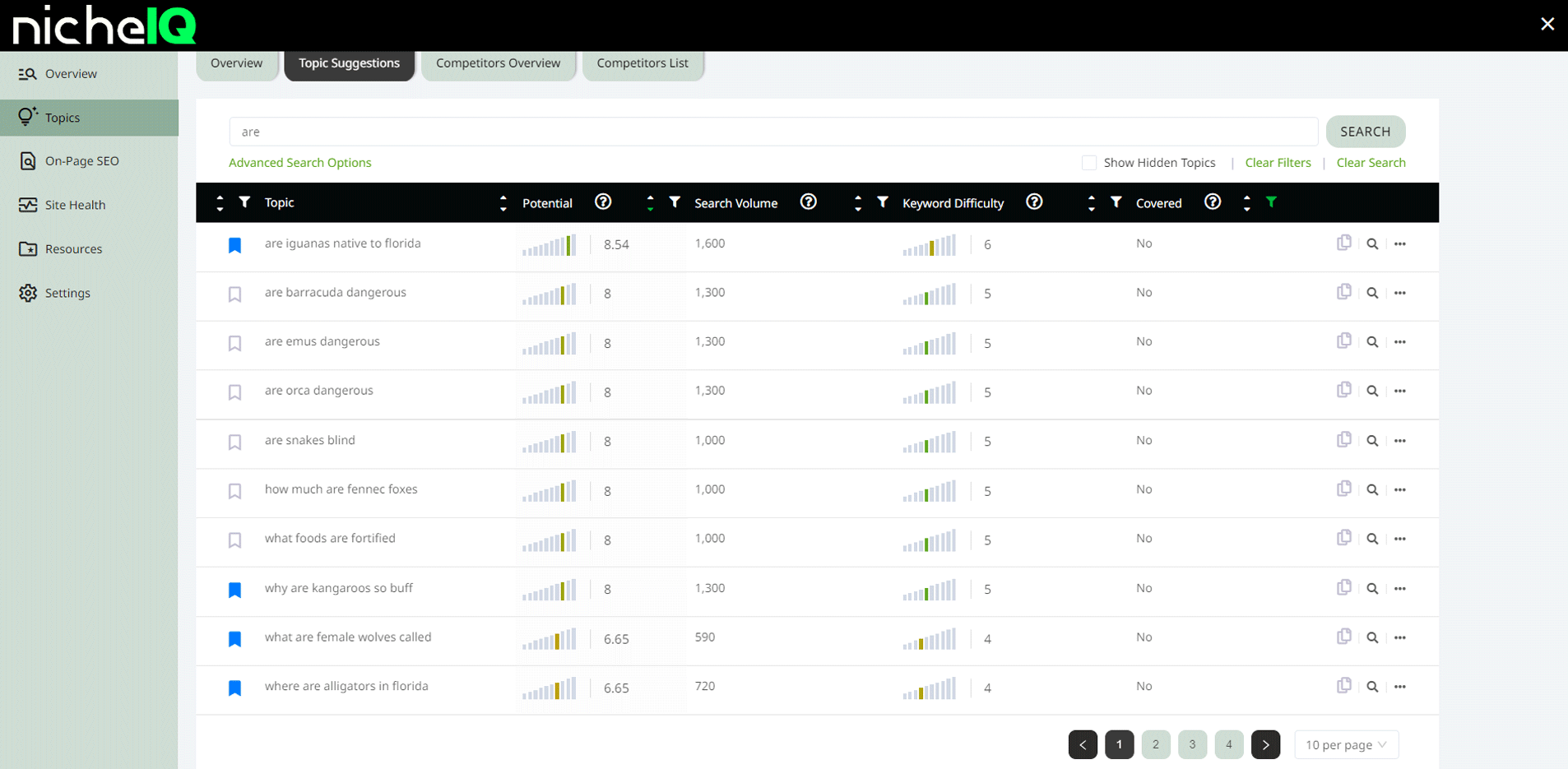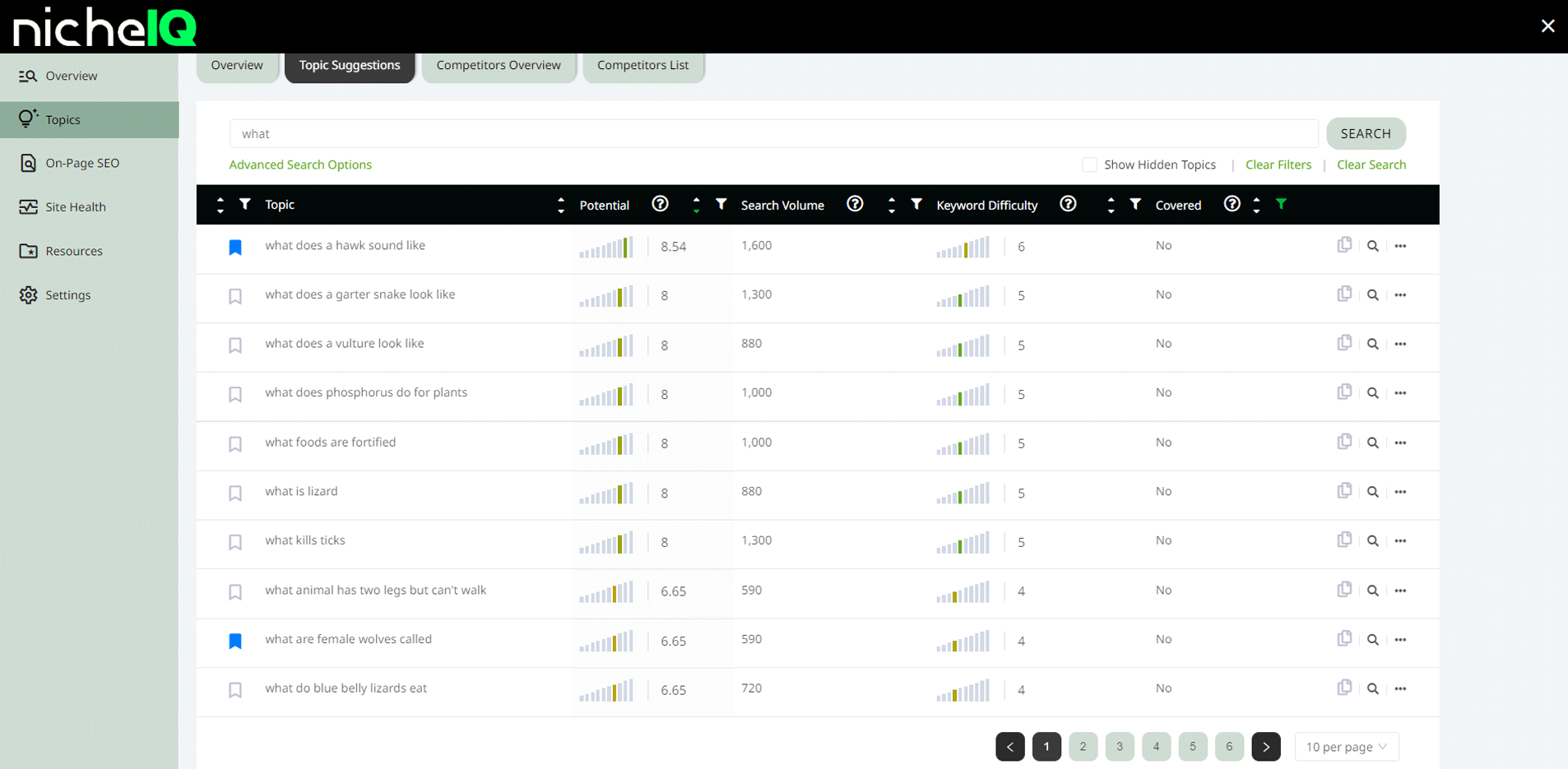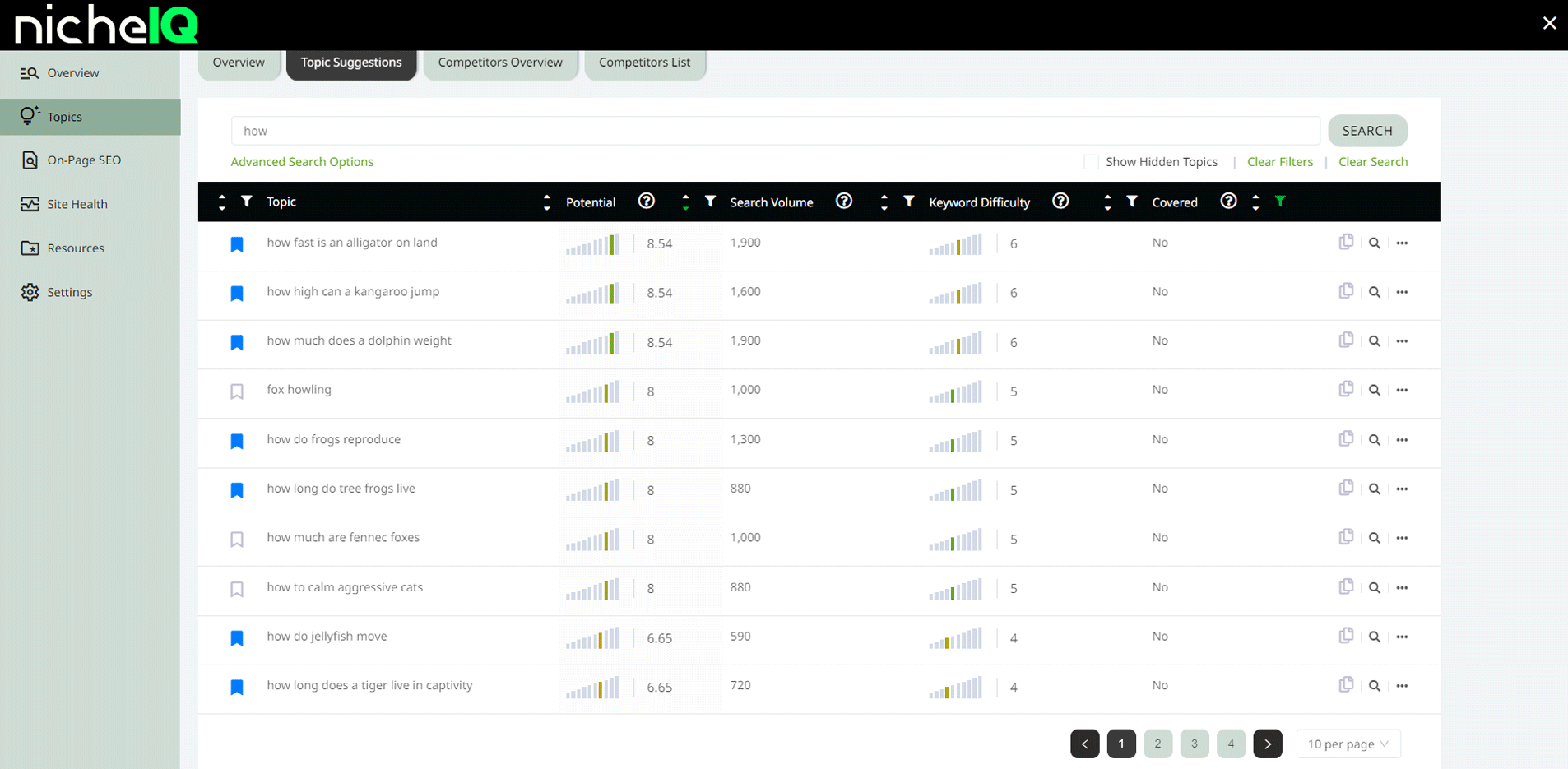 Final List of Bookmarks
After I had gone through all of the question-based Topic Suggestions in Niche IQ, and bookmarked the ideas I liked, I had around 20 keyword ideas on my list. The next step was to narrow down the list to the final Ezoic Topic Suggestions I would use for this test and map out my content strategy for this review.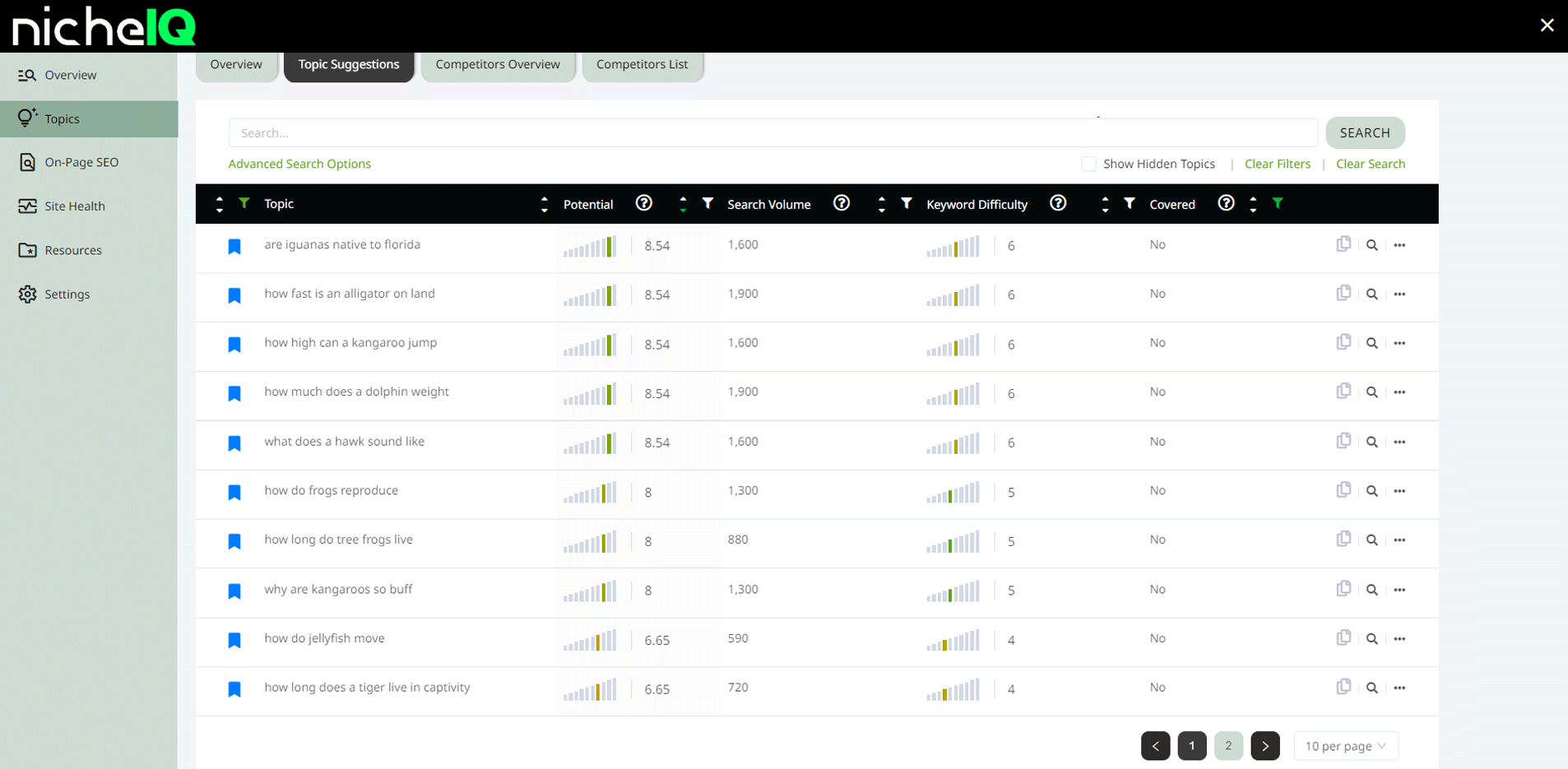 Content Strategy Based On Topic Suggestions
According to Ezoic's Guide to Using Topic Suggestions, the top recommendations to follow for choosing good topics to cover for new content include two important factors for SEO:
Potential: This metric reflects the perceived value of the topic for the website. It's calculated on a scale between 0-10 and takes into account estimated traffic, relevancy to the domain, and Keyword Difficulty. Potential values closer to 10 indicate a greater potential that the topic will bring in traffic to the website.
Keyword Difficulty: This metric reflects how well the domain will perform in the search results for the topic. It's calculated on a scale between 0-10 and is based on the search volume, Domain Authority, and relevancy of the topic to the website. The optimal Keyword Difficulty score to aim for is between 4-6, which means there's a good balance between how much organic traffic a topic can bring and how difficult it may be to rank well for it in the search results.
Based on those two recommendations by Ezoic, I decided to use the following parameters for selecting the final topics to target on the animal site for this review:
Potential value between 6-10.
Keyword Difficulty score between 4-6.
Those two parameters narrowed the final list to 12 keyword ideas, which you'll find in the next section of this review that contains the test results.
Test Results
Below is a table containing my test results for this Niche IQ Topic Suggestions experiment. The table includes the 12 topic ideas I selected and targeted for this review along with their Potential value, Keyword Difficulty score, initial indexed positions in Google's search engine, ranking positions after 10 days, and final position during the review time period which was between February 1 to 28, 2023.
Topic Suggestion
Potential
Keyword Difficulty
Indexed Position
Position In 10 Days
Position On
2/28/23
how long does a tiger live in captivity
6.65
4
#11
#10
#13
how do jellyfish move
6.65
4
#21
#12
#10
how long do tree frogs live
8
5
#40
#40
#16
how do frogs reproduce
8
5
#32
#28
#30
how much does a dolphin weigh
8.54
6
#8
#1o
#9
how fast is an alligator on land
8.54
6
#25
#100+
#12
how high can a kangaroo jump
8.54
6
#6
#10
#8
what are female wolves called
6.65
4
#7
#10
#9
what does a hawk sound like
8.54
6
#5
#7
#6
are iguanas native to florida
8.54
6
#18
#20
#22
why are kangaroos so buff
8
5
#10
#9
#9
where are alligators in florida
6.65
4
#100+
#100+
#100+
Now, here's a screenshot from the Mangools SERPWatcher keyword rank tracker tool I used to track each of the pages I published on the animal site. This image shows the current ranking positions of the keywords that start with the word "how" along with their best positions over the review time period, average search volume, and estimated visits based on those positions: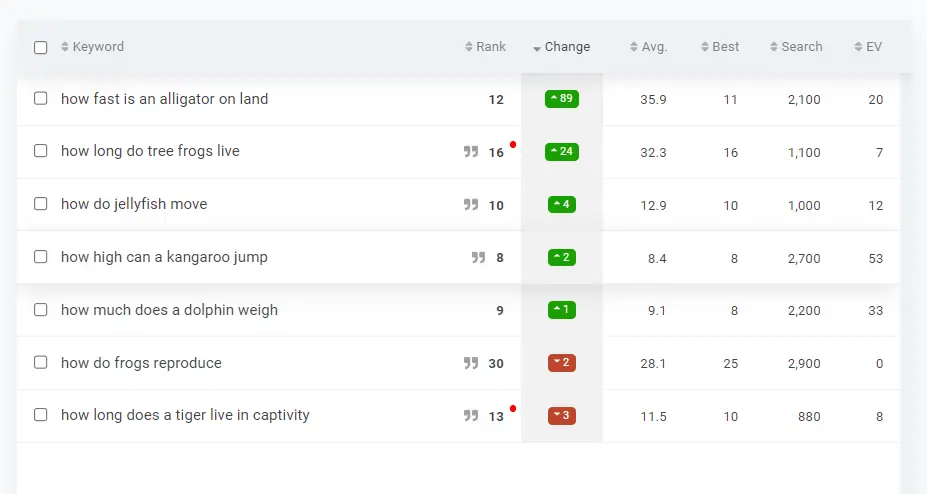 Takeaways from This Test
Overall, I was pleased with the results. A good number of articles ranked on the first page of Google the same day there were published.
5 out of 12 pages immediately ranked in the top 10 positions and 6 were on the first page of Google by the end of the review time period.
Only 1 page didn't break through the top 100 positions during the review period. Note: On March 1, 2023, it ranked at position #40 so there's still hope for it!
The Niche IQ Topic Suggestions tool made it quick and easy for me to generate new ideas to publish content on the animal website. I typically spend a few hours using a keyword research tool to uncover potential terms to target and this feature of Niche IQ saved me hours of time because the ideas were instant.
After further analysis, some Topic Suggestions like "how fast is an alligator on land" had many direct competitors in the SERPs with the exact match keyword phrase (or something close to it) in the meta title tag, making it tougher to compete with on-page SEO alone. Some of the articles may need quality backlinks to push them higher in the rankings.
Not every Topic Suggestion is going to be an immediate winner in the SERPs when you publish the content. However, they can gain higher rankings over time without doing anything extra. For example, the page written about "how do jellyfish move" went from position #20 to #10 and the page about "how long do tree frogs live" increased from position #40 to #16 by the end of the review period.
The Topic Suggestions tools gave me some other good ideas for non-question-based content with high Potential and low Keyword Difficulty that I hadn't thought about for new articles. For example, "animals beginning with Q" and "interesting dolphin facts". I could replicate the first idea for the entire alphabet and the second idea for every type of animal I cover on the site without having to do any further keyword research.
Now, Niche IQ also has another powerful feature called Page Booster. See my Ezoic Page Booster review to find out how this tool can help you identify web pages that are underperforming with organic search traffic and get keyword insights that can help you regain that lost traffic.
I also have a complete Ezoic Humix Review that includes real test results for monetizing a website with video content from the Humix platform.
Ezoic Niche IQ Topic Suggestions Review Summary
I hope you enjoyed this Ezoic Niche IQ Topic Suggestions review.
As you discovered in my Topic Suggestions tests, many of the keyword phrases were easy to target for SEO and fit perfectly with the subject matter of the animal website I used for this project. However, it's important to keep in mind that these Niche IQ experiments were based on my personal experience and you could have better or worse results.
Therefore, I encourage you to conduct your own review of Topic Suggestions in Niche IQ by selecting the best keyword phrases that match the parameters that are important to you in your testing and the long-term goals you have for your website.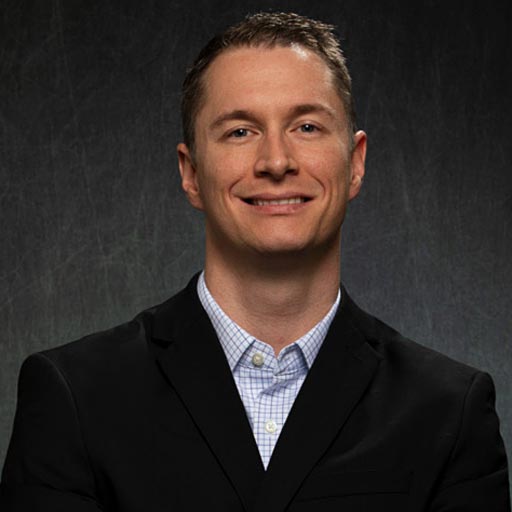 Stephen Hockman is an entrepreneur and founder of SEO Chatter. He specializes in search engine optimization and digital marketing and has been fascinated with SEO since 2005. His goal is to share the best tips and news about search engine marketing to help you get more website traffic.