In this guide, you'll learn about blog marketing.
As you'll discover below, a blog can be an effective marketing strategy to drive more awareness for a company's brand while also advertising its products and services without being too self-promotional.
We'll start with the definition of blogging in marketing and then move on to an overview of how it works to attract potential customers. Next, you'll get an explanation of the top benefits of this digital marketing strategy as well as a list of blog marketing examples to help you fully understand this concept.
By the end of this article, you'll know everything there is about using a blog for marketing your business on the Internet.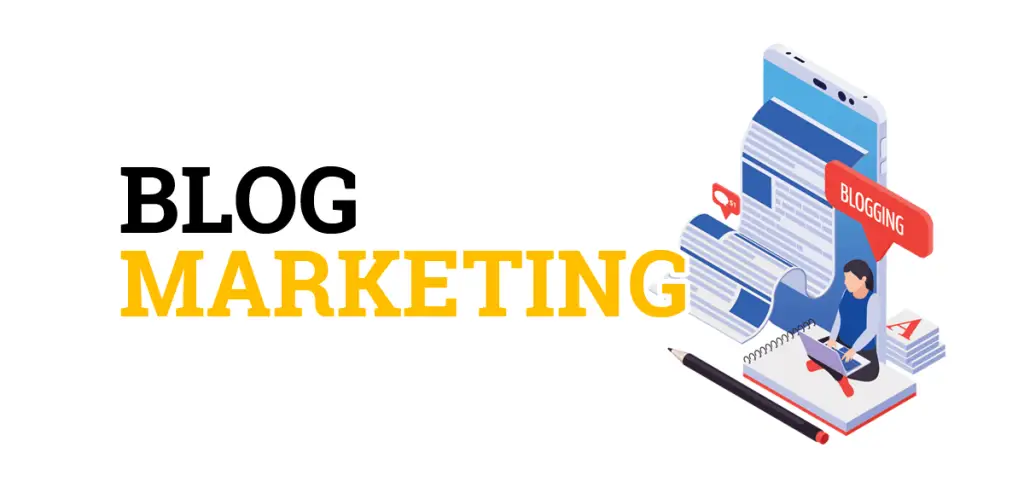 What Is Blog Marketing?
Blog marketing is a content marketing strategy that reaches a target market through the use of a blog. The blog marketing process consists of publishing blog posts that help get people interested in a company's product or service.
Purpose of Blog Marketing
The purpose of blog marketing is to inform readers about a topic while also increasing the visibility of an organization to push readers toward buying a product or service. Blogging in marketing creates a more engaging website for a brand that is educational and helpful for a business's target group.
How Blog Marketing Works
Blog marketing works by giving a business a marketing platform to connect with its audience to address potential customers directly and indirectly. The process of blog marketing includes publishing content about industry news, market trends, products and services, and relevant topics to establish expertise and credibility.
Blogging in marketing also works to show potential customers that there are real people behind the brand who care about educating and helping their target audience instead of just promoting their own products and services. When used correctly, a blog is an effective marketing channel for demonstrating to customers that the business has proven experience in its industry and is willing to pass on its expert knowledge to others regardless if they purchase something or not.
Blogging can be used as a strategic combination of content marketing and SEO. However, for blog marketing like this to work best for a business, you need to publish content that attracts potential customers at each stage of the buyer's journey as mentioned below.
Awareness Stage
At this stage, the prospect is aware of their problem and looks for content to educate themselves about the nature of the problem to help them define it. Example types of blog content for marketing at this stage include posts that answers questions in your industry such as "who", "what", "when", "where", "why", "how", "can", "do", "does". You can also focus on topics like improvement, troubleshooting, and resolving problems for your target market.
Consideration Stage
During this stage, the prospect has a clearly-defined problem and needs to investigate the available options for a solution. Examples that fit into this stage include blog posts focusing on SEO keywords with the words "best", "top", "review", "types", "service", "solution", etc. A well-researched and in-depth blog post that gives people the top options to consider (including your own products or services) is one of the most effective types of blog marketing content that can drive sales and conversions without looking like self-promotion or advertising.
Decision Stage
By this stage, the prospect knows exactly what solution they require and is looking for relevant content to help them make a decision. Examples of blog content that can be used for marketing to customers at this stage include targeting keyword topics around words like "compare", "versus", "buy", "deals", "coupons", "discount code", "pricing", "demo", and "testimonials". If you're selling products or services directly to customers, then your blog marketing strategy should consist of publishing blog posts around as many of these topics as possible.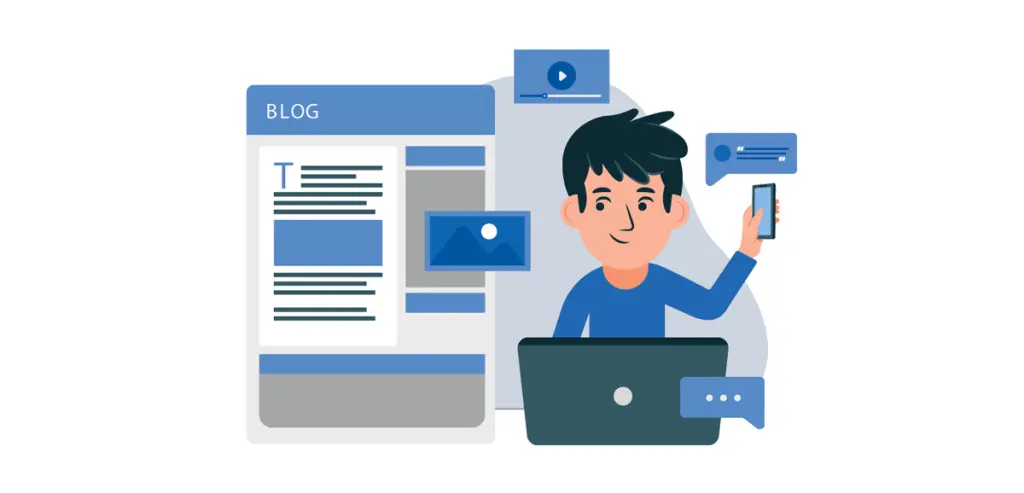 Benefits of Blogging In Marketing
There are many benefits of blogging in marketing, including:
Easy to start with a free blogging platform like WordPress.
Low-cost advertising method for any size budget.
A blog marketing strategy produces long-term results.
Blogs offer a good foundation for other marketing channels (e.g., email marketing, social media marketing, and PPC campaigns).
Increases revenue opportunities by attracting customers at various stages of the buyer's cycle and sales funnel.
Blog posts increase organic traffic to your websites from search engines like Google, Yahoo, and Bing.
Helps your company connect with its audience directly.
Businesses can share timely information with potential and current customers.
Showcases an organization's expertise to establish more trust and credibility.

Blog marketing is a good public relations tool that can attract the attention of news outlets and journalists.

Blogs give companies a voice that allows them to promote their brand stories, share employee highlights, reveal innovative ideas,

and become thought leaders in their industries.

Using a blog in marketing helps businesses find out what type of content works best for their target audience. By analyzing user metrics like click-through rates (CTR), pageviews, average time on page, pages per session, bounce rate, etc, organizations can make better-informed digital marketing decisions.
Blog Marketing Examples
Here are some blog marketing examples you can use to help generate ideas for your blogging strategy:
How Much Do Fiberglass Pools Cost? (Awareness Stage)
What Does Business Insurance Cover? (Awareness Stage)
Do Puppies Need Wet Food? (Awareness Stage)
Why Is My Toilet Not Flushing? (Awareness Stage)
Types of Inground Pools (Consideration Stage)
Best Business Insurance for Contractors (Consideration Stage)
Top Wet Food for Puppies (Consideration Stage)
Toilet Repair Kit Reviews (Consideration Stage)
Fiberglass Pools vs Vinyl Pools (Decision Stage)
Hartford Compared to Next Insurance (Decision Stage)
Buy Blue Buffalo Puppy Food Online (Decision Stage)
Home Depot Discount Codes (Decision Stage)
HubSpot Marketing Software Pricing (Decision Stage)
Using examples like these for your blog posts, you can gain more organic search engine traffic. However, there are also blog submission sites you can use to submit your blog to third-party sites to generate high-quality backlinks for off-page SEO, which is a ranking factor for search engines like Google, Yahoo, and Bing.
Now, if you'd like to learn more ways to use blogging and other digital marketing strategies to grow your business, then check out this list of online marketing tips. It includes the top ideas any business can use for success.
Blog Marketing Summary
I hope you enjoyed this guide on blog marketing.
As you discovered, blogging in marketing is a strategy that helps your business reach a target market through the use of a blog. The process consists of publishing blog posts on relevant topics that help get people interested in a company's products or services. Any organization can use a blog for marketing, and the benefits of this content marketing strategy are endless for driving brand awareness, reaching new customers, and increasing revenue.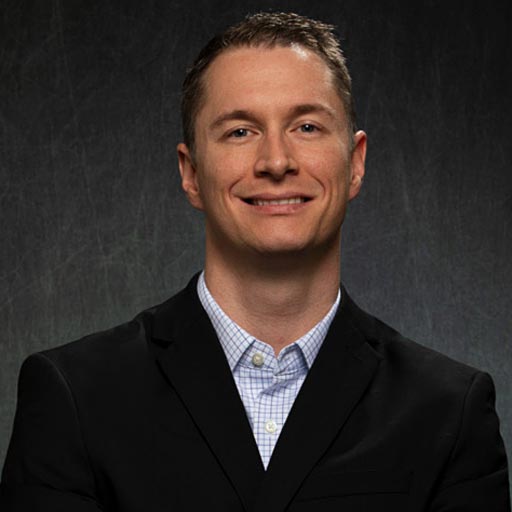 Stephen Hockman is an entrepreneur and founder of SEO Chatter. He specializes in search engine optimization and digital marketing and has been fascinated with SEO since 2005. His goal is to share the best tips and news about search engine marketing to help you get more website traffic.