This guide explains topical authority in SEO.
Below, you'll find out what is topical authority, how it works, and ways to build topical authority for your website by thinking about what users want, doing keyword research, and planning your content around those factors.
There's also a section with additional resources that explain more about the fundamentals of topical authority to help you create the most effective search engine optimization strategy for your site.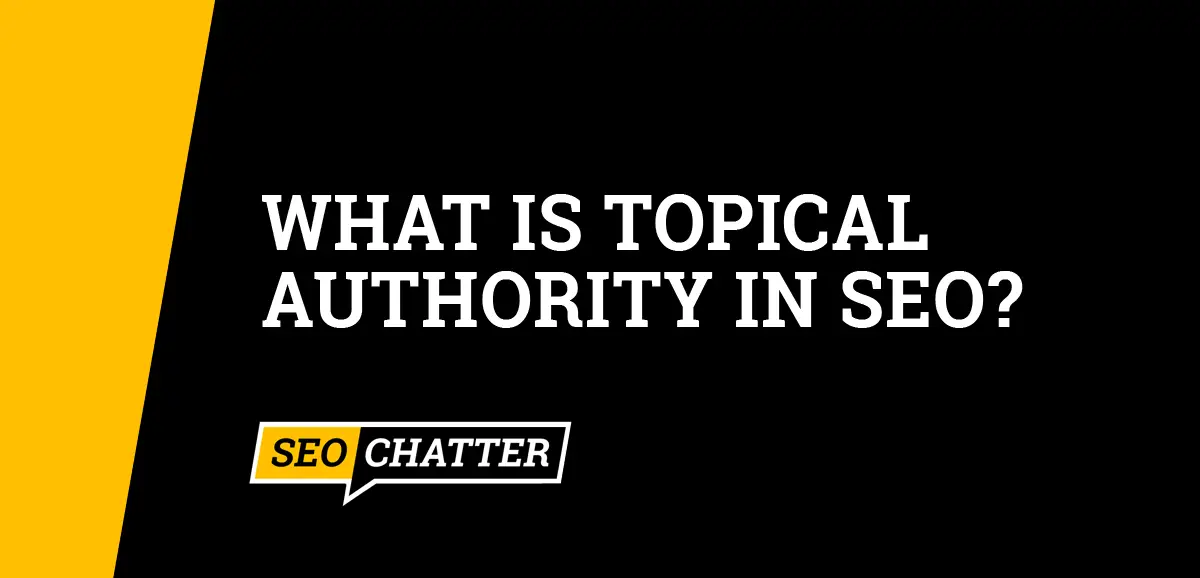 What Is Topical Authority In SEO?
Topical authority is the authority your website has on a specific topic that is measured by the expertise it demonstrates through high-quality content. Topical authority improves your website's credibility and trust for both users and search engines.
The concept of topical authority is important in SEO because it's a strong ranking factor for search engines like Google, Yahoo, and Bing. Google's Search Quality Rater Guidelines, for example, include a component called Authoritativness which is part of the E-E-A-T criteria for ranking web pages (Experience, Expertise, Authoritativeness, and Trust).
When your website demonstrates topical authority on a subject, it's more likely to rank for the relevant keywords across the entire topic. Therefore, you should work to improve your site's topical authority on the subject matters that are most important for your business.
How to Build Topical Authority
1. Find Your Score
You can figure out your site's performance regarding topical authority in SEO by using a tool like Semrrush, Moz, or Ahrefs. For example, in Semrush, you can check the Authority Score of any website by typing it into the search bar: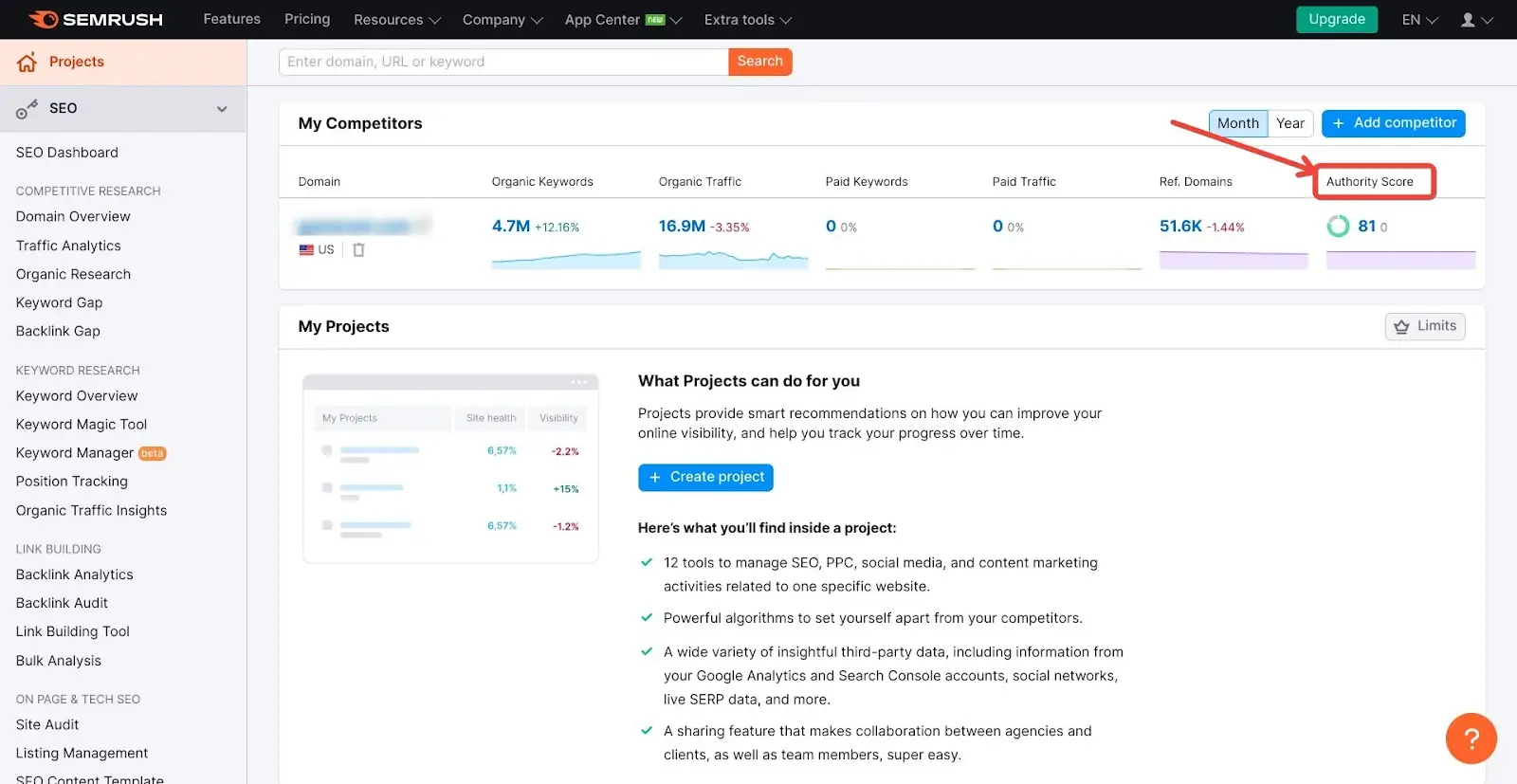 In this case, the topical authority score is based on backlinks, referring domains, and organic search traffic. It also considers spam factors and will detect spam or manipulation, which will lower the score. The higher the number, the better. Ideally, you want to build up that number to get closer to 100.
2. Do Topical Keyword Research
If you want to improve the topical authority of your website and have it seen as a knowledgeable source on a certain subject, then you'll need to provide plenty of content in that area that covers everything users are looking for.
But the first step to do that is to perform topical keyword research. Look for keywords within your niche that are based on the same topic, and plan content around it. Getting specific is important for SEO. For example, if you wanted to write about video games, the keyword "video games" is pretty vague and highly competitive.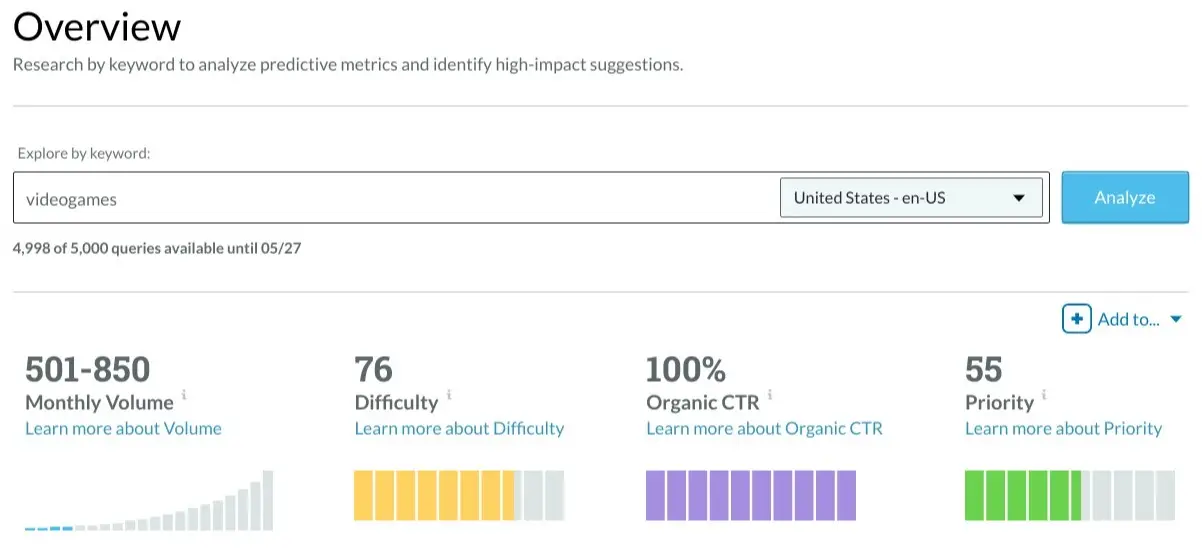 As you can see in Moz Keyword Explorer, video games as a keyword has a high difficulty and will take a lot of effort to rank using that keyword. Thinking about specific topics under that umbrella will find keywords that have a lower difficulty score.
Searching for semantically related keywords will bring up some better options to target for SEO. In the example below, Moz returned some more specific keywords, including "history of video games", which has a slightly easier difficulty score: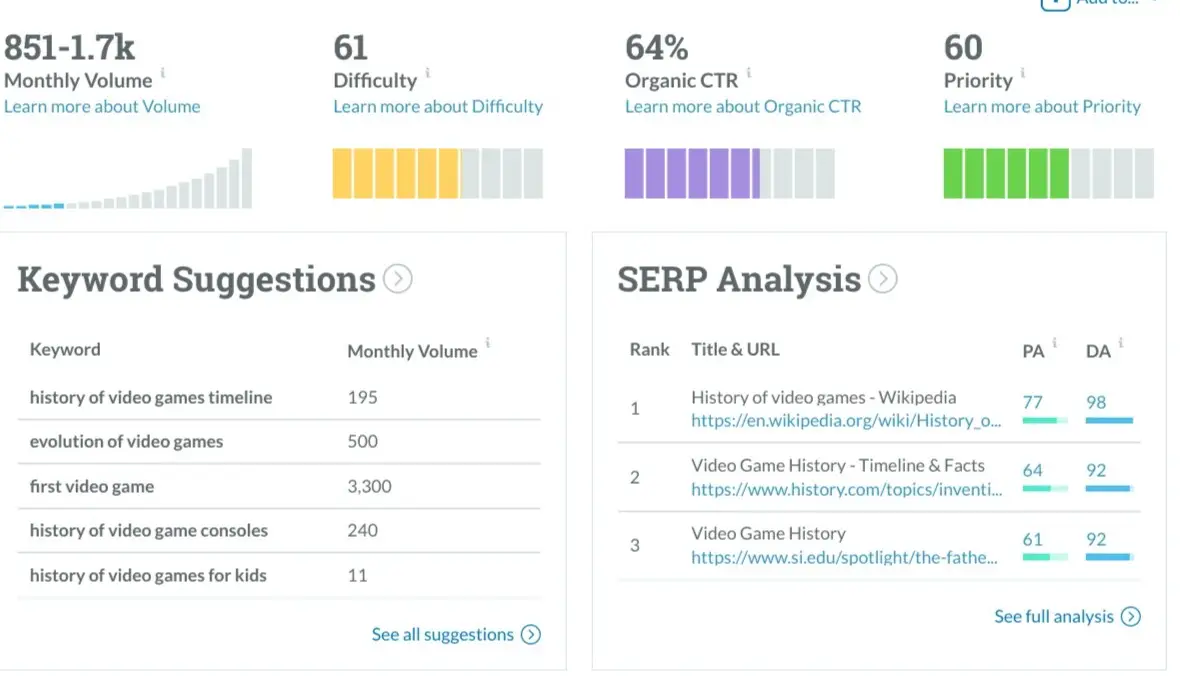 Looking for topically related keywords in this way will give you a good idea of what your users truly want to find information for online. In this case, users want to learn more about the history of video games, which brings up even more specific keywords, like "evolution of video games", "first video game", and "history of video games for kids".
3. Plan Content
Now that you have a list of keywords, it's time to focus on content planning. For this step, it's helpful to think of topics in terms of clusters. This means organizing content into sections, linked together by a pillar page and its supporting pages to boost topical authority in SEO.
Think of pillar pages as long, in-depth introductions to a specific topic. For example, 'The Beginner's Guide to PC Gaming" would be a good pillar page for users to find beginner-friendly information about this general topic. This pillar page would also include internal links to the sub-topics that are discussed in the content, all of which come under the umbrella of PC gaming.
While pillar pages are long, they shouldn't go in-depth into the specifics; instead, they should link to other articles that are based on that particular sub-topic. For example, a good sub-topic here would be "Laptops vs Desktops for PC Gaming" which includes general information on the pillar page and an in-depth article covering all of the nuances of each computer type on the sub-topic page.
Planning content in this way not only helps you to stay organized but also helps you to keep topical authority in mind for SEO. You're aiming to become a trusted source of information in your particular niche. This means covering all the bases and providing users with easy-to-find information on everything in that topic to satisfy their needs.
The combination of pillar pages and supporting pages is a good way to establish your site as a place of authority on that topic because you're covering every aspect of the subject matter as both a general overview and with in depth content.
4. Create High-Quality Content
Whether you decide to write the content yourself or bring in other writers, it's important to create high-quality content that can rank in the search engines. This means finding people who truly understand the niche you're working in to create the type of content that satisfies user search intent.
Generally, people want practical information and highly informative articles, with images and potentially videos, broken down into an easy-to-read layout.
When writing content for topical authority, make sure that it is:
Well-Written: The better the writing, the more engaged your audience will be.
Thoroughly Researched: You want the information on your site to be as accurate as possible. Factual errors and incorrect details can create higher bounce rates, fewer natural backlinks, and ultimately, lower search engine rankings.
Personal: Using personal stories or showing how the writer is an authority on a subject helps to establish expertise and shows Google (and the reader) that you are credible and not just using AI to create content.
Using Keywords Naturally: Make sure the content includes the keywords you uncovered during the keyword research stage. This must be done naturally and needs to flow well with the rest of the content while following good on-page SEO best practices.
5. Use Internal Links
Internal links are very important for building topical authority for SEO. As mentioned previously, you want to interlink your pillar pages with their supporting pages and vice versa.
However, a key component of boosting topical authority with internal links is to make sure that they are keyword-optimized for the target keyword you want the linked page to rank for in search engines like Google, Yahoo, and Bing.
This is an important step in building topical authority in SEO because the search engine crawlers use the anchor text of internal links to help understand the primary topics for the page. If the anchor text is generic, or not hyper-specific to the page's content, then it can dilute this important SEO signal.
Therefore, you should ensure that each piece of content on your site links to the other articles in the same topic cluster while also using a mixture of exact match and phrase match keywords for SEO to improve the on-site SEO signals for topical authority.
Topical Authority In SEO Summary
We hope you enjoyed this guide about what is topical authority in SEO.
As you discovered, topical authority is the authority your website has on a specific topic that is measured by the expertise it demonstrates through high-quality content. Topical authority is important because it improves your website's credibility and trust for both users and search engines. And the steps for how to build topical authority include finding your current authority score, doing topical keyword research, planning out content clusters, creating high-quality content, and using internal links to boost topical authority across each article.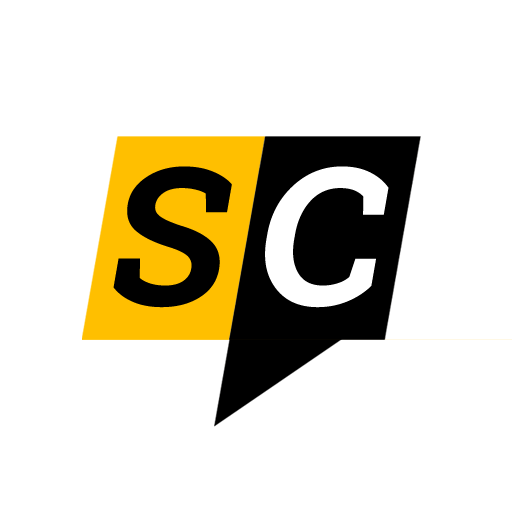 The Editorial Staff at SEO Chatter is a team of search engine optimization and digital marketing experts led by Stephen Hockman with more than 15 years of experience in search engine marketing. We publish guides on the fundamentals of SEO for beginner marketers.