This guide includes a list of the best keyword cannibalization checkers for SEO.
Below, you'll find the top keyword cannibalization checker tools you can use to improve your website's search engine optimization (SEO) strategy. The recommendations on this page contain a variety of options to help you find the perfect keyword cannibalization software for your digital marketing needs and budget.
Disclosure: This page includes affiliate links for a few of the keyword cannibalization tools. When you purchase a paid subscription, I may earn a commission.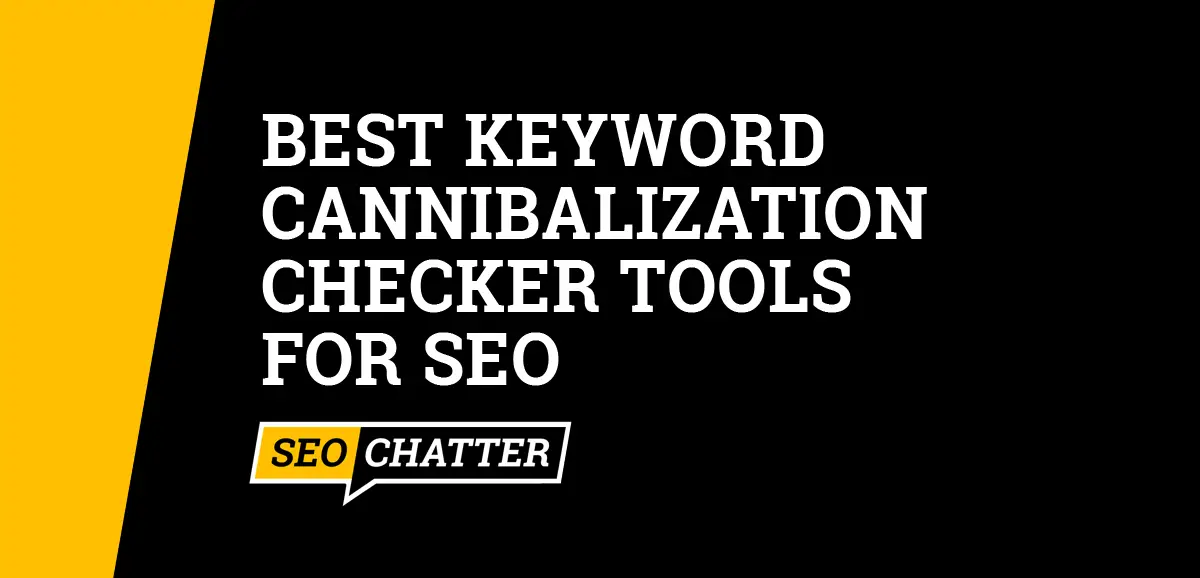 Best Keyword Cannibalization Checker Tools for SEO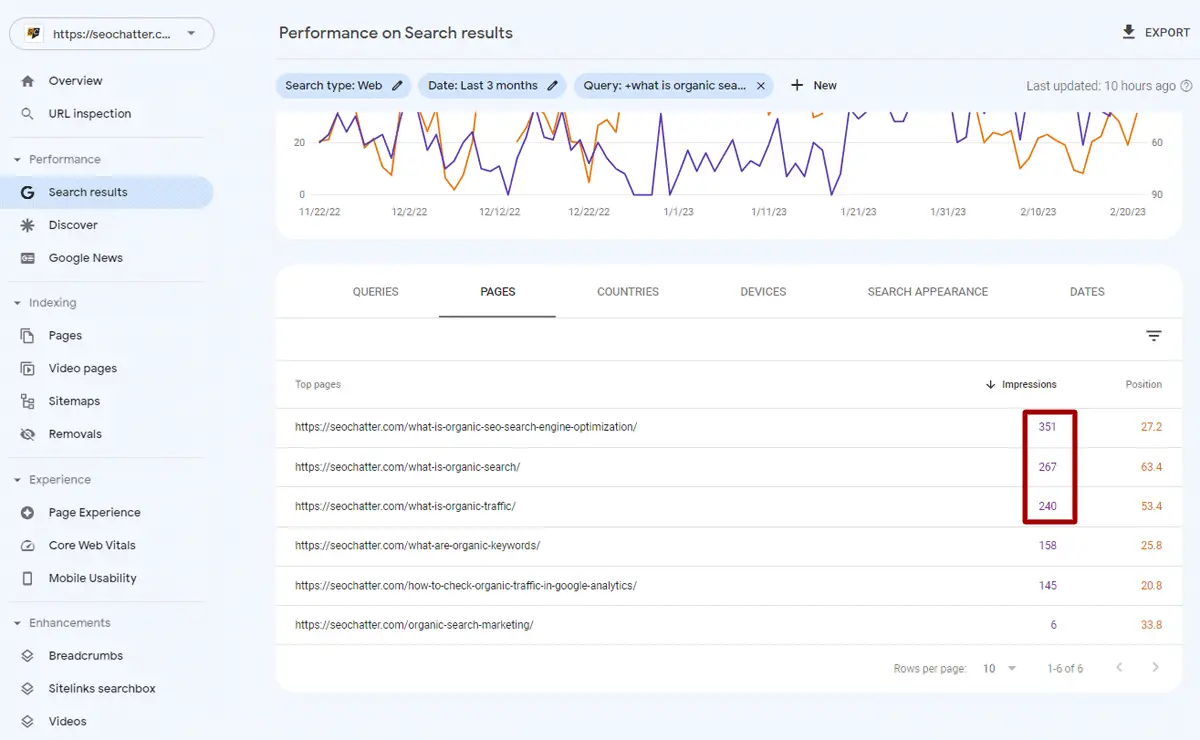 1. Google Search Console
Google Search Console is the best keyword cannibalization tool for SEO that's freely available for everyone to use. All you need is a Google account to get started with this platform to check for cannibalizing URLs in the search engine results pages (SERPs).
In order to diagnose keyword cannibalization issues in Google Search Console (GSC), follow these simple steps:
Click on the Search Results tab under the Performance section in the sidebar menu.
Select the specific keyword you want to inspect under the Top Queries column.
Click on the Pages tab to find out which URLs are competing with each other in the SERPs.
If you're seeing a large number of impressions or clicks for two or more URLs in GSC for a particular keyword, then it's a clear sign that there are cannibalization problems to fix.
2. Keylogs
Keylogs is another top keyword cannibalization checker that's free to use for a single website with limited keywords and page trackings as well as paid plans for unlimited data.
One of Keylogs best features is that it has a dedicated keyword cannibalization tool, meaning you don't have to go through any complex steps to check for competing web pages in the SERPs.
However, to make the best use of this feature, you'll want to upgrade to at least the first paid subscription level, otherwise, you'll be limited to tracking just one URL with three keywords.
3. SEO PowerSuite
If you're looking for a good keyword cannibalization tool that can find any errors your website might have made with a quick scan, then SEO PowerSuite is a popular choice to consider. 
The Rank Tracker feature is where you'll be able to get insights on cannibalizing keywords and URLs. After a few tweaks of the software settings, you'll be able to see the full list of pages ranking for particular keywords, which will give you a good idea of where to start looking for fixing problematic content.
The free tier of SEO PowerSuite is very attractive, with just about all of the features you'll need for website auditing and search engine optimization analysis. The free tier is only missing a few major functions that many website owners can live without.
However, if you do want to upgrade to the full version of the SEO PowerSuite software, it's only around $299 per year; making it a very affordable option for a full-scale SEO analysis program you can download to your computer.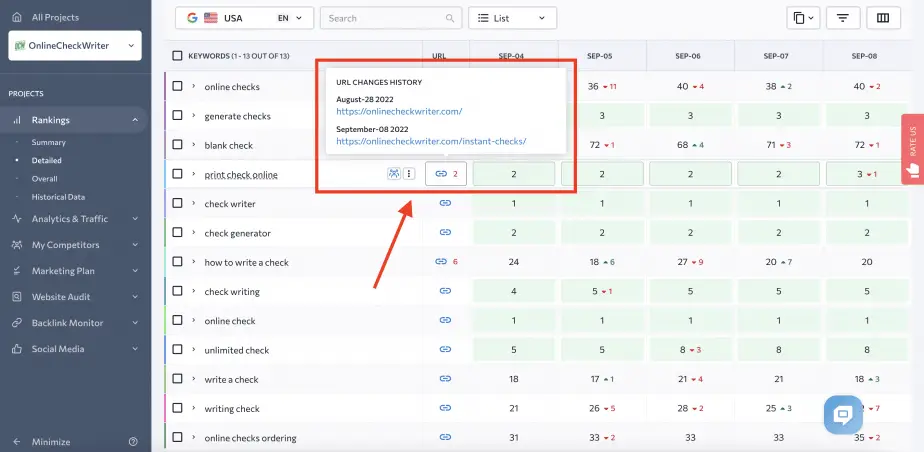 4. SE Ranking
SE Ranking is the next best keyword cannibalization checker on the market. With a reasonably simple interface, determining keyword cannibalization issues is relatively quick and easy to do. (That affiliate partner link gives you an extended free trial.)
Once you've added your website to SE Ranking and set up the keyword rank tracker feature, you can find out which keywords your domain ranks for in Google that have multiple pages competing with each other in the SERPs. SE Ranking provides a red number that's easy to spot beside the keyword phrase so you instantly know it has cannibalization issues.
SE Ranking also comes with 35+ other SEO tools, so it's a great application for anyone wanting a fuller SEO analysis experience without a high cost. The price for this software is much cheaper than similar tools on the market; around $49 per month for the lowest tier plan.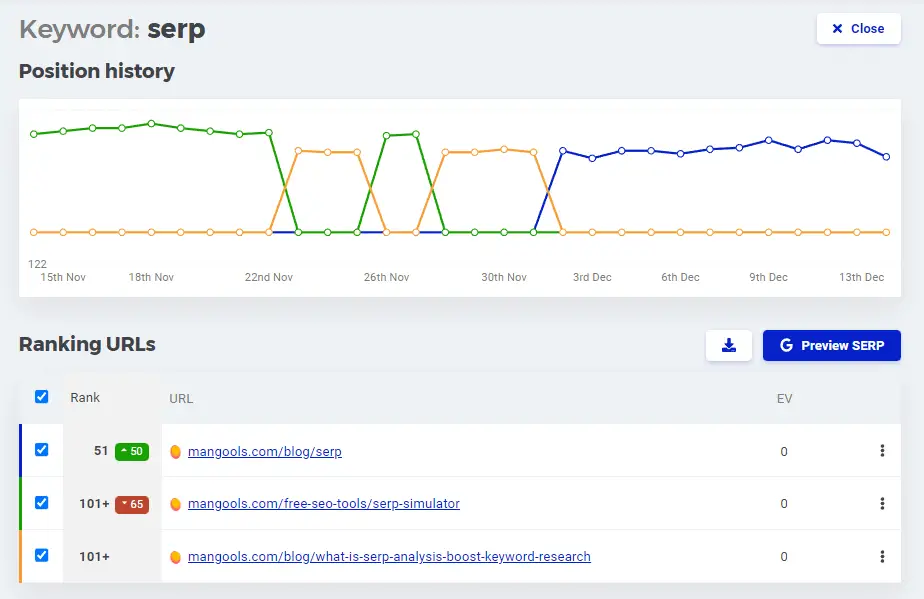 5. SERPWatcher
SERPWatcher by Mangools offers a similar keyword cannibalization analyzer to SE Ranking but comes with fewer additional SEO tools—5 in total. (Try it free through my special partner link.)
However, for those of you who have lower budgets or lesser in-depth SEO needs, SERPWatcher is an excellent option for keyword analysis because Mangools offers it for around $29 per month.
Similar to SE Ranking, SERPWatcher shows a red dot next to your tracked keywords that have cannibalization issues. Clicking on that term then pulls up the full list of URLs that are cannibalizing each other in the SERPs along with a line chart showing you which page is ranking at what SERP position throughout the selected time period.
6. TrueRanker
TrueRanker is another popular tool for keyword cannibalization to detect URLs that are fighting for the same search queries. Just like many of the other options we've looked at above, TrueRanker has a dedicated keyword cannibalization tool. However, it does have a few more steps involved to get the data you need than with keyword checkers like Keylogs. 
The major benefit of TrueRanker is that it gives you daily cannibalization updates so you don't have to manually inspect for them each time you log into the software. Plus, TrueRanker offers one of the cheapest pricing plans in the industry; starting at $9.99 per month.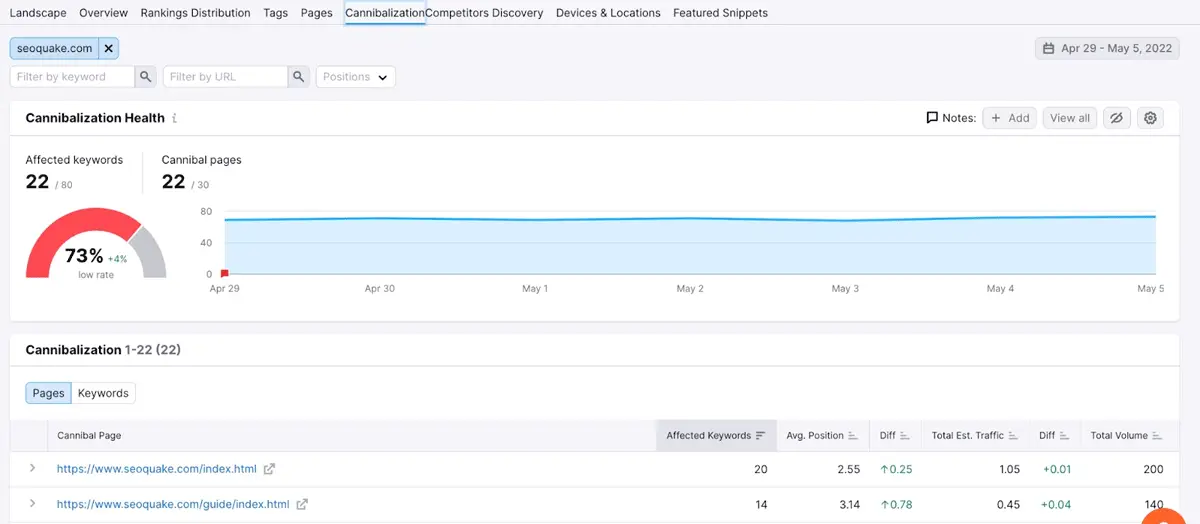 7. Semrush
Semrush includes a Position Tracking Cannibalization Report that can make cannibalization issues obvious without requiring a lot of input from you as the user. (Use my partner link to get access to an extended free trial.)
With a wide variety of easy-to-understand displays, such as the Cannibalization Health Score and the data table with a filterable list by cannibalizing keywords and offending URLs, the Semrush platform is a great option for getting lighting fast insights to fix.
Semrush comes with a wide variety of other SEO and content optimization tools and is hailed as one of the best SEO software on the market for both small and large website publishers. However, it's not a cheap choice, with the lowest-priced plan starting at $119.95 per month. But if you test it out, you'll find that Semrush is well worth the investment for growing and improving every aspect of your website.
8. SEO Scout
SEO Scout has a keyword cannibalization analyzer that allows you to quickly diagnose and resolve any issues on your website. The process is very easy, only requiring the input of your website's domain and a few clicks to generate a report about whether your website may be falling victim to keyword cannibalization.
SEO Scout offers various other SEO tools which can help you improve your website's rankings and traffic; however, it's lacking some of the other advanced features you'll find in software like SE Ranking reviewed above for the same price. SEO Scout costs $49 per month for the lowest tier plan.
9. SiteGuru
SiteGuru is an affordable SEO auditing tool that delivers weekly SEO reports for your website. You can connect it to Google Search Console and run an internal competition report to allow search engine crawlers to check for keyword cannibalization issues across search engines like Google, Yahoo, and Bing.
At around $29 per month, you can monitor two websites and have unlimited users with SiteGuru. Plus, with its ability to generate a comprehensive SEO report, while also giving you access to other powerful SEO tools like keyword rank tracking, broken link analysis, a content optimization checker, and more, SiteGuru is a solid choice for anyone who cares about the technical side of search engine optimization.
Keyword Cannibalization Checkers For SEO Summary
I hope you enjoyed this guide on the best keyword cannibalization checkers for SEO.
As you discovered, there are many keyword cannibalization tools to choose between that can help you improve your search engine optimization strategy. Feel free to give the top recommendations a try or test them all to find out which keyword cannibalization checker works best for your needs.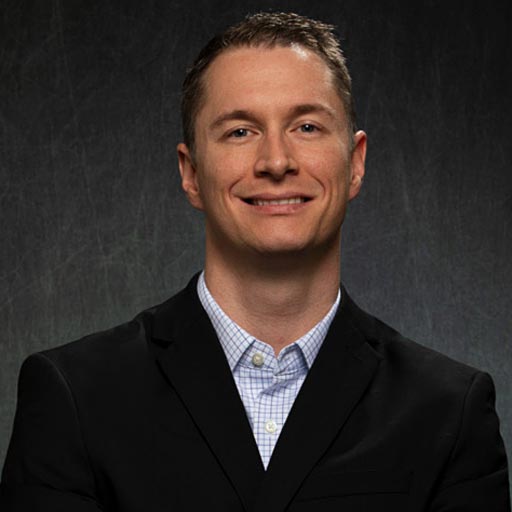 Stephen Hockman is an entrepreneur and founder of SEO Chatter. He specializes in search engine optimization and digital marketing and has been fascinated with SEO since 2005. His goal is to share the best tips and news about search engine marketing to help you get more website traffic.