In this guide, we'll answer the question, "what is organic traffic?"
But we'll go over more than just defining what does organic traffic mean.
We'll explain the importance of organic search in SEO, look at a quick example of how it appears in the search engines, show you how to discover your own organic traffic data in Google Analytics and Search Console, and learn some tips on how to get more traffic to your website.
By the end, you'll know everything there is about the topic: what is organic search traffic?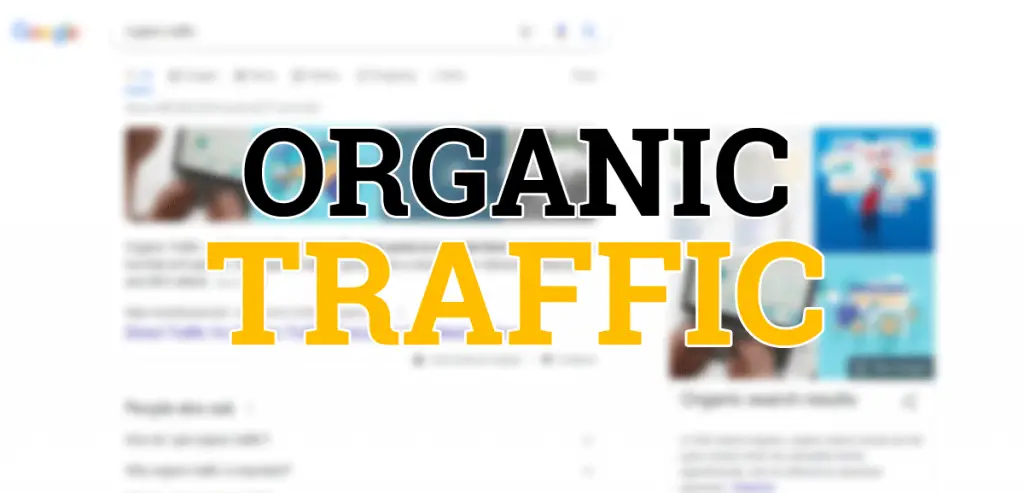 What Is Organic Traffic?
Organic traffic is unpaid search traffic that lands on your website. Organic traffic does not come through paid ads to bring in site visitors but through the organic search results. Organic traffic sources include search engines like Google, Yahoo, and Bing.
What Does Organic Search Mean?
Organic search means the listings on a search engine results page (SERP) that appear organically because of factors such as relevance to the search term and search engine optimization techniques. Organic search results cannot be paid for or influenced by advertisers.
Why Is Organic Traffic Important?
Organic traffic is important because it is targeted. Organic traffic also provides you with long-term, low-cost traffic that will keep your business growing. When optimized correctly, organic traffic is a fast and efficient way to get more visitors to your website.
Benefits of Organic Traffic
It's freely available to businesses with a website.
It's the most cost-effective method for organic traffic.
It's driven by customer intent.
It delivers highly qualified leads.
It has a higher conversion rate than other marketing channels.
It's a long-term natural SEO strategy.
It builds more customer trust versus paid ads anyone can purchase.
It increases brand awareness.
It gives your business a competitive edge.
It's 24/7 promotion in organic search.
Organic Search Example
An organic search example is typing "computer accessories" into Google seeing the unpaid results that are part of the organic search. In this example, there are several paid ads that appear above the unpaid website listings on the search engine results page (SERP).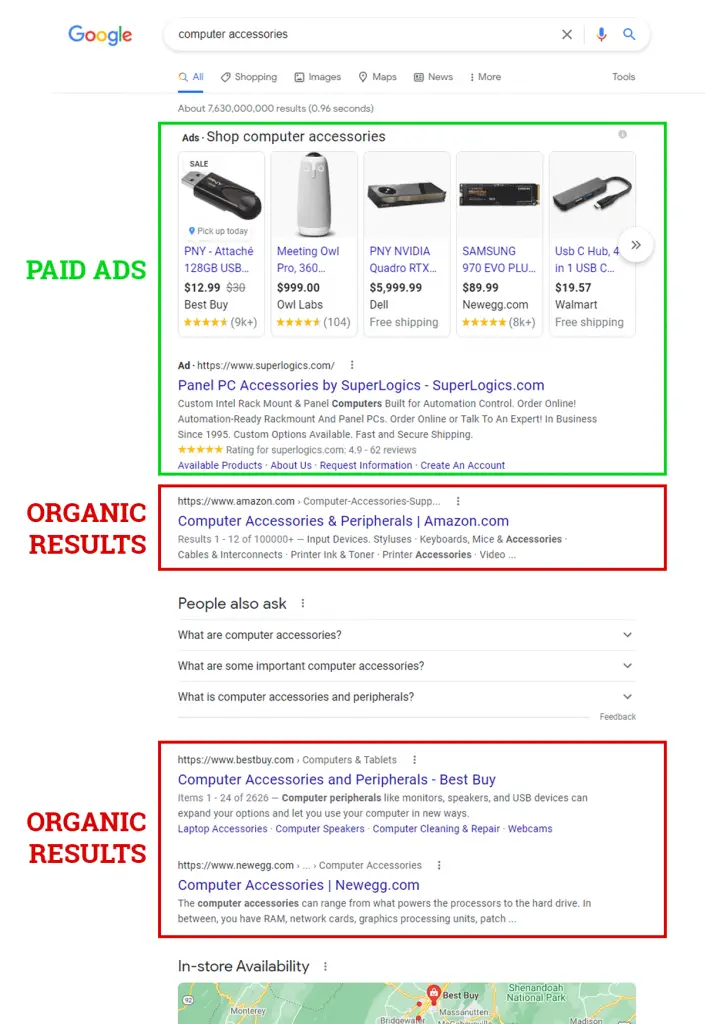 Organic Search In Google Analytics
Google Analytics allows you to see the number of users who visit your site through organic search traffic. However, it doesn't show you which keywords are bringing the most organic traffic. (Google Search Console is used for that data, which is mentioned next.)
You can see the organic search in Google Universal Analytics for your site in two ways:
Navigate to ACQUISITION > ALL TRAFFIC > CHANNELS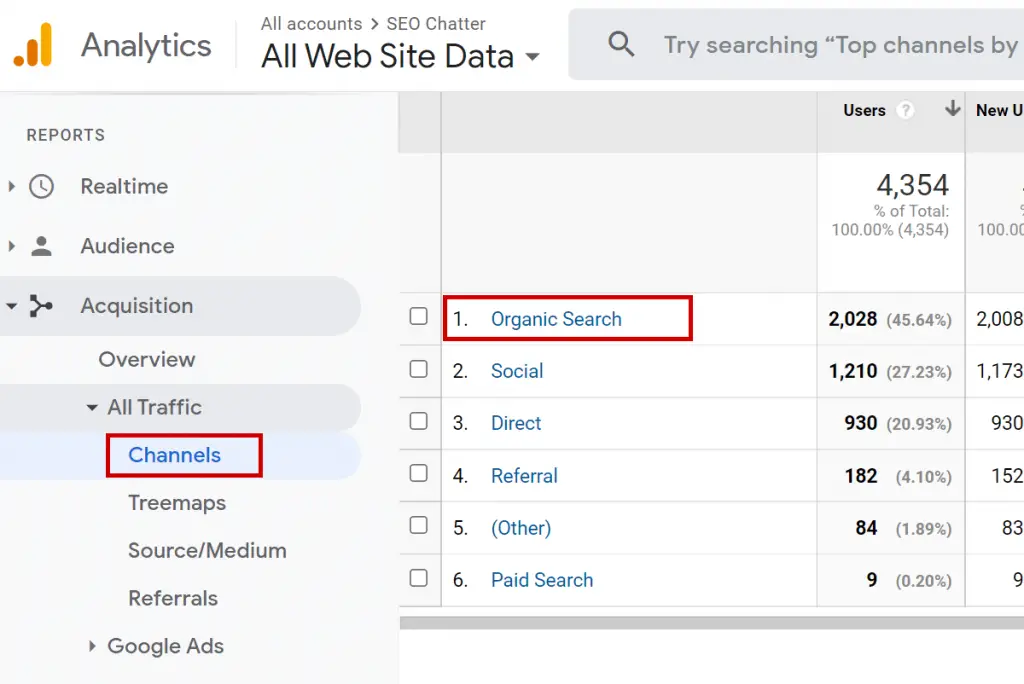 2. Navigate to ACQUISITION > ALL TRAFFIC > SOURCE / MEDIUM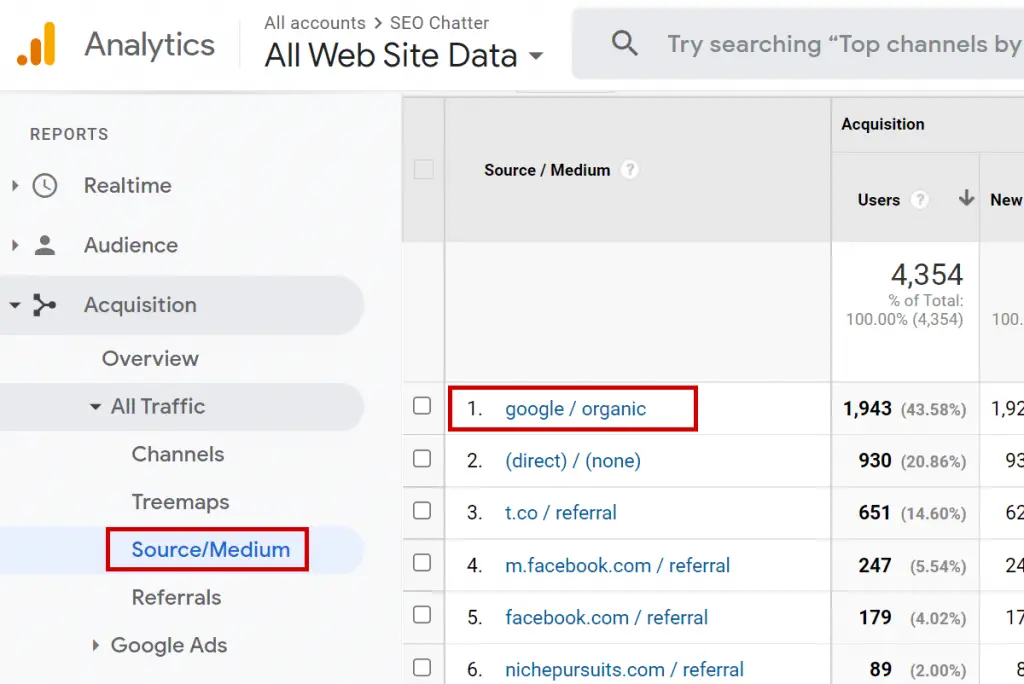 You can see the organic search traffic in Google Analytics 4 (GA4) by following this step:
Navigate to ACQUISITION > TRAFFIC ACQUISITION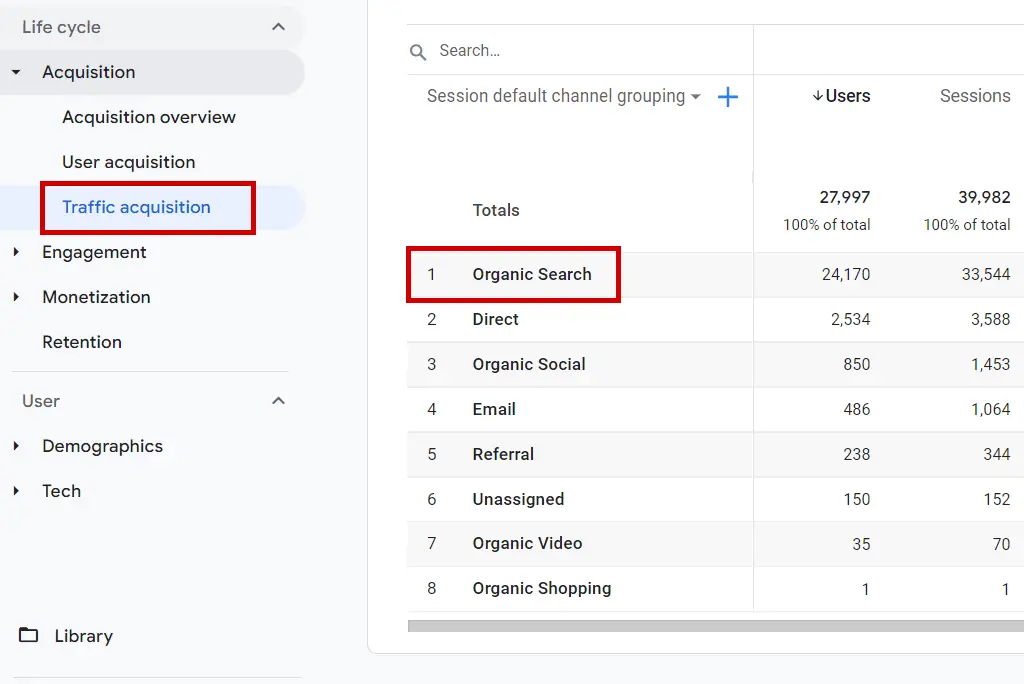 For more details about checking organic search traffic in Google Analytics, check out this other guide on how to see organic traffic in Google Analytics.
Organic Traffic In Google Search Console
Google Search Console allows you to see the most organic traffic data for your website. With Search Console, you can view a list of all queries that refer the organic search traffic to your site as well as the number of clicks, impressions, click-through rate, and position for each query.
I also explain how Google Search Console is the best source for this type of data in my guide on what are organic keywords.
You can see the organic search queries in Google Search Console for your site by navigating to:
PERFORMANCE > SEARCH RESULTS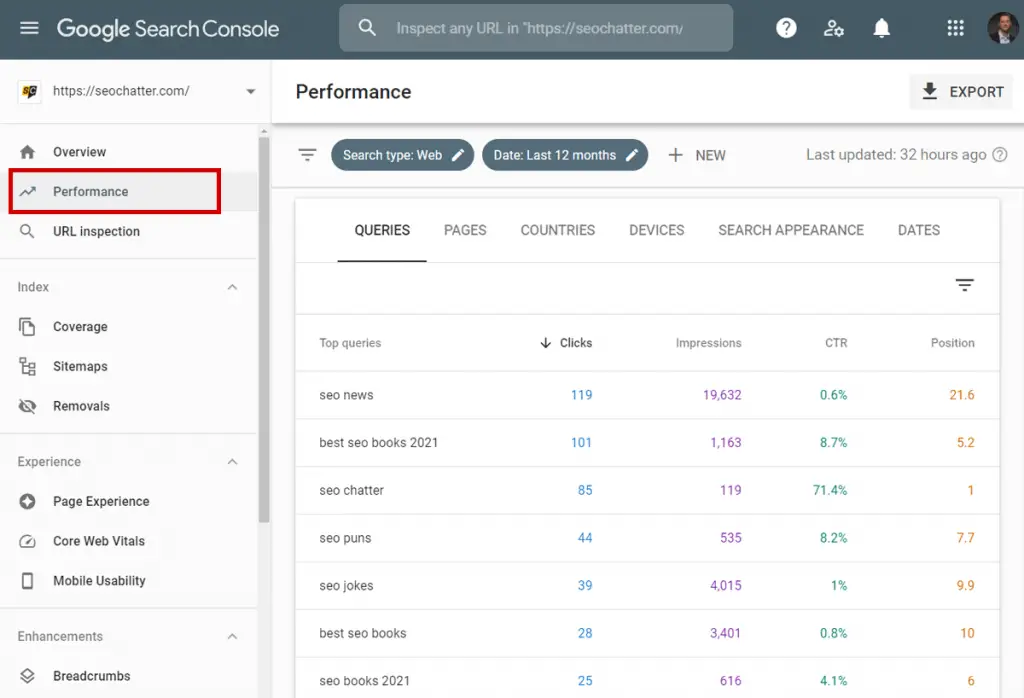 How Do I Get Organic Traffic?
1. Publish New Content
Publishing new SEO content is the fastest way to get more organic traffic to your website. By blogging regularly, you can create more opportunities for your site to get ranked and found in the search engines.
A good to use for organic search in digital marketing is to publish a mix of top, middle, and bottom-of-the-funnel content. That way, you're attracting visitors at every stage of the sales funnel
2. Choose Good Keywords to Target
Narrowing the focus for each article on your site to a set of relevant keywords is the best way to improve your organic SEO to get more targeted traffic.
You don't want to write about various topics on the same page. Otherwise, your content will be too broad and not rank as high for any specific query.
The best way to choose good keywords to target is by using a keyword research tool.
I like KWFinder by Mangools (try it for free). It's one of the only SEO tools I recommend as an affiliate because it's cheap, yet powerful for keyword research.
In KWFinder, you can type in a seed keyword (or generic keywords) and get a list of other related keywords you can also add to your content to improve the topical relevance for the page.
For example, I searched for the seed keyword "organic traffic" and these are some of the other suggested keywords KWFinder revealed that I added to this page:
what is organic traffic
what does organic search mean
what is organic search in SEO
3. Optimize for Organic Traffic
Every page on your site needs to be optimized correctly for organic traffic. Just writing a good blog post will not get your content high rankings in Google.
On-page SEO is the best way to optimize for organic traffic.
By optimizing specific elements on the page, you can increase the topical relevance for specific keywords so that Google will rank your content higher for those keywords in the search engine.
Important areas to optimize for on-page SEO include:
Meta Title
Meta Description
URL
Header Tags
Body Content
Images
Internal Links
Navigation Menu
4. Improve Page Titles for Higher CTR
The page title, also known as the meta title, is what Google displays for your web pages in the search engine. And the more you can entice people to click on your listing versus the competition, the more organic traffic you'll get to your site. (I explain this same concept in my article on SEO content writing tips.)
Here are some tips that can help you improve the click-through rate (CTR) for your page titles:
Put your main keyword at the start of the title.
Add secondary keywords to strengthen topical authority.
Create curiosity in the title that can only be satisfied by clicking on it.
Include numbers and/or the current year when you can.
Add parentheses around words to make the title stand out from other listings.
5. Write for Featured Snippets
Featured snippets are brief excerpts from a web page that appear at the top of Google's search results. As explained in this other guide on organic ranking, the purpose of featured snippets is to quickly answer a user's question directly in the SERPs.
Featured snippets are called the "0 position" because they rank higher than the #1 result.
Featured snippet content is automatically pulled from pages that have been indexed by Google and you can optimize the text on your pages to improve your chances of ranking in this 0 position on Google.
Google has several different types of featured snippet formats, including:
When you're writing new blog posts to get more organic traffic to your website, it's always good to try and include sections in the content that are optimized for these featured snippets.
The best way to find out how to write for featured snippets, and which format to use, can be found by doing a keyword search on Google for the phrases you're targeting in the content.
You then want to examine the current featured snippet to determine the correct format to target.
Next, you want to add a similar piece of content to your web page that's based around that format and try to do a better job of answering the query so that your web page gets chosen for the featured snippet position.
I explain this process in complete detail in my Mastering On-Page SEO course (mentioned in the last organic traffic tip) and walk you through it step-by-step in a video for how to win more featured snippets with your content.
I also have a guide on what is SEO plan that covers more tips on building a good SEO strategy for your website.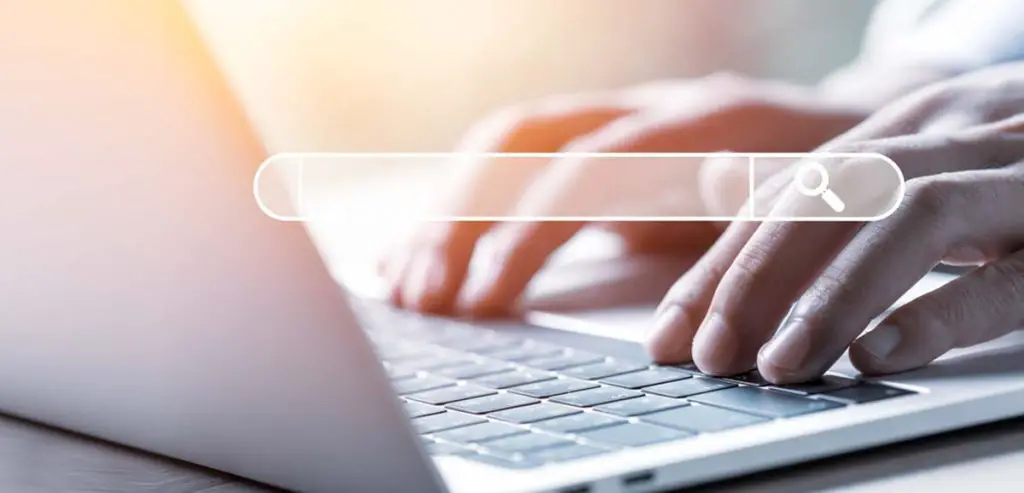 Organic Traffic Summary
I hope you enjoyed this guide on what is organic traffic.
As you discovered, the basic definition for what does organic traffic mean is unpaid search traffic that can bring visitors to your website from search engines like Google, Yahoo, and Bing.
There are also some easy techniques you can use to get more traffic to your website, including publishing new content regulary, picking good keywords to target, optimizing for organic search traffic, improve your page titles for higher CTR, and writing with featured snippets in mind.
Now that you're well versed on the topic "what is organic search traffic" and how to do optimize for it, you can look for ways to increase the visibility of your own site in the search engines for this type of unpaid traffic.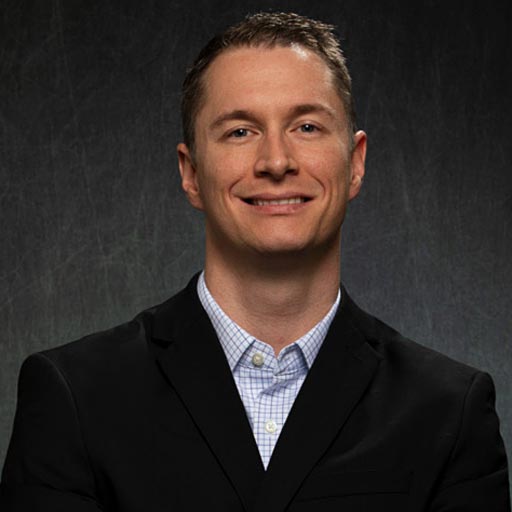 Stephen Hockman is an entrepreneur and founder of SEO Chatter. He specializes in search engine optimization and digital marketing and has been fascinated with SEO since 2005. His goal is to share the best tips and news about search engine marketing to help you get more website traffic.